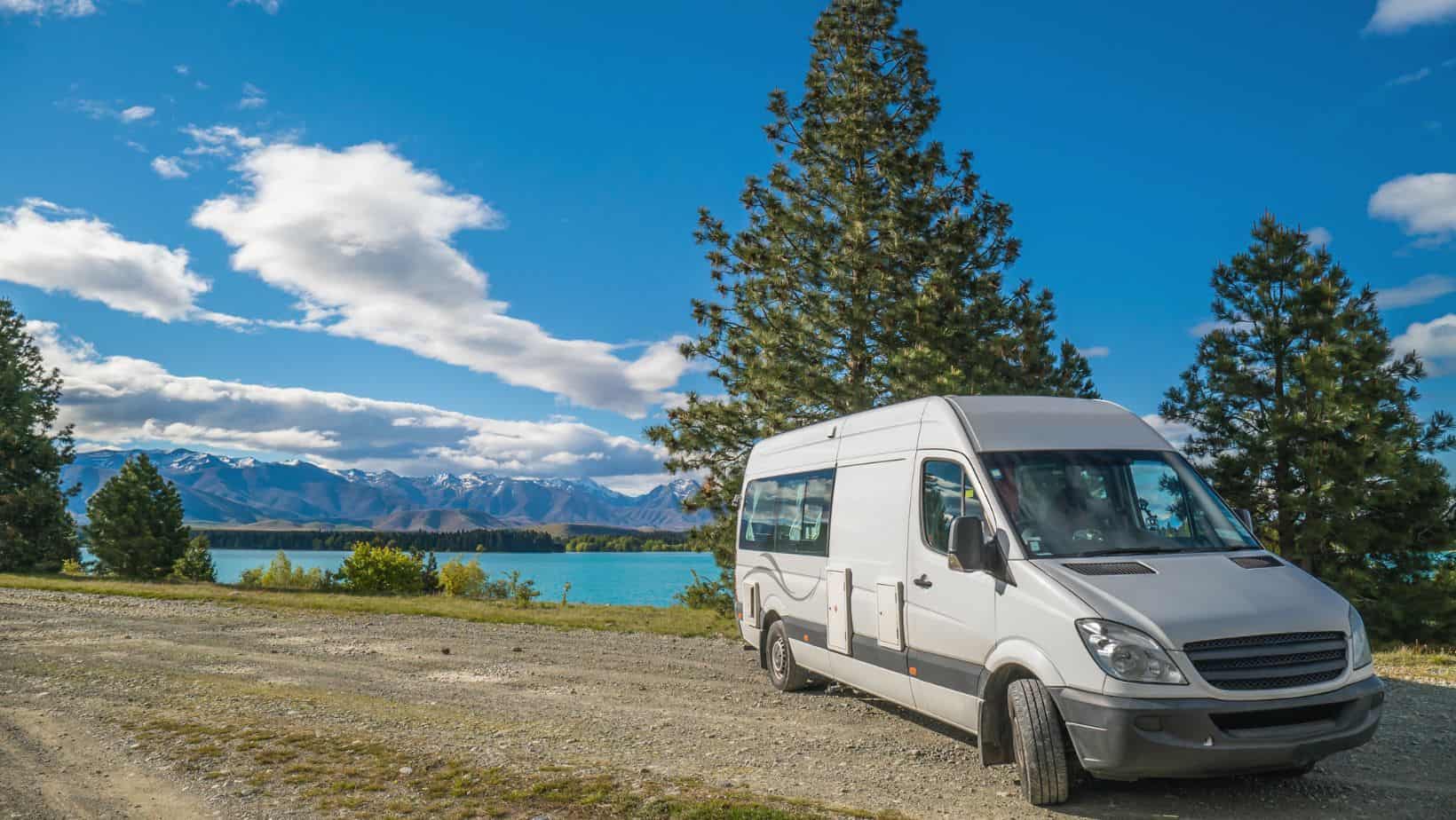 Magnetic Fly Screen From Living in a Bubble
Review (2023)
This post was updated on: September 1, 2023
Perhaps you're someone who likes to spend their summers outdoors but hates the hassle of constantly having to swat away bugs. If this sounds like you, a magnetic flyscreen might be the perfect solution. These screens attach to your window or door frame with magnets and can be easily removed when not in use. They're a simple, affordable way to keep bugs out of your campervan or caravan.
As a campervan owner, we know that dealing with bugs can be a real pain. A magnetic fly screen mesh is a simple and affordable way to keep them out without having to install a permanent door screen. This article will look closely at the Living in a Bubble magnetic flyscreen door.
What Are Magnetic Flyscreens and What Do They Do 
A magnetic flyscreen is a type of screen that uses magnets to stay in place. It is typically made of a mesh material that allows cool air to pass through while keeping insects out.
The magnets are sewn into the screen's edges and attached to metal surfaces, such as doors or windows. It makes them ideal for use in camper van doors and windows, as they can be quickly and easily removed when not needed.
In addition to their convenience, magnetic flyscreens are also very effective at keeping insects out, as the mesh is small enough to prevent most bugs from getting through. As a result, they are a popular choice for people on the road.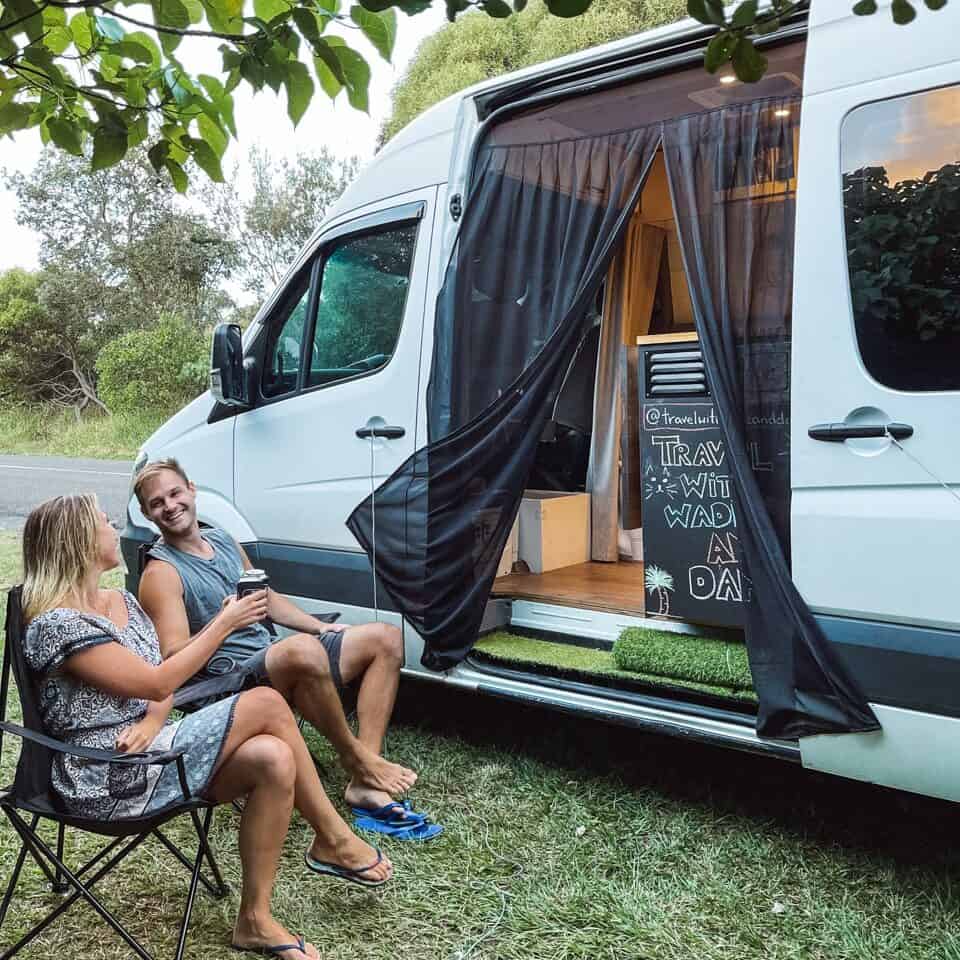 Living in a Bubble Magnetic Screen Door
The magnetic fly screens from Living in a Bubble are a new way to quickly add protection to your campervan doors and windows from insects. They are designed by people who have lived the van life and know the struggles with unwanted bugs. These magnetic screens are made from premium quality mesh with magnets that are sewn around the edges allowing them to attach to any metal surface such as doors or windows.
The mesh on these screens is small enough to keep most bugs out while still allowing air to flow through. They are easy to remove and store when not in use, making them a convenient option for people who are constantly on the move.
Living in a Bubble has 3 different fly screens available to fit mid and high-roof vans such as a Mercedes sprinter or standard roof vans such as the Toyota Hiace, as well as magnetic front window flyscreens for vans and cars. You will find their magnetic door screen kits will fit most door sizes.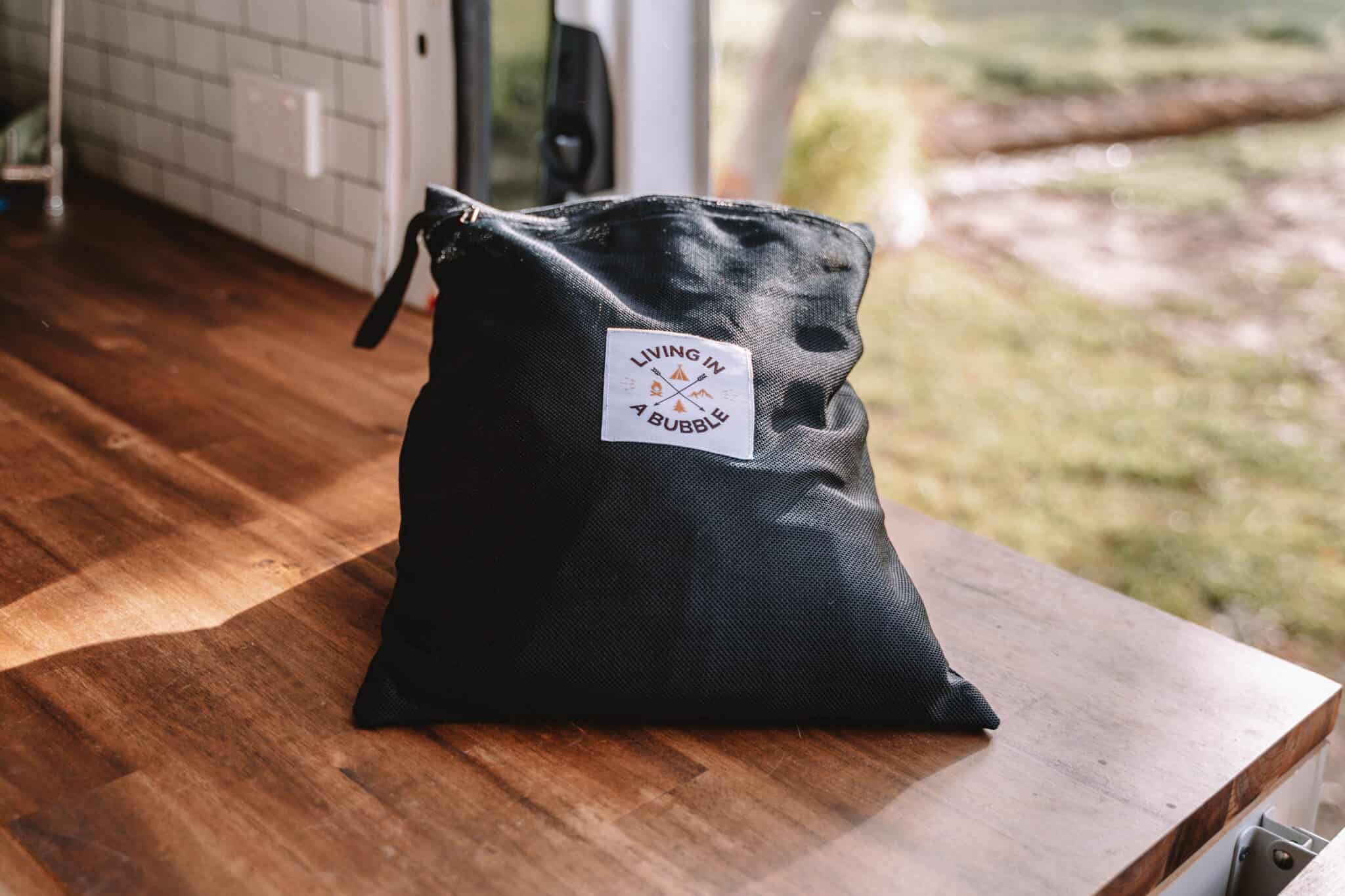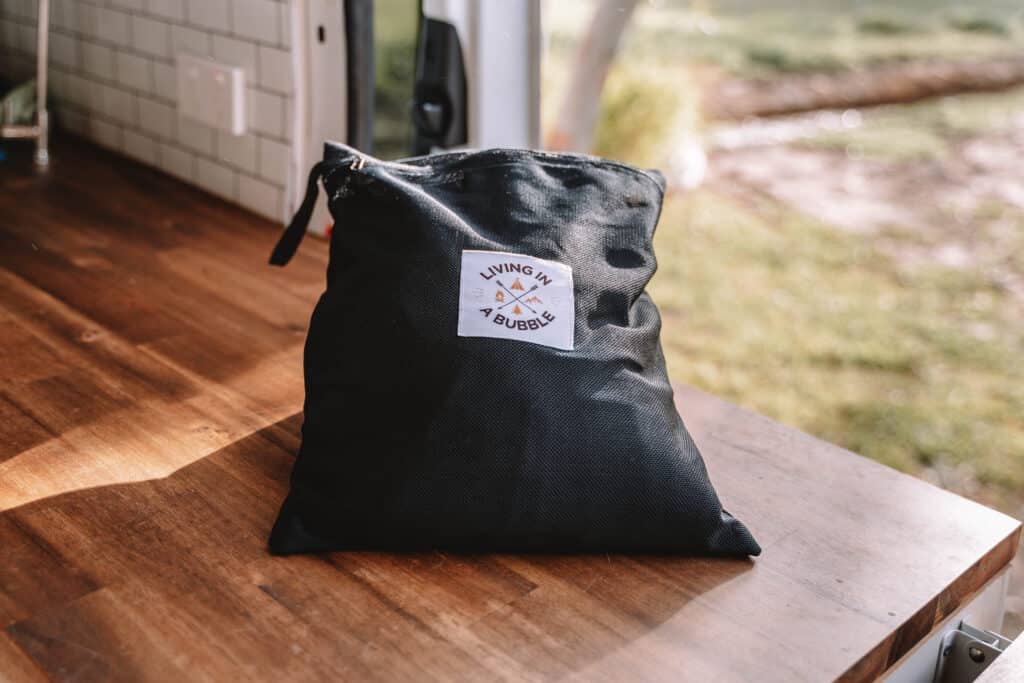 Mid and High-Roof Magnetic Flyscreen
We have this flyscreen for our Mercedes sprinter campervan sliding door, and the fit is spot on. The entrance section for the magnetic door flyscreen has durable, heavy-duty magnets for easy access in and out of your van.
The rear flyscreen for mid and high roofs comes with a zipper on the middle for access; however, the flyscreen size is the same as the side door. So, if you prefer a zipper for your sliding door, you can also choose this one.
The fly screen size is 210cmx150cm but can be stretched to 160cm and comes with a 1-year warranty.
The vans that the Mid and High-Roof can fit are:
Mercedes Sprinter high and super-high roof
VW Crafter high and super high rood
Ford Transit mid and high roof
Renault Master mid and high roof
Fiat Ducato mid-roof only
LDV V80 high roof
Iveco Daily
Standard Roof Magnetic Flyscreen
The flyscreens for the standard roof come with all the same features as the above but are smaller in size, coming in at 160cm x 130cm and can be stretched to 140cm.
The vans that the Standard Roof can fit are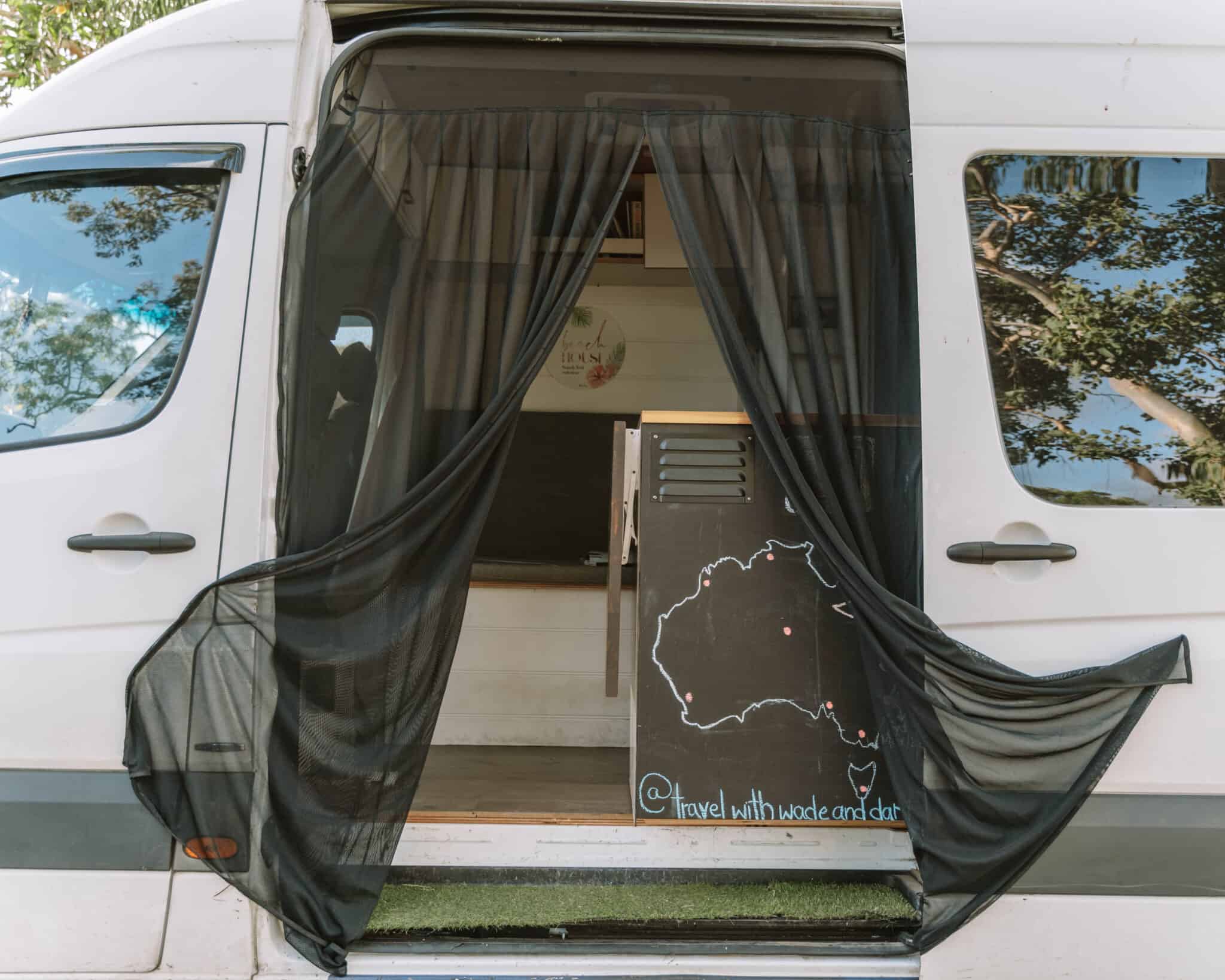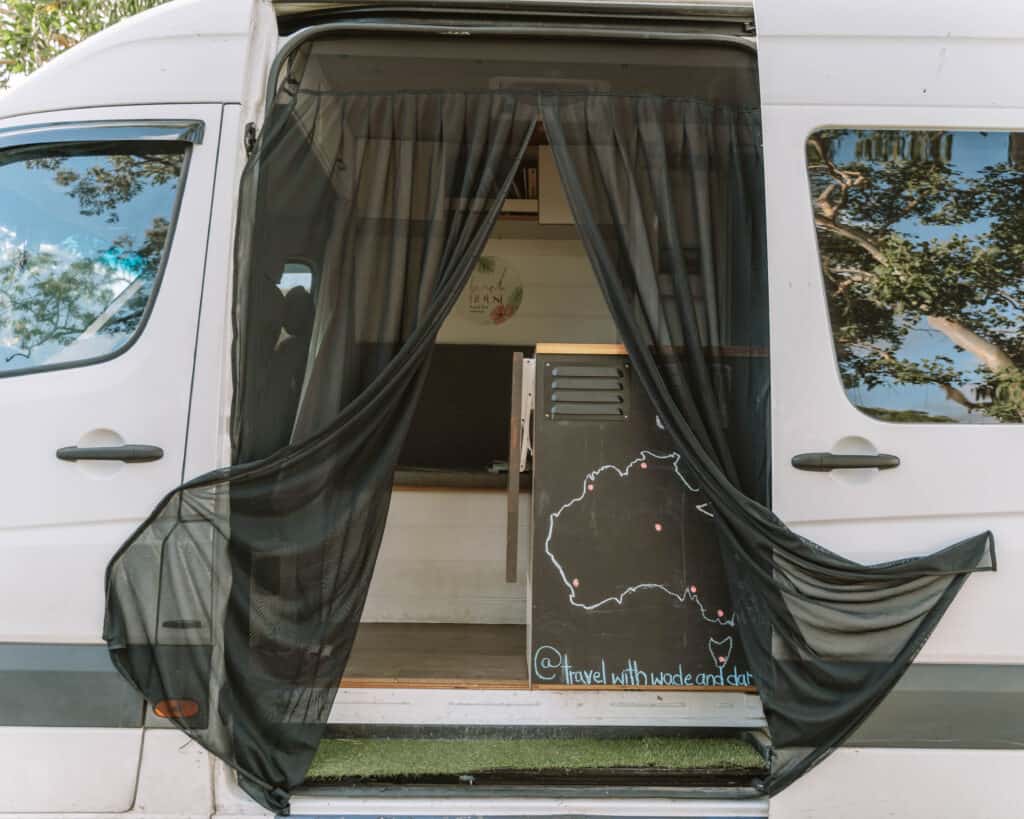 Toyota Hiace Commuter
Toyota Granvia
VW Transporter (all models)
VW Multivan
VW California
VW Caravelle
Hyundai iLoad
Hyundai Imax
Ford Transit (standard and mid-roof)
Ford Transit Custom
Ford Econovan
Mercedes Benz Vito
Mercedes-Benz Marco Polo
Mercedes-Benz V250
Renault Trafic
Mitsubishi Express
Mitsubishi Delica
Mitsubishi L300
Mitsubishi L400
Nissan Elgrand
Fiat Ducato (low roof only)
Fiat Scudo
Fiat Talento
Peugeot Expert
Kia Pregio
LDV G10
DV V80 (standard roof)
Land Cruiser Troopy
Magnetic Front Window Fly Screens for Vans and Cars
The magnetic front window fly screens for vans and cars are a new product to the Living in a Bubble lineup. They are designed to fit on pretty much any car window as they allow you to adjust the size.
The base of the flyscreens has magnets to seal to the bottom of the window, straps attached to the inside of the window, and a drawstring to keep the fitment tight on any car window.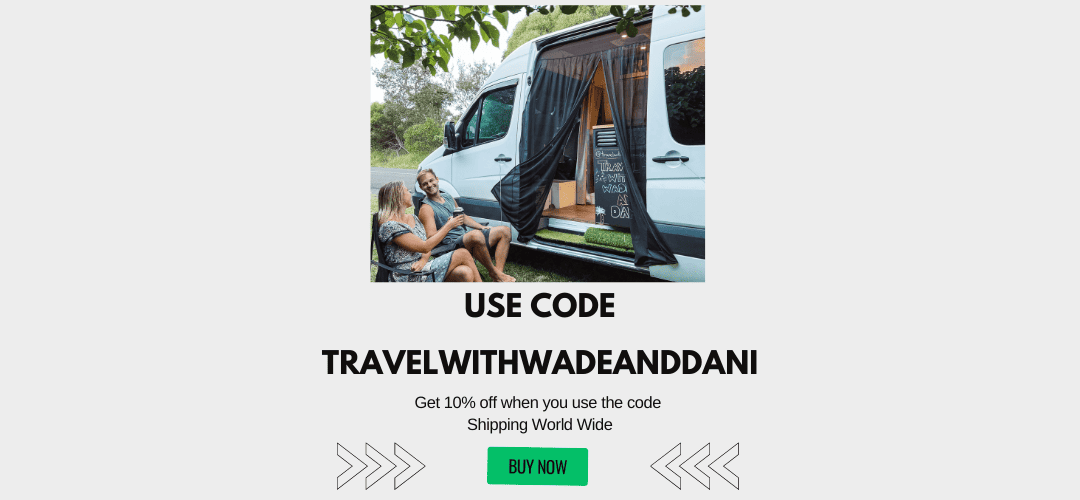 Our Experience With The Living In A Bubble Campervan Magnetic Flyscreen
As someone who is using the Living in a Bubble magnetic flyscreen in our campervan, I can attest to their effectiveness. Not only do they keep bugs out, but they're also easy to remove and don't require any tools or hardware to install. On top of that, they also help with privacy, so you can have your doors open and no one can see inside. One person can quickly put up the flyscreens in less than a minute.
I've found that the Living in a Bubble magnetic flyscreen is one of the best options on the market. I highly recommend it to anyone looking for an effective and convenient way to keep insects out of their campervan.
I am really impressed with the Living in the Bubble magnetic flyscreen. They are easy to install and do a great job of keeping bugs out. One person can quickly do the "installation" in less than a minute. I would definitely recommend them to anyone looking for an effective way to keep insects out of their campervan.
How To Install The Living in a Bubble Magnetic Fly Screen Door
The installation process is straightforward, with no tools required to install this magnetic insect screen onto your sliding doors.
Step 1 – Remove the magnetic screen from the provided bag and open the screen up.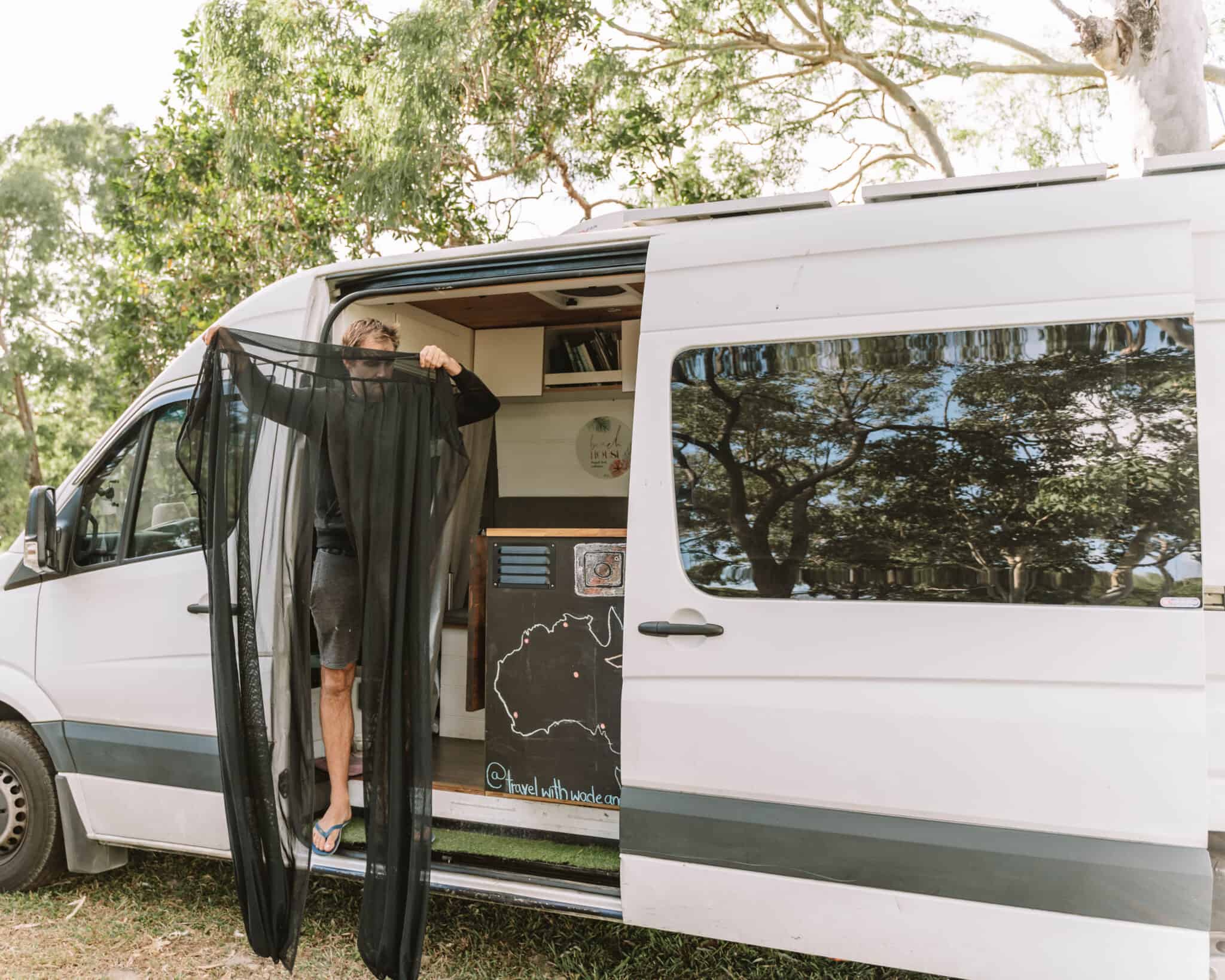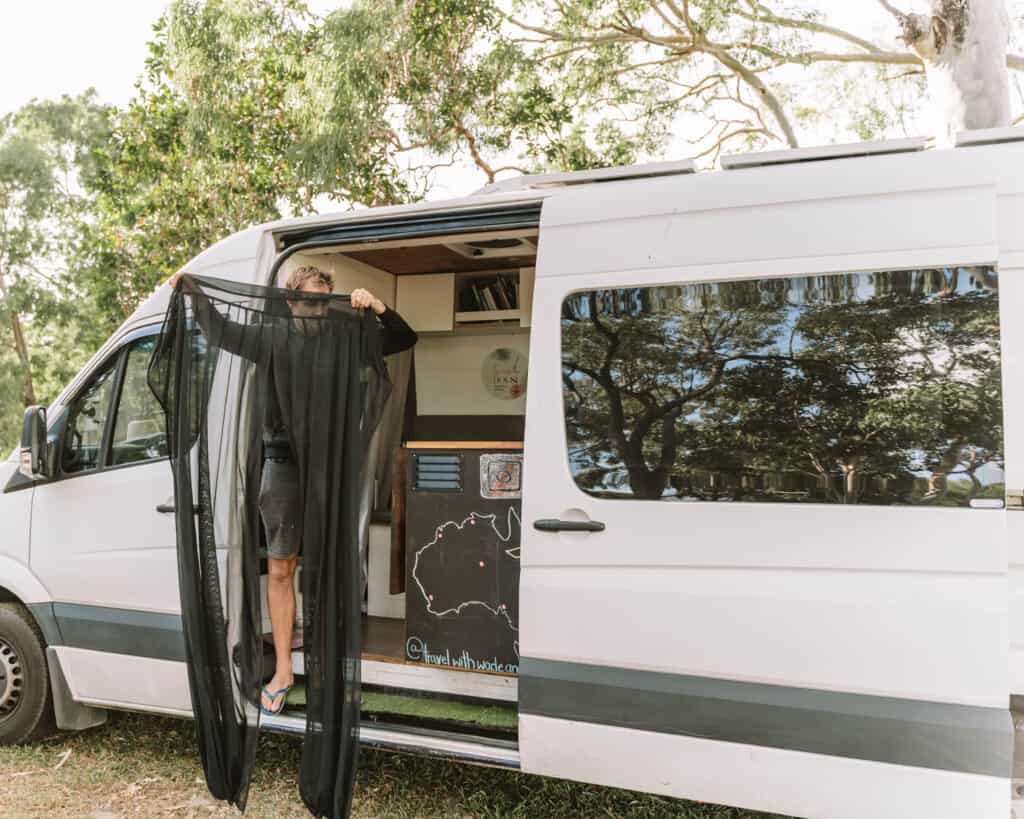 Step 2 – We start to connect the flyscreen in one corner at the top of the door opening and work our way to the other side.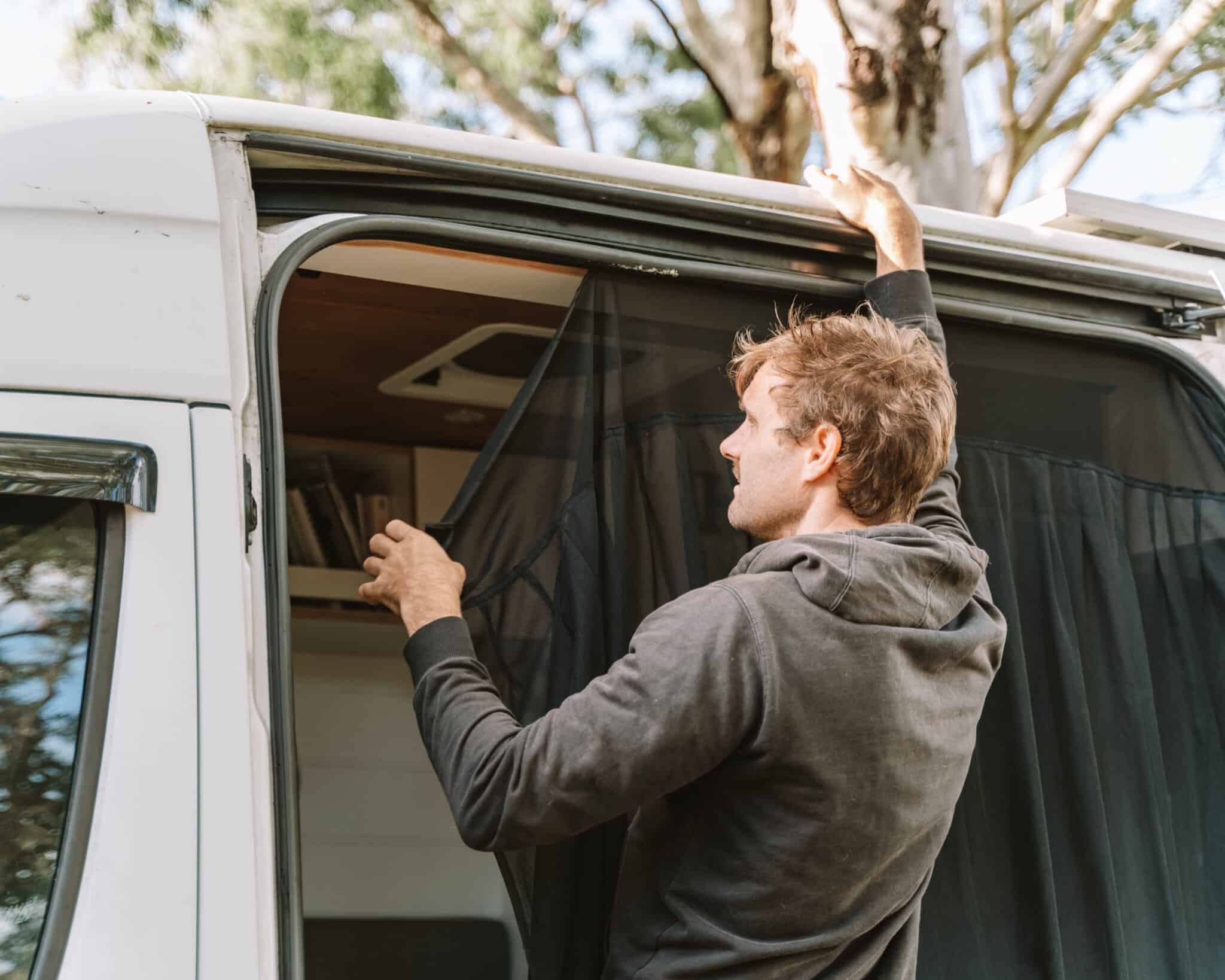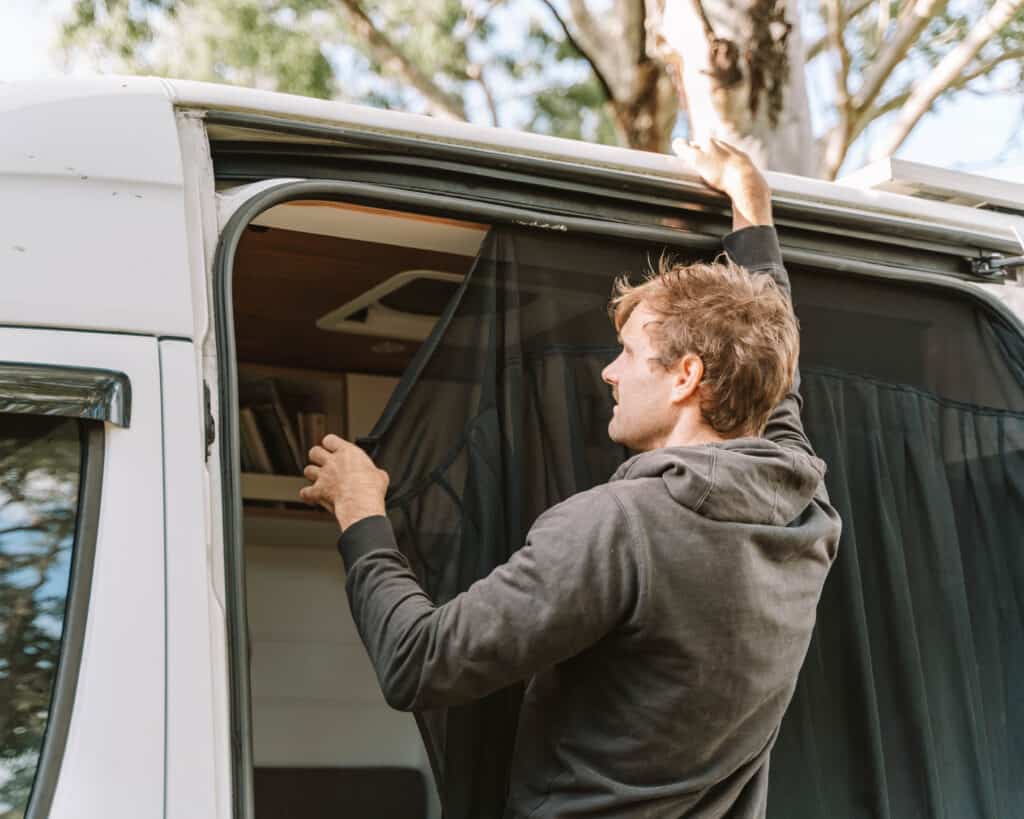 Step 3 – Connect the side of the flyscreen either inside or to the outside of the van.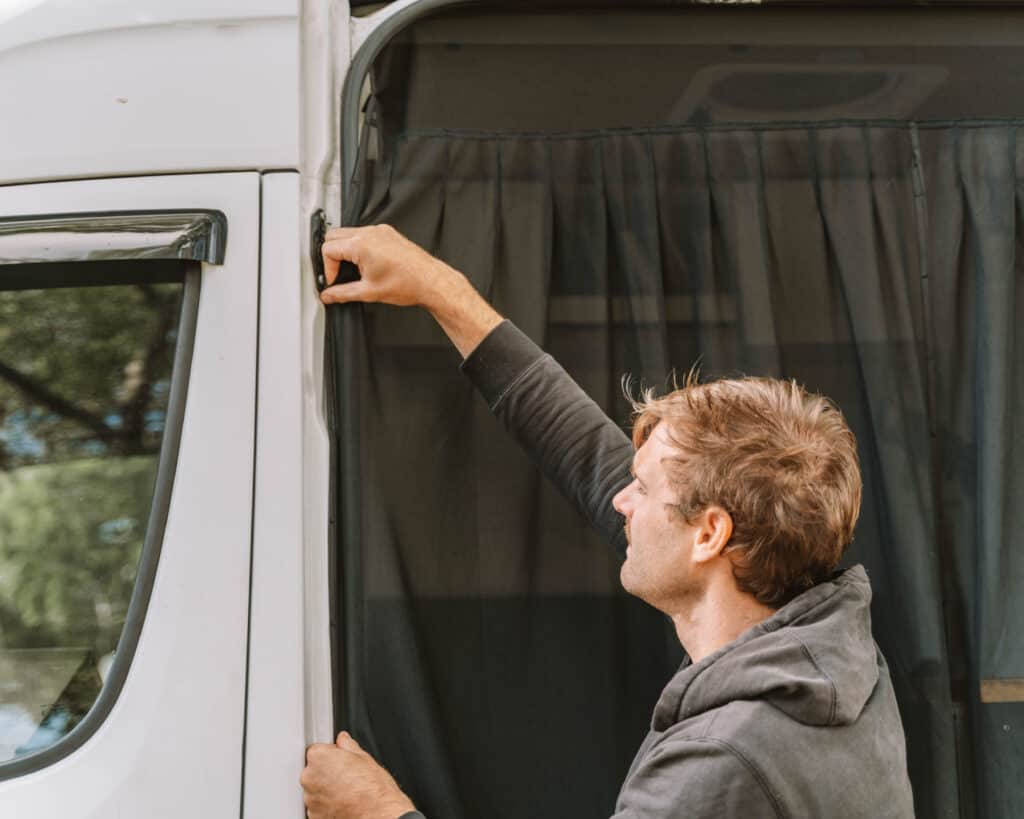 Step 4 – Tidy the bottom to the door trim.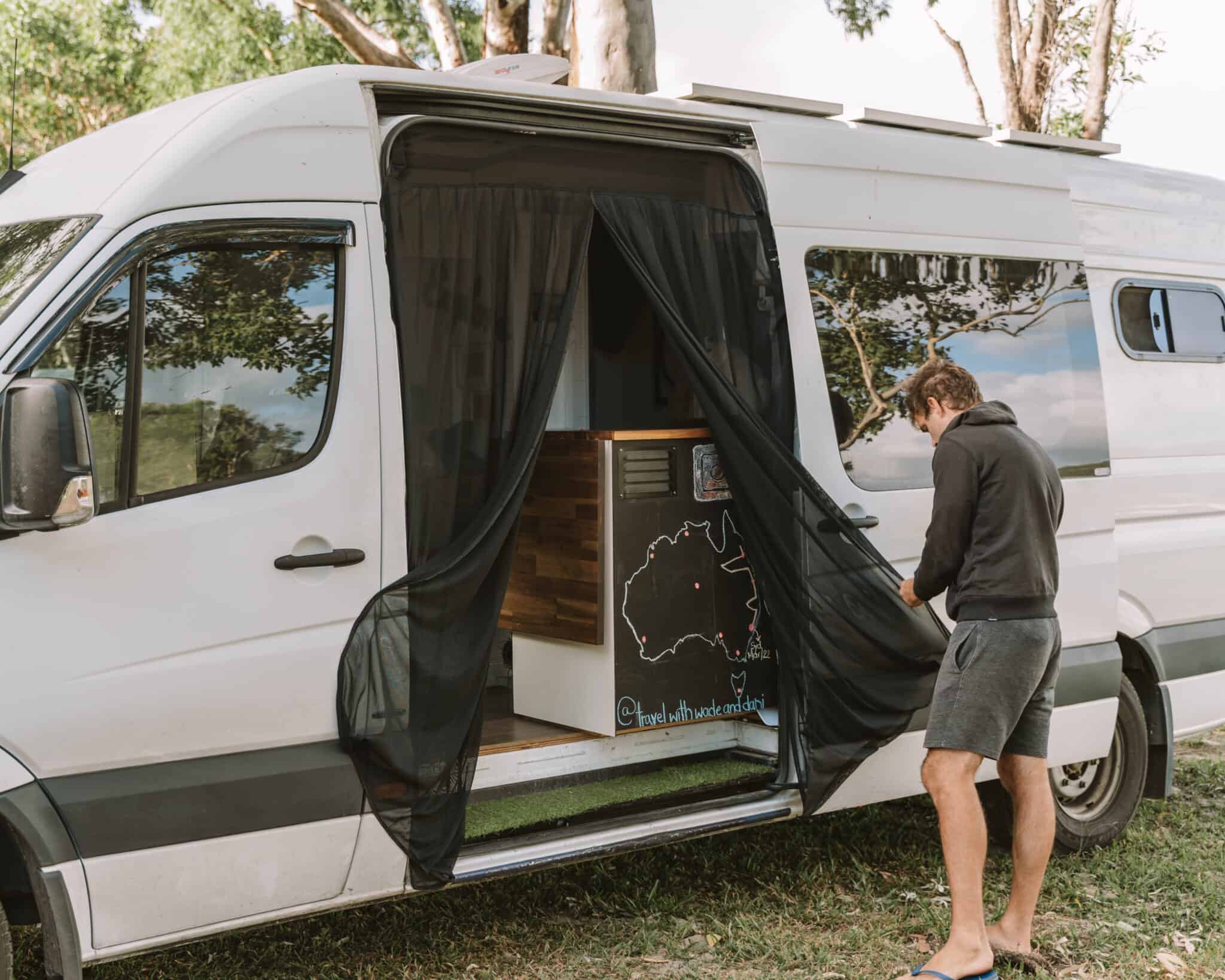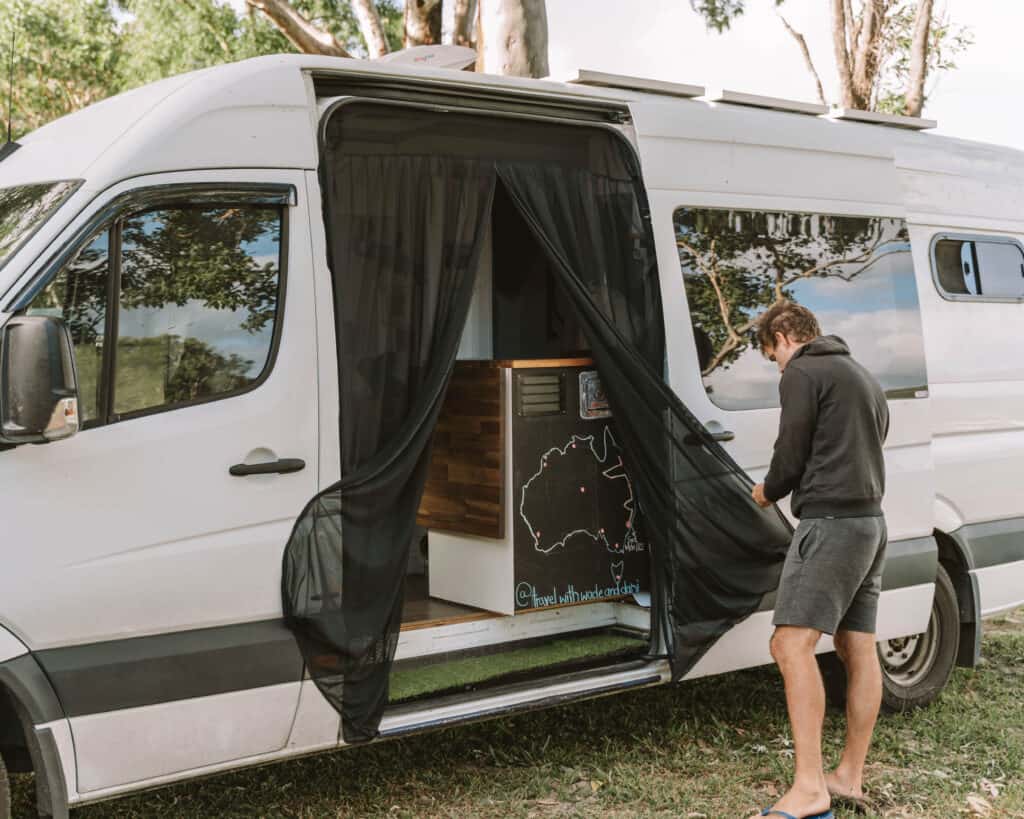 Done. You are now insect-free, allowing plenty of fresh air to enter your van.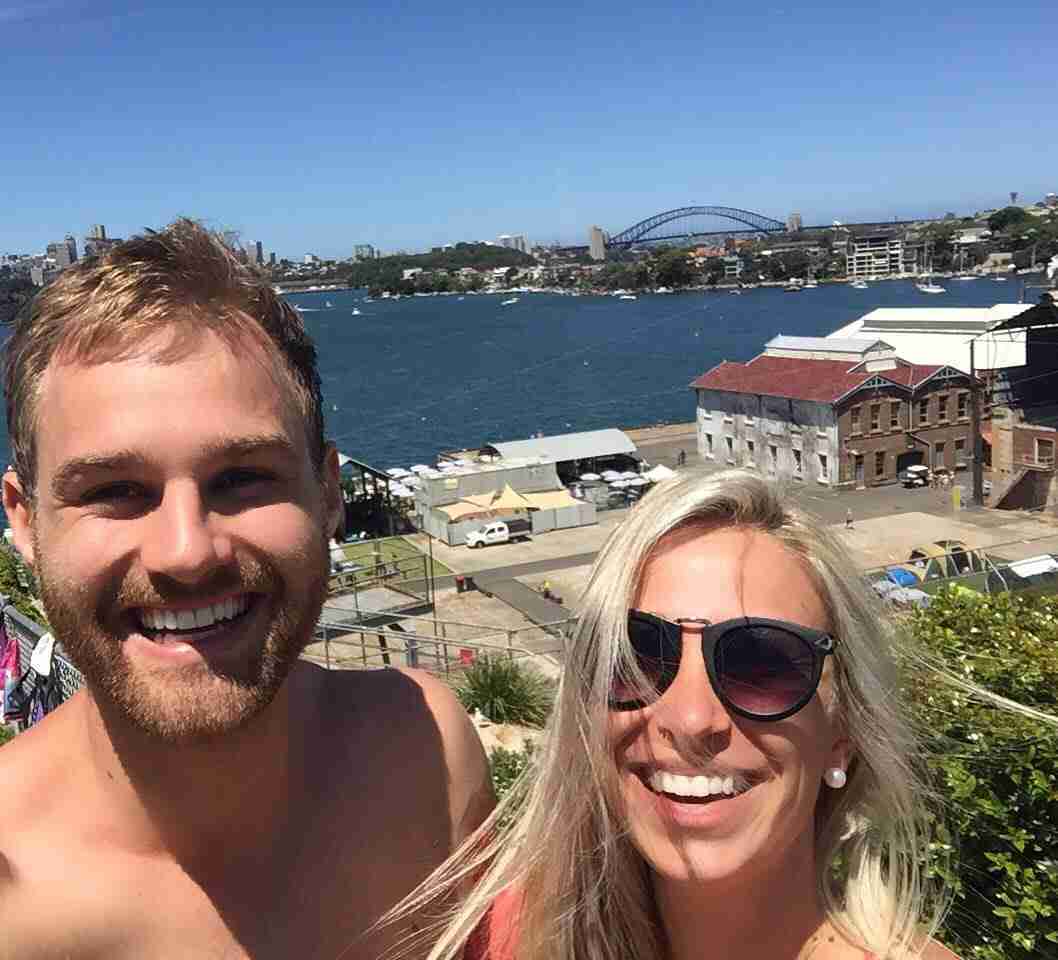 Wade & Dani
Hi! We're Wade and Dani, We're currently travelling around Australia in our 2017 Mercedes Sprinter Camper van and sharing our best experiences, stories, reviews and adventures as we go along. Make sure you follow us on Instagram @wadeanddani