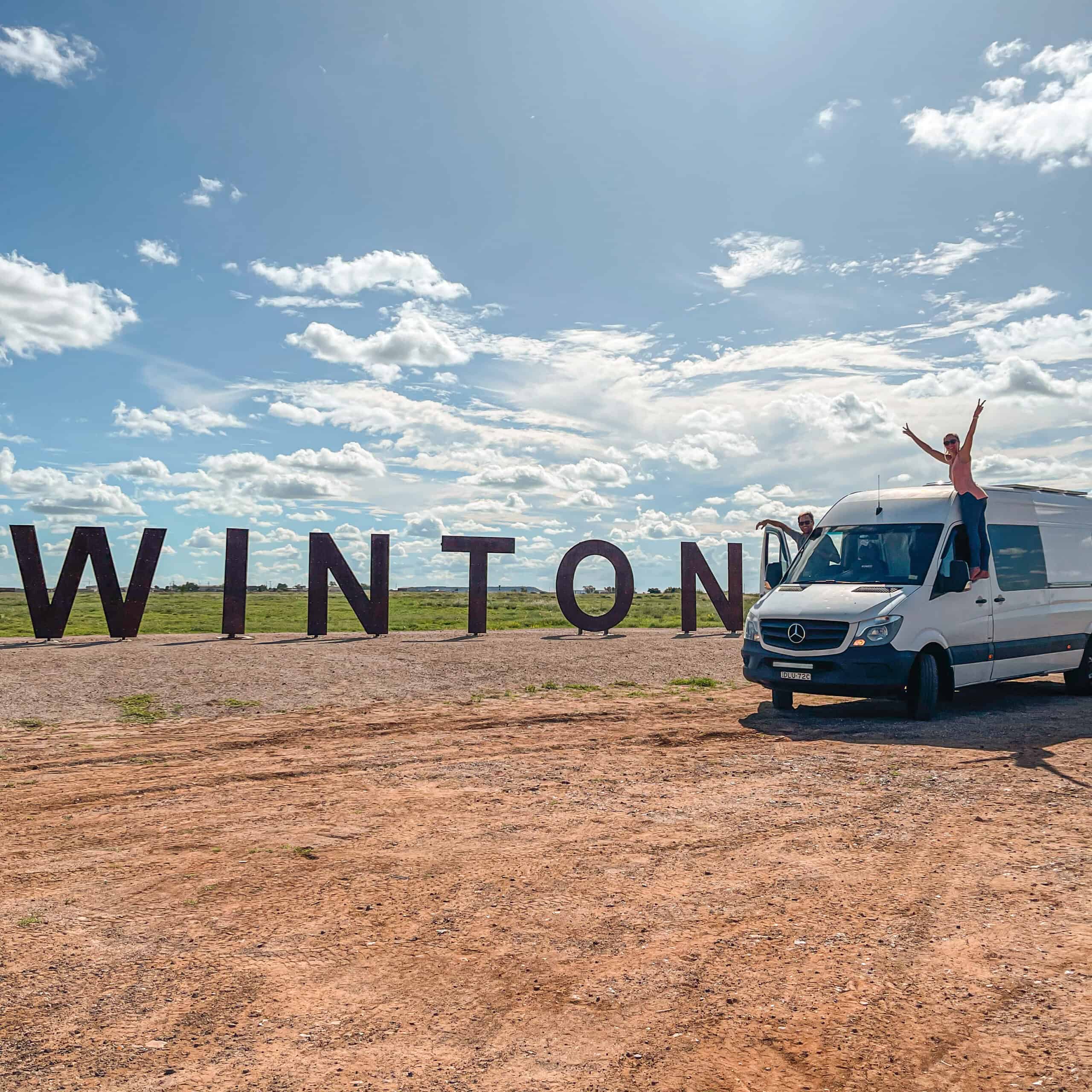 A Detailed Monthly Van Life Expenses Breakdown in Australia – June 2022
Welcome to one of our newest blog series. Here we will bring you all our monthly expenses while living in a van transparently and openly. You can check our first and second month's breakdown here.
Below you will read what it cost us to live full-time life on the road during our third month – June 2022.
We hope you enjoy it, and please remember we are always open to any feedback, so leave a comment if you have anything to say! Thanks for reading, and feel free to share this blog post with anyone if you think this was of interest to you.
As always, here are a few things to keep in mind.
This only includes what we spent in a particular month, and it doesn't include our initial start-up costs (like buying and building the van itself).
The totals are van life expenses for TWO people.
We did not include any business-related income or expenses. 
We are conscious of our money but do not restrict ourselves too much and go out for coffee and food when we feel like it. We are not actively trying to save money and will not miss out on paid adventures if we want to.
We track our income and expenses weekly and combine them every four weeks into a month.
All amounts are in Australian Dollars.
Our cost of living in a van – June 2022
Below is a table with every dollar we spent in June while travelling around Australia in our self-converted campervan. Underneath the table, you will find detailed explanations for each item.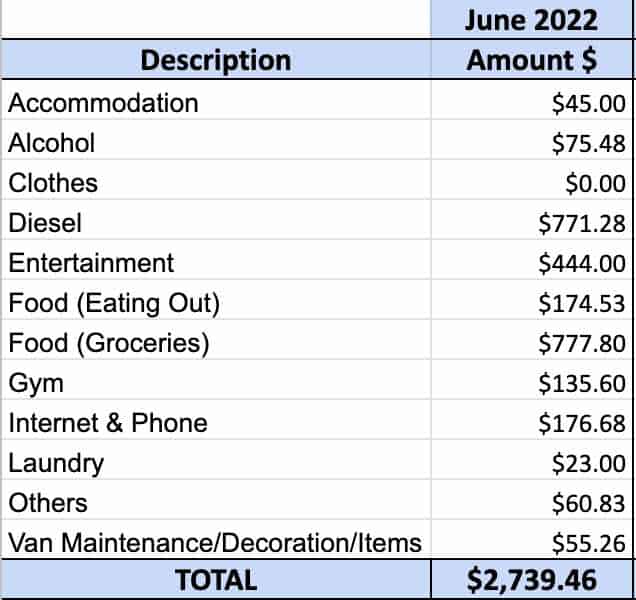 Accommodation – $45.00
In June, we only paid for two nights of accommodation.
One night we spent $15 staying behind the North Gregory Hotel in Winton, QLD. The stay was terrific, right in the centre of the city, with entertainment most afternoons, a spa, hot showers and great food. 
The second paid night was $30 for a non-powered site at Julia Creek Caravan Park. The site was lovely, and we decided to stay here because we also booked one of their Artesian Baths experience during sunset (more on this later). If we were to do this experience again, we would probably not stay at this caravan park and instead go to the Julia Creek 96hr RV Rest Area, which is free and has a much nicer view than the caravan park.
We avoid paying for accommodation at all costs and only really pay if there are no other options or if we feel unsafe sleeping on the streets.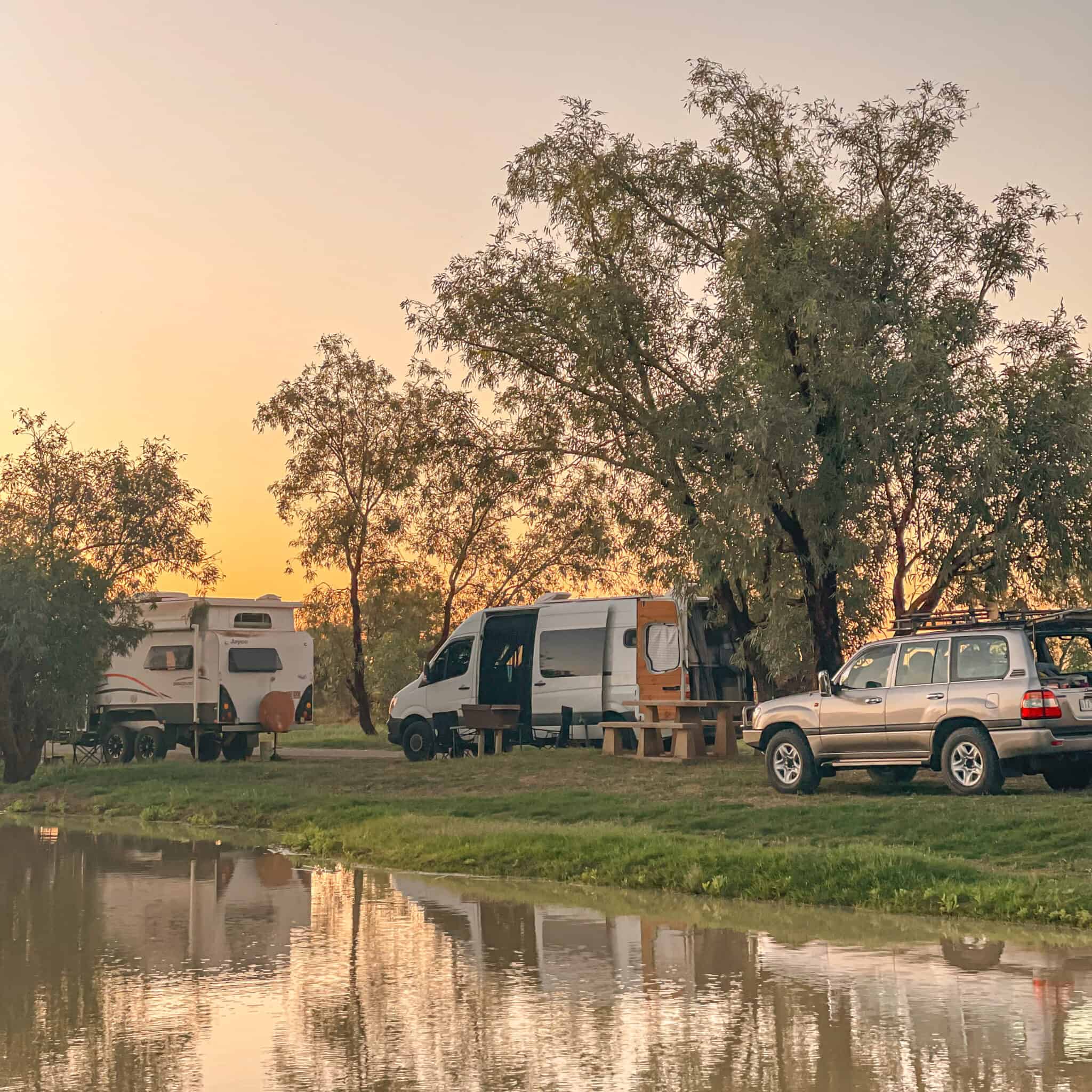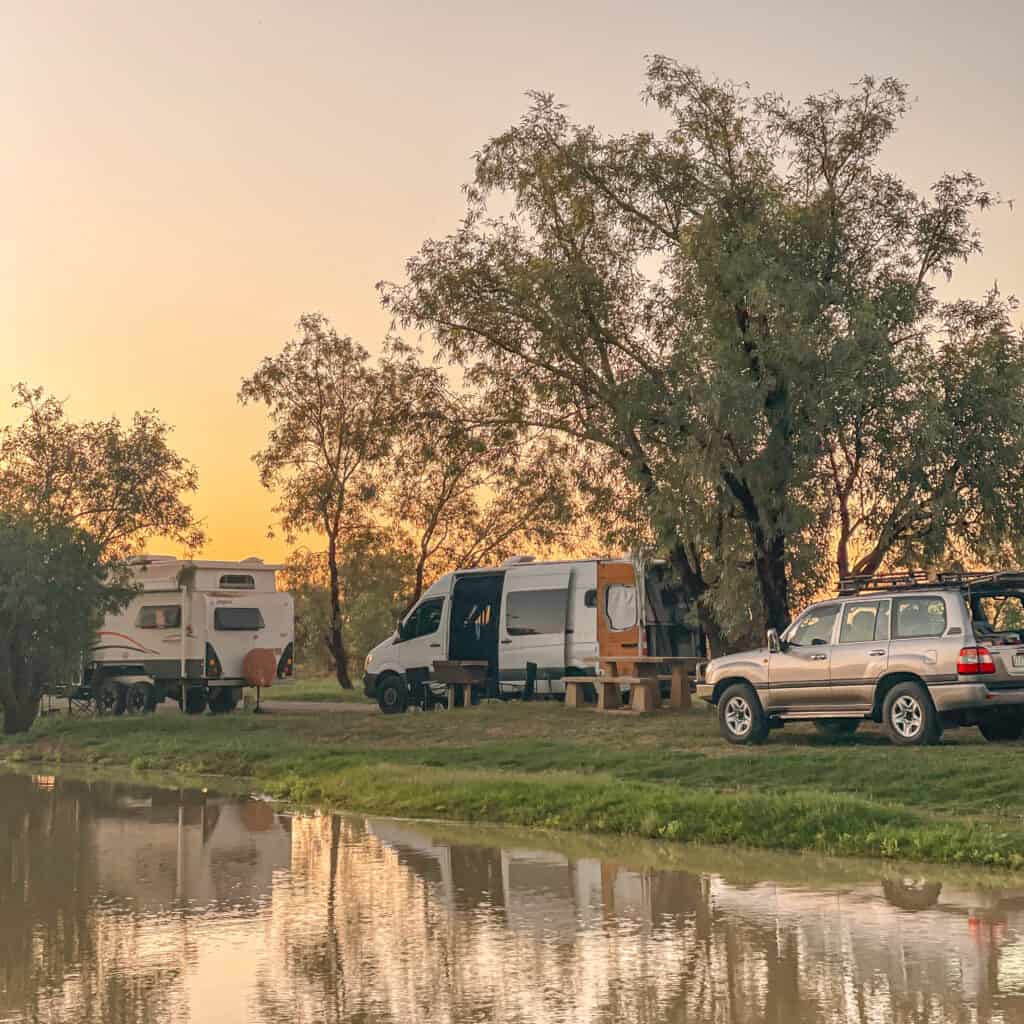 Alcohol – $75.48
As you already know, we are not heavy drinkers.
The $75.48 cost this month includes a few beers purchased at the North Gregory Hotel in Winton, QLD, as well as some beers and wine we bought at different liquor stores. 
Diesel – $ 771.28
As expected, diesel is always one of our most significant monthly expenses.
We spent more on fuel in June than we had spent in both April and May, and the apparent reason is that we have driven more km than in previous months.
During our third month of vanlife, we have driven a total of 4,042 km.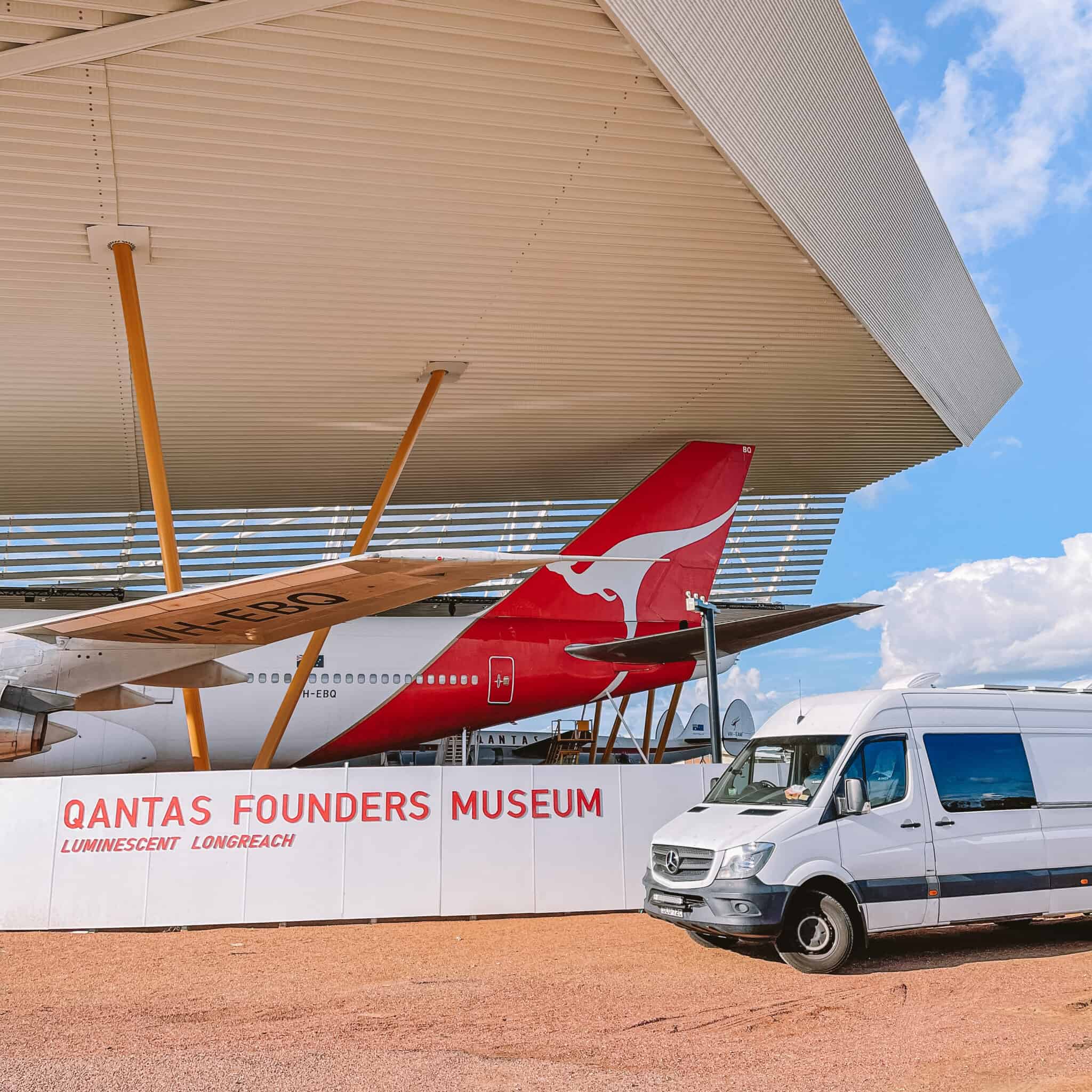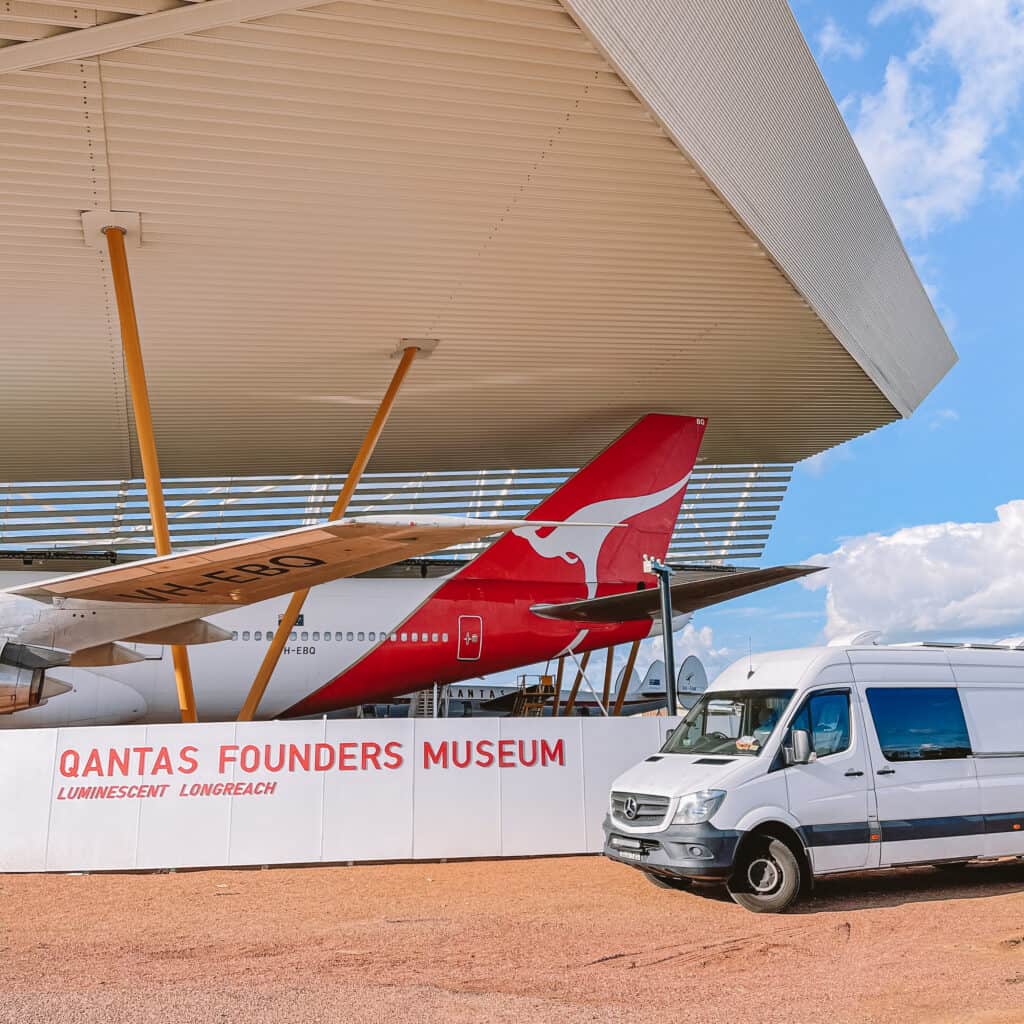 Entertainment – $444.00
This month we explored Queensland's outback, and there is so much to see and do around the area.
We have spent quite a bit on entertainment this month. $300 more than last month!
Here is the breakdown of where this money went:
$4 in parking – can't remember where thou;
$40 at Miner's Heritage – Australia's largest underground sapphire mine – for a Guided Underground Mine Tour;
$140 at the Qantas Founders Museum in Longreach, where we learned about the story of Australia's national airline, from its early days in Outback Queensland to the present day.
$150 at the Australian Age of Dinosaurs in Winton.
$110 for the sunset experience at Julia Creek Artesian Baths. Artesian water is underground water confined and pressurised within a porous and permeable geological formation and the waters are generally 38 degrees Celsius to 41 degrees Celsius. The best relaxing experience.
We recommend all of the paid attractions we did this month and would do them all again!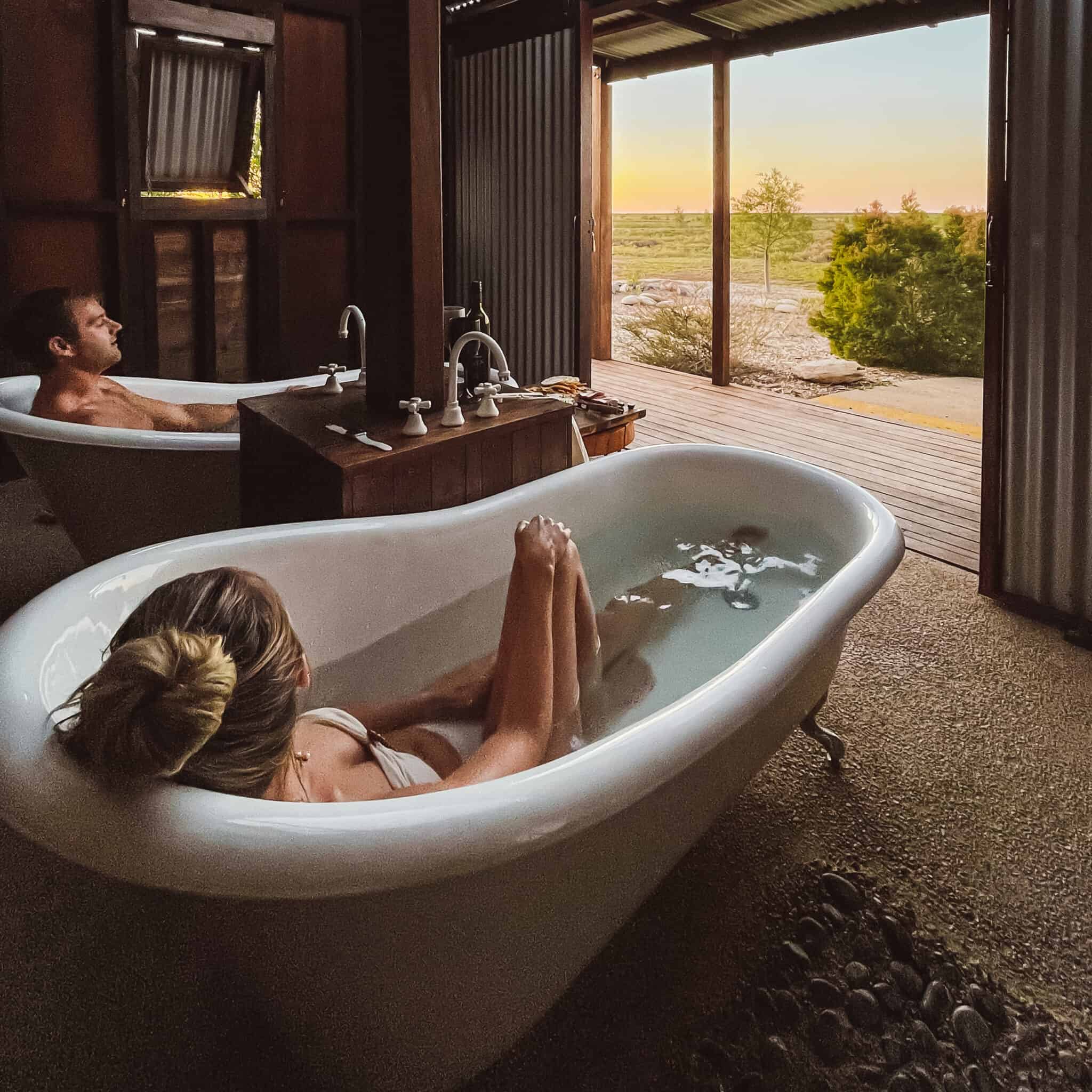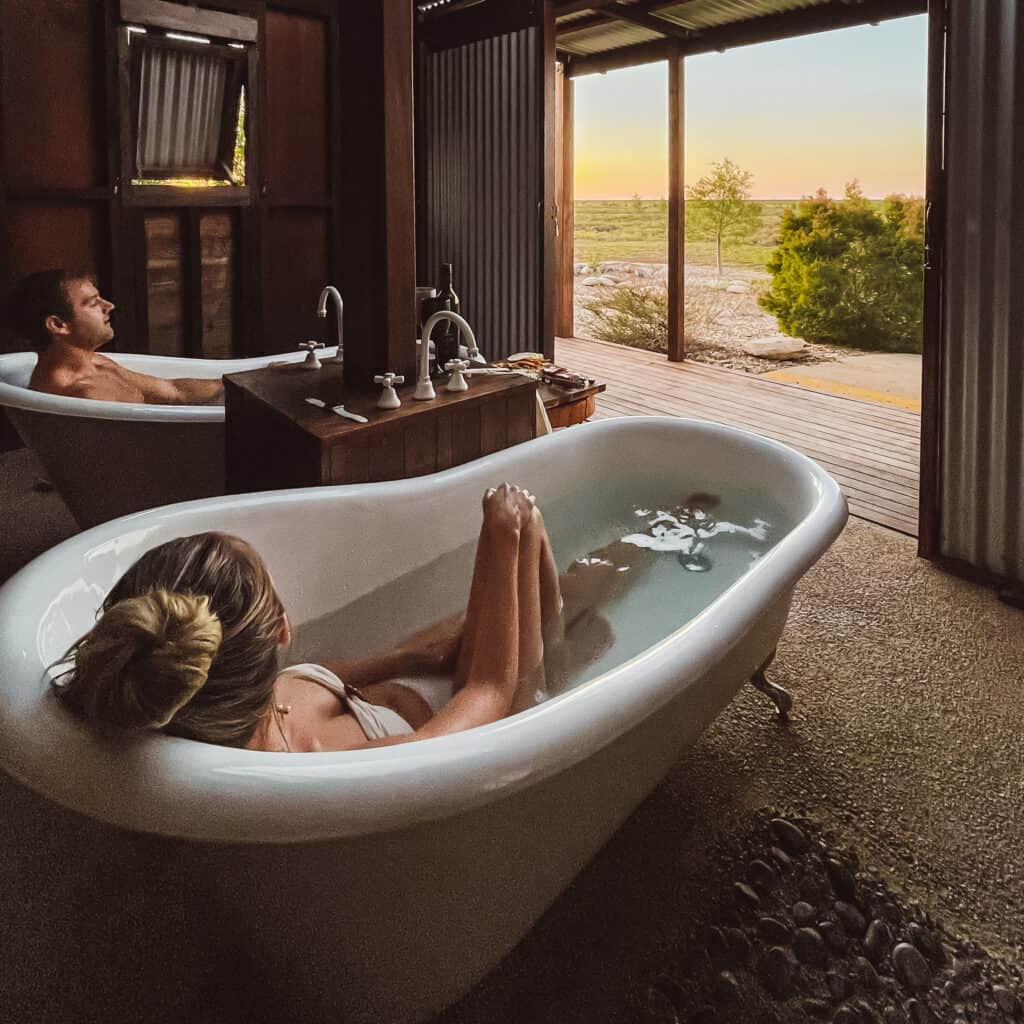 Food (Groceries and Eating Out) – $952.33
Before moving to the van, Wade and I would always meal prep on Sundays and then again on Wednesdays. We would do that to eat healthier and spend way less money than if we were to buy take-away food every lunch and dinner.
We decided to try and stick to this strategy while living in the van and have been quite successful with that. The only difference is that we have to meal prep more often because our fridge is much smaller than we had when living in a unit. Instead of meal prepping twice a week, we now have to cook three times.
We always choose healthy and nutritious meals and try to do our weekly shopping at Aldi whenever there is one available. We have noticed a big difference in costs when going somewhere else.
Gym – $135.60
We have always been active members of gyms but have signed up with Anytime Fitness just before starting vanlife so we could have access to their showers.
We pay $16.95 each for a weekly membership, allowing us to access over 500 clubs around Australia. Another benefit of Anytime Fitness is that all their gyms are open 24/7, so you can work out (and shower) whenever suits you.
Internet & Phone – $176.68
Our most expensive month so far… This cost includes one of our Iphones, which is on a payment plan for $47.18.
We spent $129.50 on internet plans if we removed the phone cost.
We both have phone plans with Optus, using data pooling for 510GB, and we recently bought an internet dongle to stop using our phones as hotspots.
This month we had to purchase a Telstra Simcard and recharge it with a $30 credit to have internet while travelling in QLD's outback. There is minimal Optus reception there, and we needed internet to work.
Please note this is a business expense and was included here because most people will also have a phone and internet expense but might need a lot less data than we need for our online businesses.
Laundry – $23.00
We have been good with washing after learning we do not have to wash our clothes every other week as we did in our first month of vanlife.
We always try not to use the dryers, but we can only do that if we stay somewhere where we can hang the clothes out and wait for them to dry.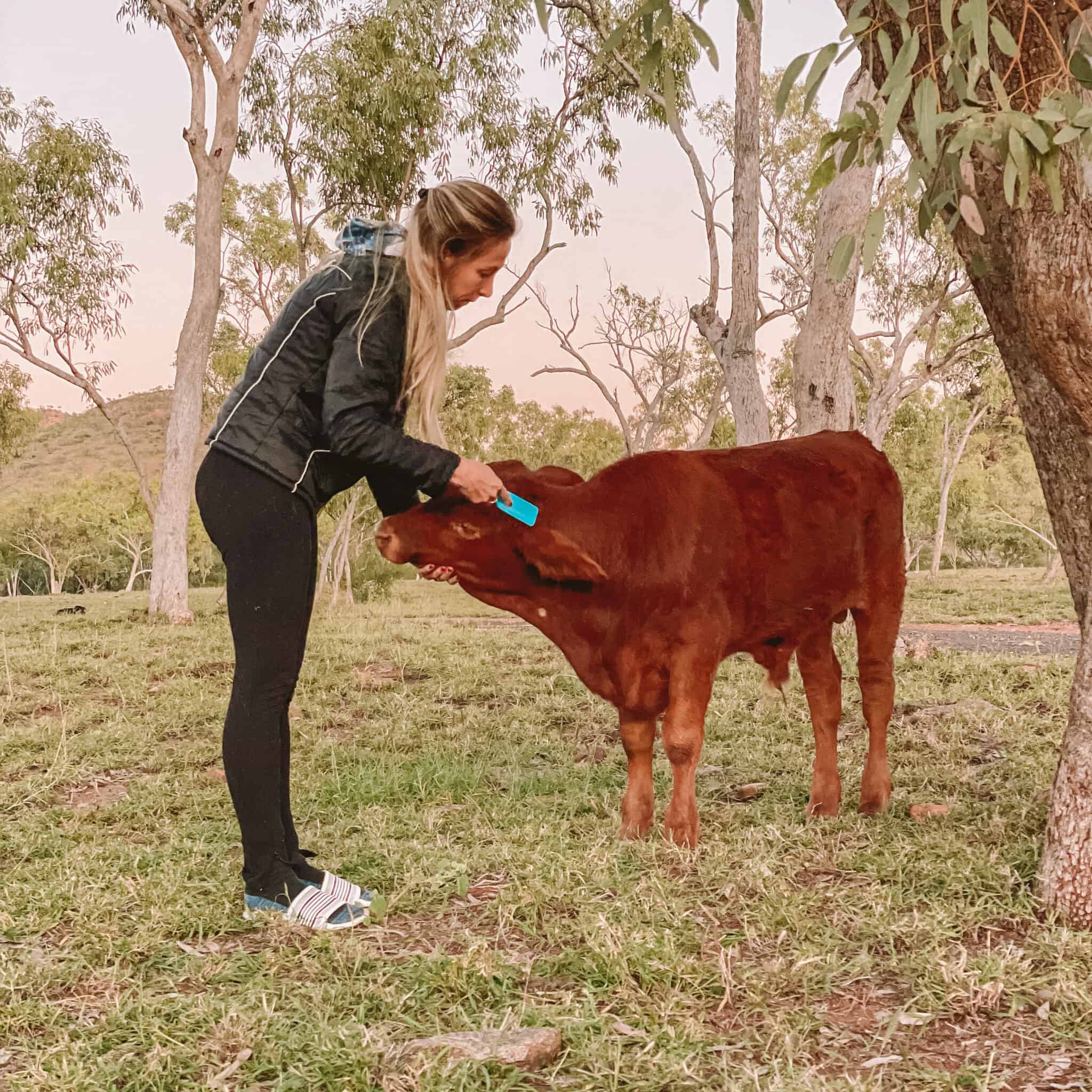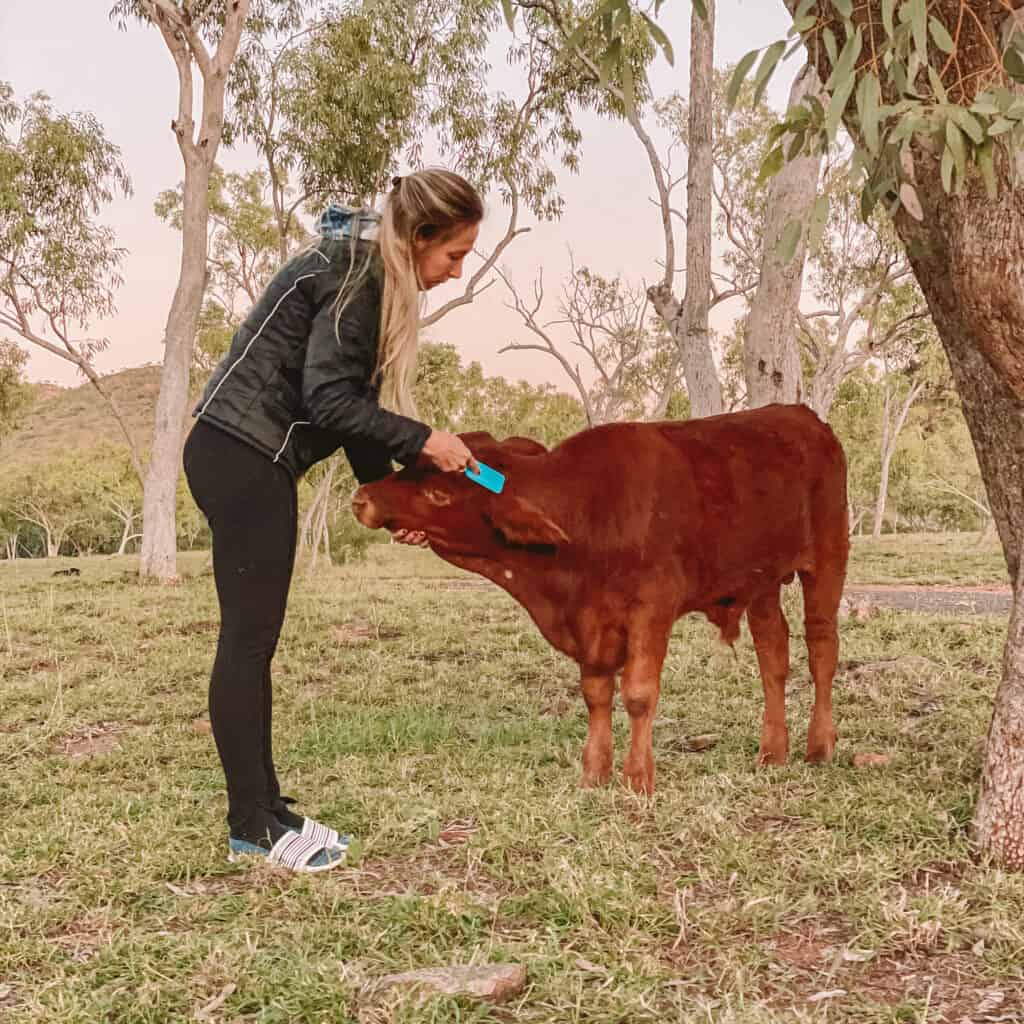 Others – $60.83
This item includes any one-off purchases or things that don't fit in the other categories. Below is a breakdown, so you all know what's included here:
Wade and I have this thing that we try to buy a fridge magnet with the location name for each place we visit. Of course, we usually can't find a good one, and only big touristy cities will have one. We were able to find a nice one in Winton, so we bought it 🙂
$17.49 for an Audible membership
Because we started driving longer distances, we decided to invest in an Audible membership, listen to some e-books while driving, and try to be productive, learning something in the meantime.
The first book we got to listen to was Life Force by Tony Robbins, and we loved it!
$27.00 for cat litter
$11.84 for a cleaning spray for our toilet.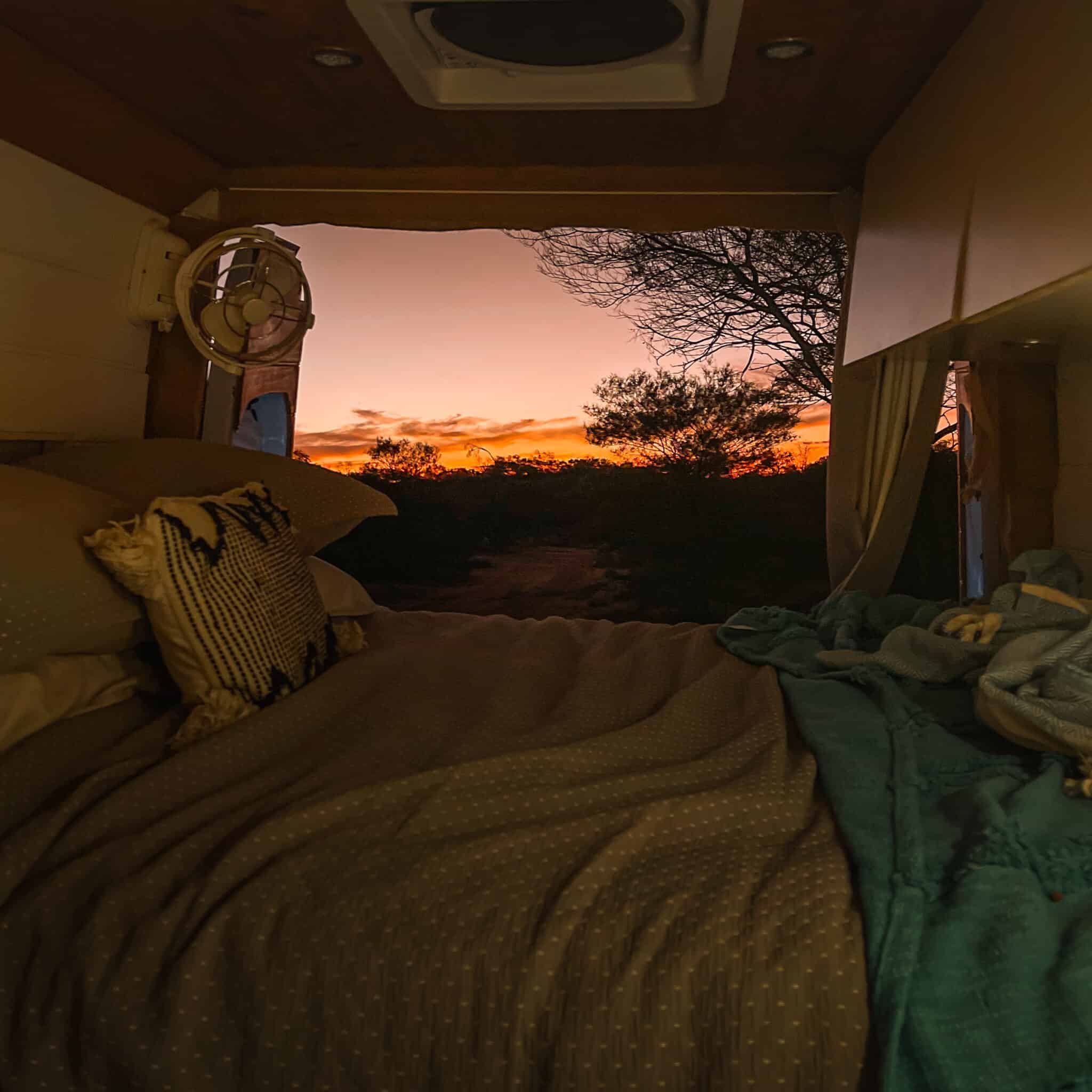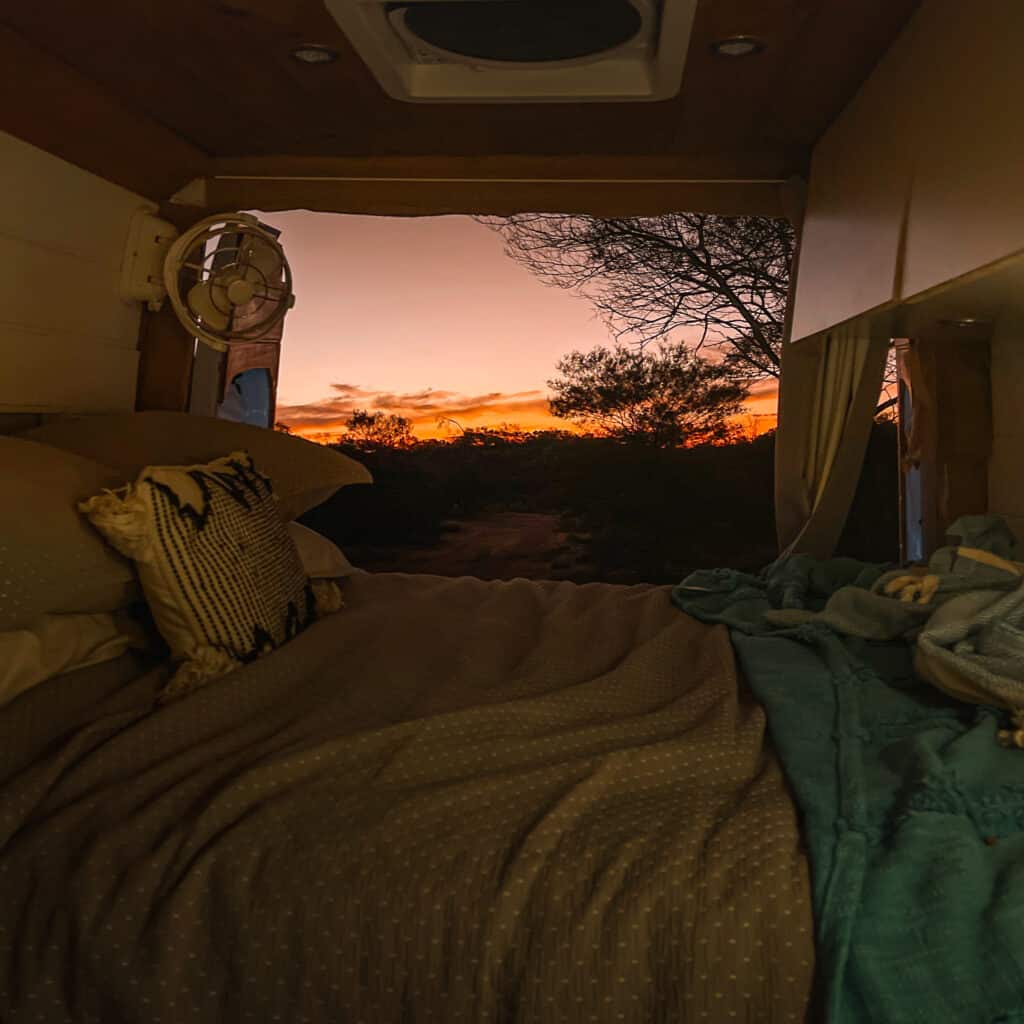 Van Maintenance/Decoration/Items – $55.26
Below is a list of what this line item includes:
In our van, we have an electric cooktop as well as a gas cooker for cooking. We mainly use the electric cooktop and will leave the gas cooker when we need two pans cooking simultaneously or if we have any electrical issues.
We always try to keep spare gas bottles with us, so we never run into an emergency.
Total – $2,739.46
This was our most expensive month so far, mainly because of the number of experiences we did during our time in the outback and spending more on diesel due to the long-distance drives. 
We spent more than what we had budgeted for. We initially budgeted for $500 a week, but our average in these three months has been $647, so we have adjusted our budget to $700.
We hope you enjoy this and please leave a comment below if you have any questions. Keep an eye out for next month's breakdown! 
Make sure you follow us on Instagram if you want a sneak peek of this before it comes to the blog!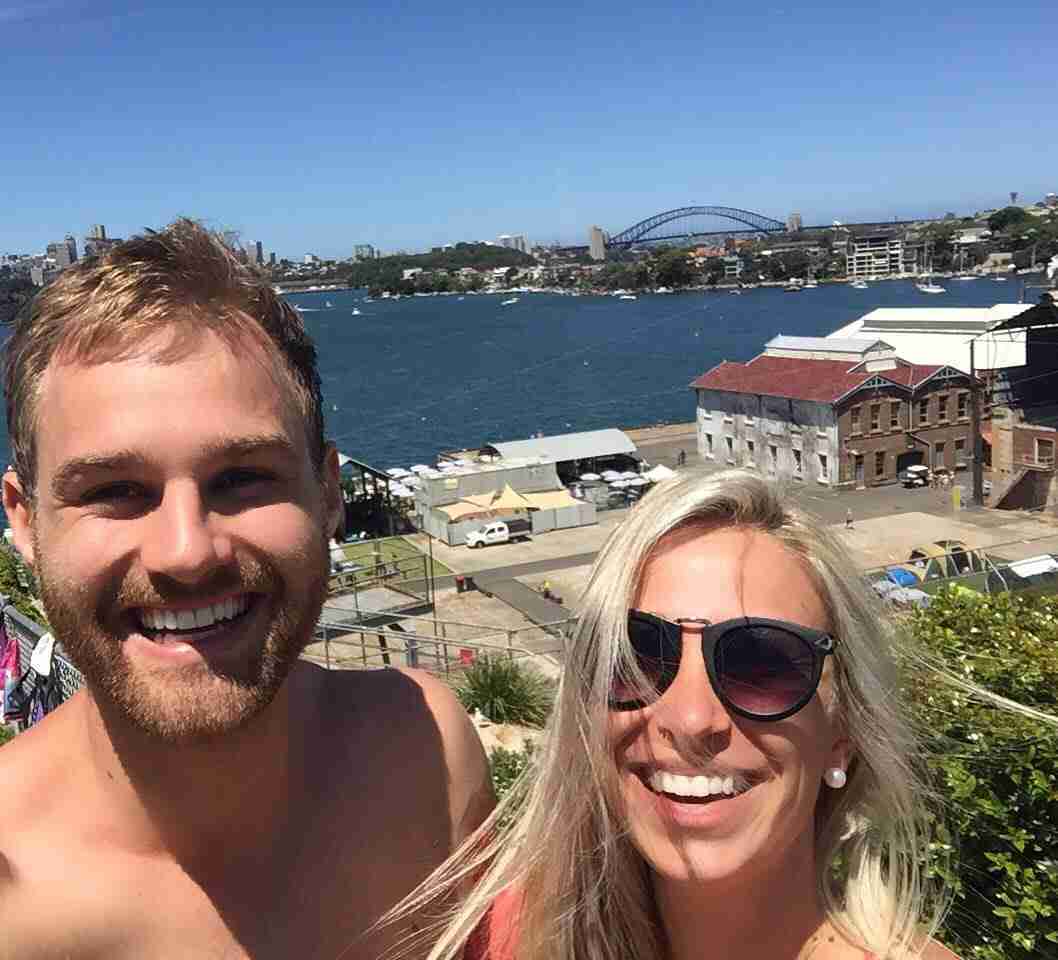 Wade & Dani
Hi! We're Wade and Dani, We're currently travelling around Australia in our 2017 Mercedes Sprinter Camper van and sharing our best experiences, stories, reviews and adventures as we go along. Make sure you follow us on Instagram @wadeanddani