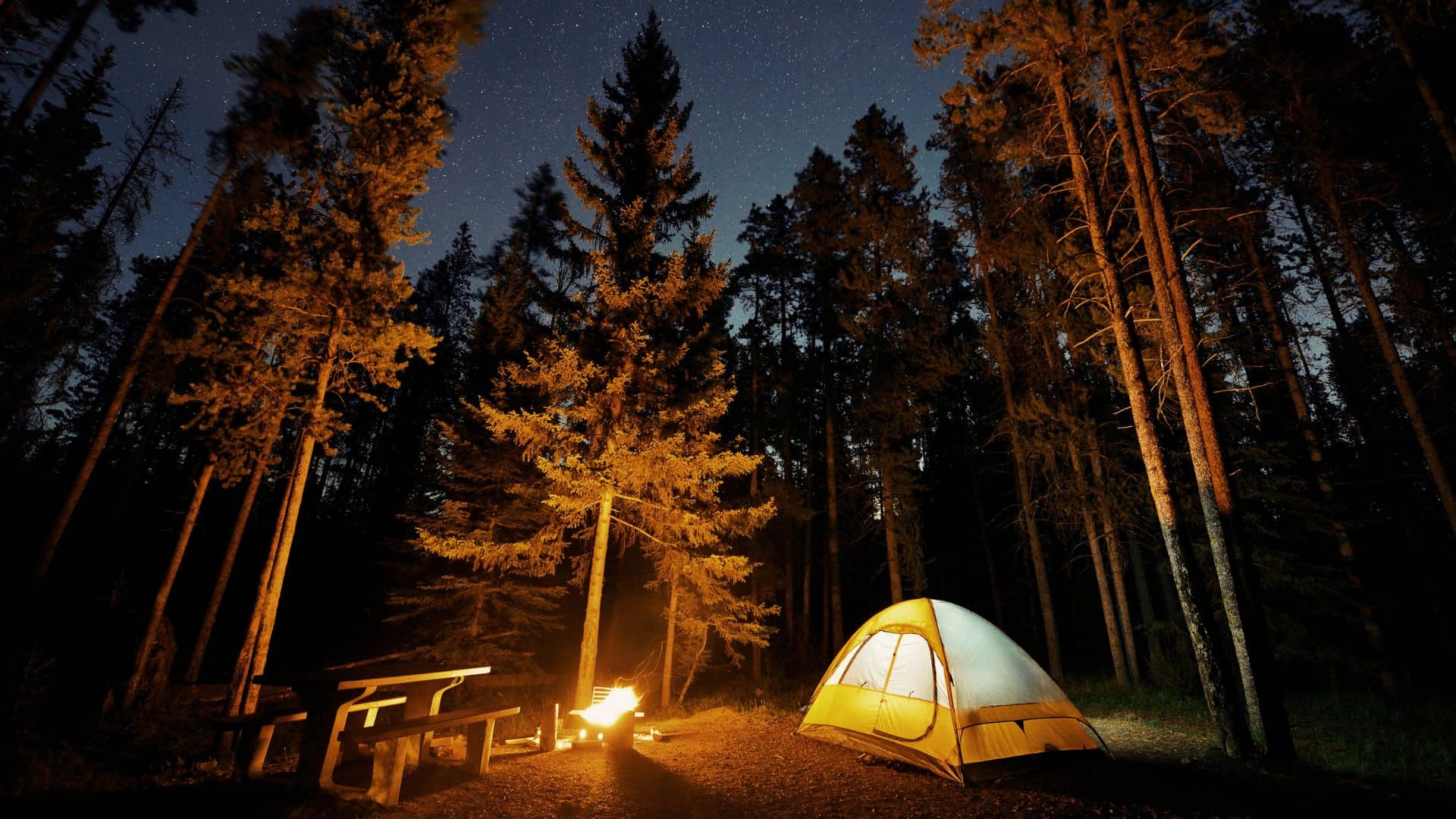 10 Best Camping Sites for Free in NSW (2023)
This post was updated on: September 1, 2023
If you're looking for a great camping experience, look no further than NSW. This beautiful Australian state is home to some of the best free camping sites in the country. Whether you're looking for a secluded spot by the beach or a place to set up camp near some of the region's top attractions, NSW has something for everyone. In this blog post, we will explore some of the free campground spots in NSW and provide tips on making the most of your visit.
Need a rental car to explore NSW? Book here
Wingello State Forest in the Southern Highlands
Wingello State Forest offers a great opportunity for those who love the outdoors and enjoy camping. The forest is located in the Southern Highlands of New South Wales, approximately 2 hours south from Sydney. With BBQ and toilet facilities available,
Visitors can free camp at any of the designated free campgrounds, which are located throughout the forest. Access to camping by 2WD Access, Mountain Biking, 4WD Tracks, and Horse Riding. There are also a number of walking tracks and mountain biking trails, making it the perfect place to explore and appreciate nature.
Campfires are only permitted from Easter to the October long weekend.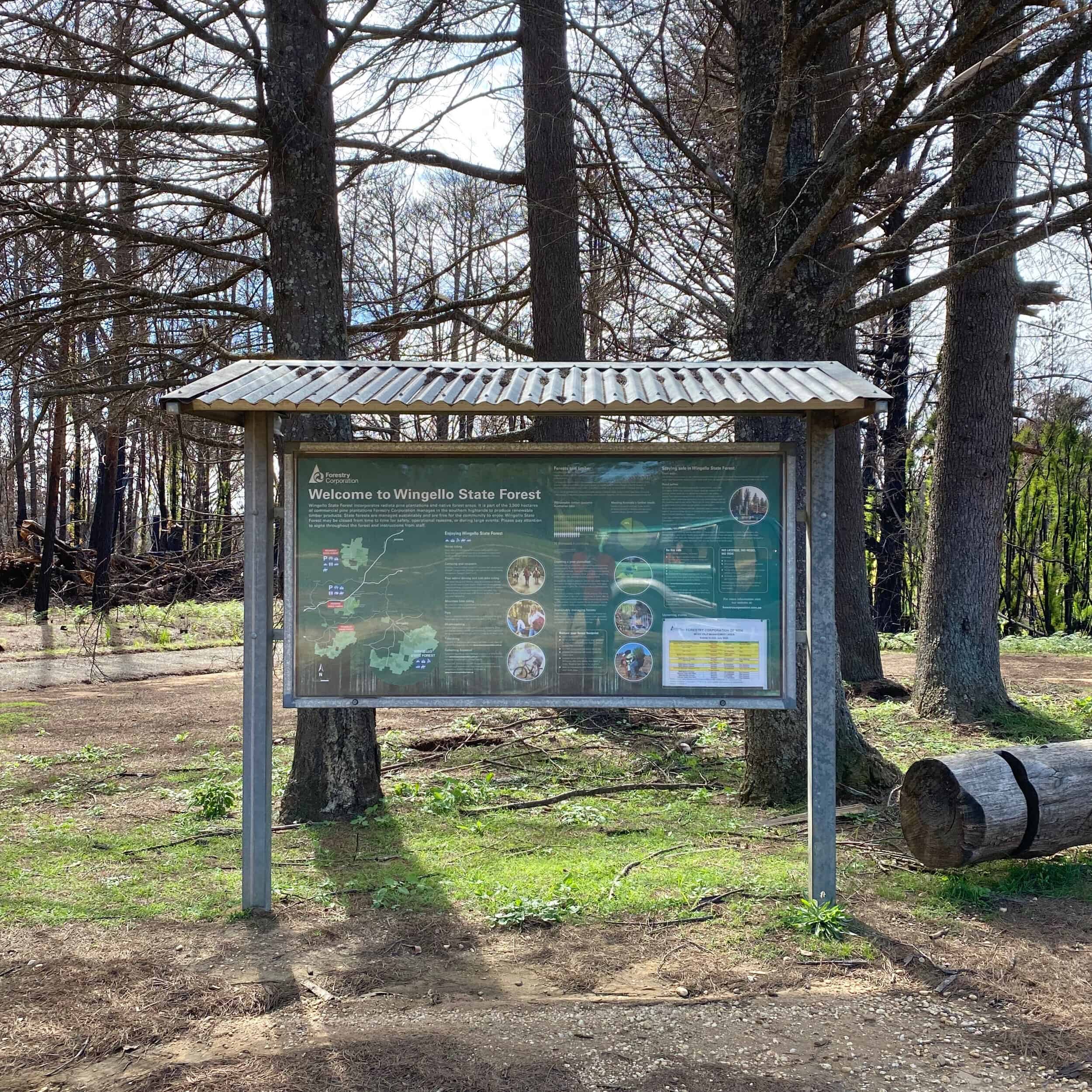 Gum Bend Lake near Condobolin
Gum Bend Lake is a small, secluded camping spot about 30 minutes outside of Condobolin. It's the perfect spot for a weekend getaway or an extended camping trip. The lake is surrounded by thick gum trees, providing plenty of shade and privacy.
Although it's free camping, it has facilities that compare with some of the charging campsites. Free, hot showers, toilets and garbage bins. The site is clean, and the lakeside is mown. Close to the river for fishing. Bird watching is great too.
You are allowed to say for up to 14 days with plenty of flat sites. No power, however, is easily accessible in any vehicle and suitable for any caravan or motor home size.
Bendethera Valley Campground
The remote and serene campground of Bendethera Valley is the perfect place for a relaxing break as well as for those who want to explore nearby caves. Early spring sees yellow bloom on its trees, while in winter, there sometimes exists a magical mist that fills up this valley early morning with pristine beauty.
One of the best things about this place is its natural assets. The river has plenty of spots for swimming, and there's a great picnic spot onsite, where you can also keep your binoculars handy while birdwatching!
You'll be able to take walking trips in any direction. Still, if I were recommending one particular path, then it would have been northwest towards Bendethera Cave track which leads up into some awesome nature areas with wild animals like kangaroos or wombats grazing around.
There are no fees for camping at Bendethera Valley Campground, but there is a $6 booking fee with the National park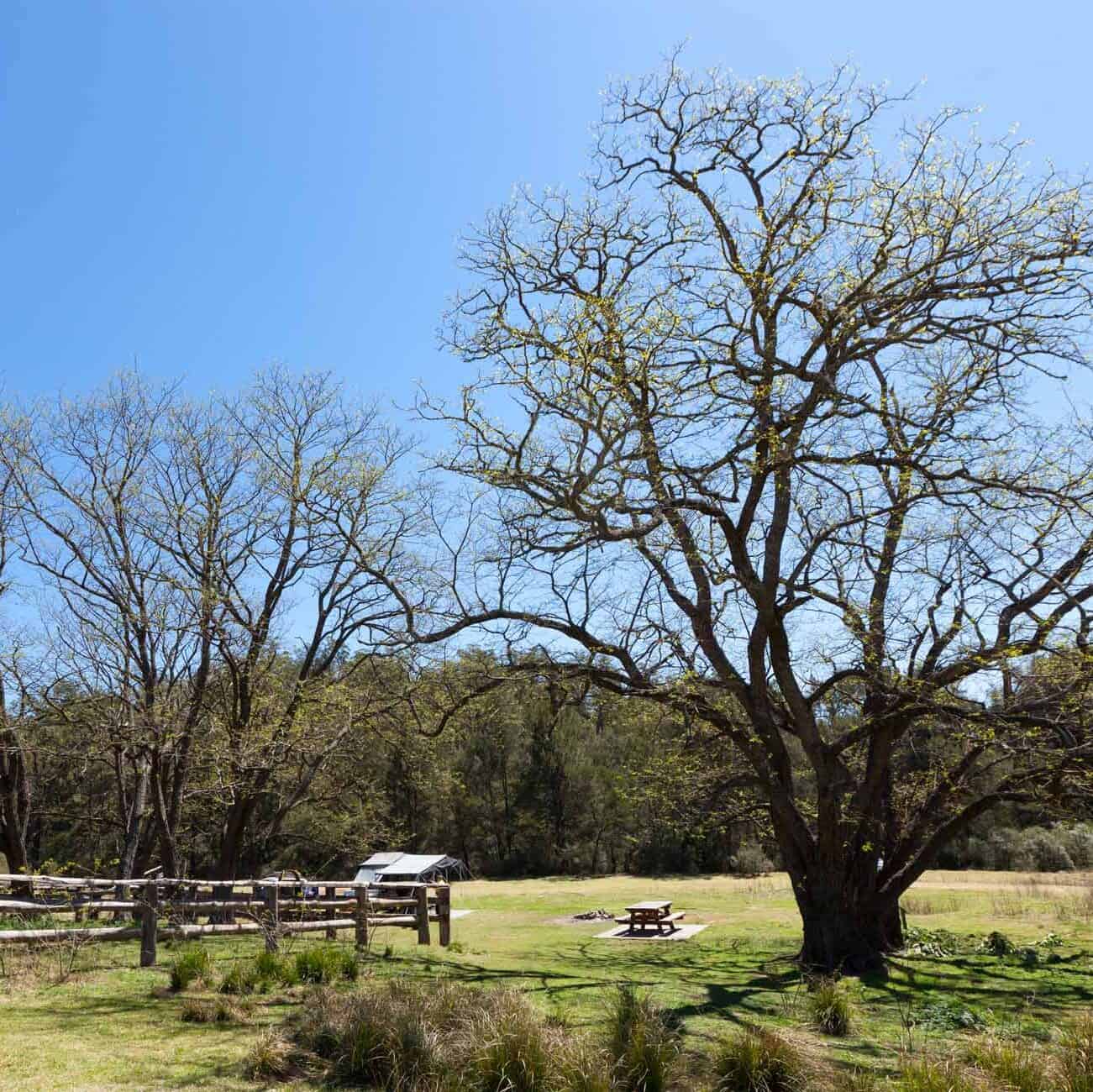 Sunburnt Beach Campground
If you are looking for a place that feels like it's miles away from everything, then this campground might be perfect for you. Nestled among the trees with an unspoiled natural environment around every corner, you will feel refreshed and rejuvenated after just one night here.
Set up camp and head off to explore the surrounding beauty. Take a short walk along with scenic views of Crampton Island, or go for an invigorating swim in the pristine waters. You can also try fishing from one side if you're feeling adventurous.
The only downside is that you are not able to park your car where you camp. The walk-in is 250m from the carpark, which isn't too bad if you are not bringing a lot of camping gear.
There are no fees for camping at Sunburnt Beach Campground, but there is a $6 booking fee with the NSW National parks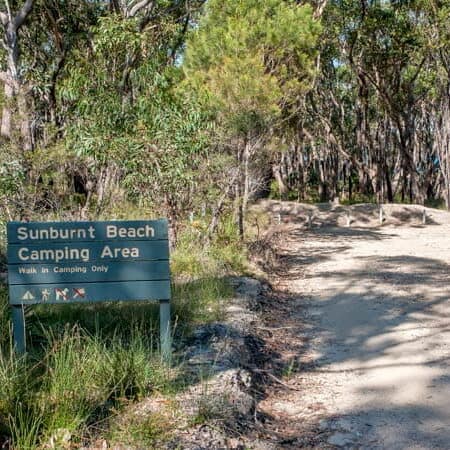 Thredbo Diggings Campground
Thredbo Diggings Campground is located in the Kosciuszko National Park, New South Wales, a short drive from the Snowy Mountains. The campground is a great spot for camping, with plenty of space for tents and caravans. Several walking tracks are nearby, making it easy to explore the area.
The campground is open all year round, but it is best to visit during the warmer months when the weather is more pleasant. Bookings are essential during peak periods such as Christmas and Easter.
Thredbo Diggings campground is the perfect destination for anyone who wants to get away from it all. You'll find plenty of amenities at this picturesque location, including Wild Brumby Schnapps Distillery and Bullocks Hut, not to mention Ngarigo Camp Site just down the road!
It's a free camp site, however, like above a $6 booking fee is required. Pets are not allowed in the campground.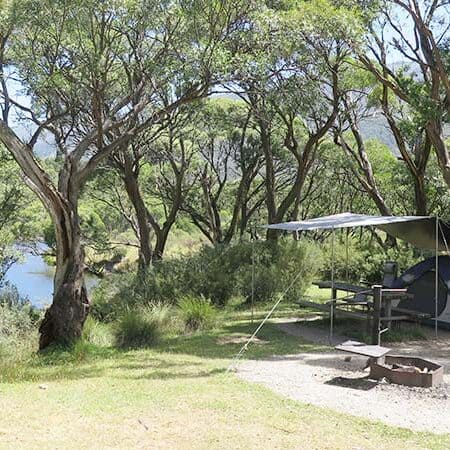 Spring Gully Campground
Spring Gully Campground is a beautiful free camping spot to set up camp. The campsite is located in a secluded gully.
It's the perfect place to escape from it all. With lush shade trees and a gorgeous river view, this relaxing destination will have you feeling right at home in no time!
As far as relaxed settings go, there really isn't much better than what's offered by way of accommodations here. Located near the end of Spring Gulley Drive with beautiful background scenery surrounding every inch, including plenty of dry camping spots to choose from.
Head out to the nearby Big River campground, wander down the river or go hiking along old logging tracks. At night when you're done exploring, head back to camp and enjoy a sunset as local wildlife start their evening chorus.
There are no fees for camping at Spring Gully Campground, but there is a $6 booking fee.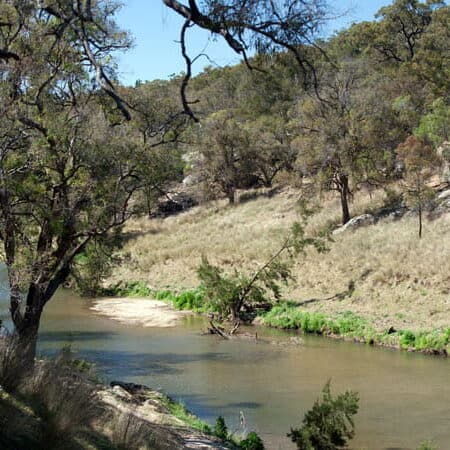 Cascades Campground
If you're looking for a place to truly get away from it all, the small and quiet campsites at Wadbilliga National Park are ideal. With only six campsites available, you'll feel like you have the place to yourself. And with its rugged wilderness and abundant wildlife, there's plenty to explore.
If you're an active and adventurous camper, you'll find plenty of trails to hike, climb, and bike. Plus, with several creeks and waterfalls in the area, you can cool off with a swim or a float downstream. So if you're looking for a little peace and quiet in nature, Wadbilliga National Park is the perfect place to pitch your tent.
Spring and Autumn are the perfect time to visit here. The weather during these times is great for outdoor activities like hiking, fishing or kayaking. I recommend packing a jumper as nights might sometimes get chilly, but if you are lucky (and patient), maybe even see some platypus.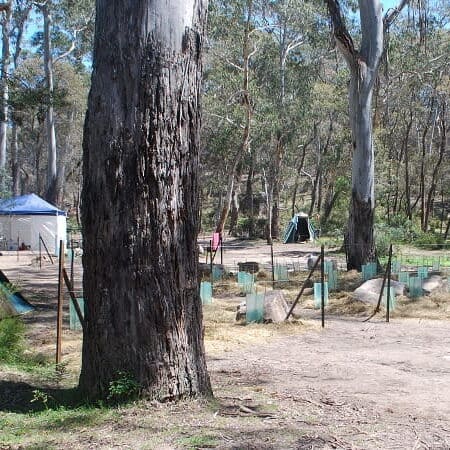 Bretti Reserve
The Bretti Reserve Campground is a 10-hectare spot for everyone. It's located between four NSW national parks, which offer natural beauty on the beautiful Barnard River near its junction with Manning river, and it has amenities to match your needs whether you're an experienced camper or just getting started.
You'll love this place if you are looking for an outdoor adventure with your furry friends. It is a free campsite plus pet friendly.
The maximum stay is up to 14 nights, so bring all the supplies that will make it feel like home. There are also pit toilets, and drinking water is available onsite, but I recommend boiling before drinking.
There is no power available at this campground, and the amenities are basic toilet facilities only.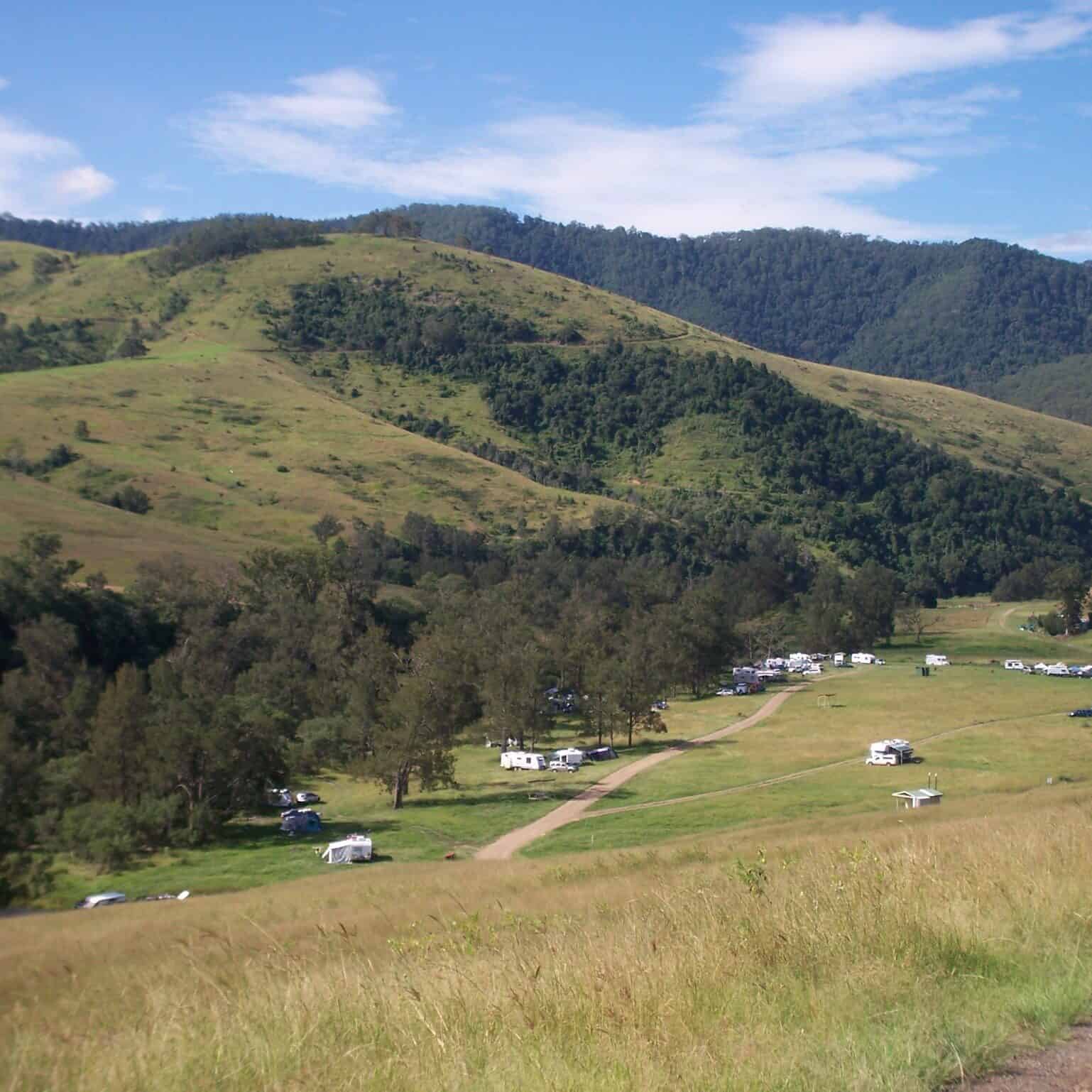 Roses Park Rest Area
Camping at Roses Park Rest Area by the Bellinger River is a donation-based facility. It includes flushing toilets, picnic tables and rubbish bins for your use during stays of up to 48 hours.
You may also stay in tents. Just make sure not to block any access gates or driveways while camping outside.
The fees for this campground go towards the park's upkeep, so please give as much as you can afford.
This is a great spot to relax and enjoy the river views. It's also a perfect place to take your furry friends for a swim, as they are allowed in the designated areas of the park.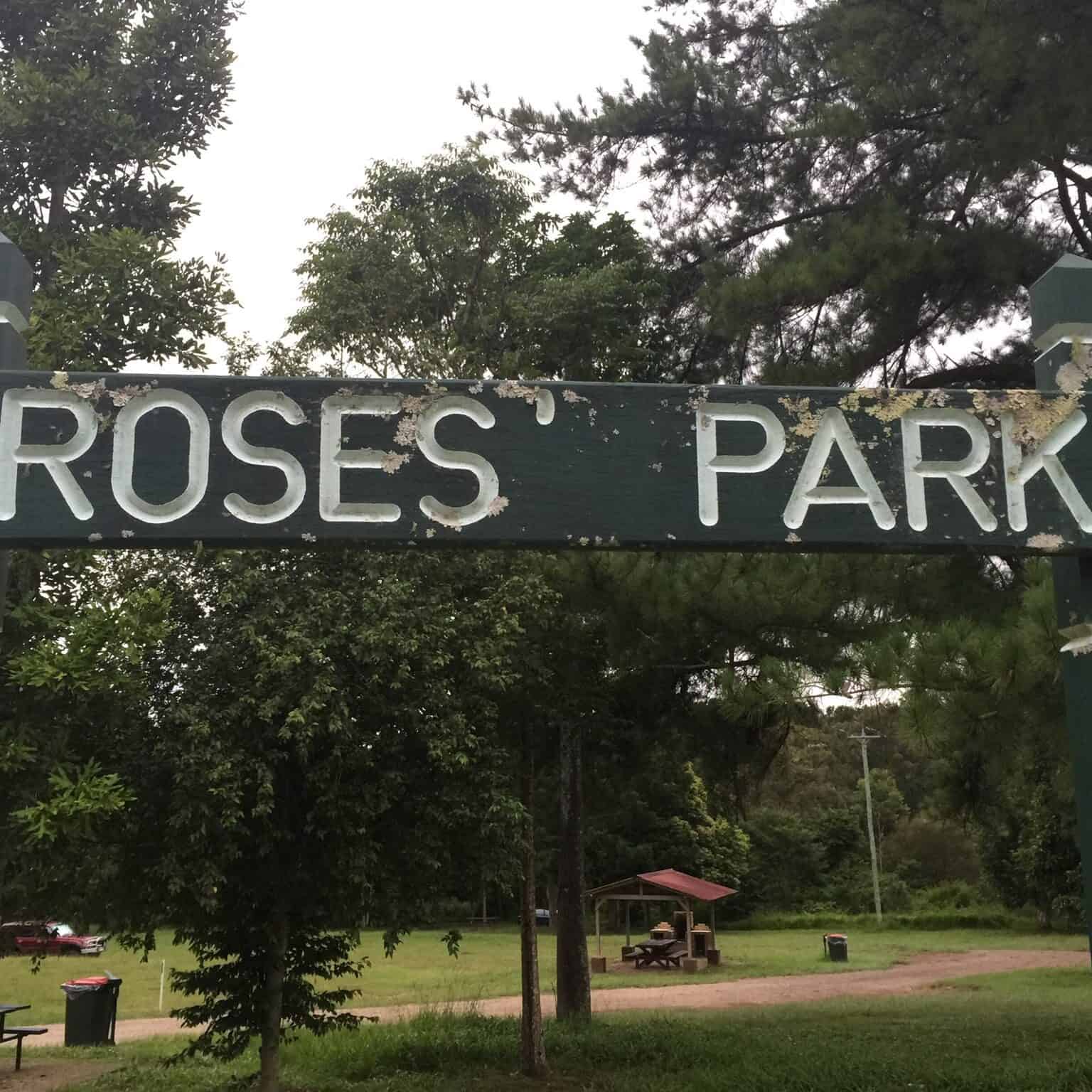 Newnes Campground
Set in a natural amphitheatre, surrounded by native bush and the Wolgan River. This family-friendly camping area has open grassy spaces perfect for playing games or just relaxing under blue skies dotted with white clouds while enjoying nature's beauty close up all around you.
Plenty of tracks lead off into different directions if that sounds more your speed with plenty of Wombat holes nearby.
There are fire pits and long drop toilets, but you will need to bring everything else. You should boil the water from the creek before using it.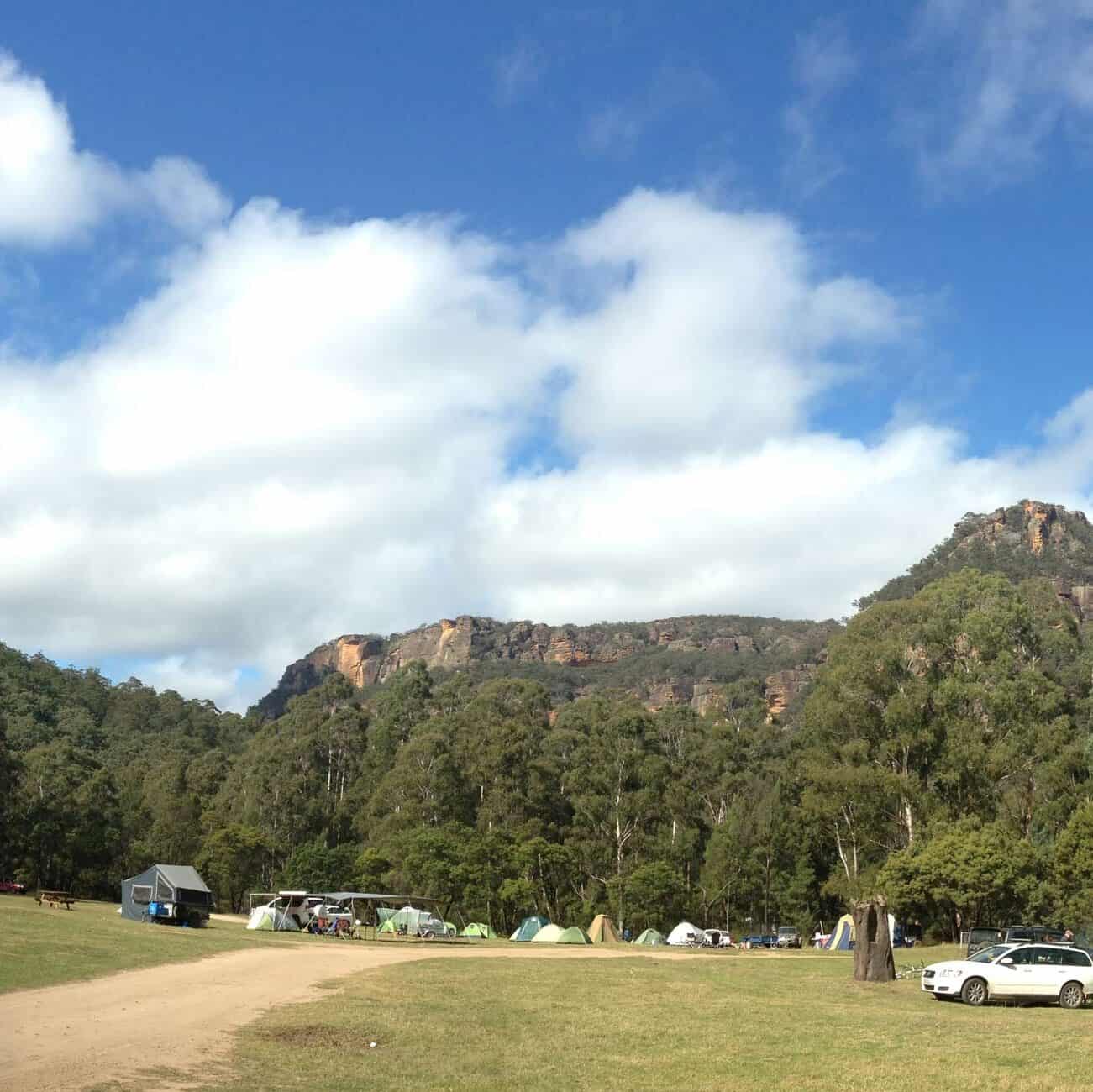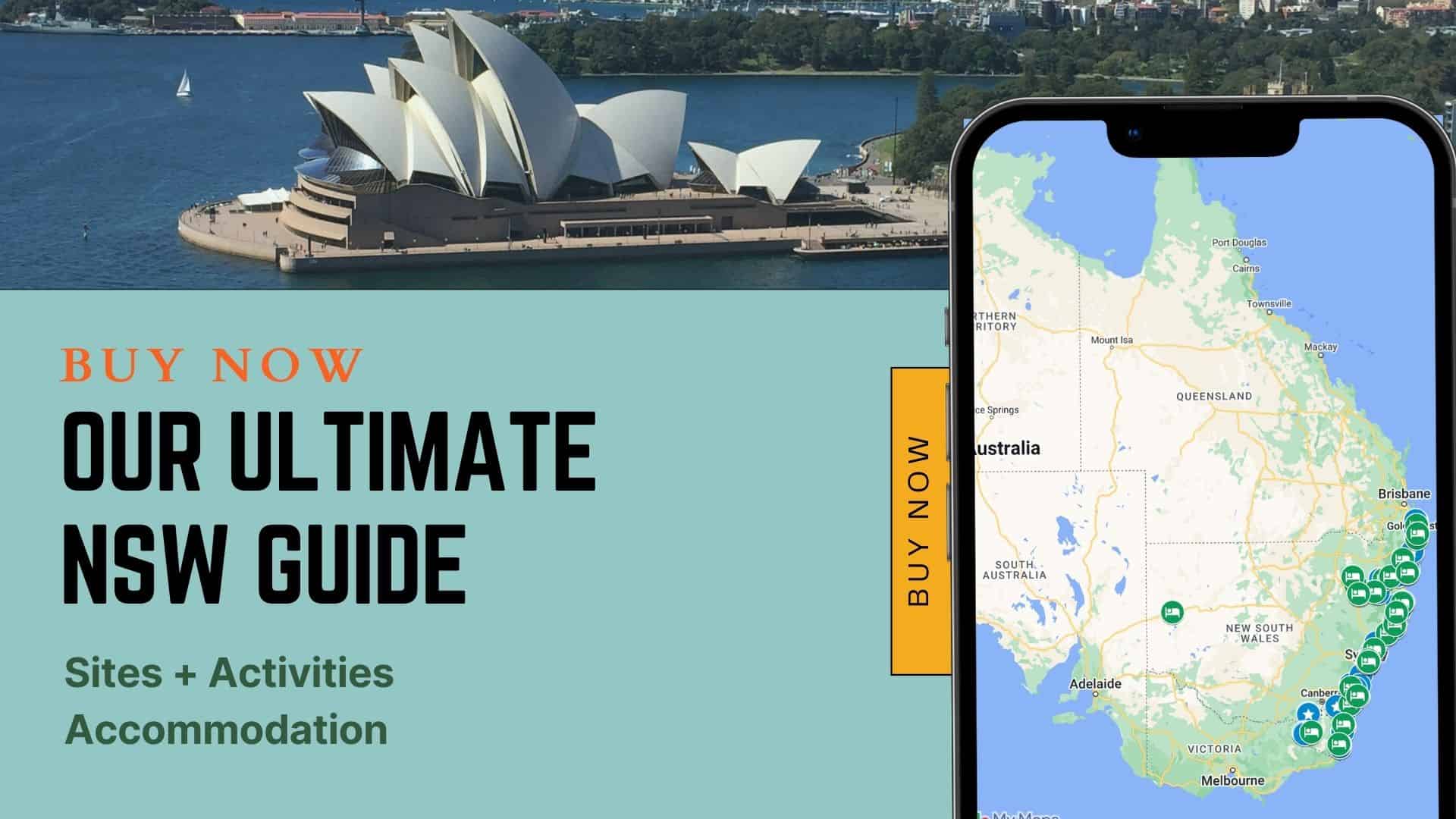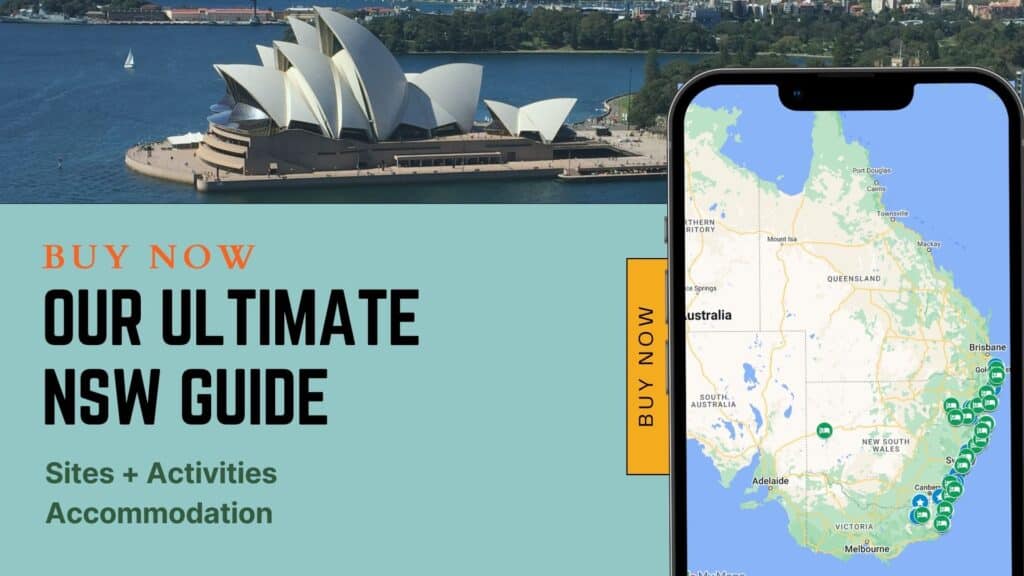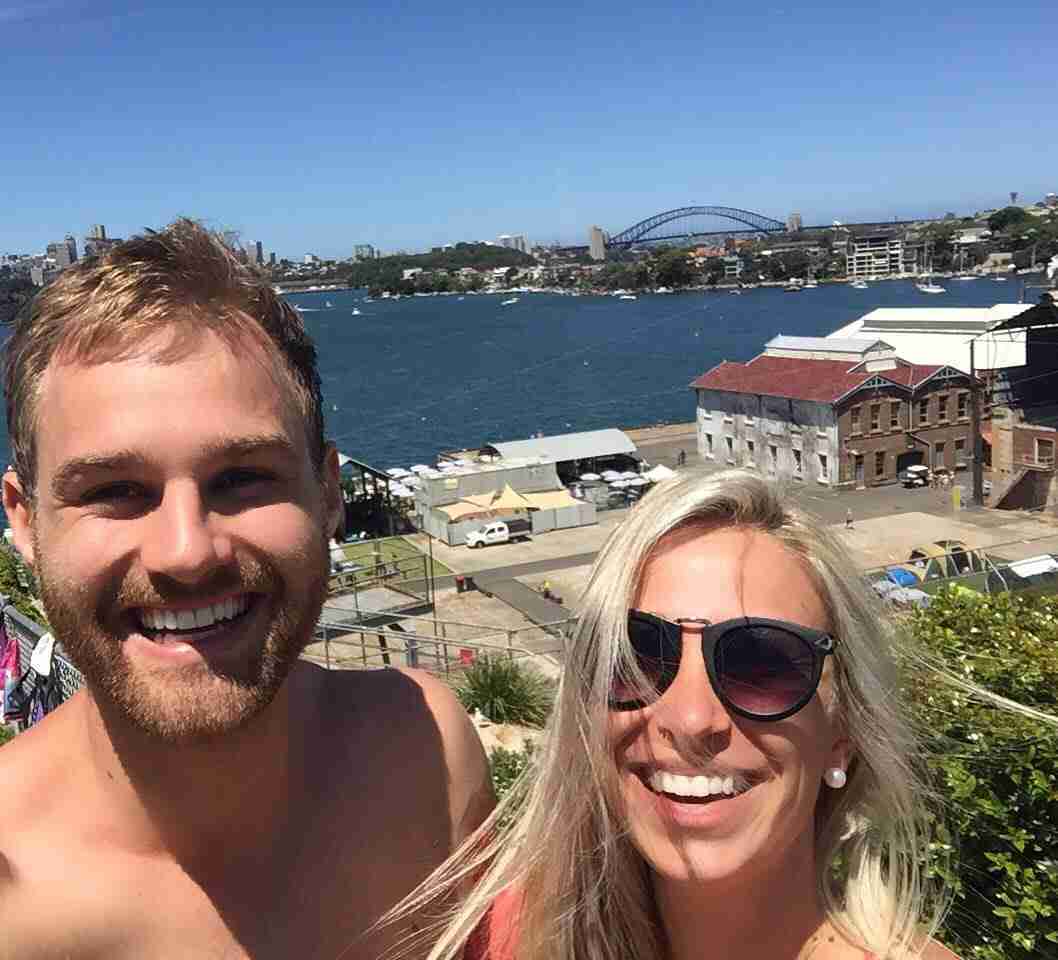 Wade & Dani
Hi! We're Wade and Dani, We're currently travelling around Australia in our 2017 Mercedes Sprinter Camper van and sharing our best experiences, stories, reviews and adventures as we go along. Make sure you follow us on Instagram @wadeanddani