Life in a Van: Everything You Need to Know
Many people dream about living in a van. They imagine being full-time van life, exploring different places and having an adventure of a lifetime. And while the van life movement may sound idyllic, there are some van life tips you need to know before living inside your camper van for an extended period of time.
This blog post will talk about what life is really like when you trade your house or apartment for the van life community.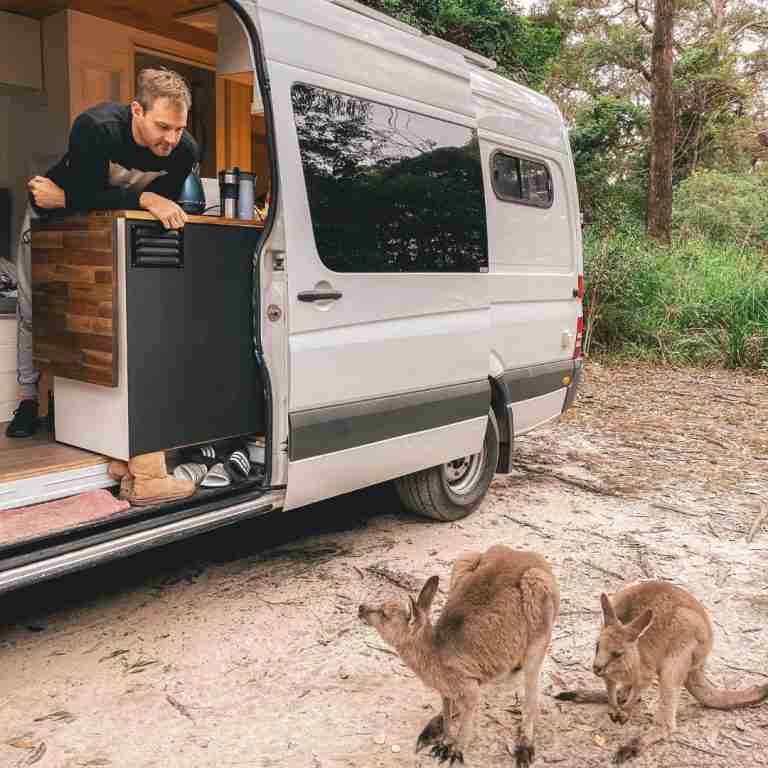 What is Van Life?
Van life is the concept of living life on the road in a camper van. Many people dream about living in a van. They imagine living in a van on the road, exploring different places and having their van life adventures of a lifetime. Van life is not for everyone; you will want to understand what it means before committing yourself to this lifestyle.
Living in a van is about taking controlling your life and being able to move at a moment's notice. You have the freedom of not worrying about rent or where you are going to stay next month. It is liberating to live life on your own terms without having a boss hovering over you all day long telling you what time to come in and go home from work.
When most people think about van living, it's such a small space, and there is nothing to do all day. However, living in a van can be just as comfortable and fun as living in any other place – you will need to know what you are doing before deciding to live on the road or not.
Who Would Want To Live In A Campervan?
Of course, vanlife includes living in your own van. Which can be confining. But vanlife offers an even more liberating lifestyle than living in the city ever could.
You are your own boss and have no one to answer to but yourself.
Van life is all about freedom – you get this sense of fulfilment when living life on the road.
Being able to explore different places is one of the best things about van life.
If you are someone who has been living paycheck to paycheck, living in a van will allow you to spend more time doing what makes you happy and less time worrying about how much money needs to go into your bank account at the end of each month.
Advantages of Living in a Van
Here we have put together four van life pros for living in a tiny home.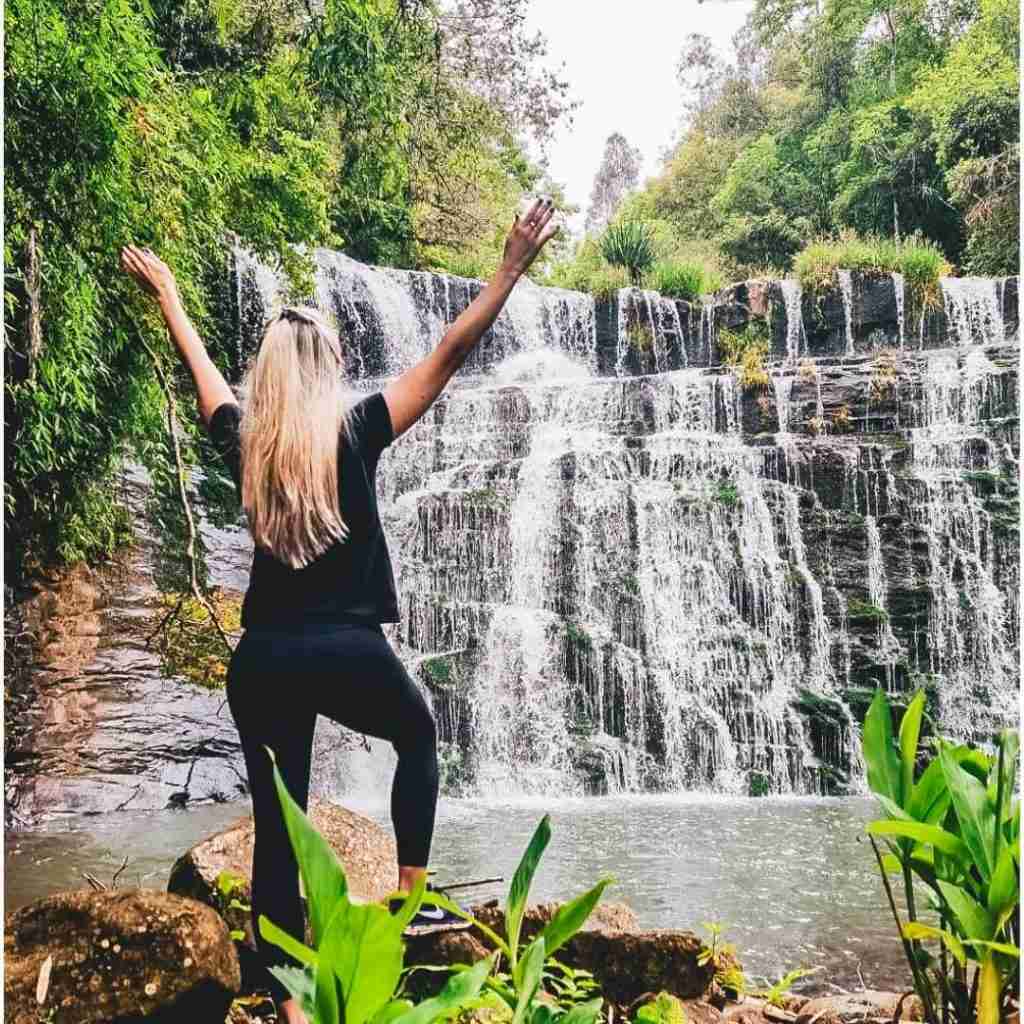 1. Saving Money
As long as you stick to your budget, you'll be fine. You will be able to save money while living in your van. Van life is perfect for anyone who wants fewer bills and more freedom; this lifestyle allows you to do what makes you happy instead of worrying about the next bill that needs paying.
Van life is also perfect for anyone who loves the outdoors and wants to travel without having a monthly house payment. Van life has an endless amount of possibilities, so this lifestyle will never get old!
2. Learning about yourself
It's a fantastic time to learn more about yourself and what you want in life. Van living is a chance for you to take time and reflect on your own personal growth, to work out who you are and what makes you happy in this world.
Van life is not for everyone, but you will never know if it's your thing unless you try. Van living offers an incredible opportunity to live simply and focus on what matters most in life.
3. To live more environmentally
When you live in a van, it's simple to be environmentally conscious and sustainable. If you have a solar panel and a battery system, you're essentially off the grid. You'll save a lot of water. Your waste consists solely of food items. If you travel slowly, your carbon footprint is relatively small.
Who doesn't want to help save the planet?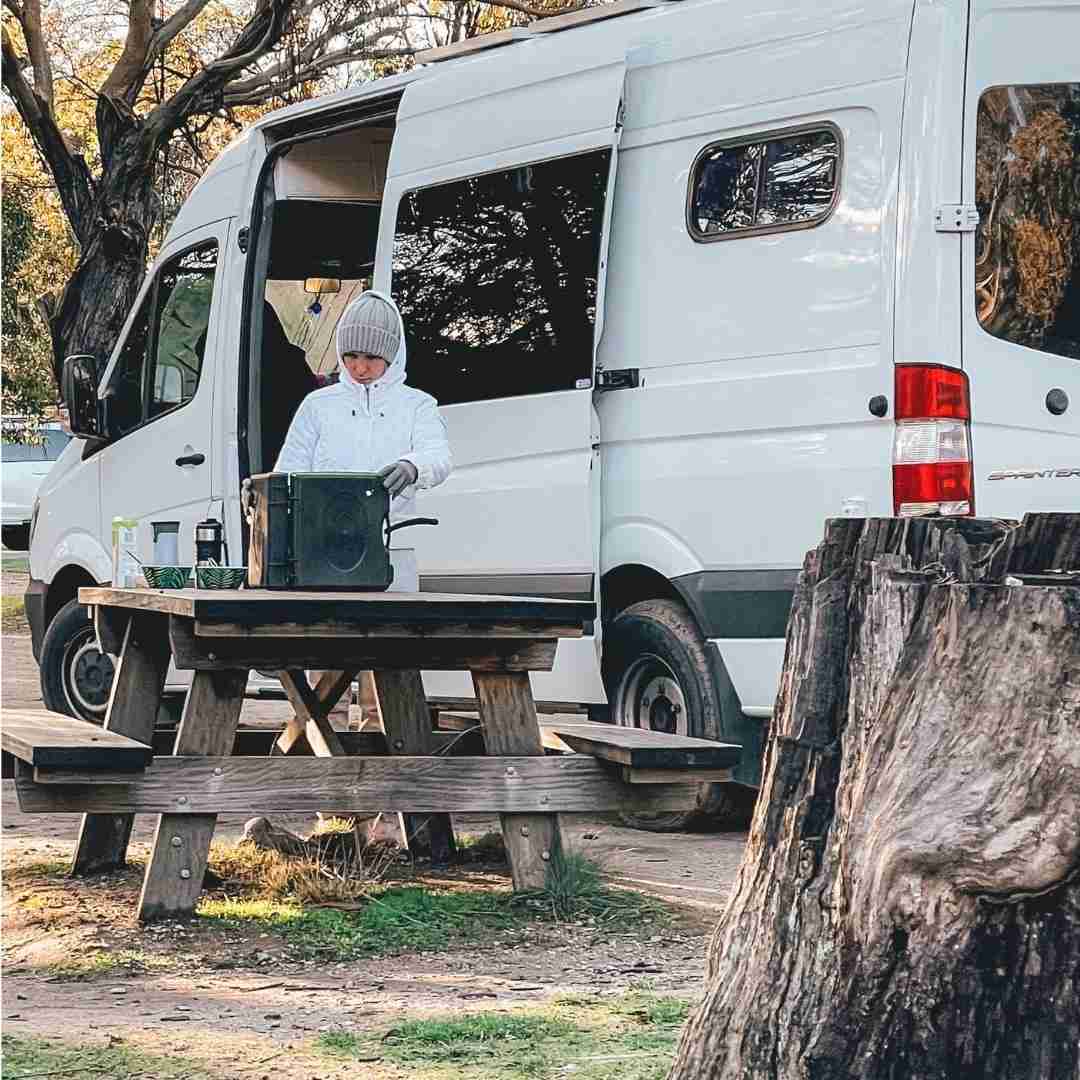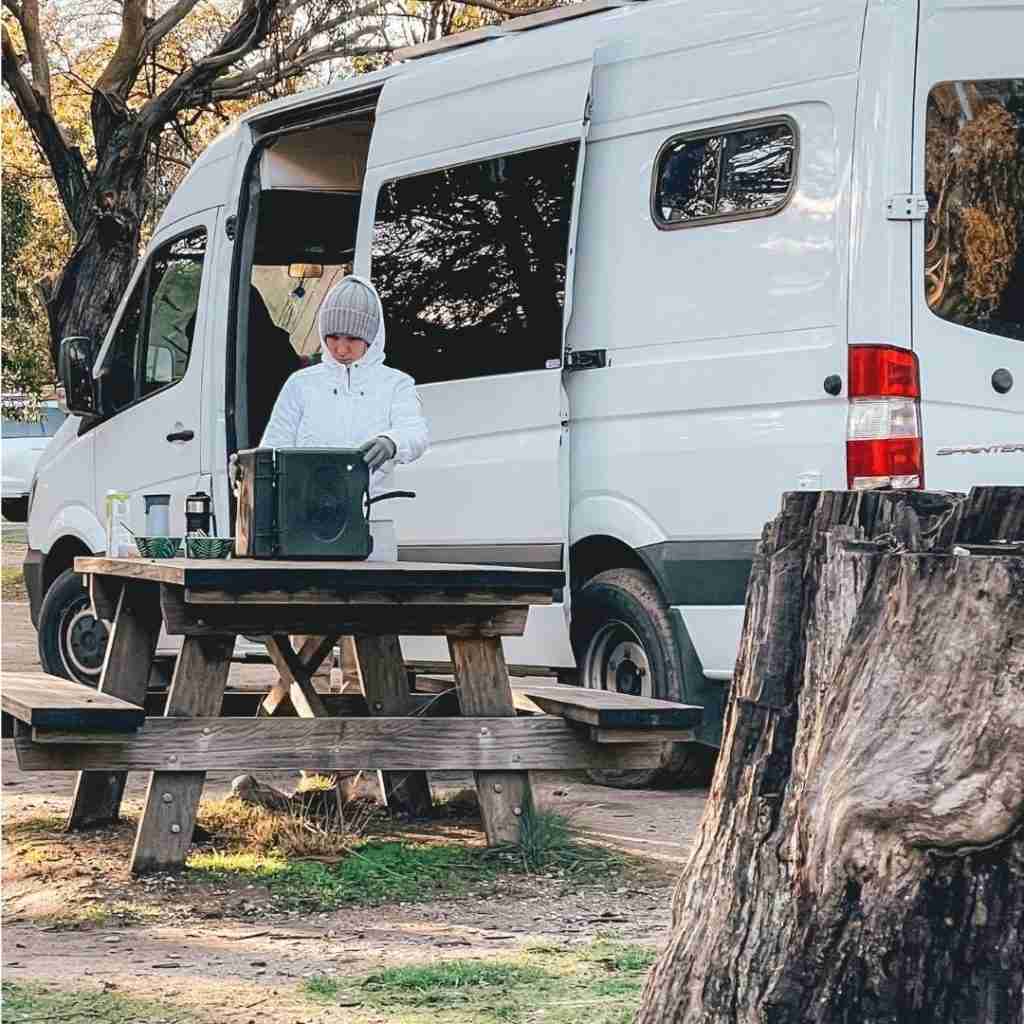 4. More time for things in life
The most significant benefit of travelling in a van is the sense of freedom it provides. Van life allows you to spend more time doing what you want and less on things that don't matter.
Life is a journey, not a destination. Van living will help you remember this as each day becomes about the experiences of being alive instead of focusing on trivial matters such as where your next paycheck is coming from or how much money is in your bank account.
Disadvantages of Living in a Tiny Home
When you're on the road, your life isn't as glamorous as the Instagram photos would have you believe. In reality, it's frequently more difficult than living in a physical house.
1. Living in a van is not for everyone
Van life isn't always easy, and it can often be very tough. You will have to work extremely hard while living on the road if you want your lifestyle to run smoothly.
We'd simply want to be upfront with you and inform you of these four factors to think about before purchasing a van and heading out on the open highway.
2. The Uncertainty of travelling on the Road
One of the most significant benefits of van life is being able to see different areas. But if you're someone who likes to be in control and know what's going on, this lifestyle may not be for you.
Van life is full of uncertainty – from where are the shower facilities to how can I make a few dollars. Van life requires a lot more flexibility than living in a physical house.
You will need to be quick on your feet and make changes when you're on the road, so this lifestyle may not be for you if you like predictability in life.
3. Everything just takes longer
When you live in a van, everything takes longer. From making your own meals to showering and even getting dressed, you'll notice that everything will take more time.
On top of those things, if you want your van life experience to run smoothly, it's essential to be proactive with all the tasks involved in living on the road. If you don't enjoy planning or organizing, this lifestyle may not be for you.
4. Social Network
On the road, you'll meet a lot of new travel pals. And some of them might become lifelong buddies.
But the longer you are on the road, the more likely you will feel disconnected from your friends and family back home. It can be hard when you're in a different city every single day – there's no time to build up long-lasting relationships with people unless they live in that area too.
5. You Will Spend More Time Cleaning Than You Think
Cleaning your van can be a lot more time consuming than you initially thought. You'll always need to do some cleaning, especially if you're on the road for an extended period.
If you don't like housework or tidying up, you will have a hard time with this lifestyle.
Living In A Van Full Time
Before starting this fantastic journey, you must first decide whether you will be a full-time van dweller or just do it on the side.
This is a situation that requires careful consideration. First, you have to ask yourself whether you want this lifestyle. Is it just a temporary thing, or are you ready for the long haul?
You also need to consider what other responsibilities tie you down. If no one depends on your income, then living in a van should be much easier. But if other people rely on you, such as children and spouse, maybe full-time life isn't possible yet.
You might want to try working while travelling or joining an RV community with members with different work schedules, so someone always has time at home while another member works remotely.
This solution can take away some of the stress but let's not forget about all the benefits! Living in nature will bring many health benefits.
Is it Possible to Live in a Van Full Time?
Van life is the dream for many people, but not everyone can live this lifestyle full time. It requires a lot of planning and flexibility if you want everything to run smoothly.
First off, you guys need to consider whether your income will cover all these costs because it's inevitable that living on the road will cost more than being in a house.
The benefits of this lifestyle are so worth it – you get to live in nature and experience different places. Just be prepared for the downsides!
You will need to work out whether living on the road full time is possible for your life right now.
Does anyone depend on you? Do you have any other responsibilities? If not, living in a van should be much easier.
If you're not ready for this van life full time but still want to try it out, consider renting a van for a few weeks at the same time, It will also help see what the day to day life might look like.
This can take away some of the stress from your life but let's not forget about all the benefits!
Living in a van can be possible, but it definitely isn't easy – you need to plan ahead and really think through every aspect of this lifestyle. It also requires flexibility if everything is going to run smoothly.
Is Van life cheaper than renting?
If you're looking to save some money on your next adventure, consider living in Van life instead. You could buy a used vehicle and renovate it yourself with items from IKEA or Target- all while saving more than renting! Plus, every purchase will give back, too, so there's no risk involved either way (except maybe getting dirty).
Even if you buy new, more expensive goods, you will almost certainly save money, but not as much as if you purchased second-hand.
Renting and transforming a van into a home can be pretty expensive; however, you are in control when customizing your mobile home. That's why it is possible to make the expenses much less costly than paying rental fees that have no say over what happens next with their lives.
Other Important Things to about Living in a Van
Always on the move
It's also difficult to not go back and relax without having a home base.
You might not be able to see your friends and family for a while, which can take its toll on you.
If this will affect your mental health negatively, maybe living in a van full time isn't the best option right now.
It's a fantastic lifestyle, but it requires careful consideration of whether it's right for you.
If it is, make sure to plan everything out and be prepared for the downsides!
Not much Privacy
However, living in a van is not the same as living in a house; it doesn't matter how hard you try; a van is not a home. It's constantly in use, and you might not be able to stand up, move about freely, watch television, or just dance around the kitchen in your undies!
While it's possible to park in secluded areas, you may still be in the public eye, which gets old fast.
Tiny Living Space
Having everything in the van makes moving about inside it a little tricky.
But don't let the size of your van stop you from living the van life; it's important to make do with what you have! No matter how small your space is, there are ways around this.
For example, if you like to cook, purchase a stove with foldable legs to be easily stored when not in use. If storage is an issue, then look for furniture.
It can be a fantastic lifestyle, but it requires careful consideration of what you want and planning ahead.
What's the Best Van to Live In?
Choosing the appropriate campervan, RV, or motorhome for you is perhaps the most crucial selection you'll make before living in a van.
Because your van will be your new house, it's no different than buying a new home. You'll want to find a van that provides you with what you need but at an affordable price.
You also need to decide on how much storage space you will need for all your belongings and living essentials like cookware or furniture if necessary. This is something that should be taken into consideration before purchasing any campervan, RV.
It takes time to discover the best vehicle to live in. Consider how your tiny house may fulfil your needs?
What about the size of your van?
Do you have to be able to stand up inside?
Do you need storage for bicycles or surfboards?
How many people will be living in your van?
There are many more questions.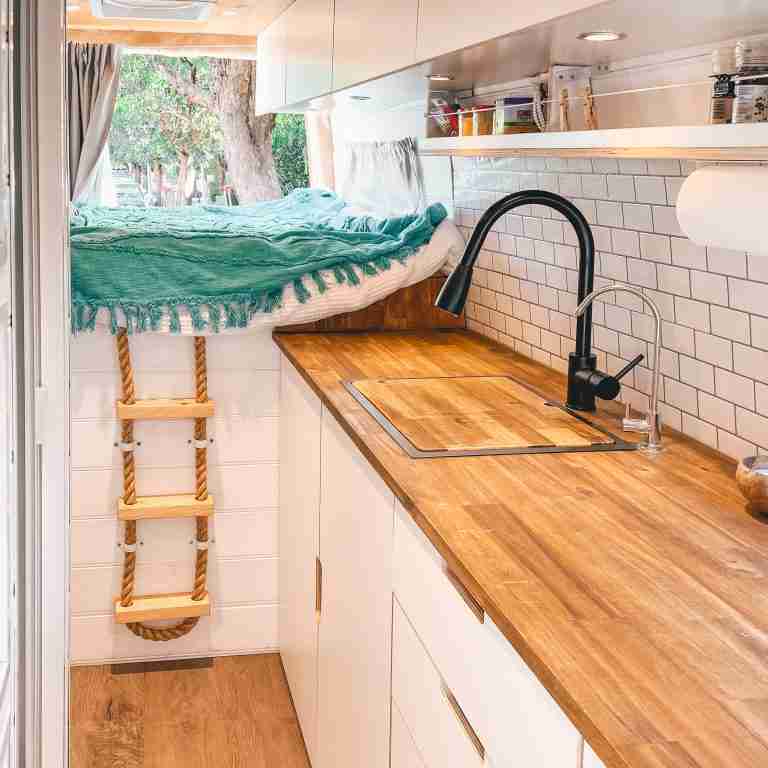 To Buy Or DIY a Camper Van
Doing your own van conversion maybe for some people, but unless you are handy around the house or have skills in building, this might not be a good idea. If you want to save money, buying an old van and converting it yourself will work out cheaper than paying someone else to do all of the hard work.
However, you need to be prepared that a few things might take twice as long or more if things could wrong if you attempt to complete a van build yourself.
Many van lifers convert their vans, and they seem to love doing it themselves; however, there is a lot of time involved with no warranty on the work. So this may not be for everyone.
You will find thou in most cases, you will pay a premium price to purchase a van that has already been converted, so you might find it more cost-effective if you buy an empty van to convert. This option obviously will take more time and research. Still, the advantage is knowing what work has been done, plus you have the opportunity to create a build that suits your wants and needs.
Where to Sleep When in a Van
Where Can I Sleep While on The Road
This could be different for everyone and depends on the size of your van.
You can park your van in places where people don't usually work. You might want to find somewhere without buildings, so cars don't go by and wake you up.
You can also park at a truck stop where you'll find other people who live in their van too.
This is a popular option, and it's incredible how many full-time van dwellers choose this lifestyle! You will start making friends with the same passions as yours and share stories and ideas.
Free Campsites
Parking in a spot can also be done without having to pay – it's called free camping.
These spots are usually found in national parks, the side of freeways or gas stations; you'll find this type of camping in remote areas with no or few people, and it's often on a grass patch.
There are typically no designated spots for free camping. You will want to check out a great app called WikiCamps. The app will show you amazing free campsites (some not so amazing free campsites) and paid campsites. It will even show you public toilets and water refill stations.
Finding these spots is easy but securing one requires some more time and effort.
Stealth Camping
Stealth camping is a type of free camping that requires the stealth and safety of the individual and generally just for overnight parking.
It's not safe to camp in any location for more than a night or two because you could get caught and be fined for trespassing.
You will need to find spots where people aren't likely to see your van, such as behind warehouses, factories, along back-roads and farmland. If anyone notices any sign of life in the van, they might call the police, who will come to move you on or issue a fan.
Paid Camping
There are money options for paid camping, and generally, they come with a hot shower and laundry facilities.
You will pay for a spot so you can have access to electricity, water and sewage. This is an option if you want amenities but still want the freedom of being free from rent!
Prices will vary depending on the location and amenities.
Is it legal to sleep in a converted van?
It's not illegal, but It will depend on where you are sleeping, for how long, and what exactly you are doing.
For example, if you are on the Gold Coast in Australia and park overnight at the main beaches, you will be told to move on and very likely receive a fine.
However, if you are travelling and parking in a rural area for one night, you could possibly get away with stopping on the road to sleep.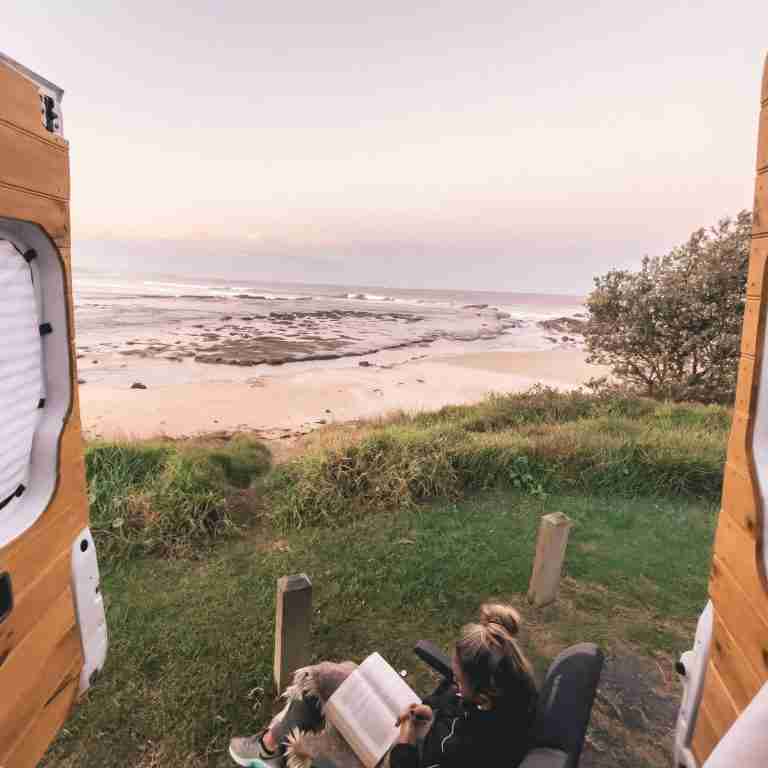 How Much Does Van Life Cost?
It is all about your budget. Living in a van can definitely help you save money because bills that would be paid at home or in an apartment do not exist. This way of life may potentially save you money for most individuals.
On the other hand, costs may vary from a few hundred dollars to over $2,000 per month.
You might need to invest in your van, gas and food.
You can also spend money on activities that you enjoy, such as hiking or the gym; these resources won't cost a lot, but they do exist!
This lifestyle comes with many road trips and adventures if you like to travel, so it's easy to overspend. An excellent way to avoid this is by planning out your trips and sticking with a budget.
You can also try living on $20 per day, which will help you stick to the plan of not overspending!
What Do You Need When Living in A Van?
There is no right or wrong answer here, but the best advice we can give you about bringing less is more.
You might think you are prepared, but after living in a van for some time, you will know what is necessary and not so essential to bring with you on the road.
For example, don't pack anything with sentimental value or no real purpose because it's just extra weight! Make sure your items have multiple uses and are lightweight.
You will want to have a few cooking utensils, bedding and clothing but most importantly, ensure your van is in good shape!
Don't forget to bring your phone and laptop because you will need them for communication, navigation and entertainment.
Toiletries are also a must; they don't take up too much space but can be more inconvenient if forgotten!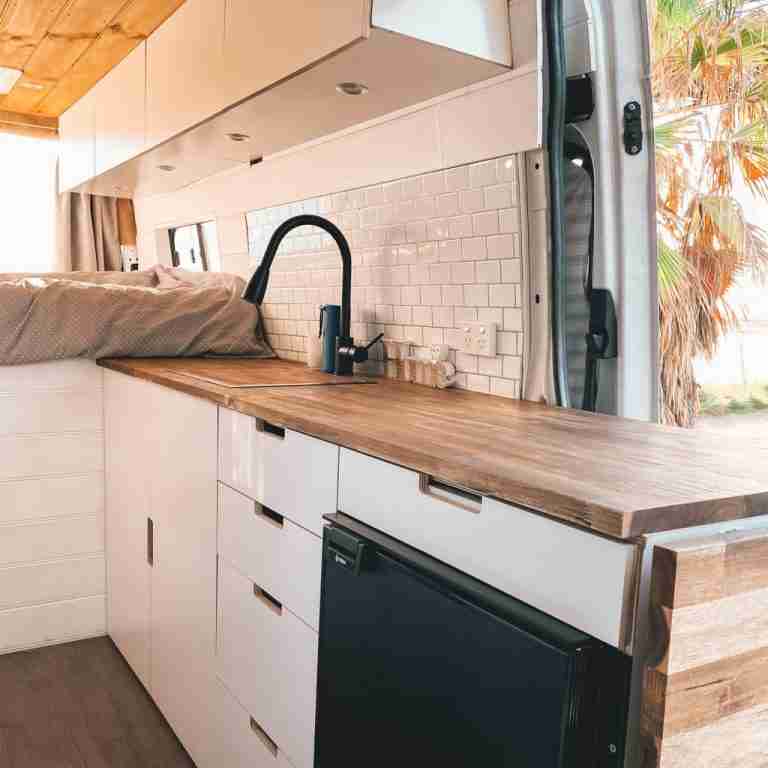 Is It A Good Idea To Live In A Van?
If you ask me, yes. It's an enriching experience that you will never forget. You might have to make some sacrifices, but it can be totally worth it to do something great for yourself!
Being a full time van lifer is definitely not easy and requires immense patience, perseverance, flexibility and creativity.
It isn't all fun and games; there are many things to consider and take into account.
You have the choice between a comfortable life at home or taking an adventure in a van! You know who you are, so that's all that matters when making a decision like this one.
Trust your gut instinct because it knows what is best for you; don't let others pressure you into thinking that living in a van is terrible.
Van Life is totally possible if you set your mind to it! It may not be for everyone, but it doesn't hurt to try something new, right?
Is Living In A Van Realistic?
Living in a van is totally realistic and definitely not impossible; many van lifers do it.
If you like adventure, this lifestyle choice will allow you to see parts of the world that most people don't get to experience; it's incredible!
You can travel anywhere at any time without having to worry about paying rent or utilities because everything is paid for upfront.
People that enjoy a comfortable life at home might not understand this way of living, but it's definitely possible, and you should try!
Try to be open-minded because van life isn't for everyone. It does require some sacrifice such as comfort, money and space. But if you are interested in trying something new, why not go all-in?
Van life is enriching, but it's up to you to make the best of your experience. Most importantly, always be safe! It can also help if you are flexible and enjoy adventure because this way of living brings many road trips with some discomfort along the way.
I'll admit, living in a van is not for everyone. But if you have the right mindset and are willing to make some sacrifices, it can be a unique, life-changing experience that will open up your world. You might even find yourself enjoying things that you never would have before – like spending time with friends instead of fighting traffic every day or waking up without an alarm clock. So yeah, I think about all these little details when people ask me how they should go about doing this themselves because it's worth it at the end of the day! Hope this helped answer any questions you had. Thanks for reading!