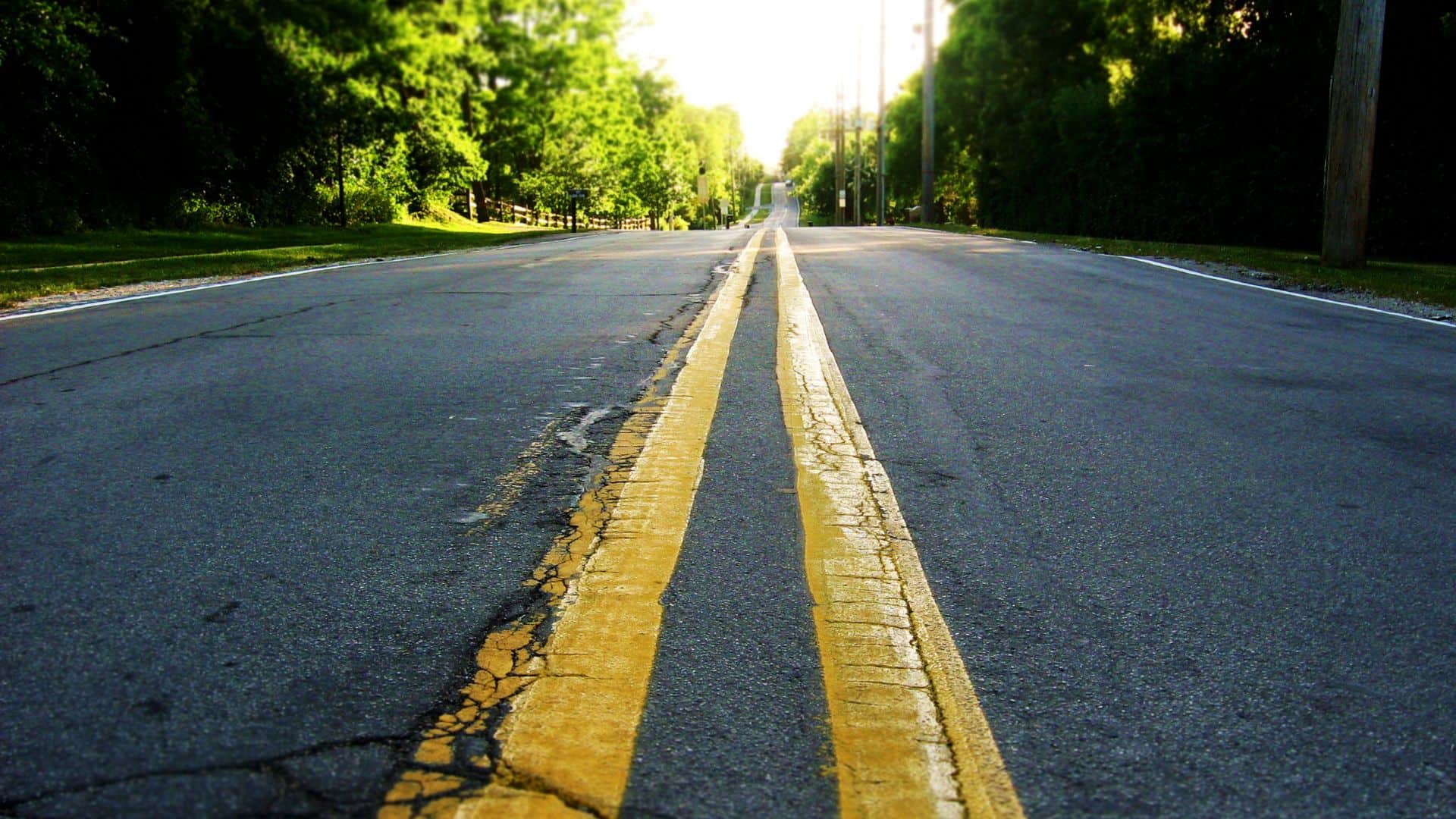 The Waterfall Way – The stops you shouldn't miss
If you are into touring, point the car in the Waterfall Way direction.
The Waterfall Way is an awe-inspiring scenic drive from south of coastal Coffs Harbour to inland Armidale – and what a ride! The journey traverses the gamut of spectacular World Heritage-listed NSW national parks. It passes through characteristic old towns, including charm-your-socks-off Bellingen (12km from the Pacific Hwy) and sleepy hillside Dorrigo (a further 27km).
Whether you're travelling up or down, there are plenty of things to see and do in this picturesque drive. You can quickly drive the 168km Waterfall Way in a day, but as this is one of the loveliest parts of New South Wales, why not take a few?
Need a rental car to explore NSW? Book here

Coffs Harbour
Coffs Harbour can be your start or end point, depending on which direction of the Waterfall Way you will be taking. We started here and will be sharing the best tips with you.
There is plenty to do in Coffs Harbour, including taking a selfie at the Big Banana Fun Park – Australia's original 'big thing', going to Muttonbird Island Nature Reserve, visiting the Forest Sky Pier for spectacular views or adventuring at the Treetop Adventure Park by moving from tree to tree on suspension bridges.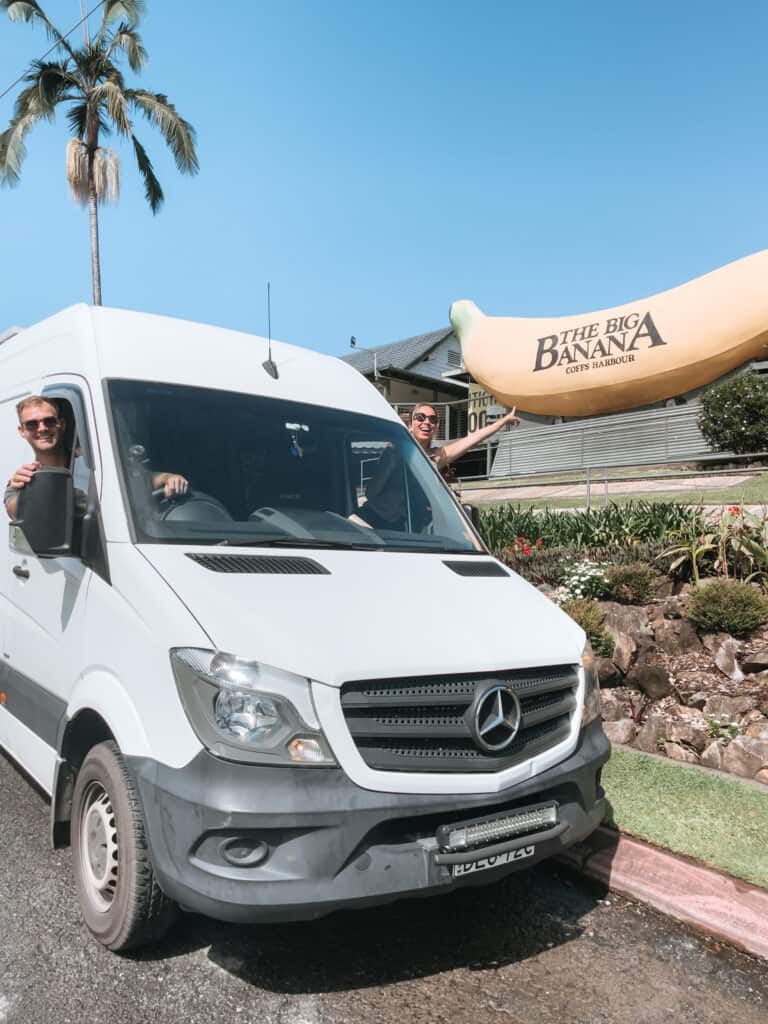 Bellingen
Drive for 30 minutes, and you will arrive at Bellingen, driving through Bongil Bongil National Park, famous for being home to one of NSW's largest populations of koalas.
Head west, and you will officially be on the Waterfall Way.
Buried in foliage on a hillside by the banks of the Bellinger River, this gorgeous town dances to the beat of its bongo drum, attracting a populace of artists, academics and those drawn to a more organic lifestyle.
Thick with gourmet cuisine and accommodation, Bellingen has just a hint of unpretentious chic. From December to March, a massive colony of flying foxes descends on Bat Island.
Dorrigo National Park
The most accessible of Australia's World Heritage-listed rainforests, this 11,902-hectare national park is simply stunning, encompassing around 120 bird species and numerous walking tracks. The turn-off to the park is just south of Dorrigo, and it is a must-stop in the Waterfall Way.
The Rainforest Centre, at the park entrance, has information about the park's various ecosystems and can advise you on which walking track to conquer.
The Walk with the Birds Track is a leisurely 400m stroll, but the highlight is the Skywalk, a walkway jutting over the rainforest canopy with jaw-dropping views of the ranges beyond. Those interested in dawn and dusk photography should note that the skywalk lookout is accessible after hours.
The next highlight of this NSW national park is Crystal Shower Falls. You can walk behind Crystal Shower Falls by taking a 3.5km return stroll that starts at the Rainforest Centre and takes you over a suspension bridge and past 600-year-old trees.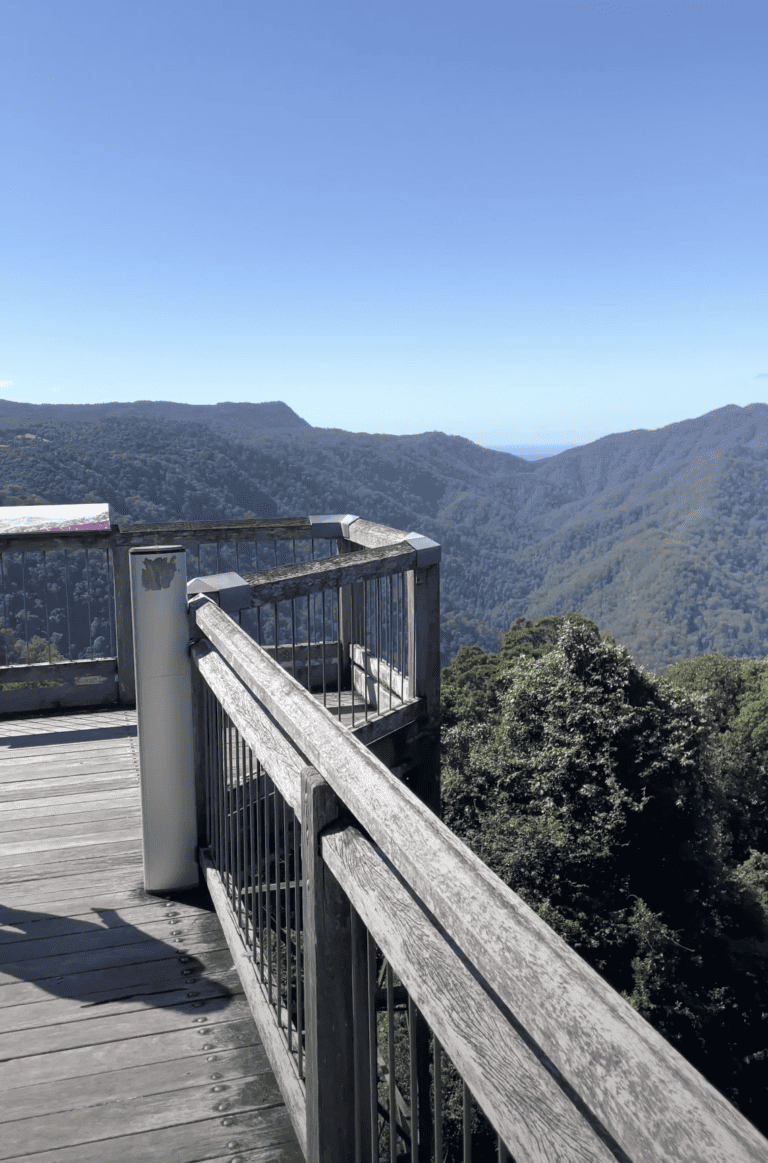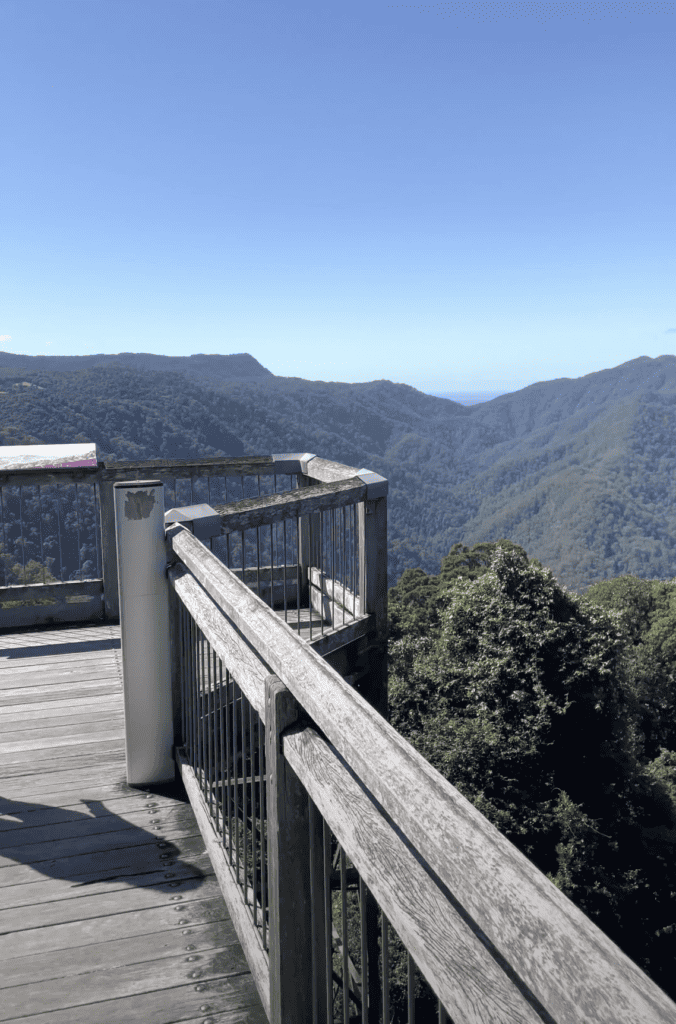 Dorrigo
After visiting Crystal Shower Falls, set on the T-junction of two wider-than-wide streets is Dorrigo. A pretty little place, home to laid-back and hospitable locals. One gets the sense that this might be the next Bellingen in terms of food and wine, but it hasn't quite happened yet.
However, the winding roads that lead here from Armidale, Bellingen and Coffs Harbour reveal rainforests, mountain passes and spectacular waterfalls – some of the most dramatic scenery in NSW and hence the name Waterfall Way. The visitor centre is on Hickory St.
The town's main attraction is the Dorrigo Rainforest Centre and Dangar Falls, your next stop when driving through the Waterfall Way.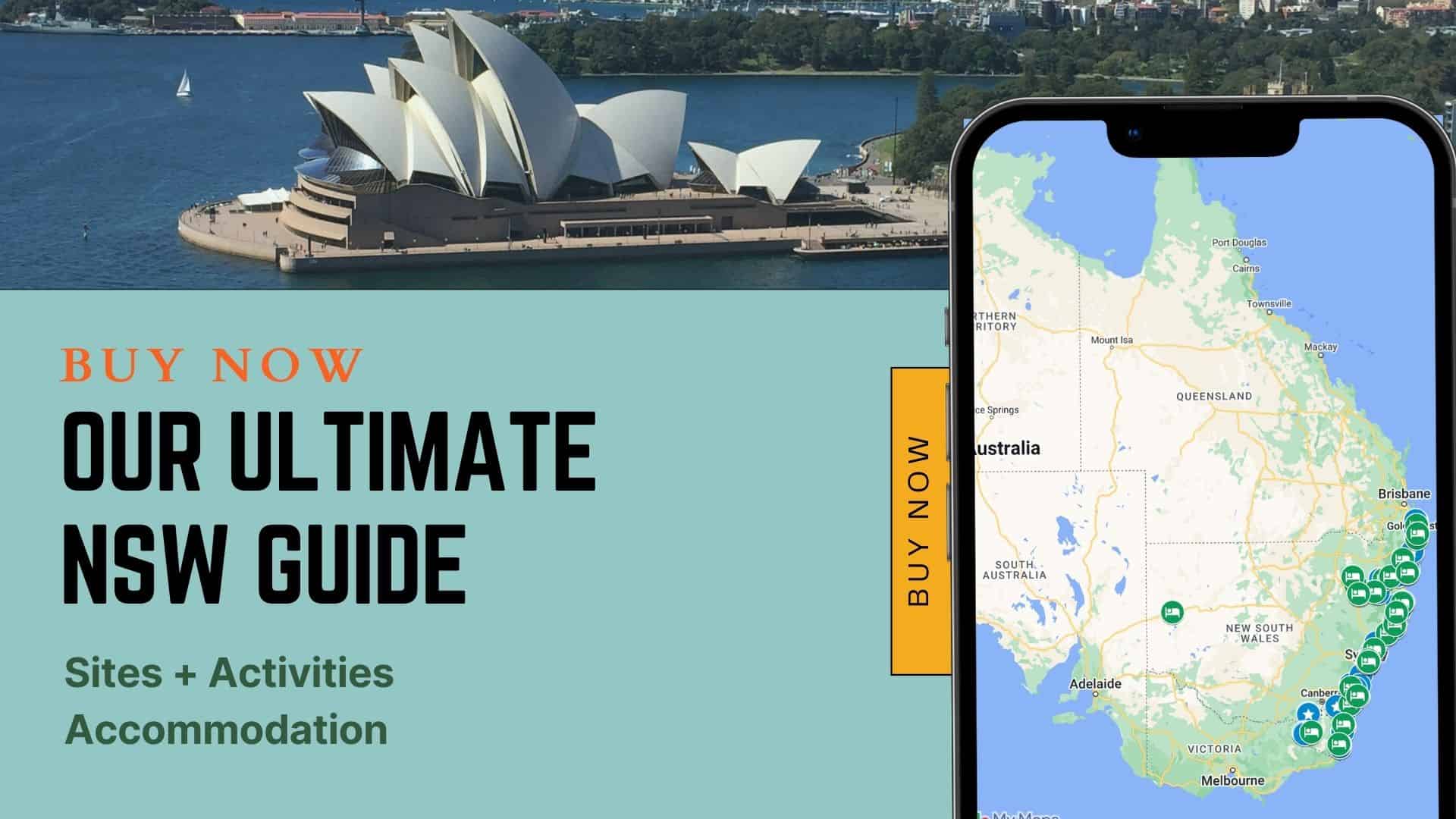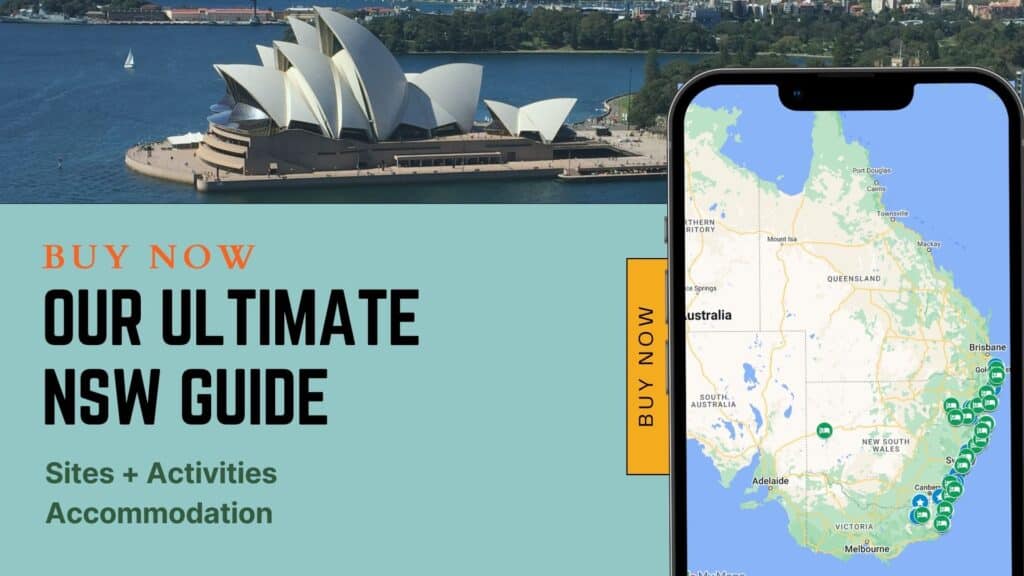 Dangar Falls
After driving only 2kms north of Dorrigo, you will arrive at Dangars Falls, a 30-metre spectacular waterfall that cascades over a series of rocky shelves before plummeting into a pristine gorge. A lookout provides the perfect picture moment of Dangar Falls, and you can swim beneath the falls if you have a yen for glacial bathing.
Ebor Falls
48km past Dorrigo (2km west of Ebor), there's a turn for Ebor Falls, where the Guy Fawkes River takes a big (100m) plunge in two cascades that could be seen from three different lookouts.
The falls at the top is powerful and the most famous of the two cascades. They are less than a minute away from the car park.
There is no access to the lower falls at the moment. The 2019/2020 bushfires destroyed the lookout platforms and walking trail, and no dates were announced when they could be repaired. Unfortunately, there is no way you can get a good view of the whole waterfall as it is today.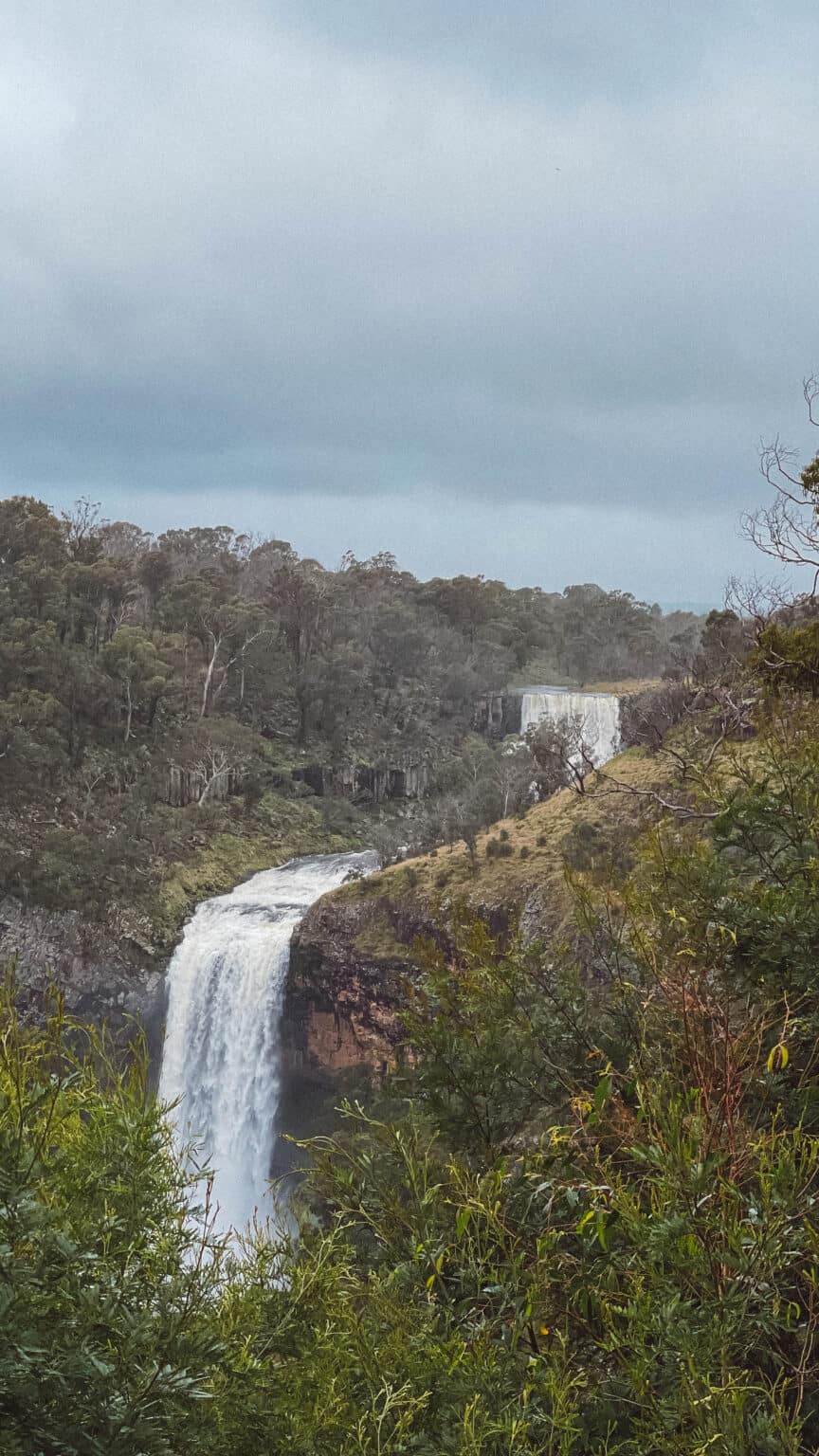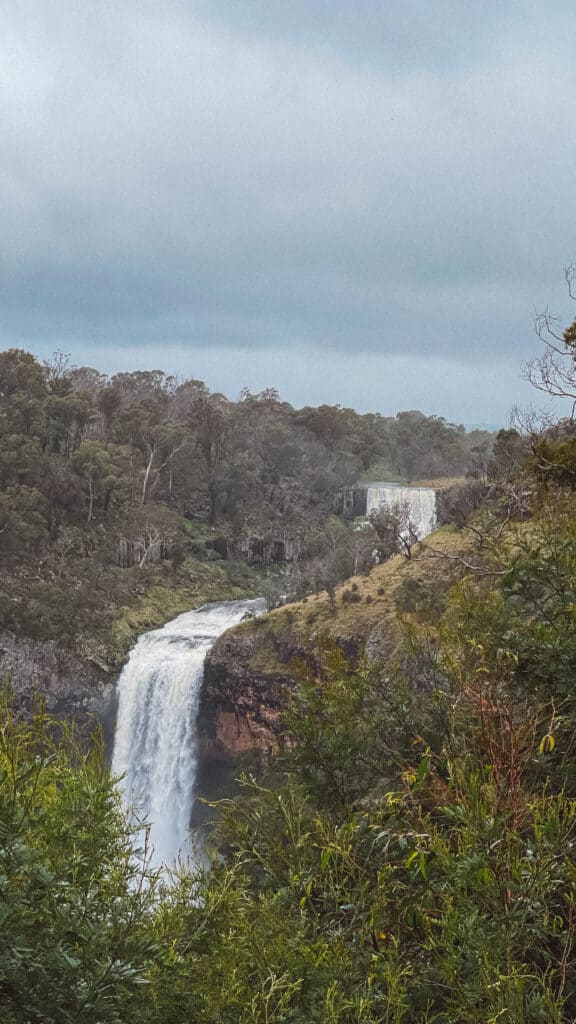 Cathedral Rock National Park
Further along the Waterfall Way from Ebor is Cathedral Rock National Park. Here you can go for a 5.8km track to the Cathedral Rock summit, the highest point in the New England Tablelands, which is a relatively easy walk in its majority, but the last section can be steep.
Point Lookout
A further 7km on is Point Lookout Rd, which leads to New England National Park, another World Heritage site. There are numerous walks into this misty rainforest.
Point Lookout offers a panorama of unspoilt mountains and ancient rainforest, and it is only a short walk from the car park to the viewing platform. Well worth the stop!
Wollomombi Falls
After another 30km in the Waterfall Way, look for Wollomombi Falls, a highlight of the World Heritage-listed Oxley Wild Rivers National Park in the Northern Tablelands. Here the water plunges 260m, making New South Wales' highest waterfall and the second highest in Australia.
You can opt for just having a look at both Wollomombi Falls and Chandler Falls from the lookout provided (200m from the car park) or set out on the Wollomombi Walking Track, an easy 4km return walk around Wollomombi Gorge.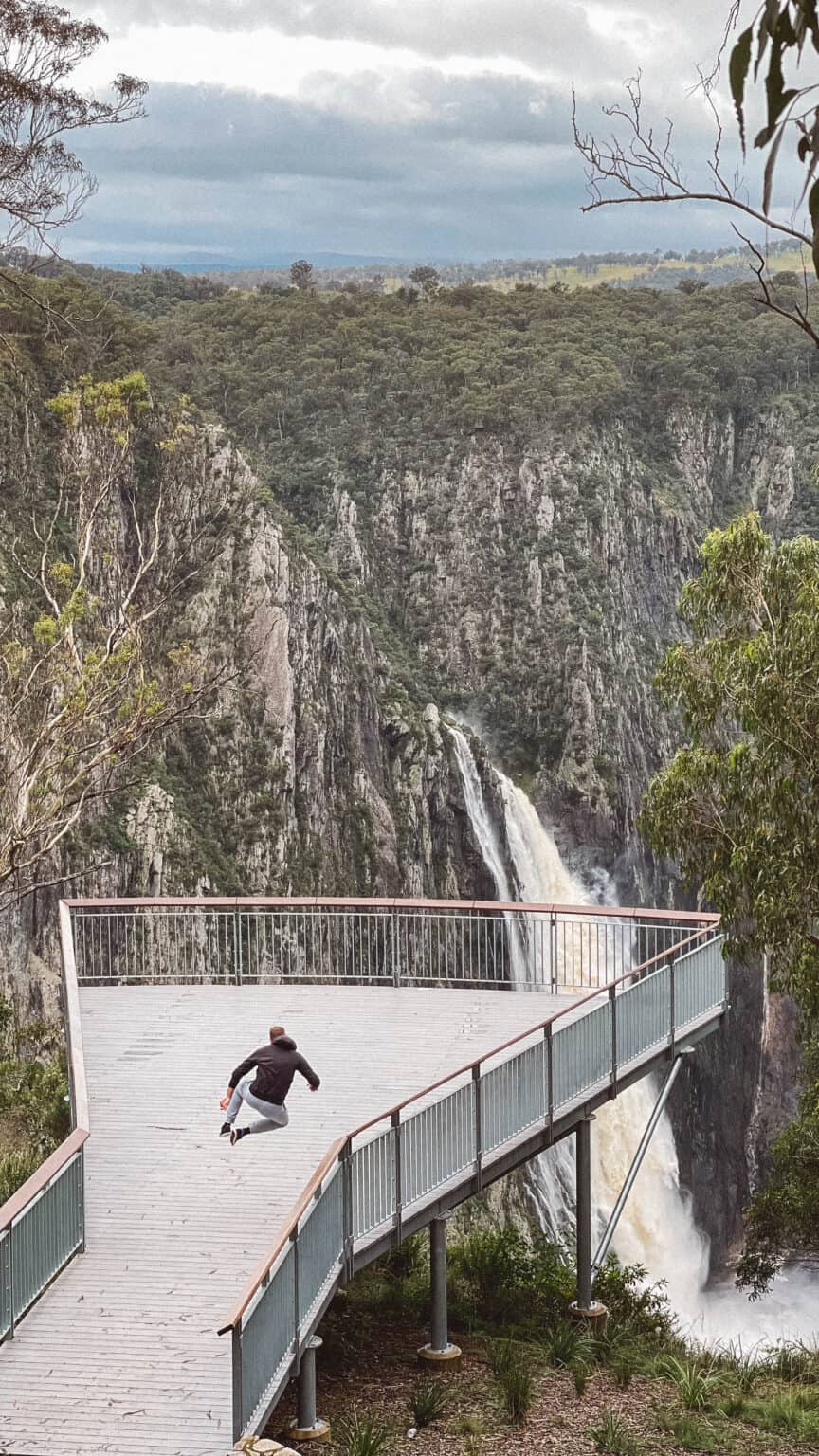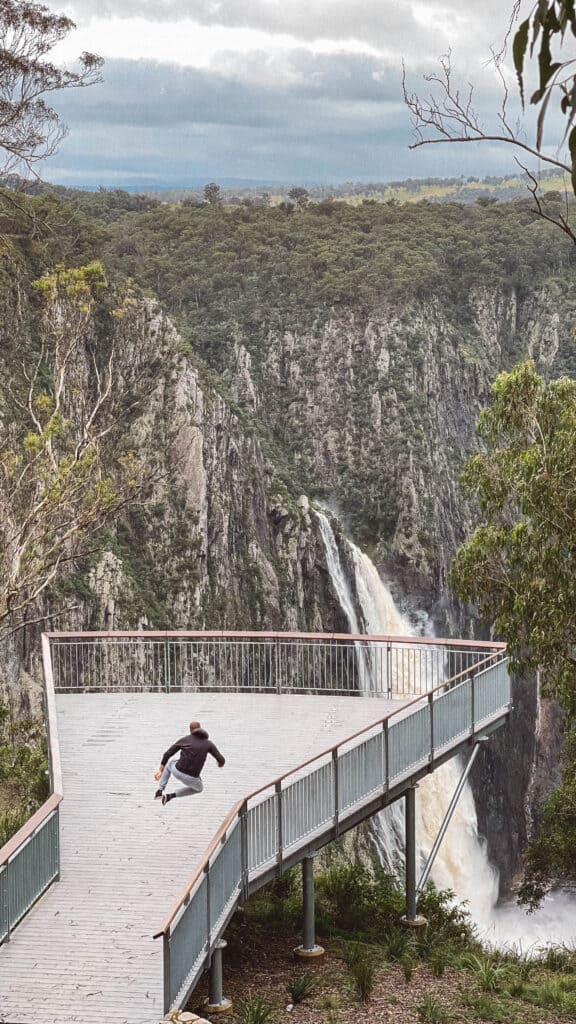 Red Cedar Falls
This stop is usually missed when doing the Waterfall Way because it would be a day trip. The Red Cedar Falls is the largest waterfall in the Dorrigo National Park, but it is an 8 km return hike.
Armidale
Another 42km from Wollomombi Falls, you will have reached your final destination in the Waterfall Way.
Armidale's heritage buildings, gardens and moss-covered churches look like the stage for a period drama. This olde-worlde scenery coupled with spectacular autumn foliage plays a big part in attracting people to this regional centre blessed with some of Australia's best grazing countries.
It also boasts private schools and the New England University, recession-proof institutions that attract professionals and ensure arts and culture prosper. The best way to rest up after all that exploring on the Waterfall Way is through Armidale's excellent delis and coffee shops, which point to a food scene worthy of exploring.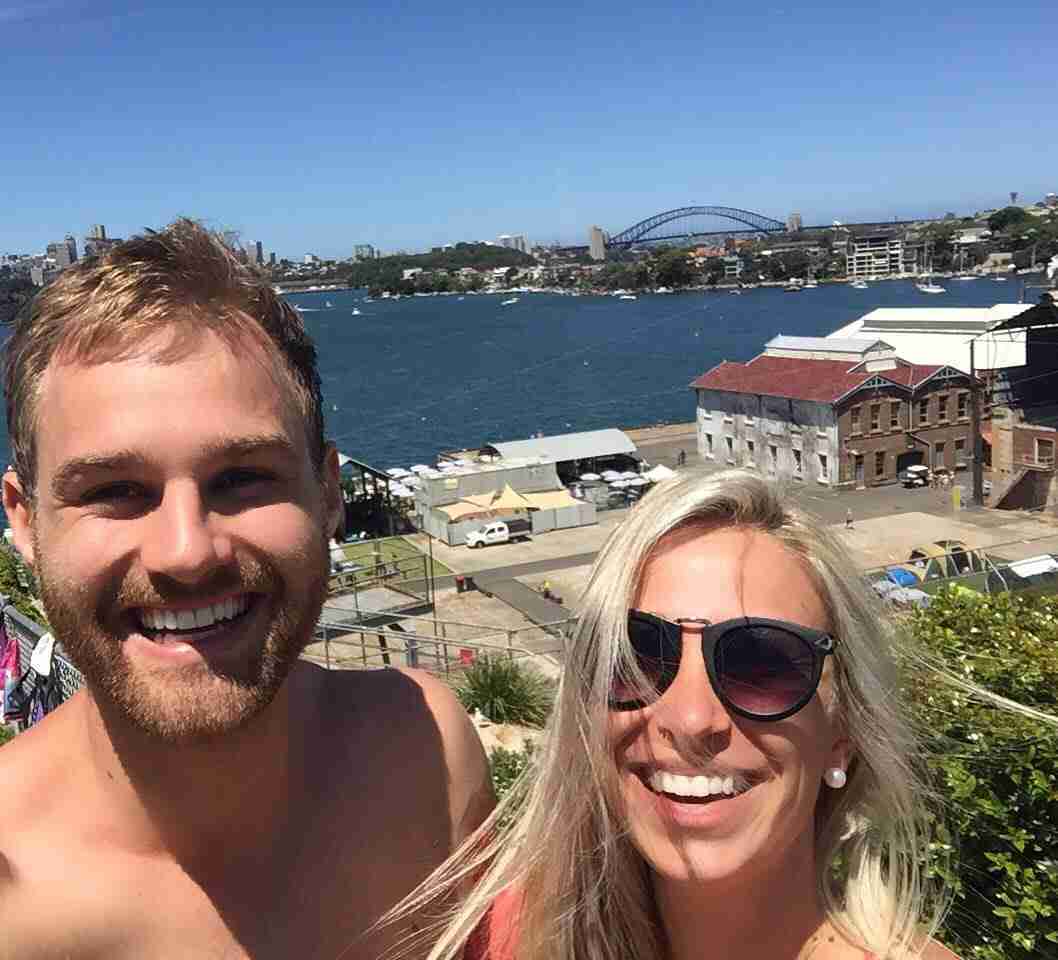 Wade & Dani
Hi! We're Wade and Dani, We're currently travelling around Australia in our 2017 Mercedes Sprinter Camper van and sharing our best experiences, stories, reviews and adventures as we go along. Make sure you follow us on Instagram @wadeanddani