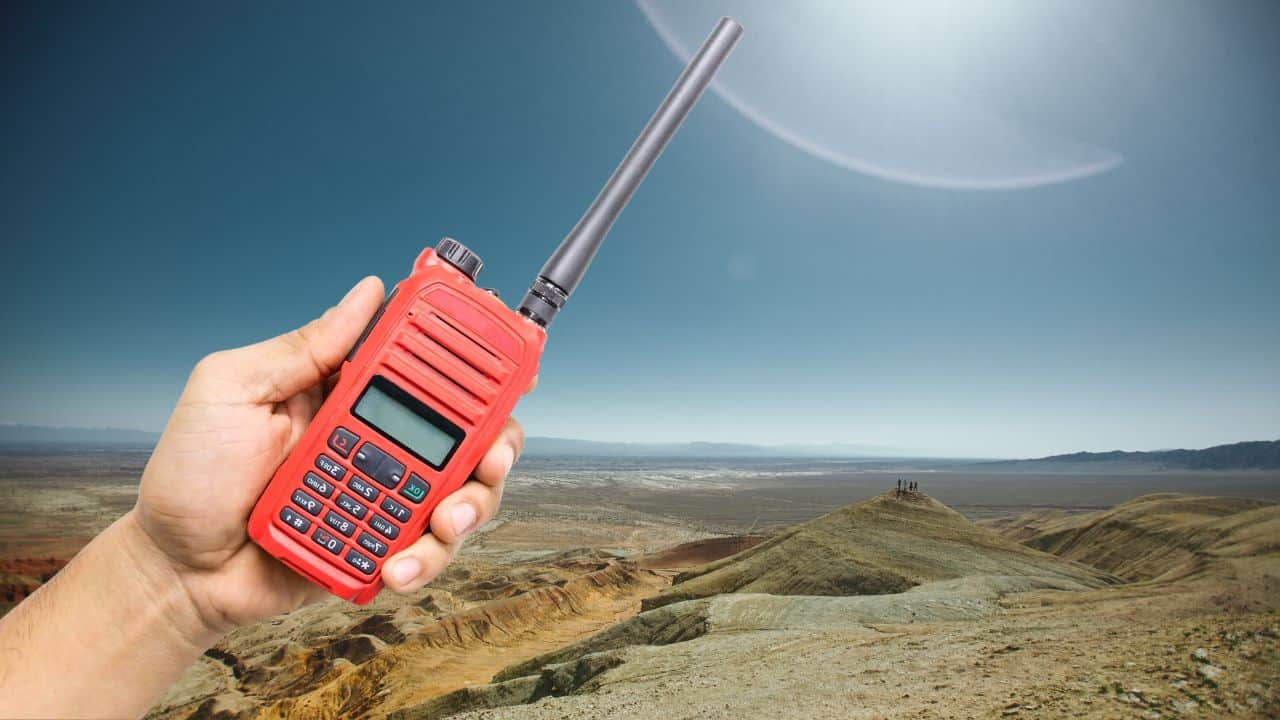 What's the Best Handheld UHF Radio? A Review of Five Products (2023)
This post was updated on: September 1, 2023
In-vehicle communication is crucial for four-wheel drivers and travellers, especially when you're in a remote area. You can talk to the group and other users. 
However, out-of-vehicle communication is also crucial for trail bikers and more. They might need a portable unit for versatility, which is why handheld UHF radios are the best solution over a fixed UHF radio.
Two main options for handheld UHF radios are 2-watt and 5-watt versions. Each one has its pros and cons, and we'll discuss both in this review. Let's get started to check out the best UHF radios.
| | | | | | |
| --- | --- | --- | --- | --- | --- |
| | | | | | |
| | GME TX677 UHF CB Handheld Radio | Oricom UHF2500 Waterproof Handheld UHF CB Radio | Uniden UH755 UHF Handheld Radio | GME TX6160 UHF CB Handheld Radio | Uniden XTRAK 50 UHF Handheld Radio |
| | | | | | |
| | | | | | |
| | | | | | |
| | | | | | |
| | | | | | |
| | | | | | |
2-Watt Radios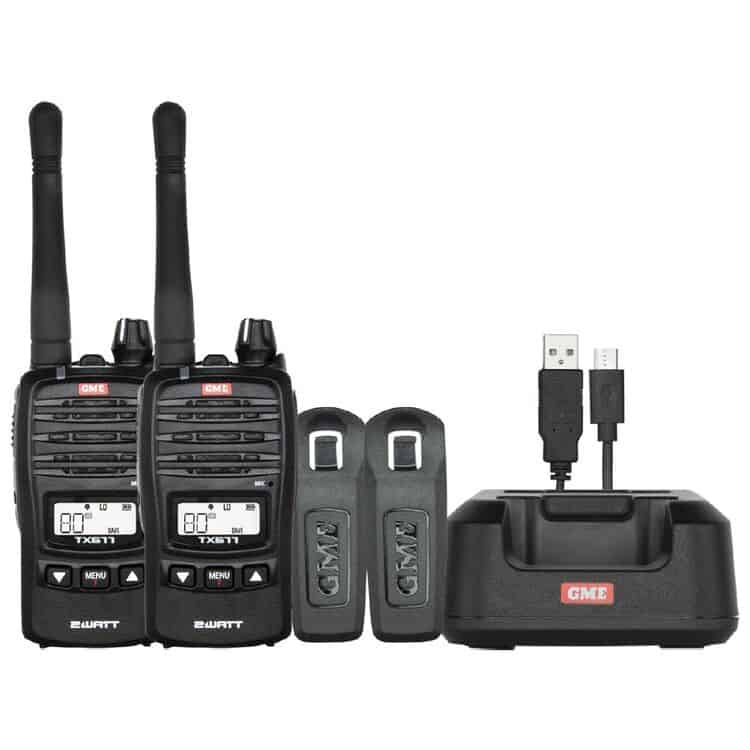 The GME TX677 is a compact and lightweight 2-watt UHF CB radio. It features a battery life of about 14 hours on the typical setting. However, you can get 20 hours of battery life when utilising the 2/0.5-watt switchable transmission power options. 
There are many other features to like about the GME TX677. For example, it offers USB charging, which is highly convenient when you're out and about. Likewise, the rotary volume and power control make it easier to operate, regardless of what you're doing. 
Most people like that these radios are about the size of a mobile phone. Therefore, you can slip them into a pocket or clip them to your belt. Overall, it's a big win.
It features a 2-year warranty for the radio itself, and the battery comes with a 1-year warranty. Compared to the other options on this list, it's pretty compact and ready for anything.
However, there aren't many other features to enjoy, so if you want something with many bells and whistles, it might not be the one to select. Those who don't need extras can enjoy it, and you get two handheld radios. This means you can share one with your mate while you take the other and go almost anywhere.
Generally, the best way to use them is to be out in the open with few obstructions and clear conditions. When you're finished with your radio at the end of the day, you will charge them back up with the USB charger.
There are the standard 80 channels available, so you will have relative privacy when talking to your mates. Overall, it's one of the best handheld UHF radios on the market.
Pros:
Compact and lightweight design
Extendable battery life through the low-power option
Price
Cons:
No backup disposable battery option
Not the best battery life when utilising full transmission power
No extra features
The Oricom brand is synonymous with excellence and focuses on connecting people at each stage of life. Though the company was founded in 2003, its innovations have made it one of the best monitoring and communication technologies choices. Likewise, it's an Aussie-owned business, so you know you're getting top products.
Most people call it the value pick when focused on handheld UHF radios in the 2-watt range. This one also comes as a twin pack like the GME TX677 and is priced similarly. However, both products are lower in cost than single units elsewhere.
Overall, the Oricom radios come with rechargeable AAA batteries and a base charging station.
Everyone marvels about the waterproof rating (IP67), and there's also a flash and float feature. Therefore, the radio is ideal for everyday use, regardless of whether you're near water or on land. Plus, it's light and portable, like the GME TX677. Users get peace of mind because they can accidentally drop it in the mud or water, and it will stay functional.
Compared to the GME TX677, though, the battery life isn't the best. You only get 10 hours with the Oricom brand. This might be because you have to use four AAA batteries instead of three AAs that the competition offers.
Still, you get a 3-year warranty on the radio itself, and there's even a little LED torch to help you light the way at night.
Pros:
Not black like normal radios
Can use disposable batteries if preferred
Good value
Cons:
Reported problems with the rechargeable batteries
Only charges on the base station
Poor battery life compared to the GME TX677
5-Watt Radios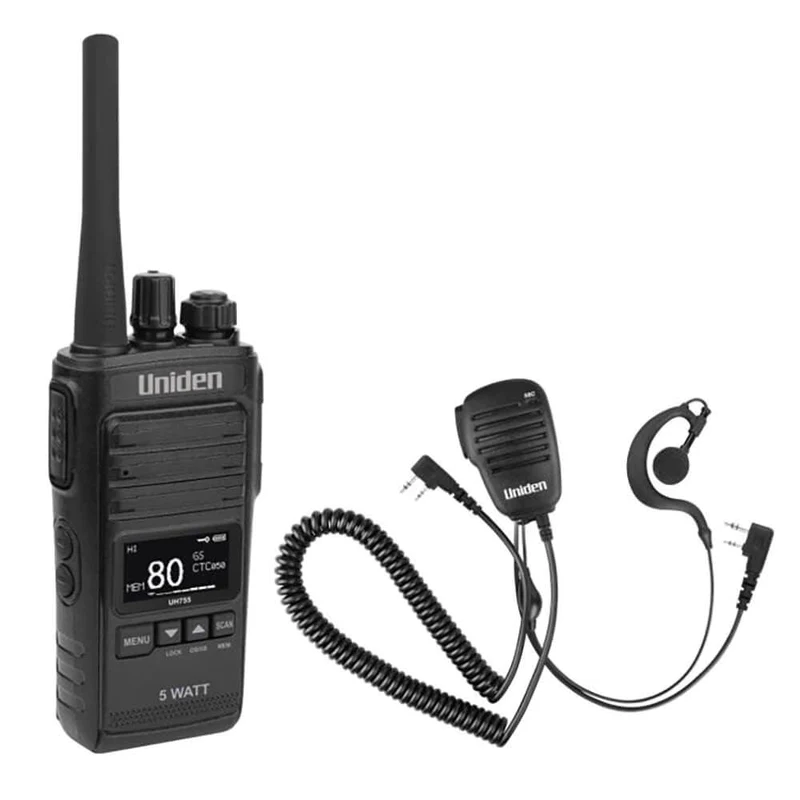 The Uniden brand has paved the way for UHF radio communication when it came out with the UH755. This handheld radio features 5 watts of power and can deliver about 17km of range. Therefore, it's perfect for professionals who require a heavy-duty and rugged radio that works in various conditions.
You'll love the splashproof design of the UH755 because it's flexible enough to operate in different environments. Likewise, the backlit LCD helps you see what you're doing, whether it's night or day. 
Overall, this series can communicate further than the 2-watt versions mentioned above. Therefore, users are connected on their adventure, even when they don't have mobile reception because they're in remote locations.
A Shared Channel Quiet Filter is included, ensuring that your radio stays quiet when you're on a busy channel. You'll only get transmissions from radios that use the same codes. However, there's only one in the pack, so you may have to get your friends to buy them so you can all communicate together.
The Uniden brand features the best components possible, but it also focuses on styling and engineering. Therefore, the UH755 offers excellent performance in various situations.
With the kit, you get:
One wrist strap
One belt clip
One AC adaptor
One desktop charging cradle
One antenna
One radio
This radio generally offers basic functionality, but it's reliable for any situation you find yourself in. Likewise, it comes with a 3-year warranty, battery saver mode, and you can choose the power (1 watt or 5 watts). Be aware that it's made in Japan.
Pros:
Decent battery life
Reliable and tough for any situation
Good value
Cons:
Made in Japan
Can only charge through the desktop station
Missing features that other pro-level units have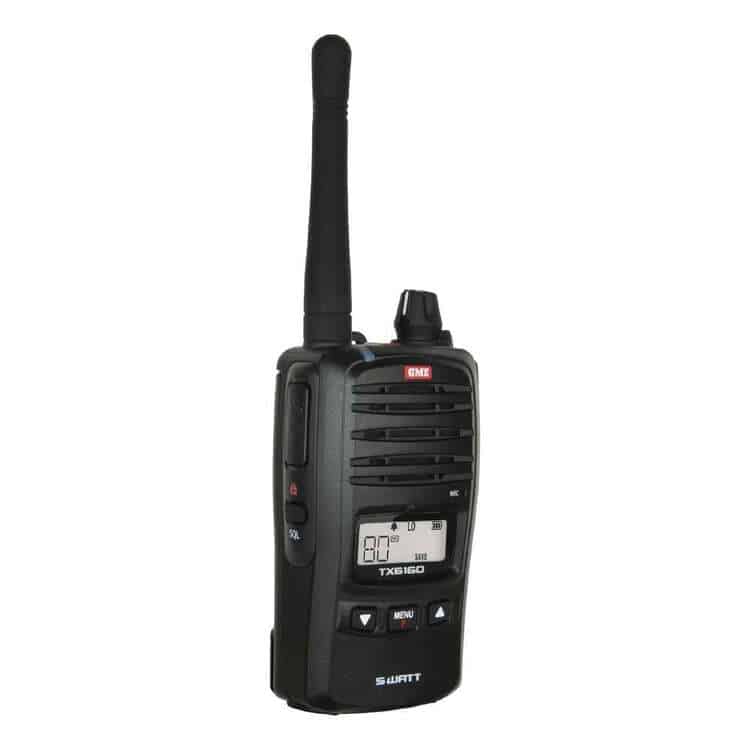 Next, in our line-up of 5-watt UHF handheld radios, we have the GME TX6160. It's an all-new product from the brand and features leading-class transmission power of up to 5 watts. 
If you're afraid of dropping yours in the mud or a puddle, there's nothing to fear here because it features waterproof protection with a rating at IP67. This means you can use it in the harsh Australian environment with no problems.
These handheld radios have battery lives of up to 30 hours, but you also get a built-in LED torch to help you see in any conditions. The hands-free mode is also a great asset, and many professional-grade accessories are provided with your purchase.
Overall, these radios are crucial equipment for people who like to play hard off the beaten path. The features include:
5/1 watt transmission power
Rotary volume control and power
Improved channel scan speeds
Built-in LED torch
30 hours of battery life
Rugged design with waterproof protection
In the kit, you'll receive:
The radio
Desktop charger
Lithium-ion battery pack
Earpiece microphone
AC adaptor
12V DC vehicle charger
Belt clip
There's a 3-year warranty on the radio itself, making it highly reliable and ready for anything. Plus, it's easy to operate and user-friendly.
Pros:
Available in various colours (orange, yellow, and black)
Waterproof rating
12V DC cable available
Cons: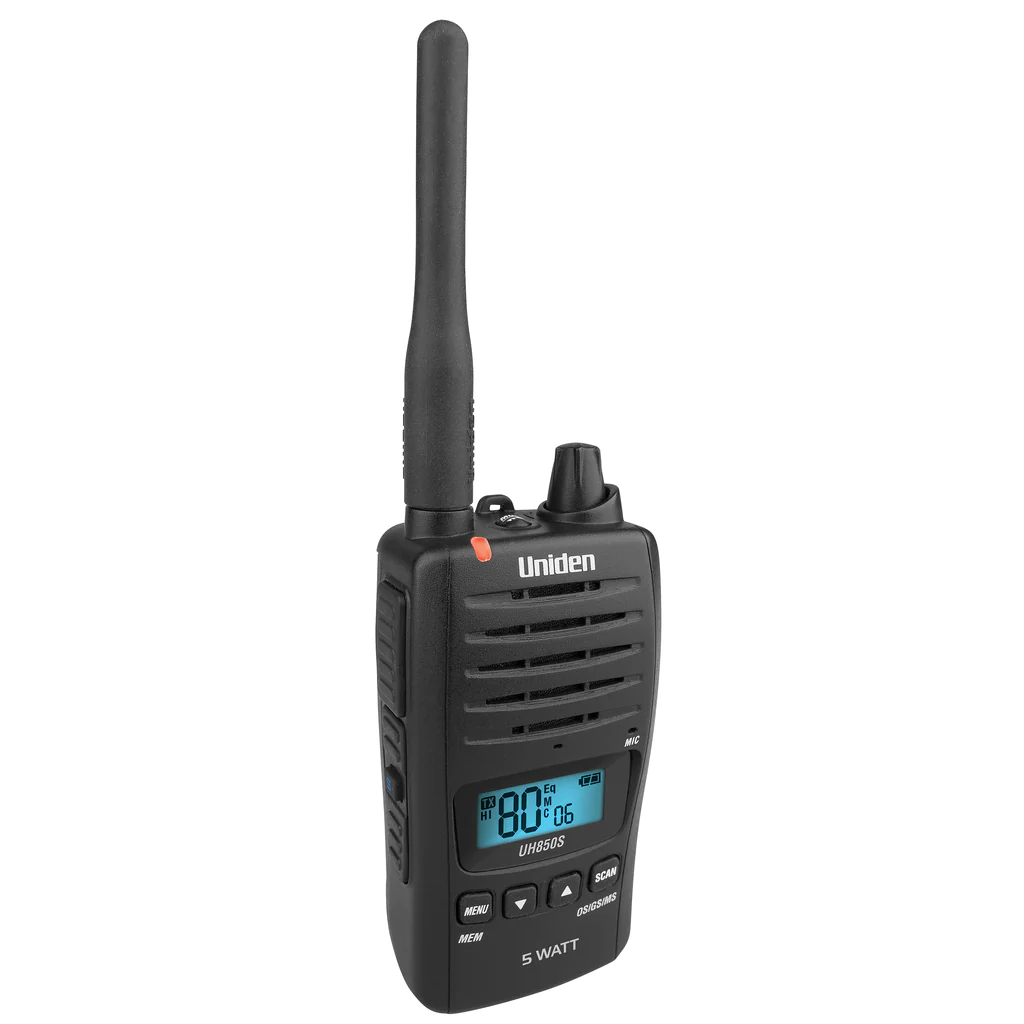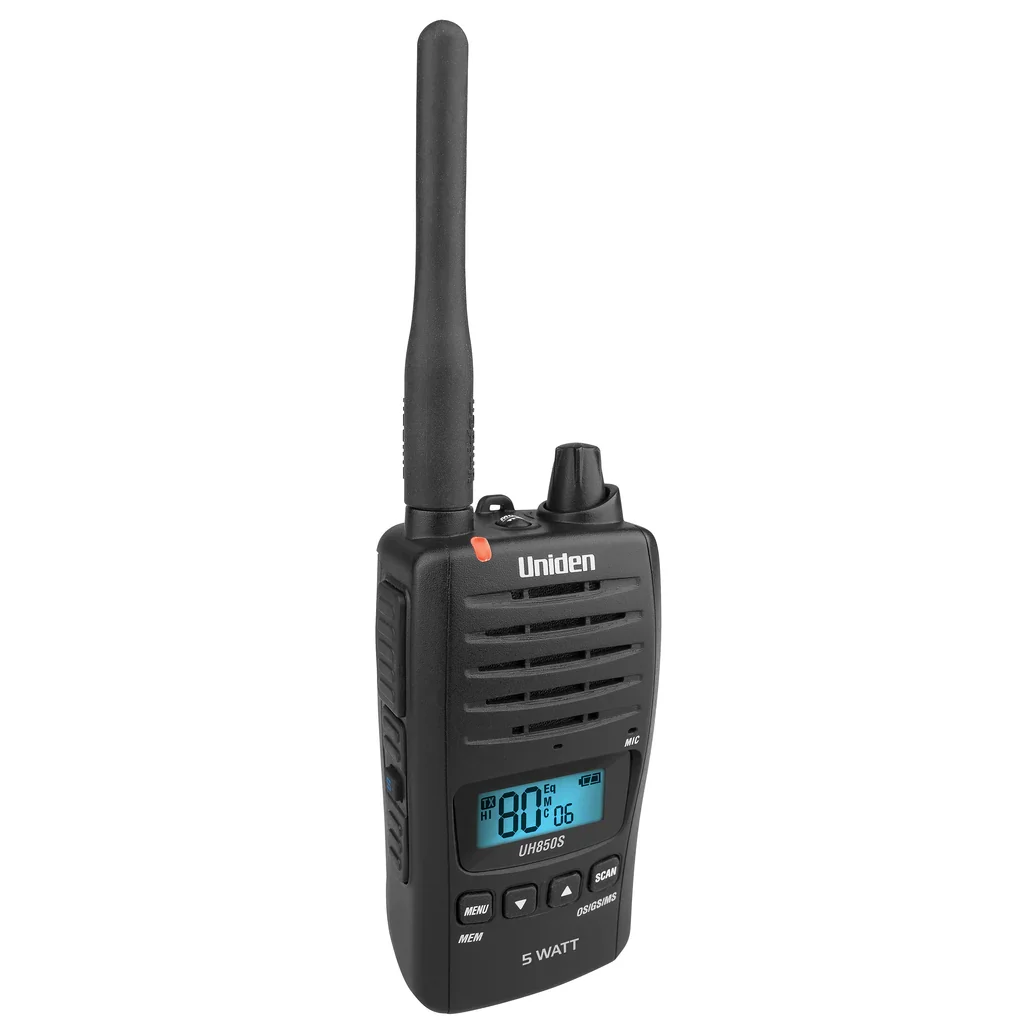 Your next selection is the Uniden XTRAK 50, which is an 80-channel radio. It's water-resistant, handheld, and features a 17km line-of-sight range. Therefore, it's perfect for fishing, camping, and boating.
With this radio, you will get Bluetooth connectivity for your earphones and car speakers. Likewise, it's easy to download an app to give you location tracking and more features.
Overall, the radio will work with anything that uses those same bands (channels). While it's a 5-watt version, real-world use says that obstructions could limit how well it works. Likewise, it features about 30 hours of operating time like the GME TX6160, but only on the 1-watt power output. If you're using it heavily and need power, you may only get 20 hours.
Recharge times are about four hours, and it comes with a 12W/1A/12V plug charger. However, there's no USB connection available like you get with the GME TX677 (2-watt version).
The 2-watt mono speaker can reach 78 decibels at 1 meter, which isn't overly loud but good for handheld usage. Likewise, you get a collar clip and speaker mic to help move the speaker closer to your mouth. 
Pros:
Car charger included
Fully waterproof
Class-leading innovation
Cons: 
Harder to come by than the other radios listed here
Higher price because of all the features
The product features are quite extensive and include:
Three programmable smart keys
Dedicated instant replay button
Voice scramble
Accessory jack
Key lock
Torch
Scan group option
Long battery life
Waterproof style
Anti-glare display with dimmer feature
Shared channel quiet filter
Master scan option
In the box, you'll get the earpiece microphone, speaker microphone, belt clip, charging cradle AC adaptor, detachable antenna, and charging cradle.
The Best 2-watt and 5-watt Handheld UHF Radio – Final Thoughts
If you need a 2-watt handheld UHF radio, the GME TX677 is the best choice. It's lightweight, has 14 hours of battery life, and comes with a USB charger for charging. Likewise, you get two radios, which means you can share one with a friend for better communication.
Those who require a 5-watt handheld UHF radio will love the GME TX6160 because it's waterproof and has 30 hours of battery life. There's also a built-in torch and many accessories to help you play hard in any condition.
A Comprehensive Guide to Handheld UHF CB Radios 
If you're looking for a reliable and cost-effective way to stay connected with other CB radio users, then the handheld UHF CB Radio is perfect. They provide a low-cost solution for those who need easy communication without investing in expensive equipment. This comprehensive buyer's guide will review the features and benefits of these radios, as well as some tips on choosing the right one for your needs. 
How Do UHF CB Radios Work? 
First, it is important to understand how UHF CB radios work. These radios use Ultra High-Frequency radio waves shorter than usual radio waves. This allows them to travel farther than traditional CB radios and provides increased clarity and signal strength. Additionally, they are designed with a range of adjustable power settings so you can choose just the right level of transmission power for your needs. 
What Features Should You Look For? 
You should consider several features when shopping for the best UHF radio. First, look for a model that includes multiple channels so you can easily switch between conversations without disrupting ongoing conversations. Also, look for one with an LCD display that clearly shows channel numbers and signal strength indicators so you know when someone is trying to reach you. Other features like weather alerts and emergency SOS functions can be very helpful in certain situations as well. 
Choose Your Antenna Carefully 
The antenna is one of the most important parts of your handheld UHF CB Radio system, so it's important to choose wisely. Look for antennas with a wide range of frequencies so they can pick up signals from far-away sources. Some models even have directional antennas that allow you to focus on specific signals or locations if needed. Additionally, many antennas come with external mounting brackets so they can be attached securely outside your vehicle or home if necessary.         
Final Thoughts
When shopping for your handheld UHF CB Radio, it's important to consider all of the available features and choose one that meets your needs in terms of functionality and price point. Be sure to research different models before making a purchase decision—it'll be worth it in the end! With the right model in hand, you'll be able to stay connected with other users without breaking the bank!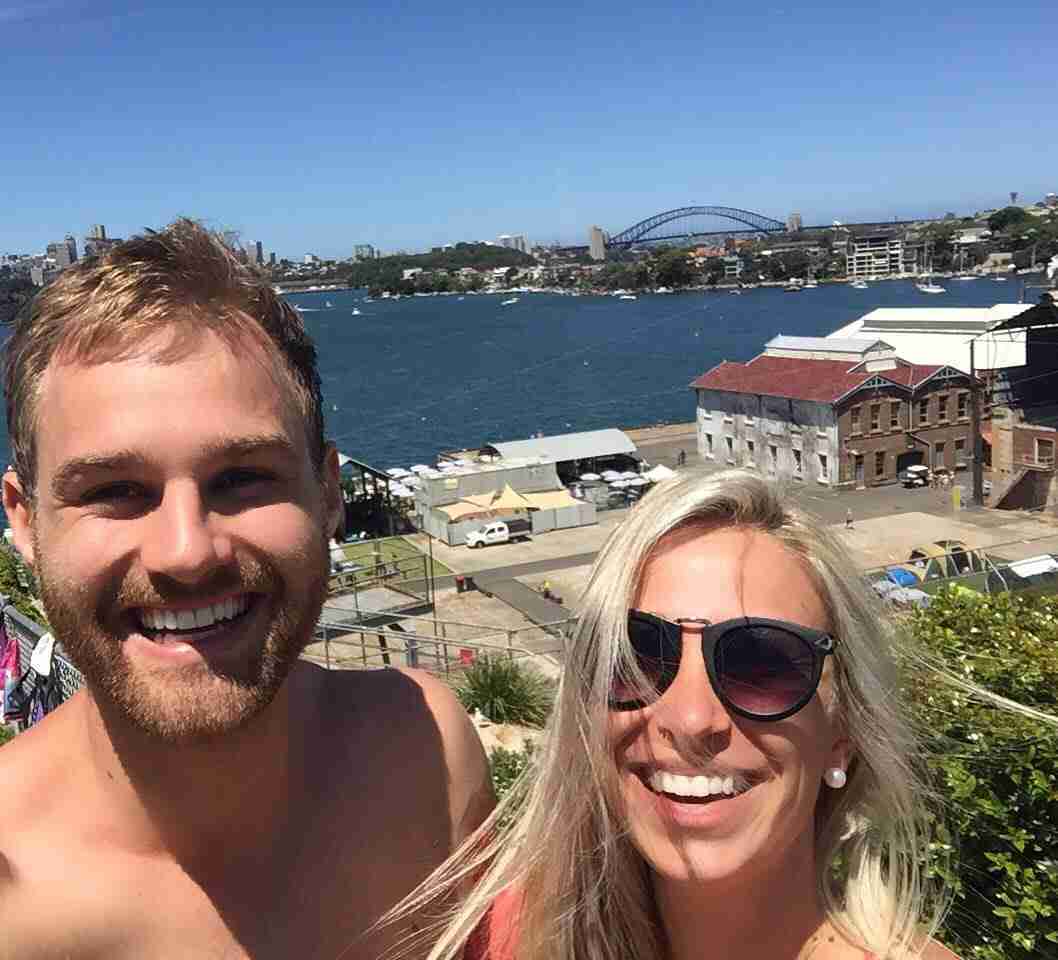 Wade & Dani
Hi! We're Wade and Dani, We're currently travelling around Australia in our 2017 Mercedes Sprinter Camper van and sharing our best experiences, stories, reviews and adventures as we go along. Make sure you follow us on Instagram @wadeanddani