Best Lithium Batteries in Australia For Camping and Caravans
While lithium batteries are initially more expensive to purchase, they will last far longer than their lead-acid counterpart.
We consider these batteries more of an investment rather than an expense. If you're going to be camping a lot, then lithium batteries are your best option. These batteries will last for years and they don't wear out as quickly as other types do when used often enough.
In today's world, we rely on electrical equipment more than ever before, and that is why you'll need a reliable lithium battery to power all of your electronics and appliances.
We have been using lithium batteries in all of our vans since we learned about their benefits, which you can read all about here. Our favourites are #1 and #4, from the list below, especially if you are limited on space.
| | | | | | |
| --- | --- | --- | --- | --- | --- |
| | | | | | |
| | | | | | |
| | Enerdrive B-TEC 125AH Lithium Battery with Bluetooth | Victron 100Ah Smart Lithium Battery | Invicta 12V 100Ah Lithium Battery with Bluetooth | Enerdrive B-TEC 100Ah Slim Lithium Battery | Baintech 110Ah Slim Lithium Battery With Built-in DC-DC Charger |
| | | | | | |
| | | | | | |
| | | | | | |
| | | | | | |
| Maximum Discharge Current | | | | | |
| | | | | | |
| | | | | | |
| | | | | | |
| | | | | | |
| | | | | | |
| | | | | | |
| | | | | | |
ENERDRIVE B-TEC 125AH LITHIUM BATTERY WITH BLUETOOTH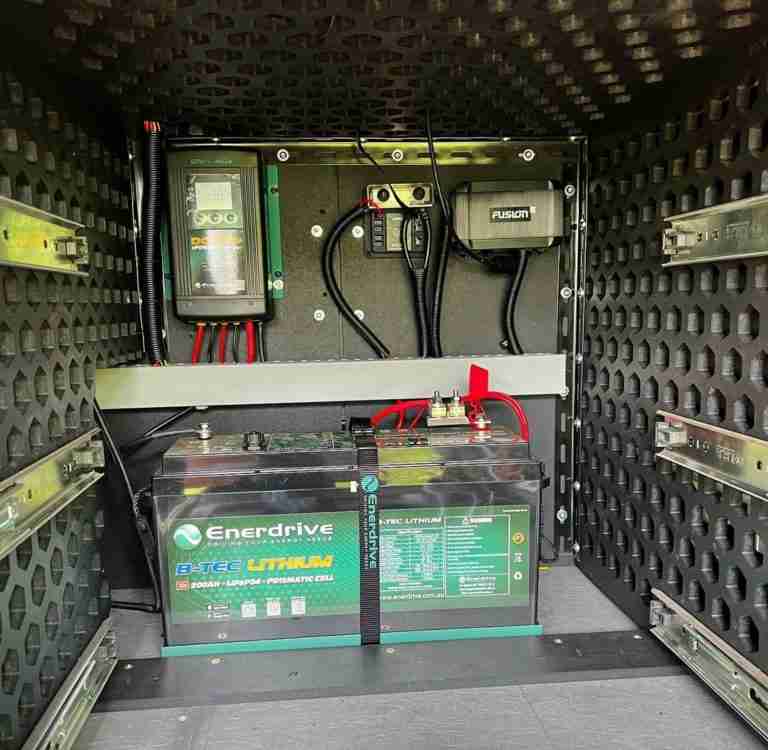 Source f4rmtruck
Enerdrive is at the forefront of lithium battery technology in Australia, having conducted over 7 years of research, development, and testing on them. They have really created a great reputation in the market for quality-built batteries.
Enerdrive is the only Australian company that can provide a fully integrated self-branded energy system to match your needs.
The Enerdrive B-TEC 125AH Lithium Battery is lightweight and compact and it is the best lithium battery for caravans and camping. It weighs only 15kg, yet it delivers excellent power.
Enerdrive's caravan battery is 50% lighter and 30% smaller than a lead acid battery of comparable size. There's no doubt that one of the most appealing aspects of this caravan battery is its weight.
The batteries come with an internal Battery Management System which ensures the safe and accurate operation of the prismatic cells within it. This system will protect your batteries from overcharging, over-discharging, short circuits, as well as temperature issues by monitoring each cell closely during normal use.
You can also monitor your battery via your smartphone. The Enerdrive app is easy to use via the iPhone or Android app and allows you to monitor the following:
Battery Capacity
Battery Voltage
Battery Current (Amps)
Battery State of Charge (SOC)
Battery State of Health (SOH)
Battery Status
Individual Cell Voltage
Battery Temperature
Battery Cycles
Battery Alarms
Battery Event Information
The new G2 model has a built-in reset button that makes restarting a flat battery easy. Now you do not need to apply a voltage to the battery terminals to wake up the battery. Press the button and within seconds, the battery will come back to life ready to accept a charge source that will make it work like new again.
The B-TEC battery from Enerdrive is the perfect choice for any application that requires a single deep cycle power supply. This high-quality unit delivers up to 125 amp hours and has been designed with heavy-duty construction in mind, making it durable enough not only to power your camper van but also other setups like caravans or camper trailers.
You should also know that the 125Ah G2 battery can only handle up to 1000W from an inverter. If you exceed this limit, it could damage the BMS Management inside the battery.
There are two different ways to charge your Enerdrive lithium batteries- the Enerdrive AC charger, which can charge up to 3 battery banks, and the Enerdrive DC2DC+ Charger with MPPT Solar Controller, which connects directly to a solar panel or your vehicle's engine.
If you need a battery system that is larger than the Enerdrive B-TEC battery, you should look at the Enerdrive Pro Series Battery Pack Systems. These systems can allow connecting multiple batteries in parallel and series connections with Active Cell Balancing Protection across the entire pack.
Bluetooth connection for programming and monitoring

Flexible charge algorithm

50% lighter, 30% smaller than its lead equivalent
VICTRON 100Ah SMART LITHIUM BATTERY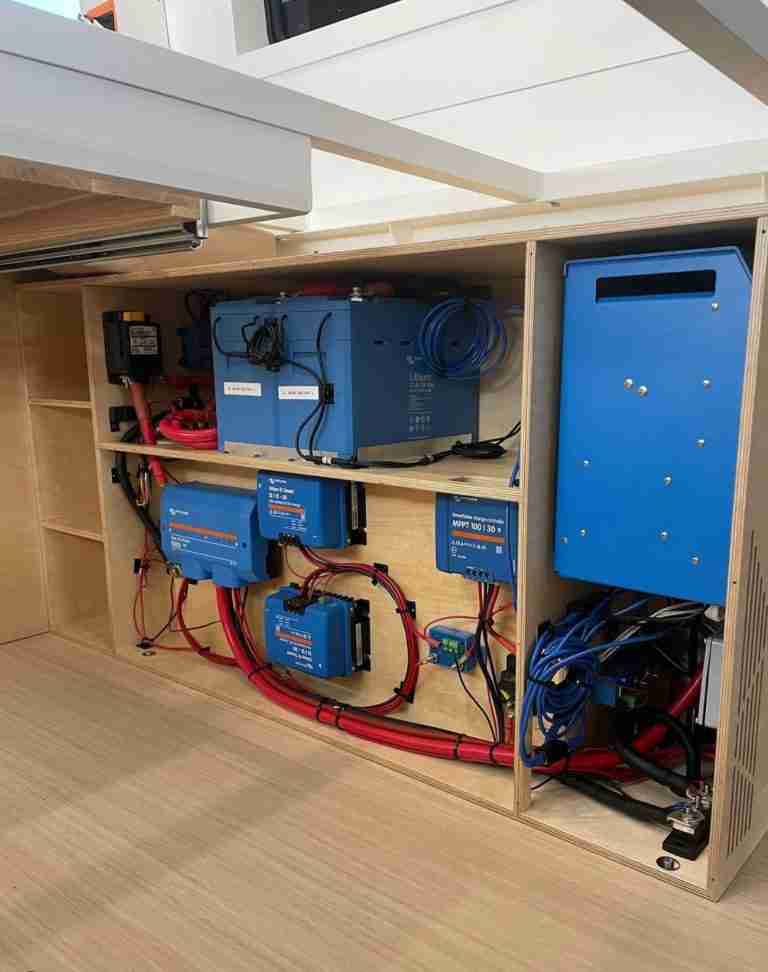 The Victron Smart LiFePO4 Lithium Battery is, in our opinion, a close 2nd to the best deep cycle battery for RV and campervan owners living in Australia. It can provide 60% more usable power compared to other traditional lead-acid batteries on the market.
Not only that, but it offers 100 amp hours of lithium power, which is comparable to a 200Ah deep-cycle AGM battery. With energy like this, it's easy to understand why lithium is one of the most advanced battery technologies on the market.
By connecting the batteries to your phone with Bluetooth, you can monitor cell voltages, temperature and alarm status. This feature can be very useful if you need to find any problems, such as cell imbalance.
Victron batteries have a feature that monitors and balances the cells in the battery. This is useful because it prevents damage to the battery and ensures that it lasts longer. You can connect up to 5 batteries in parallel and up to 4 batteries in series. The cell balancing/monitoring cables can be daisy-chained.
The Internal BMS will protect your battery if the below were to occur:
Generate a pre-alarm if the voltage of a battery cell drops below 3.1V (3.15 – 3.85 V adjustable).
Remove or switch off the load when the voltage of a battery cell drops below 2,8V (adjustable 2,6 V – 2,8 V).
When a battery cell's voltage rises to more than 3.75 V or the temperature reaches 60°C, it will shut off the charging procedure.
The Victron Smart 100Ah Lithium Battery is also great for smaller van builds since it's only 197 x 321 x 152 mm. In addition, it only weighs 15 kgs, significantly lighter than an AGM deep cycle battery which can weigh up to 35 kgs.
Can be bought in either 12.8V or 25.6V


Perfect for campers, caravans, boats, etc.

The most expensive option in this list
INVICTA 12V 100Ah LITHIUM BATTERY WITH BLUETOOTH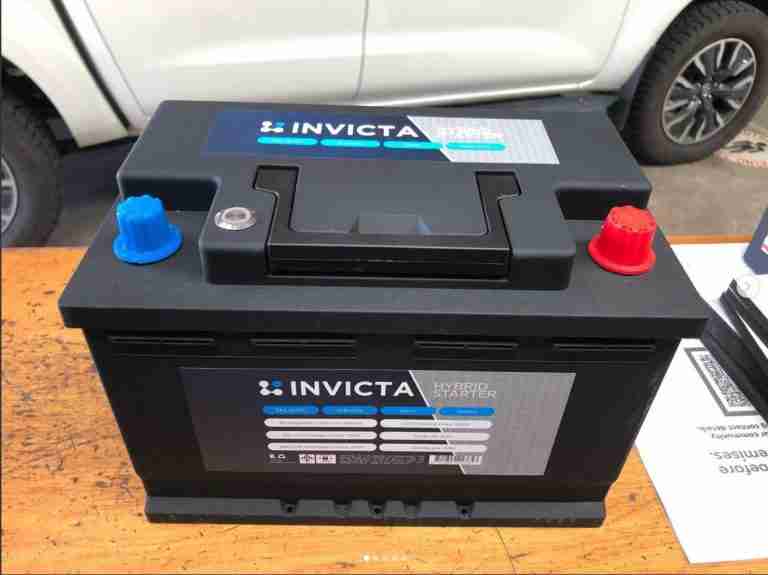 Source Penrith Auto Electrical
The Invicta Lithium 12V range has been designed to replace similar lead-acid batteries.
Their batteries are built around the popular lead-acid sizes. Still, it includes the benefits of Lithium Iron Phosphate (LiFePO4) technology and is perfect for a deep cycle battery and extended run time applications.
The Invicta Lithium batteries range is available in 12V, 24V, and 36V single battery systems. This allows their batteries to work with any electrical system designed for your campervan. They are utilised in various products, including 4×4 vehicles, RVs, boats, and commercial/industrial setups.
Invicta uses aluminium-encased LiFePO4 prismatic cells connected together using a solid busbar. A strengthening frame is also used to decrease movement and vibration often associated with off-road vehicles and marine setups.
The Invicta range uses an integrated BMS that is produced in the same factory as their cells, unlike some other low-cost batteries that employ a separately sourced Battery Management System (BMS). The BMS of the battery automatically protects it from over-charge/discharge, temperature and short circuits.
The BMS in this product range has been tested to IEC 62619 standards. This means that they have been put through the same tough testing as the rest of the battery to ensure that they are of the highest quality.
Their batteries are engineered to meet the needs of the Australian market and allow for a high-discharge rate of 95A.
Also, note that the Invicta 200Ah and 300Ah batteries are specially designed to overcome inverter start-up issues experienced on larger inverters.
Some Invicta batteries come with a Bluetooth feature, available on any battery model that ends in BT. This feature allows you to monitor important information about the battery, like how much charge it has, how much it has discharged, its capacity, temperature and voltage. You can do all this by downloading a free application on any Apple or Android device.
Built around the popular lead-acid sizes

Available in 12V, 24V, and 36V

Slightly larger than others
ENERDRIVE B-TEC 100Ah SLIM LITHIUM BATTERY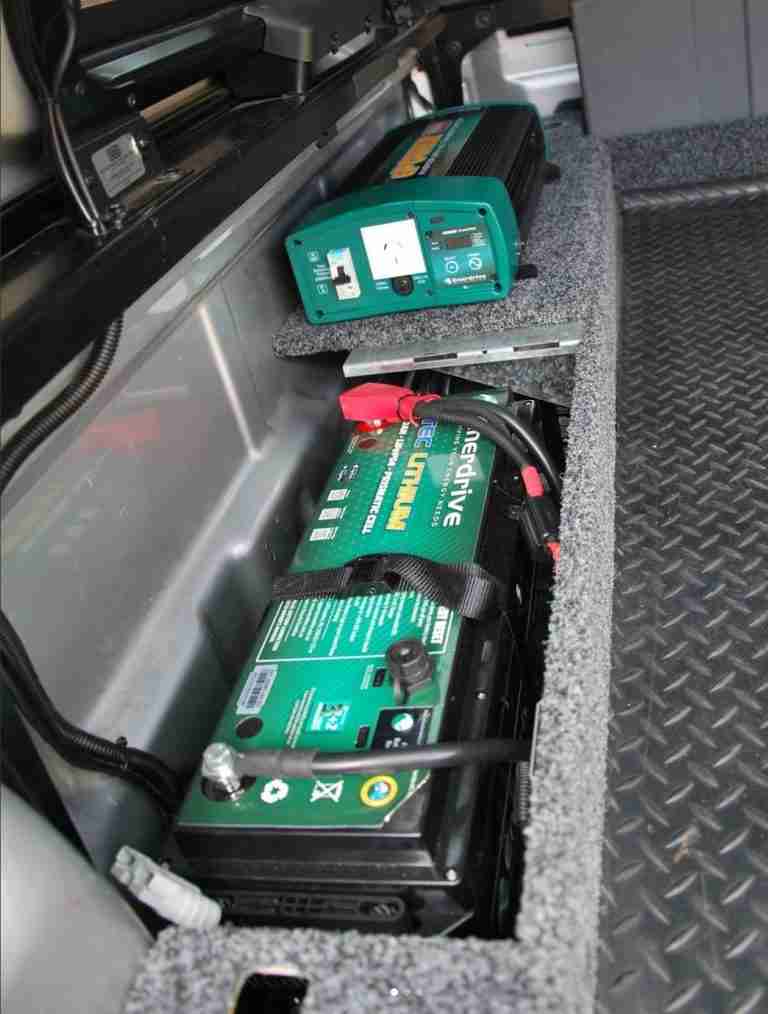 Source Josh Dardo
As mentioned above, Enerdrive is at the forefront of lithium battery technology in Australia. They are the only Australian company that can provide a fully integrated self-branded energy system to match your needs and they also have the most comprehensive aftersales service in Australia.
The Enerdrive B-TEC slim lithium batteries are available in a 12v 100Ah capacity. They are designed and intended for use in deep cycle applications where a single battery with the amp-hour capacity needs to be used.
The 100Ah battery can handle up to 1000 Watts from the inverter with high-quality prismatic cells.
The Enerdrive slim Battery is an excellent option for people with limited storage space. The battery is made using the same DNA as all other Enerdrive B-Tec batteries.
It is ideal for hiding behind the back seats of most dual cab trucks and fits in small places in other setups.
The Enerdrive B-TEC 100Ah slim battery now comes with a 5-year full replacement warranty, ensuring that you are protected for the long term.
| | |
| --- | --- |
| | |
| | It can be hard to find a replacement of same size. |
BAINTECH 110Ah SLIM LITHIUM BATTERY WITH BUILT-IN DC-DC CHARGER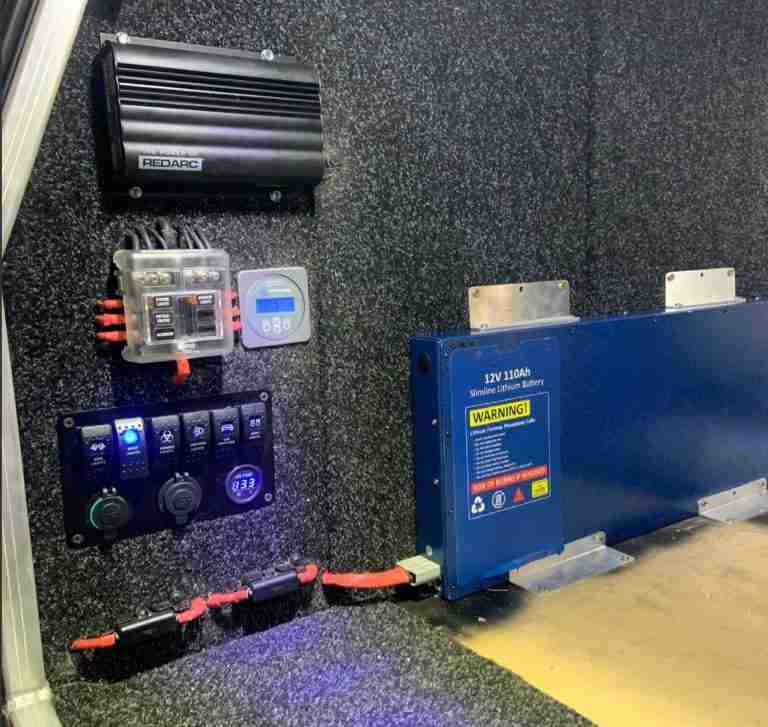 Source Off Road Addiction Australia
The Baintech Caravan batteries are one of the best quality lithium battery options out there.
As the name suggests, it's one of the slimmest batteries available. Overall, the Enerdrive is a smaller device, but the Baintech battery is thinner and weighs slightly more, at 14 kg. This is the only product on the list with a built-in 20A Smart Dc to Dc charger.
This caravan battery was created in Australia and it features high safety ratings and a built-in BMS.
The Slimline battery can provide up to 100A of continuous discharge or charge. You can connect more than one battery to increase the amount of storage capacity if needed. Charge and discharge the battery with the grey Anderson plug, and charge it from a DC source using the blue Anderson plug.
A safe, lightweight, and powerful structure is provided by an aluminium enclosure. It's the ideal base for a long-lasting battery.
But there are a few negatives.
Firstly, the connection for this battery is only made via an Anderson plug. It can be limiting, especially if it fails and you need to replace it with a terminal-style battery.
Also, there are no internal fuses in the battery, so an external fuse must be used for the grey Anderson connector, 100A maximum, to guarantee that the BMS' 100A continuous discharge and charge rating is not exceeded.
An exterior fuse should be used to protect the cable to the blue Anderson connector as close as possible to the car battery.
Parallel-connect compatible

Built in DC to DC Charger

No Internal fuse for Dc to Dc charger

The only connection is via the Anderson plug
Understanding the specs
Choosing the correct battery might be a struggle at first if you don't understand the technical specifications. And, no, you don't necessarily want the biggest battery, with all the bells and whistles.
A mid-range battery might be ideal for you, and you may save money on the purchase. So, let's look at what all of this terminology means.
Usable capacity
We're only considering 100Ah batteries for this comparison. In other words, we're comparing apples to apples, not apples with oranges.
Lithium-ion batteries also have a significantly greater practical capacity than lead-acid ones. Compared to AGM/Gel deep cycle batteries, which have a usable power of around 50%, good lithium batteries will have about 90-95% usable capacity.
But don't just believe what the sticker claims. Some batteries will state a capacity of 100Ah, but the 'usable' power will be considerably lower, i.e. 90Ah. Other batteries will put down their capacity, claiming that their 110Ah battery has 100Ah usable power. It is common for higher-end brands to underclaim what their battery is capable of.
Maximum charge current
The maximum charge current is the most amount of electricity that a battery can accept while being charged without causing damage. The majority of lithium batteries will have a maximum charge current listed in the specifications. The rule of thumb here is that the lower the number, the longer the battery will last, but some batteries on the market claim to be charged at up to 100 amps.
Cycle count
This is where the numbers get interesting. Simply stated, the number of cycles the battery can endure indicates how many times it may be discharged and recharged before reaching its end life.
For example, let's say you discharge your battery with the lights and a fridge overnight, then recharge it the next day with solar panels via a solar charger or campervan inverter; that's one cycle. The only difference here is the depth of discharge.
The average lithium battery will last approximately 2000 cycles at 80% Depth of Discharge (DoD). We'll come back to that 2000 cycles when we discuss warranties later.
Maximum Continuous Discharge Current
This has to do with how much power the battery can be drained at once. For example, a refrigerator rated for 12 volts will draw about 5 amps maximum when in use; an inverter rated for 1200 watts will consume around 100 amps at total capacity; and a 2500 watts inverter will utilise around 200 amps at full tilt.
It's simple: if you don't have a coffee machine, microwave, portable air conditioner, or induction cooktop, anything more than a 50A draw will likely suffice. If you need to draw a lot of power, your only choice is high-draw alternatives like banks or parallel battery configurations.
Cell design
The shape of a battery cell has evolved over time. Lithium batteries used to be produced in the form of 18650 cylindrical cells, which were similar to AA batteries but thicker and longer. To make battery banks of 12.8V and 100Ah, these cylindrical batteries are connected together using plastic frames.
Types are:
CYLINDRICAL CELLS
PRISMATIC CELL
POUCH CELL
Nowadays, almost all lithium batteries have a 'prismatic' cell arrangement with four prismatic cells or rectangle-box cells at 3.2V and 100Ah, and each is connected in series to generate the nominal 12.8V we require to run our equipment.
The prismatic cells can take a beating and are more durable than the old-style cylindrical cells, making them better suited for caravan batteries.

Depth of Discharge
Depth of Discharge means how far you discharge the battery. For example, if you use 60 amp-hours (Ah) of a 100Ah battery, you've discharged it to 60 per cent Depth of Discharge (60% DoD). If you use 90Ah of your 100Ah battery, you've discharged to 90% DoD.
This is important to help keep your battery in the best condition. Battery testing is not always as straightforward as you might think. For instance, if a battery has an 80% DoD rating of 2500 cycles, it should last for 2500 days or 6.84 years before dying. It also means that the same battery may have a 50% DoD rating of 5000 cycles.
The examples above are pretty basic, and it should be noted that on some days, the batteries may be cycled through several cycles while utilising inverters for coffee machines or cookers, fans or lights, for example.
What to look for in a battery
The most important thing to look for is an item created or at least designed in Australia. The vast majority of lithium batteries are manufactured in China. Still, if the lithium cells and Battery Management Systems (BMS) are designed and built into batteries in Australia, the quality control should be better. That isn't a hard requirement, though. Some manufacturers are making good-quality batteries in China; this is just our recommendation.
The next element to consider is weight. A 100Ah lithium battery should weigh about 11-12kg. You'd have to doubt the quantity of lithium (therefore amp hour rating) if it weighs less than that.
The next thing you should search for is a well-known brand. There are several individuals importing lithium batteries and conducting questionable companies. If you're going to spend money on lithium batteries, make sure the manufacturer/distributor will be there in the future, or next year, to assist you if you have any issues.
Finally, make sure the battery you pick is backed by a good guarantee. A five-year warranty should be expected with lithium batteries. They should last you at least five and a half years if they have 80% DoD lifespans of 2000 cycles or more, so the warranty should be around that point.
Final thoughts
If you're looking to invest in a 12V battery for your campervan, consider lithium. It's more expensive upfront but will last longer and is easily transferable from vehicle to vehicle as you upgrade or replace your van.
It's also worth considering the Lifepo4 version of lithium batteries if you live in colder areas. They're more expensive but can work well down to around -10 degrees Celsius without having any issues.
Finally, an important note: don't mix and match different brands of lithium batteries or power banks. If you have two batteries, they should be of the same type and brand. If you mix and match, they'll likely work for a while but may get upset with each other after some time.
Lithium is not a miracle solution, but it's a good choice that will last you longer and perform better.
If you've got any comments or questions, please leave them below! I'll reply as soon as possible. Thanks for looking at our post!
To learn a little more before deciding check out our articles Campervan Battery: The Ultimate Guide and AGM vs Lithium Batteries