Caravan and Camping Lithium Batteries of 2023, Tested and Reviewed
Updated on: December 2023
Struggling with the limitations of traditional power sources during your camping and caravan adventures? In this blog, we've got the solution to power up your outdoor experiences with the best lithium batteries on the market. From ensuring your devices stay charged to providing a reliable source for your caravan's electrical needs, we've delved into the world of lithium batteries to bring you top recommendations for both camping enthusiasts and caravan travellers alike.
With a wealth of knowledge amassed over 10 years of experience and 2 years of full-time living in a campervan, we understand adventurers' challenges in seeking dependable power solutions.
Having assisted countless camping and caravan enthusiasts in overcoming power-related obstacles, we recognise the importance of reliable energy sources. To provide you with trustworthy recommendations, we've rigorously tested these lithium batteries in real-world scenarios. Join us as we unveil the power-packed solutions that will redefine your camping and caravan experiences, ensuring you never again face a power outage in the great outdoors.
We have been using lithium batteries in all of our vans since we learned about their benefits, which you can read all about here. Our favourites are #1, we are currently running the iTechworld batteries in our own camper van now and #5, especially if you are limited on space.
Top Five Lithium Batteries to Consider
We narrowed down the options for you to make it easier to find the best lithium battery that will best serve you. Our recommendations are based on the criteria mentioned above. Let's get started.
iTECH120X PRO Lithium Battery




USE CODE WADEANDDANI for 5% OFF everything at iTechworld




Enerdrive B-TEC 125AH Lithium Battery with Bluetooth

Victron 100Ah Smart Lithium Battery

Invicta 12V 100Ah Lithium Battery with Bluetooth

Enerdrive B-TEC 100Ah Slim Lithium Battery

Maximum Discharge Current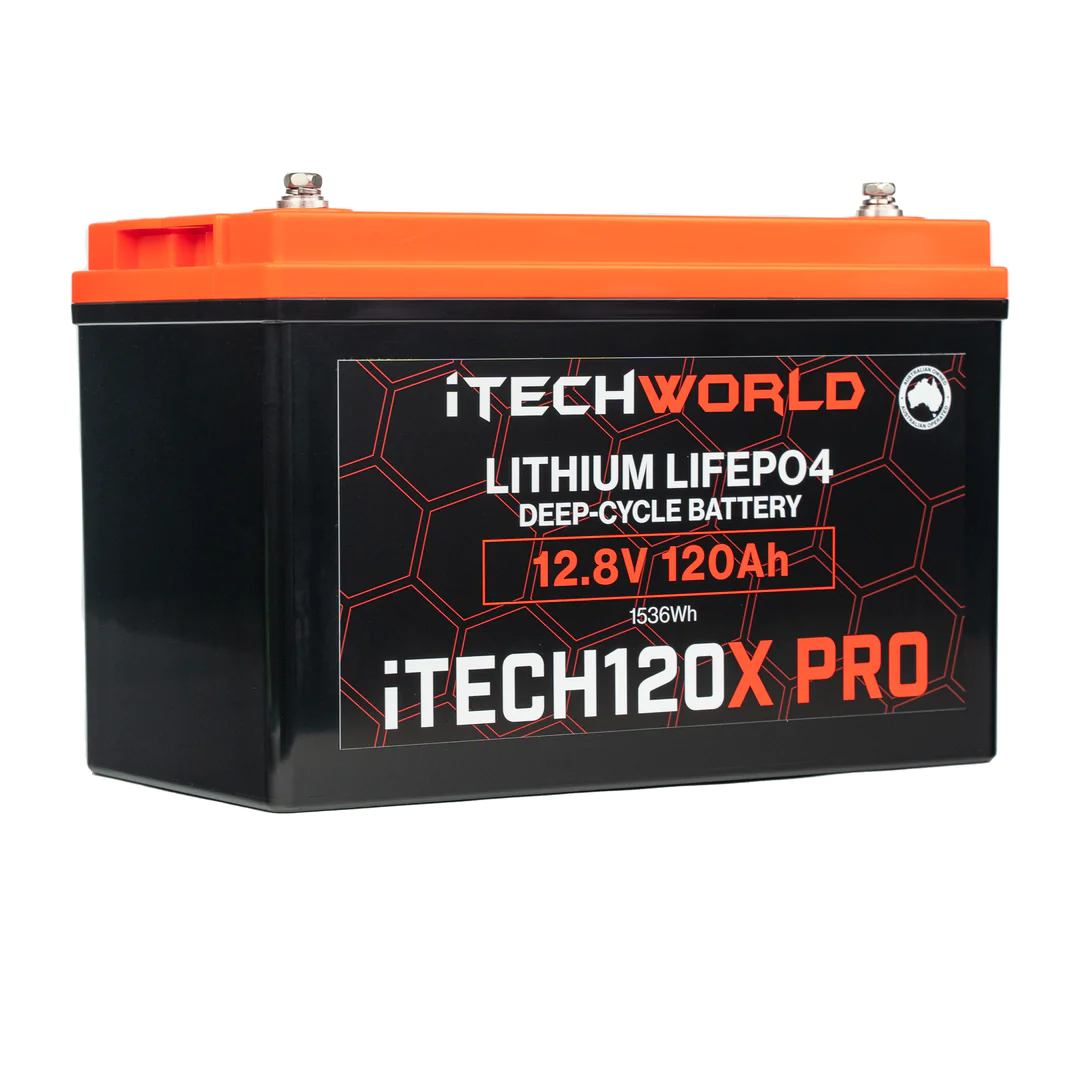 At the number one spot is the iTECH120X PRO. This innovative battery offers the best in functionality and performance.
Quick Look
Voltage output – 10 to 14.6V
Battery Capacity – 120Ah
Technology – LiFePO4
Weight – 12.5 kg
Warranty – five-year warranty
Service life – 4,000+ (100 per cent DoD) or 8,000+ (50 per cent DoD)
Waterproof design
The iTECH120X PRO Lithium Battery offers the latest in technology and is a newcomer to the market. Don't be fooled, though! This battery is the result of innovation. In fact, Australian engineers spent more than 10 years designing and developing it.
It is a reliable replacement for your current system that weighs just 12.5kg, has an outstanding 100 per cent usable capacity, and is IP67 waterproof and under-bonnet rated. This product was specially designed to meet the demands of the harsh Australian climate. It offers an impressive voltage output of 10 to 14.6V and includes short circuit protection to avoid damage caused by an electrical surge.
With a cycle life of 4,000+, you won't be disappointed when you purchase this lithium battery for your caravan. It also includes a protective frame that resists vibration. Camping can come with a few unexpected mishaps. You are often subjected to the elements, and in the event that the worst happens, it's important to have the assurance that your battery won't be damaged.
Fortunately, this innovative product is built to be waterproof. Although we would never recommend exposing your lithium battery to water, you never have to worry about damage in the event that it does happen.
If you're looking for an exceptional all-round lithium battery that delivers on its promises, then we highly recommend giving this one a try!
We run the iTechworld 240X pro lithium battery in our campervan. We have been running the 240x pro for over a year and absolutely love it, so if you are looking for a larger sized battery make sure to check that one out.
This battery is currently on sale until the end of December 2023 at iTechworld – USE CODE WADEANDDANI FOR 5% OFF
2. Enerdrive B-TEC 125Ah Lithium Battery with Bluetooth – Close Second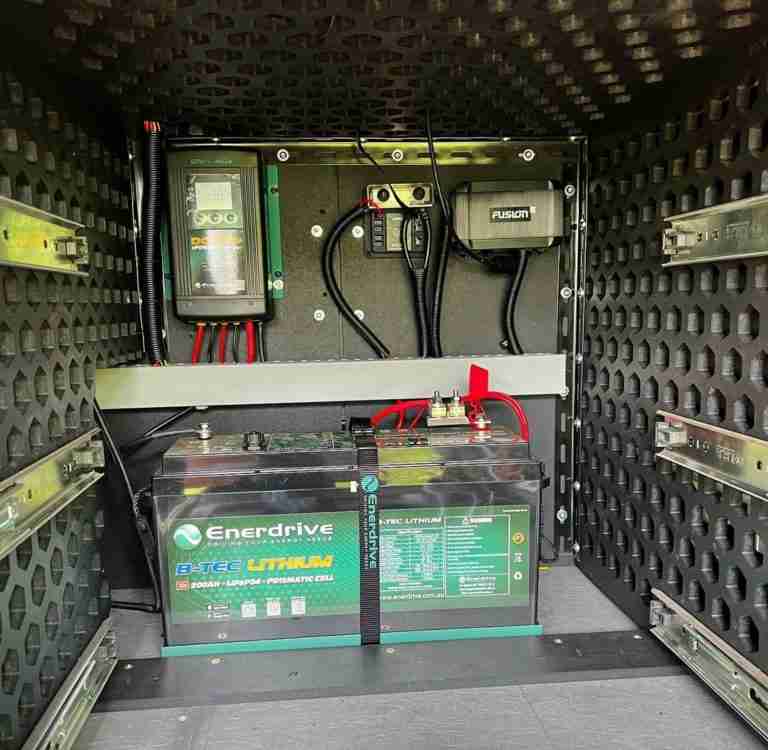 Source f4rmtruck
Enerdrive is renowned for its lithium batteries, and in second place on our list of recommendations is the B-TECH 125Ah Lithium Battery. You can enjoy a plethora of intuitive features and cutting-edge technology with this product.
Quick Look
Voltage output – 12V
Battery Capacity – 125Ah
Technology – LiFePO4
Weight – 15.2 kg
Warranty – five-year warranty
Service life – 2,000 charge/discharge cycles
Smartphone monitoring technology
Although it is considerably heavier than the iTECH120X PRO, this battery offers a number of perks.
The ability to monitor this battery remotely using your smartphone is one of the standout features of this lithium battery. All you have to do to view information about the battery's capacity, voltage, and more is to download an app.
It also includes Bluetooth functionality that allows you to troubleshoot using your smartphone, which is a significant advantage.
B-TECH batteries are designed to have a greater heat tolerance. You can store this battery for up to 30 days at 20–60 °C with a five to seven per cent relative humidity. However, after 90 days, it must be stored between 10 to 45°C.
It's worth noting that this battery doesn't provide the service life you can expect with the iTECH120X PRO. However, with over 2,000 charge/discharge cycles, it is sure to be a reliable companion on your overnight camping trips.
The new G2 model has a built-in reset button that makes restarting a flat battery easy. Now you do not need to apply a voltage to the battery terminals to wake up the battery. Press the button and within seconds, the battery will come back to life ready to accept a charge source that will make it work like new again.
With a five-year warranty, you won't have to worry about replacing your battery for a long time.
This battery is currently on sale until the end of December 2023 at My Generator
Bluetooth connection for programming and monitoring

Flexible charge algorithm

50% lighter, 30% smaller than its lead equivalent
3. Victron 100Ah Smart Lithium Battery – Superior Energy Efficiency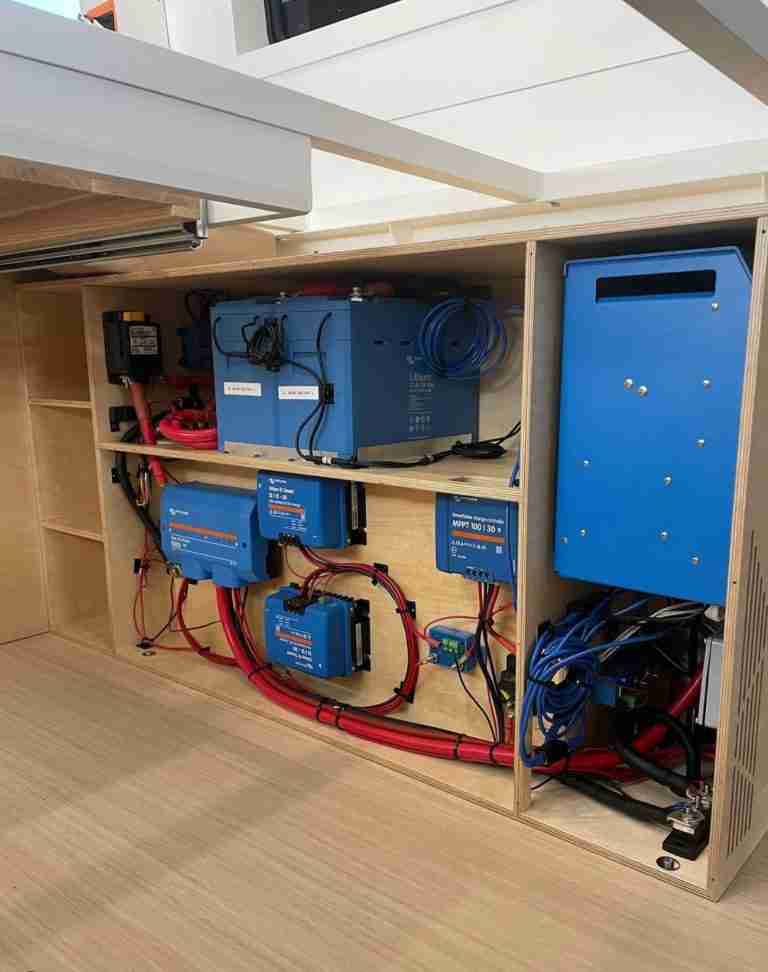 If you're looking for a smaller lithium battery, the Victron 100Ah battery is a great option. Although it doesn't offer many of the features of the previous entries on this list, it still holds its own and provides much in the way of efficiency and functionality.
Quick Look
Voltage output – 12.8V
Battery Capacity – 100Ah
Technology – LiFePO4
Weight – 15 kg
Warranty – three-year warranty
Smartphone monitoring technology
Like the iTECH120X PRO, this battery doesn't need to be fully charged. You can get a longer service life with partial charging. It also includes a smart app for monitoring performance, like the Enerdrive B-TEC 125Ah Lithium Battery, which is a great perk.
You can also link up to five batteries, and it features a pre-alarm to alert you when the voltage reaches 3.1V. It also offers up to 92 per cent round-trip energy efficiency, making it a fantastic choice for camping.
However, the 100Ah capacity, higher weight, and three-year warranty leave much to be desired. Suppose you are a seasonal traveller; in that case, you may find that this is the perfect option for you.
One feature that we don't like is the weight. At 15 kg, this battery is definitely not lightweight and transporting it may be a bit of a challenge, so if you intend to move your battery around a lot, we highly recommend choosing another product from this list.
Can be bought in either 12.8V or 25.6V


Perfect for campers, caravans, boats, etc.

The most expensive option in this list
4. Invicta 12V 100Ah Lithium Battery with Bluetooth – Seven-year Warranty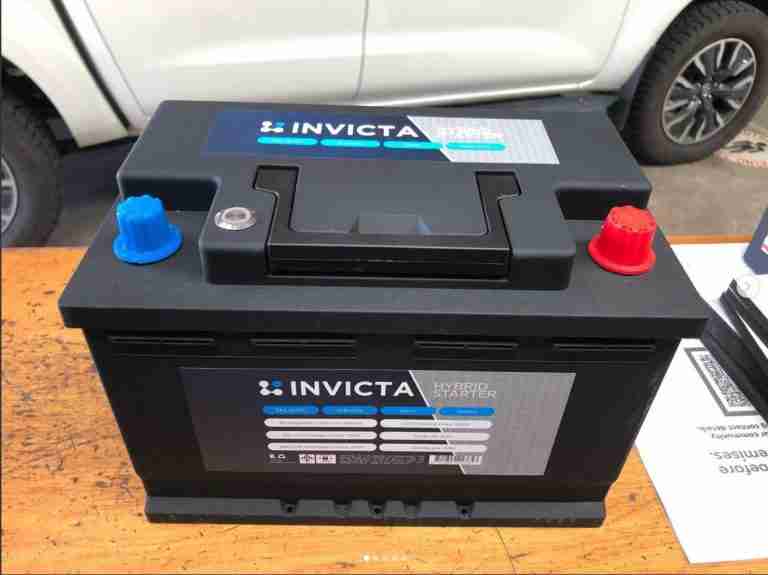 Source Penrith Auto Electrical
The Invicta 12V 100Ah battery is another great choice if you're looking for a unit with a smaller capacity. With many great features, this product offers exceptional value for money!
Quick Look
Voltage output – 12V
Battery Capacity – 100Ah
Technology – LiFePO4
Weight – 12.4 kg
Warranty – seven-year warranty
Bluetooth monitoring technology
When spending money on a battery, you want to know that you can rely on it to last a long time. With the Invicta, you don't have to worry about replacing your battery any time soon because it comes with an impressive seven-year warranty.
This is much greater than the other options on this list, which leads us to believe it may just be the most durable.
Plus, with Bluetooth capability and a smart app for tracking performance and a high energy density, you can rely on this battery to provide the power you need while on the road. Like the iTECH120X PRO, it has a strengthening frame specially designed to reduce vibration typical during travel.
It also has short circuit and high-temperature protection, like many of the products on this list. You can also transport it easily, thanks to its lightweight design. However, it does lack some of the features that the iTECH120X PRO has.
Also, note that the Invicta 200Ah and 300Ah batteries are specially designed to overcome inverter start-up issues experienced on larger inverters.
5. Enerdrive B-TECH 100Ah Slim Lithium Battery – Best Slim Battery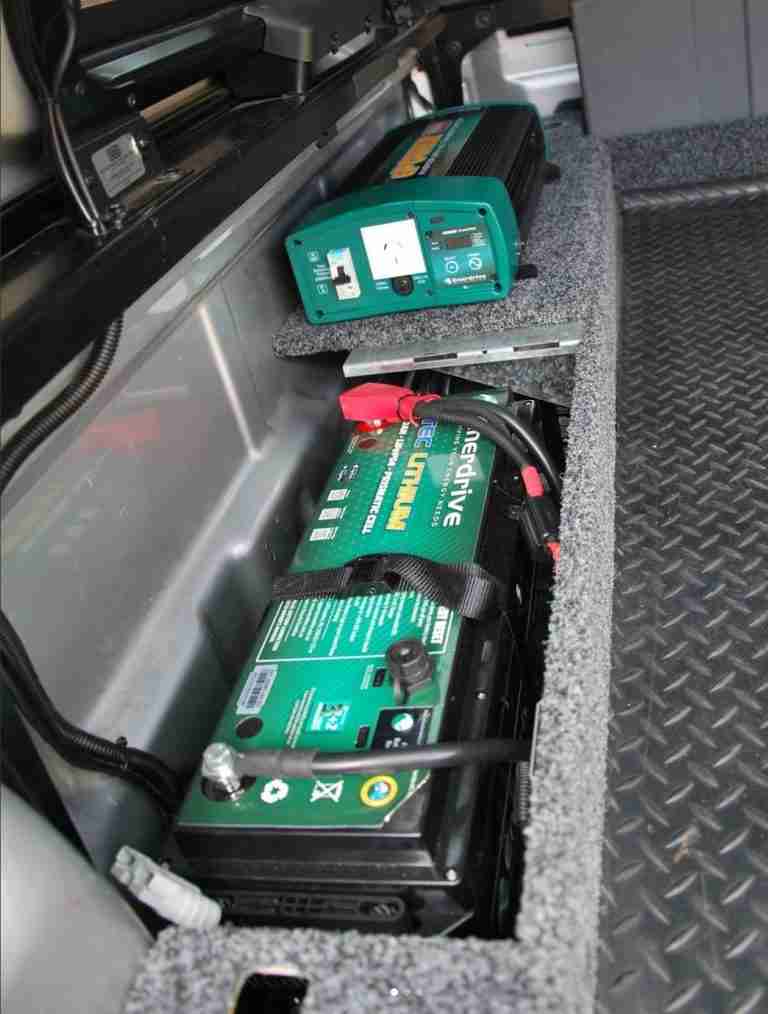 Source Josh Dardo
When it comes to camping, saving space is everything. While powering your devices is important, it should not come at the expense of room. If you're looking for a slim battery to fit snuggly in your caravan, then the Enerdrive B-TCH 100Ah Slim Lithium Battery is a solid choice.
Quick Look
Voltage output – 12V
Battery Capacity – 100Ah
Technology – LiFePO4
Weight – 12.5 kg
Warranty – five-year warranty
Service life – 2,000+ charge/discharge cycles (at 80 per cent charge capacity)
In addition to being the best slim battery on this list, the B-TECH 100Ah also offers a myriad of features that make it suitable for recreational use. It is lightweight at just 12.5 kg and comes with a good, five-year warranty for complete peace of mind.
It also uses LiFePO4 technology for greater efficiency and reliability. This also includes temperature regulation without compromising performance.
However, these impressive features do come at a cost. This battery provides the lowest service life compared to the other options on this list. While it does allow partial charge, similar to the iTECH120X PRO and the Victron 100Ah, you only get 2,000+ charge cycles at an 80 per cent charge capacity.
If you are an occasional traveller, this is a great choice. However, we always recommend going for the best service life possible as they offer the best value for money.
| | |
| --- | --- |
| | |
| | It can be hard to find a replacement of same size. |
Conclusion
In conclusion, the lithium batteries of 2023 open new horizons for caravan and camping enthusiasts. Whether you prioritize lightweight design, smartphone connectivity, extended warranties, or space efficiency, our carefully curated list ensures there's a power-packed solution for every adventure. May these batteries light up your paths and redefine the way you experience the great outdoors. Happy adventuring!