Exploring the Margaret River Caves: Your Complete Guide
When you think about Western Australia, you might first imagine scenic coastal drives and stunning beaches. However, beneath the surface lies an underground world of natural beauty and wonder – the Margaret River Caves.
If you plan a trip to Western Australia, no trip is complete without exploring at least one cave in Margaret River. And if you are on a tight budget or don't want to pay for a visit to a cave, we have a special surprise for you. We will share the exact location and how to find the only free cave in the Margaret River region.
Key Takeaways
Explore the magical underground world of Margaret River caves and discover over 100 limestone options for an unforgettable adventure.
Experience awe-inspiring beauty, Aboriginal history and captivating cave formations with guided tours or independent self-guided caving adventures.
Visit the only free cave in the region!
Discovering the Margaret River Caves
Nestled in the heart of Western Australia, the Margaret River region offers an abundance of breathtaking caves that will leave you in awe. From the popular Ngilgi, Mammoth, Lake, and Jewel Caves, each offers an experience as unique as the formations within their depths.
Choosing the right cave from over 100 limestone options (only seven are open to the public) in the area can be daunting. Factors such as accessibility needs, family requirements, budget or time constraints can all play a role in deciding which cave to visit.
An adventure awaits at every turn when you journey along the famous Caves Road. With a range of cave tours catering to every visitor, from guided tours to self-paced explorations, immerse yourself in the enchanting underground world of Margaret River caves.
Ngilgi Cave: Yallingup's Underground Treasure
Located in Yallingup, Ngilgi Cave (pronounced 'Neel-gee') offers a unique semi-guided experience perfect for families and first-time cavers alike. Upon arrival, you'll be greeted by knowledgeable guides who provide an introductory talk about the cave's history and its connection to Aboriginal culture. After the talk, you're free to explore the awe-inspiring formations at your own pace, navigating the ancient lands of this underground treasure.
Ngilgi Cave, located on Caves Road between Dunsborough and Yallingup, is an easy 35-minute drive north of Margaret River. With daily guided tours running every 30 minutes from 9:30 a.m. to 4:00 p.m., don't miss the chance to uncover the secrets of this captivating cave and its fascinating Aboriginal legend.
Mammoth Cave: A Self-Guided Adventure
If you prefer a more independent caving experience, Mammoth Cave is the perfect choice. As a self-guided cave, you'll receive an audio tour on an MP3 player, allowing you to explore the cave's unique wonders at your own pace. About 20 minutes south of Margaret River township, Mammoth Cave offers a family-friendly experience with no tours or groups to disturb the little ones.
One of the best features of Mammoth Cave is its accessibility. This adventure is suitable for all visitors thanks to the well-maintained boardwalks and wheelchair-friendly paths. So whether you're a seasoned caver or a first-timer, Mammoth Cave is an unforgettable experience waiting to be discovered.
Lake Cave: Beauty Beneath the Surface
Lake Cave is a must-visit for those seeking a genuinely mesmerizing underground experience. Home to a permanent lake, this cave creates a mirrored wonderland that reflects the captivating formations above. Located on Caves Road, around 20 minutes south of Margaret River, Lake Cave offers guided tours that showcase its spectacular features, including the gravity-defying 'suspended table' formation.
Guided tours of Lake Cave run for an hour and start at 9.20 a.m. daily. Remember that a challenging 350-step descent into Lake Cave might not suit everyone. However, for those who can manage the climb, the breathtaking beauty that awaits is well worth the effort. The cave tours range in difficulty, so be prepared for a unique experience.
Jewel Cave: Western Australia's Largest Show Cave
Prepare to be amazed by Jewel Cave, the largest show cave in Western Australia, boasting three massive chambers filled with stunning crystal formations. As the only way to explore Jewel Cave is through a fully guided one-hour tour, you'll be treated to fascinating stories and insights from knowledgeable guides who bring the cave's history to life.
Situated on Caves Road, Jewel Cave is home to the longest straw stalactites found in Australia. Tours run every 30 minutes from 9.30 a.m., so make sure to book your spot and experience the awe-inspiring beauty of Western Australia's largest show cave.
Adventurous Options: Exploring Off-the-Beaten-Path Caves
While the popular caves of Margaret River are undoubtedly impressive, you may be craving a more adventurous and natural caving experience. In that case, consider exploring the lesser-known caves of the region, such as Calgardup and Giants Cave. These off-the-beaten-path options offer a more intimate connection with nature, allowing you to immerse yourself in the raw beauty of the underground world.
Be aware that these caves might have limited amenities and could demand a higher level of physical fitness to explore. However, for those seeking an exhilarating caving adventure, the challenge of Calgardup and Giants Cave is a thrilling and rewarding experience not to be missed.
Calgardup Cave: A Natural Wonderland
Calgardup Cave offers a captivating self-guided tour that lets you explore its colourful crystals, stalactites, and stalagmites at your own pace. As you venture into the depths of this natural wonder, walking on the natural cave floor, you'll be supplied with torches and headlamps to illuminate the striking formations that adorn the cave walls.
Located in the Margaret River region, Calgardup Cave is accessible to all ages, making it an ideal choice for families and those seeking a more relaxed caving experience. With handrails on boardwalks and stairs, you can safely navigate the cave and appreciate its unique beauty.
Giants Cave: An Adrenaline-Pumping Journey
For thrill-seekers and experienced cavers, Giants Cave provides an adrenaline-filled adventure like no other. As you explore the cave, you can expect:
Climbing ladders
Scrambling over rocks
Squeezing through tight spots
Stunning views of gigantic chambers
Unique cave formations
Located in the Boranup Forest, Giants Cave is a medium-level adventure cave, making it unsuitable for children under 6. However, for those who can handle the challenge, this adrenaline-pumping journey offers an unforgettable experience that will leave you feeling exhilarated and accomplished.
The only FREE cave in the Margaret River region
When you start looking into the caves in the Margaret River region, it can be a little bit overwhelming – they all look fantastic, and there are so many to choose from.
Most cost $24 per person, but visiting the only FREE cave in the Margaret River region is an absolute must-do if you're like Wade and me and appreciate free activities.
Hidden away and kept a secret by the locals, this cave offers a unique and cost-free adventure. It took A LOT of work to find directions for this cave online. It used to be listed on Wikicamps, but it has now been removed, so we hope this helps you find it. PLEASE keep this beautiful spot by taking all your rubbish home and only looking at it.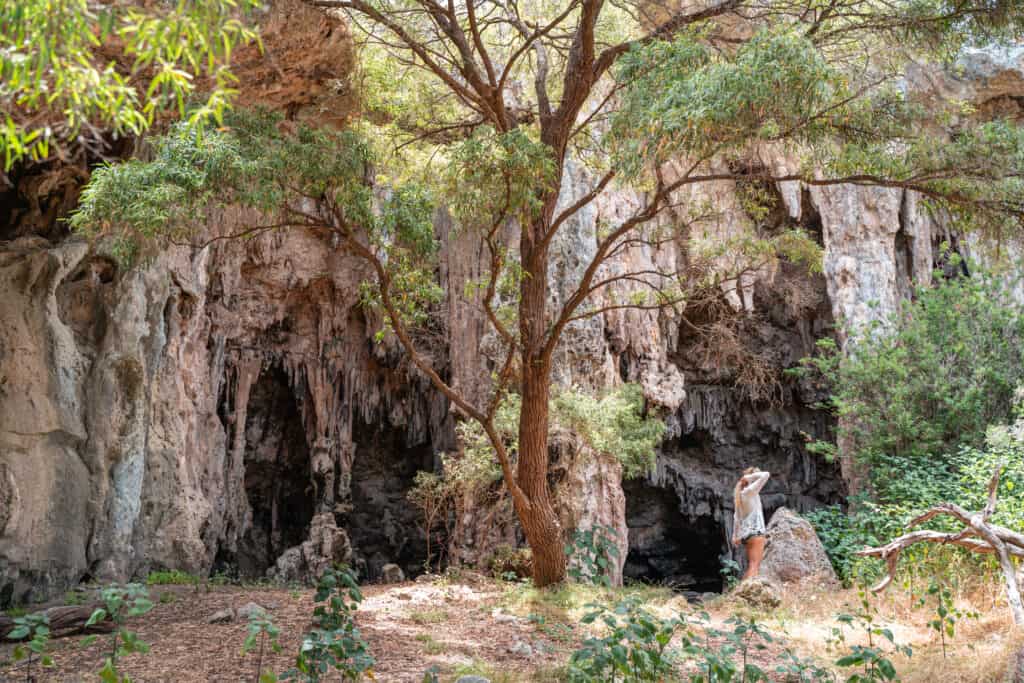 How to find the free cave in Margaret River
1. Start Point: Park your vehicle on Wallcliffe Road. The approximate point you should aim for is marked below. You can find it by searching the road on Google Maps in satellite mode. You will notice a different patch of green, as shown in the picture below.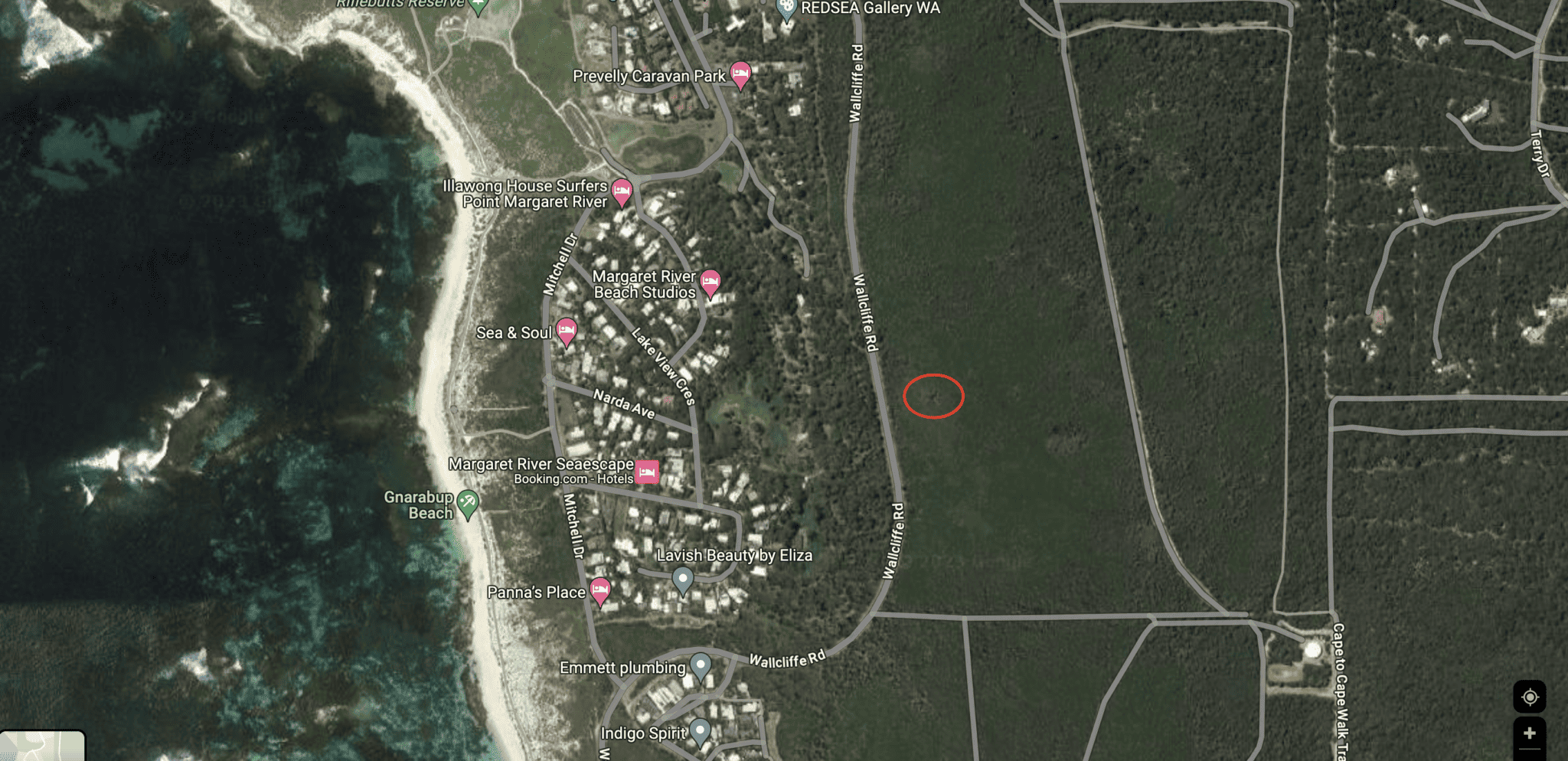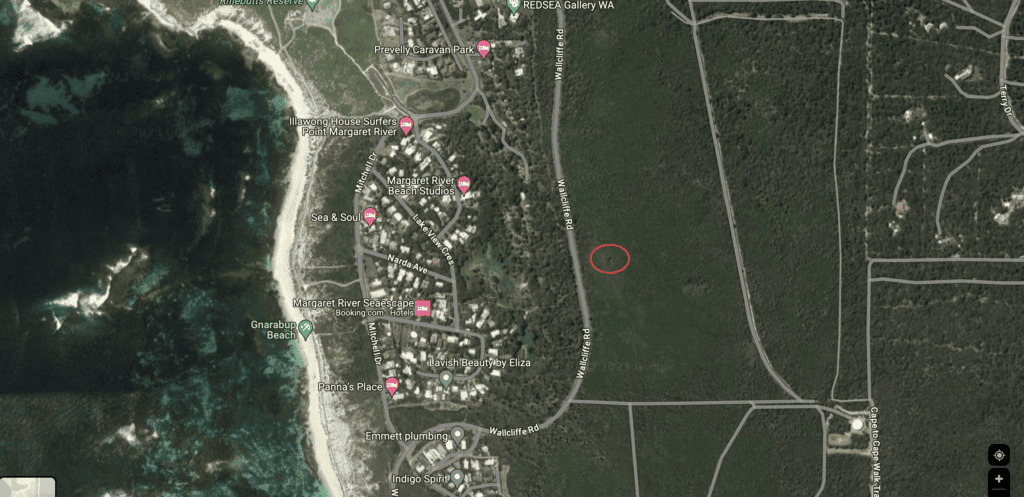 Please be very careful when parking, as there isn't much room on the side of the road for stopping.
2. Entering the Trail: Once you've parked, look for a tiny opening in the vegetation on the east side of Wallcliffe Road. This is the entrance to the trail that leads to the free cave. You'll need to make your way through this opening carefully.
3. Trail Walk: Follow the trail after passing through the vegetation opening. The path may be rugged, and you may need to crawl through dense vegetation in some places. However, don't be discouraged; it's only a short 500-meter walk or so to reach the cave.
4. Arrival at the Cave: Keep walking along the trail; eventually, you will reach the cave entrance. This part of the adventure may require some effort, but the sight of the cave's natural beauty is well worth it!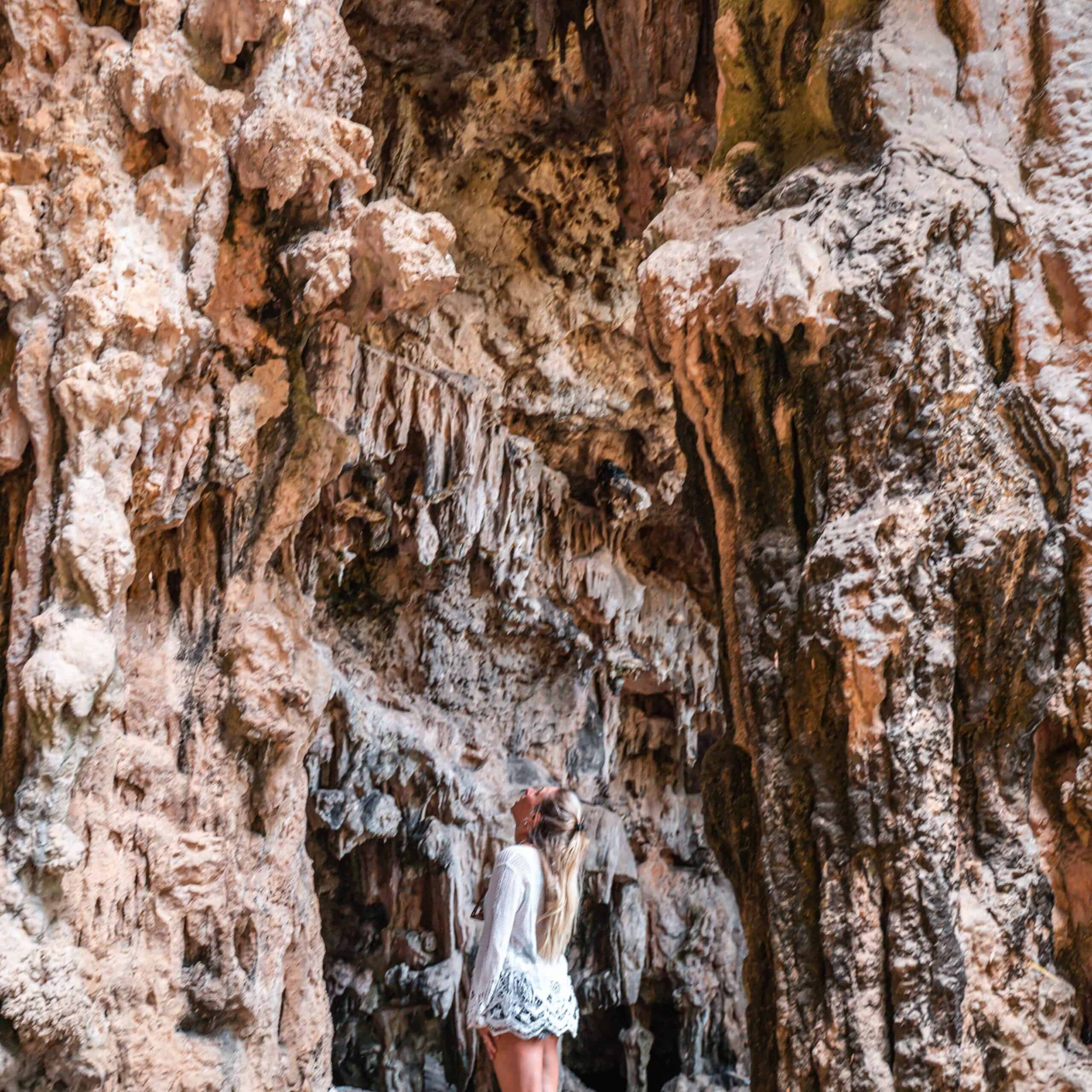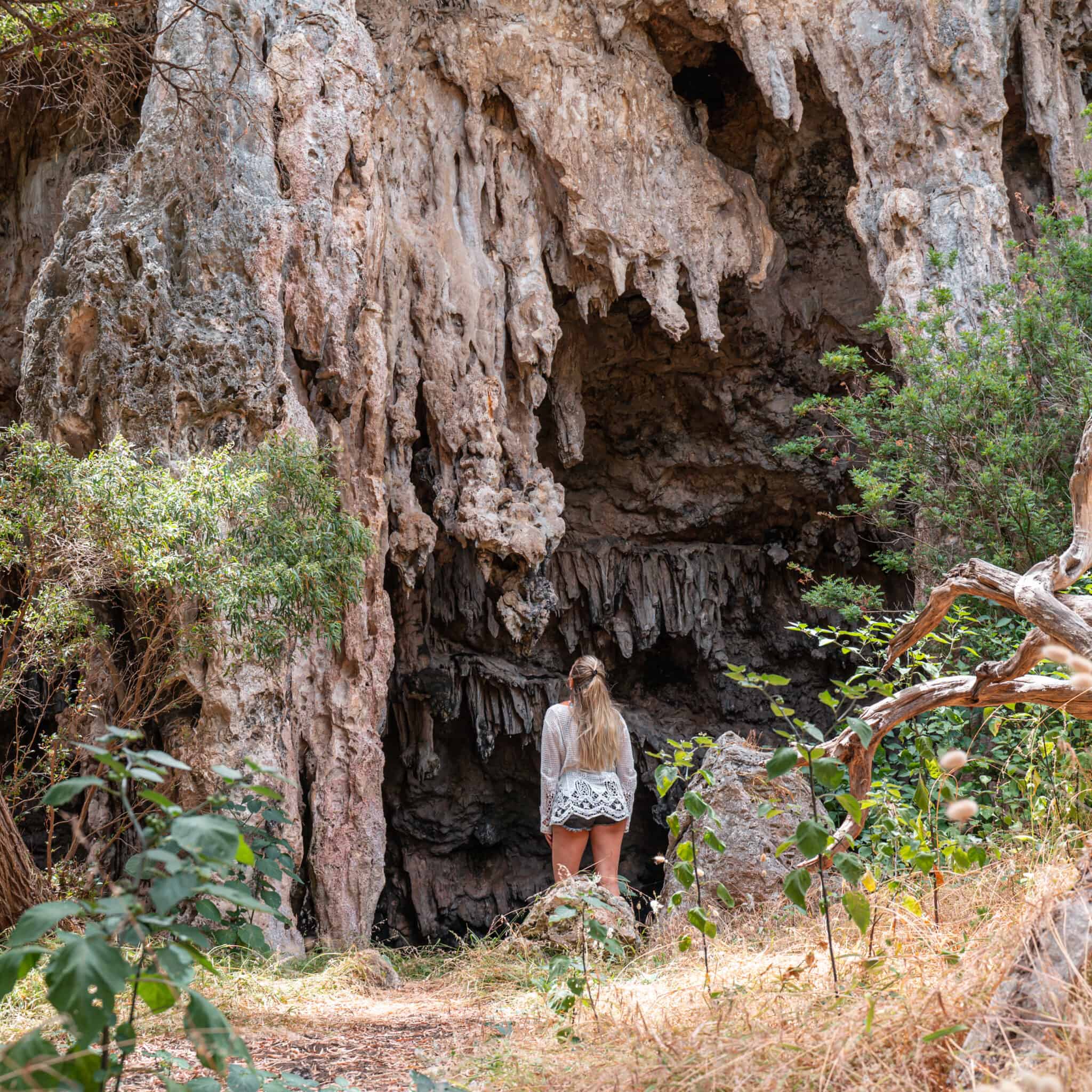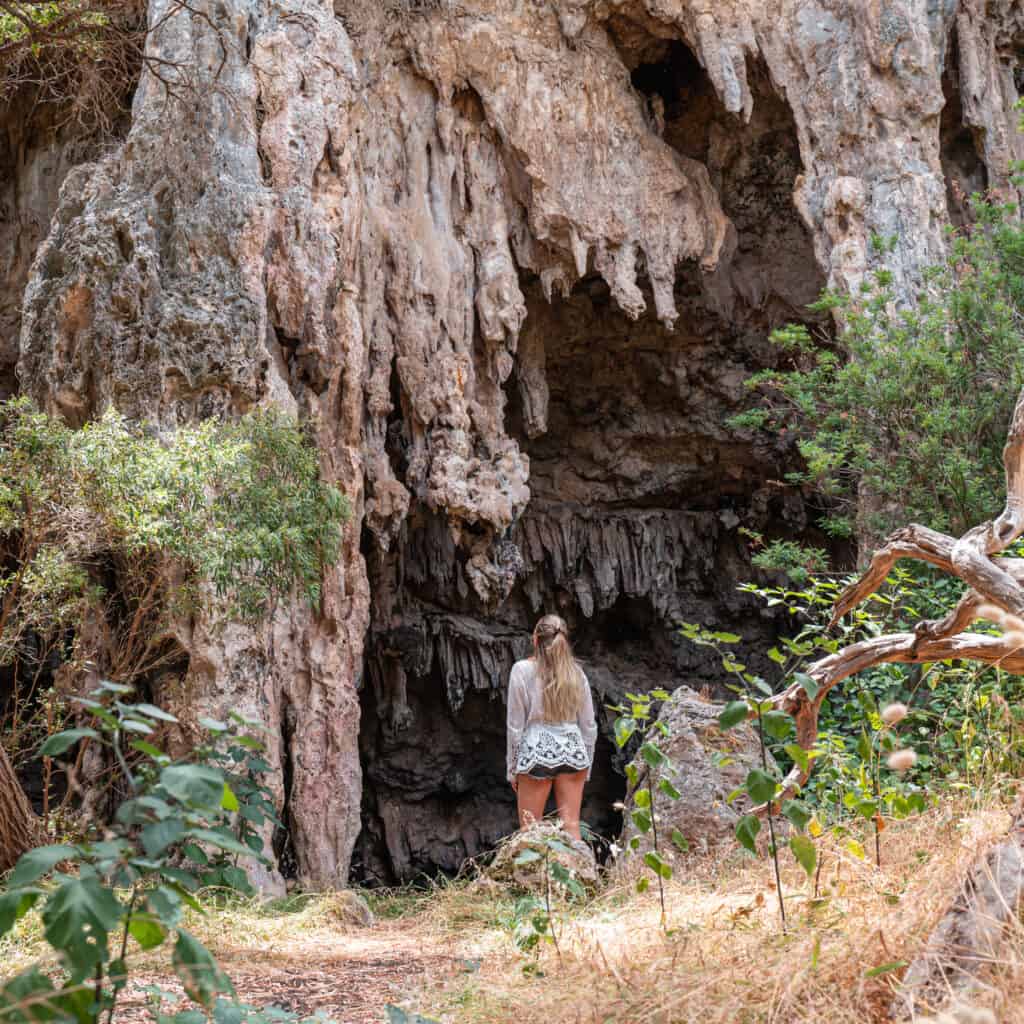 Enjoy your journey to the free cave in the Margaret River region, and be sure to take in the breathtaking wonders of this unique underground treasure.
The Formation and History of the Margaret River Caves
The captivating caves of Margaret River are a visual treat and offer a fascinating insight into the region's geological history. Formed over a million years ago, these caves owe their existence to the delicate interplay of water and limestone.
Exploring the formation and history of these underground wonders reveals the significant part water and limestone play in shaping each cave's unique features. From tales of discovery and exploration to the captivating beauty beneath the surface, caves Margaret River hold secrets just waiting to be uncovered.
The Role of Water and Limestone
The formation of Margaret River's caves is primarily attributed to water dissolving through young limestone, a process that has continued for millions of years. This dissolution, aided by rainfall and land use in the area, has gradually shaped the cave systems we see today.
As water seeps through the porous limestone, it dissolves the rock, leaving stunning cave formations such as stalactites, stalagmites, and flowstones. This process of dissolution and deposition has created the breathtaking underground landscapes that make Margaret River's caves genuinely one-of-a-kind.
Tales of Discovery and Exploration
The history of Margaret River's caves is rich with tales of adventure and exploration. From the discovery of Ngilgi Cave in 1899 to the unearthing of Moondyne Cave in 1881, each cave has a unique story of how it was first found and opened to the public.
These fascinating stories of discovery illuminate the region's past and embody the relentless human spirit of curiosity and exploration. As you journey through these caves' captivating depths, you'll follow in the footsteps of the intrepid explorers who first ventured into the unknown.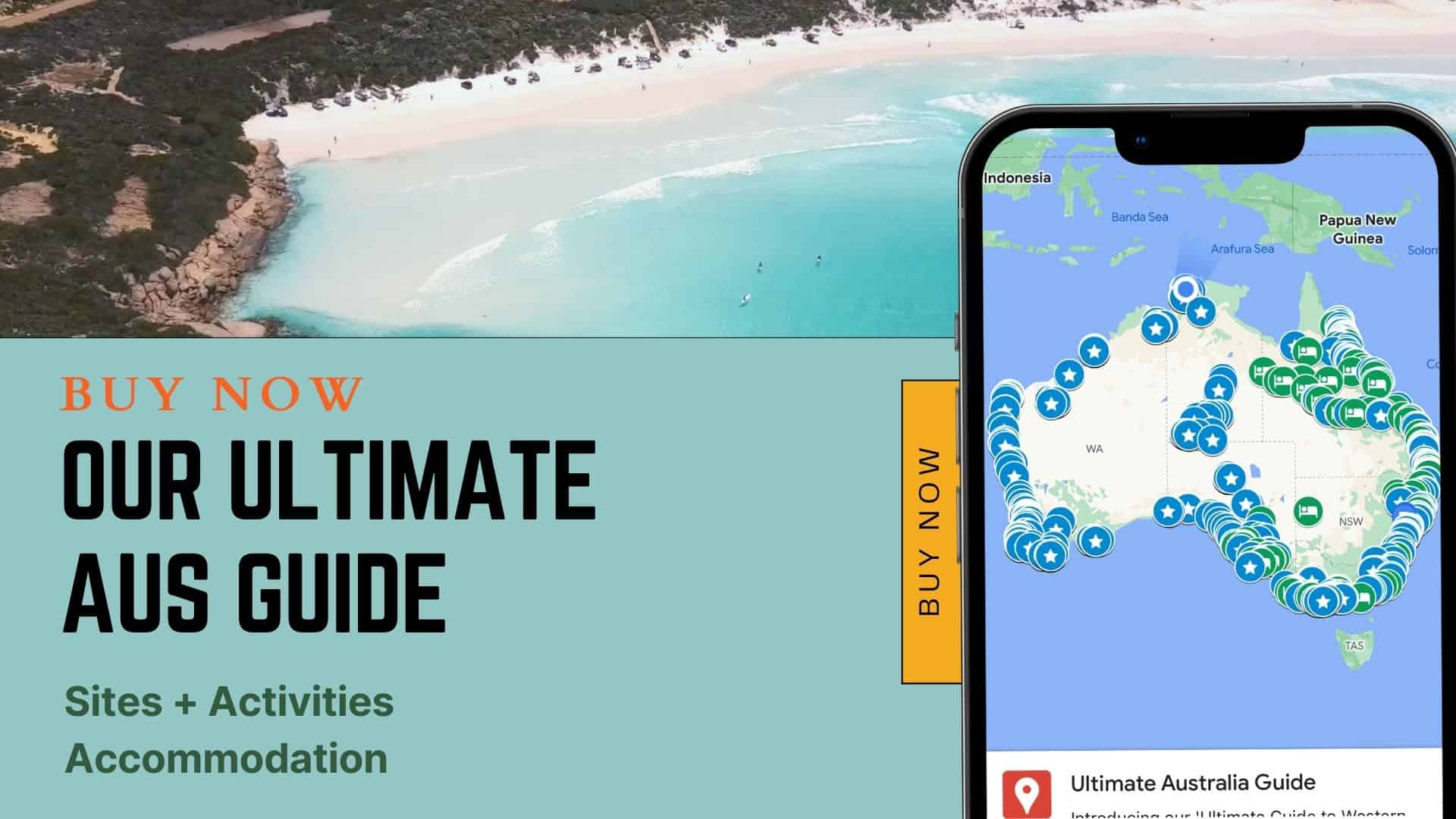 Family-Friendly Cave Experiences
Margaret River's caves offer diverse, family-friendly experiences, with options suitable for all ages and abilities. From the captivating formations of Ngilgi Cave to the wheelchair-accessible paths in Mammoth Cave, there's an adventure for everyone to enjoy.
Caving is a fun and exciting activity and offers educational benefits for children. They can learn about geology, cave formations, and the environment while exploring these natural underground wonders. Gather the family and embark on a memorable journey into the heart of Margaret River's caves.
Accessibility and Inclusivity: Caves for Everyone
Margaret River is committed to ensuring everyone can enjoy its caves' beauty. Accessible options like Mammoth Cave, with its wheelchair-friendly boardwalks and audio tours, allow visitors with disabilities to experience the wonder of these underground marvels.
Though not all region's caves are accessible to everyone, various options are available to cater to diverse needs and preferences. Whether you're a seasoned caver or require additional assistance, a Margaret River cave experience awaits you.
Planning Your Visit: Tips and Information
Consider which caves best suit your needs and interests and plan your trip accordingly to maximize your visit to Margaret River's caves. With a diverse cave tour range and various accessibility options, you will surely find the perfect cave adventure.
Booking ahead is essential as tour capacities are limited. With the proper planning and preparation, you'll be ready to embark on an unforgettable journey through the enchanting world of Margaret River's caves.
Additional Attractions in the Margaret River Region
While the caves of Margaret River are undoubtedly a highlight, the region has much more to offer. From picturesque towns like Busselton, Yallingup, and Dunsborough to the many wineries and breweries that dot the landscape, there's no shortage of attractions to explore.
Outdoor enthusiasts will find plenty of activities, including hiking, mountain biking, and whale watching, while foodies can delight in the diverse dining options available. So, after an exciting day of caving, take the time to explore the many other wonders the Margaret River region offers.
You can check our full article on the best 30 things to do in Margaret River here.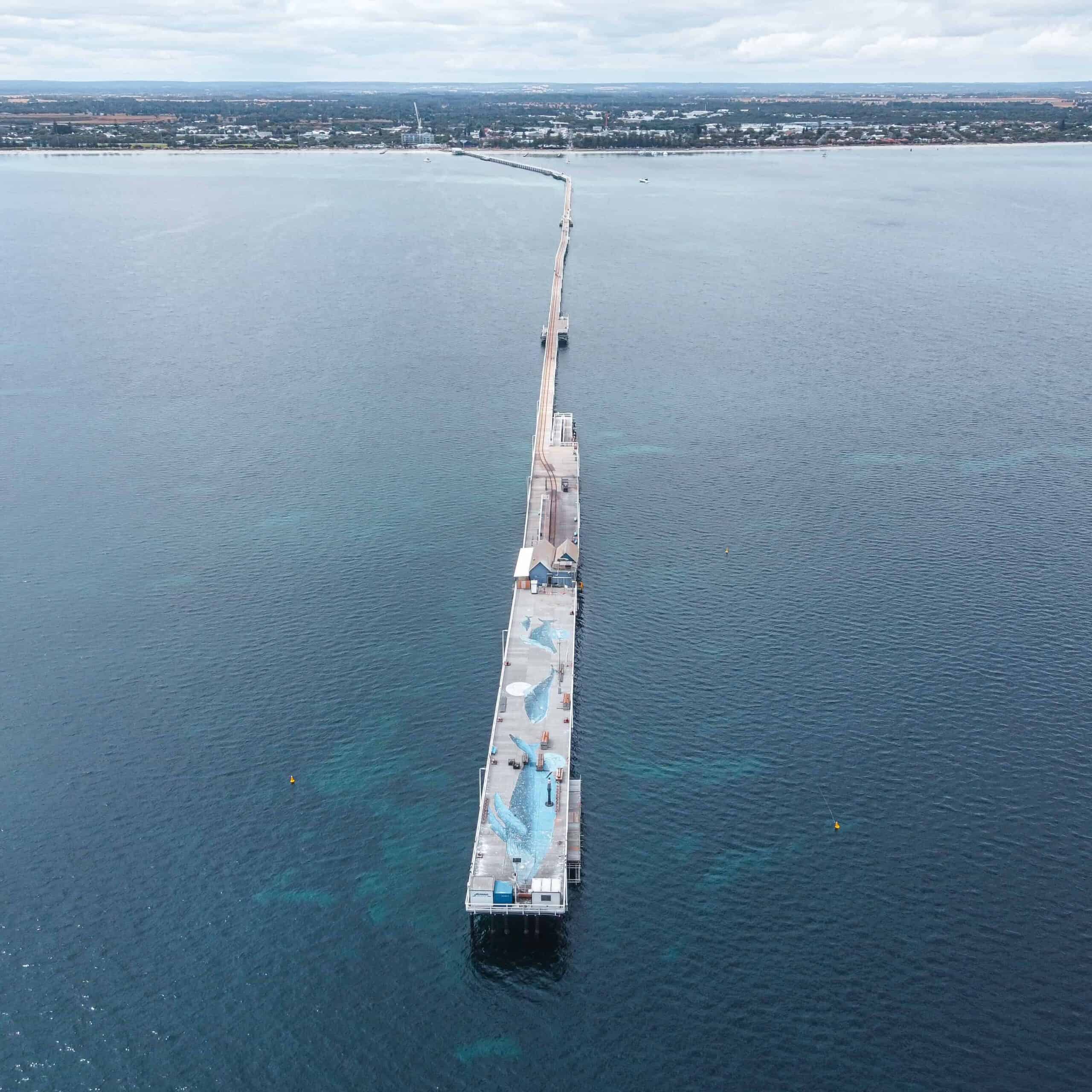 Summary
In conclusion, the enchanting caves of Margaret River offer an unforgettable journey into a world of natural beauty and wonder. With options for all ages, abilities, and interests, an underground adventure awaits everyone. Pack your sense of adventure and embark on a journey through the mesmerizing caves of Margaret River.
Frequently Asked Questions