The 15 Best Things To Do In Coober Pedy
One of Australia's most famous Outback towns, Coober Pedy, 850km northwest of Adelaide, South Australia, is an unusual settlement in the heart of a highly hostile landscape.
As you approach Coober Pedy, the world's opal capital, you will notice that the arid, empty desert suddenly transforms into piles of dirt and holes next to them – reputedly more than a million around the township. Folks come to this small town for one reason: opals.
Coober Pedy is, however, also a tourist mecca. At first, you might think you have arrived in a wasteland. The landscape is dotted with lots of flies, barely any trees, stinky hot summer days, negative temperature winter nights, cave-dwelling locals and rusty car wrecks in every second front yard. But Coober Pedy sure is an exciting place!
The endless stretches of the desert here are perfect for movie sets depicting the end of civilisation, like Mad Max III, Red Planet, Ground Zero, Pitch Black and Priscilla, Queen of the Desert.
If you're looking for an off-the-beaten-path destination that will offer an unforgettable experience, look no further than Coober Pedy, Australia. This unique town is located in the South Australian outback and is best known for its underground dwellings.
Here are the 15 best things to do in Coober Pedy, South Australia.
Need a rental car to explore South Australia? Book here
Key Points
Coober Pedy is a small town in South Australia, best known for its underground dwellings.
The town is located in the Outback and is famous for its opals.
Visitors can stay in an underground hotel, visit an opal mine or go on an opal tour.
Other popular things to do include visiting the Old Timers Mine, checking out the Hollywood sign and exploring the Breakaways Conservation Park.

1. Stay in an underground hotel
One of the most popular things to do in Coober Pedy is to stay in an underground hotel. There are several underground hotels to choose from, each offering a unique experience. Below is a list of some underground hotels to choose from:
Radeka's Downunder Underground Backpackers & Motel
The owners of this excavated location started in 1960 and finally ended up with decent backpackers after all these years! These budget beds in Coober Pedy are on multiple levels down 6.5m below the surface, plus good individual rooms and motel units. The shared kitchen is handy for self-caterers, and there's a bar, barbecue, snooker room and laundry.
The Underground Motel
With stunning views of the Breakaways, this motel offers standard rooms and suites with separate lounges and kitchens. It is a bit of a walk from town but is friendly and affordable.
Desert Cave Hotel
Desert Cave Hotel is your go-to option for a much-needed shot of desert luxury, plus a pool, gym, in-house movies, formidable minibar and the excellent Umberto's restaurant. The staff are always willing to go above and beyond to help, and countless tours are available. If you're looking for something a little more low-key, above-ground rooms are also available.
Mud Hut Motel
The rustic-looking walls here are rammed earth; despite the grubby name, this is one of the cleanest places in town. The two-bedroom units have cooktops and fridges—central location.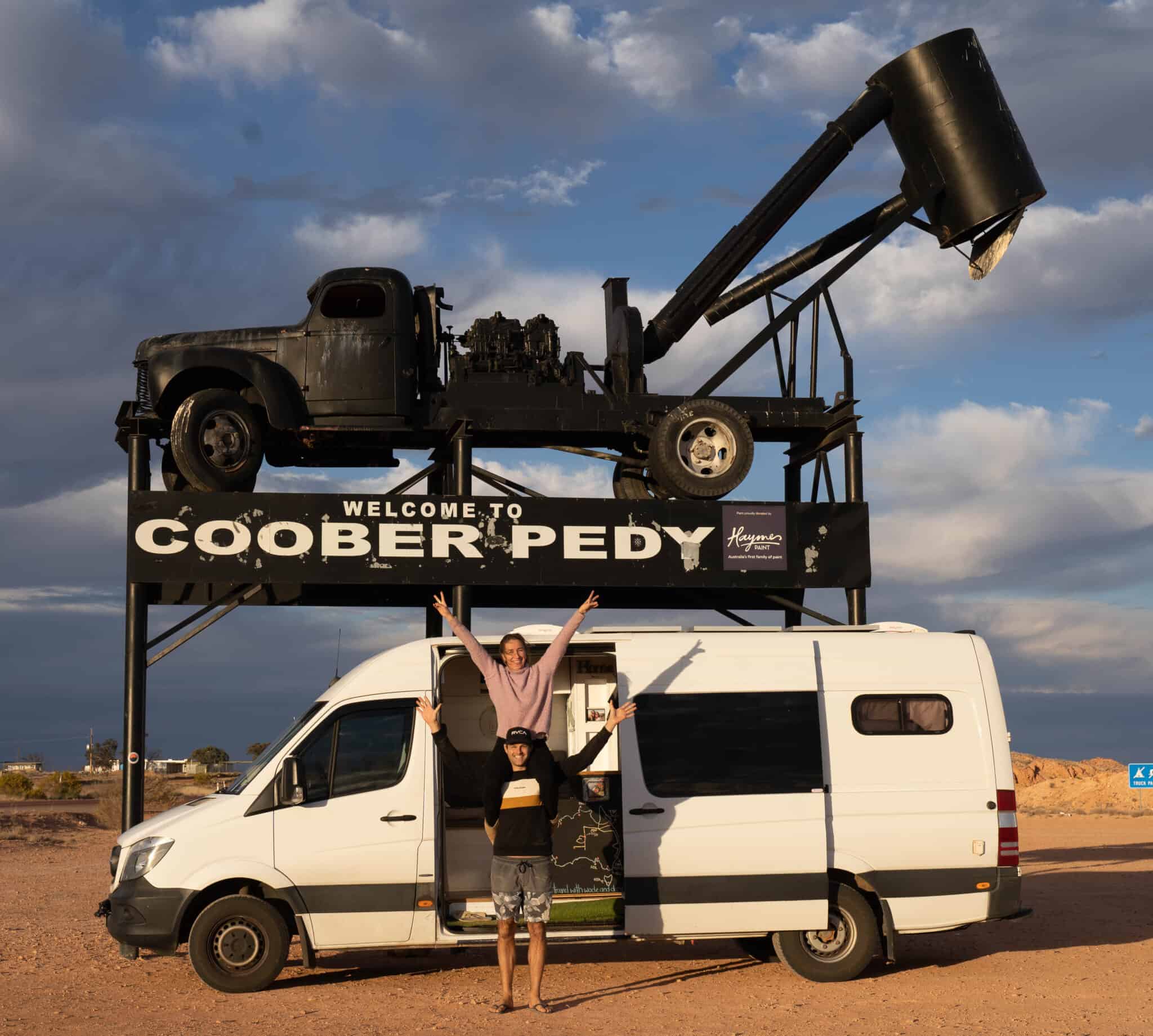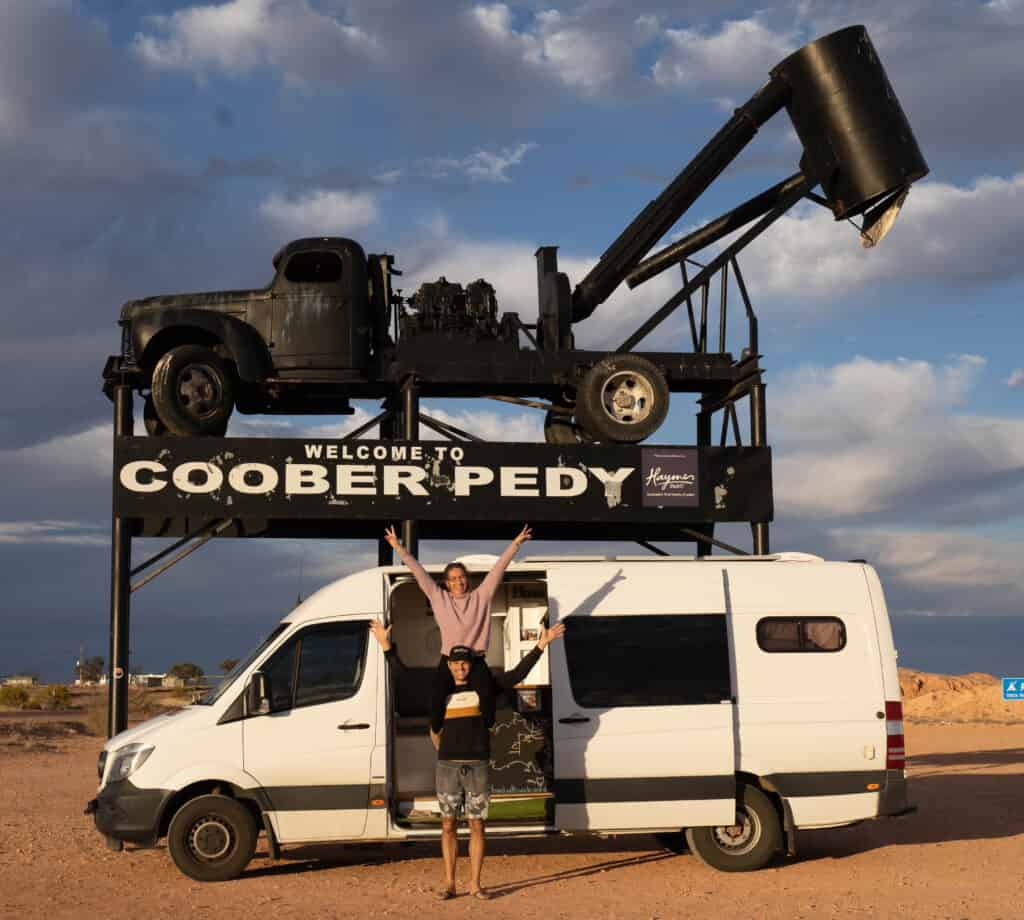 2. Visit the Umoona Opal Mine & Museum
Right in the centre of Coober Pedy, you can learn about the history of opal mining in the town at the Umoona Opal Mine & Museum. They offer underground mine tours three times a day, at 10 am, 2 pm and 4 pm!
You'll also get to see some of the largest opals in the world!
On this tour, you will not only learn about how opals are mined, but you will also get to see an underground home, an underground museum and an underground cinema.
3. Go on an opal tour
What would a visit to Coober Pedy be without going on an opal tour?
There are hundreds of working opal mines around town. Tour operators or locals may invite you to their claim to 'noodle' through the mullock (waste pile) for stones if you're keen on a fossick. Watch out for unmarked shafts, and never wander around Coober Pedy opal fields at night!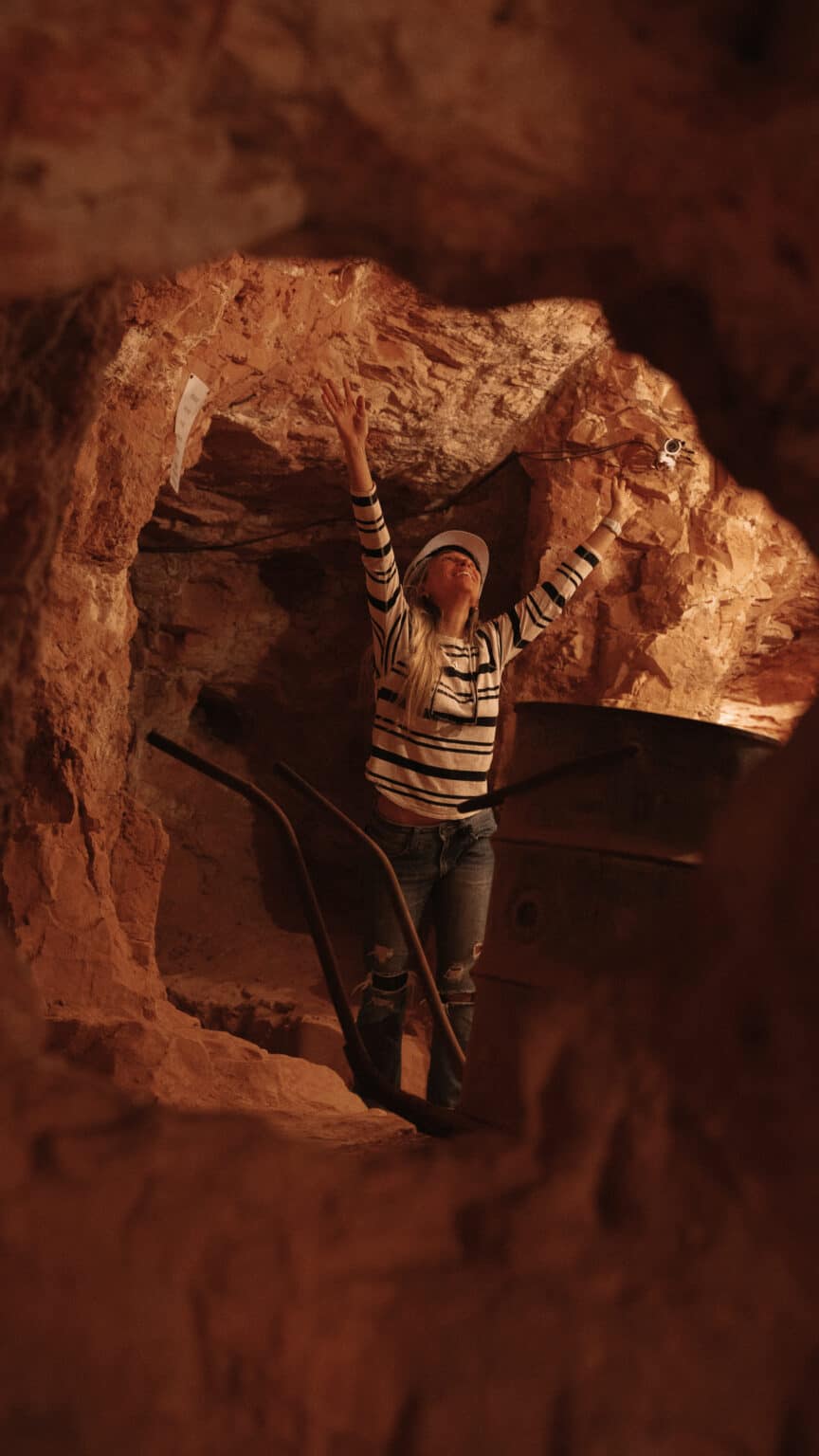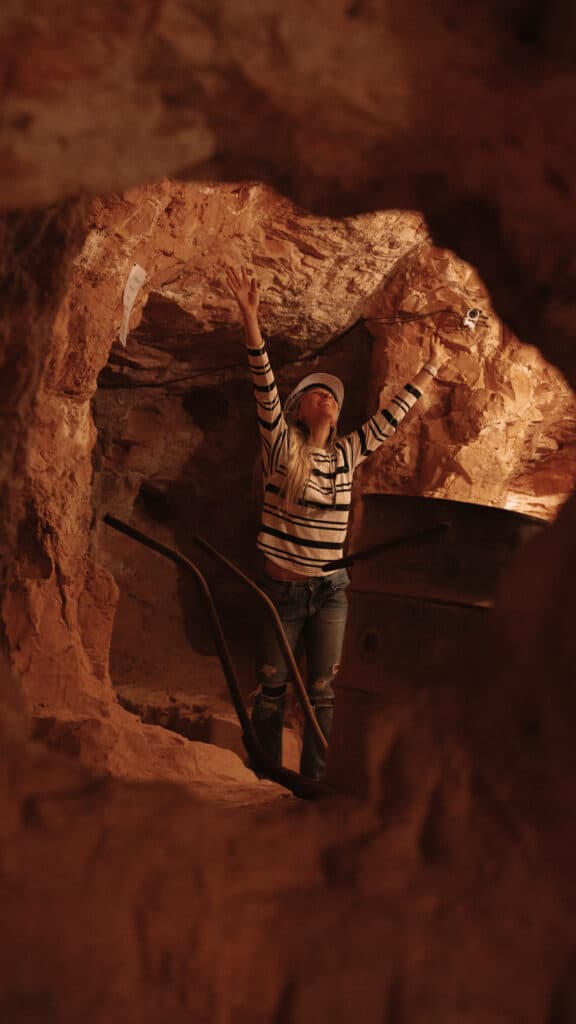 4. Visit the Old Timers Mine
The brilliant Old Timers Mine is one of the most popular tourist attractions in Coober Pedy.
It was mined in 1916 but was then hidden by the miners. When a dugout house being built punched through into the hidden labyrinth of tunnels, the mine was rediscovered. Now, it's a great place to tour and learn about opal mining history.
There's also an opal shop, a museum, and a recreated 1920s underground home, and you can see some of the equipment used back in the day.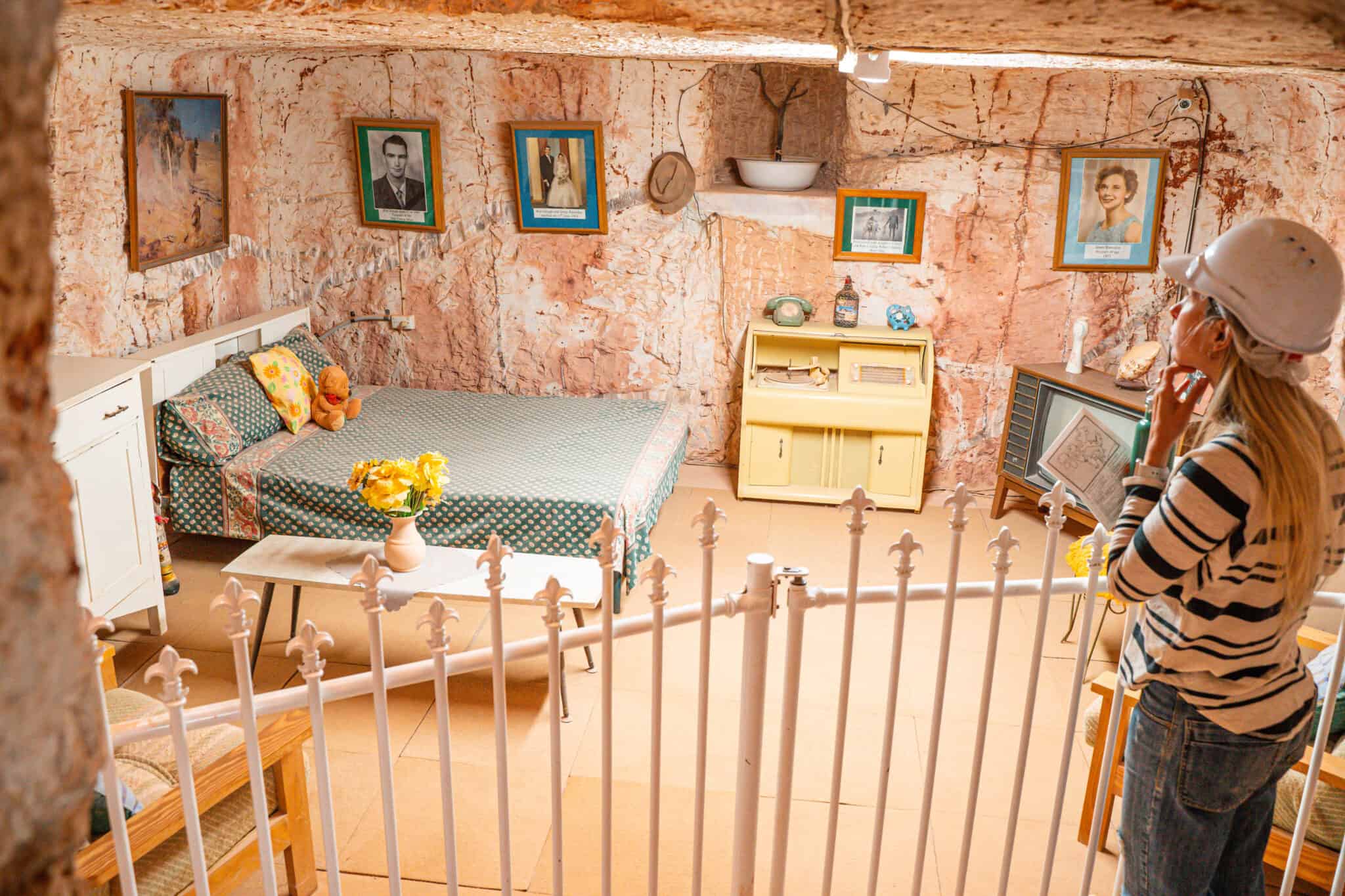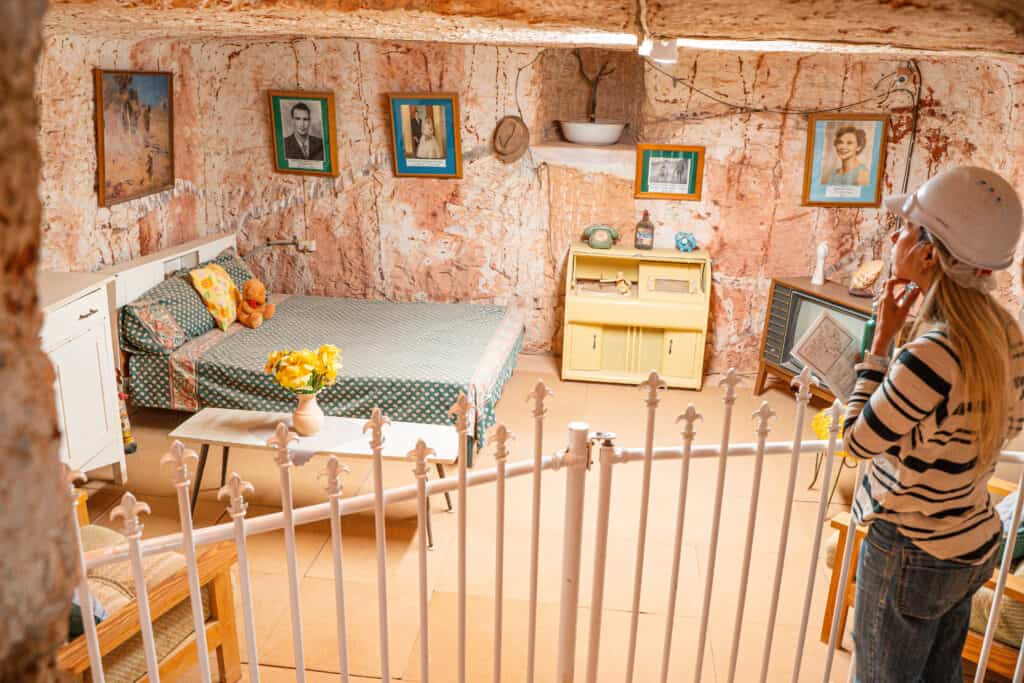 5. Tom's Working Opal Mine
Tom's Working Opal Mine, 2km southwest of town, is the best place to check out a working excavation.
Hopeful miners keep looking for the motherlode as tourists look to strike it rich. Self-guided tours cost $15 per adult, $8 per child and $40 for families. They give you a map, a mining helmet and a black light, and you can explore the mine at your own pace.
You also have the option to pay for a guided tour, which will cost you $28 per adult, $14 per child and $75 for families. You will get up to 1 and a half hours of opal mine tour with a local guide.
6. Visit one or two Underground Houses
It gets face-meltingly hot in Coober Pedy in summer – it makes sense to live underground! Even when it's a stinker outside, subterranean temperatures never rise above 23°C, and air-conditioning isn't necessary.
Many early dugout homes were simply worked-out mines, but they're usually specifically excavated residences these days. If you want to see one, Faye's Underground Display Home was hand dug by three women in the 1960s. It's a little chintzy, but the living room swimming pool is fantastic!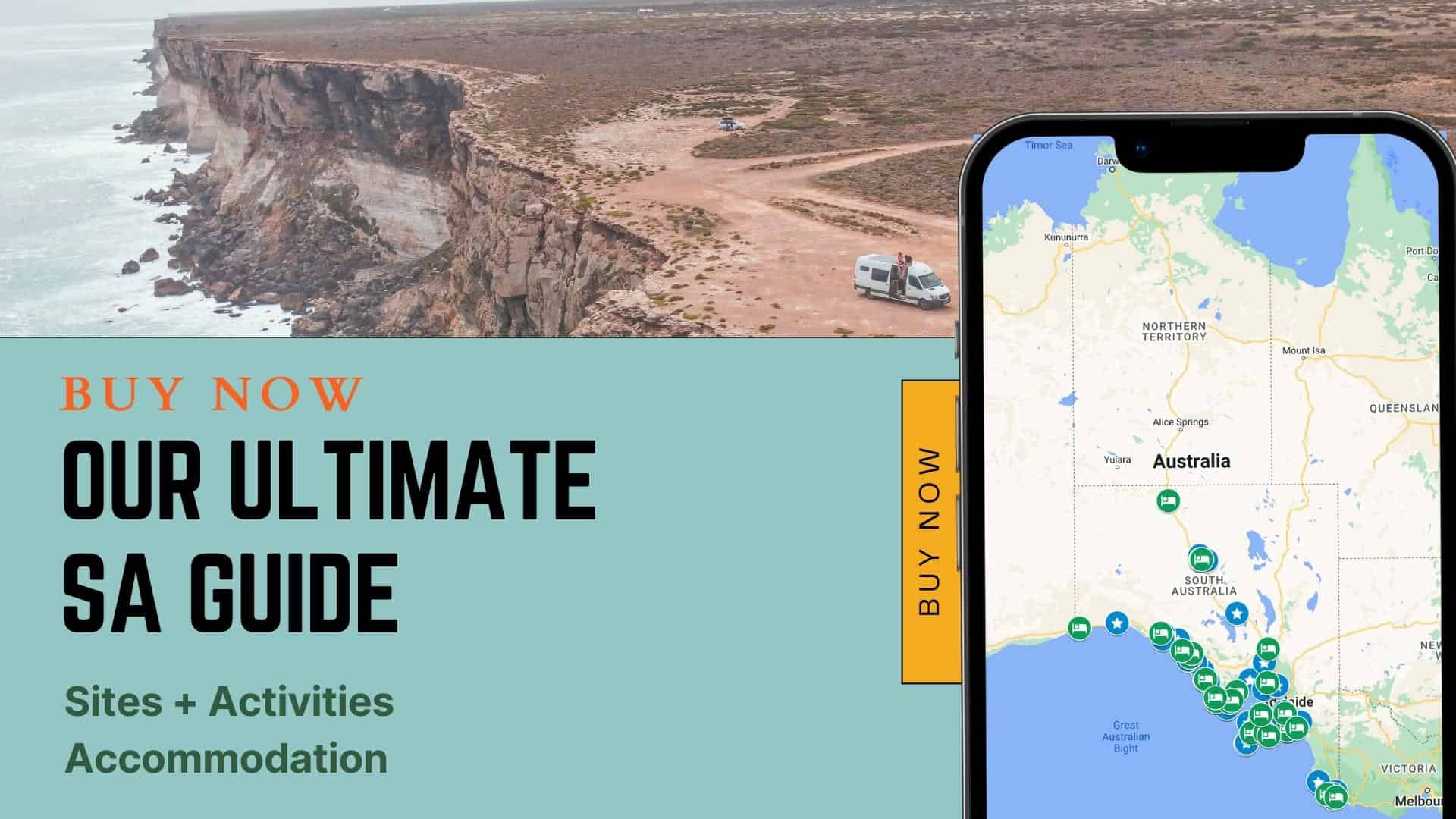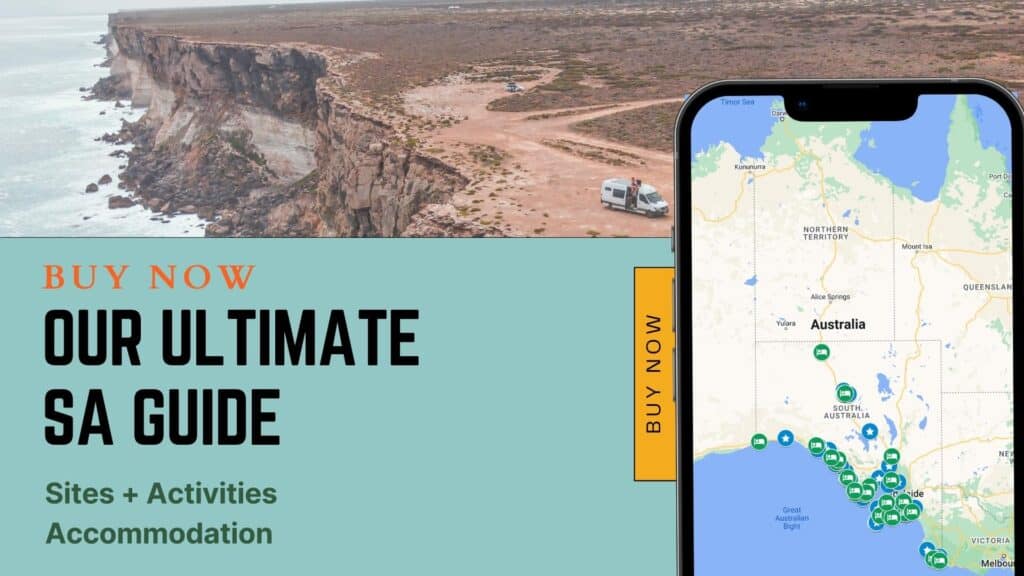 7. Visit an Underground Church
You can visit several underground churches in Coober Pedy – these are functioning churches, so be respectful of services and worshippers:
Serbian Orthodox Church
The largest underground Church in Coober Pedy (and most impressive in our opinion), with rock-wall carvings, is located 3km south of town.
St Peter and Paul Catholic Church
The first underground Catholic Church constructed in Coober Pedy is still appealing today.
The Catacomb Church
The Catacomb Underground Church was created in the 1970s and is still used by the Anglican Church. It's an excellent place for anyone looking to take some time to meditate, pray, relax or visit.
8. Stop by Josephine's Gallery & Kangaroo Orphanage
Josephine's Gallery & Kangaroo Orphanage is a great place to pick up some souvenirs while supporting a good cause. All proceeds from sales go towards caring for orphaned kangaroos.
Here you will find unique aboriginal art and local artifacts. They also open joey's orphanage to the public twice daily at 12 pm and 5:30 pm.
9. Have dinner at Big Winch 360 Cafe Bar
The Big Winch provides breathtaking views of Coober Pedy and the Breakaways. Head up to the Big Winch Lookout, and you will be blown away by the views.
Tip: If you're hoping to see a sunset sans tourists, another viewing area is located above the Opal Cave shop on the main street (it's next to Umoona Museum).
If you can time your visit to the Big Winch during sunset, you will be rewarded with the best outback sky we have seen.
The food at the Big Winch cafe was delicious, and we seriously enjoyed every minute we spent there.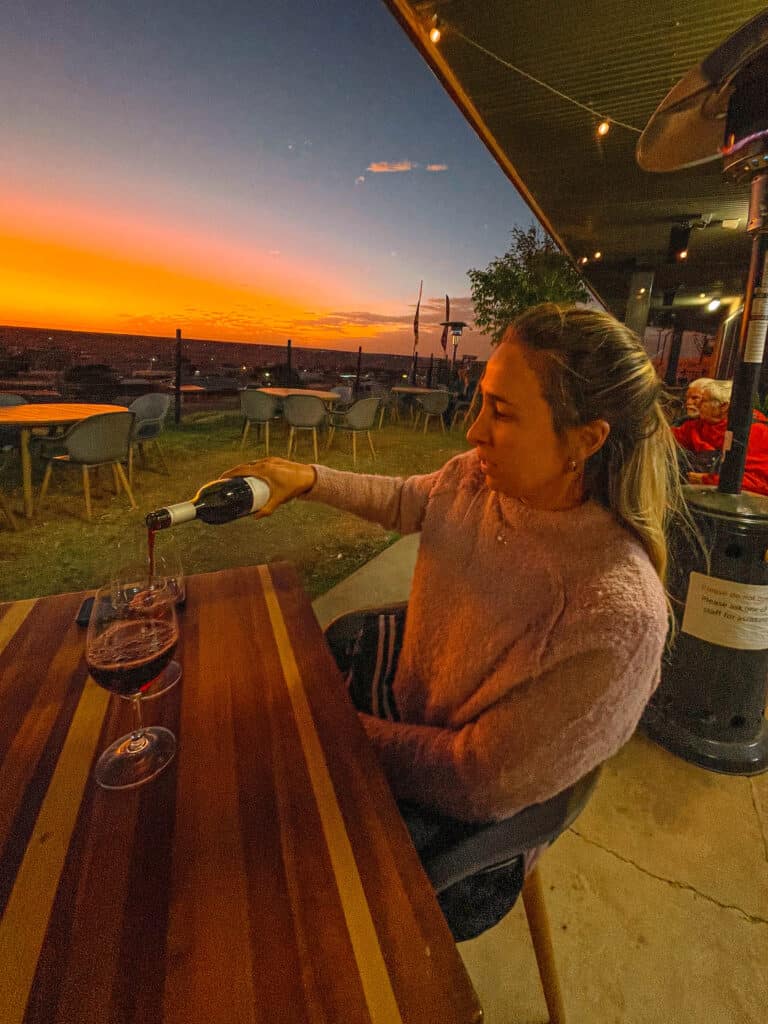 10. Stop at the Big Blower Sign
A visit to Coober Pedy is only complete with a stop for a picture at the Big Blower Sign.
11. Check out the Hollywood sign in Coober Pedy.
Coober Pedy, which has been featured in many films and is therefore self-described as outback Australia's Hollywood, has its own Hollywood sign.
The 3-metre tall letters of this 2018 sign are made from recycled galvanised iron and were commissioned by the local Tourism Association.
12. See the Breakaways
The Breakaways Conservation Park is a must-see when visiting Coober Pedy.
This destination is a 33km drive north of Coober Pedy on a rough road. The area is arid with hills and scarps. It's a stark but colourful place worth checking out. To get there, turn off the highway 22km west of town.
You can drive to a lookout in a conventional vehicle and check out the white-and-yellow mesa called the Castle, which is featured in Mad Max III and Priscilla, Queen of the Desert.
Important! You will need an entry permit to visit the Kanku-Breakaways Conservation Park. It costs $11 per vehicle, and they are available at the Coober Pedy Visitor Information Centre.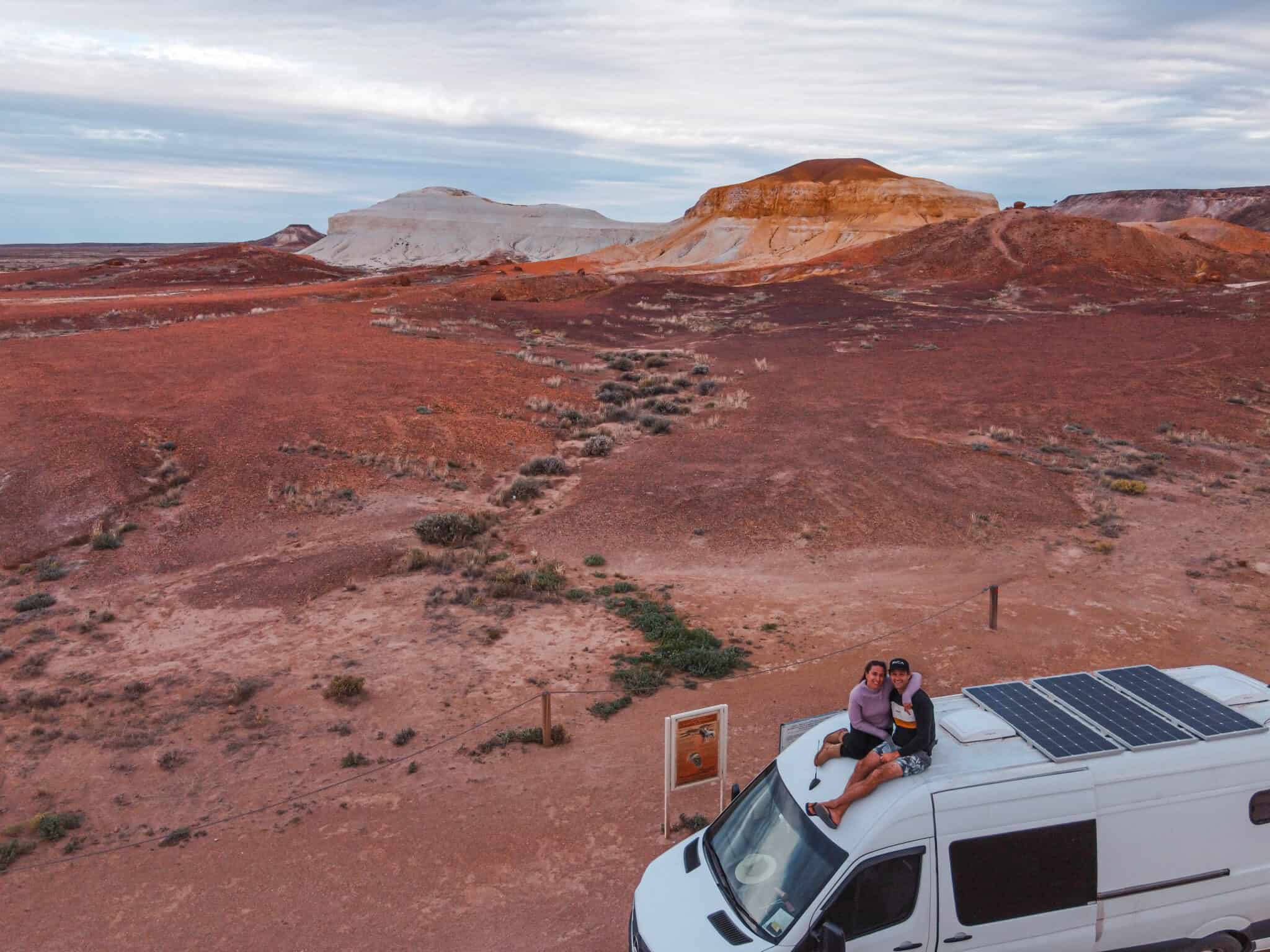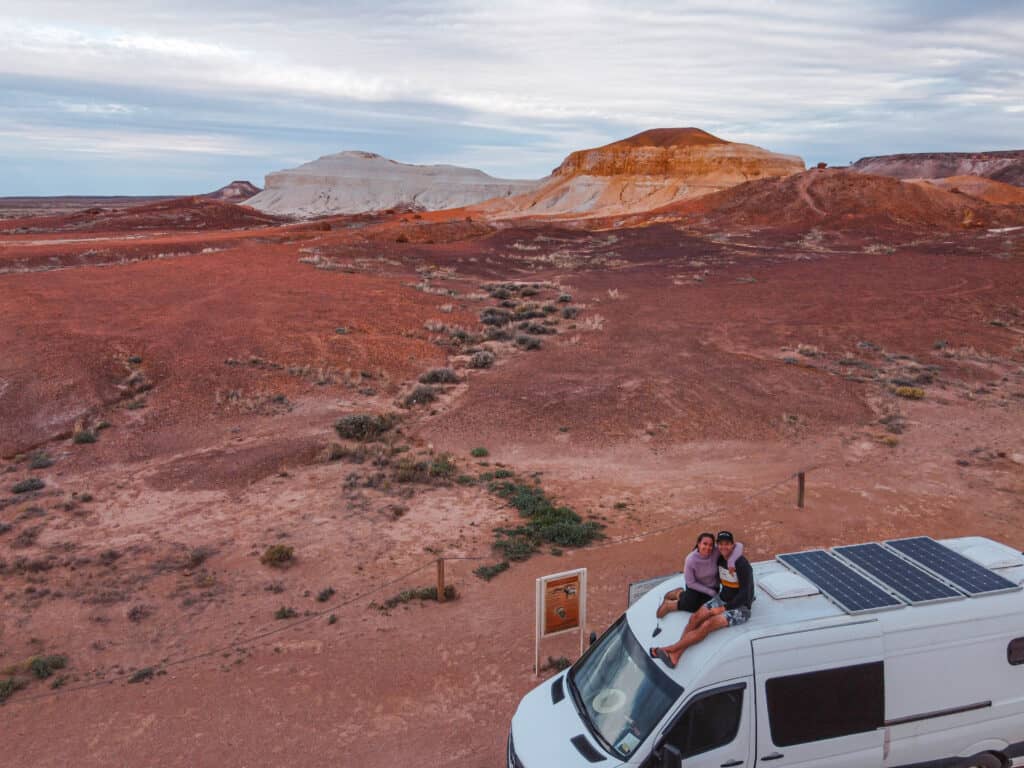 13. Explore the Dog Fence
A 70km loop of unsealed roads from Coober Pedy that highlights the Breakaways, the Dog Fence and Moon Plain (point 14 below) along the Coober Pedy-Oodnadatta Rd is only accessible by a 4WD after rainfall.
The dog fence is a fence that was built to keep dingoes away from sheep farms. It stretches for over 5,300 kilometres (3,290 miles) and is one of the longest fences in the world!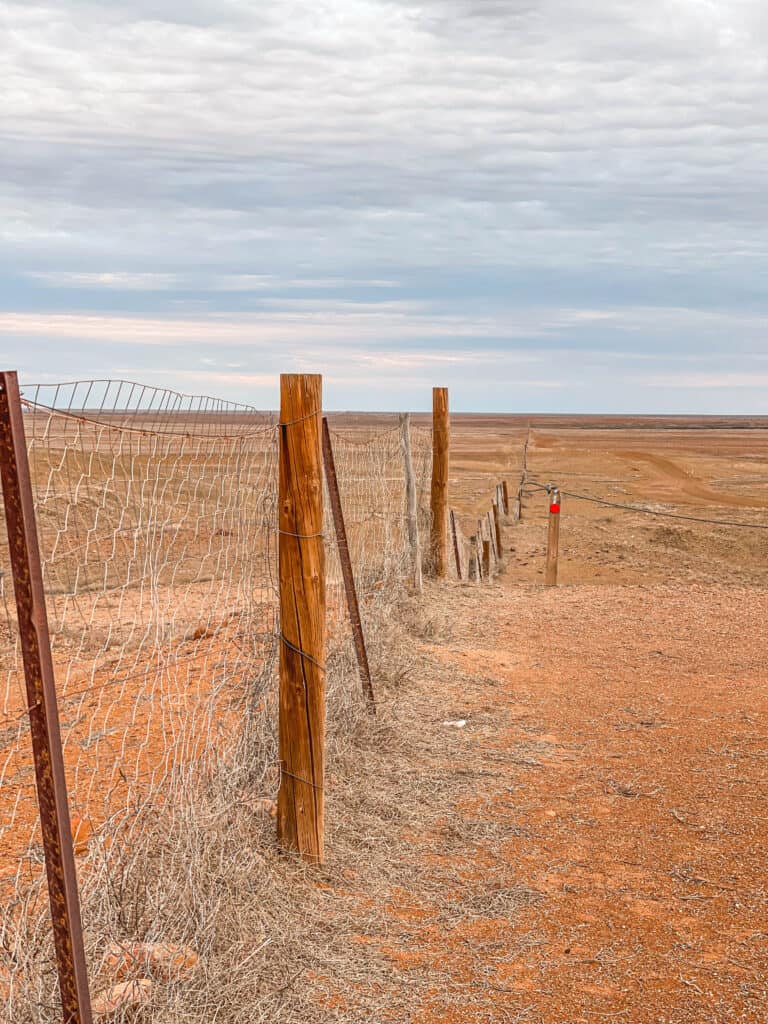 14. Stop at Moon Plain
Near the famous Dog Fence, you will find Moon Plain.
The Gibber Desert is an expansive and empty wasteland blanketed with small rocks. This flat, desolate plain is covered with ironstones dropped by glaciers millions of years ago.
If you want to film a movie set on the Moon or Mars, this is the place for you. According to conspiracy theorists, the moon landing footage may have been filmed on this site as it looks very similar to the moon's surface!
15. Stop by Crocodile Harry's Underground Nest
Though most people know Crocodile Dundee, far fewer have heard of Crocodile Harry. Harry Blumenthal, a Latvian-born soldier, stationed in Australia, quickly became well known for his hunting skills regarding crocodiles, opals, and, surprisingly enough, underpants.
When he got bored of crocodiles, collecting items to display in his home became a hobby of Harry, so he started gathering everything from trinkets, sculptures, and anything else he could find while living in Coober Pedy.
Even though Harry passed away in 2006 at eighty, his spirit continues to live on through his cave which is open to visitors daily.
His dugout was used in Mad Max Beyond Thunderdome and Pitch Black, so don't be surprised if you recognise it when you go in.
Frequently Asked Questions
Conclusion
No matter what type of traveller you are, there are so many things to do in Coober Pedy, and the town has something for everyone! From unique accommodations to outdoor adventures, there's no shortage of things to do in this one-of-a-kind destination.
So what are you waiting for? Start planning your trip to Coober Pedy, South Australia, today!