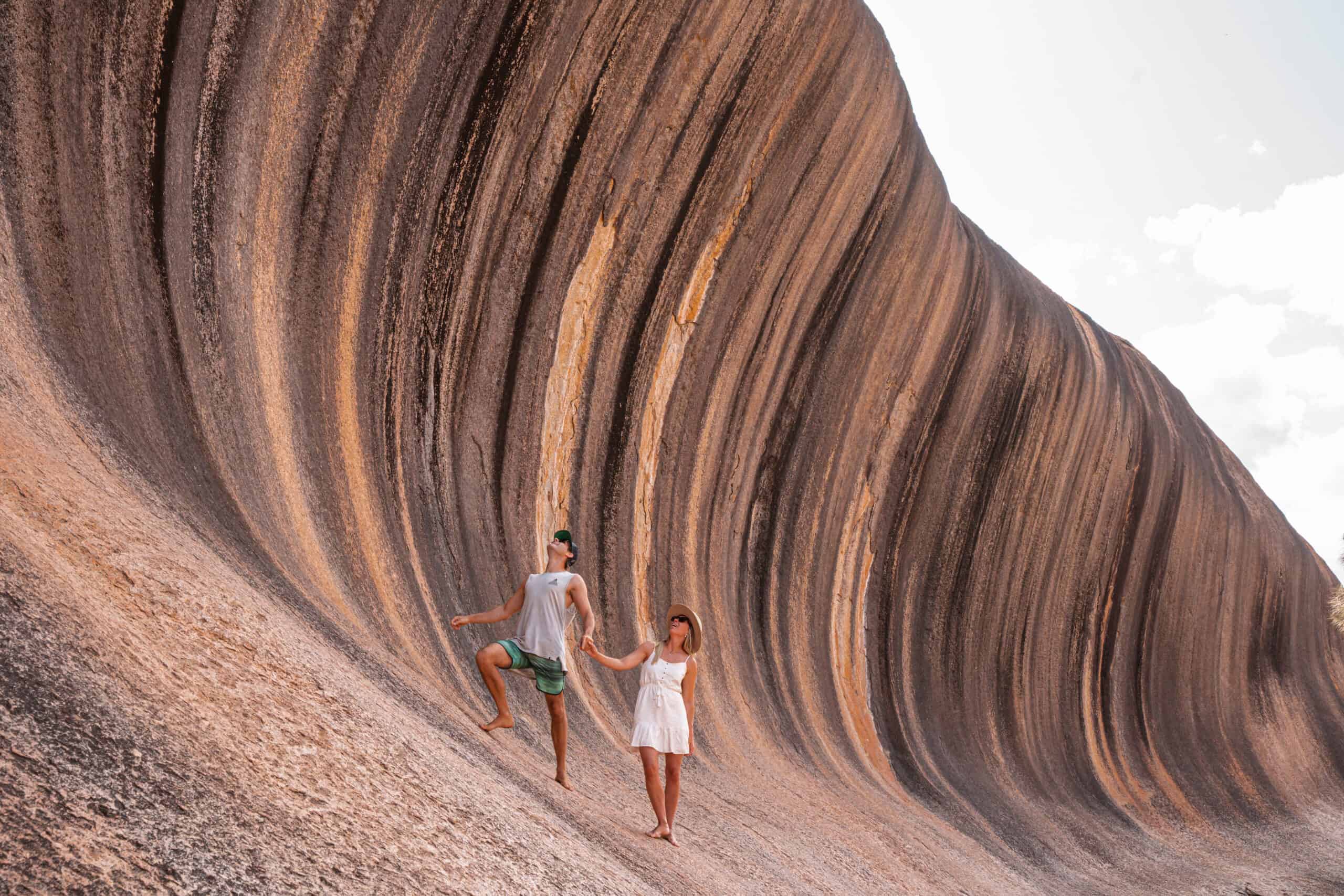 Explore the Wonders of Wave Rock
Top Things to Do!
Wave Rock is one of the most iconic natural attractions in Western Australia, located just four hours away from Perth.
This extraordinary rock formation towers above the surrounding plains, reaching up to 15 meters in height and 110 meters in length. Its wave-like shape and colourful stripes make it a must-visit spot for nature lovers, hikers, and photographers.
But the Wheatbelt region offers much more than just the Wave Rock. Let's dive into the best things to do while you are in the area to have a memorable experience.
Watch our Youtube video about Wave Rock below:
Where exactly is Wave Rock located?
Wave Rock is located in the town of Hyden, in the Wheatbelt region, which is approximately 340 kilometres east of Perth, the capital city of Western Australia.
From Perth, you could do a Wave Rock Road Trip in one day as it is only a four-hour drive. However, we recommend spending at least two days in the area. If you need to hire a car, you can do so here.
You can also visit Wave Rock with a tour, which can be a lot of fun and a good way of meeting people if you are travelling Australia alone.
How was the Wave Rock formed?
The Wave Rock is a stunning rock formation believed to have been created around 2.7 billion years ago. The huge rock is part of a large granite outcrop called Hyden Rock, which is made up of three granite domes shaped by subterranean weathering between 100 to 130 million years ago.
Wave Rock is made of granite that has been exposed to weathering and erosion for millions of years before taking on its current form. One of the fascinating things about Wave Rock is that it is 14 meters high and 110 meters long and resembles the shape of a giant wave, frozen at the point of breaking.
According to experts, the wave shape of the rock is the result of a series of geological events that took place over many years. The formation of Wave Rock began when granite was pushed to the surface and covered with sandstone more than 100 million years ago. Over millions of years, the wind and rain slowly began to erode the softer sandstone and created a slope at the base of the granite formation.
The distinctive reddish and white stripes on the rock were formed by the chemical components present in the rainwater. Meanwhile, the black lines can be attributed to a specific type of algae.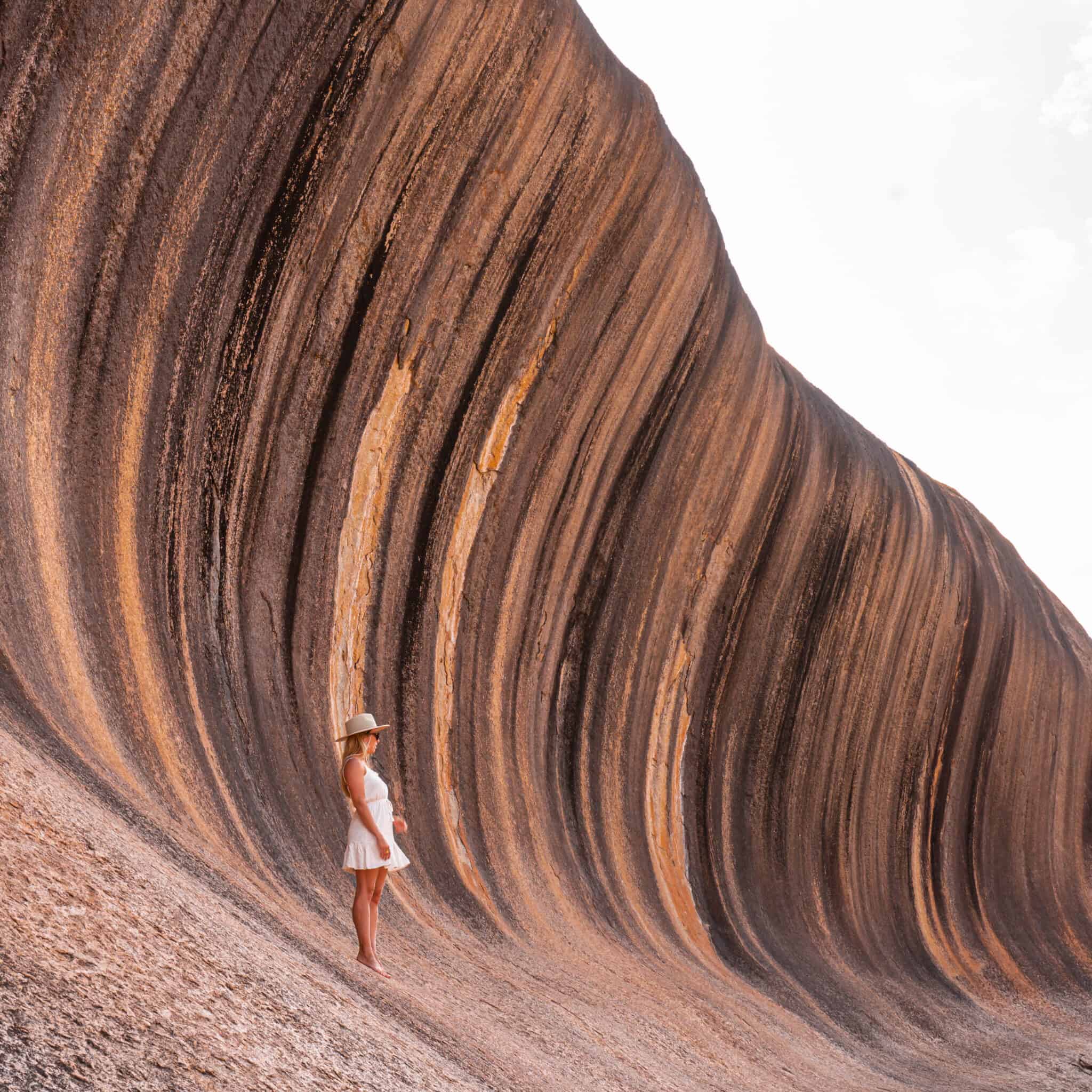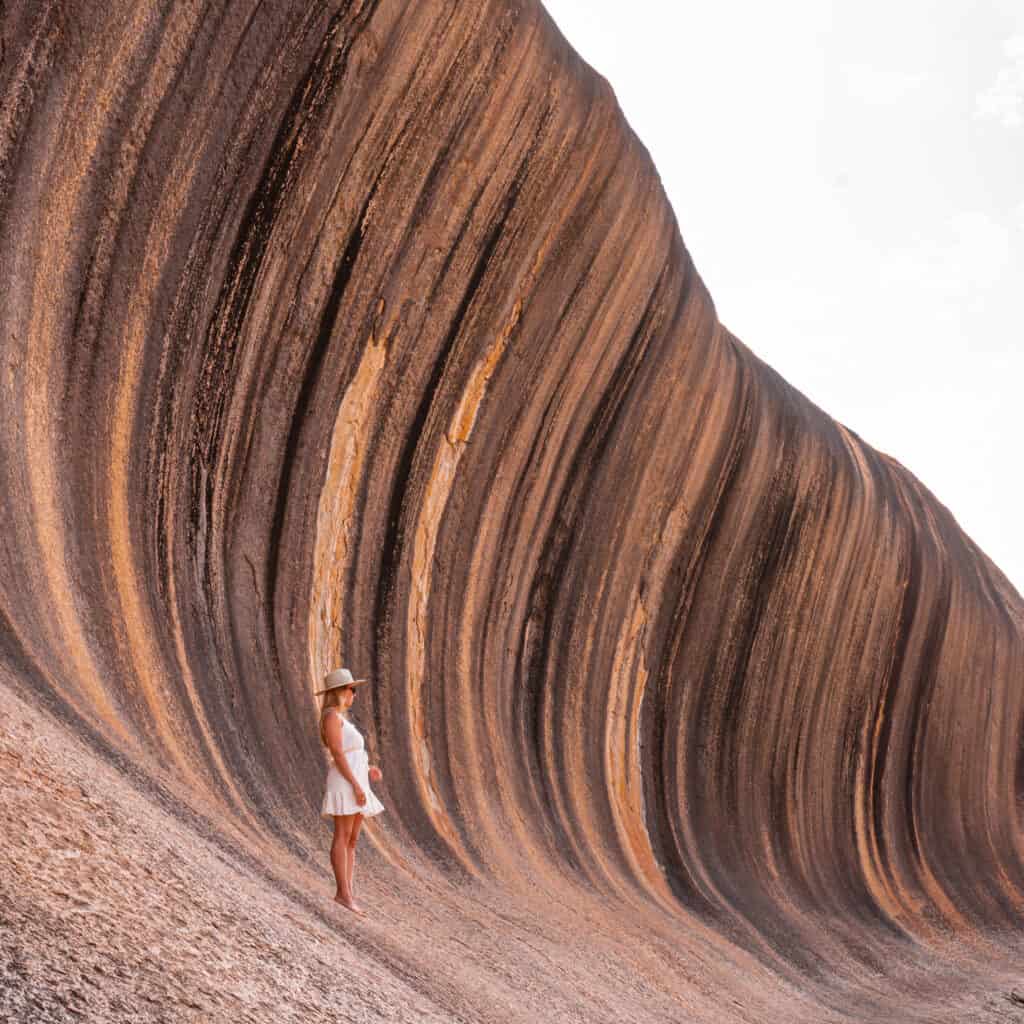 The Best Things to Do at and Around Wave Rock
Located in the heart of Western Australia's outback, Wave Rock stands tall as a testament to the Earth's artistic prowess. As you embark on an adventure to this iconic landmark, prepare to be mesmerised by its grandeur and discover a treasure trove of experiences that go far beyond its breathtaking facade. 
1. Marvel at the Wave Rock
The highlight of any visit to Wave Rock is, of course, the rock itself.
Standing at over 14 meters high and 110 meters long, the wave-like formation is genuinely spectacular.
The best time to see it is in the late afternoon when the sun casts a warm glow across the rock, creating an impressive display of colours. You can also climb to the top of the rock and enjoy breathtaking views of the surrounding landscape.
In the car park, you'll find both restrooms and waste bins.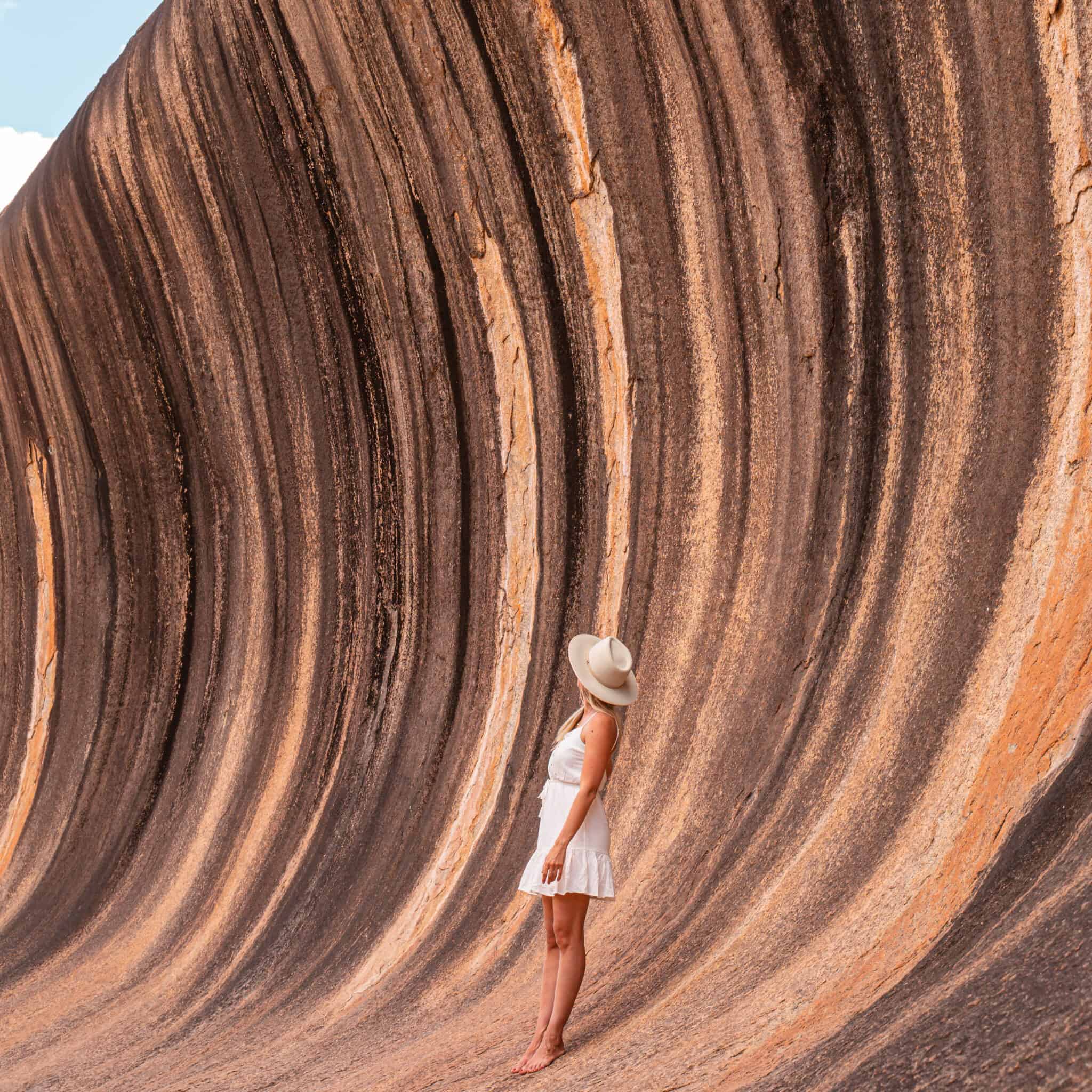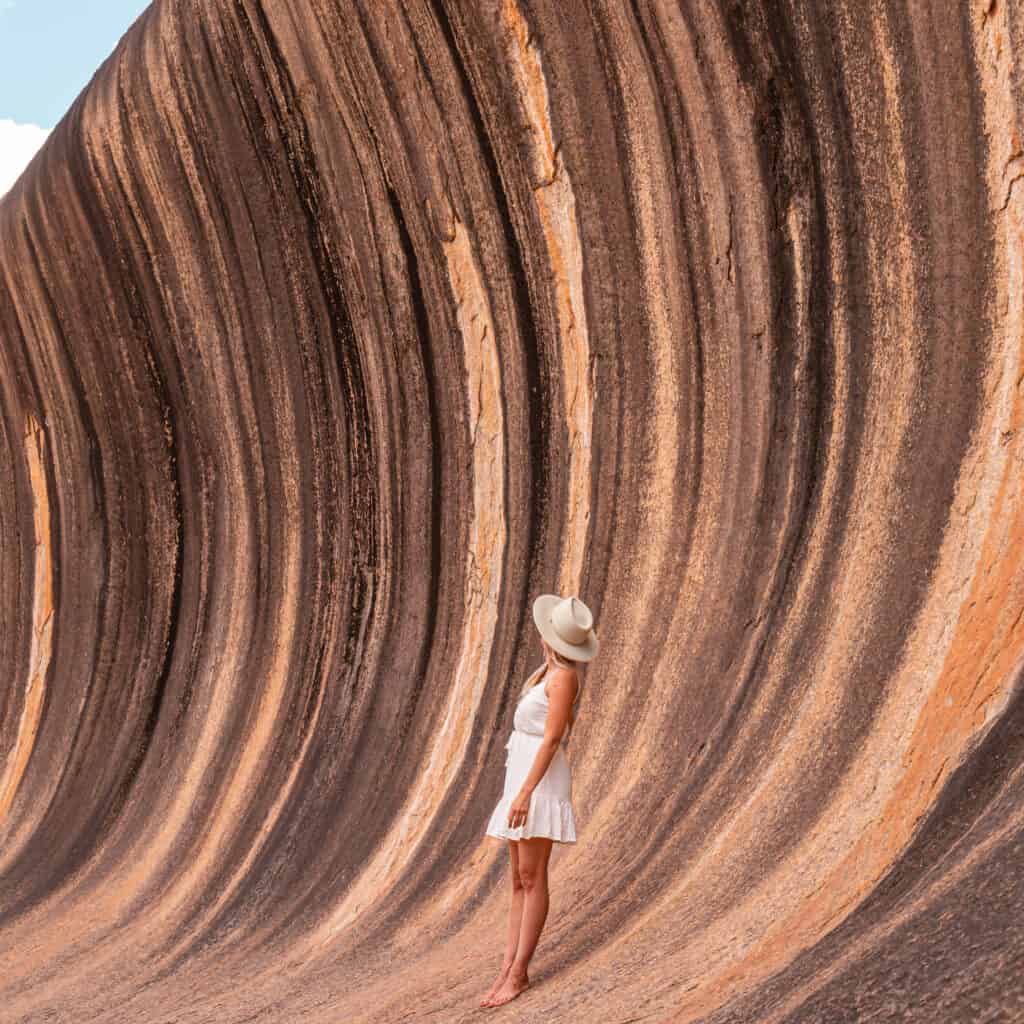 2. Explore the Wave Rock Wildlife Park
Wave Rock is also home to a wildlife park, where you can get up close and personal with the native animals of Western Australia.
From kangaroos and wallabies to snakes and lizards, the park is a great place to learn about the unique flora and fauna of the outback.
There's also a bird aviary, where you can see many species of birds in their natural habitat.
3. Discover the Humps and Mulka's Cave
A short drive from Wave Rock, you'll find many other rock formations; one of the best is the Humps. This is a series of rounded granite boulders that are also quite spectacular. There are a few walking trails you can do from here.
Not far from the Humps is Mulka's Cave, a significant Aboriginal site that was once used as a shelter. It's named after an infamous Aboriginal outlaw who is said to have lived there, and you can still see some of his handiwork on the cave walls.
4. Visit the Hippo's Yawn
Another interesting rock formation to check out is the Hippo's Yawn, a large hollow area that looks like the open mouth of a hippopotamus.
It's great for taking photos and is also a popular spot for rock climbing. Just be careful and follow all safety guidelines if you decide to climb.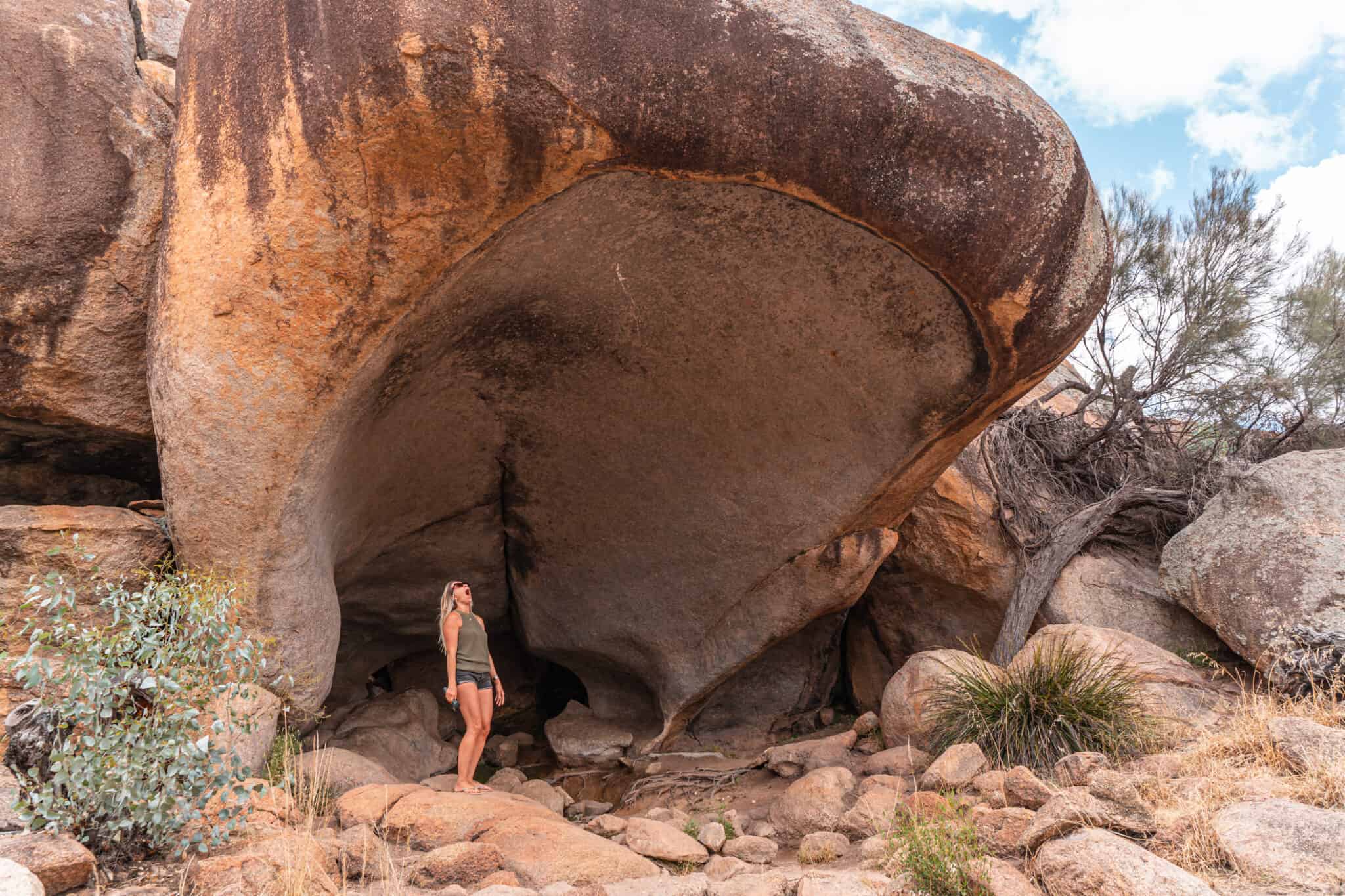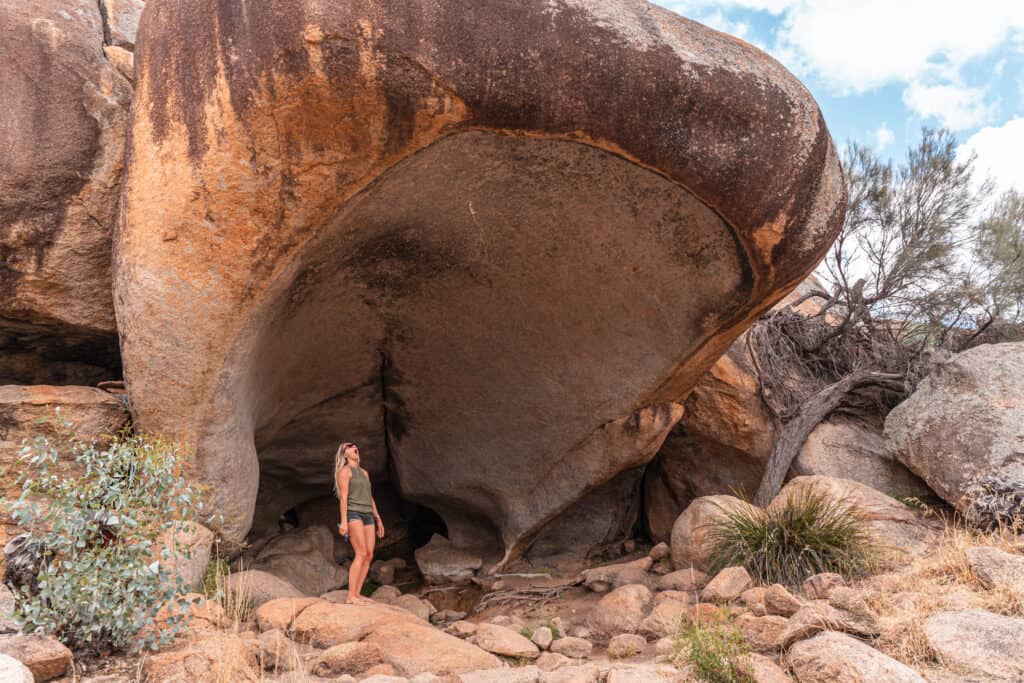 5. Hike the Wave Rock Walk Circuit
One of the most popular activities at Wave Rock is hiking the 'Wave Rock Circuit', which takes visitors on a fascinating journey around and over the incredible natural formation.
The circuit is a well-marked walking trail that stretches for 3.6 km and starts at the Wave Rock car park. It offers some breathtaking views of the surrounding landscape. It's worth taking some time to explore the smaller rocks and crevices that surround the primary formation, as they also offer some fascinating insights into the area's geology.
6. Explore Hyden Rock
Wave Rock is part of a vast granite formation known as Hyden Rock. At the end of Wave Rock, you'll find steel steps that ascend to the summit of Hyden Rock.
The pathway is clearly defined, featuring informative signs that describe the points of interest. At the top, there's a concealed concrete wall that directs rainwater to Hyden Humps Dam.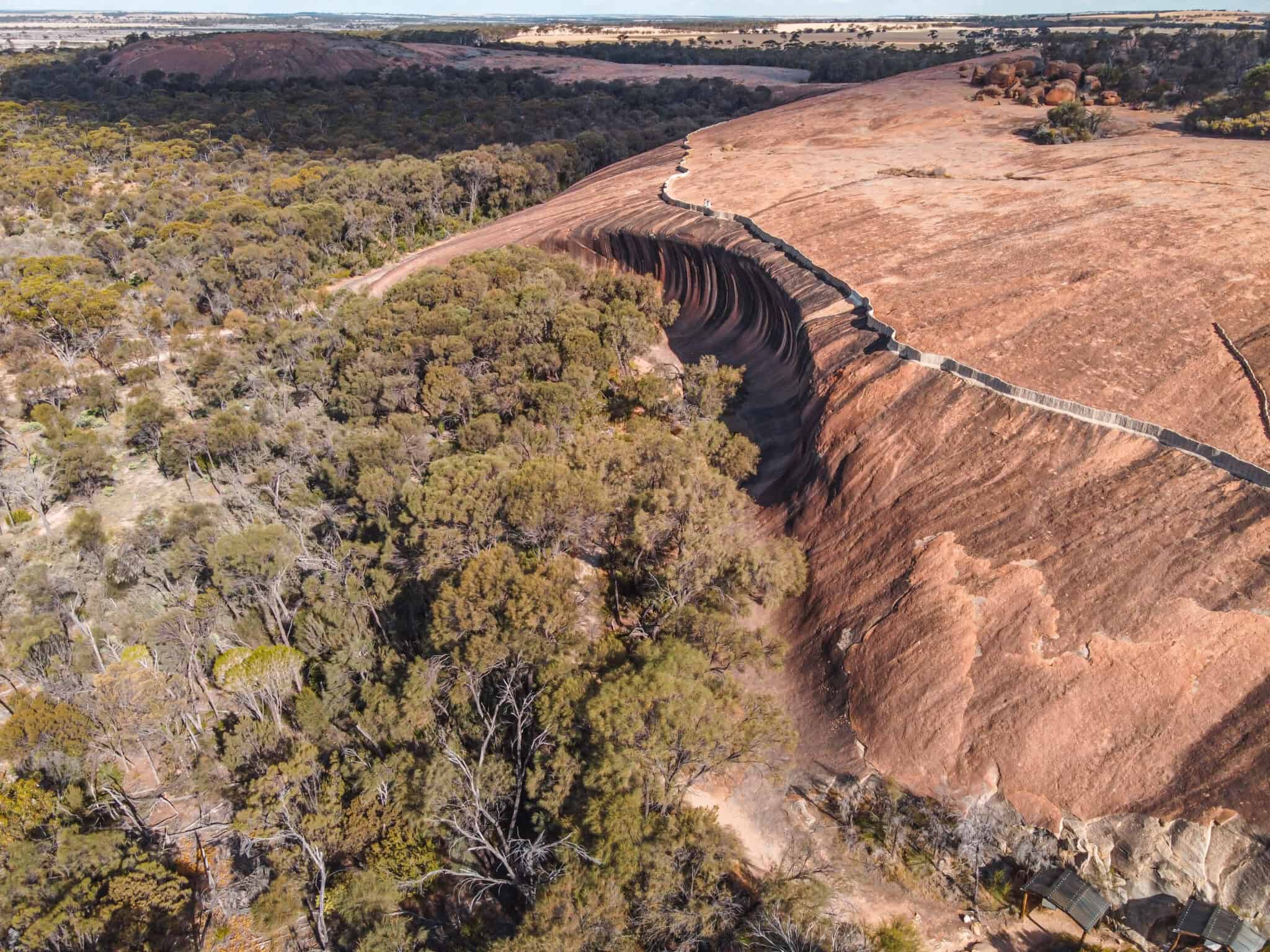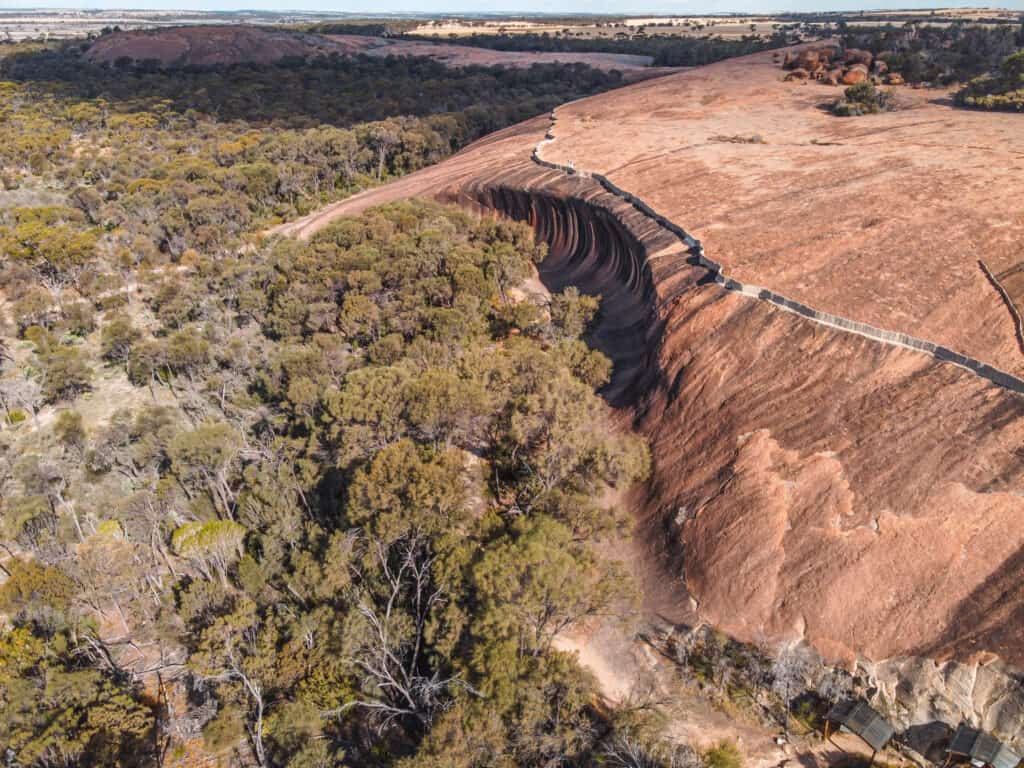 7. Float at Lake Magic
Lake Magic, also called Salt Pool, is a beautiful salt lake where you cannot sink no matter how hard you try.
Lake Magic gets its unique properties from its high concentration of salt. The lake contains ten times more salt than any other regular ocean.
This high concentration causes the water to be denser than your body, allowing you to float without any effort.
The lake is also famous for its magical colour changes caused by the high concentration of salt and minerals. The colours change from a bright blue to a dense purple and then to a fiery red-orange as the sun sets.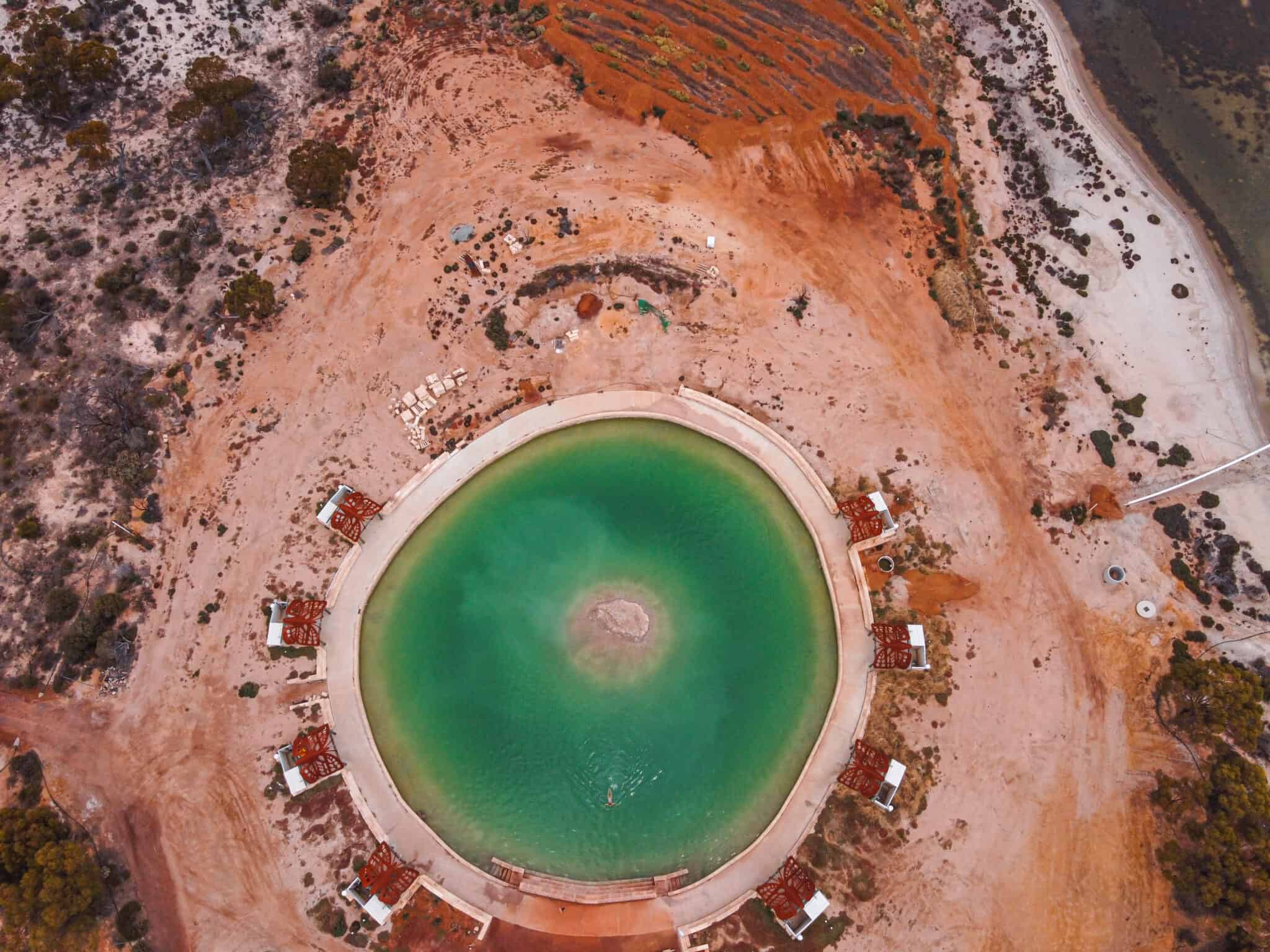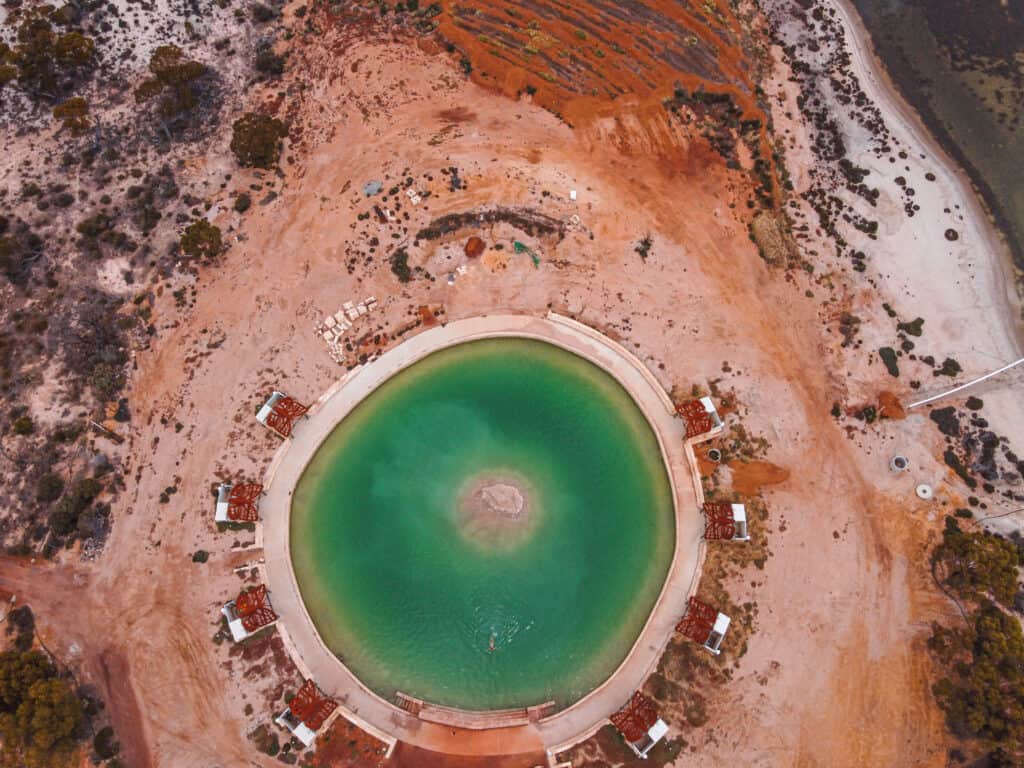 Best time to visit Wave Rock
While the rock formation is open to tourists all year round, certain times of the year are best suited for a visit.
If you want to witness the rock formation in all its glory and get the perfect shot, the best time to visit Wave Rock is early morning or late evening when the sun is low. The sunlight creates a mesmerising effect on the rock formation and enhances its beauty. Plus, the low light makes it easier to photograph the wave-like pattern without any shadows.
If you are keen on experiencing some of the incredible wildflowers that Western Australia is known for, you should plan your visit to Wave Rock during spring, from September to November. During this time of the year, the countryside is adorned with vibrant, colourful wildflowers, creating an awe-inspiring picturesque landscape.
If you are looking for adventure and love to hike, the cooler months of the year are the best time to visit Wave Rock.
Summer will give you better chances of clear skies, but the weather will be hot, and you might get lots of flies.
We visited Wave Rock in December, and the weather was lovely.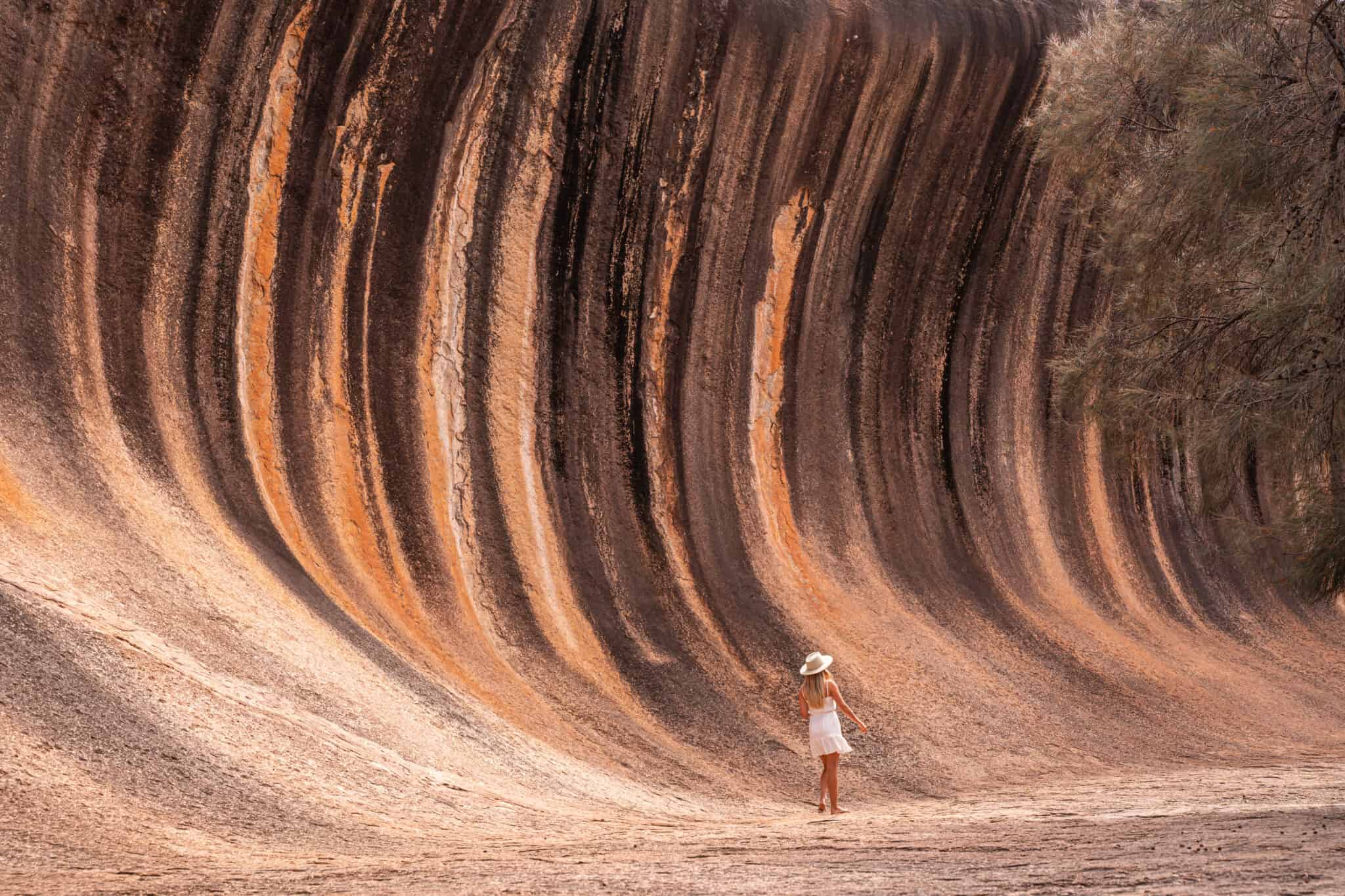 Accommodation in Wave Rock
As you would have noticed by now, there is much more to do in Hyden than just seeing the Wave Rock.
For this reason, we recommend you stay in the area for at least two days. If you do that, you will need to find a place to sleep, so we are here to help you:
Wave Rock Caravan Park
Right next to the Wave Rock, at Wave Rock Caravan Park, you'll find a range of accommodation options, from powered and un-powered camping sites to self-contained cabins.
The park has more than 100 sites available, most of which are grassy and shaded. If you're camping with a larger vehicle, you can opt for one of the park's drive-through sites, which can accommodate up to 9 meters. For those who prefer a bit more luxury, Wave Rock Caravan Park has several self-contained cabins available, with air conditioning, a kitchenette, and a private bathroom.
Wave Rock Caravan Park is pet friendly, and if you stay there, you get free entry to Lake Magic, AND you can walk to Wave Rock and Hippo's Yawn. Worth it if you ask us.
Wave Rock Resort
Wave Rock Resort is a 4-star colonial-style accommodation in Hyden, just a kilometre from the iconic Wave Rock. Overlooking the beautiful Lake Magic, the resort offers a spectacular view and a unique experience of staying close to nature.
The resort comprises 14 two-bedroom cottages, each equipped with a kitchen, lounge, en-suite, private courtyard, air-conditioning, and free WiFi. Visitors can enjoy a scenic sunrise over the world-famous Wave Rock and relax in the resort's saltwater pool.
The resort also boasts a caravan park for those who prefer an outdoor camping experience. Wave Rock Resort provides a tranquil escape amidst Western Australia's golden outback.
Wave Rock Entry Fee
You must pay an entry fee to visit Wave Rock in Western Australia. As of 2023, the entry fee is A$12 per vehicle. This fee not only grants you access to Wave Rock but also covers the nearby Hippo's Yawn. If you are staying at the Wave Rock Caravan Park, the entry to the rock is included (read the next heading for more information on this).
Tickets can be purchased at the base of Wave Rock at the ticket machine or the Wave Rock kiosk. Once inside the reserve, the payment can be made at the meter or kiosk.
The entry fee allows visitors to enjoy all the rock formations and trails within the reserve. Please note that prices may vary, so it's advisable to check for the most recent information before planning a visit.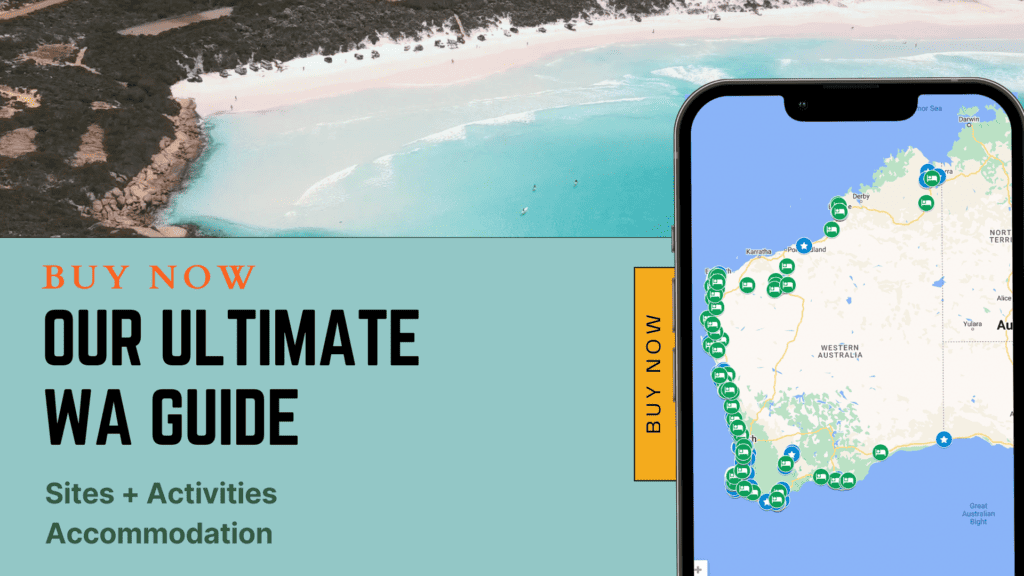 Don't make the same mistake we did when visiting Wave Rock.
We drove to Wave Rock Hyden and visited a total of 5 attractions in one day, and they were:
1️⃣ Hippo's Yawn
2️⃣ Lake Magic
3️⃣ Mulka's Cave
4️⃣ Wave Rock
5️⃣ Buckley's Breakaways
In total, we spent $32 that day – $12 for the Wave Rock car park (we heard rangers often check cars) + $10 each for the entrance to Lake Magic. After a long day, we drove to a free campsite outside of Hyden.
BUT… If we had stayed at the Wave Rock Caravan Park, we would have paid $35 for a site that is walking distance to Wave Rock AND gives you free entry to Lake Magic!
So…do not make the same mistake we did; give the Wave Rock Caravan Park a call and confirm the above information is still valid when you go, and if it is, it is probably a good idea to stay there for the night, and you can take your time to see each attraction.
Summary – Is Wave Rock worth seeing?
Like any destination, Wave Rock has its pros and cons. In terms of pros, it offers a stunning natural phenomenon that is hard to find anywhere else, with plenty of opportunities for photo-taking. The area around the rock is also relatively well-developed, with options for food and accommodation.
On the downside, however, Wave Rock is located in a remote area, which means it might be hard to get to if you don't have a car. Additionally, there is an entry fee to see the rock, which might concern budget travellers. Finally, considering the distance from Perth and other main cities, some travellers may have to decide whether the 4-hour drive from Perth is worth it.
Whether or not Wave Rock is worth seeing depends on individual preferences and what you are looking for in a travel experience. If you want to see a unique natural landmark and are okay with the long drive, visiting Wave Rock is worth it.
It offers a chance to see one of the world's most impressive natural rock formations, with options for accommodation, food and activities for visitors of all ages. However, if you are on a tight budget or don't have much time to spare, it might be better to skip the experience and explore other parts of Western Australia.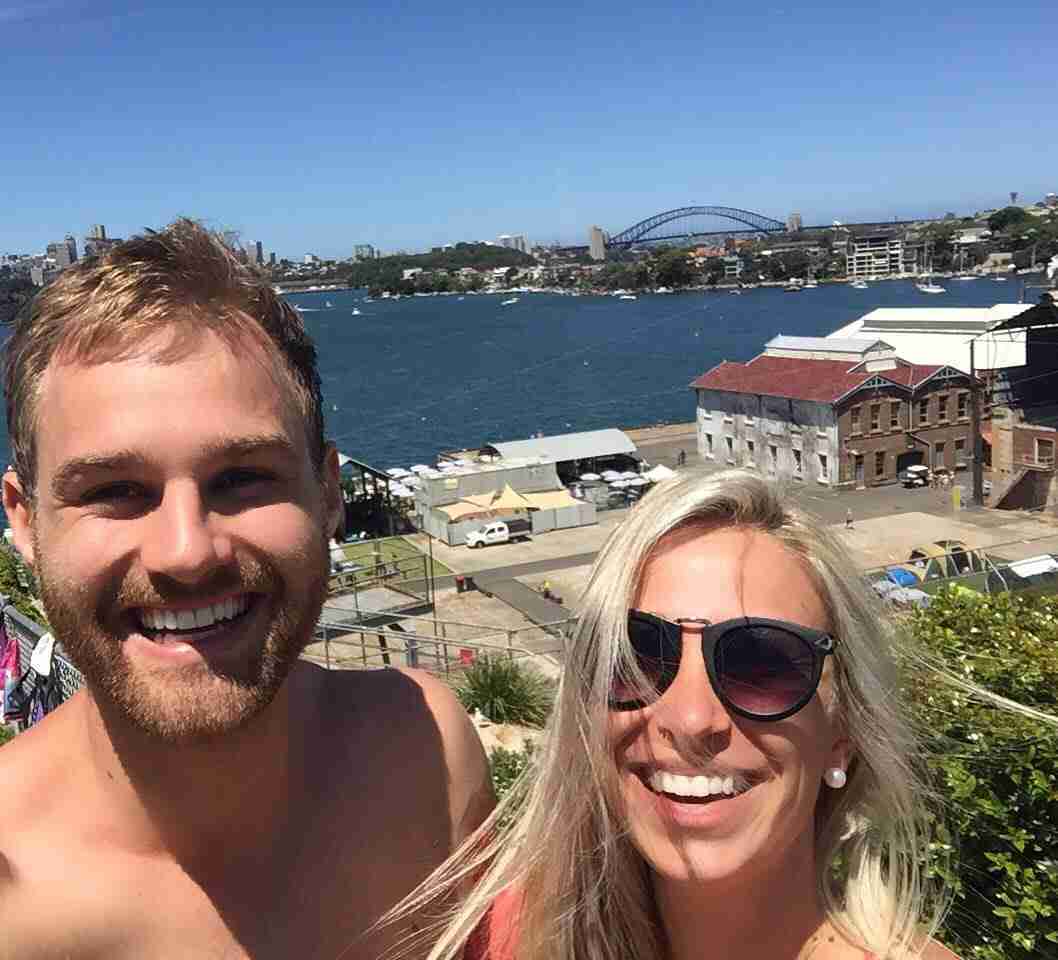 Wade & Dani
Hi! We're Wade and Dani, We're currently travelling around Australia in our 2017 Mercedes Sprinter Camper van and sharing our best experiences, stories, reviews and adventures as we go along. Make sure you follow us on Instagram @wadeanddani