Five Best Caravan Microwaves To Buy
This post was updated on: December 2023
One thing that Australia is known for is the great outdoors. It is a big and beautiful country! What better way to enjoy its natural wonders than from the comfort of your caravan?
There are many great options to choose from these days and with the right one for your needs, you will be able to cook all your favourite dishes as if you were back in your own home.
In this review, we will look at some of the most popular caravan microwave ovens on the market in 2023, to help you decide which one you will be taking along on your next great Australian Outback adventure.
The following are five great caravan microwave oven options for you to consider: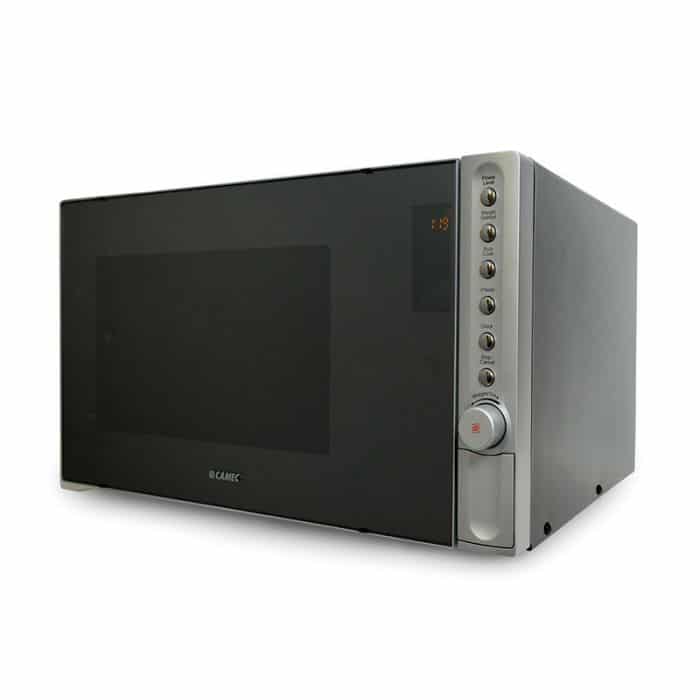 We might as well start with the very best of the lot! The Camec Microwave Oven 25L 900W is a very popular choice among outdoor enthusiasts for a good reason. At 25L, it is the perfect size for your RV, and the modern mirror finish adds a touch of class to your caravan interior.
This is the kind of microwave you can take anywhere, and it will look great while making any dish recipes you are cooking seem so easy thanks to the 900W output which you will find to be more than enough.
The Camec microwave oven comes loaded with great functions that are arranged clearly on an easy-to-use digital control panel. This means no matter how complicated the recipe is, all you need to do is tell the microwave what to do and it will take care of the rest, giving you more time to enjoy your adventure experience.
Its LCD display is one of the most advanced user interface panels you will find on a microwave oven. Not only is the panel very energy efficient but it also has an impressive child safety lock feature to make sure your little ones are kept safe all the time.
It does weigh a little bit on the heavy side, but an extra kilogram is hardly anything to worry about after you have installed this machine in your caravan.
If you are looking for a caravan microwave that ticks all the right boxes and will continue to look great in your vehicle years from now, get your hands on the awesome Camec Microwave Oven 25L 900W!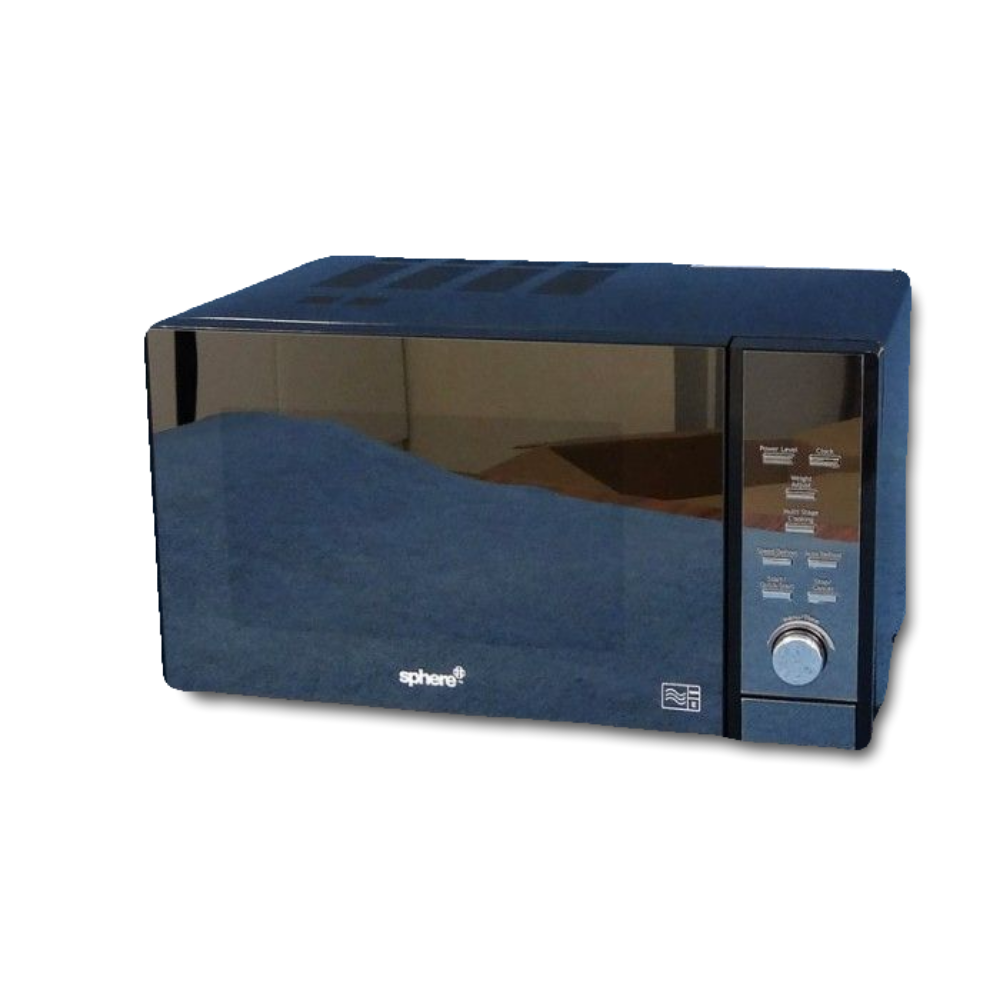 The mirror design on the Sphere Caravan 25L Microwave With Mirror Finish is almost as good as the one you get on the Camec Microwave. While it does look great, it has slightly fewer functions than the Camec.
However, you still get to enjoy using five different power settings, which makes heating and cooking your meals an easy task. If you are planning on bringing any kids with you, the Sphere microwave has a great safety feature to keep them safe.
With a 25L capacity, there is not much you will not be able to fit in this microwave and get to work using its easy-to-use digital panel.
If you do not go for the Camec but have your heart set on a great-looking mirror-finish microwave, the Sphere Caravan 25L Microwave With Mirror Finish is the one for you.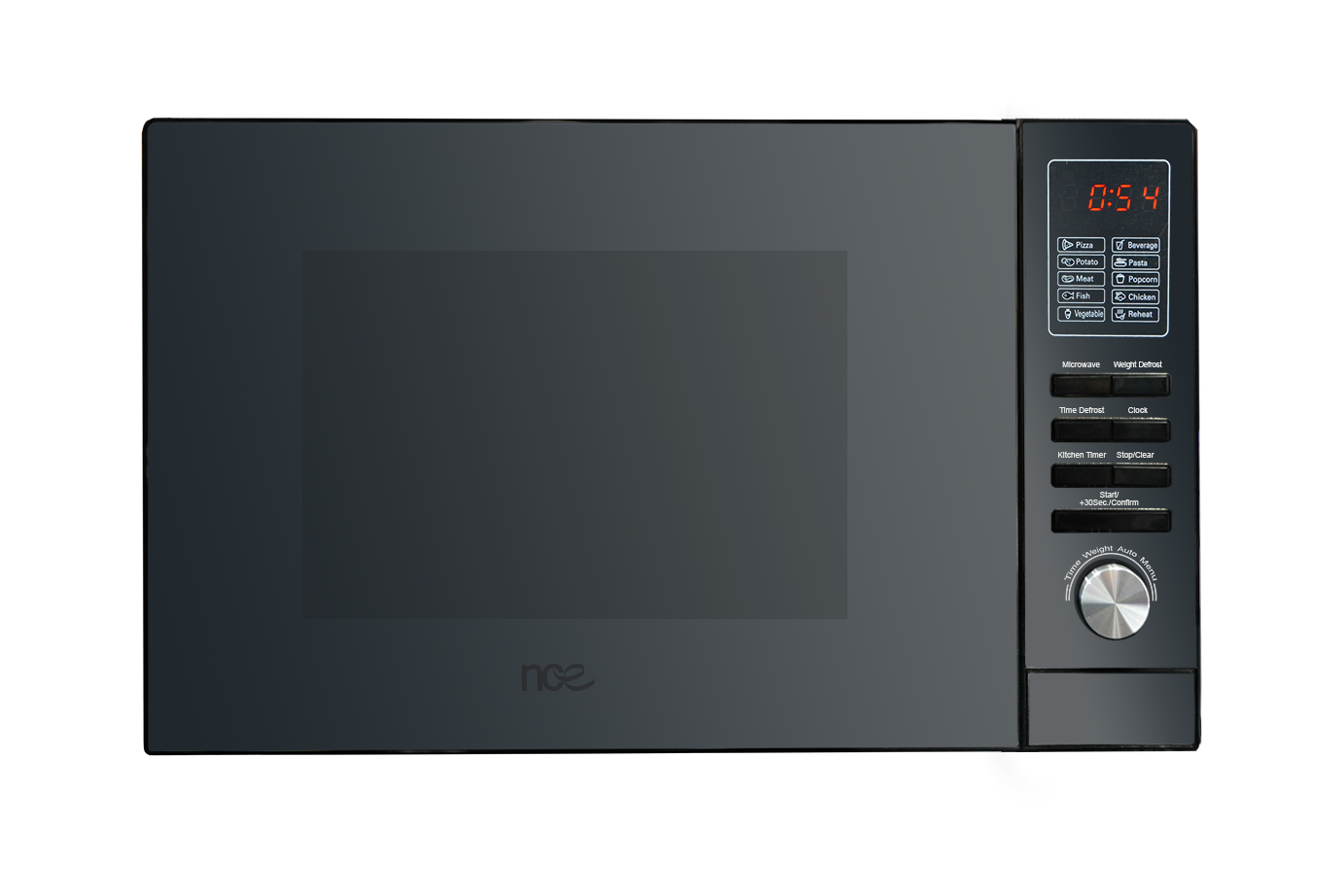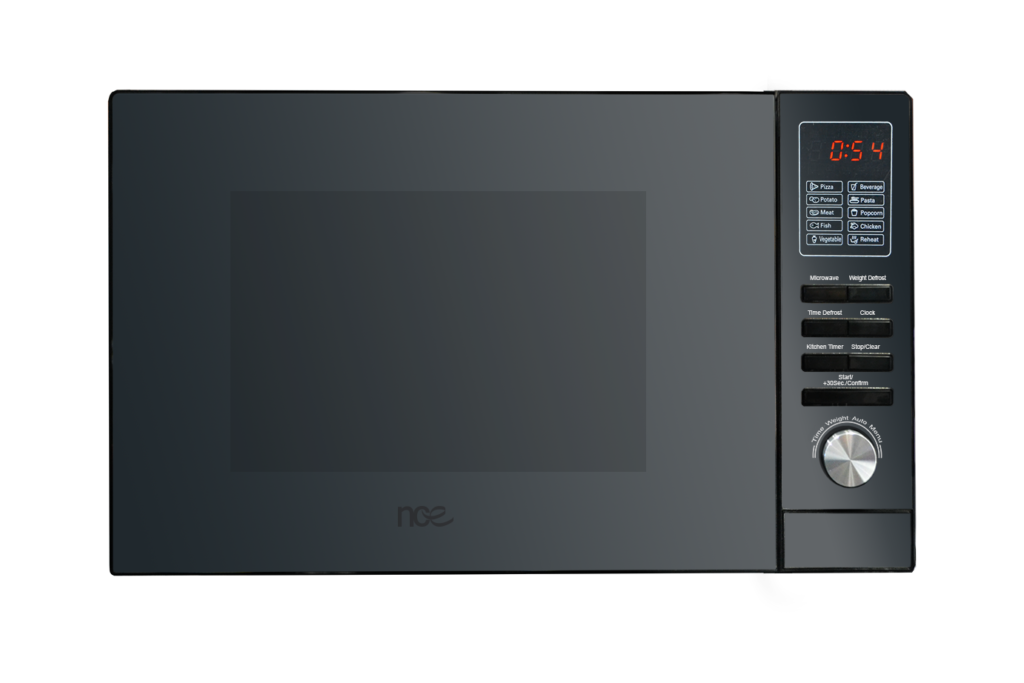 There is something timeless about the design of the NCE 25L Black Stainless-Steel Microwave. It must be the black stainless steel that makes it so eye-catching!
It has push-button menu features on its control panel that are a bit dated but still very easy to use. Through this panel, you get an impressive 10 menu options and five power settings. You will find the 900W output to be more than enough for the NCE 25L Black Stainless-Steel Microwave to compete with both the Camec and the Sphere Caravan microwave in terms of efficiency.
Weighing in at just 14.5kg, this microwave will be great on any shelf in your caravan, and the 25L capacity will accommodate any meals you can think of.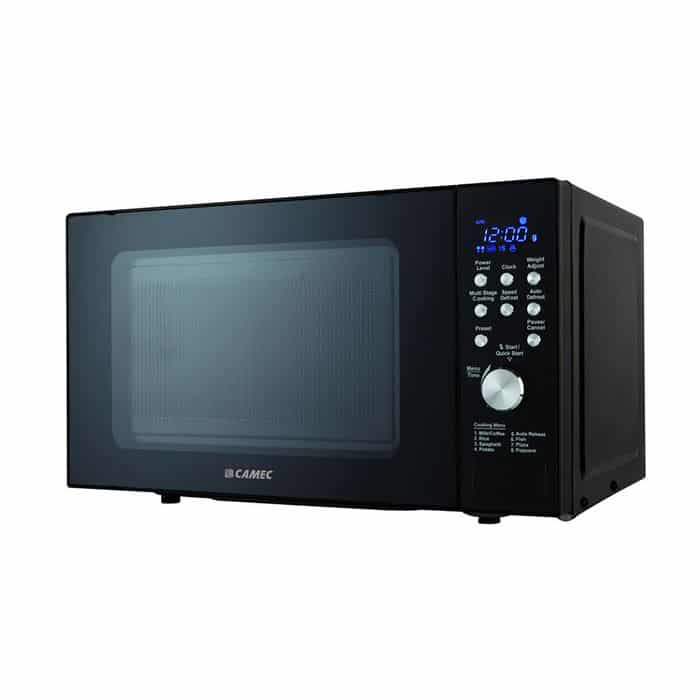 When shopping for your caravan microwave, you should always be on the lookout for value for money. Camec is well known for manufacturing some of the best mobile home equipment in the country and it never disappoints.
A great example is the Camec 20L 700W Microwave which is slightly smaller than its 25L predecessor but still comes packed with all the great features you need. Its smaller size means it is much cheaper that the bigger option, meaning you get to save when you go for this great value option.
20L is still big enough to handle most of your microwaving needs, although you may have a hard time fitting in wider plates when warming up your food.
Having said that, you still have great features, such as child lock functions and five power settings that put it on the same level as the CAMEC 25L. Go for the CAMEC 20L 700W Microwave and save yourself a lot of money!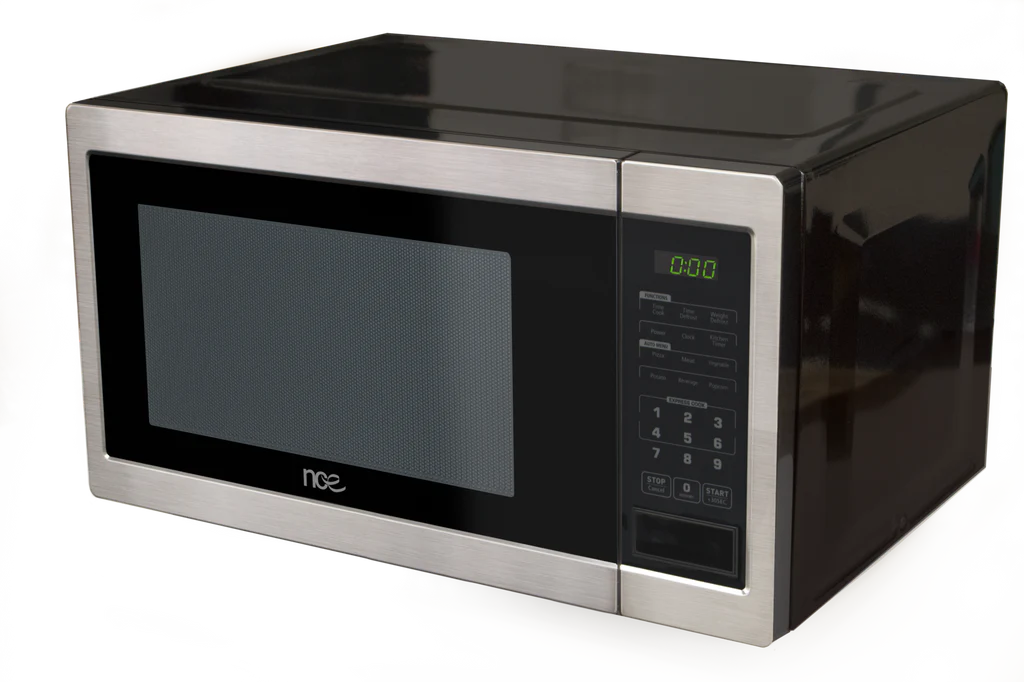 The best thing that the NCE 23L Flatbed Microwave Oven has going for it is that it has a lot more space than you would expect from a 23L capacity! This is because, unlike all the other microwaves in this review, the NCE has a flatbed rather than a glass turntable.
Thanks to this small detail, the NCE 23L Flatbed is in a league of its own, making it a very attractive choice for most caravan owners.
The only downside is that you will need to pay a bit extra for this feature, which may prove too costly if extra space is not a must-have feature for you. However, a flatbed microwave is still a great buy for your caravan.
With the NCE, you get a very durable piece of equipment whose 900W power output capacity puts it on the same level as the Camec 25L 900W microwave. You get 11 power levels and six cook menus, making it more than adequate for any vacation you will be taking with your family.
Consider These Before You Buy Your Caravan Microwave
Total Wattage
The higher the wattage, the faster you will be able to heat your food, so all the microwaves that come with 900W or more are great picks.
However, there is one advantage of picking a microwave with less wattage, such as those with only a 500W output. You will be able to run a lot more appliances at the same time without overloading your caravan's power circuit.
Size and Weight
While most caravan microwaves only differ slightly in terms of weight, the size is something you have to consider carefully. If you do not have a lot of extra space in your mobile kitchen, make sure the microwave you buy will fit in its designated area.
Your microwave should fit in its place while leaving enough space to prevent overheating. Do not get a microwave that is too small though, otherwise, you will have a hard time cooking big meals.
Cost
Your budget is one of the main things that will determine which microwave you end up buying. There are so many other important items you will need for your caravan, so do not waste all your money on just the microwave.
Try to get a good balance between cost and functionality so that you will end up with an affordable microwave that does the job well. The Camec 20L 700W Microwave is a great example.
Flatbed or Turntable
Finally, you will find that most microwaves come as either flatbed or turntable. If you go for the flatbed option, which is generally a popular pick for RVs, you should expect to pay about $20 extra for it. This is a good deal because, with a flatbed, such as the NCE 23L Flatbed Microwave Oven, you will get a lot more cooking space.
Final Verdict – Go for the CAMEC Microwave Oven 25L 900W!
If you want a caravan microwave that will get the job done and look awesome sitting on your RV shelf, the CAMEC Microwave Oven 25L 900W is the perfect pick. You can get it at a very affordable price and you will not be disappointed. Try it out today and enjoy your Australian caravan adventure in style!