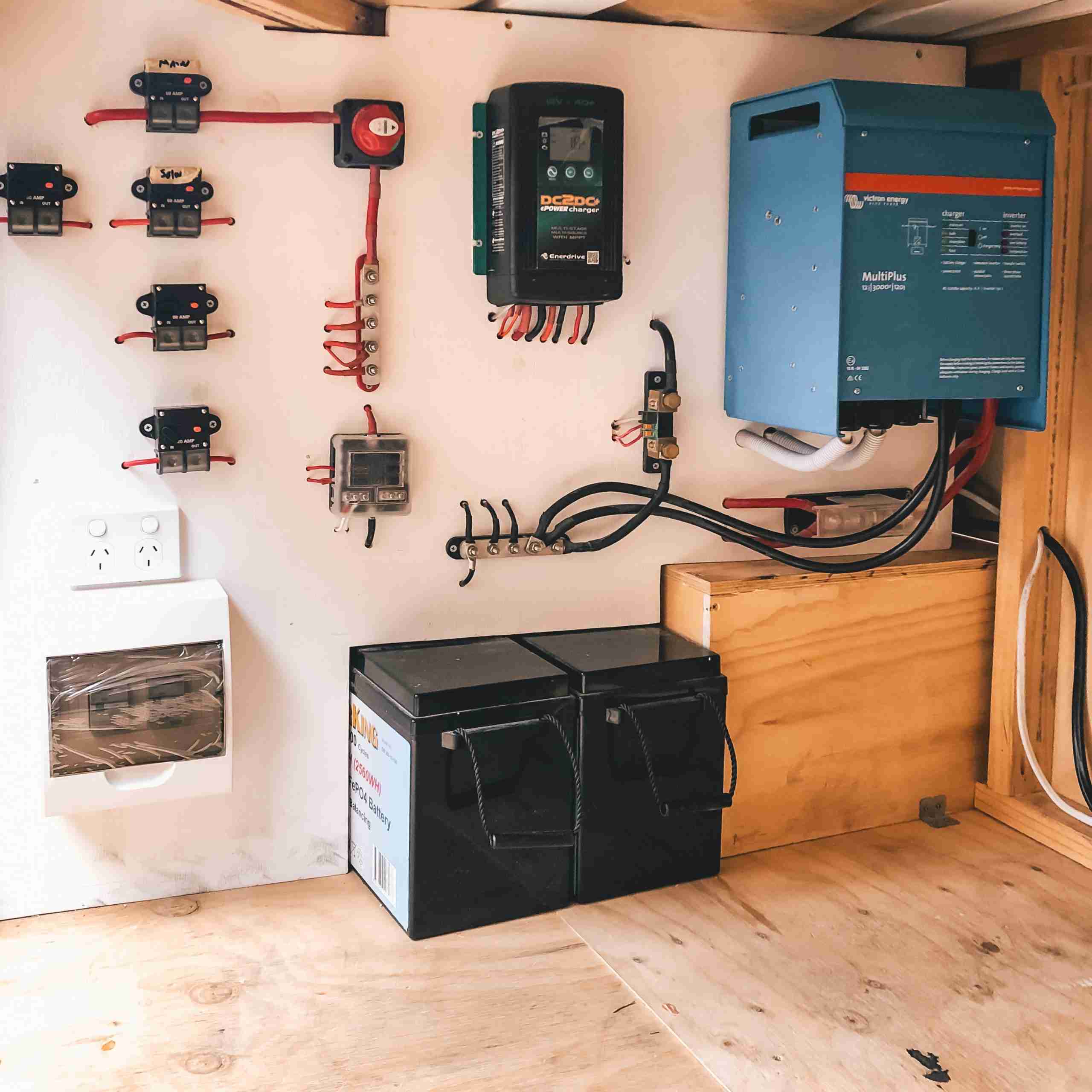 Best 12v to 240v Caravan Inverters in Australia (2023)
This post was updated on: September 1, 2023
As any experienced traveller will tell you, one of the most important pieces of equipment you can have on your journey is a good quality inverter. A caravan inverter allows you to convert the 12v power from your vehicle's battery into 240v mains power, meaning you can run all your home comforts while on the road.
When it comes to choosing a caravan inverter, there are a few things you need to take into consideration. The first is size – you need an inverter that is small enough to fit comfortably in your caravan without taking up too much space. The second is power – make sure you choose an inverter with enough power to run all the devices you need. And finally, price – while you don't want to skimp on quality, you also don't want to spend more than you need to.
With that in mind, here are our picks for the best 12v converter to 240v in Australia:
Key Points
| | | | | | |
| --- | --- | --- | --- | --- | --- |
| | | | | | |
| | | | | | |
| | Enerdrive ePOWER 2000W 12V Inverter with RCD | Victron MultiPlus Inverter Charger 12/3000/120-16  | Victron Phoenix Inverter 12V/500VA | Mastervolt 12V 1600W Combi Master Inverter Charger  | Projecta 12V 1800W Inverter |
| | | | | | |
| | | | | | |
| | | | | | |
| | | | | | |
| | | | | | |
| | | | | | |
| | | | | | |
| | | | | | |
Enerdrive ePOWER 2000W 12V Pure Sine Wave Inverter with RCD

Enerdrive has earned a great reputation among the travelling community in Australia. They provide only the best quality products, backed by years of testing. Their inverters are no exception.
The Enerdrive ePOWER inverter has several features that make it an attractive option for those needing to use 240v power in their vans. With a continuous output of 2,000W and peak power of up to 4,000 watts, this device is ideal for running high-wattage household appliances such as microwaves and air fryers as well as power tools.
This inverter has a 16A AC Internal Transfer Switch which allows seamless switching between Mains/Generator and inverter, making it easy to use with almost no break time while transferring power between the two!
The inverter also includes an RCD Safety Switch to protect you from potential hazards. This safeguarding device monitors electricity flow and detects any problems that may pose risks to personal safety and immediately switches off power within 0.03 seconds after detection.
Enerdrive is a great option for those who need a reliable and safe power inverter for their caravan. This inverter is one of the best on the market, offering travellers a wide range of features and benefits. If you're looking for a top-of-the-line inverter that can handle high-wattage appliances with ease, then this is the inverter for you.
ePOWER Inverter Features:
Seamless 16A AC Internal Transfer Switch
AC RCD/Safety Switch with test button
Removable LED Remote Control Display Panel
Regulated Pure Sine Wave Output
Silent Operation
Compact Size for Easy Installation
USB Port for charging USB devices
This inverter is currently on sale until the end of September 2023 at My Generator
Victron MultiPlus Inverter Charger 12/3000/120-16 230V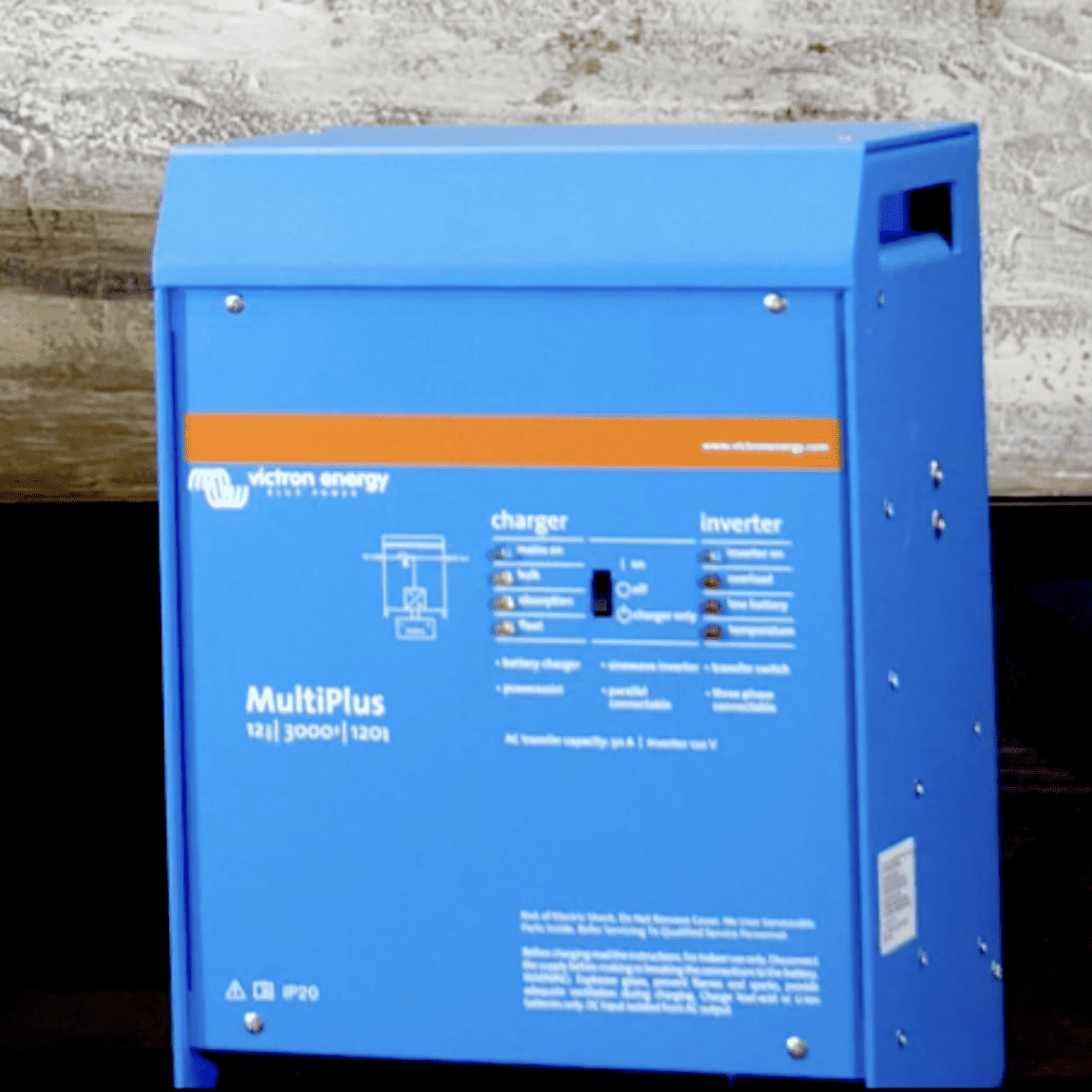 The Victron MultiPlus inverter charger is a great option for travellers who need a reliable and efficient way to power their devices. Victron is a well-known and trusted brand, and the MultiPlus is one of their most popular inverter models.
It is an all-in-one solution that can be used as an inverter, charger, or power supply. It can charge your devices using either AC or DC power, making it a versatile option for travellers. The MultiPlus inverter can be used with a variety of different battery capacity and types, and it features an advanced charging algorithm that ensures that your devices are always receiving the optimal charge, while the smart energy management system conserves power when possible.
It has a whopping 3000-watt output and a 6000-watt peak. It allows you to run multiple devices at once. Keep in mind you will need to make sure your lithium batteries BMS have a high maximum discharge current or the batteries will shut down, and you will not be able to use the full power of the inverter.
There is one more handy feature that comes with this inverter. With the use of the VE.Bus Smart Dongle, you will be able to view all of your inverter's data and turn it on and off on your smartphone, via Bluetooth.
The Victron Multiplus is the most expensive power inverter in our list. The main reason for its higher price is the large power output and having the ability to charge your batteries for the primary power source. You will not need any other battery chargers when using this inverter.
Victron Phoenix Inverter 12V / 500VA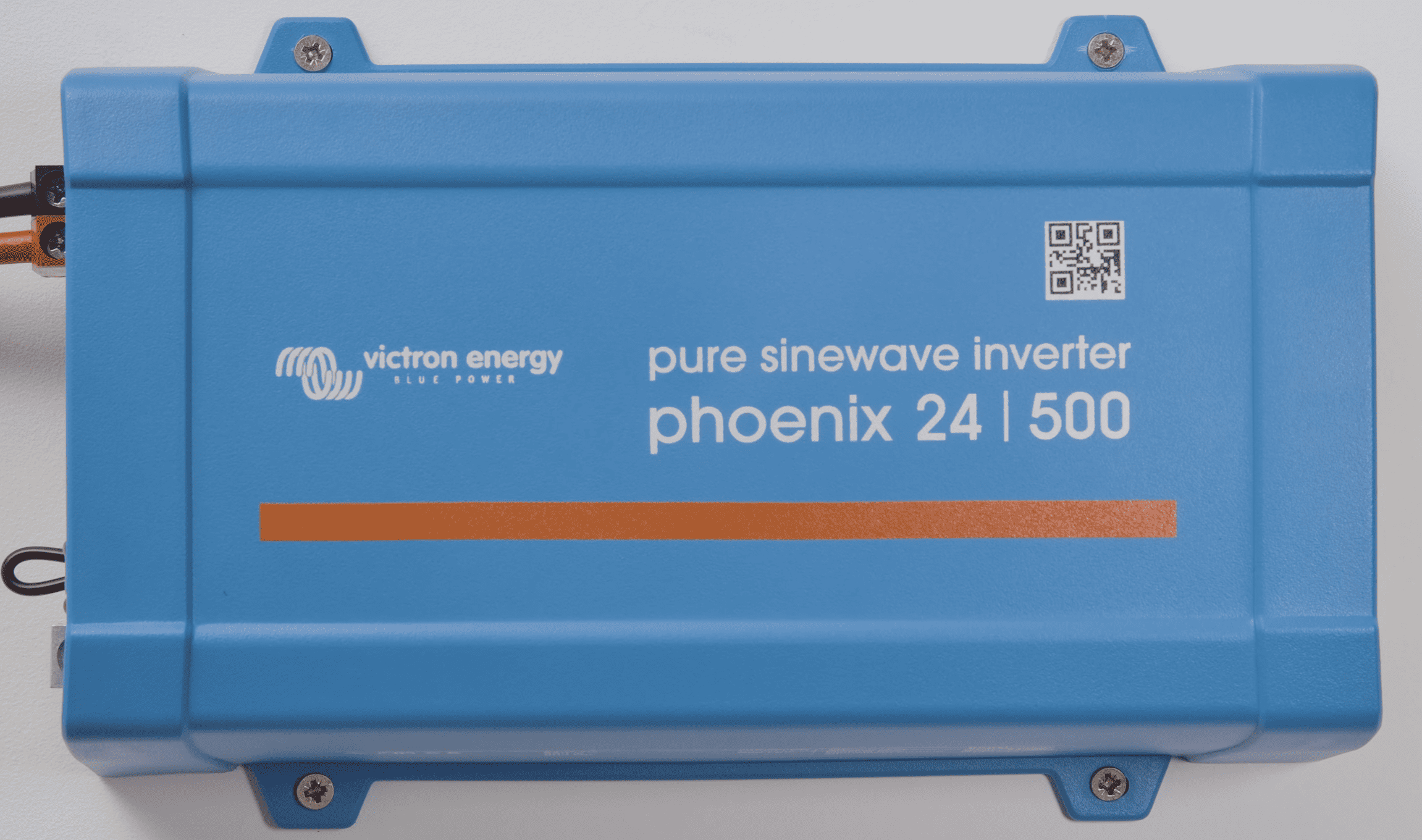 The Victron Phoenix Inverter 12V/500VA is a great choice for travellers who need a reliable, lightweight inverter that can handle small loads. It offers a wide range of features, including a wide input voltage range, high efficiency, and low noise operation.
With 400 watts output and a peak of 900 watts, this Victron inverter is capable of powering laptops, TVs, and other small sensitive electronics with ease.
Having a lower wattage than other inverters and only being a power inverter, its price is significantly cheaper than the Victron MultiPlus Inverter Charger.
The Victron Phoenix Inverter has a built-in safety feature that protects itself from:
output short circuit
overload
battery voltage too high
battery voltage too low
temperature too high
DC ripple too high
The Victron Phoenix Inverter 12V / 500VA is a great choice for anyone who wants a durable and reliable inverter. It's a great option for those who need to power smaller devices and is very affordable.
Mastervolt 12V 1600W 60A CombiMaster Inverter Charger Combination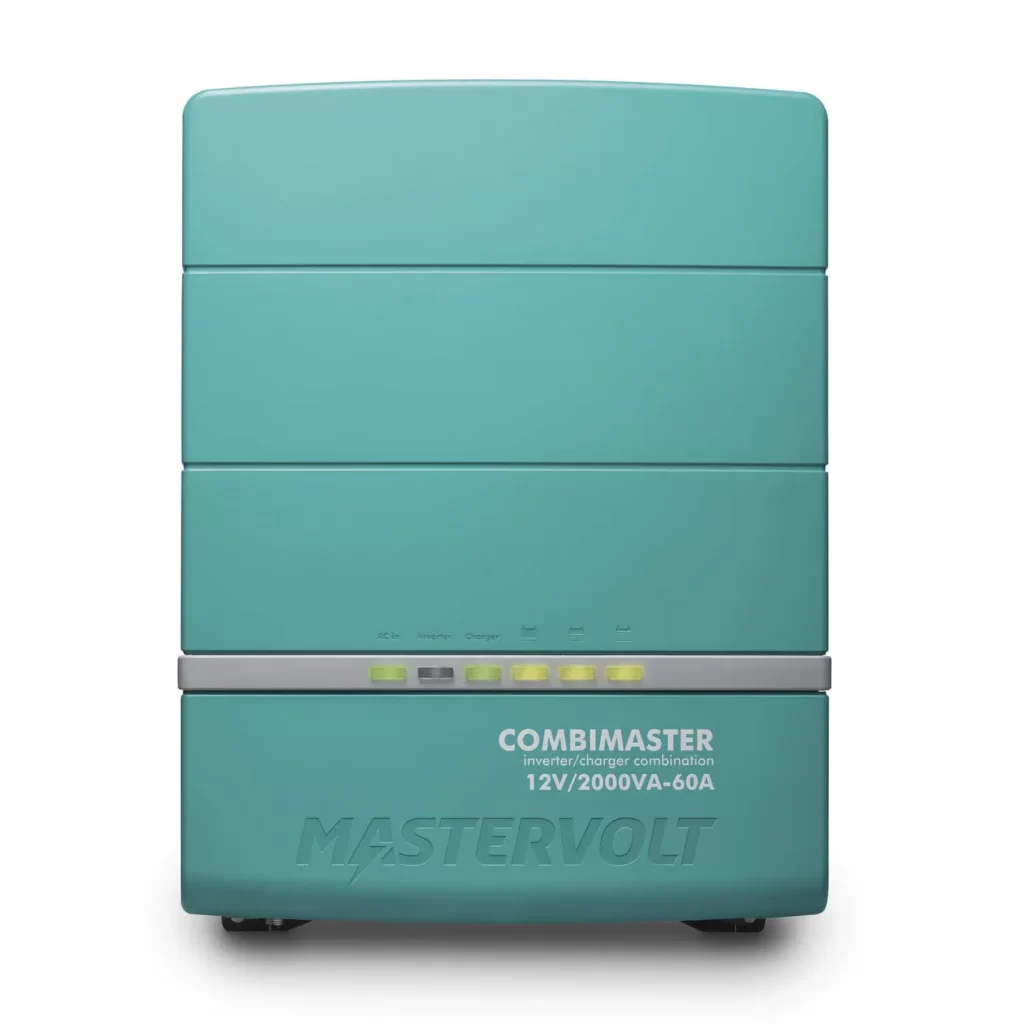 Mastervolt's CombiMaster range is perfect for savvy consumers who want power without hassle. With 2-year warranties and easy-to-use features, this powerful inverter combi has everything you need!
The CombiMaster is the perfect partner to charge your devices when you're on the go. It automatically switches between generator or mains and inverter output, ensuring that you will always have some form of power! Its Power Assist function prevents tripping caused by weak landlines or small generators in case you are connected to one.
The 3-step battery charger guarantees your machine's maximum life and can charge two banks simultaneously.
This is an inverter with 1600 watts of power and high peak demand of 3000 watts, which is sufficient for running even the most demanding electronic devices like espresso machines!
A built-in distribution system switches between grid or generator electricity depending on what you need. Plus, there are 2 x AC outputs so that critical appliances such as air conditioners or washing machines aren't left out when it comes time to choose how much energy they'll receive from this unit.
Benefits of the CombiMaster:
Projecta 12V 1800W Pro-Wave Pure Sine Wave Inverter
If you are looking for a more affordable inverter that doesn't have all of the bells and whistles, then look no further than the Projecta's 1800w Pro-Wave model.
This is one of the most popular wave inverters in the market with its low price, compact size and good performance.
This caravan inverter has an amazing 1,800W continuous output and 3,600-watt peak power! It's more than enough to keep your devices running smoothly while on the go.
The Projecta 12V 1800W Pro-Wave Pure Sine Wave Inverter is a powerful piece of electrical equipment that can withstand harsh conditions. It has been designed to Australian standards and approved for use in 240V sockets.
The thermostatically controlled cooling fans keep the unit at a safe temperature and therefore prolong its life. There is an optional remote control which allows you to operate it remotely so you can hide the inverter out of view. Plus, it's small enough that you can tuck away out of sight.
The main downside of this product is that the warranty is only for 1 year, which is very little compared to other options. However, if you compare the price difference with others, this is a great product that will serve you well.
Overall, the Projecta 12V 1800W Pro-Wave Pure Sine Wave Inverter is a good choice for those who need an inverter and are looking for an affordable option that has many features.
How To Choose Your Caravan Inverter
Choosing the right caravan inverter can be a daunting task. There are so many different brands, models and sizes on the market.
It is not because you want to be off the grid that you should completely cut yourself off from technology. Power is essential when you're on the road. No one wants to be caught short when they're in the middle of nowhere, so a good caravan inverter is a must.
If you want to spend a significant amount of time off-grid, it will be critical to have a power inverter, as well as a dependable van battery and a solar power system.
A caravan inverter is a device that converts the 12v (DC, or direct current) power from your vehicle's battery into AC (alternating current) power. This allows you to run AC electrical appliances in your caravan, such as TV, laptop, etc. without the need for a generator.
If you want to connect any appliance that needs AC power, then you'll need a sturdy power inverter for your van.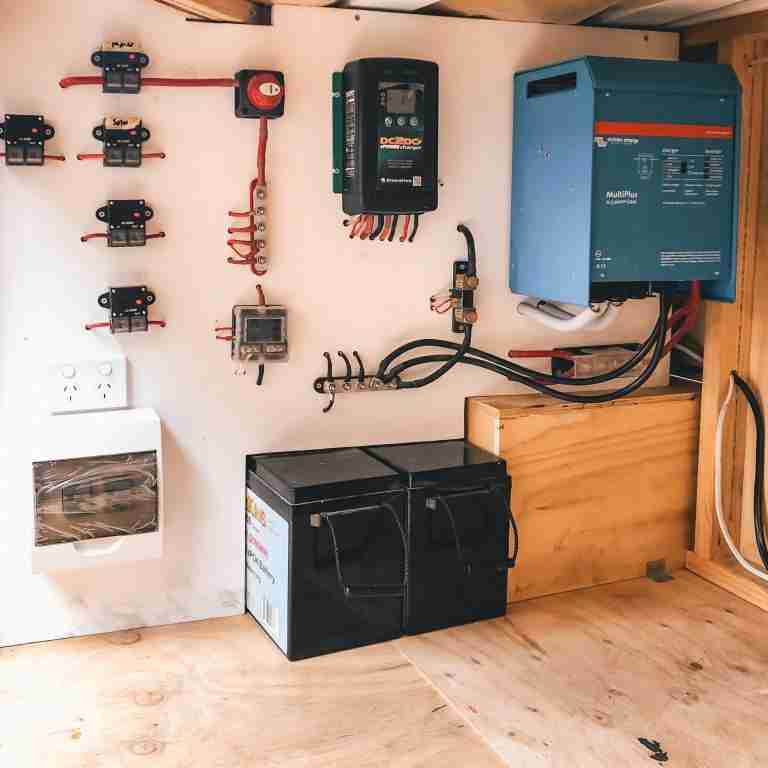 What does an inverter do?
Your campervan power inverter is designed to transform DC power into AC electricity and deliver steady, constant energy to your appliances.
A caravan or campervan power inverter transforms 12 volt or 24 volts DC battery power into 240v ac electricity.
This converted energy may be used to power appliances, medical equipment, and other electronics that require conventional 240-volt power.
The use of a 12 volt to 240 volt converter ensures that your van receives constant AC power.
A great power inverter may make all the difference between being at the mercy of nature's elements or chilling in total luxury. Maybe you're reliant on electrical heat during the depths of winter.
It could be a scorching day, and you need to turn on a strong fan or AC unit.
You could be looking for a unique way to entertain your guests, or maybe you want to watch Netflix on your flatscreen.
Caravan inverters come in a variety of shapes and sizes. The most important thing to consider when choosing an inverter is the wattage rating. This is the maximum amount of power that the inverter can supply.
Which 12v to 240v converter is best for a caravan?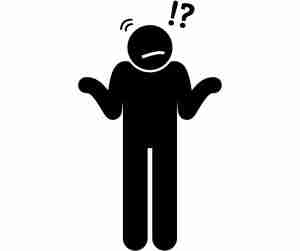 The appliances and other electrical equipment in your caravan or camper van will determine the answer.
Be sure to choose an inverter that has a wattage rating higher than the sum of all the AC appliances you want to run at the same time. For example, if you want to run a laptop (40 watts) and a TV (60 watts) at the same time, you would need an inverter with at least a 100 watt rating
The most suitable campervan power inverter is one that matches your distinct power requirements.
The world of power inverters is confusing, with many things left up to individual users. One point that can confuse those who are new to this is the technology used.
Without getting too deep in these technologies, here's the main difference between the pure sine wave inverter and the modified sine wave inverter:
The pure sine wave inverters are a great choice when you need the cleanest power possible. It also generates household-equivalent electricity.
Modified sine wave inverters are not for everyone. They can create an output that is less clean and may be unsuitable in certain appliances like audio equipment, LED lights or TVs. Modified sine waves might also present a problem when it comes to using your computer because of the stepped nature of its power supply, which will cause stability issues with some programs you use regularly.
If you would like to read more, I suggest you check out this article Altestore.com
What can you use with a power inverter?
The usual rule of thumb in choosing what can be powered by an inverter is that an inverter should power only the most basic electrical devices.
The following are a few items that an inverter may power: 
Coffee machine
Hair Iron
Toaster
Kettle
Heater
What size inverter do you need for your campervan?
The size of the inverter you need depends on the type and number of appliances you want to run at the same time. Most small appliances, like a laptop charger or a TV, only need a small inverter that produces around 400-600 watts of power.
But if you want to run multiple appliances or larger appliances like a hair dryer or heater, you'll need a mid-sized inverter that produces 800-1200 watts of power. The largest inverters can produce 2000 watts or more and are typically used for RVs with multiple occupants.
A good rule of thumb when choosing the size of your inverter is to multiply the watts of the device by 1.5 to get the minimum inverter size you need in watts. So, for example, if you want to use a microwave that has a 700 watt power rating, you would need an inverter that is at least 1050 watts.
What does "continuous" and "Peak" power mean?
The inverter's power output will occasionally be expressed as a number that will look like this: "500/800".
The 500 represents 500 continuous watts or "running" power. As the name implies, continuous power is the sustained power output of your device. In other words, it's the amount of power your device can put out for an extended period of time without any drop-off in performance.
The 800 is the "peak" power output, or the short burst of wattage required from the appliance. Peak power is the maximum power output your device is capable of producing.
It's important to note that peak power is only sustainable for very short periods of time—usually just seconds or minutes—before the performance of your device starts to degrade rapidly. For this reason, peak power is generally only relevant when starting up devices with high startup requirements
What are low wattage power inverters best for?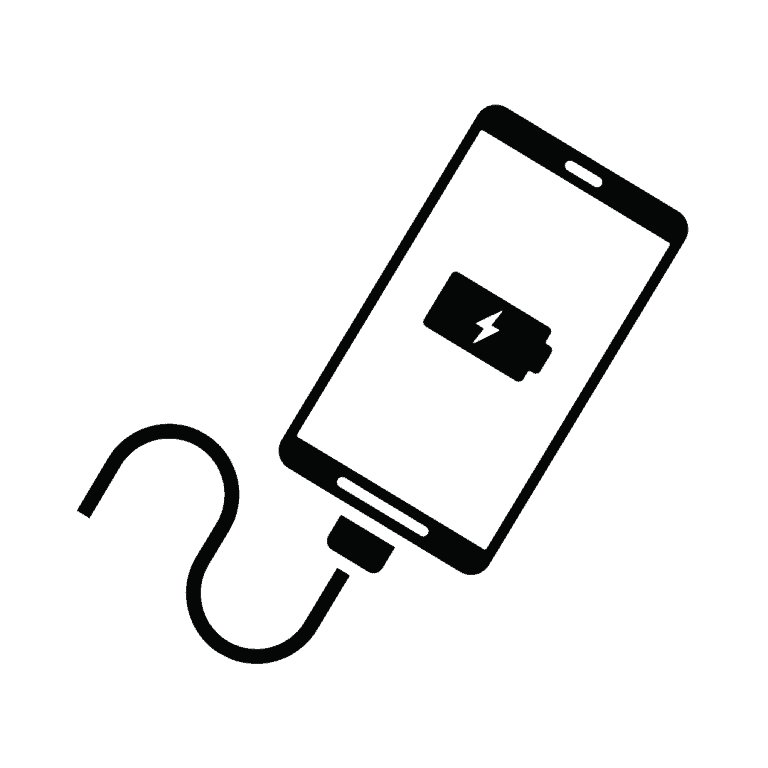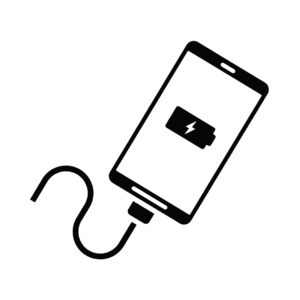 Low wattage power inverters are great for running small electronic devices while on the go. They are commonly used to charge laptops, small appliances and phone chargers. Many people use them while travelling, as they allow you to have a reliable power source without having to rely on public outlets.
An inverter under 300 watts is helpful for low-wattage appliances and for charging laptops, tablets and phones.
Remember that just because a power inverter has a 240-style connection, it does not necessarily mean it can be used for higher wattage AC appliances. Some delicate devices may be harmed if you attempt to power them with too little wattage.
How to install a power inverter in your campervan?
Understanding the installation process for an inverter is complicated, and we can't give specific advice. However, if you're looking to install something in your van, it's essential that it meets specific requirements before any work begins; this includes power consumption levels as well!
Cable gauge size, quality connectors and fusing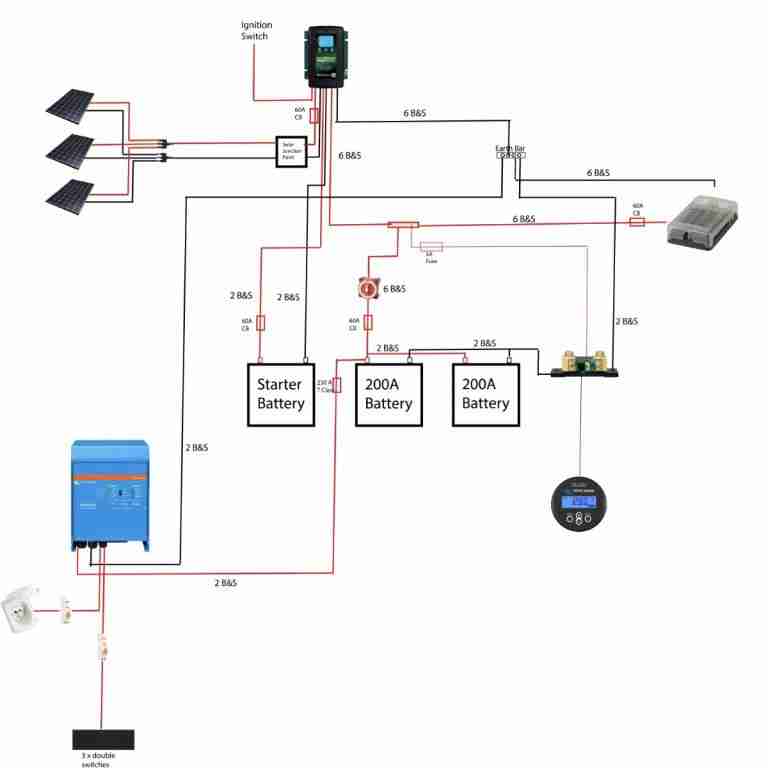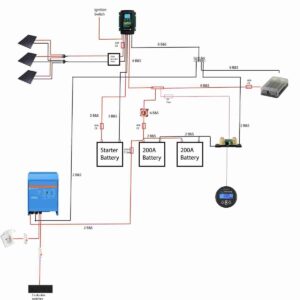 Good quality cables are critical for safe, efficient operation.
The wattage output of your inverter, the system voltage and other factors determine what gauge cables you need for protection.
Make sure to install an appropriate-size fuse for your system.
Inverter mounting and location
It's important to mount the inverter so that it may be conveniently and safely accessed.
When installing an inverter, be sure to read the manufacturer's instructions carefully.
Installing your Inverter where there is adequate air circulation will go a long way in preventing overheating.
Mount it on non-flammable materials, such as aluminium or steel.
The installation must be done securely and firmly so that it does not shift or vibrate when you drive.
Grounding for inverter installation
It's sometimes suggested that a ground wire from the inverter be connected directly to the vehicle's frame rather than to the battery.
Follow the instructions provided by the camper inverter manufacturer.
Quick Recap
Inverters produce constant voltage from the AC supply.
Do you require a camper van inverter? Yes, if you have delicate 240 equipment on board. No, if you're all 12/24 volts.
The best inverters are designed to match your unique power demands. It's not true that one size fits all.
Modified sine wave inverters may cause issues. Pure sine inverters are ideal for "grid quality" power.
It's critical to understand your campervan's power demands.
Installing an electrical power inverter demands special attention, skill, and knowledge. Hire or consult a professional if necessary.
Cable diameter, fusing, grounding, installation location, mounting, and other factors are crucial to the safety and performance of your inverter.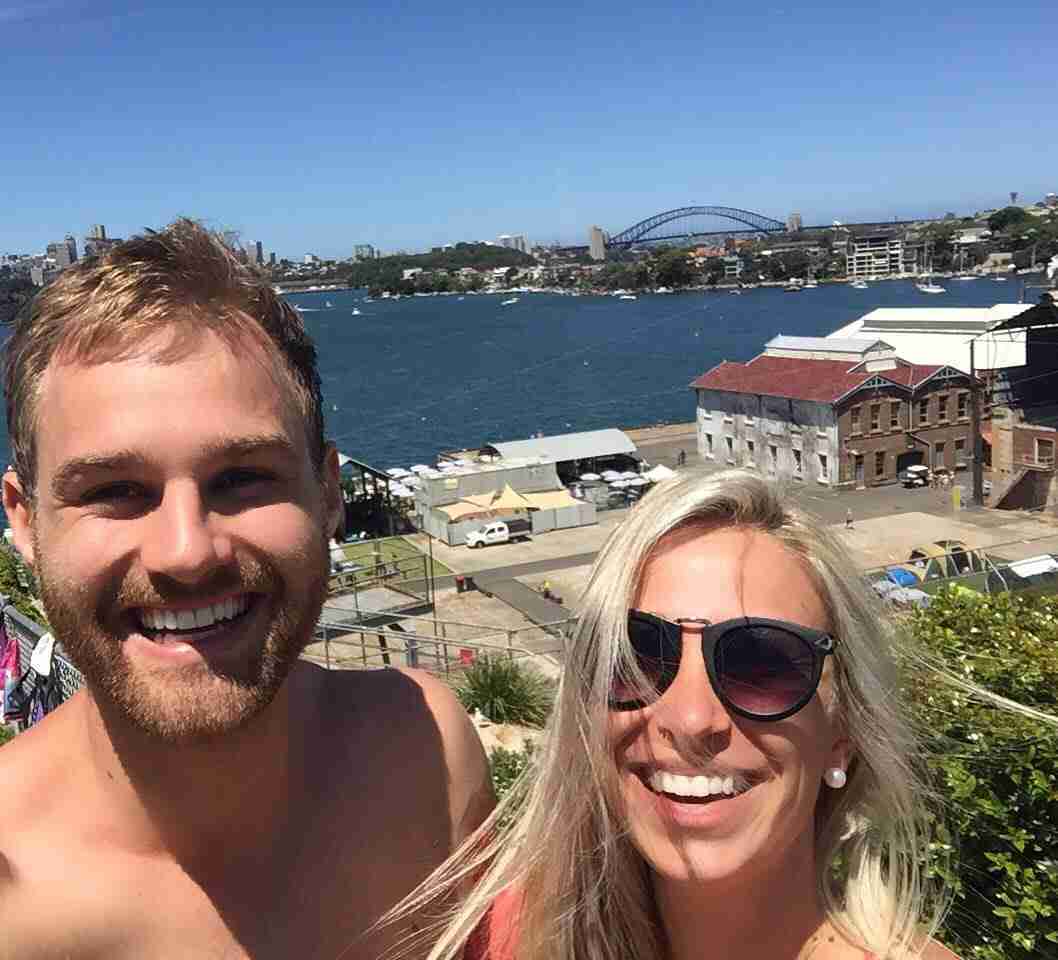 Wade & Dani
Hi! We're Wade and Dani, We're currently travelling around Australia in our 2017 Mercedes Sprinter Camper van and sharing our best experiences, stories, reviews and adventures as we go along. Make sure you follow us on Instagram @wadeanddani