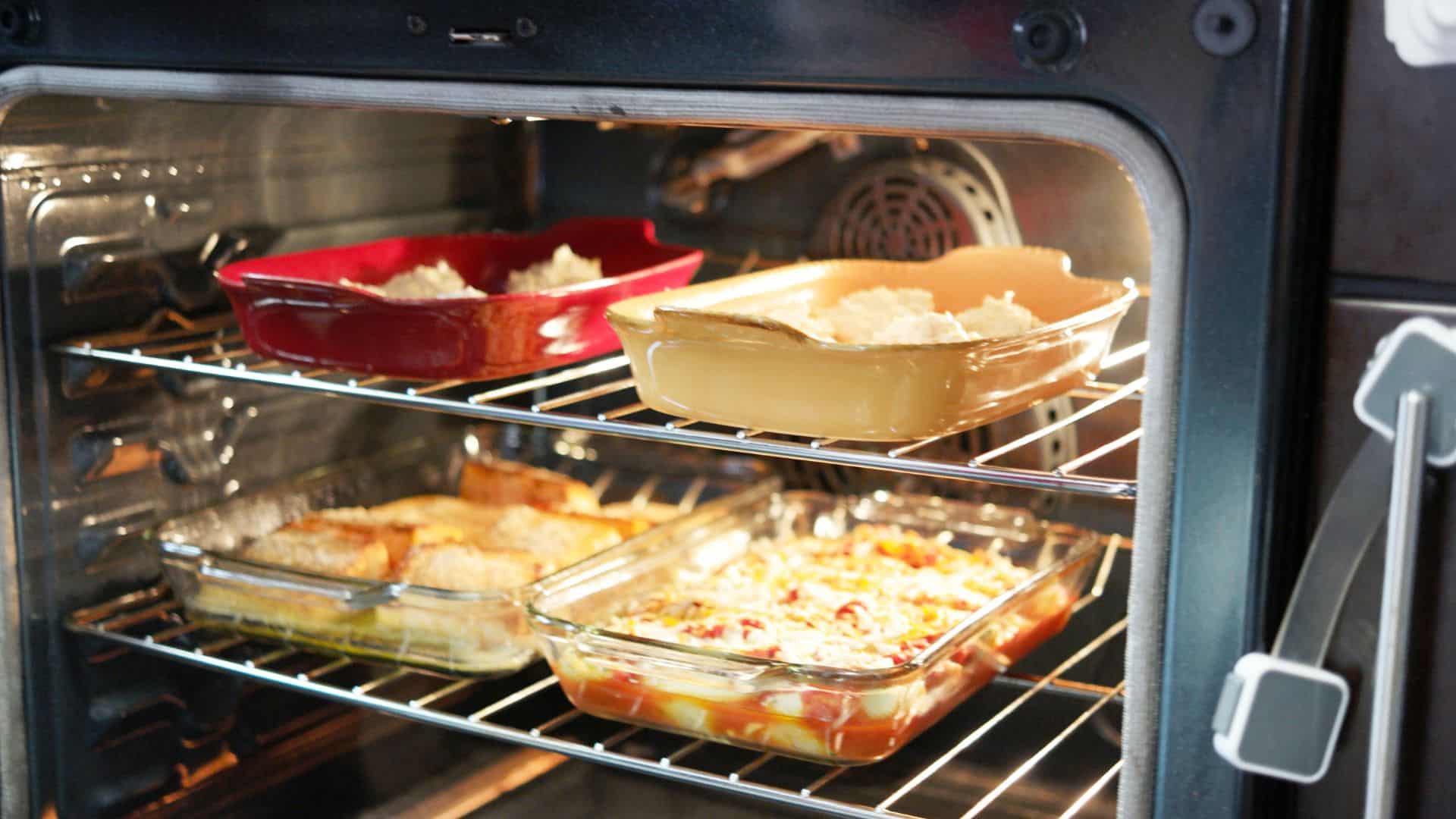 Top Seven Caravan Ovens You Can Buy Today | Round-Up Guide (2023)
This post was updated on: September 1, 2023
Are you looking for an efficient, durable, and stylish caravan oven? You've come to the right place.
Here, we'll round up the top seven caravan ovens you can get in Australia today so that you can improve your cooking experience whenever you are. Let's get started!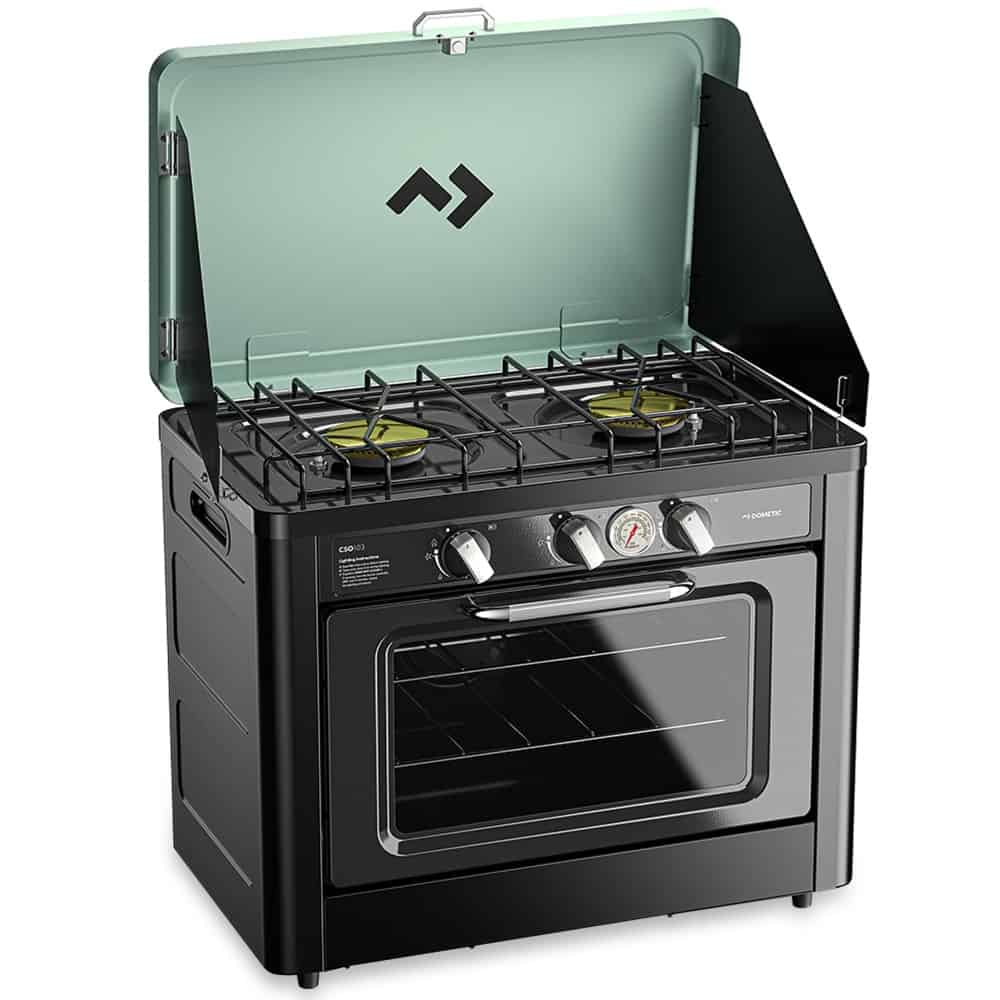 The Dometic CSO103 is our top pick for many reasons. First, it's a portable gas stove/oven you can place almost anywhere without any issues. This product was built for outdoor usage and uses robust powder-coated, pressed-steel construction, as well as recessed carry handles so that you can move it around easily.
Now, what makes the Dometic CSO103 useful? Let's go over all of its features.
First of all, it has two burners and an oven. The burners have a high heat output of 1.5 kW, whereas the oven has an output of 1 kW, which is more than enough for most cooking needs. 
Another factor that makes this product special is that it comes with a three-sided windshield, which isn't too common in the market. The windshield will protect everything you're cooking against external elements. When you stop using the windshield, you can double them as a lid and move on.
As for the ignition, Dometic features push-button Piezo pieces. These will allow you to light your burners or oven within seconds. Also, each button is clearly labelled, so you won't have any problems figuring out your settings.
Finally, we have the clean-up. The Dometic CSO103 makes it much easier for you since it features a non-stick enamel cooking surface. Once you're ready to clean, rest assured you won't take more than a few minutes.
Keep in mind you can use this product with a gas hose, regulator, and POL connector to your gas bottles. In most cases, you will be able to set everything up fast enough.
Even though the Dometic CSO103 looks small (and it is), it packs a lot of power you will find useful in any cooking setting you use it in. Its stylish design, features, and accessible price are what put this product at the top of our list as our favourite one.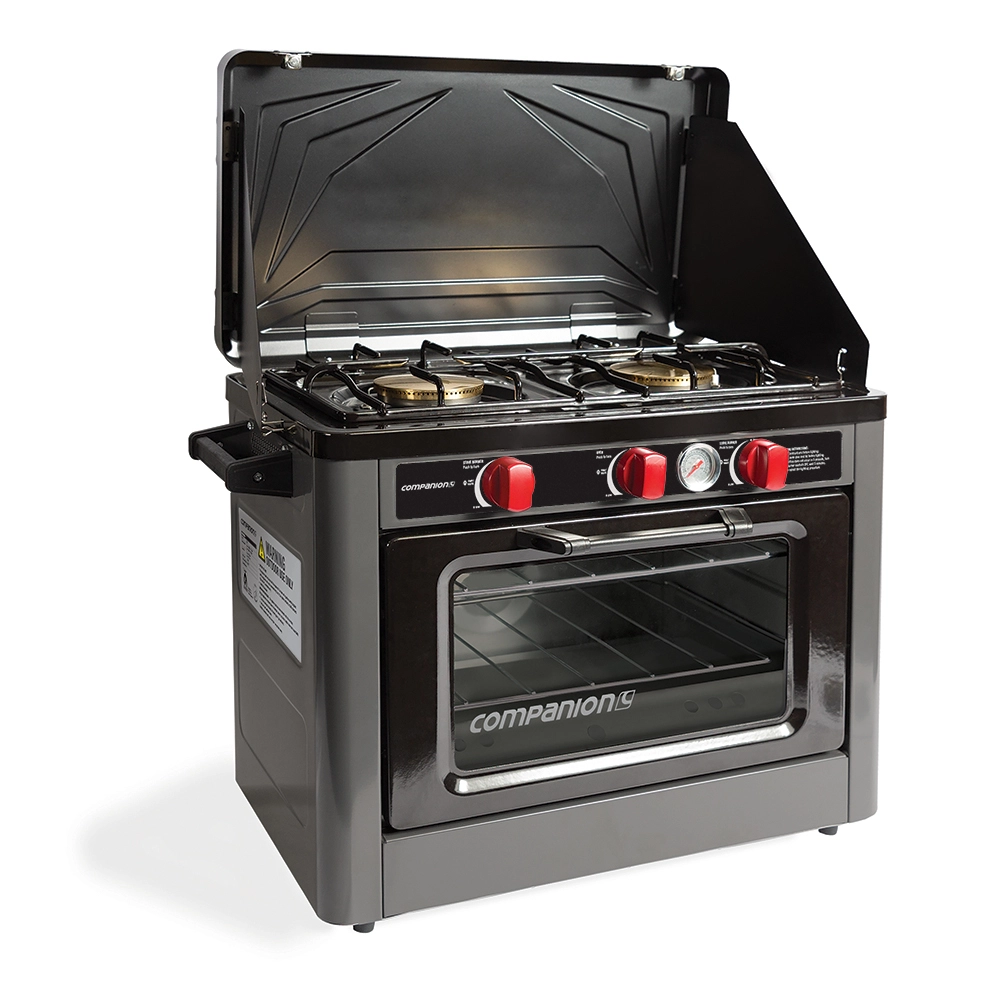 If you're looking for something similar to the Dometic CSO103, this option may be right for you. As with the previous product, the Companion gas oven/cooktop is small but features about everything you would need to have an excellent outdoor cooking experience.
Overall, this product features a stainless-steel construction. While it's not as "premium" as what the Dometic CSO103 offers, it still does the job. The output on the oven is 1.05 kW, whereas the output on the cooktop burners is 3.10 kW combined, meaning you'll get about 1.55 kW in each burner.
One of the factors that make this product efficient is its temperature-resistant porcelain material, which can be heated up to 250 °C. Moreover, it features a flame failure device inside the oven, which will help stop the gas flow to your burner if you extinguish your flame for any reason.
This product features similar easy-start Piezo ignition, although the dials have a different red design. Although that feature may not pose a problem for most people, some enjoy matching their camping ovens to their caravans!
The Companion portable oven weighs approximately 15 KG, which makes it considerably easy to move around. 
Something that makes this product special is that its "Low Pressure" design makes it perfect for caravan use, so you can rest assured you'll have a great experience each time.
In most cases, this product is slightly more expensive than the Dometic CSO103, which also offers amazing performance for its price. Still, you may be able to find some deals for it if you know where to look.
This is an, overall, great caravan oven you can get in Australia if you have the money for it. While its design may not be as appealing as others, it does a great job whether you're using the oven or the cooktop.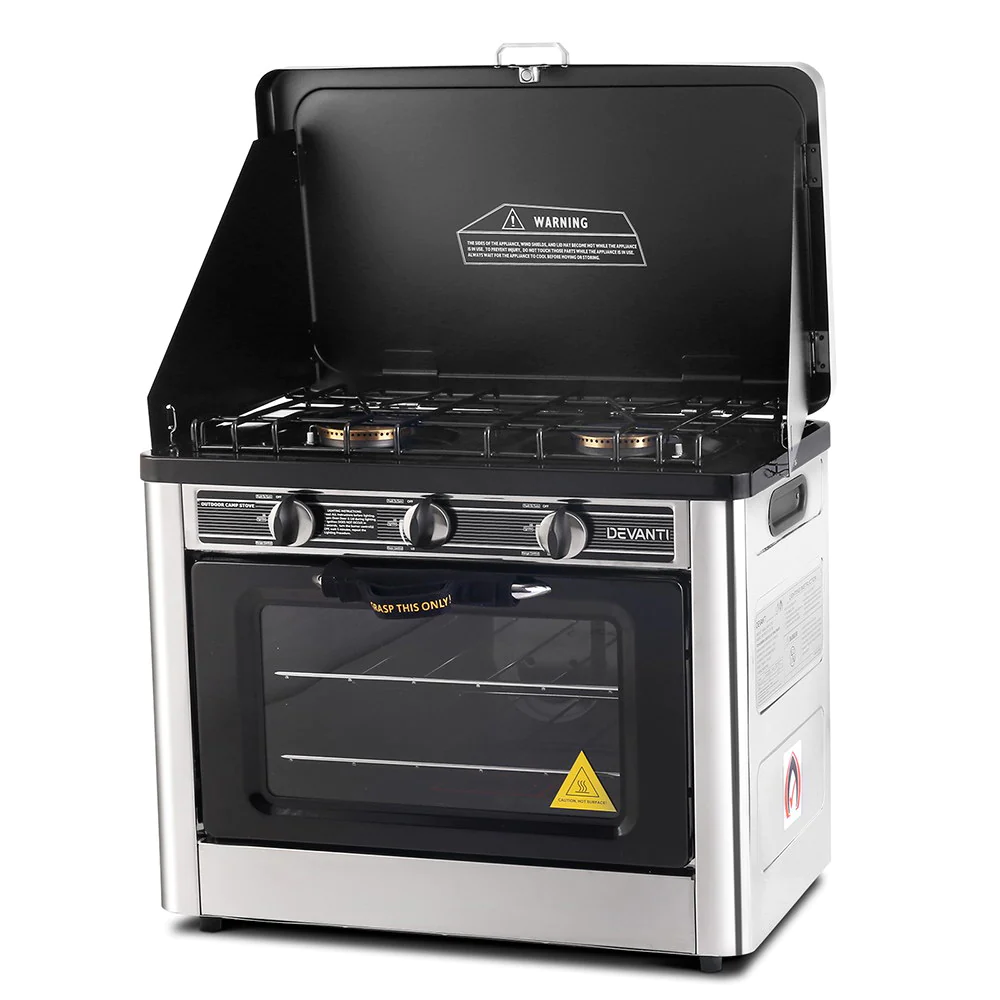 The Devanti 3-burner portable oven is a great alternative for people who are willing to pay extra money. At first glance, you might say it's almost the same as the Dometic CSO103 – the top product on our list. However, there are slight differences in design that may make this product more or less appealing to you.
This product provides a similar power to the Companion oven, with 1.55 kW per burner and 1.02 kW for the oven. Something interesting about this oven is that it features a unique, insulated cloth sleeve design, which is exclusive to the Devanti brand.
The oven certainly looks premium-quality, which isn't something that you could say about the Companion alternative. Still, not everyone chooses their oven based on its design.
Devanti's oven also features a three-sided windscreen that you can fold/unfold whenever you consider it appropriate. Also, Devanti added convenient carry handles to its oven, which will allow you to move it around easily.
A great thing about this oven is that it includes a removable thermometer, so if you don't like how it looks (or don't need it) you can easily store it somewhere else. 
As for the oven area, it comes with flame-out protection, an insulated box, and two removable racks. You will also find push-in Piezo ignition for the burners and fully-adjustable, heat-control dials for more comfort.
Similar to the Dometic CSO103, the Devanti oven comes with a non-stick enamel cooking surface, which will allow you to clean everything within a couple of minutes with ease.
Overall, the primary downside to this product is its price; it's much higher than the previous two products on the list. However, it has a unique design that many people will appreciate and excellent performance, so if you're willing to spend that extra money, we highly recommend you get this caravan oven.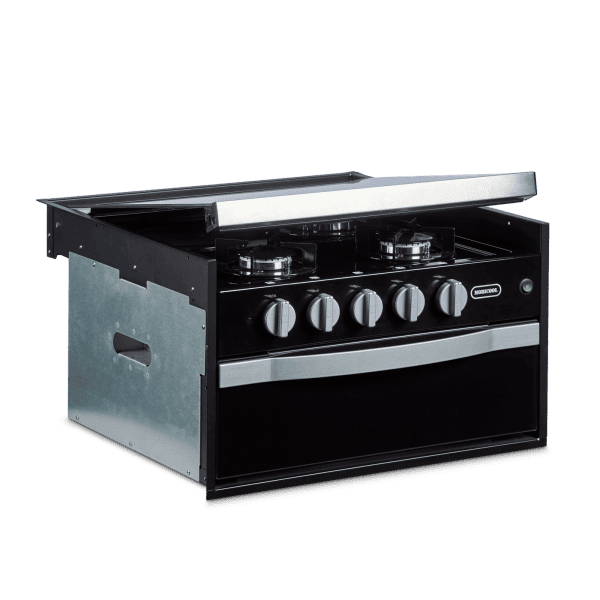 The following product on this list is also from Dometic, and it's one of the best ones you can get if you're also looking for a grill to enhance your cooking options. Even though it can look intimidating at first, rest assured that it's easy to use.
As you may have assumed by the product's name, what makes it unique is that it features a grill and that it's a gas/electric oven. All of the gas burners come with flame failure devices, meaning you won't have any problems whenever you're cooking.
Moreover, this oven features enamelled burner caps, detachable pan support, and a wide range of adjustability settings that will allow you to get your experience to the next level. 
If you want to extend your benchtop, you can use the integrated glass lid that comes with the product.
If you close the lids while the burners are still being used, the safety cut-off feature will automatically extinguish the flame, which is convenient for those who often forget to turn off their flame.
As with the other Dometic product on the list, you can expect a non-stick enamelled surface that will allow you to clean everything up easily. Even though it may not be as easy to clean as the Devanti or the Companion oven, it won't pose any problems.
In essence, the Dometic MC102 is for those who are looking for a few extra features in their caravan oven. However, keep in mind that the extra features also come with a higher price; this is one of the most expensive products on this list, so it may not be suitable for all budgets.
If you don't need a grill that much, then the Dometic CSO103 is an excellent option you will find at almost half the price of this product, so you will be saving a lot of money. On the contrary, if you're specifically looking for a grill you can use outdoors, then this is as good as it gets.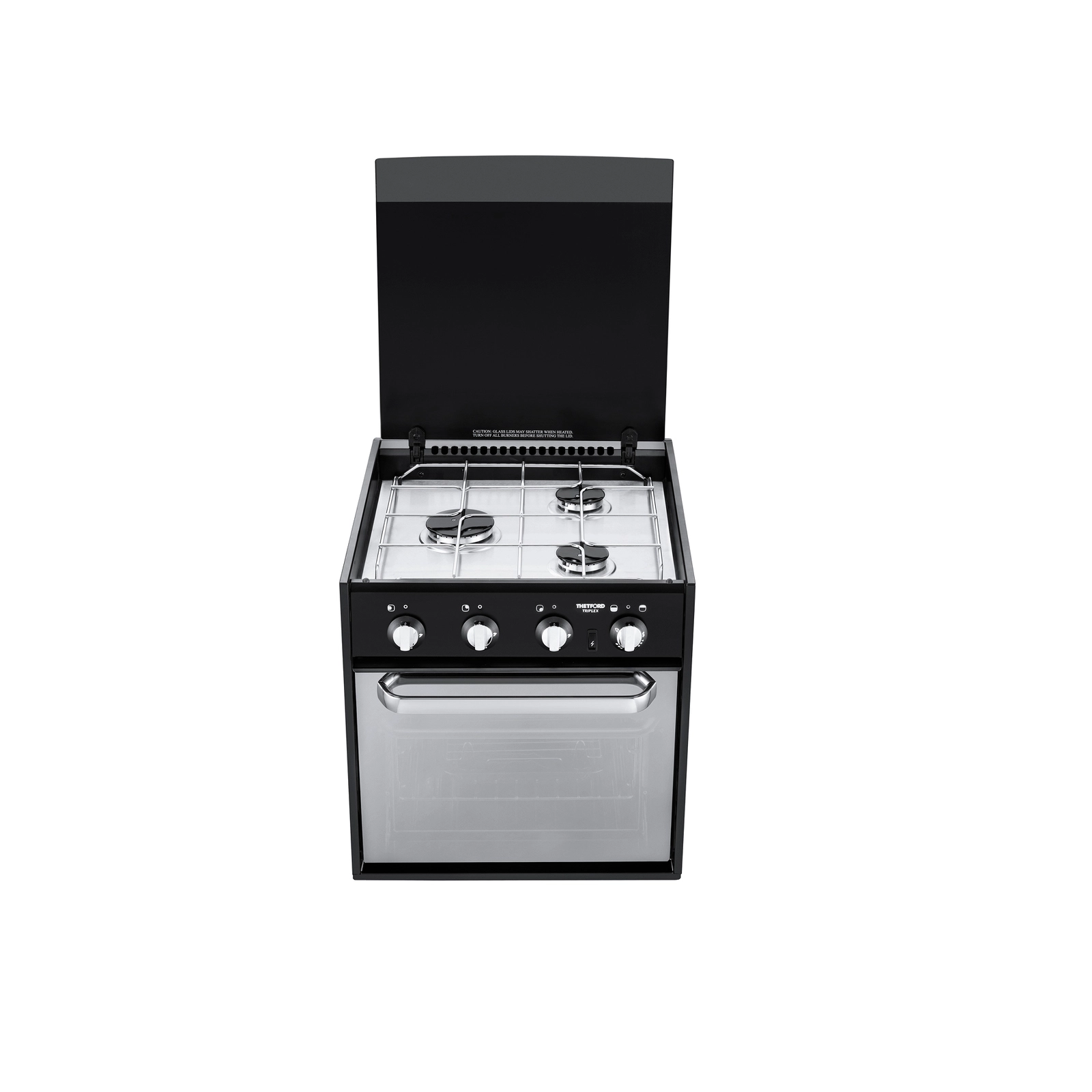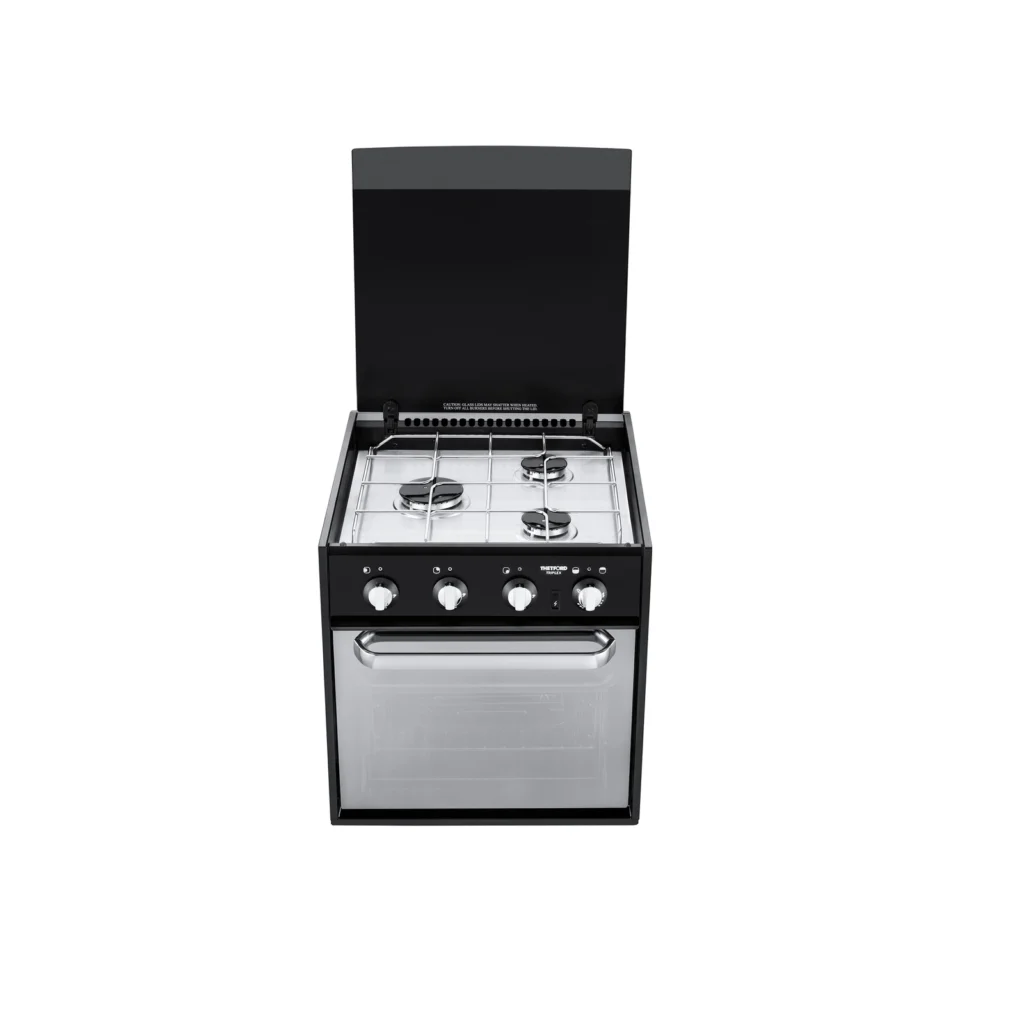 The Thetford Triplex is slightly similar to the Dometic MC102 in terms of features, but it comes with a different design and dimensions. 
As Thetford claims, this product gives people all the features they may possibly need to make excellent, high-quality meals wherever they are. You can expect three hotplate burners, a gas rapid burner, and flame failure devices on all valves for extra safety.
Similar to the Dometic MC102, the Thetford Triplex comes with a glass lid that you can use to shut off the burners automatically.
Other features you may find useful from this product include an oven shelf, a multifunctional pan, and detachable handles/pan trivets. We consider the oven in the Thetford Triplex to be slightly higher than the Dometic MC102, which may give you an advantage when baking some meals.
Now, keep in mind that this is a gas-only product, which is a disadvantage when compared to the Dometic MC102. The latter is both a gas/electric appliance, which gives you more flexibility when cooking. Still, this shouldn't be that much of an issue for most people.
Another factor that may make the Dometic MC102 more appealing to this one is the price. Even though the Dometic MC102 has that extra "electric" feature, it's still more affordable than the Thetford Triplex.
Moreover, keep in mind that this product weighs 21.5 KG, making it one of the heaviest ones on this list. 
If you're looking for premium-quality materials and components, a stylish design, and everything you need to cook on the go, then this could be a reasonable investment to consider. Otherwise, you may want to consider other products from this list instead to find something according to your budget.
6. Road Chef Big Bertha 12v Oven (Best 12v Oven)
The Big Bertha from Road Chef is one of the most impressive products from the brand's line-up. It's the best 12V oven we've ever tested, and we believe it can help you take your cooking to the next level.
Overall, this product comes with two elements: the top element and the bottom element. You can use anyone you want, or you can use both simultaneously. The top element is better for meals like nachos, and the bottom one is better for things like biscuits.
Now, if you want to make the most out of Big Bertha's cooking power, you can use both elements at the same time and cook larger meals, including roasts and other types of meats.
Something amazing about this product is that it gives you 13 litres of oven capacity, which is almost twice what other Road Chef products offer.
Another great feature about the Big Bertha is that it's fully insulated, so you can touch the outside of the oven without any problems even if you're heating at 180°C. Moreover, since the machine doesn't need ventilation, you can recess it into a shelving system or cupboard.
The one thing that may make this product less appealing than others is its design. Even though it doesn't look bad, it isn't anything special either. 
However, the Big Bertha makes up for that with its impressive power and affordable price. If you're on a budget, this product is a great option to consider.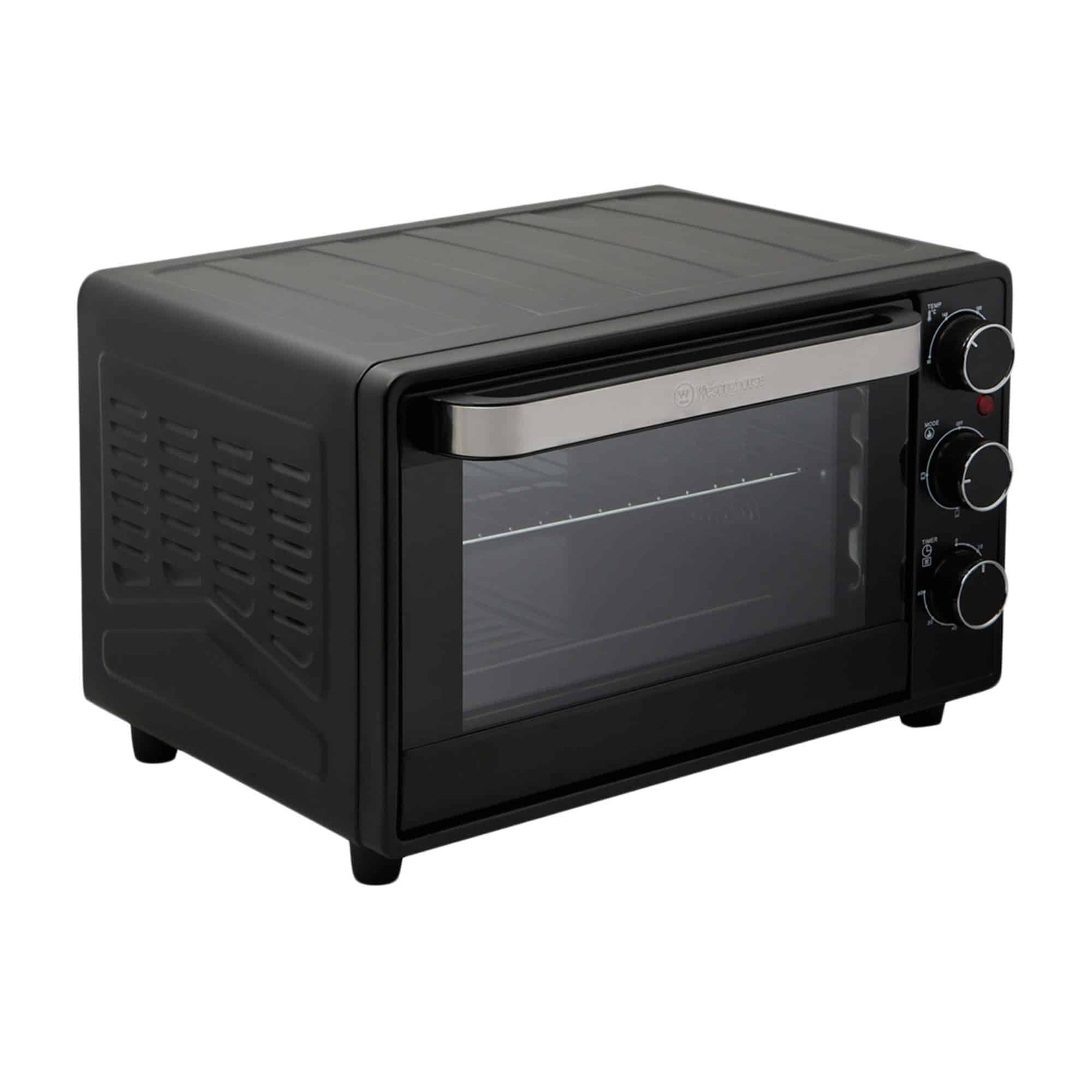 Finally, we have the Westinghouse oven. This is the best product for those who are on a tight budget, as it's the most affordable one on the entire list.
However, since it's the most affordable product here, it's also the one with the least features. It comes with an extended and rounded rear cavity design, and the machine itself is made of stainless-steel materials.
Westinghouse gave this product a double-layer glass for more safety and a convection fan for fast and even cooking. As the company's description for this product says, you can fit food as large as a 12" pizza. Considering its size and price, we'd say it's more than reasonable.
A great thing about this product is that it offers temperature control up to 230°C, which may make things more convenient for certain meals. Moreover, you can expect multiple element selection features to make your cooking easier. The three dials the product comes with are more than enough for most people.
Since this product is much smaller than others on this list, you can easily store it anywhere you want, and setting it up will be much easier. Finally, you can rest assured that the cleaning process for this oven will be as easy as you expect it to be.
The Westinghouse 26-litre oven is perfect for those who don't want that many features for their oven and rather prefer something simple but powerful.
Final Words
We hope you found this round-up guide useful. Regardless of which product you decide to get from this list, rest assured you'll always receive top performance and amazing results whenever you cook!
Buying Guide to Caravan Ovens
When buying a caravan oven, there are many factors to consider. Whether you're a seasoned caravanner or a first-time buyer, choosing the right oven can make a big difference to the quality of your meals on the road. In this guide, we'll take a closer look at some key considerations when buying a caravan oven to help suit your camping lifestyle.
Size and Capacity
One of the first things to consider when buying a caravan oven is the size and capacity of the unit. Caravan ovens come in a range of sizes, from compact models designed for small spaces to larger models that can accommodate bigger meals.
Before you start shopping, measure the space in your caravan where the oven will be located to ensure you have enough available space.
In terms of capacity, consider how many people you'll be cooking for and how much food you typically prepare. A smaller oven may be sufficient for a couple or small family to bake bread and small meals, while a larger oven may be necessary if you often entertain or cook more elaborate meals.
Power Source
Another important consideration is the power source for your caravan oven. Some models run on gas, while others run on electricity. Gas ovens are more popular for caravanning, as they don't require a mains electricity supply and can be used off-grid. However, electric ovens may be more convenient if you already have a mains hookup or solar power setup.
It's worth noting that gas ovens can be more difficult to control the temperature of, as they rely on a gas flame to heat the oven. On the other hand, electric ovens tend to have complete control over the temperature, making it easier to cook food evenly.
If you already have other gas appliances, you may still choose a gas oven.
Features and Functions
The features and functions of your caravan oven can make a big difference in how useful and convenient it is. Some of the features to look out for include the following:
Multiple burners: If you plan to use your oven for cooking multiple dishes at once, look for a model with multiple burners or hobs.
Grill function: Some ovens come with a built-in grill, which can help cook items like toast or brown the tops of casseroles.
Fan-assisted cooking: Fan-assisted cooking can help to distribute heat more evenly throughout the oven, which can help cook dishes like cakes or pastries.
Automatic ignition: An automatic ignition can make it easier to light your oven without needing matches or a lighter.
Timer: A timer can be a helpful feature for ensuring your food is cooked for the correct amount of time.
Price
Of course, price is always an important consideration when buying equipment for your caravan. Caravan ovens can vary widely in price. As with any purchase, it's important to find the right balance between price and quality. While a cheaper model may be tempting, it may only last for a short time or perform as well as a more expensive model.
Brand and Reputation
Finally, it's worth considering the brand and reputation of the caravan oven you're considering. Look for models from reputable manufacturers with a track record of producing quality products.
Read online reviews and ask other caravan owners for their recommendations to get a sense of which models are the most reliable and perform the best.
In conclusion, choosing the right caravan oven requires careful consideration of a range of factors, from size and capacity to power source and features. By taking the time to research and compare different models, you can find an oven that meets your needs and helps you enjoy delicious meals on the road.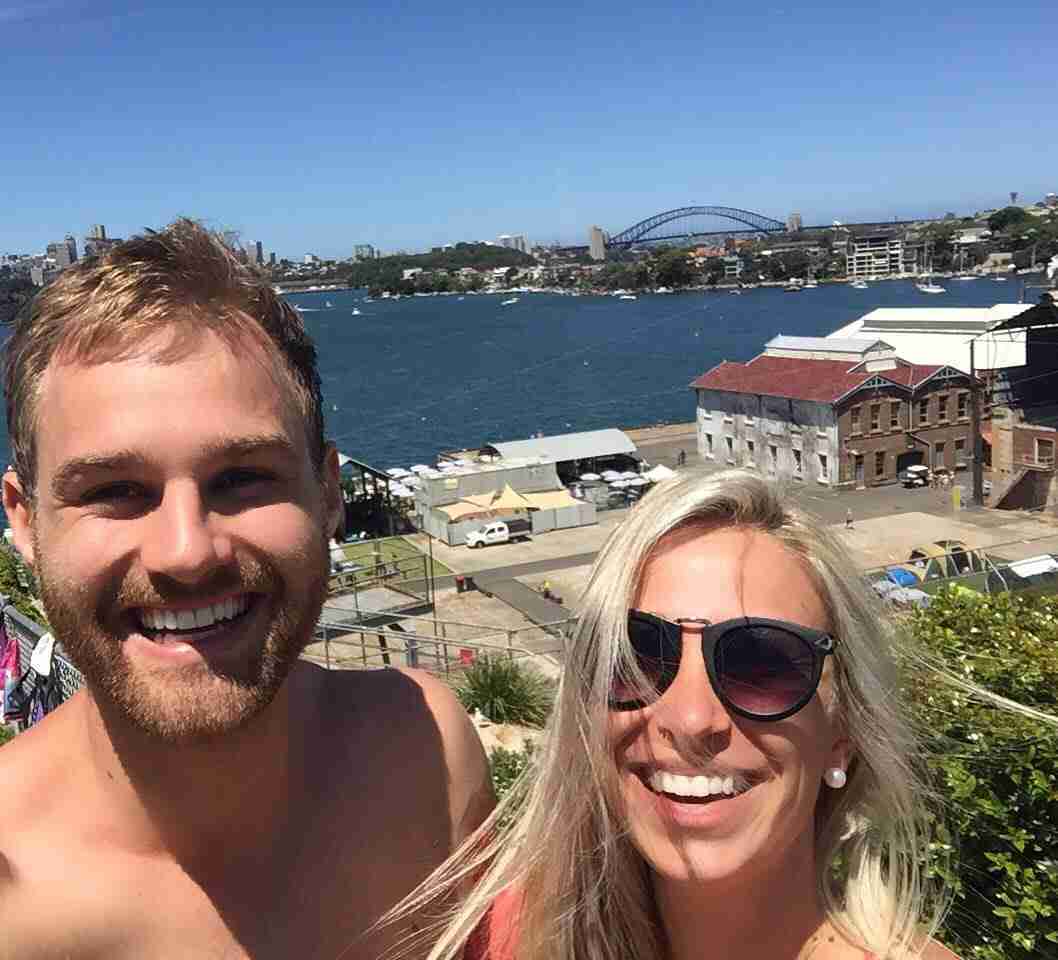 Wade & Dani
Hi! We're Wade and Dani, We're currently travelling around Australia in our 2017 Mercedes Sprinter Camper van and sharing our best experiences, stories, reviews and adventures as we go along. Make sure you follow us on Instagram @wadeanddani