Top 5 Best Caravan TV Antennas in 2023
This post was updated on: September 1, 2023
Do you have trouble getting a signal on your TV?
Nothing is more annoying than having trouble watching your favourite shows. Here is the best caravan TV antennas article that will help you, and you'll never have to worry about a shaky connection again.
There are many different types of TV antennas, each of which brings various benefits. Some have a better frequency range, and others are more durable in different weather conditions. We've picked five TV antennas so you can choose the best one for your caravan.
Key Points
The King Jack Outdoor DTV Antenna is the best overall pick for a caravan TV antenna, as it is durable, has a built-in amplifier, and can be rotated 360 degrees for optimum signal.
The Milenco Power 900L Antenna is the best pick for value, as it offers a 3-year warranty and great performance in low-signal areas.
The Camec Foldaway Antenna is the budget pick, as it is compact and lightweight with an easy installation process.
The Majestic UFO X Omni Mini antenna is the best mini pick as its small form factor does not compromise on quality or power.
Winegard H/V Antenna rounds out the list as the easy installation option that also provides HD reception quality.
| | | | | | |
| --- | --- | --- | --- | --- | --- |
| | | | | | |
| | | | | | |
| | King Jack Outdoor DTV Antenna | Milenco Power 900L Antenna | | | |
| | | | | | |
| | | | | | |
| | | | | | |
| | | | | | |
Our Top Pick: King Jack Outdoor DTV Antenna
King Jack has suddenly appeared on the market with a selection of high-quality yet reasonably-priced antennas for your caravan TV.
The company takes great pride in producing things that last. This antenna is robust, waterproof, UVF-resistant, and rust-resistant, making it ideal for harsh climates. Compared to its competitors, the price also makes this the best camping tv antenna for caravans.
King Jack demonstrates that connecting to digital tv stations is relatively simple anywhere. This TV antenna can support VHF and UHF transmissions. It also has an amplifier built in to improve your TV connection.
It is the perfect antenna for RVs, residential use, and caravans. This motorhome TV antenna is up to 70% smaller than conventional RV antennas and has an aerodynamic shape that reduces wind resistance. You can rotate the antenna 360 degrees to get the optimum signal, and it even has a universal antenna bracket.
Replacing your old unit is simple with a King Jack antenna, no matter how thick your roof is. The reviews are excellent, and according to previous customers, this caravan antenna is the best since it is simple to set up and captures signals without effort.
Another advantage of King Jack is that it will replace previous Winegard components. Since Winegard antennas are significantly more expensive, you may save a lot of money if you're on a tight budget.
King Jack is the best TV antenna for caravans – not only does it have a great price, but it also offers the best and latest options for your caravan TV with maximum reception, and you can travel with it anywhere. Consider this excellent antenna and improve your caravan trip with your favourite show or program.
Advantages of Using King Jack DTV Antenna
Universal pole mounting bracket.
It has multiple functions – for caravans, home residences, and RVs.
Wind-resistant and highly durable.
Best for Value: Milenco Power 900L Antenna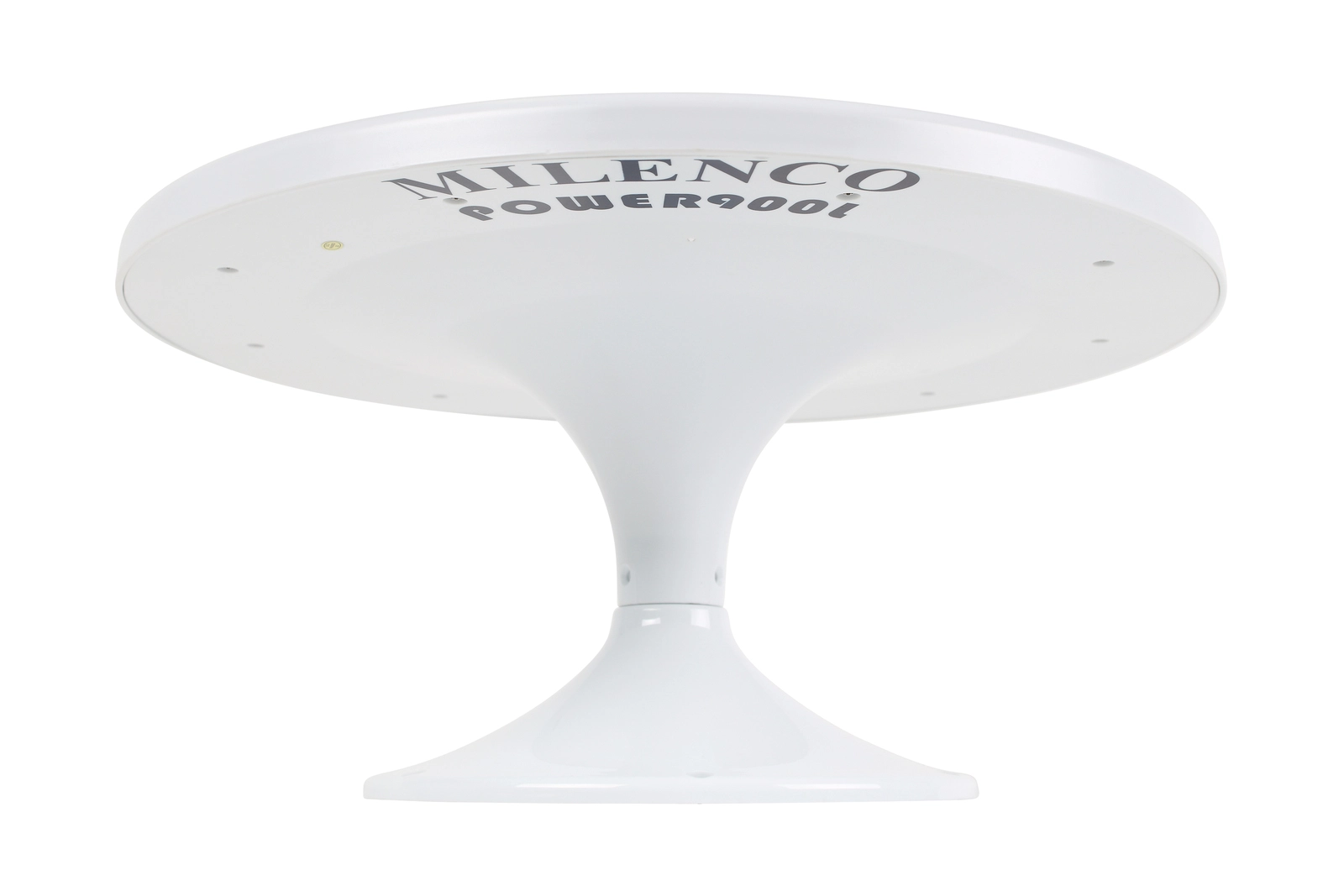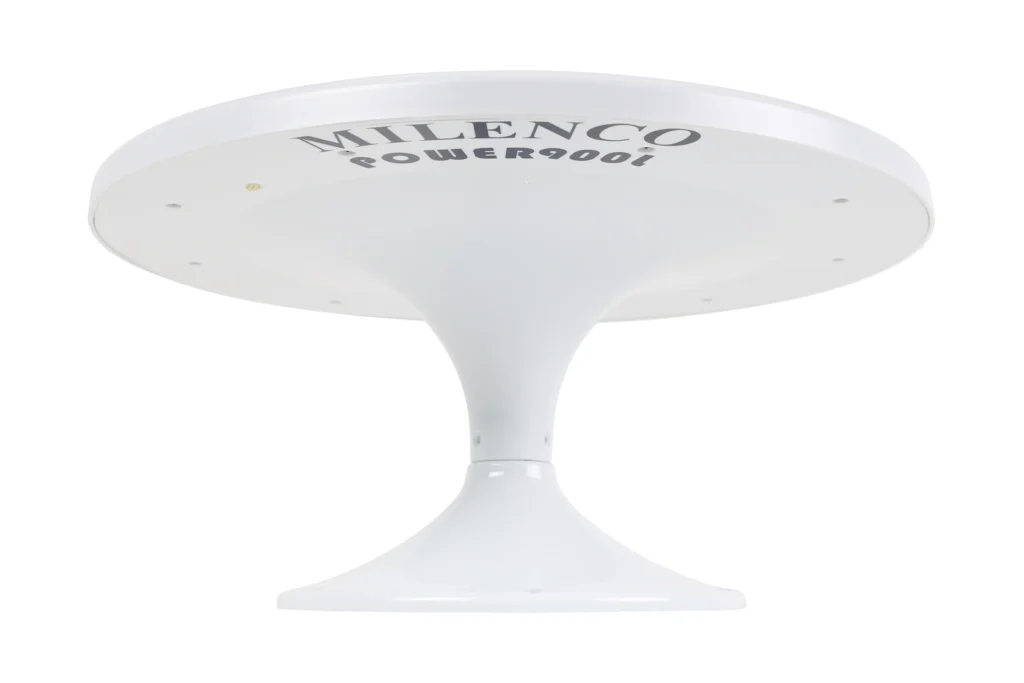 The Milenco Power 900L antenna is one of the best TV antennas for your caravan. With a remarkable 38 dB gain, this is one of the most powerful and vital omnidirectional antennas ever created for a caravan. The only difference between this and the Power 900 is a 7-25 cm lower height.
The Power 900L has earned a remarkable reputation for superb performance in isolated low-signal locations, such as the outback portions of Australia.
This antenna is built to outperform almost all other antennas. If you are usually on a campsite and are having trouble getting a decent signal, simply having a caravan with a Milenco Power 900L Antenna should improve its effectiveness.
The antenna will automatically rotate, elevate, and lower for you, making it handier than directional antennas. Thanks to its integrated high gain and low noise signal amplifier, you will receive the most transparent signal for all local digital channels and radio stations. 
While the previous antennas could interfere with the 4G mobile phone network, the Milenco Power 900L Antenna is compatible with 4G. It has a large base, and you can use it to cover the mounting holes of an old antenna. All you need to do is retune your TV to pick up all nearby channels.
The Milenco Power 900L antenna is constructed from sturdy UV-resistant ABS plastic and stainless-steel screws to withstand the harsh Australian weather. Even the most inexperienced leisure traveller may easily set up and use the device thanks to its straightforward installation procedure.
It is relatively small—32 cm in height and 48 cm in diameter— and leaves plenty of room on top of your mobile home for solar panels, air conditioners, and other necessary accessories.
Advantages of Using Milenco Power 900l Antenna
One of the most effective omnidirectional antenna. 
Excellent reception in remote low-signal places.
360 omnidirectional reception – no necessity to spin the aerial.
Our Budget Pick: Camec Foldaway Antenna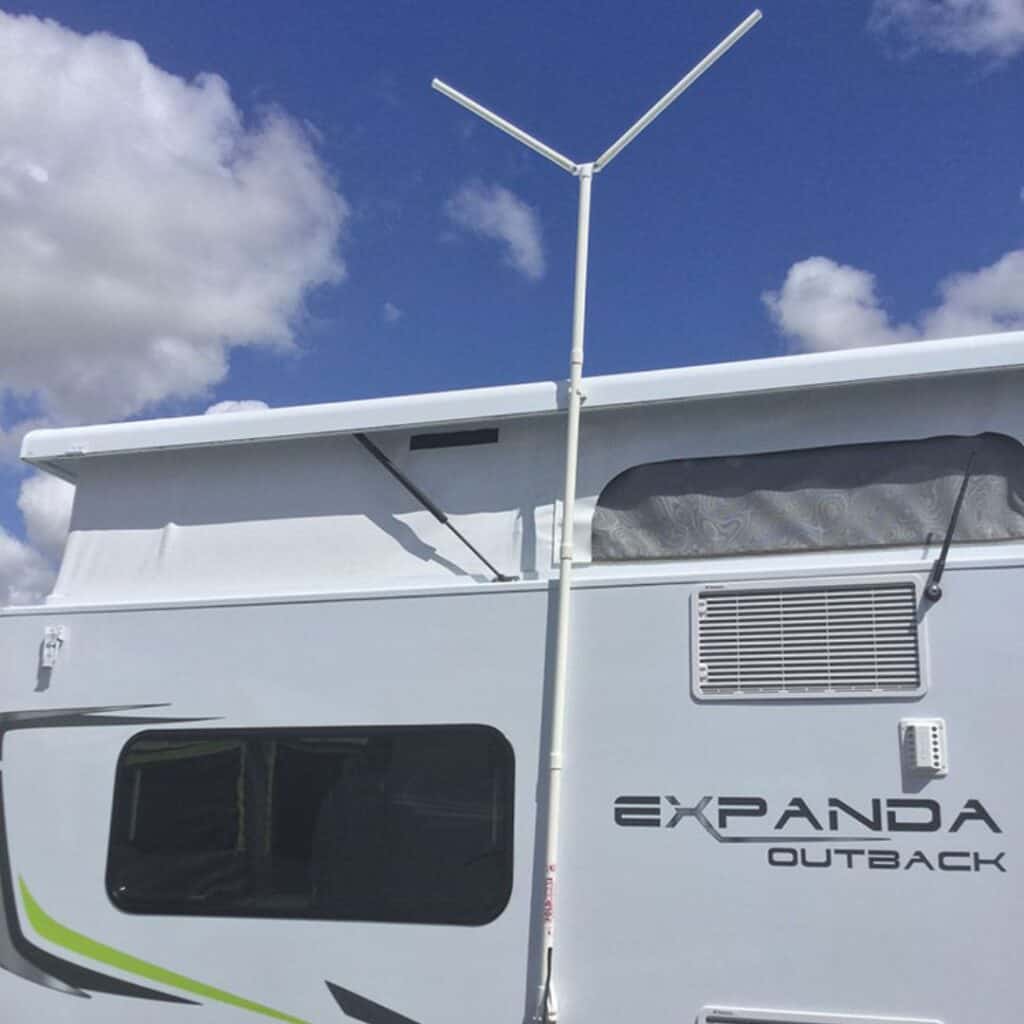 The Sunshine Coast-based business is aware of the demands of its target market, so the Camec Foldaway antenna is built in Australia, which is one of its most remarkable attributes. Due to its simplicity, this mobile antenna may be the perfect choice if you intend to live off the grid.
However, because this isn't its antenna's strongest point, you might want to invest in something more sophisticated if you visit a conventional campground and remain there for a week or two.
The Camec Foldaway Antenna folds up rapidly to fit in the included travel tube and is relatively small. It also contains brackets and cables ready to be installed on the exterior of your caravan or camper van. Because the mounting brackets on this type are lower than those on the standard model, it provides more height. The antenna also has co-axial fittings used on the cable ends.
It has a two-meter cable and can capture horizontal and vertical signals from digital and analog grids. In addition to other antennas on this list, it is also relatively lightweight, making it very easy to move around and install.
The Foldaway antenna is one of the better caravan TV antennas that is very compact and lightweight and easily collapses to fit into the included carry tube.
Advantages of Using Camec Foldaway Antenna
Created for the Australian needs.
It folds up fast to fit the included carry tube.
Ready to attach cable and brackets to the camper's exterior.
Mini: Majestic UFO X Omni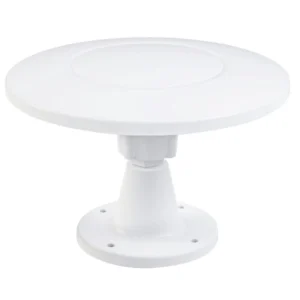 Suppose you are looking for a good antenna with a small form factor for a caravan. In that case, the Majestic UFO X Omni, is one of the best options, intended for use with worldwide analog and digital signals.
The Majestic UFO, with technology that is more than 10 years old, was improved upon by the Majestic UFO X. This X-model has made radical engineering improvements, enabling some of the best high-performance service delivery. Despite its modest 24cm diameter, it possesses the best gain of any TV antenna. Though it is tiny, it contains a lot of advanced technology.
Antenna performance on the UFO X has increased by 58% thanks to a 30dB High Gain Amplifier inside the antenna. This provides you with a substantial advantage over other TV antennas – since you now have a good signal in the unit that has not been subjected to interference when it received the signal. 
Additionally, because a powerful signal is delivered down the cable, any electrical interference is negligible. You don't need to conduct any filtering or cleaning once the signal is routed down to the junction to offer you outstanding reception.
The UFO X is made to be ground-independent to boost the TV signal, meaning it is not grounded or needs a ground plane. This makes the antenna ideal for use on boats or any non-metal roof.
Model X also enhanced the signal processing of the antenna utilizing cutting-edge components to provide you with both vertical and horizontal performance, which is required when traveling around Australia.
Advantages of Using Majestic UFO X Omni
Smaller and more powerful than the previous model.
30dB High Gain Amplifier.
Vertical and Horizontal locations.
Easy Installation: Winegard H/V Antenna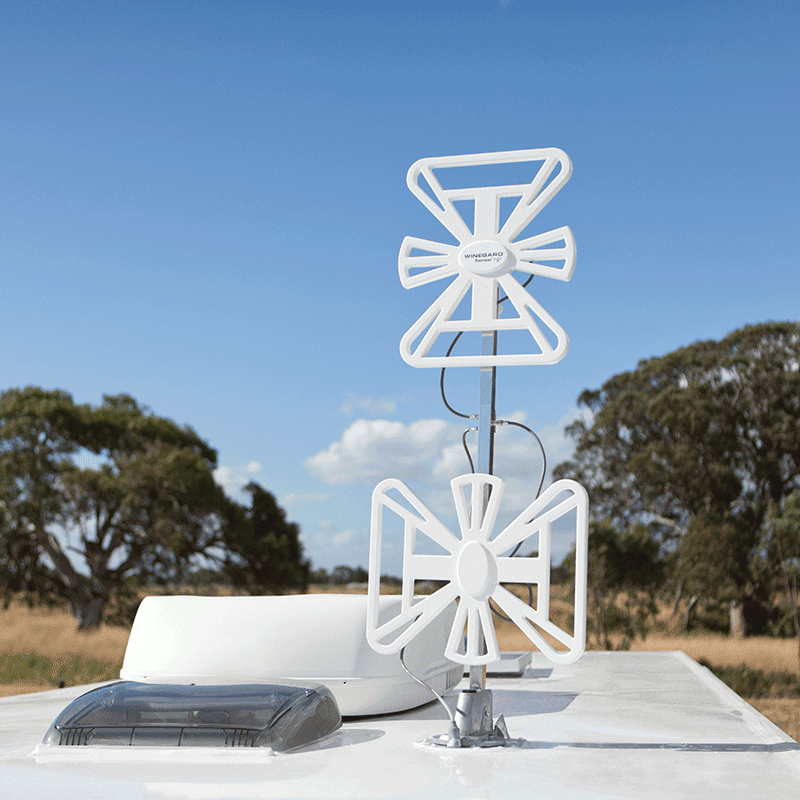 Winegard is well known worldwide for its engineering and design work on specialized antennas, mounts, and communication systems. The company has over 60 years of successful antenna design experience that has set the standard for dependability and quality.
You should be aware that this Winegard antenna requires installation on an existing pole. This deficiency is a limitation if you don't have one, but it serves as a more affordable and functional alternative to vintage Winegard and Antennatalk antennas.
Customers confirm that the materials' overall quality and signal are pretty high. It's also quite simple to install; you'll only need to fasten it to your current pole, and then launch it. Due to the bi-directional nature of this caravan antenna, you may receive both vertical and horizontal transmissions. 
You can pick up free-to-air networks to ensure you never miss a football game. The antenna also receives analog, SD, and HD transmissions, making it adaptable. It isn't hefty either, weighing little more than 3 kg. Unfortunately, it happens to be on the expensive side.
Before you spend $350 on the caravan TV antenna, be sure you need it. King Jack could offer more value for the money at a lower price.
Advantages of Using Winegard H/V Antenna
The antenna detects free-to-air channels.
Receives frequencies that are bi-directional.
Buying Guide to the best Caravan Antenna in Australia
A 12 volt caravan tv antenna is a very important purchase for anyone planning on doing a lot of travelling. After all, the antenna will pick up the signal for your television and allow you to watch your favourite shows as you travel down the road.
But with so many different types and brands of antennas on the market, how do you know which one is right for you? Here is a quick guide to help you choose the best caravan tv antenna.
Directional vs Omnidirectional
Caravan antennas can be directional or Omnidirectional. A directional antenna requires you to face the closest transmission tower. An omni directional antenna is the better type to have when travelling because it can pick up signals from all directions. The King Jack Outdoor DTV Antenna can pick up signals from all vertical and horizontal directions up to 80km away.
UHF/VHF
TV transmission towers in Australia can send out VHF or UHF signals. UHF stands for ultra-high frequency and VHF stands for very high frequency.
If you're watching high-definition TV, you'll use a UHF frequency. VHF is more likely to be used for standard definition.
Most antennas nowadays are designed to pick up both types of signal. However, when choosing between products, it is important to ensure you get what you want and need. Otherwise, you might not be happy with the product you choose.
Large cities in Australia generally use VHF frequencies while more isolated locations and smaller towns utilize UHF. In Brisbane, you will need an antenna that receives UHF and VHF signals.
Although VHF antennas are typically cheaper, a hybrid option will be more expensive but provide better service if you frequently travel to different areas.
Booster Or Amplifier
Your RV TV antenna at home is already set up to get the channels. But it can be hard to find a signal when you are moving, especially in areas with no cell service. This means your antenna will have to work harder.
If you want the best possible reception, we recommend using an antenna with a build-in amplifier or boosting your current antenna with a separate amplifier.
The King Jack antenna has an internal signal amplifier to ensure it gets the best VHF and UHF reception possible.
Frequency Range
The television channels you watch come through your set-top box using UHV or VHF transmissions.
VHF frequencies are common in big cities in Australia, but smaller towns and places that are far away usually use UHF frequencies. Because of this, the caravan TV antenna you buy should be able to receive both VHF and UHF transmissions.
Mounting & Installation
Another thing to consider is the simplicity of use and storage. Once you've decided on a place for your antenna, measure the length of wire you'll need. If you're buying online, make sure it comes with an installation guide and that it will be simple to mount.
While not in use, some antennas may fold or retract. Others may be readily unmounted and stored. Some are designed to have a low profile and do not need dismantling. Depending on the size of your caravan and the amount of time you use your television, one of the options above will suit you.
Budget
Finally, the cost will undoubtedly be a consideration. While antennas that are better in quality and have more features might cost more, they might also be more convenient and last longer.
If the model you want is too expensive, consider whether any of the features you have chosen are necessary.
If you want to save money, try reducing some features and compromising.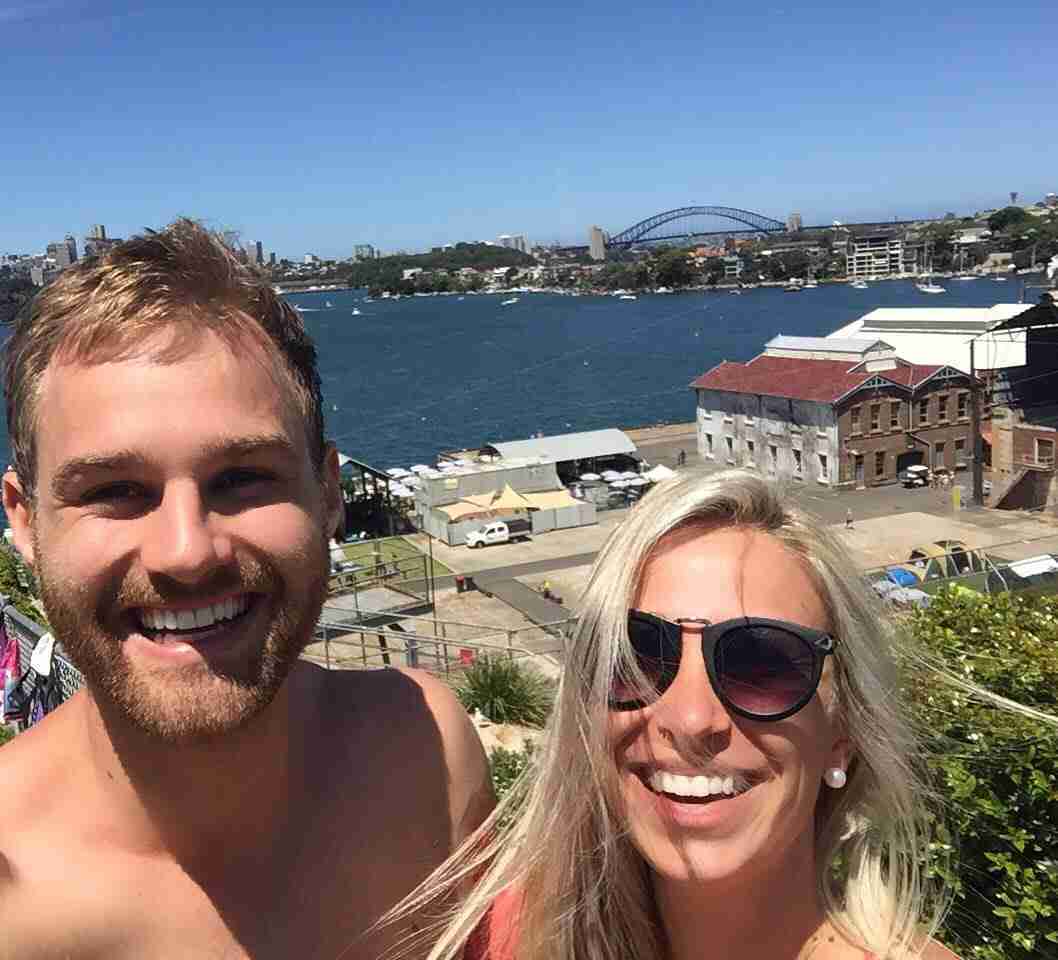 Wade & Dani
Hi! We're Wade and Dani, We're currently travelling around Australia in our 2017 Mercedes Sprinter Camper van and sharing our best experiences, stories, reviews and adventures as we go along. Make sure you follow us on Instagram @wadeanddani