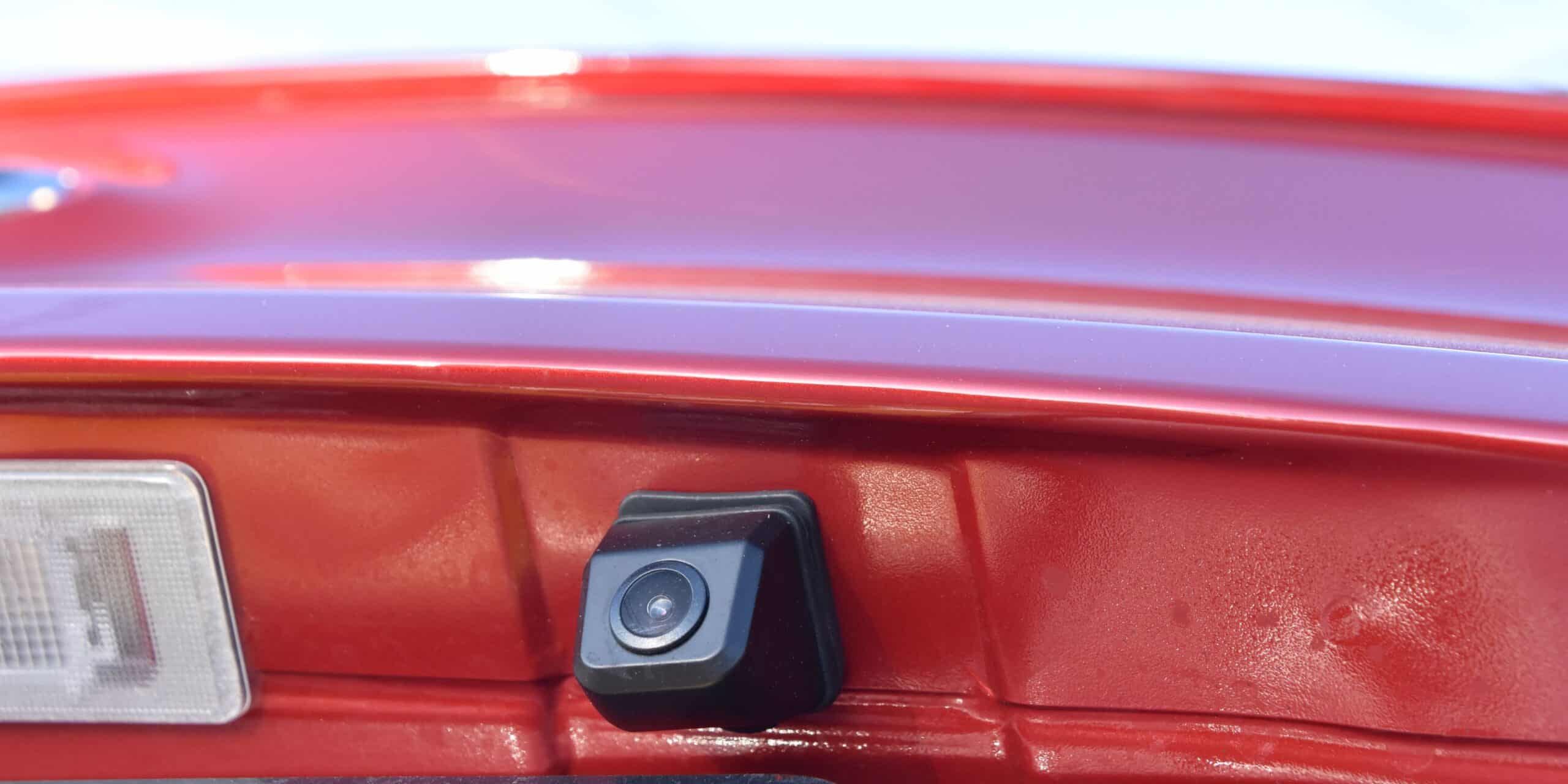 Best Reverse Camera for Caravans and Camper Vans
If you've ever been travelling in a caravan or camper van, you know how difficult it can be to reverse into a tight spot. That's why a reverse camera is an essential piece of gear for any caravanner. But with so many different models on the market, it can be hard to know which one to buy.
This blog post will give you a rundown of the best reverse cameras on the market, so you can make an informed decision when it's time to purchase one.
Our top pick is the Furrion Vision S Rear Vision Camera & 7-inch Display Kit for easy installation, large touch screen with anti-glare quality, making it great to use outdoors or in bright light conditions!
| | | | | |
| --- | --- | --- | --- | --- |
| | | | | |
| | | | | |
| | Furrion Vision S Rear Vision Camera & 7-inch Display Kit | Sphere Motorhome Reversing Camera Kit | Axis 5.6 Wireless Rearview Camera Kit | Dometic RVS 745 with 7 inch Display |
| | | | | |
| | | | | |
| | | | | |
| | | | | |
| | | | | |
| | | | | |
Furrion Vision S Rear Vision Camera & 7-inch Display Kit
The Furrion Vision S Rear-Vision Camera is an excellent piece of equipment. It's most likely one of the greatest caravan reversing cameras available right now.
The camera kit is one of the most technologically advanced units available. It uses a remarkable digital wireless technology with a range of up to 150 metres in open areas.
You can add up to four cameras to your wide 7-inch LCD screen, which gives you a broader view of your surroundings. Out of all the items in this guide, this is the most reliable and equally affordable for its features. You won't have to worry about significant wear and tear because these cameras are durable and waterproof.
Furrion includes a high-end LCD 7″ display with a resolution of 480×272. It sports a touch screen with anti-glare protection. That makes it simple to see everything surrounding your van as you are reversing.
Meanwhile, the reverse cameras use 720x480p resolution that provides crisp images to your screen. The display can be attached to the dashboard or anywhere inside your camper van.
It also provides rear assist line markers for when you reverse your caravan, which is a fantastic addition. This wireless reversing camera for caravans is undoubtedly one of the most effective ones on the market today.
The only issue is that it is a bit of a pricey system. The cost may be overwhelming for some at over $600. We believe that the quality and ease of installation make this camera worth the money.
It is covered by a one-year warranty.
Sphere Motorhome Reversing Camera Kit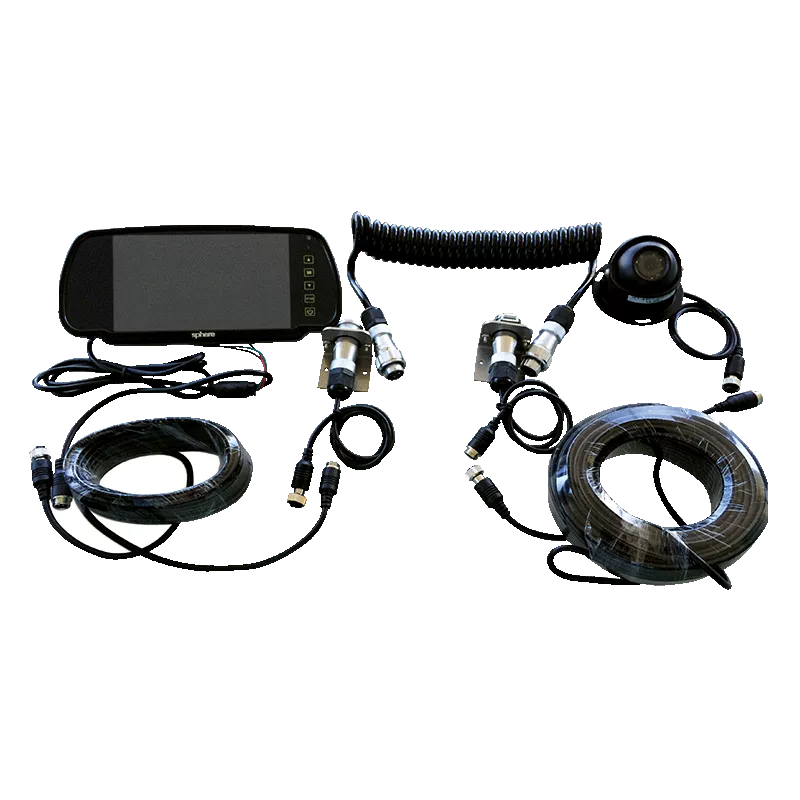 Sphere is one of the most reputable manufacturers in the world of camping gear. They have several unique features in their caravan reversing camera system that can make it a fantastic choice for outdoor adventurers.
A black eyeball camera delivers sharp pictures to a 7″ colour display LCD monitor. This screen's size is perfect for less confident drivers. The display size is slightly larger than the axis 5.6 wireless rearview kit.
It comes with two separate cords (6m and 20m). The package also includes connection brackets and a spring cable for simple installation.
Only two cameras can be used with it, unlike the Furrion Vision S Rear Vision Camera, which can have four cameras connected. This might not be sufficient for some customers who want visibility from every angle of their caravan.
If you want to add a second camera to your setup, you must purchase the Sphere Dual Camera Wiring Kit.
Another primary concern is that Sphere does not specify whether or not it has sun-glare protection. This is a crucial feature in Australia since you don't want to strain your eyes while on vacation.
The Sphere Reversing Camera Kit has a one-year guarantee and can be purchased for as little as $260. This makes it better priced than the Rear Vision Kit for the Axis 5.6 Wireless Rearview System.
Axis 5.6 Wireless Rearview Camera Kit
This axis 5.6 wireless rearview kit caravan reversing camera is purpose-built for the job.
As a result, this is a competent camera equipped with a 5.8″ rearview monitor. Most people should be able to see clearly on a screen this size and simply use a suction cup to fasten it to their windscreen.
Another advantage is that the screen features a sun protector, which prevents glare on sunny days. This is especially necessary in Australia for obvious weather reasons.
The product makes use of a waterproof eyeball camera. This is significant because of how frequently it is exposed to the outdoors. Dust covers are also available as additional protection.
Depending on the user's needs, the axis 5.6 wireless rearview kit offers two alternative four-pin cables, measuring 15m and 7.5m: these supply power, audio, and video to the caravan reversing cameras.
However, there are a few problems with this caravan reversing camera.
First off, at over $500, it's hardly the cheapest. Similar cameras can be purchased for less money. To its credit, though, the axis 5.6 wireless rearview kit provides an unrivalled two-year warranty.
Its compatibility with four cameras is another excellent piece of mind. Some competitors use three or even two cameras.
Dometic RVS 745 with 7-inch Display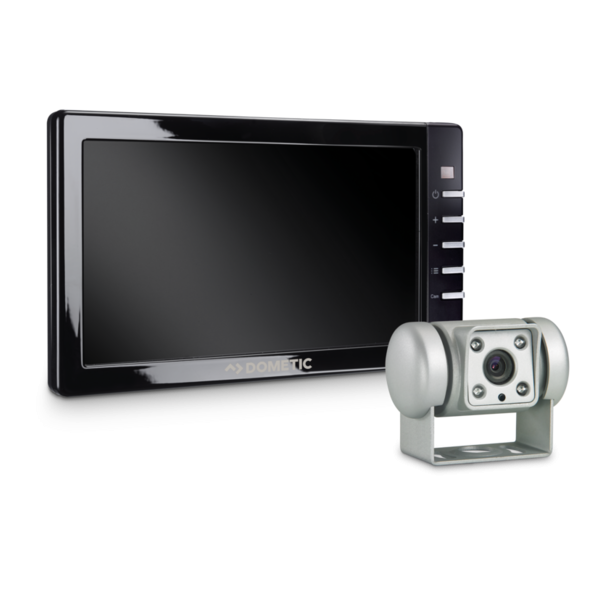 The Dometic RVS 745 is the last entry in our guide.
This rearview camera for a caravan is excellent. This is because it was created with truck drivers in mind. They need dependable systems since they are continuously operating large vehicles. However, it also works flawlessly with camping vehicles.
This system allows you to connect up to three cameras for a better overall view of the area around your car. Additionally, it's simple to set up and utilise.
With a 7″ LCD, the screen is equal in size to the Furrion. It still has cutting-edge anti-reflection technology too. The LCD contains an embedded microphone and is light-sensitive.
Dometic developed a temperature-controlled system for this product to function in harsh conditions, so it can still operate at temperatures up to 70°C, which is suitable for the harsh Australian weather.
You can even customise the camera to your preferences with many handy features, such as day-night switching and a mirror function.
It may surprise you to learn that this is reasonably priced at the mid $400 level and comes with a one-year guarantee.
Considering that the Sphere model is just under this price, this is a great bargain since this camera system provides many more features. However, the Furrion may be better developed overall to suit the camping conditions. But for less than $400, Dometic offers the greatest caravan reversing camera.
Why Do You Need A Reversing Camera
A reversing camera is an excellent investment for any driver, especially for those who frequently find themselves in tight spots. Here are three reasons why you need a reversing camera.
Improved Safety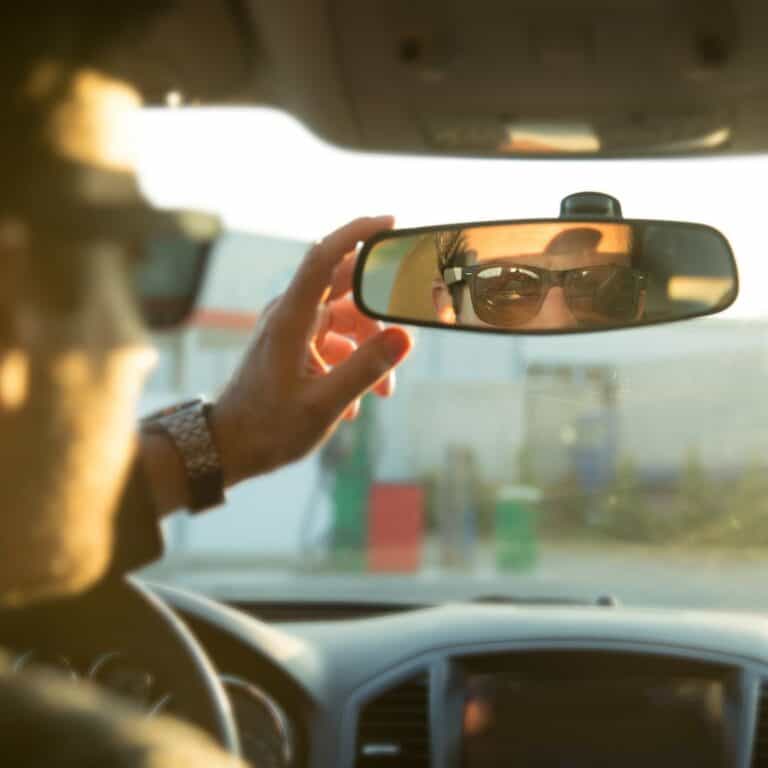 One of the main benefits of using a reverse camera for caravans is that it helps improve safety. Caravans are much longer and wider than most cars, so it can be difficult to see what's behind you while driving. This is especially true if you're reversing into a tight spot. Having a reverse camera installed lets you see exactly what's behind you and avoid any potential accidents.
Easier to Use Than Rear View Mirrors
Another benefit of reverse cameras is that they are often much easier to use than rearview mirrors. This is because rear view mirrors can have blind spots, making it difficult to see everything that's behind you. With a reverse camera, there are no blind spots, so you can easily see everything behind your caravan. Plus, if your caravan has more than one axle, it can be difficult to see out of the rearview mirrors. In this case, a reverse camera is an ideal solution.
Increased Visibility in Low Light Conditions
Yet another benefit of using a reverse camera for caravans is that they can provide increased visibility in low light conditions. This is because most reverse cameras come with night vision capabilities. So, suppose you're trying to manoeuvre your caravan into a tight spot at night. In that case, you'll still be able to see what's behind you, thanks to the enhanced visibility provided by the night vision feature on most reverse cameras.
Things to Consider When Buying A Caravan Reversing Camera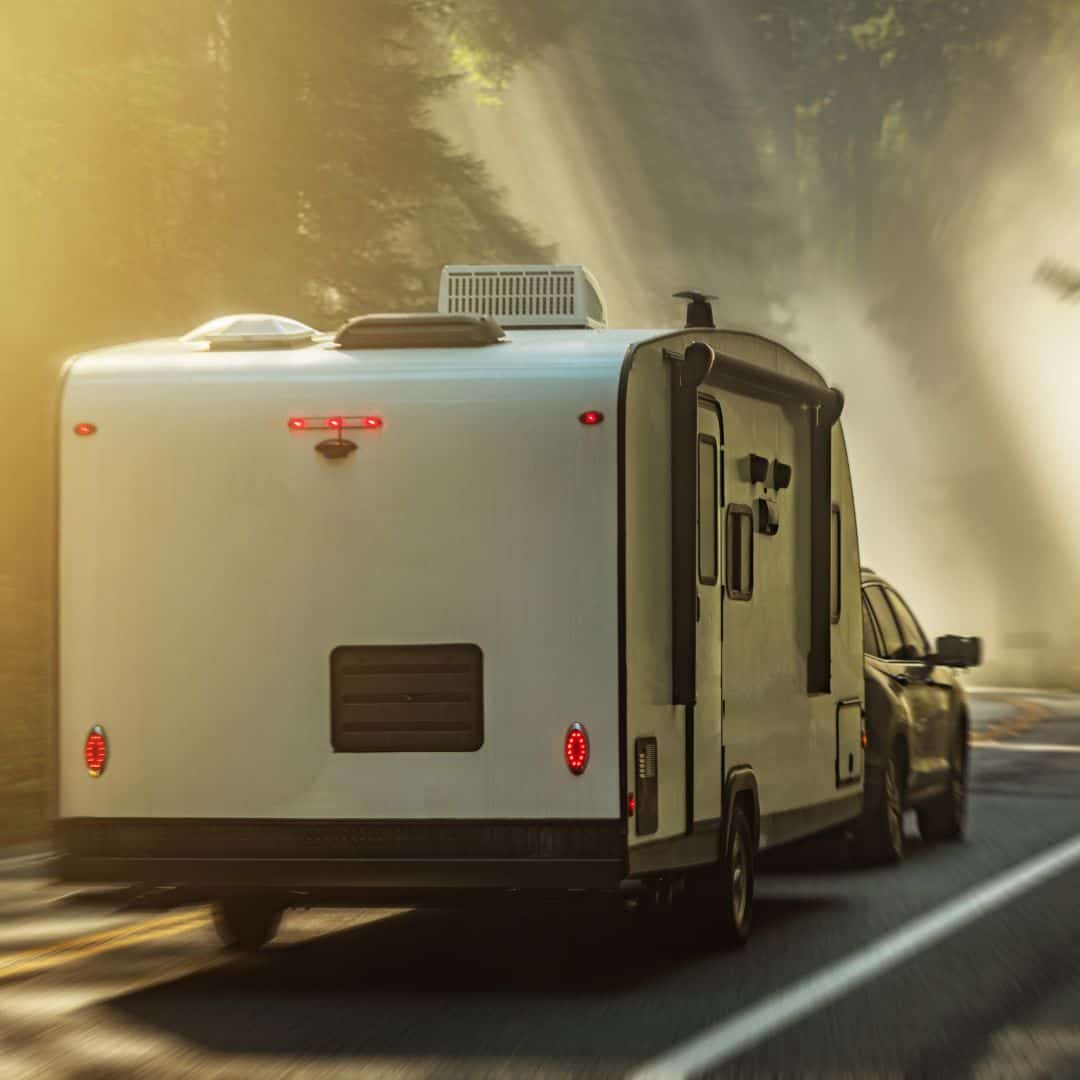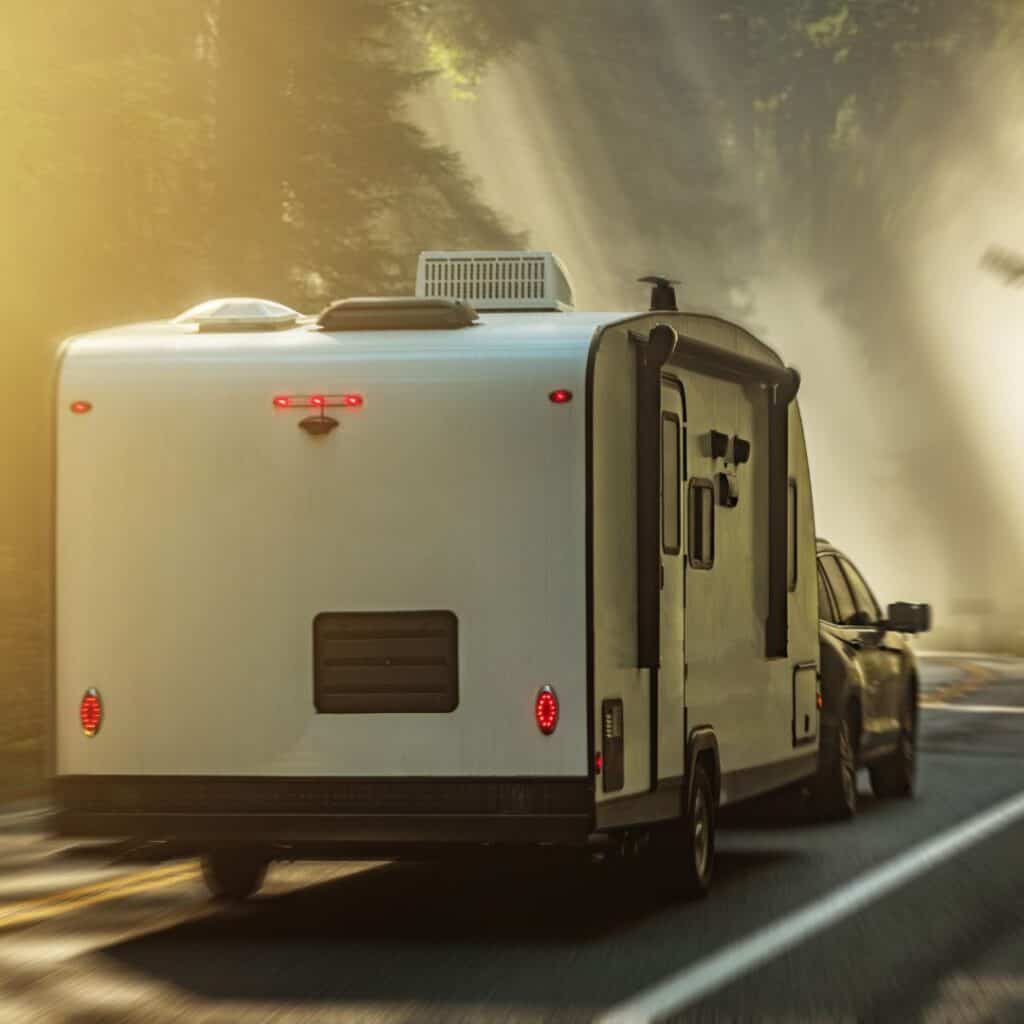 Price
The first thing you'll want to consider is price. Like anything else, you can find reverse cameras at a wide range of price points. It's important to find a camera that fits within your budget, but don't sacrifice quality just to save a few bucks. A good rule of thumb is to set your budget before you start shopping and then only look at cameras that fall within that price range.
Features
Reverse cameras come with various features, so deciding which ones are most important to you is important. For example, some cameras come with distance sensors that beep when you get too close to an obstacle. Others have night vision capabilities, so you can see clearly even when it's dark out. And others come with colour LCD screens that make it easy to see what's behind you. Figure out which features are most important to you, and make sure the camera you choose has them.
Installation
Another thing to keep in mind is installation. Some cameras come with everything you need for a quick and easy installation, while others require more work. If you're not particularly handy, look for a camera that comes with easy-to-follow instructions and all the necessary tools and hardware for installation. That way, you won't have to pay someone else to do it for you.
How Does a Reverse Camera Work?
A reverse camera is mounted on your caravan's rear, sending an image to a display screen inside the vehicle. This allows you to see what's behind you as you're backing up, which makes it much easier to align your caravan with your tow vehicle. Some reverse cameras even come equipped with sensors that beep when you're getting close to an obstacle, so you can avoid any nasty scrapes or scratches.
Why Should I Get a Reverse Camera?
If you enjoy camping and caravanning, then a reverse camera is definitely worth considering. It can make your experience much more enjoyable by eliminating the stress of trying to back into tight spots. And since they're relatively inexpensive, they're definitely worth the investment. You'll be glad you decided to get one once you start using it!
Conclusion
As you can see, there are many benefits to using a reverse camera for caravans. If you're looking for an easy way to improve safety and visibility while driving your caravan, then a reverse camera is definitely worth considering.