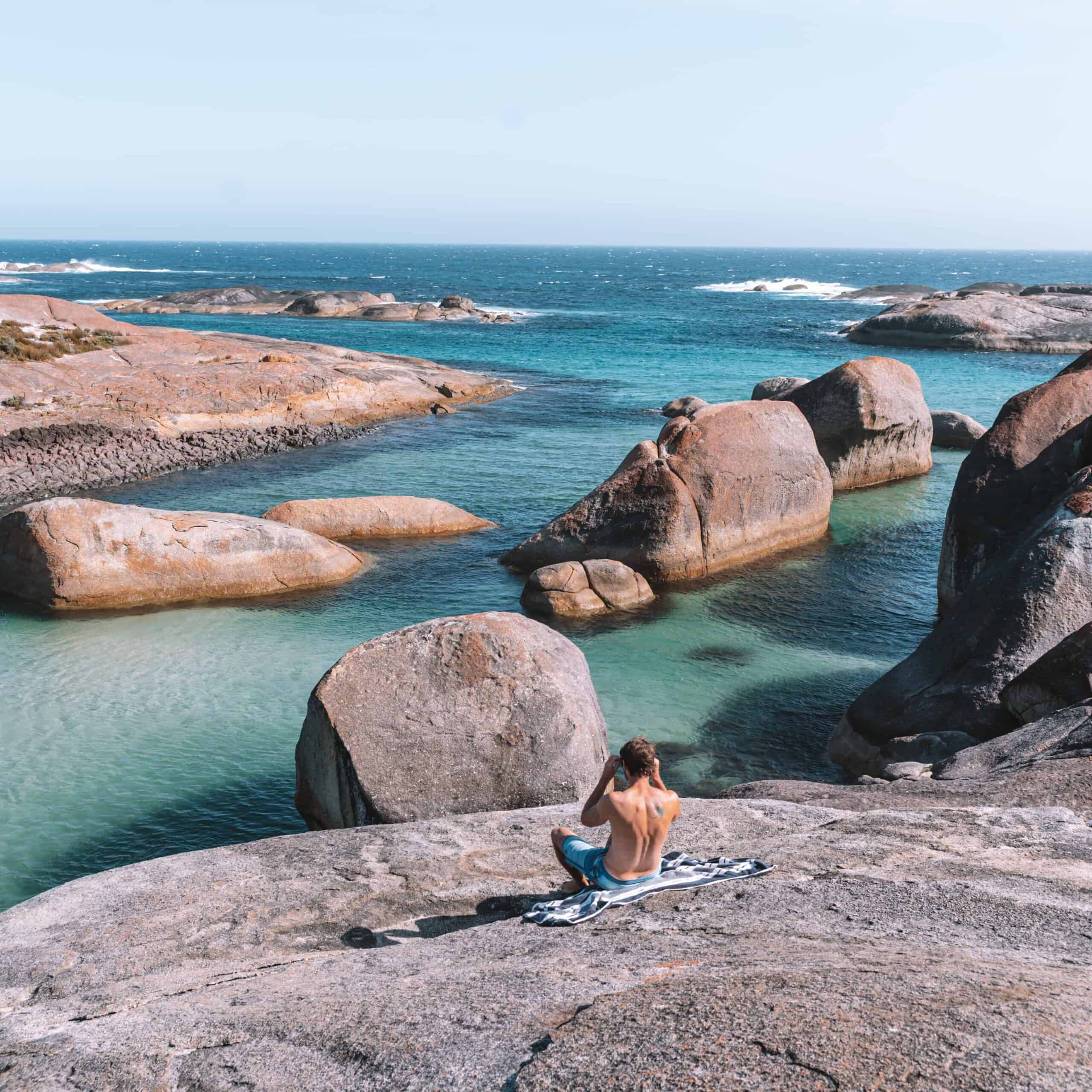 Exploring Elephant Rocks, Denmark: A Complete Guide for 2023!
Prepare for an unforgettable adventure as we guide you through the mesmerizing world of Elephant Rocks, Denmark.
Discover the unique rock formations that resemble a herd of elephants, learn about their significance to the Noongar people, and explore the stunning beaches and attractions nearby.
Get ready to be enchanted by the beauty of Western Australia's pristine coastline!
Key Takeaways
Explore Elephant Rocks in Denmark for stunning sights and cultural significance.
Uncover the legend behind its name, plus explore nearby beaches & attractions of William Bay National Park.
Enjoy delicious food at The Dam Restaurant & choose from various accommodation options to complete your stay!
Watch our Youtube video in Denmark below:
Discovering the Elephant Rocks Formation
Nestled within the breathtaking William Bay National Park in Western Australia, Elephant Rocks is a one-of-a-kind destination that will leave you in awe. These massive, cracked oval boulders resemble a herd of elephants wading in the turquoise water, creating a picturesque landscape that's absolutely stunning.
As you explore the area, you'll uncover the deep connection the Noongar people, the traditional custodians of the southwest region, have with the land and these stunning formations.
The Legend Behind the Name
The name "Elephant Rocks" stems from the uncanny resemblance of the boulders to a group of elephants frolicking in the shallow water, which is why they are called elephant rocks.
These granite giants seem to come alive as they tower over the sheltered beach, creating an otherworldly atmosphere that will leave you spellbound.
The beauty of Elephant Cove, located just beside the rocks, is accentuated by its clear waters and serene ambience.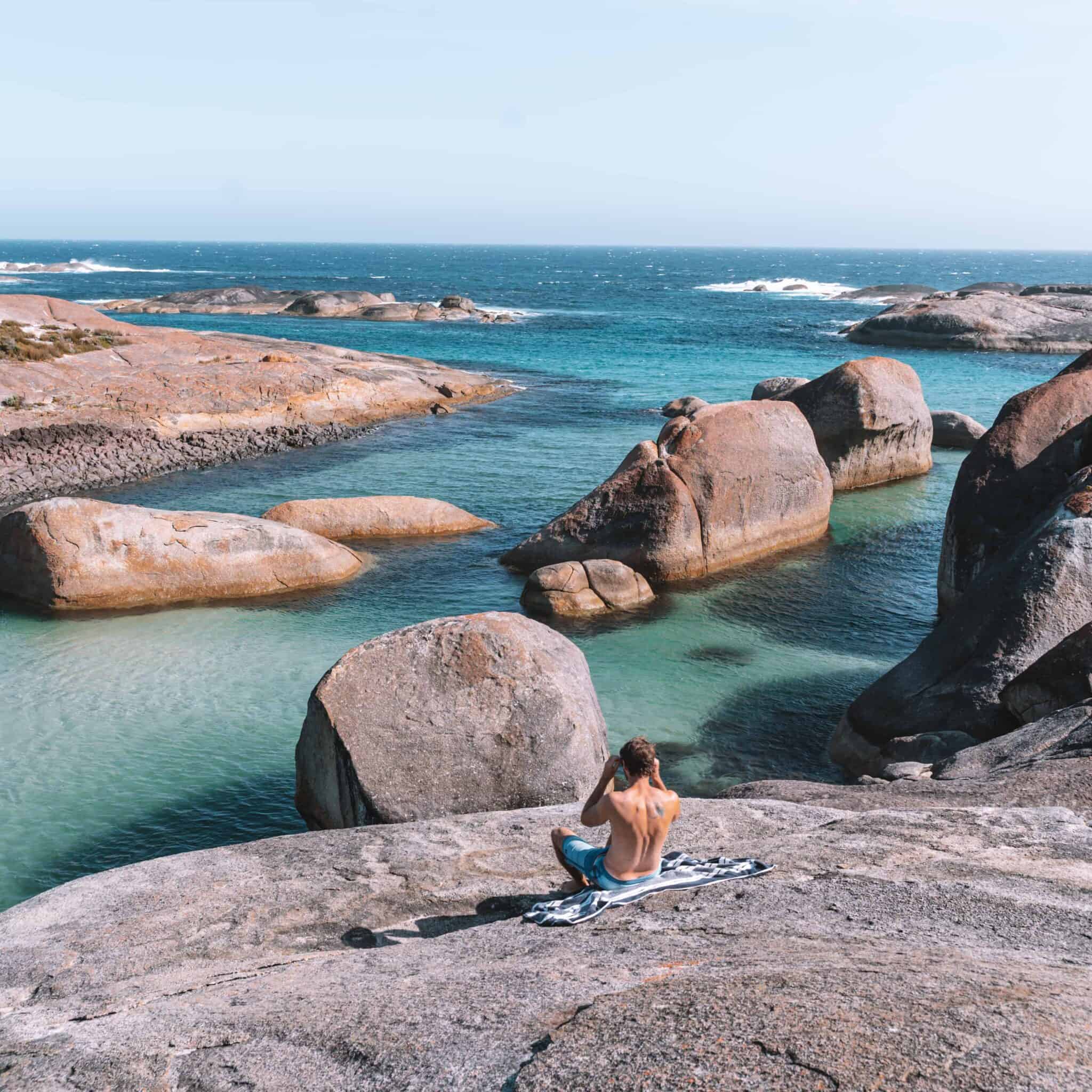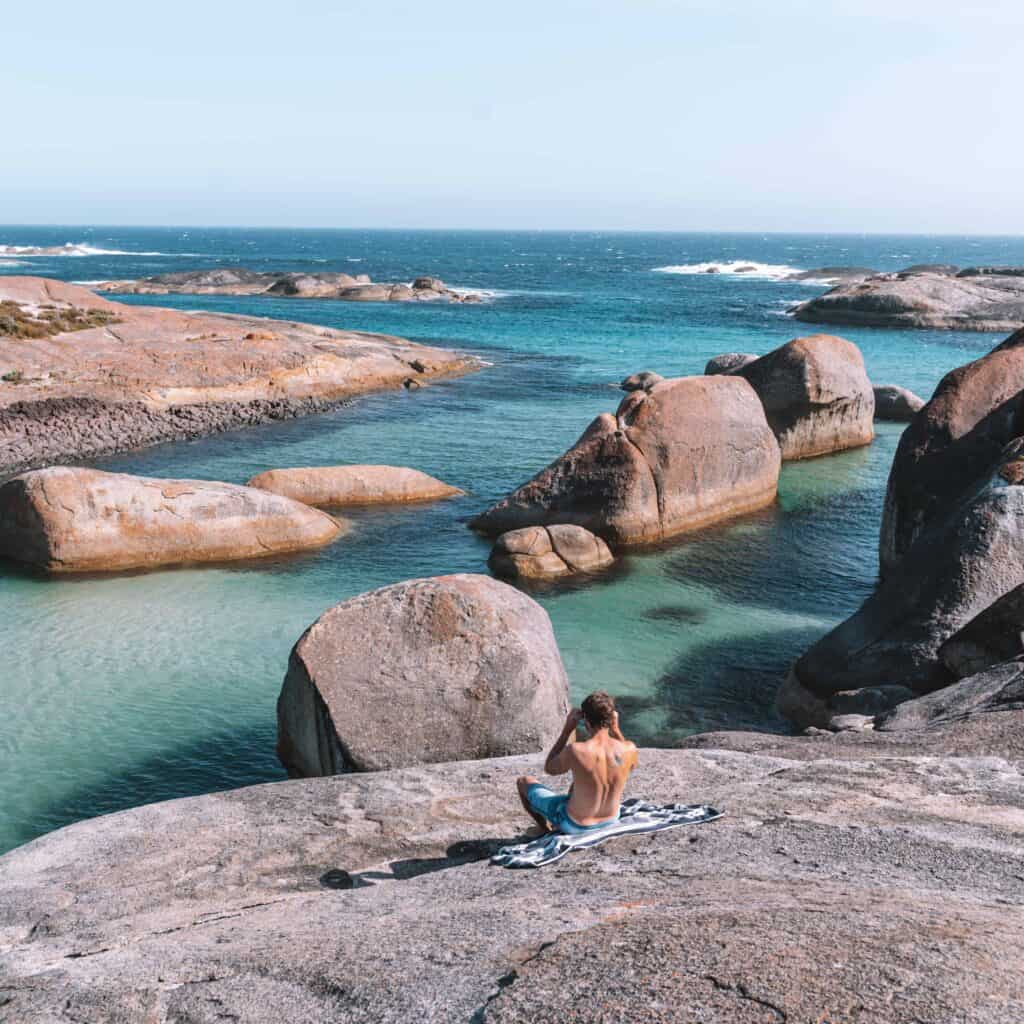 The Noongar People's Connection
The Noongar people, the traditional custodians of the southwest region of Western Australia, have a profound bond with Elephant Rocks WA and the surrounding area. Rich in stories and legends, this sacred land holds great significance for the Noongar people, who roamed these grounds long before modern civilization arrived.
As you immerse yourself in the beauty of Elephant Rocks, take a moment to appreciate the deep-rooted connection between the Noongar people and this awe-inspiring landscape.
Navigating Your Way to Elephant Rocks
Elephant Rocks is easily accessible, thanks to clear signage and well-kept roads guiding you to this natural marvel. Located just 15km west of Denmark, you can easily visit Elephant Rocks by following directions from Denmark Town or the South Coast Highway.
Upon arrival, there are walking trails and accessible routes available to help you discover the area's hidden treasures. So, buckle up and get ready for the journey of a lifetime!
From Denmark Town
To get to Elephant Rocks from Denmark Town, follow these steps:
Follow the signs to William Bay National Park, 15km west of the town.
Take a short drive along William Bay Road off the South Coast Hwy.
This will lead you to the enchanting destination of Elephant Rocks, which has its own car park.
Elephant Rocks is located very close to the similarly breathtaking Green's Pool. You can easily visit both locations on the same day.
Parking is available at both Greens Pool and Elephant Rocks car parks, but remember that it can get busy during peak times like school holidays and public holidays.
For a less crowded experience and hassle-free arrival, consider visiting either early in the morning or late in the afternoon.
Walking Trails and Accessibility
Parking your vehicle in the car park is the first step. From there, it's just a 5-minute walk on the pathway to the grand Elephant Rocks. The well-maintained gravel path offers easy access for visitors of all ages, but be cautious if it's wet, as it can get slippery.
While navigating the area, you'll come across various trails catering to different fitness levels, making it possible to enjoy the captivating scenery and unique rock formations at a pace that suits you.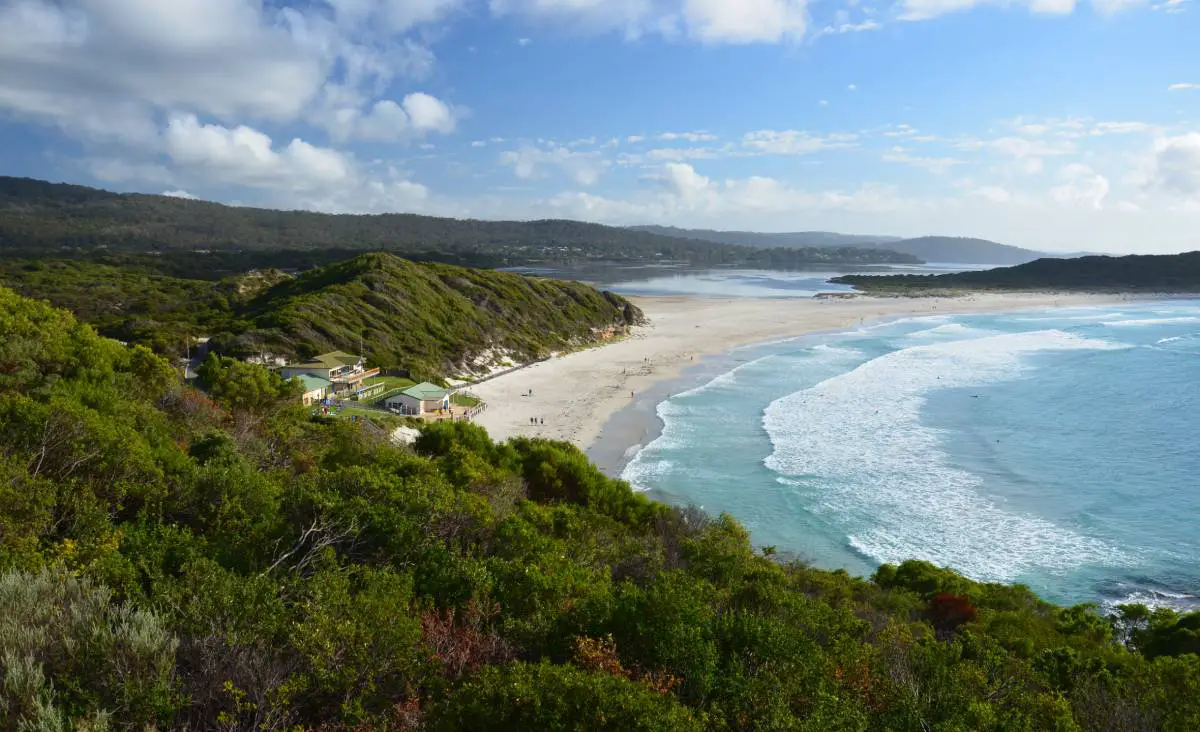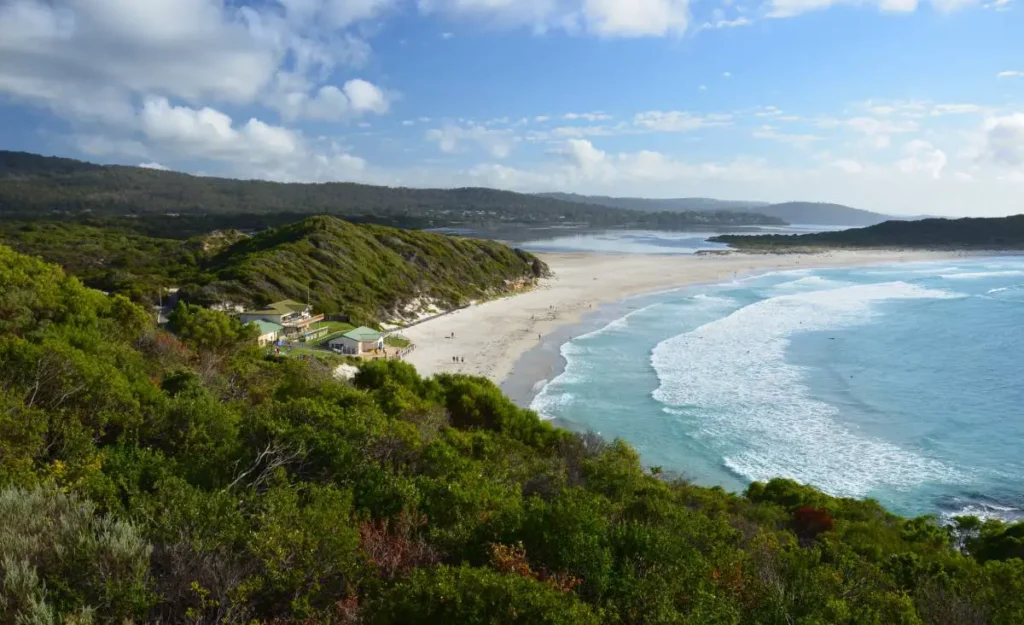 Unveiling the Beauty of Elephant Cove
Just a stone's throw away from Elephant Rocks lies the mesmerizing Elephant Cove, a hidden gem perfect for swimming, snorkelling, and exploring. With its crystal-clear waters and impressive rock formations, this secluded beach offers a tranquil escape from the hustle and bustle of everyday life.
As you venture into the cove near the great southern ocean coastline, prepare to be captivated by the diverse marine life that calls this idyllic spot on the rainbow coast home.
Swimming and Snorkeling
Elephant Cove's peaceful bay is ideal for swimming and snorkelling, especially for families with young children. Gliding through the water, you'll encounter a vibrant world teeming with colourful fish, crabs, and other aquatic critters.
When we visited Elephant Rocks WA, in December of 2022, we saw two stingrays swimming at the secluded little beach.
Be mindful of the strong waves and currents that can occur in the area, and always exercise caution while swimming and exploring.
Exploring the Surroundings
In addition to the pristine beach and clear waters, the surroundings of Elephant Cove offer plenty to explore. The impressive rock formations that dominate the landscape provide a fascinating backdrop for your adventure, while the diverse marine life adds an extra layer of excitement to your visit.
As you venture further into the cove, watch for stingrays and other creatures, but remember to respect their habitats and maintain a safe distance.
The Alluring Greens Pool
A short walk from Elephant Rocks, you'll find the alluring Greens Pool, a must-visit destination for anyone exploring the William Bay National Park.
This popular spot boasts calm, sheltered waters perfect for swimming and relaxation, making it a favourite among families and nature lovers.
Surrounded by large granite boulders and fringed by lush greenery, Greens Pool offers an idyllic setting for a day of fun and tranquillity.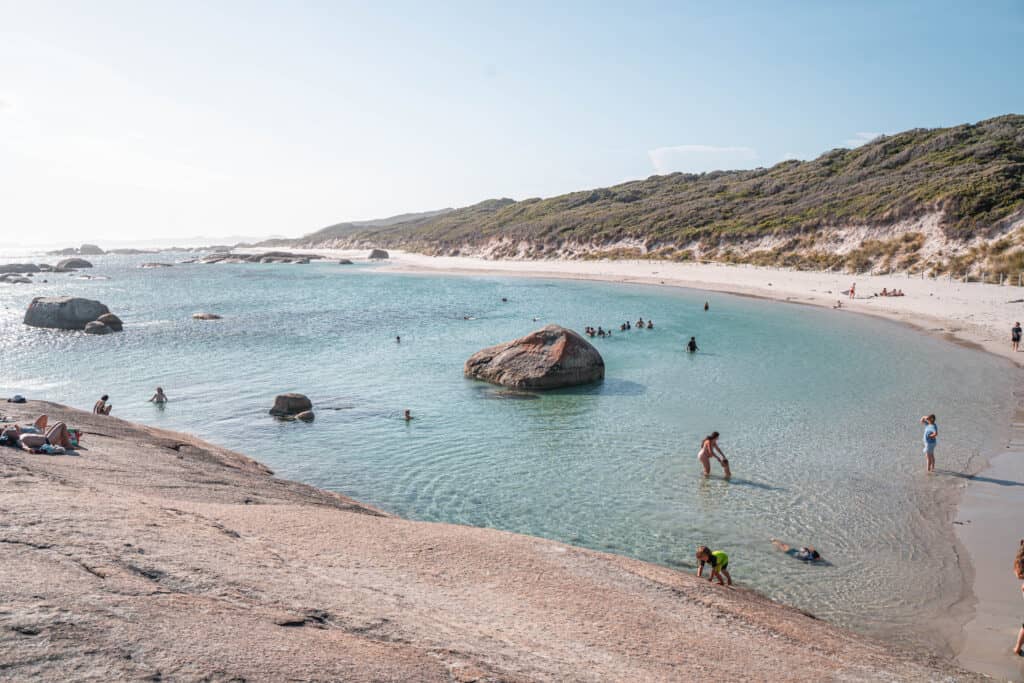 Swimming and Relaxation
The calm, protected waters of Greens Pool offer a safe environment for swimmers of all ages, making it the perfect spot for families to spend a day splashing around and unwinding.
The crystal-clear waters are ideal for snorkelling, where you'll encounter a variety of marine life, such as bright fish, starfish, and even stingrays.
Grab your swim gear and prepare for a refreshing dip in this serene oasis!
Facilities and Amenities
Greens Pool offers a range of facilities and amenities to ensure a comfortable and enjoyable visit. You'll find toilets, changing rooms, and the Greens Pool car park available at the site, making it convenient for visitors of all ages.
It's important to note that there are no food supplies or bins at Greens Pool, so be sure to pack your refreshments and take your rubbish with you when you leave.
Safety Precautions and Tips
For a safe and enjoyable visit to Elephant Rocks and the surrounding areas, keep in mind the following:
Be aware of the might of the ocean and the possibility of encountering wildlife.
Exercise caution when swimming and exploring.
Keep an eye on children near the water.
Furthermore, avoid potential encounters with snakes and other wildlife and respect their living spaces. By following these safety tips, you can make the most of your time in this breathtaking part of Western Australia.
Ocean Awareness
The mighty ocean and surges along the coastline can present hazards, particularly during strong winds and high tides. Given the ocean's tendency to turn unpredictable swiftly, exercising caution when swimming and exploring is vital.
Always be aware of the current conditions and ensure you have a buddy when venturing into the water. By staying vigilant and respecting the ocean, you can safely enjoy the beauty of Elephant Rocks and its surroundings.
Wildlife Encounters
While exploring Elephant Rocks and Greens Pool, you might encounter diverse wildlife, including snakes and marine animals. Being prepared for such encounters is crucial, and always remember that these animals are wild and deserve respect.
Maintain a safe distance, avoid touching or disturbing their habitats, and always be cautious when exploring the natural environment.
Exploring William Bay National Park
Apart from the spectacle of Elephant Rocks, William Bay National Park, also known as Williams Bay National Park, presents a multitude of gorgeous beaches and attractions for you to discover. From the picturesque Madfish Bay to the secluded Mazzoletti Beach, each destination within the park boasts its unique charm and beauty.
Venture further afield to discover Parry Beach, a popular spot for swimming, fishing, and camping, or take in the panoramic vistas from Tower Hill. There's no shortage of adventure waiting for you within this remarkable park!
Madfish Bay
Madfish Bay is a true gem within William Bay National Park, offering a picturesque beach with unique rock formations and clear waters. This idyllic spot is perfect for swimming, snorkelling, and exploring the shore, with its white sand and turquoise waters creating a serene atmosphere that's hard to resist.
Don't miss the opportunity to discover the beauty of Madfish Bay during your visit to the park.
Mazzoletti Beach
Experience the tranquillity of Mazzoletti Beach, a secluded haven perfect for beachcombing and enjoying the area's natural beauty. This picturesque spot is nestled within William Bay National Park and offers a peaceful escape from nearby bustling attractions.
With its pristine sands and clear waters, Mazzoletti Beach is a must-see destination sure to captivate your senses.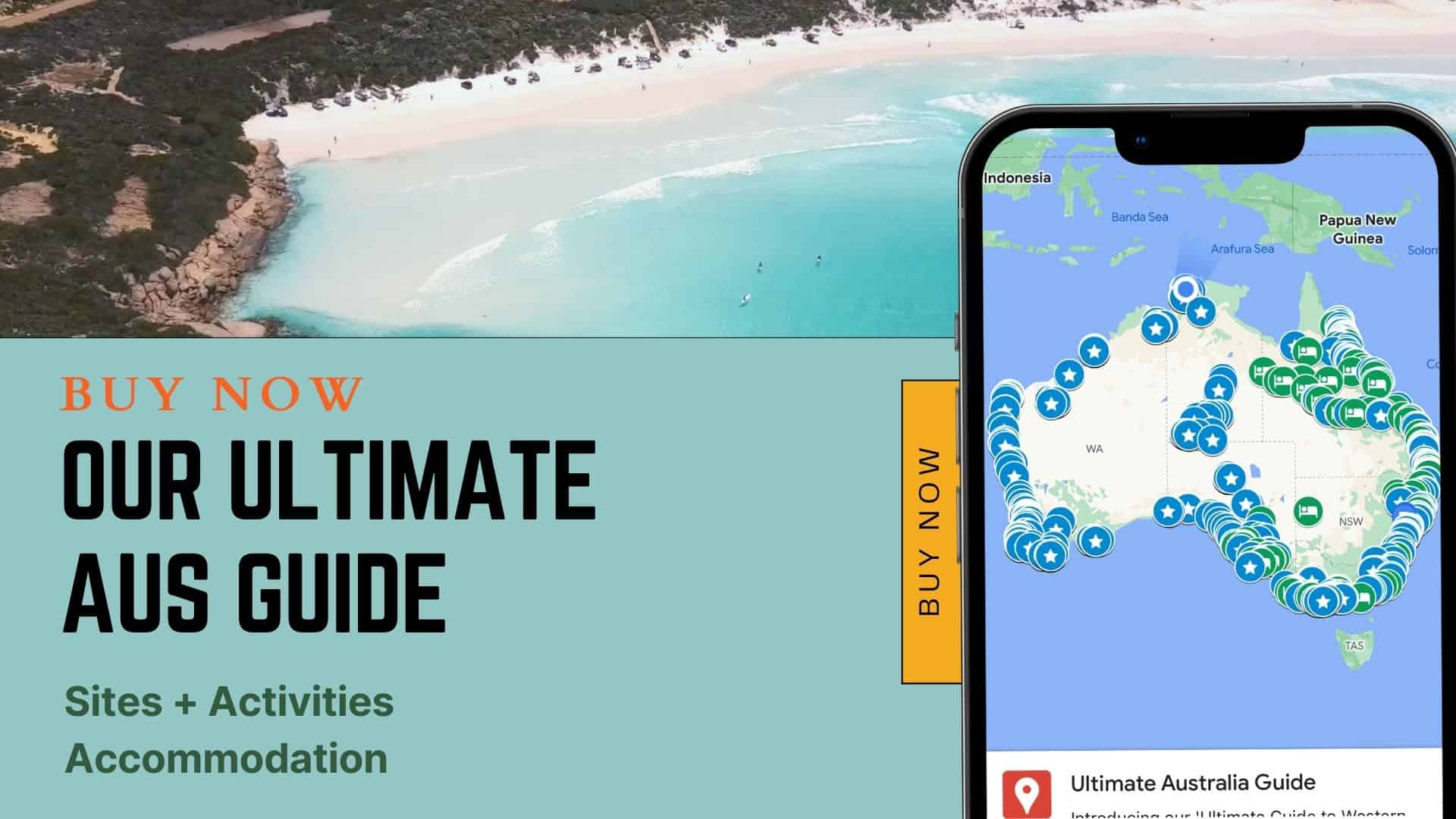 Parry Beach
Parry Beach, located at the far western end of William Bay National Park, is a popular destination for swimming, fishing, and camping. This stunning beach offers a range of activities for visitors, from taking a refreshing dip in the clear waters to casting a line and trying your luck catching dinner.
With its idyllic setting and ample opportunities for adventure, Parry Beach is a must-visit location within the park.
Tower Hill
Take in the breathtaking views from Tower Hill, a vantage point offering panoramic vistas of Elephant Rocks and Greens Pool. As you gaze upon the awe-inspiring landscape, you'll gain a newfound appreciation for the natural beauty that abounds within William Bay National Park.
Whether you're a seasoned explorer or simply seeking a serene spot to unwind, Tower Hill is a destination that will leave a lasting impression.
Dining and Accommodation Near Elephant Rocks
After a day spent discovering Elephant Rocks and the surrounding areas, you'll likely have built up an appetite and require a cozy place to recharge. Indulge in delicious cuisine at The Dam Restaurant, a unique dining experience just 10 km outside Denmark.
Regarding accommodations, various options are available to match your preferences and budget, guaranteeing a comfortable stay close to this remarkable location. Some options include:
Hotels
Motels
Bed and breakfasts
Camping sites
The Dam Restaurant
Treat yourself to a sumptuous meal at The Dam, a unique restaurant, bar, and distillery just 10 km outside Denmark. Featuring an enticing menu of Australian cuisine with a Mediterranean twist, The Dam offers a diverse selection of dishes that showcase fresh local produce and the finest ingredients.
For a truly indulgent experience, sample their handcrafted cocktails made with Cannabis Botanical Spirits and savour the flavours of their local craft beers. Remember to make a reservation, as this popular dining spot can fill up quickly.
Accommodation Options
Whether you're seeking a luxurious retreat or a budget-friendly stay, there's no shortage of accommodation options near Elephant Rocks to suit your needs. You can check some of these options below:
With a comfortable base to call home, you'll be well-rested and ready to continue your adventures in this stunning part of Western Australia.
Summary
In conclusion, Elephant Rocks, Denmark, is a captivating destination that offers a wealth of natural beauty and unforgettable experiences. From the awe-inspiring rock formations to the pristine beaches and lush surroundings, this remarkable location is a must-visit for anyone seeking adventure and tranquillity. With our comprehensive guide, you'll be well-prepared to explore the wonders of Elephant Rocks and its surroundings, making memories that will last a lifetime.
Frequently Asked Questions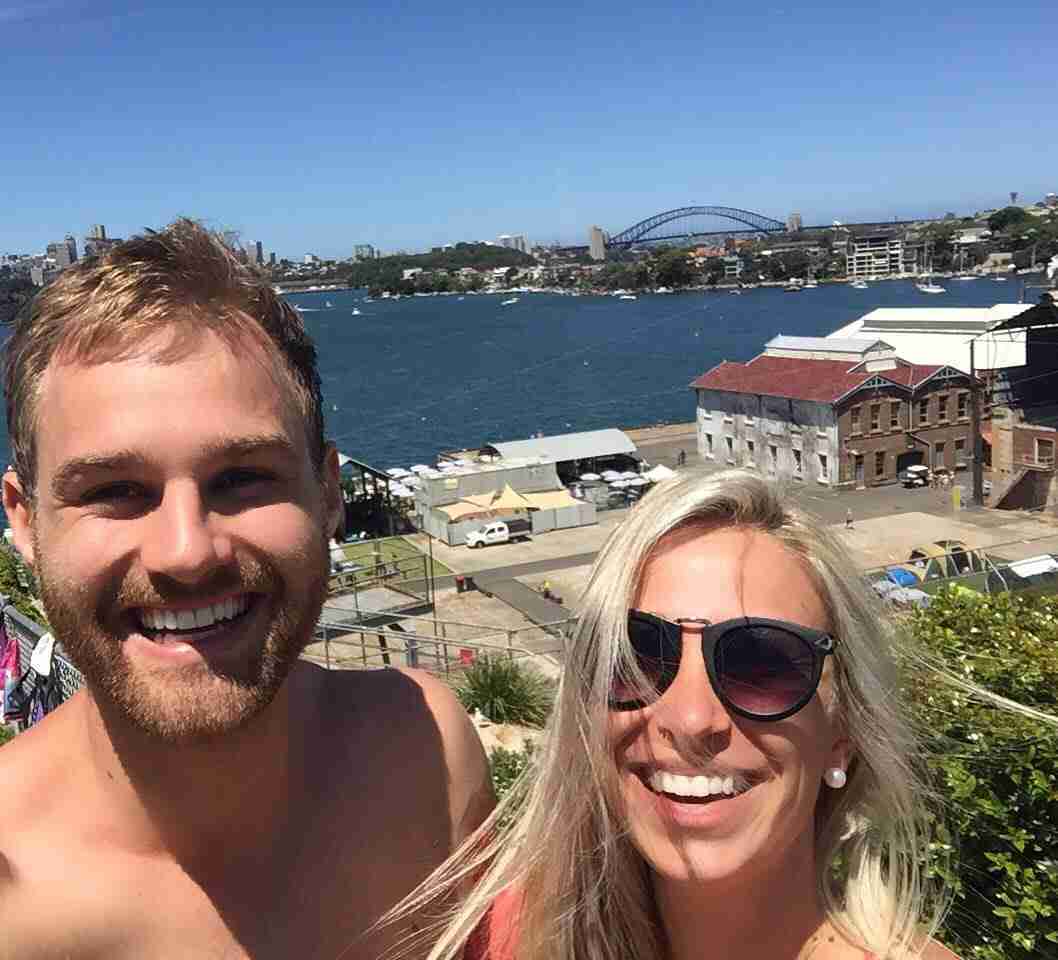 Wade & Dani
Hi! We're Wade and Dani, We're currently travelling around Australia in our 2017 Mercedes Sprinter Camper van and sharing our best experiences, stories, reviews and adventures as we go along. Make sure you follow us on Instagram @wadeanddani