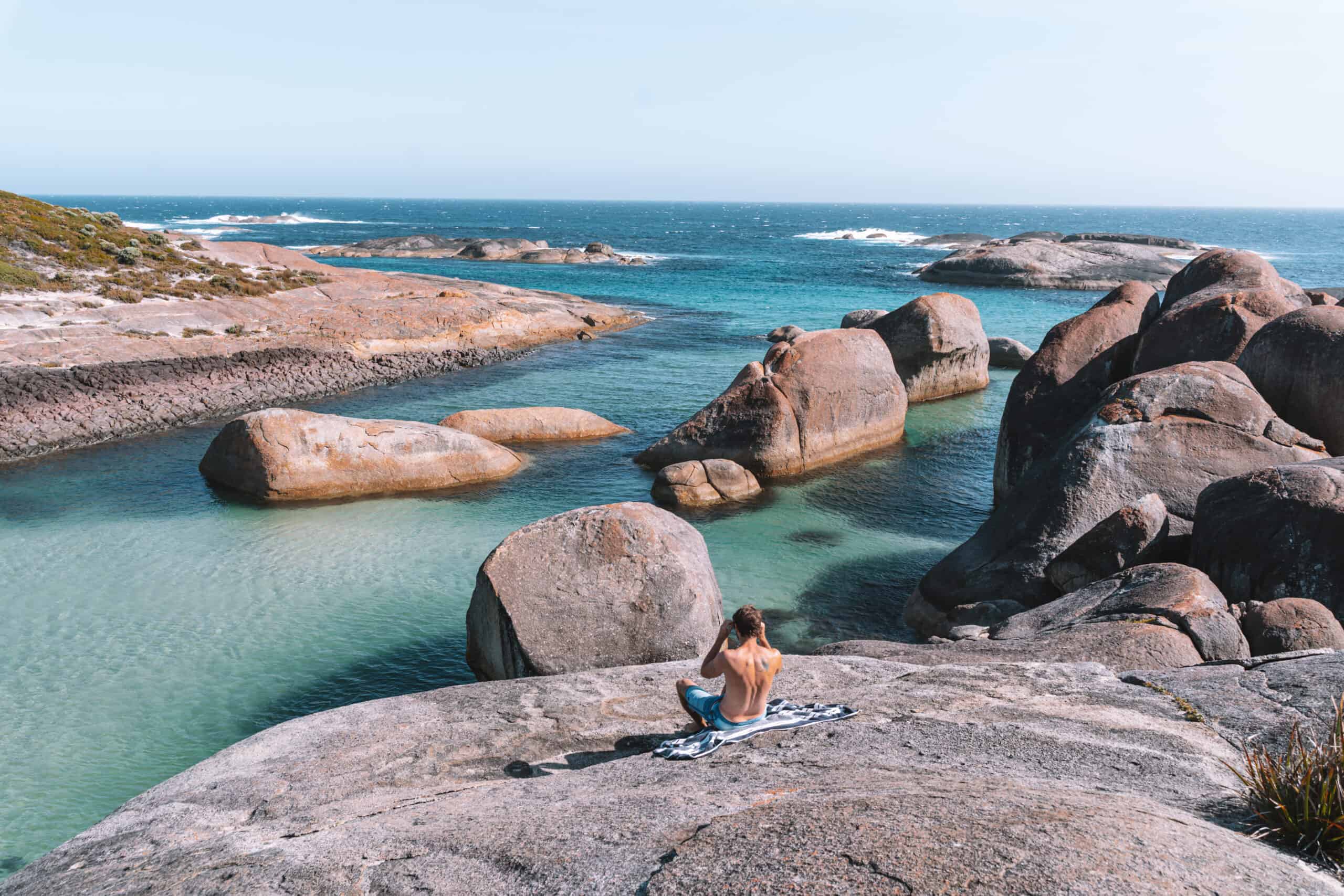 2023 Guide: Things to do in Denmark, Western Australia
Welcome to the stunning Denmark in Western Australia! This charming coastal town boasts breathtaking landscapes, crystal-clear waters, and a vibrant food and wine scene.
Whether you're an adventure seeker, beach lover, or a history buff, Denmark has something for everyone.
Let's dive in and explore the must-visit attractions and things to do in this picturesque paradise.
Short Summary
Explore Denmark's stunning landscapes: William Bay National Park, Greens Pool, Elephant Rocks & Cove.
Indulge in the local food and wine scene with 25+ wineries and various restaurants.
Experience art, culture & history through galleries, bookshops & museums. Plus, day trips to nearby attractions!
Watch our Youtube video in Denmark below:
Discover William Bay National Park
Nestled in the heart of Denmark, William Bay National Park is a true gem that offers some of the most stunning white beaches and remarkable granite rock formations in Western Australia. The park is easily accessible from Denmark town and is well-signposted on the South Coast Highway. With several dazzling beaches, there's no shortage of breathtaking spots to explore.
The crystal clear turquoise waters of William Bay National Park make it ideal for swimming, snorkelling, and fishing. Whether you're visiting Denmark for a day trip or an extended vacation, Williams Bay National Park should be at the top of your list of attractions.
1. Greens Pool
Greens Pool is a magnificent protected bay with crystal clear turquoise waters, perfect for swimming and snorkelling. Ranked number 4 in Tripadvisor's 2022 Travellers Choice Awards Top 10 Beaches in the South Pacific, this serene spot is surrounded by large granite boulders that shelter it from the Great Southern Ocean, creating calm and inviting waters all year round.
As you explore Greens Pool, you'll find fascinating rock formations and an array of sea creatures, including zebrafish, silver drummer, six-spined leatherjackets, and mosaic sea stars. If you're visiting Denmark, don't miss the chance to dip in this idyllic haven of natural beauty.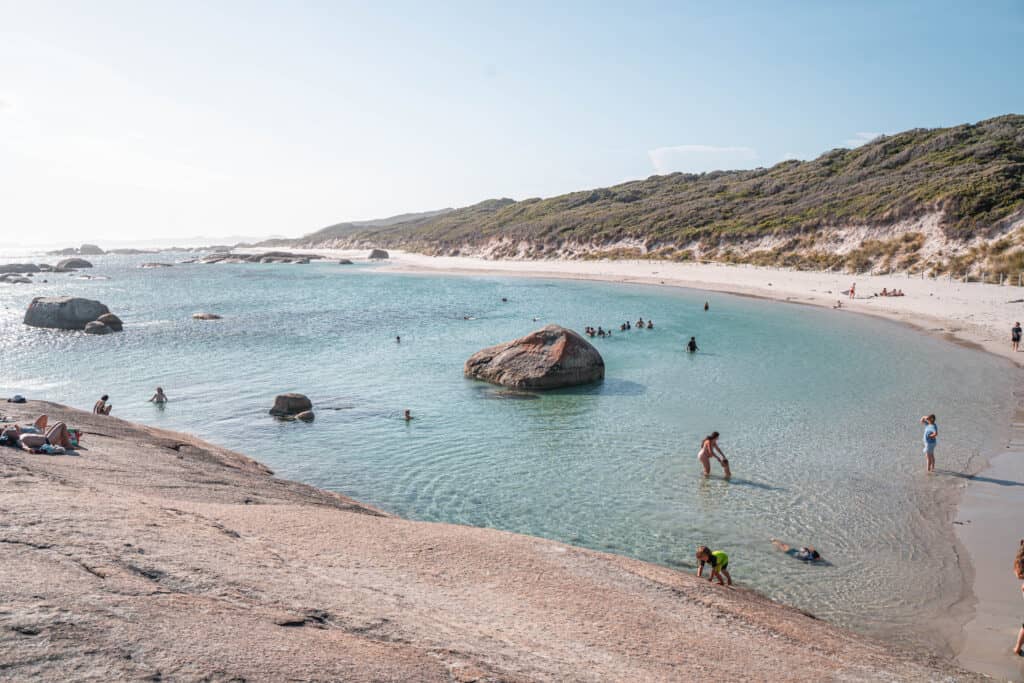 2. Elephant Rocks & Elephant Cove
Just a short walk from Greens Pool, you'll find the awe-inspiring Elephant Rocks & Cove. The name comes from the large granite boulders that resemble a herd of elephants wading in the crystal-clear turquoise waters. This picturesque spot offers incredible scenery and is perfect for swimming, fishing, and snorkelling.
Navigating the stairs between the rocks at Elephant Cove can be challenging, but the breathtaking views and pristine white sand beaches make the effort well worth it. Be sure to add Elephant Rocks & Cove to your list of must-visit spots in Denmark WA.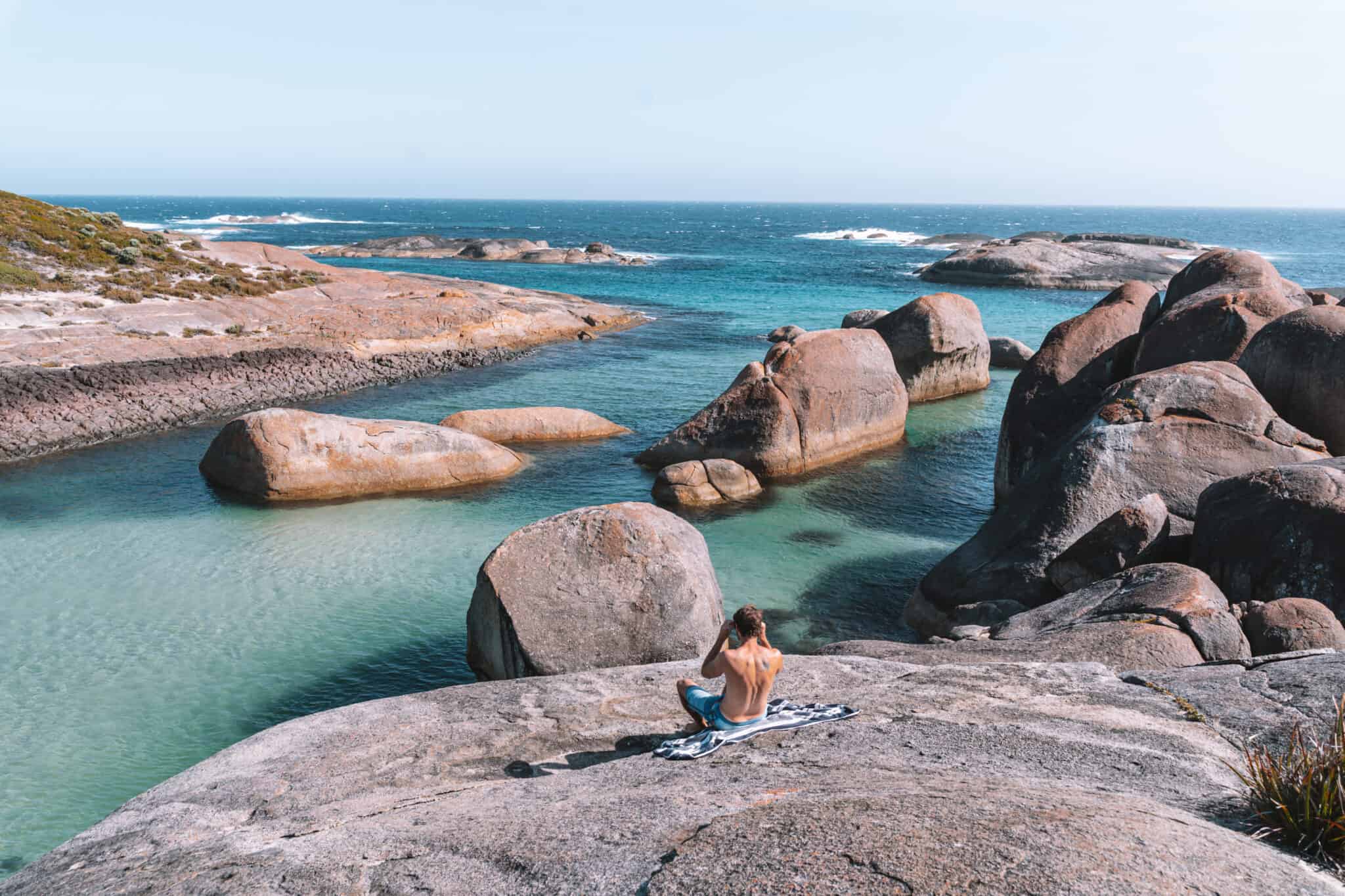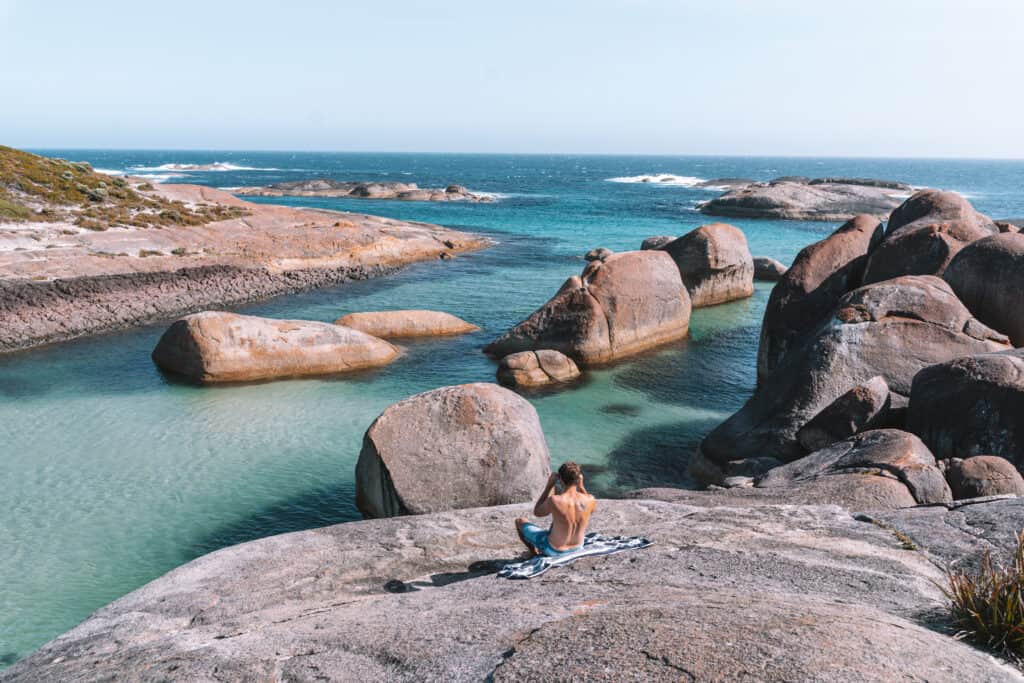 Adventure Awaits
3. Denmark Thrills Adventure Park
For adrenaline junkies looking for a thrilling experience, Denmark Thrills Adventure Park is the place to be. Located just a short walk from Denmark town, the park offers a range of exciting activities, including globe riding on the world's longest globe-riding track.
Globeriding involves rolling down a track in a 3-meter diameter inflatable globe, providing a unique and exhilarating experience. With affordable prices and various activities, Denmark Thrills Adventure Park is a must-visit for thrill-seekers and families alike.
4. Valley of the Giants Tree Top Walk
For a truly unforgettable experience, walk through the Valley of the Giants Tree Top Walk, which offers a bird's eye view of some of the largest tingle trees in Western Australia.
Situated to the west of Denmark's centre, a mere 40-minute drive away, this unique stroll offers a remarkable aerial perspective of some of Earth's largest timber titans – the magnificent tingle trees of Western Australia. Extending 40 meters into the heart of the forest canopy and winding through the treetops for 600 meters, this trail stands as a pioneering creation. Its design prioritizes panoramic views while minimizing ecological disruption, making it the inaugural experience of its kind.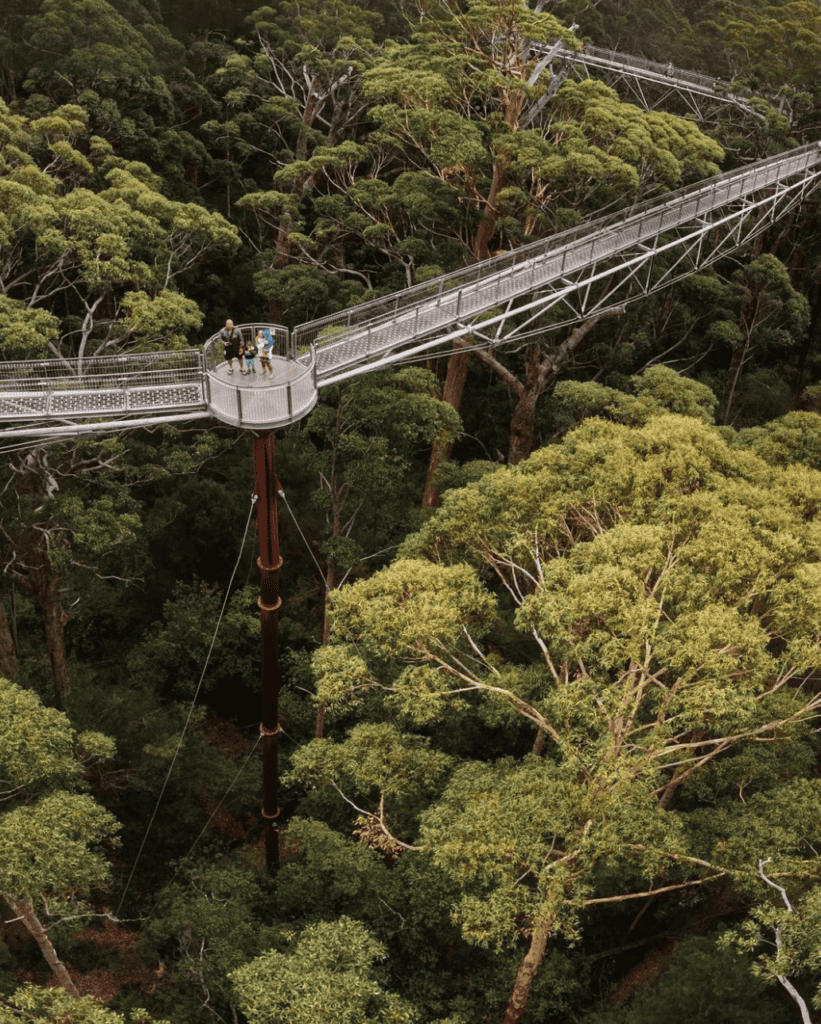 Wine and Dine in Denmark
Denmark and the Great Southern region, located in the south west, are renowned for producing exceptional cold-climate wines, with over 25 wineries offering award-winning Riesling, Chardonnay, Sauvignon Blanc, Cabernet Sauvignon, Pinot Noir, and Shiraz. After a day of exploring the stunning landscapes, it's time to indulge in the local food and wine scene.
In addition to the wineries, Denmark is home to various restaurants, cafes, and food producers, offering delicious cuisine and local produce to satisfy any palate. From the Lake House Denmark to the Denmark Chocolate Company and the Denmark Farmhouse Cheese, there's no shortage of culinary delights to be discovered in this charming town.
5. Wineries to Visit
Denmark boasts an impressive selection of wineries, each offering unique experiences and delicious wines. The Lake House Denmark is a popular choice, featuring a café/restaurant open for brunch, lunch, and afternoon tea and a beautiful setting for wine tastings. For a more intimate experience, consider visiting Singlefile Wines, a family-run winery that is dog-friendly and offers a picturesque setting for picnics.
Another great option is Ducketts Mill Winery & Denmark Farmhouse, which offers a cellar door and café and includes a cheese factory and accommodations on-site. Explore the local wineries, enjoy the scenic views, and savour Denmark's delicious wines.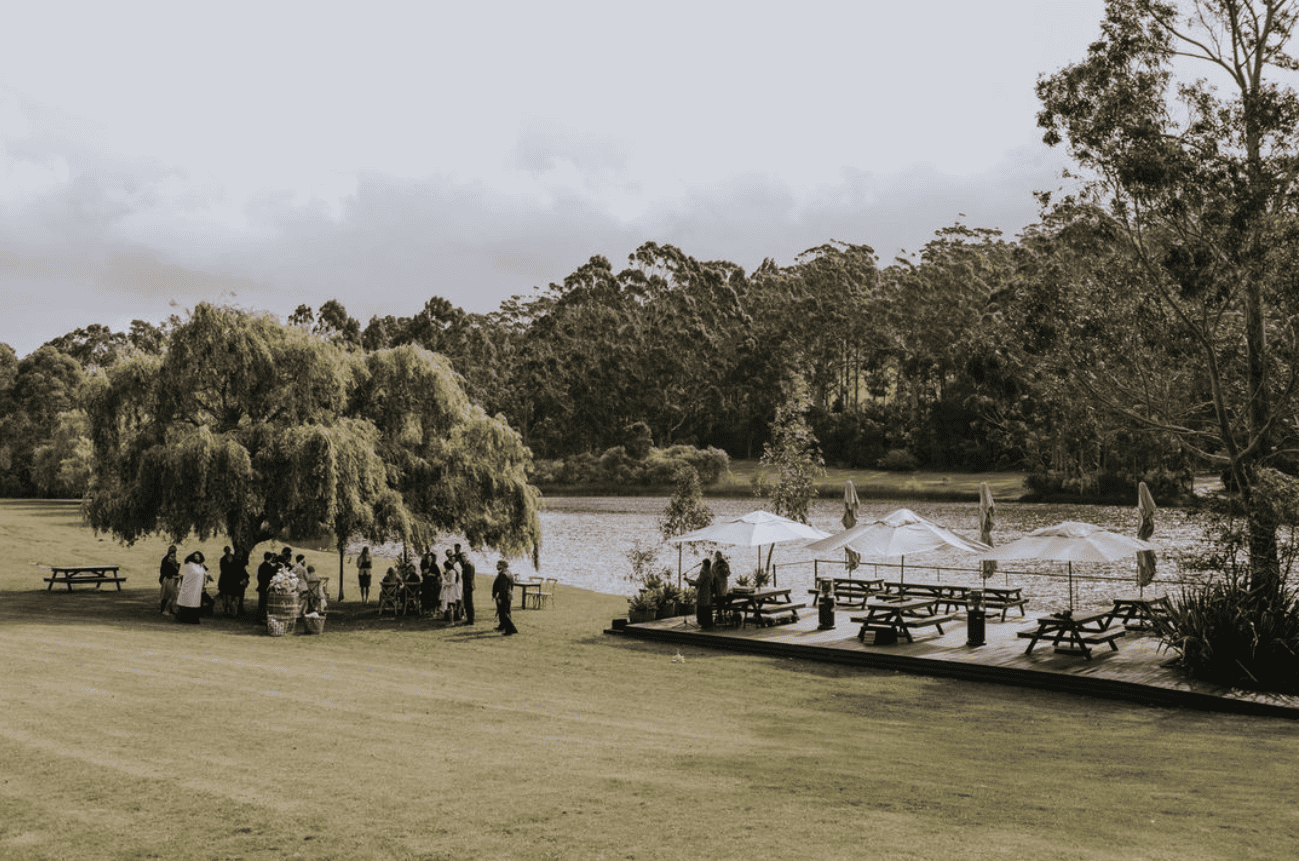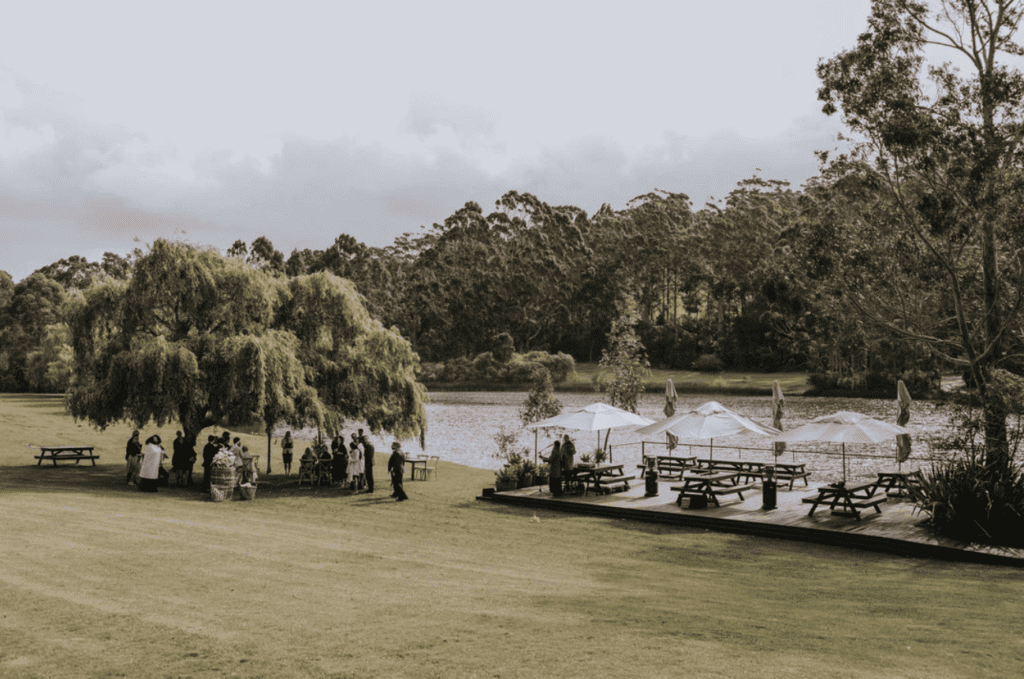 6. Breweries and Distilleries
In addition to the thriving wine scene, Denmark is home to several breweries and distilleries that produce handcrafted beers and spirits. Raintree Estate's Cannabis Botanical Distillery, The Dam, and Boston Brewing are just a few of the establishments you can visit during your stay in Denmark.
The laid-back atmosphere of these breweries and distilleries makes them the perfect place to unwind and enjoy a refreshing beverage after a day of sightseeing and adventure. Be sure to add these local gems to your itinerary and experience the unique flavours of Denmark's handcrafted beers and spirits.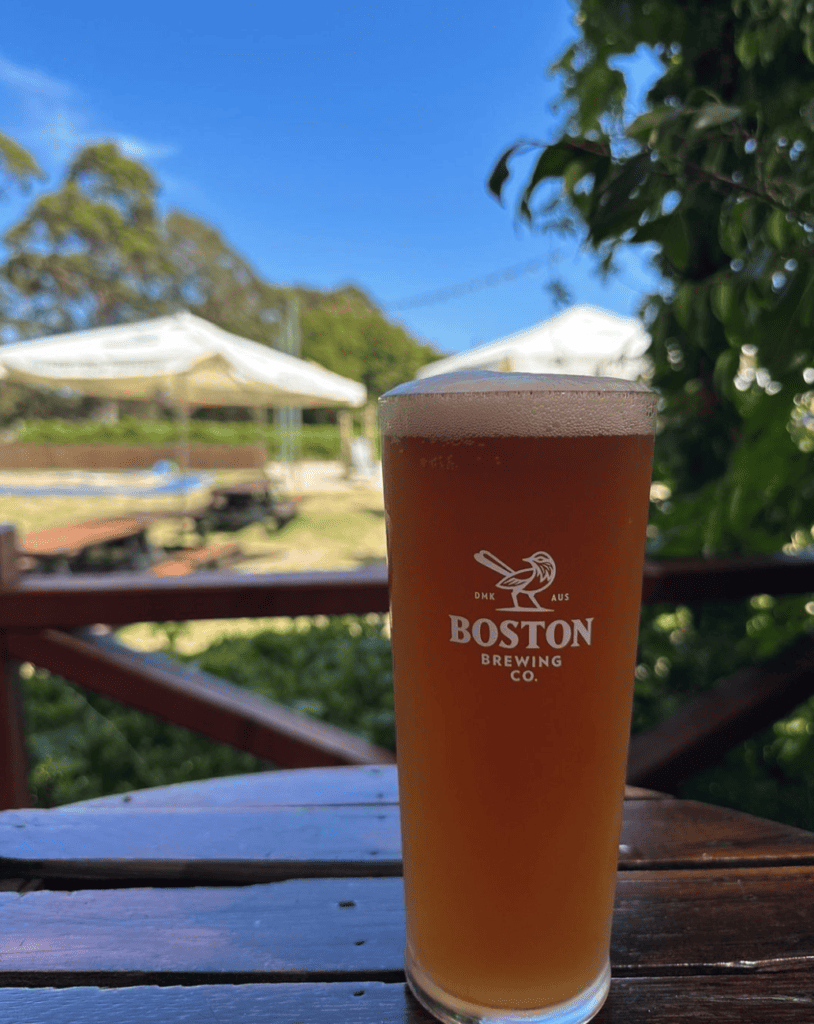 Scenic Walks and Hikes
For those who enjoy exploring the great outdoors, Denmark offers a variety of scenic walks and hikes that showcase the region's stunning natural beauty. From the tranquil Harewood Forest walk to the challenging Tower Hill Walk, there are plenty of options for all fitness levels and interests.
As you wander through the picturesque trails, you'll be surrounded by majestic trees, vibrant wildflowers, and breathtaking views that will leave you in awe of Denmark's unspoiled landscapes. Lace up your hiking boots and get ready to discover the incredible walking trails of Denmark, WA.
7. Monkey Rock
For a more challenging hike with rewarding views, head to Monkey Rock, located off Lights Beach Road and part of the Bibbulmun Track. The hike takes approximately 25-35 minutes to reach the summit, where you'll be greeted with panoramic views of Denmark and the ocean.
Although climbing to the top can be a bit of a scramble, the fresh air and spectacular views make it well worth the effort. Just be cautious of snakes and enjoy the stunning scenery that Monkey Rock offers.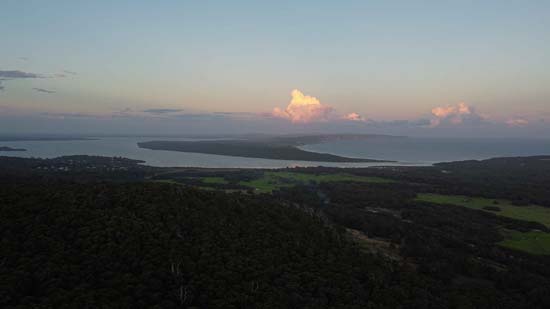 8. Mount Lindesay Trail
Another fantastic hike in Denmark is the Mount Lindesay Trail, a 10km return hike to the summit of Mount Lindesay with breathtaking wildflowers and 360-degree views. The best time to visit is spring, when the wildflowers are in full bloom, but the trail offers year-round beauty.
The hike takes approximately 4 hours and offers incredible views of lowland scrub and distant peaks of the Porongurups and Stirling Range. Be sure to avoid hiking on rainy or windy days, and set out on this unforgettable adventure through Denmark's stunning landscapes.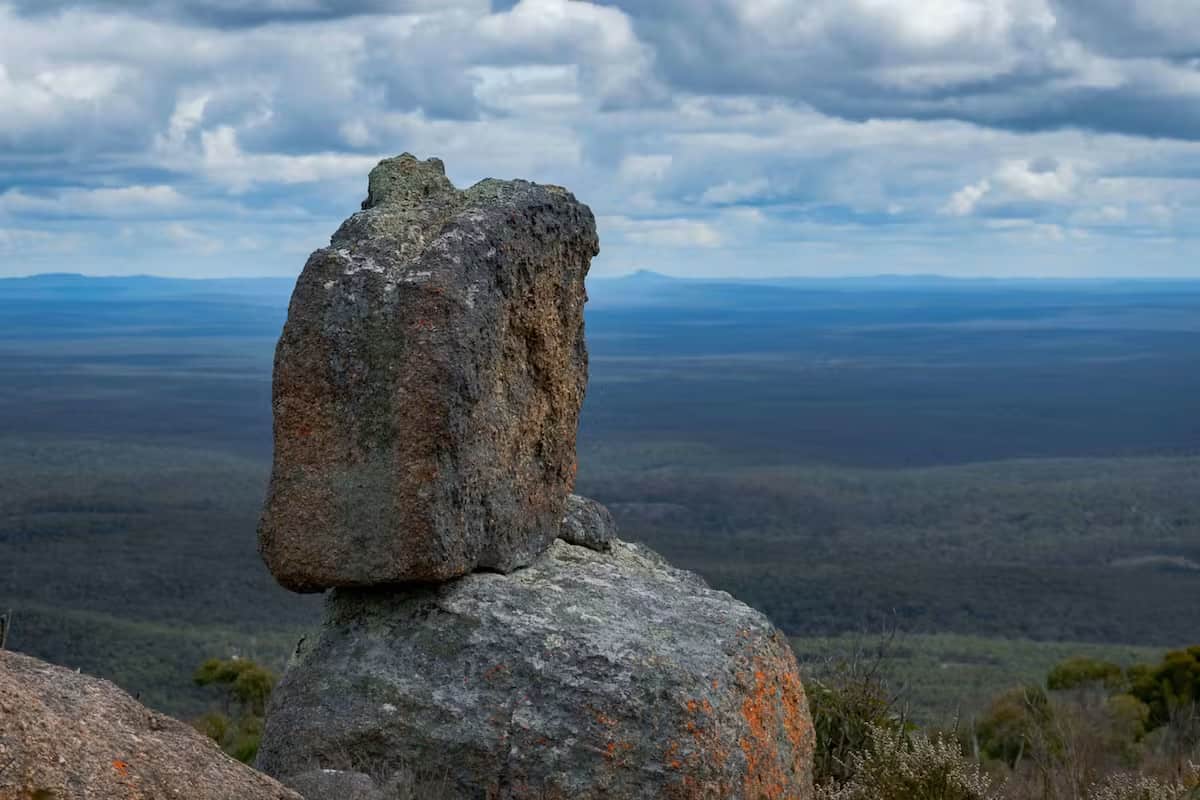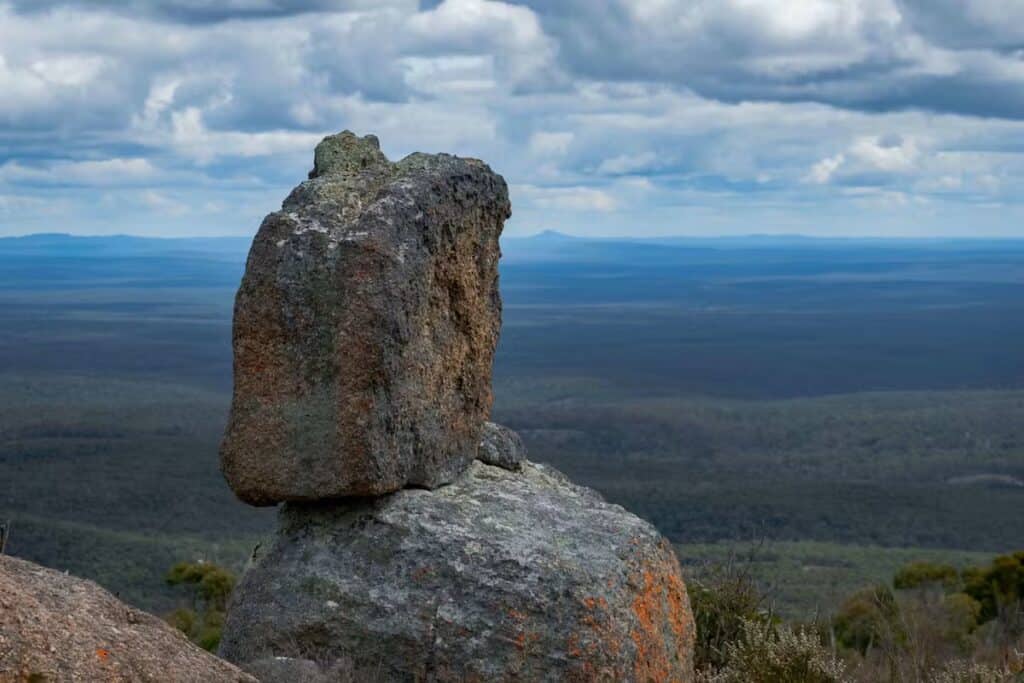 Beach Exploration
Denmark is blessed with an abundance of stunning white sand beaches, each offering unique landscapes and activities.
With so many picturesque beaches and unique landscapes to explore, your days in Denmark, WA, will be filled with unforgettable memories.
9. Lights Beach
Lights Beach comprises three distinct beaches: Eastern, Central, and Western.
Within Eastern Beach lies the serene rock pool named Princess Pool, a haven for children to frolic in, shielded from the vigorous waves by substantial boulders. On the other hand, Central Beach boasts majestic waves, making it unsuitable for swimming, yet the surrounding vistas remain a sight to behold.
There's a breathtaking lookout point at Lights Beach, offering panoramic views of the picturesque William Bay and serving as an ideal vantage to witness the splendid sunset spectacle.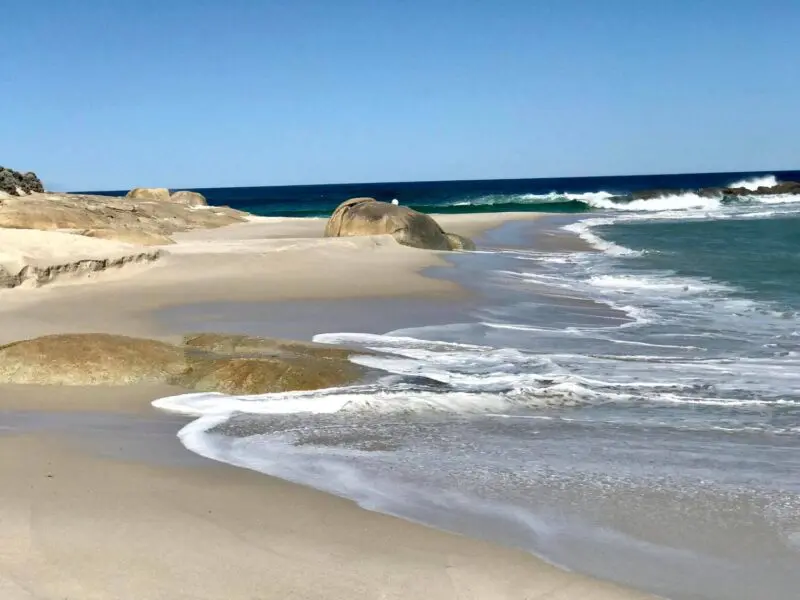 10. Ocean Beach
Ocean Beach is one of Denmark's most renowned and beloved coastal destinations. Nestled between the Wilson Inlet and the vast expanse of the Great Southern Ocean, this beach emerges just a few kilometres outside the town of Denmark, accessible via the Ocean Beach Road.
A visit to Ocean Beach becomes an essential part of any Denmark itinerary, offering a serene sanctuary to unwind and inhale the refreshing ocean breeze. The idyllic grassy expanse that overlooks the rolling waves, a comfortably seated lookout, a sheltered pavilion, the presence of a Surf Club, and well-equipped restroom facilities collectively contribute to making this location a perennial favourite among visitors.
Whether swimming or surfing, Ocean Beach caters to aquatic enthusiasts and those seeking coastal thrills. While the summer season might attract a lively crowd, this only enhances the beach's allure, creating an atmosphere of vibrancy and energy.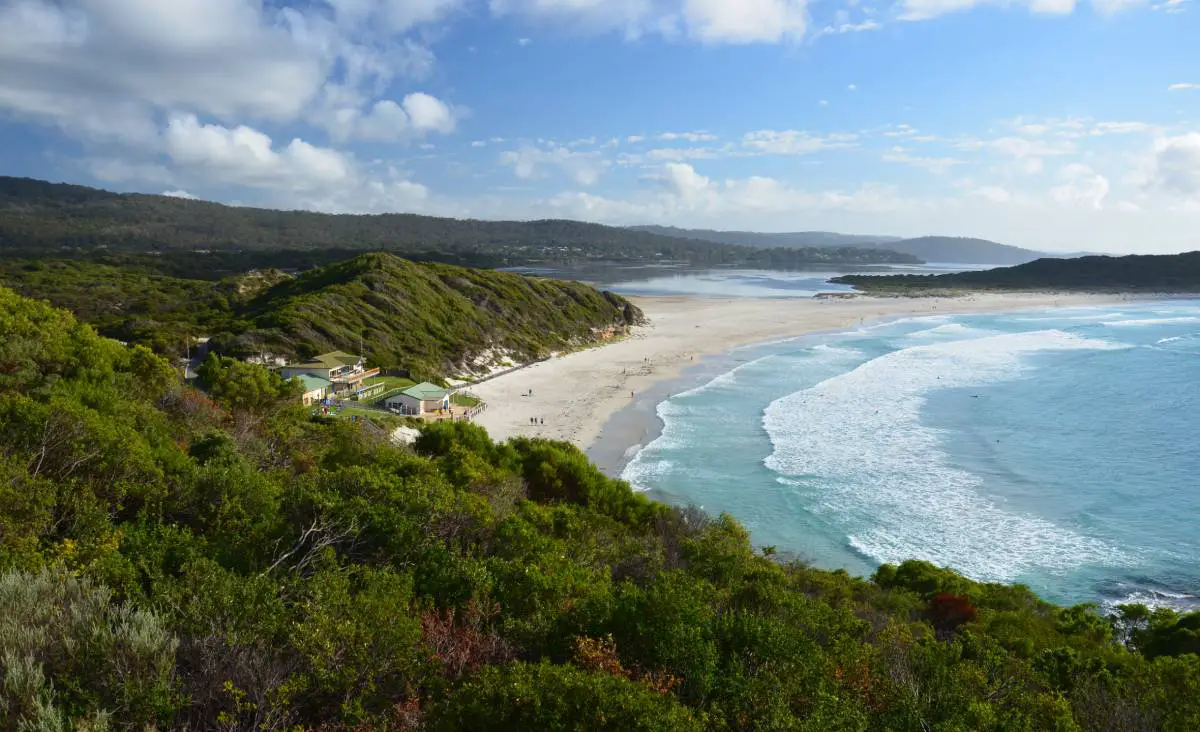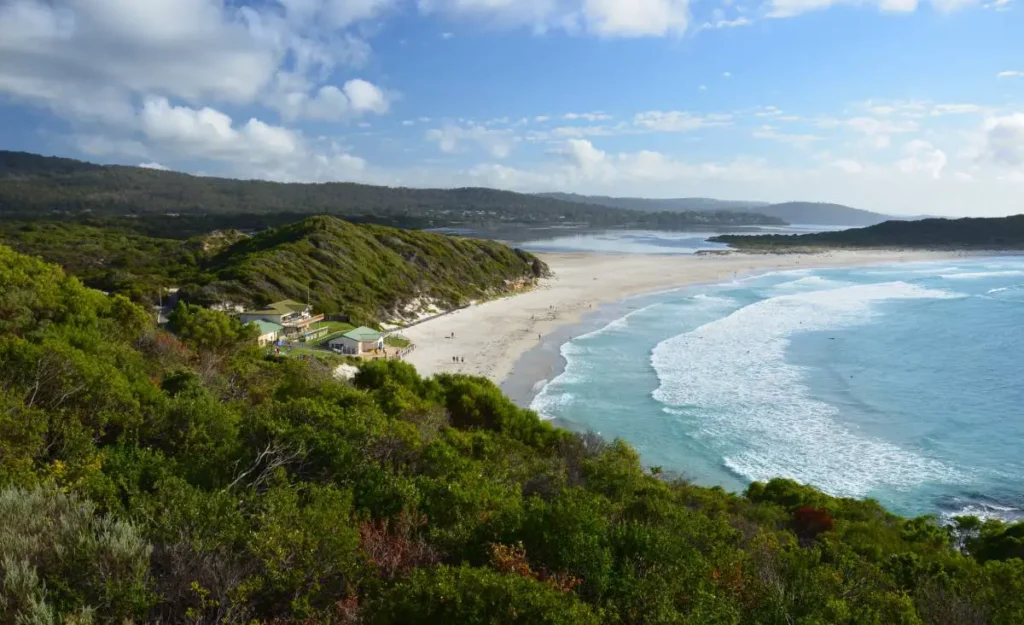 11. Shelley Beach
Tucked away in the wild West Cape Howe National Park, you'll stumble upon Shelley Beach – hands down one of the prettiest beaches around.
It's the only spot in this fantastic coastal area where you don't need a 4×4 to get in, so it's a total hotspot for beach bums, campers, fishing enthusiasts, and folks who love a good nature walk. Those massive rocky boulders that frame Shelley Beach? They've been chilling there for over a billion years, giving swimmers and anglers a rad place to hang out and do their thing.
12. Waterfall Beach
Waterfall Beach, situated within William Bay National Park, can be reached by taking a left turn at the Greens Pool car park. Here, a creek gracefully cascades over Pleistocene rock, giving rise to a modest waterfall. This watercourse is a favourite among children, who enjoy playing in the stream that meanders into Madfish Bay.
Located on the far side of the beach, to the left of the car park, the waterfall creates an enchanting sight. Yet, the allure of the destination extends beyond the waterfall itself. The beach boasts its charm, offering picturesque vistas across the bay, making it a truly captivating experience.
Animals and Wildlife
13. Denmark Animal Farm & Pentland Alpaca Stud
For a fun and engaging experience that the whole family will enjoy, visit the Denmark Animal Farm & Pentland Alpaca Stud. You can get up close and personal with various animals at this animal farm and wildlife park. These include koalas, alpacas, rabbits, chickens and joeys, with the opportunity to pet, cuddle and feed them all! Conveniently, there is a car park available for visitors.
The daily bottle feeding time at 3 pm is a must-see, providing a unique opportunity to interact with the adorable farm animals. A visit to Denmark Animal Farm & Pentland Alpaca Stud will surely be a highlight of your trip to Denmark.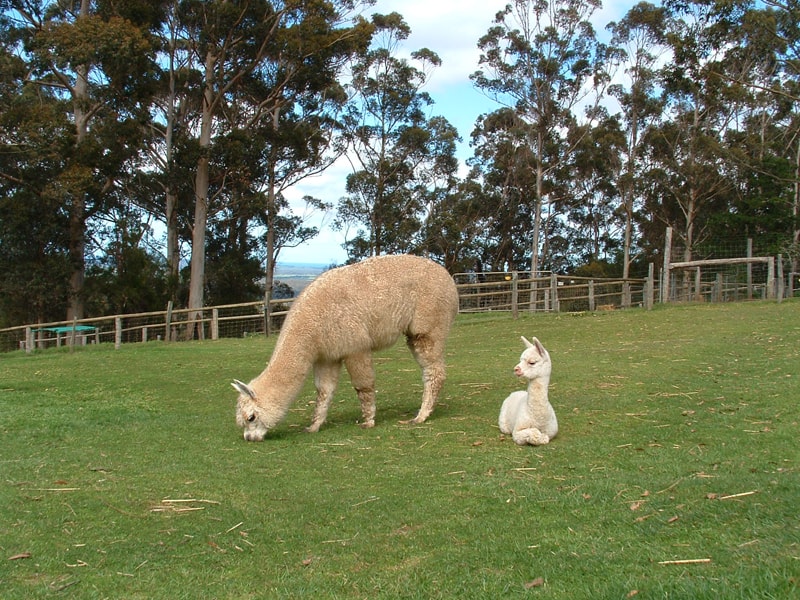 14. Wilson Inlet
If you're adventurous, you must check out this fantastic spot – Wilson Inlet.
They also call it Koorabup or "The Place Of The Black Swan" in the Noongar language. You'll spot tons of those black swans chillin' in the water, plus a bunch of other waterbirds if you're lucky. The Denmark Heritage Rail Trail connects to the inlet, and that's part of the very popular Munda Biddi mountain bike trail.
Art, Culture, and History
Denmark boasts a vibrant art, culture, and history scene, with murals, bookshops, and galleries offering something for everyone to enjoy. As you stroll through the town, be sure to check out the stunning murals at the Little IGA and Denmark Vet Hospital, as well as the huge purple flower near the Big IGA.
Learn about Denmark's past by visiting the Denmark Historical Museum, which houses an extensive collection of artifacts and exhibits. Immerse yourself in the town's rich art, culture, and history, and discover the local talent and historical treasures that make Denmark a truly unique destination.
15. Denmark Historical Museum
The Denmark Historical Museum offers a fascinating glimpse into the town's past, showcasing a collection of over 1000 artifacts ranging from household items to medical equipment, cameras, maps, coins, office supplies, prison items, sewing machines, books, toys, farming tools, musical instruments, blacksmith tools, signs, and fishing gear. Open on Tuesdays, Thursdays, and Sundays, the museum provides a captivating experience for history enthusiasts and curious visitors alike.
Be sure to include the Denmark Historical Museum in your itinerary to better understand the town's history and heritage.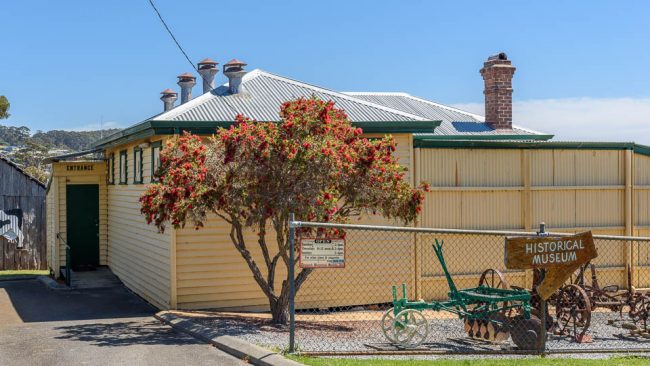 16. Butter Factory Studios & Gallery
Offering a creative and inspiring experience, the Butter Factory Studios & Gallery is a contemporary fine art gallery, gift shop, and studio in Denmark. Home to ten artists, the gallery showcases a diverse range of artwork, including paintings, sculptures, ceramics, printmaking, and jewellery.
In addition to the stunning art on display, Butter Factory Studios & Gallery also offers workshops and exhibitions, allowing you to explore your artistic talents and appreciate the work of local and international artists. Complete your visit with a stop at the gallery's café, where you can enjoy light meals, snacks, coffee, and tea.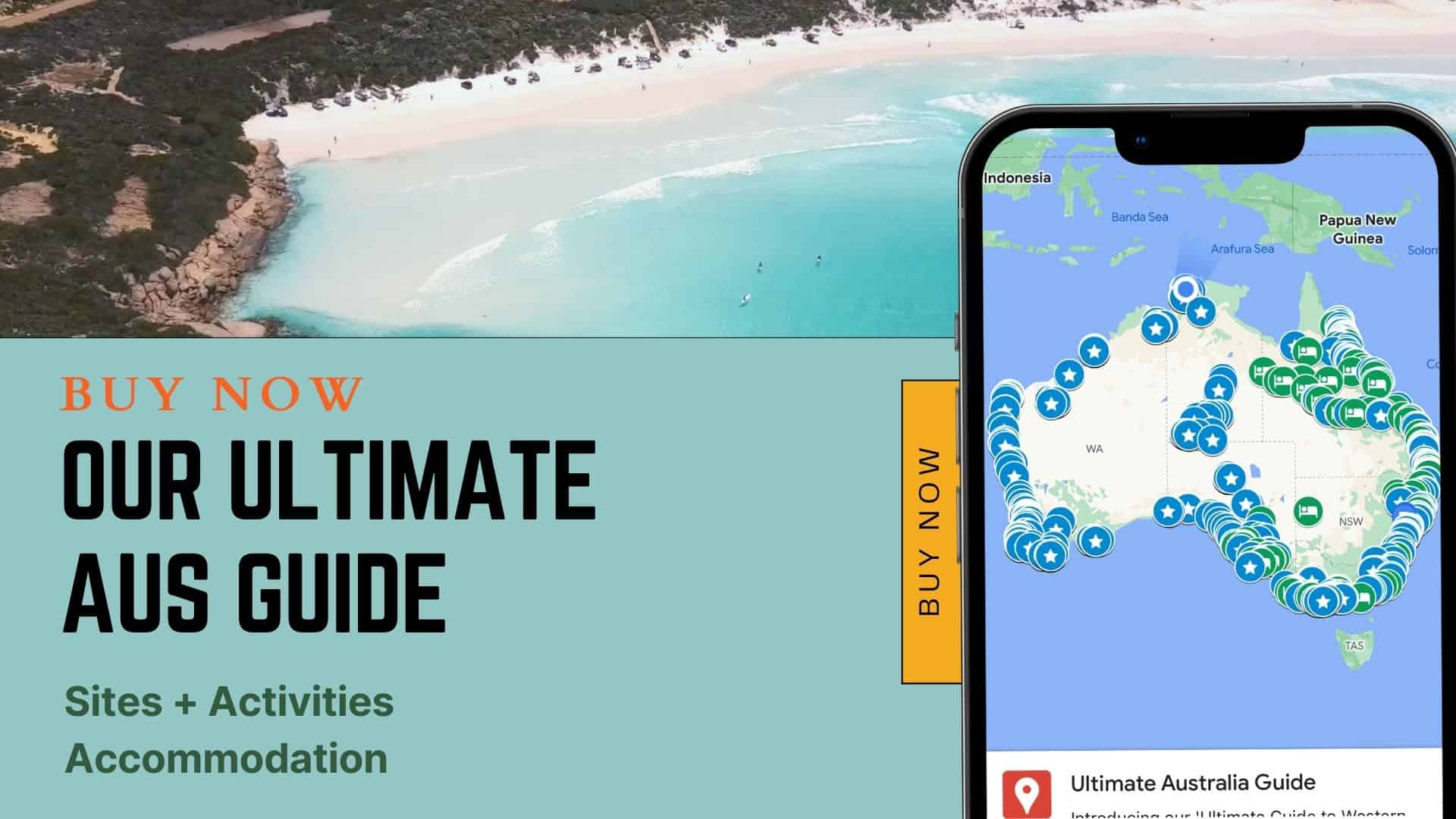 Day Trips from Denmark
Denmark's prime location also makes it an excellent base for day trips to nearby attractions. Venture to Walpole for horse riding, Bart's Meadery, and a visit to the Giant Cone.
A short drive away is the historic city of Albany, offering stunning views at The Gap and Natural Bridge, fascinating insights into the whaling industry at Albany's Historic Whaling Station, and a chance to see the impressive wind turbines at the Wind Farm. Make the most of your time in Denmark by embarking on these memorable day trips.
Summary
From the breathtaking William Bay National Park and its pristine beaches to the vibrant art, culture, and history scene, Denmark offers an unforgettable experience for all who visit. Whether you're seeking adventure, relaxation, or a chance to explore the region's natural beauty, Denmark has it all. So pack your bags and get ready to discover the wonders of this picturesque coastal paradise in Western Australia.
Frequently Asked Questions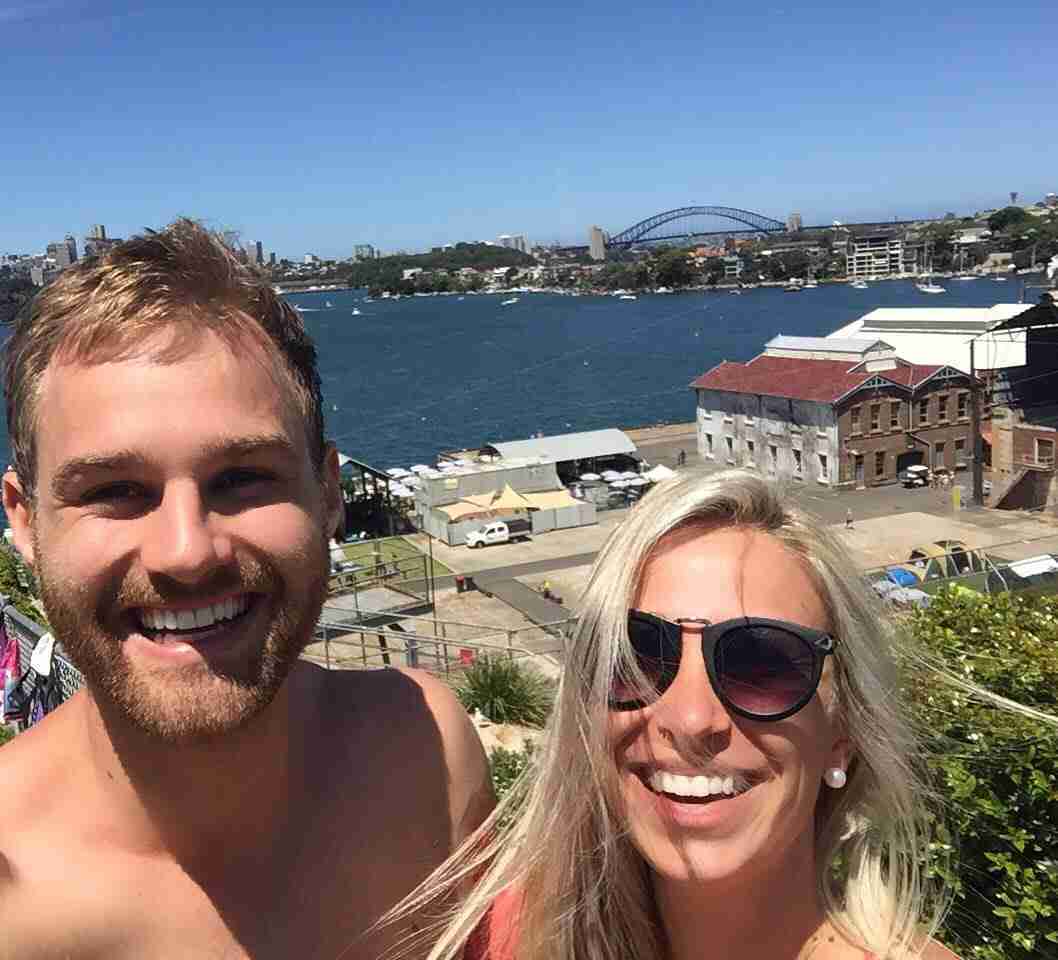 Wade & Dani
Hi! We're Wade and Dani, We're currently travelling around Australia in our 2017 Mercedes Sprinter Camper van and sharing our best experiences, stories, reviews and adventures as we go along. Make sure you follow us on Instagram @wadeanddani