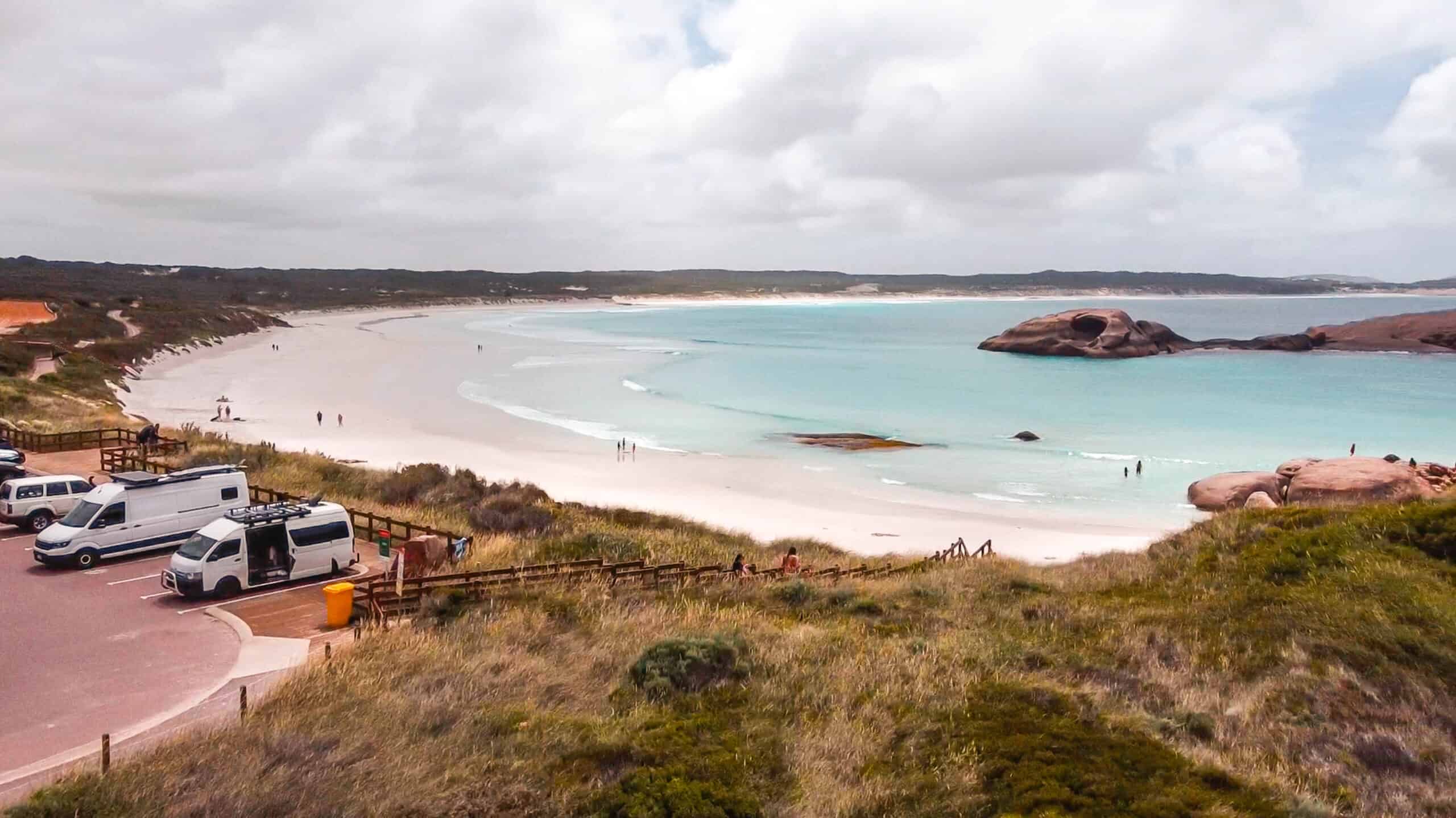 Discover the Hidden Magic of Twilight Beach
Picture this: impossibly white sand, unbelievably clear turquoise water, and the perfect harmony of nature around you.
Welcome to Twilight Beach, a hidden gem that offers a magical experience unlike any other.
Ready to discover its enchanting beauty? Let's dive in!
Short Summary
Discover the hidden magic of Twilight Beach in Esperance, WA, with its breathtaking views and activities.
Enjoy perfect swimming conditions & explore granite cliffs during summer at high or low tide.
Bring your family to RAC Esperance Holiday Park for accommodation but leave Fido at home!
Location and Accessibility of Twilight Beach
Located just a few minute's drive from Esperance city centre in Western Australia, Twilight Beach is a breathtaking paradise waiting to be explored. Surrounded by gently rounded granite cliffs and the picturesque Blue Haven Headland, this beach boasts a deepening blue ocean, creating a beautiful vista that will leave you in awe.
Twilight Beach is a popular destination located in Esperance, Western Australia. It can be accessed via Twilight Beach Road and is also known as Twilight Bay or Twilight Cove. With its convenient accessibility and idyllic conditions, it's no wonder that Twilight Bay is considered one of the best beaches west of Australia.
Watch our Youtube video in Esperance below:
Where is Twilight Beach?
Twilight Beach is located 7 km west of Esperance, beginning west of Blue Haven headland and stretching 3.2 km southwest.
Gently Rounded Granite Cliffs
The granite cliffs at Twilight Beach are not only magnificent but also play a significant role in enhancing the beach'sbeach's overall beauty. As you venture west of the main beach area, you will be greeted with stunning views of the waves crashing against the granite cliffs, creating a dramatic backdrop to the impossibly white sand and unbelievably clear turquoise water.
From these cliffs, you can enjoy a bird's-eye view of the beaches west of the headland and the mesmerising scenery surrounding Twilight Cove. The vantage point from the cliffs is truly a sight to behold, making it a must-visit spot at Twilight Beach.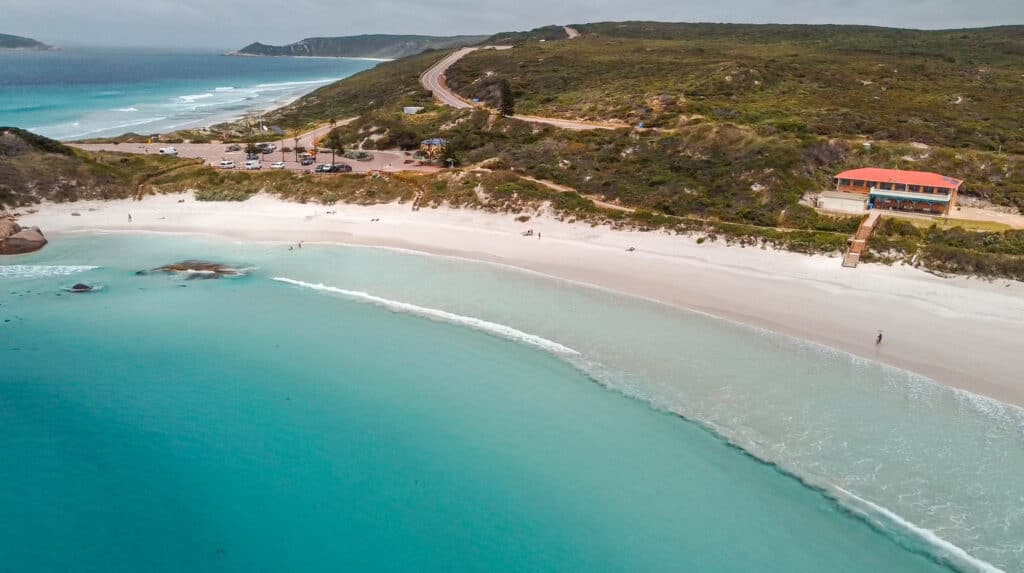 Best Times to Experience Twilight Beach
Summer is the prime time to visit Twilight Beach, as the beautiful vista of white sand and turquoise water is at its best during this season. With temperatures reaching around 30°C, it's the perfect time to soak up the sun and enjoy the idyllic conditions this beach offers.
The tide also plays a crucial role in determining the ideal time to experience Twilight Beach, as high and low tides each provide unique opportunities for different activities. High tide allows you to swim out to the granite island, while low tide reveals a sandbar for exploration – giving you the best of both worlds, no matter when you choose to visit.
Summer Season
During the summer, Twilight Beach transforms into a lively and bustling destination, offering perfect swimming conditions for beachgoers. The warm weather and clear skies create a picturesque setting for sunbathing, exploring the western end, and taking in the stunning views of the granite cliffs and Blue Haven Headland.
To make your visit even more enjoyable, Twilight Beach welcomes an ice cream truck during the summer months, providing a sweet treat for visitors to indulge in while basking in the sun. So grab your swimsuit, sunscreen, and shades – it's time to experience the magic of Twilight Beach during the summer!
High Tide vs. Low Tide
Both high and low tides at Twilight Beach offer unique experiences catering to different interests and preferences. At high tide, the water rises, providing the opportunity to swim out to the granite island and take a thrilling leap into the gorgeous aqua waters.
On the other hand, low tide allows for exploration on the sandbar, as the receding water reveals a path to the granite island for a stroll. No matter when you choose to visit Twilight Beach, you can enjoy unforgettable experiences that cater to your sense of adventure.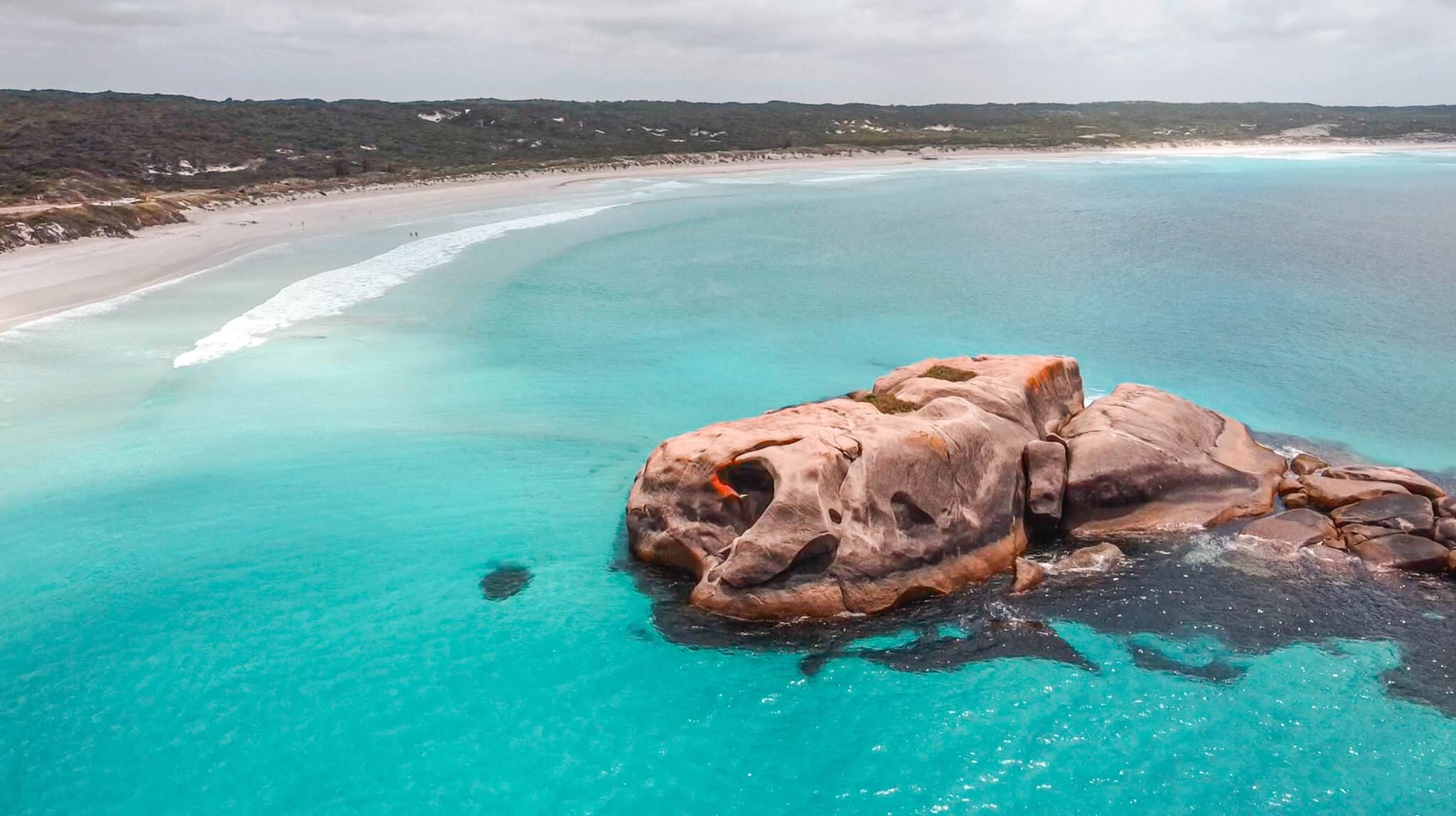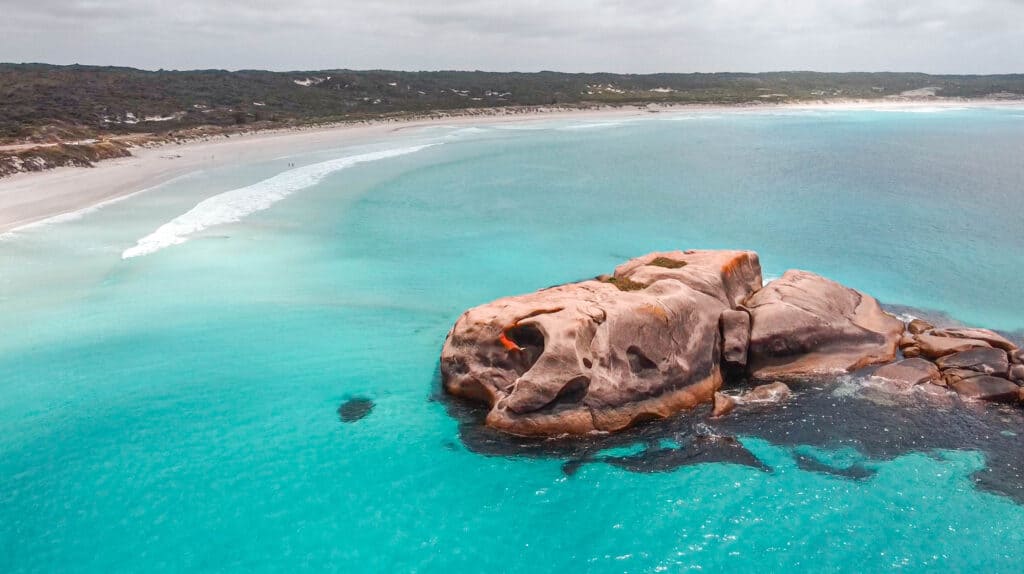 Safety and Amenities at Twilight Beach
At Twilight Beach, safety is a top priority. With lifeguard patrols, warning signs, and safety equipment readily available, visitors can enjoy the beach with peace of mind. It'sIt's essential to check the conditions before entering the water and avoid the coastal rocks and headlands to ensure a safe and enjoyable experience for everyone.
In addition to safety measures, Twilight Beach offers a range of amenities for visitors, including a large car park, toilets, cold showers, and picnic tables. With these facilities in place, you can focus on enjoying the beach's beautiful surroundings and creating unforgettable memories with your loved ones.
Safe Swimming Conditions
Twilight Beach is recognised as one of the safest beaches in the Esperance area, with the Goldfields Surf Life Saving Club watching the beach and its visitors. The water temperature at Twilight Beach is around 18°C, which might be slightly tepid for some, but it is still considered safe for swimming.
While it's always a good idea to be aware while swimming, don't forget to check the weather forecast for strong wind advisories before hitting the water. With these precautions in place, you can confidently enjoy the perfect swimming conditions Twilight Beach offers.
Car Parks and Facilities
Twilight Beach features two large car parks on either side of the Surf Life Saving Club, providing ample parking space for visitors. Whether planning a day trip or an extended stay, you can conveniently access the beach and its surrounding attractions without hassle.
In addition to the car parks, Twilight Beach offers a range of facilities to cater to the needs of its visitors. With public toilets, cold showers, and a kiosk available, you can comfortably spend your day exploring the beach and its stunning landscapes without worry.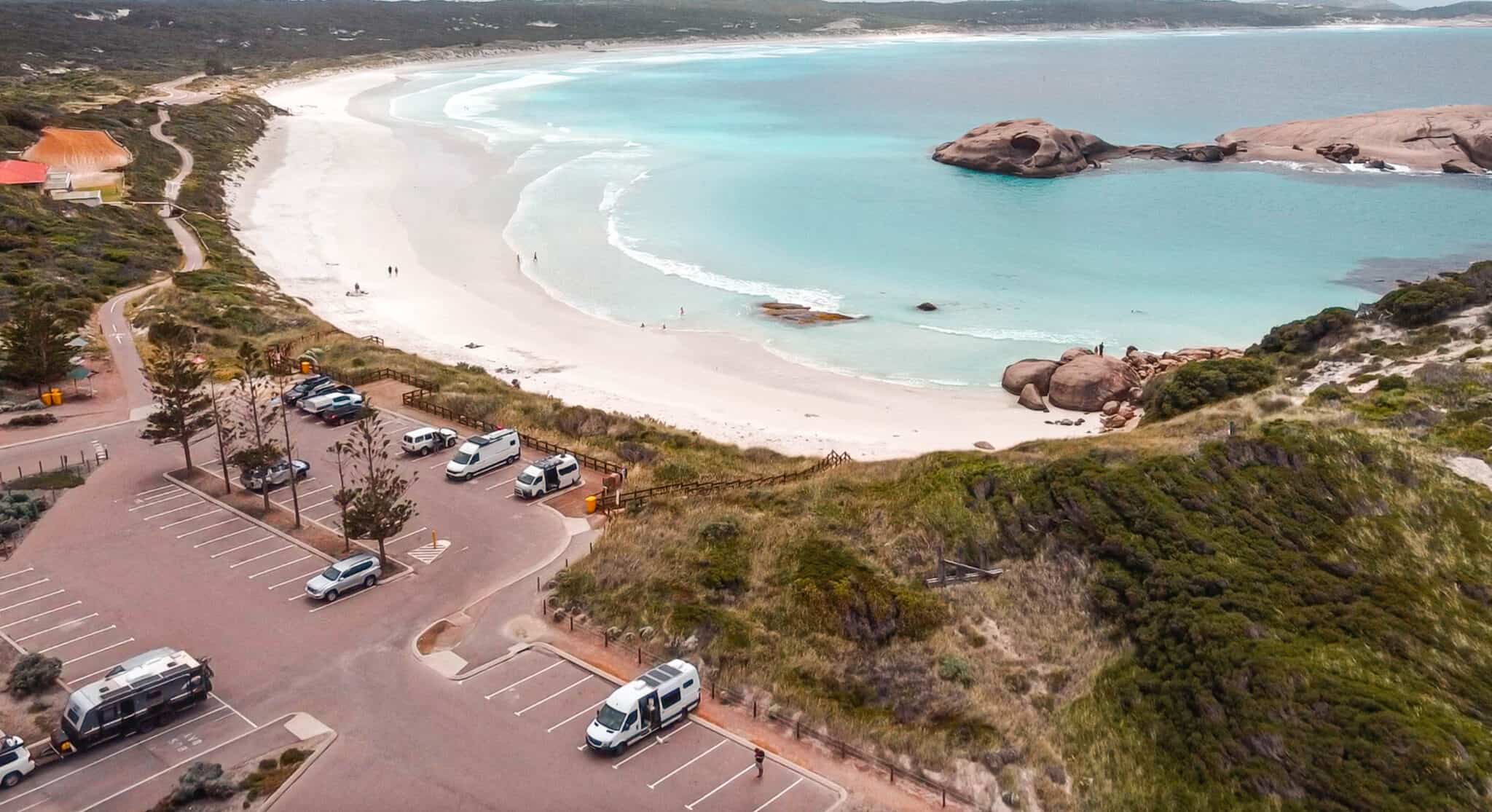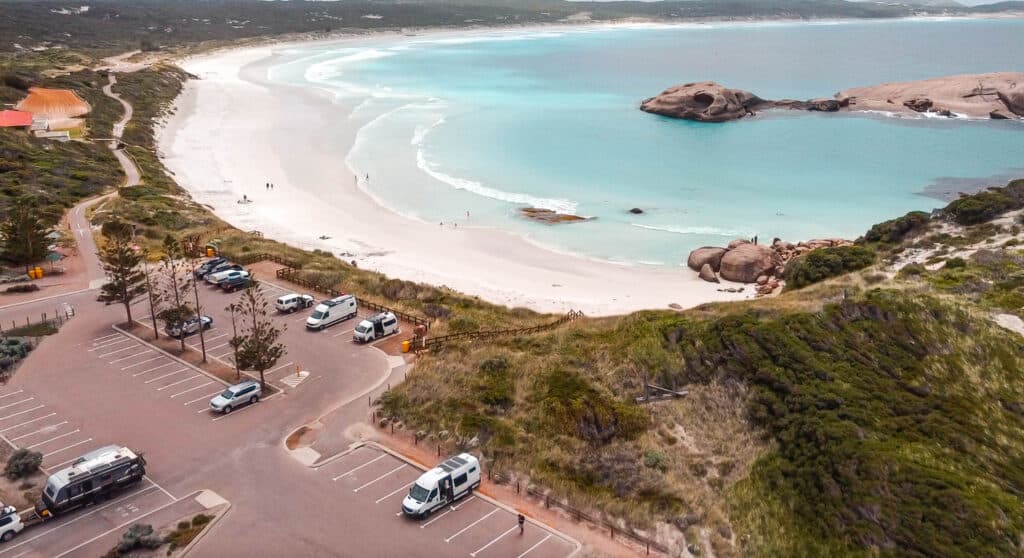 Sharks at Twilight Beach
Esperance has become widely known due to its history of several deadly shark attacks.
In January 2022, two people swam to the famous rock at Twilight Beach and became stranded as a big white shark was spotted in the water. The lifesaving surf members at the beach on that day were able to get their inflatable rescue boat up to the rock, and the two stranded men stepped in and got a ride back to shore.
This was not the first time people had to be rescued off the rock because of the local wildlife. And it will most likely not be the last. So make sure you check for shark sightings before swimming to the rocks.
Twilight Bay is where the Goldfields Surf Life Saving Club is located. They diligently train and monitor the beach on weekends, ensuring your safety. If you have any concerns about swimming, take comfort in the fact that the Western Australian Surf Life Saving Association has recognised Twilight Bay as the safest beach in the region.
Activities and Attractions at Twilight Beach
Twilight Beach offers a wide range of activities and attractions that cater to every visitor'svisitor's preferences. From swimming in the unbelievably clear turquoise water to relaxing on the impossibly white sand, there'sthere's something for everyone to enjoy. The beach is also a popular spot for fishing, with various fish species swimming in the surrounding waters.
For those searching for a more secluded experience, the western end of Twilight Beach is a perfect choice. This part of the beach offers a peaceful escape from the crowds, allowing you to immerse yourself in the beauty of the landscape fully.
Unbelievably Clear Turquoise Water
The crystal-clear turquoise water at Twilight Beach is a sight to behold and offers the perfect setting for various water activities. With its pristine conditions and gentle waves, the beach is ideal for swimming, snorkelling, and kayaking.
The mesmerising colour of the water is not only visually stunning but also serves as a constant reminder of the beach'sbeach's pristine and unspoiled nature. As you dive into the refreshing waves, you'll be left in awe of the enchanting beauty that Twilight Beach has to offer.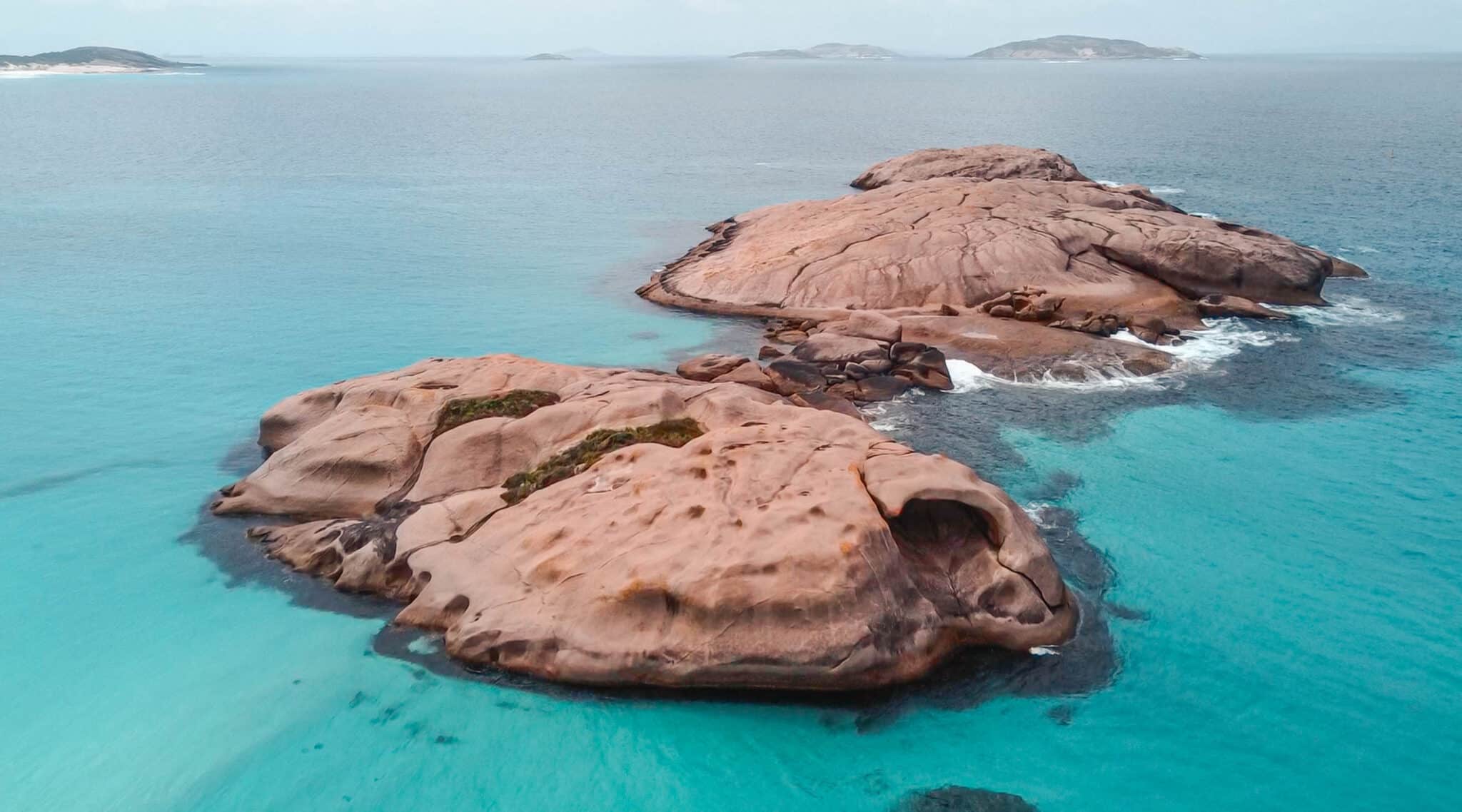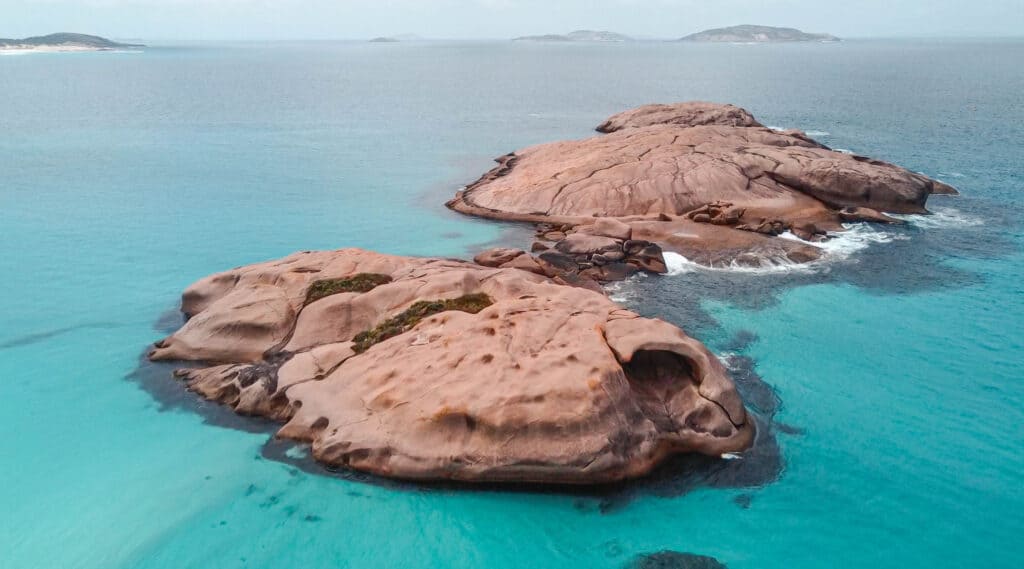 Impossibly White Sand
The pure white sand at Twilight Beach is yet another element that adds to the beach'sbeach's charm and allure. With its soft and powdery texture, the sand provides the perfect setting for sunbathing, playing beach cricket, or enjoying a picnic with family and friends.
The pristine condition of the sand not only enhances the overall beauty of Twilight Beach but also serves as an inviting canvas for visitors to create unforgettable memories. So sink your toes into the impossibly white sand and experience the magic of Twilight Beach for yourself.
Exploring the Western End
The western end of Twilight Beach offers a more private and peaceful experience for those looking to escape the bustling crowds of the main beach area. With its stunning views and abundant wildlife, the western end is a haven for nature lovers and photographers alike. Swimming, snorkelling, and kayaking are all popular activities at the western end, with lifeguards, car parks, and facilities readily available for your convenience. This serene experience commences immediately west of the main beach area, following the trends west of the coastline.
Whether you're visiting during the summer or high tide, the western end of Twilight Beach is a must-see destination for an unforgettable experience.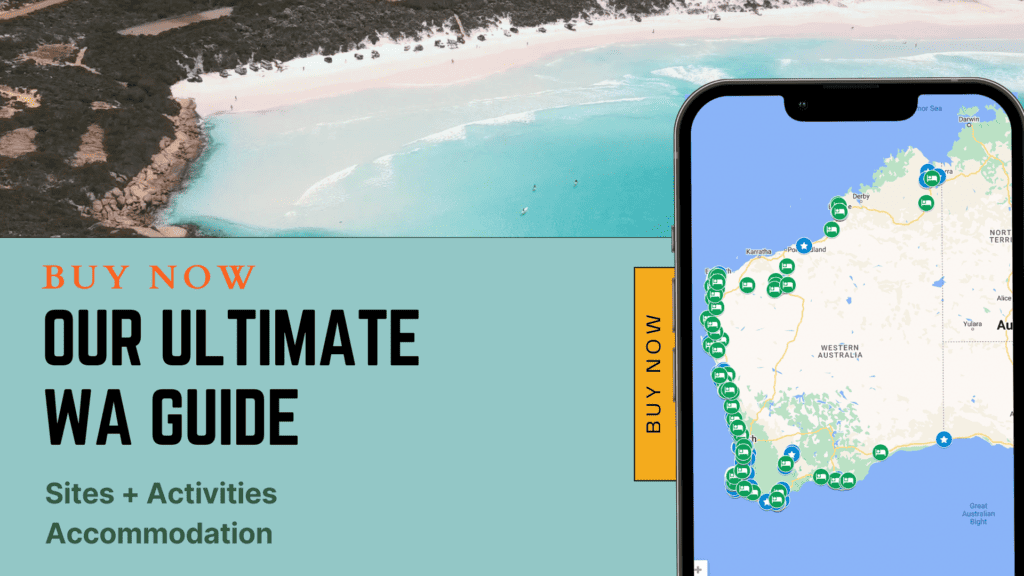 Accommodation and Pet Policies
When planning your visit to Twilight Beach, you'll find a variety of accommodation options nearby, including Twilight Cottage, Esperance Chalet Village, Esperance Island View Apartments, Driftwood Apartments, and vacation rentals like Esperance Bay Villas.
However, it's important to note that dogs are not allowed on certain parts of the beach, ensuring a clean and safe environment for all visitors.
RAC Esperance Holiday Park
Located just 10km from Twilight Beach, RAC Esperance Holiday Park is ideal for families, surfers, photographers, and backpackers. The holiday park offers a peaceful setting with a view of the bay and is a perfect base for exploring the Esperance area.
With various accommodation options available, including powered campsites, tent sites, and resort rooms, RAC Esperance Holiday Park caters to all visitors. The park'spark's top-notch amenities and helpful staff ensure a comfortable and enjoyable stay during your time at Twilight Beach.
No Dogs Allowed
To maintain a clean and safe environment for all visitors, dogs are not permitted at some parts of Twilight Beach. The restriction applies from the headland at Twilight Beach to the rocks east of the Surf Lifesaving Club.
By adhering to these pet policies, you can help ensure that Twilight Beach remains a pristine and enjoyable destination for everyone. Remember to respect the beach'sbeach's rules and regulations, so future generations can continue to experience the magic of Twilight Beach.
Summary
From its impossibly white sand and unbelievably clear turquoise water to the stunning granite cliffs and enchanting Blue Haven Headland, Twilight Beach offers a truly magical experience that will leave a lasting impression. With its idyllic conditions, array of activities, and commitment to safety and cleanliness, this hidden gem is a must-visit destination for anyone seeking an unforgettable beach escape. So pack your bags and get ready to discover the hidden magic of Twilight Beach!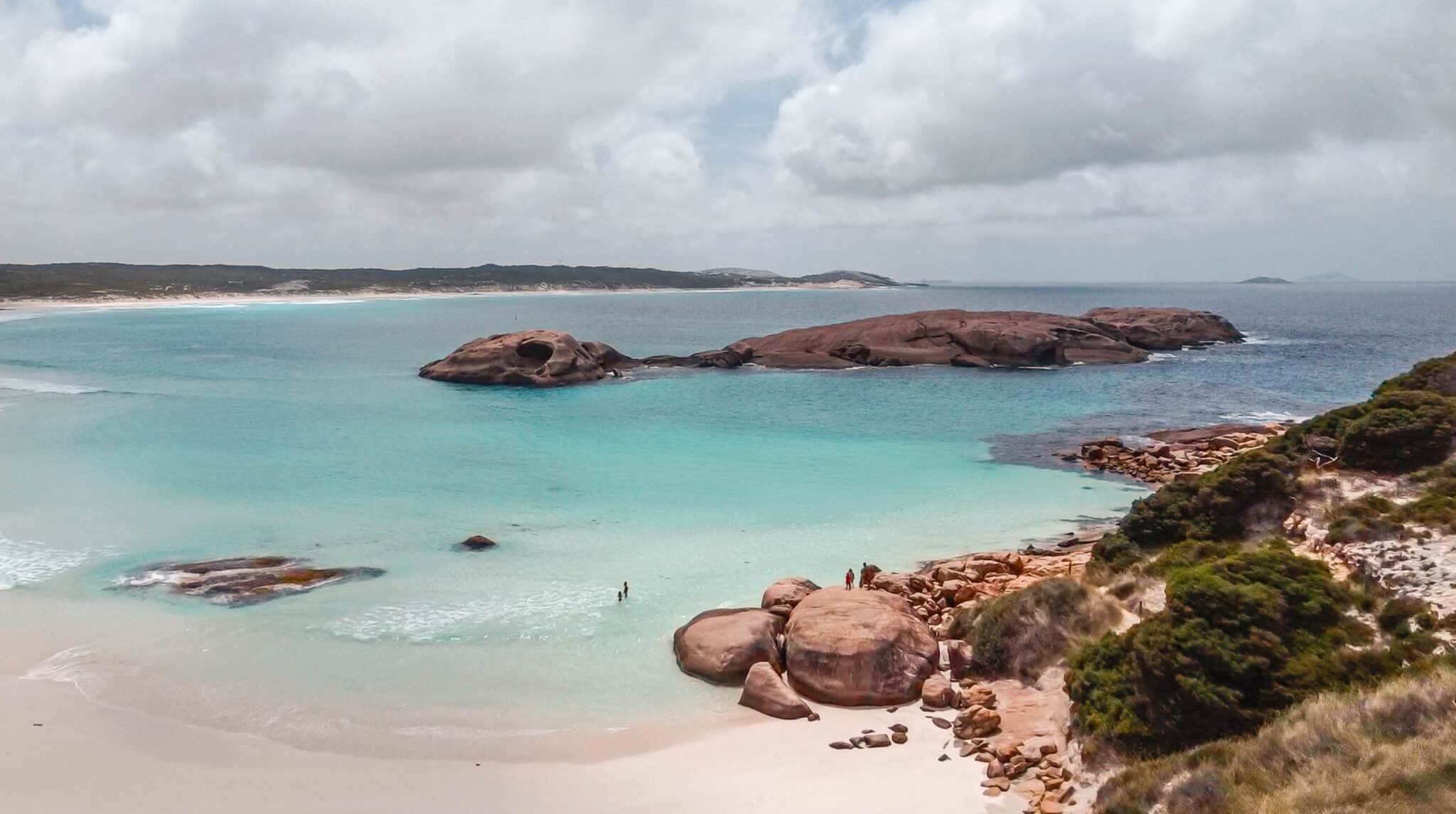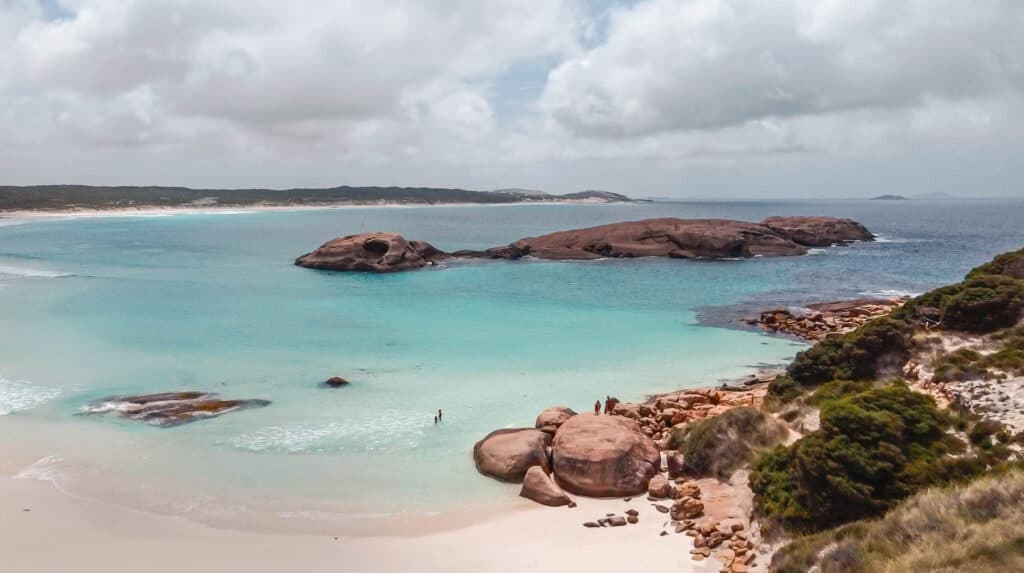 Frequently Asked Questions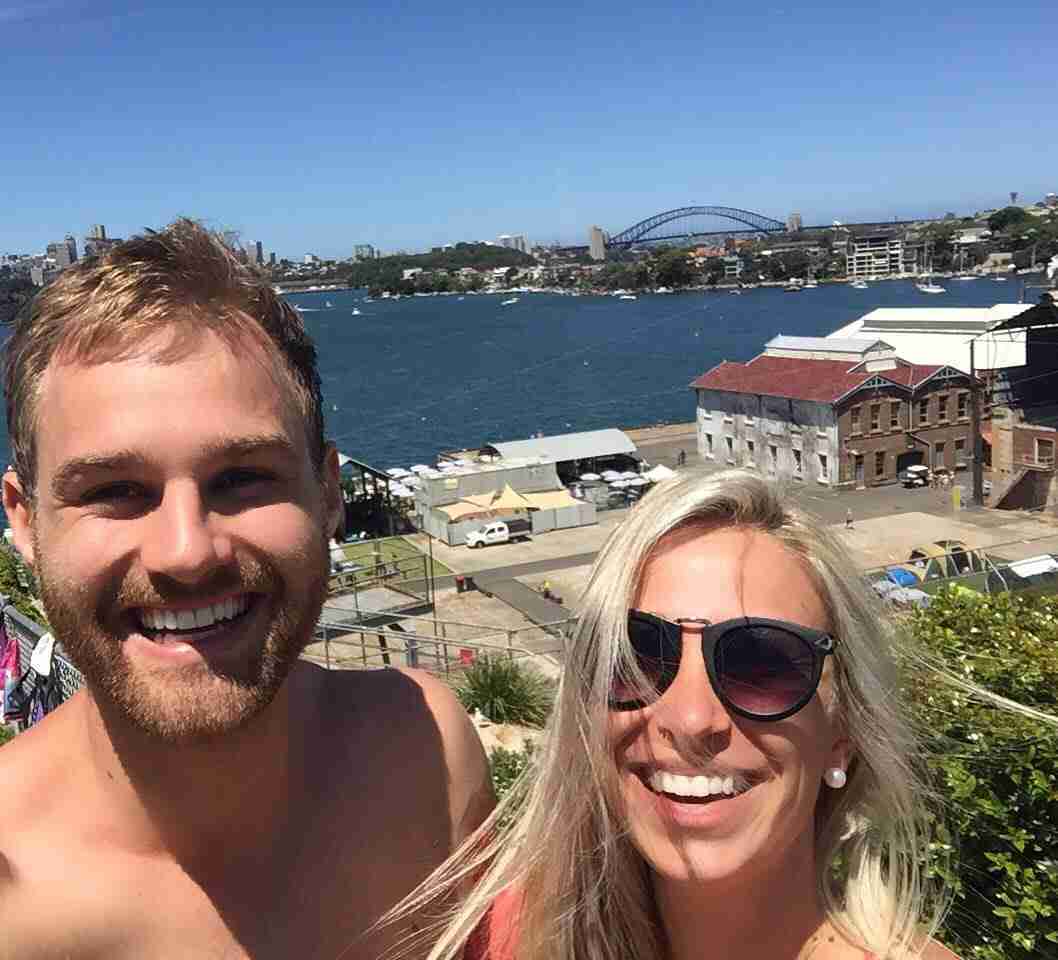 Wade & Dani
Hi! We're Wade and Dani, We're currently travelling around Australia in our 2017 Mercedes Sprinter Camper van and sharing our best experiences, stories, reviews and adventures as we go along. Make sure you follow us on Instagram @wadeanddani