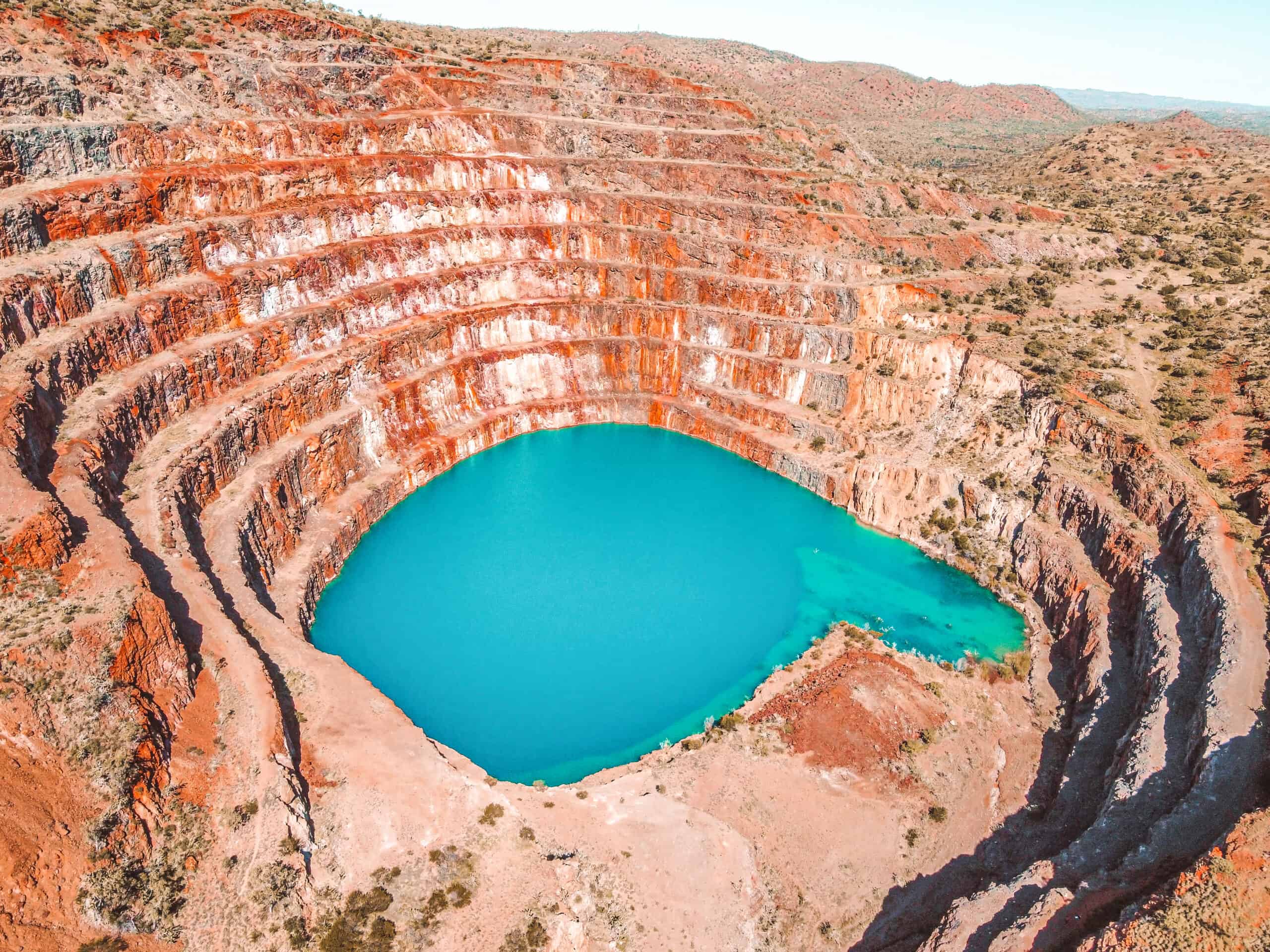 Discover the Mary Kathleen Town and Mine in Outback Queensland
Mary Kathleen is a small town in Queensland, Australia, that was once a thriving mining community. Today, Mary Kathleen is a ghost town. The Mary Kathleen Mine, the town's lifeblood, has been closed for decades. But even though there are no longer any residents living in Mary Kathleen, it remains a popular tourist destination for those interested in its rich history or some great photos.
This blog post will give you a brief history of Mary Kathleen and tell you how to get there. We'll also share some information about the Mary Kathleen Mine and the free Camping ground that is there now.
The History of Mary Kathleen
The history of Mary Kathleen Mine began in 1954 when Clem Walton and Norm McConachy discovered uranium deposits in the area. At the time, this was Australia's largest known deposit of uranium.
In 1956, uranium mining started at Mary Kathleen in North Queensland. This was to supply contracts signed with the UK Atomic Energy Authority.
The town of Mary Kathleen, named after McConachy's late wife, was purpose-built for the mine workers and their families. The architect-designed town grew during 1956-58 and had its water source from the nearby Corella River.
The Mary Kathleen uranium mine operated using the open-cut method from 1958-63 and again from 1976-82 when reserves were finally exhausted. Four thousand eight hundred two tonnes of uranium oxide concentrate were produced during the second phase of operation.
All that remained by the end of 1984 were rubbles where the township, the uranium mine, and the mill used to stand. Everything from houses to equipment and public buildings was put up for auction; all that remained were slabs of concrete and rehabilitated land.
How to get to Mary Kathleen
Mary Kathleen is located in northwestern Queensland, about halfway between Mount Isa and Cloncurry.
Getting to the free camping area is accessible in a 2WD, but proceed cautiously as the roads are bumpy and full of potholes.
If you need to hire a car, you can find one here.
From Mount Isa
Travel east along National Route 83 for 53 km, and the entrance to Mary Kathleen will be on your left.
From Cloncurry
Head west on National Route 83 for 67.6km. Turn right at the sign for Mary Kathleen.
Visiting the Mary Kathleen Town
Once a thriving mining town, Mary Kathleen is now a ghost town, but many people come here for the free camp and to visit the abandoned mine.
When you first arrive at Mary Kathleen, stop at the signboard, where you will find some great information, a big map and photos of the original town and the mine.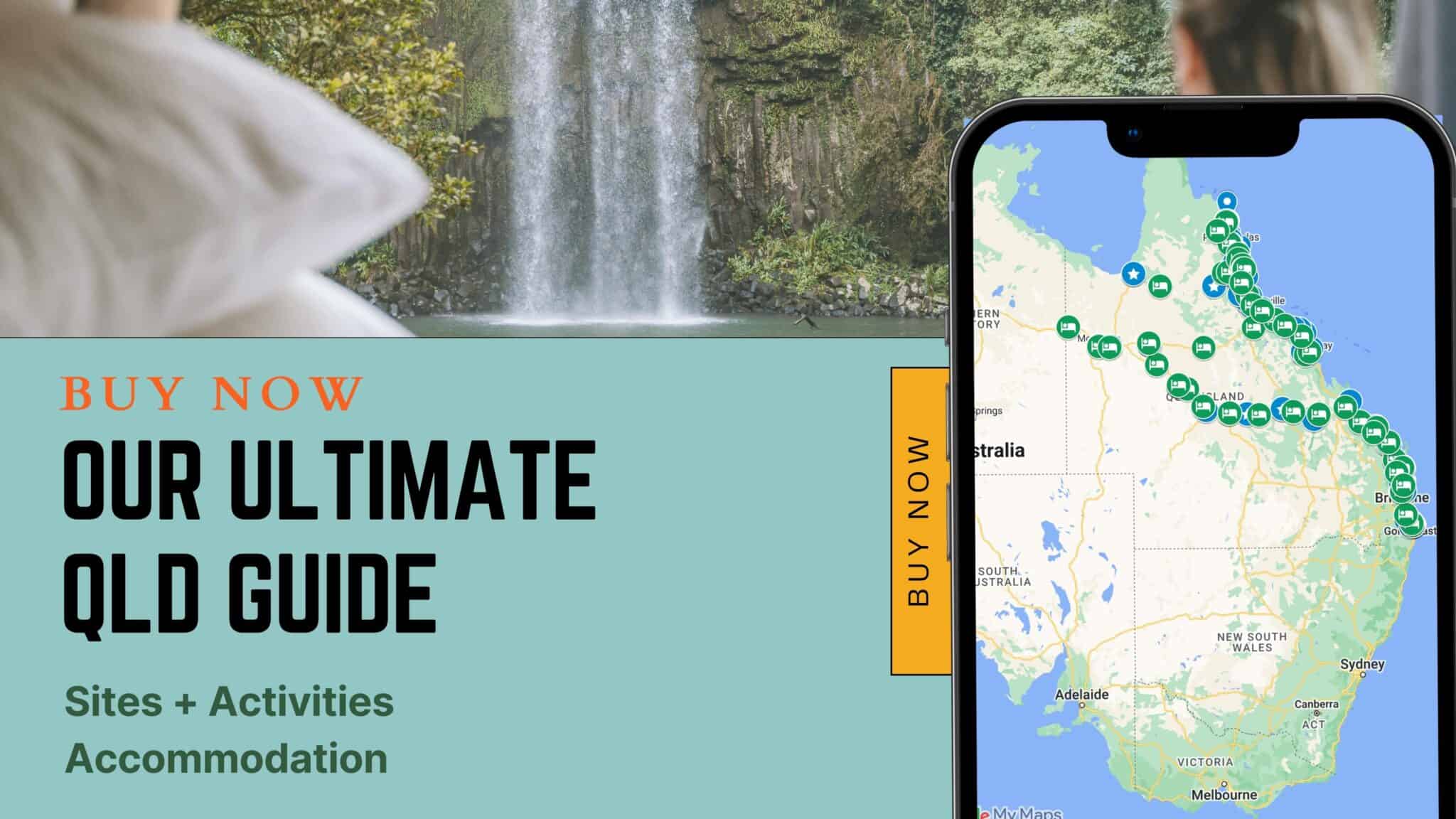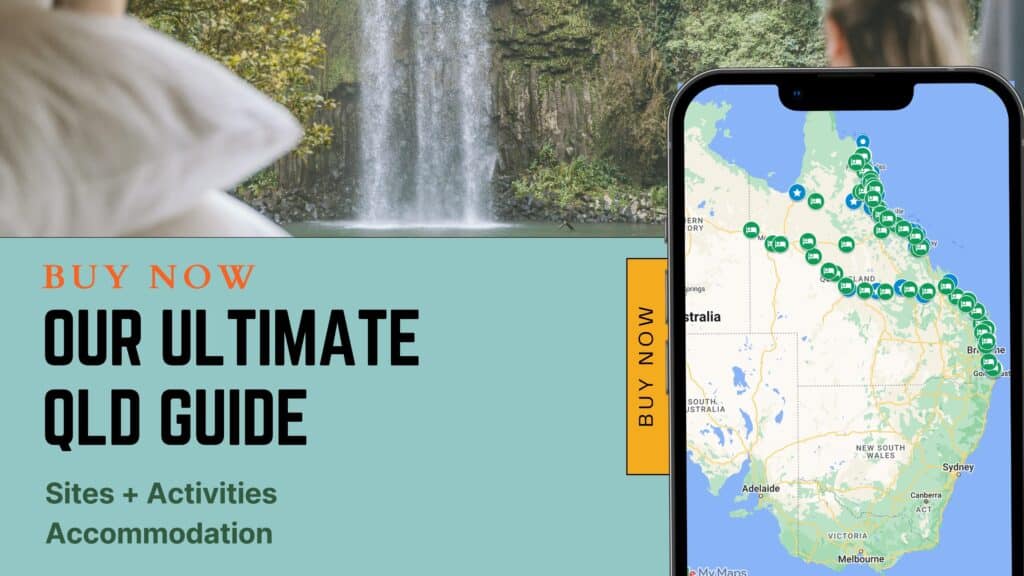 The map includes a list of services the town offered its residents back in the day. These services were:
Community Store
Police Station
Library
Post Office
ANZ Bank
Bowling Club
Golf Course
Churches
Sports Oval
Towns Square
Cinema
Swimming Pool
Service Station
Primary School
Fountain and Town Plaque
Fire Station
Tennis Courts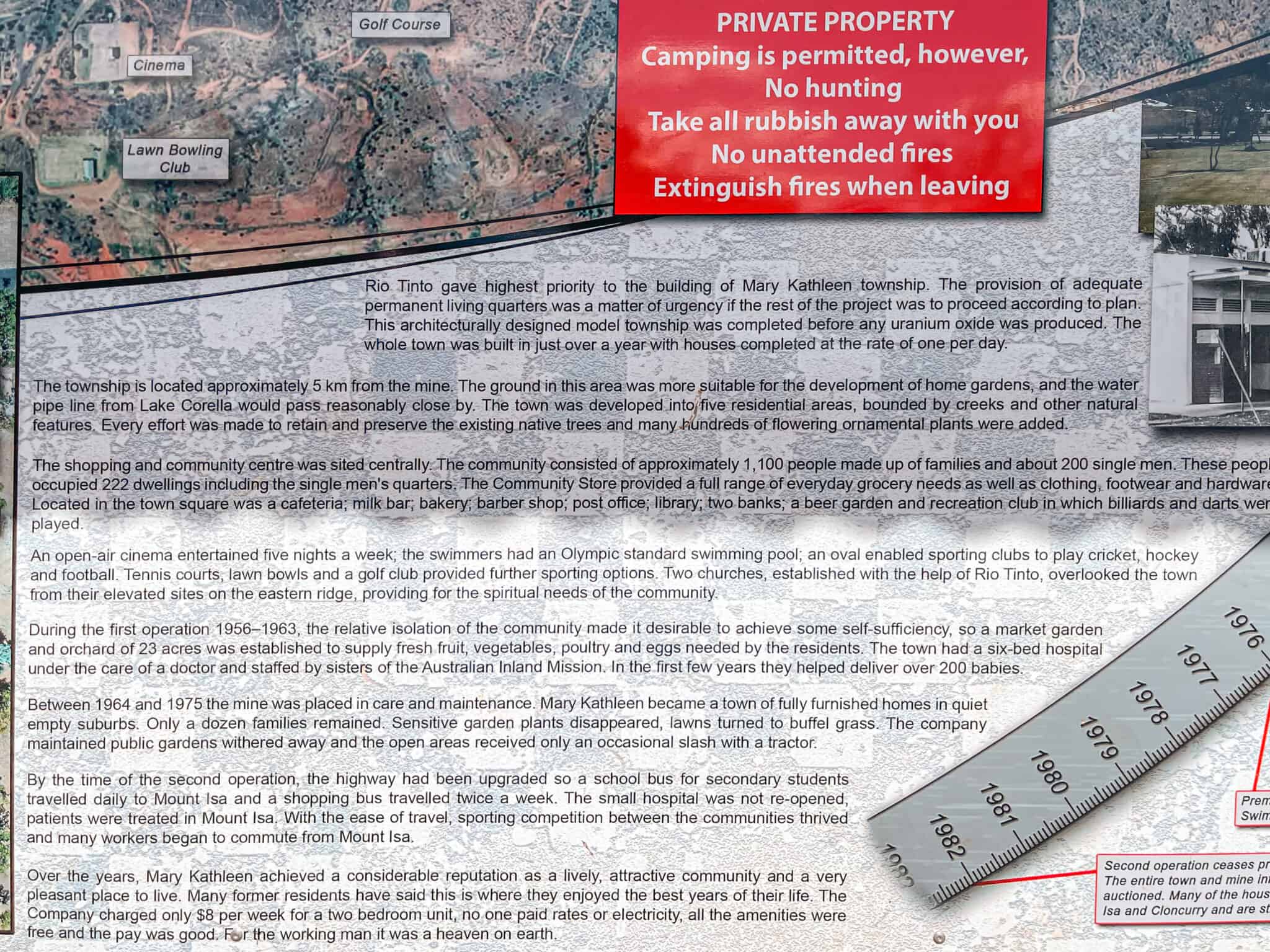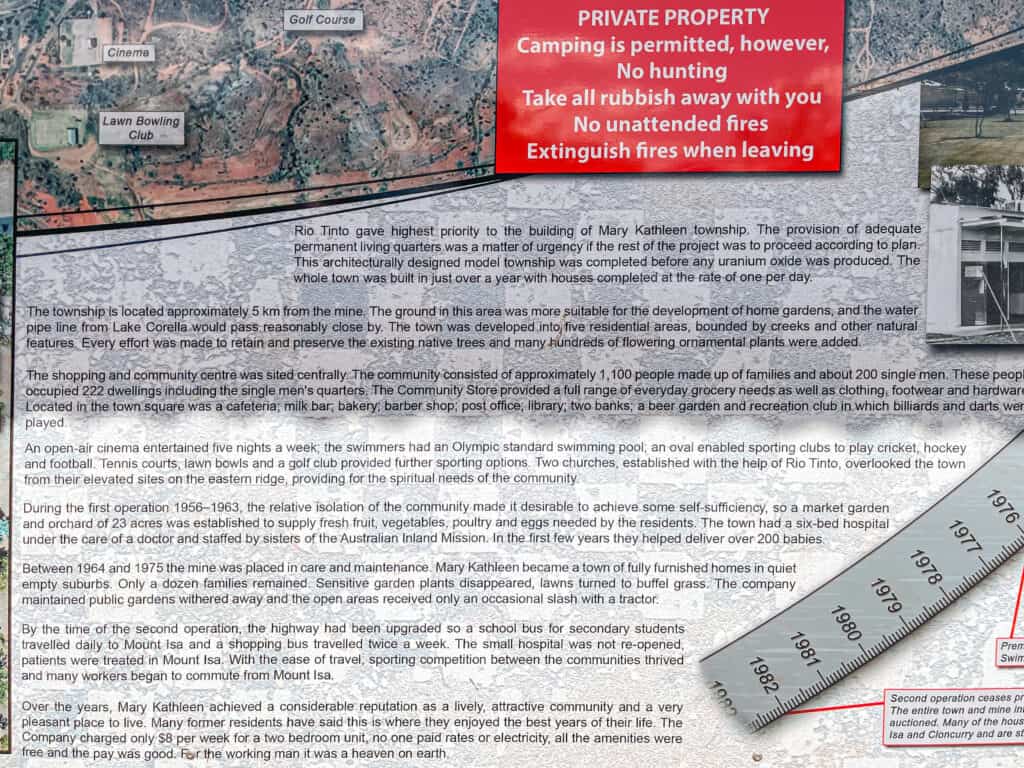 Visiting the Mary Kathleen Mine
The Uranium Mine in Mary Kathleen is only 6kms from the abandoned town square. If you think about it, the town had to be close enough to the mine for the employees to go to work.
To get to the mine site, follow the full of potholes old bitumen road. Access to the mine site is recommended by 4WD or vehicles with high clearance only, but we did it in our 2WD Mercedes Sprinter LWB.
You will get to a point where you can't drive any longer, and you will need to walk, but it is a short 2 min walk until you arrive at the most beautiful blue water we have ever seen.
Although the water in the uranium mine looks impressive, please DO NOT touch it!! It is Radioactive.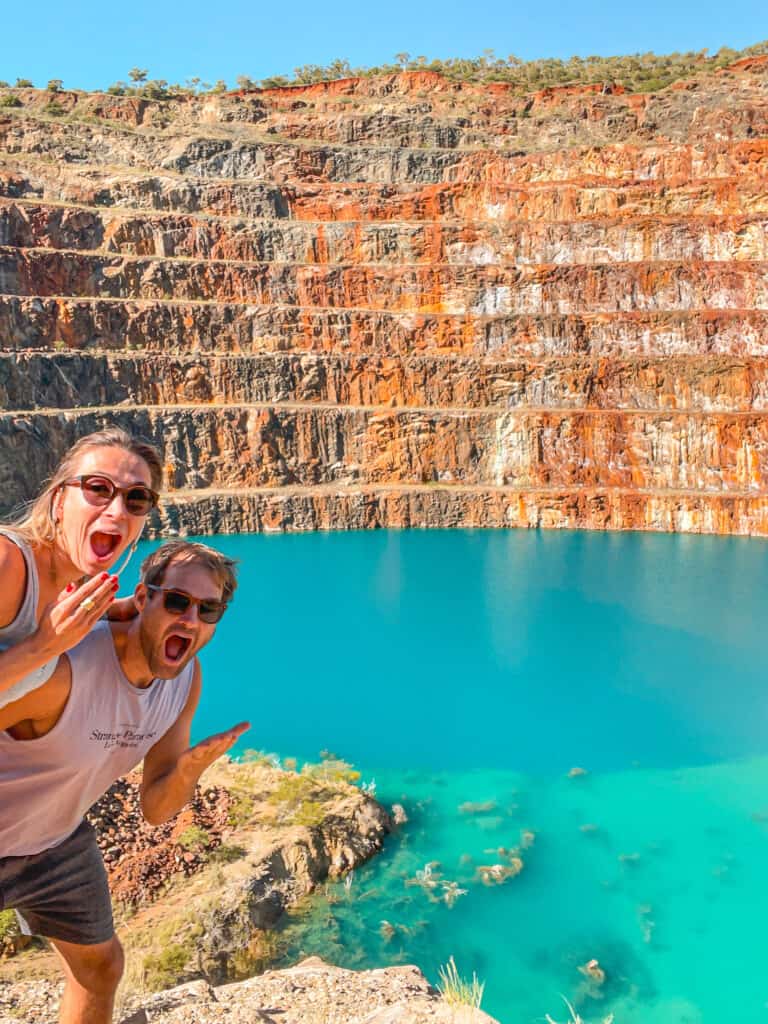 Camping in Mary Kathleen
The Mary Kathleen Ghost Town is a unique place to camp since it contains so much history. It has been one of our favourite free camps in the whole lap around Australia.
You can camp overnight for free at the old town site on one of the concrete slabs that are the leftovers from where the houses and buildings used to be. Your vehicle needs to be self-contained (with its own toilet); no public facilities are available here. Please take your rubbish with you!!
The old, abandoned townsite is quite large and private property. Cows roam freely in the area, and we were lucky to have some very friendly ones sleeping and hanging out next to our van.
There is no Optus reception in Mary Kathleen, but there is for Telstra.
Pets are welcome at the Mary Kathleen Ghost Town while camping, and there is plenty of room to walk your furry companion/s.
Generators are allowed, and there is room for big rigs, campervans and motorhomes.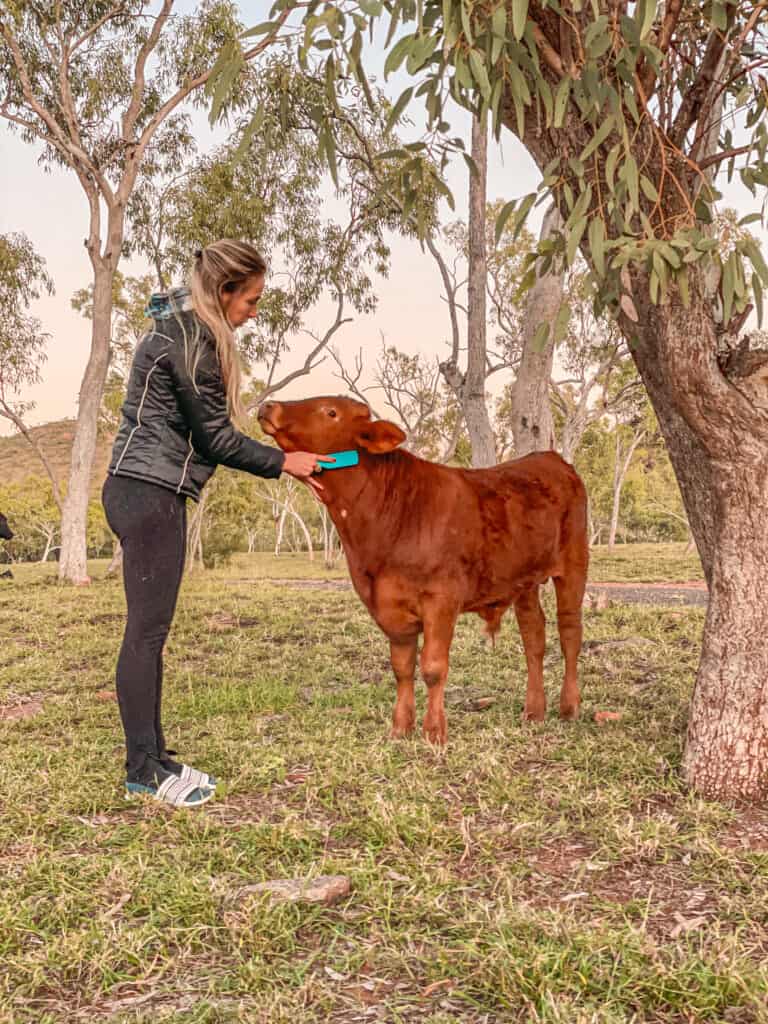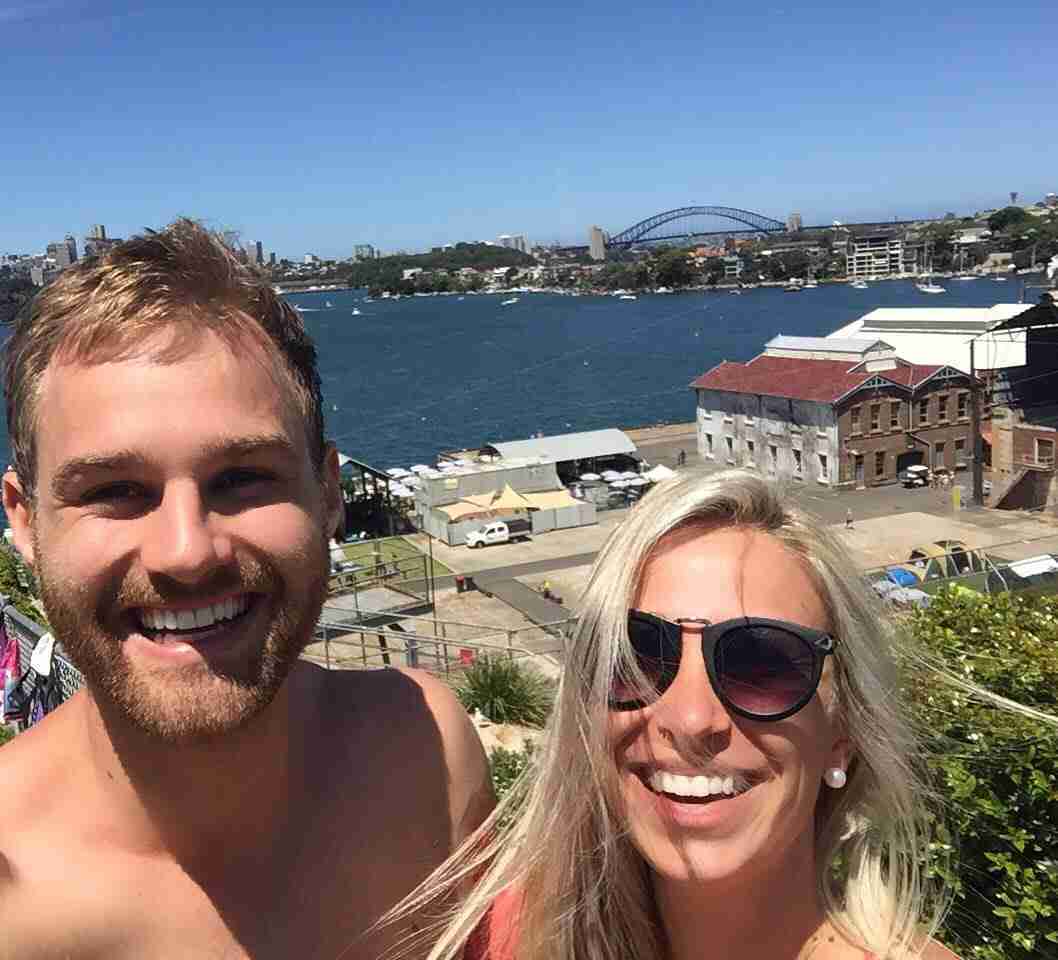 Wade & Dani
Hi! We're Wade and Dani, We're currently travelling around Australia in our 2017 Mercedes Sprinter Camper van and sharing our best experiences, stories, reviews and adventures as we go along. Make sure you follow us on Instagram @wadeanddani