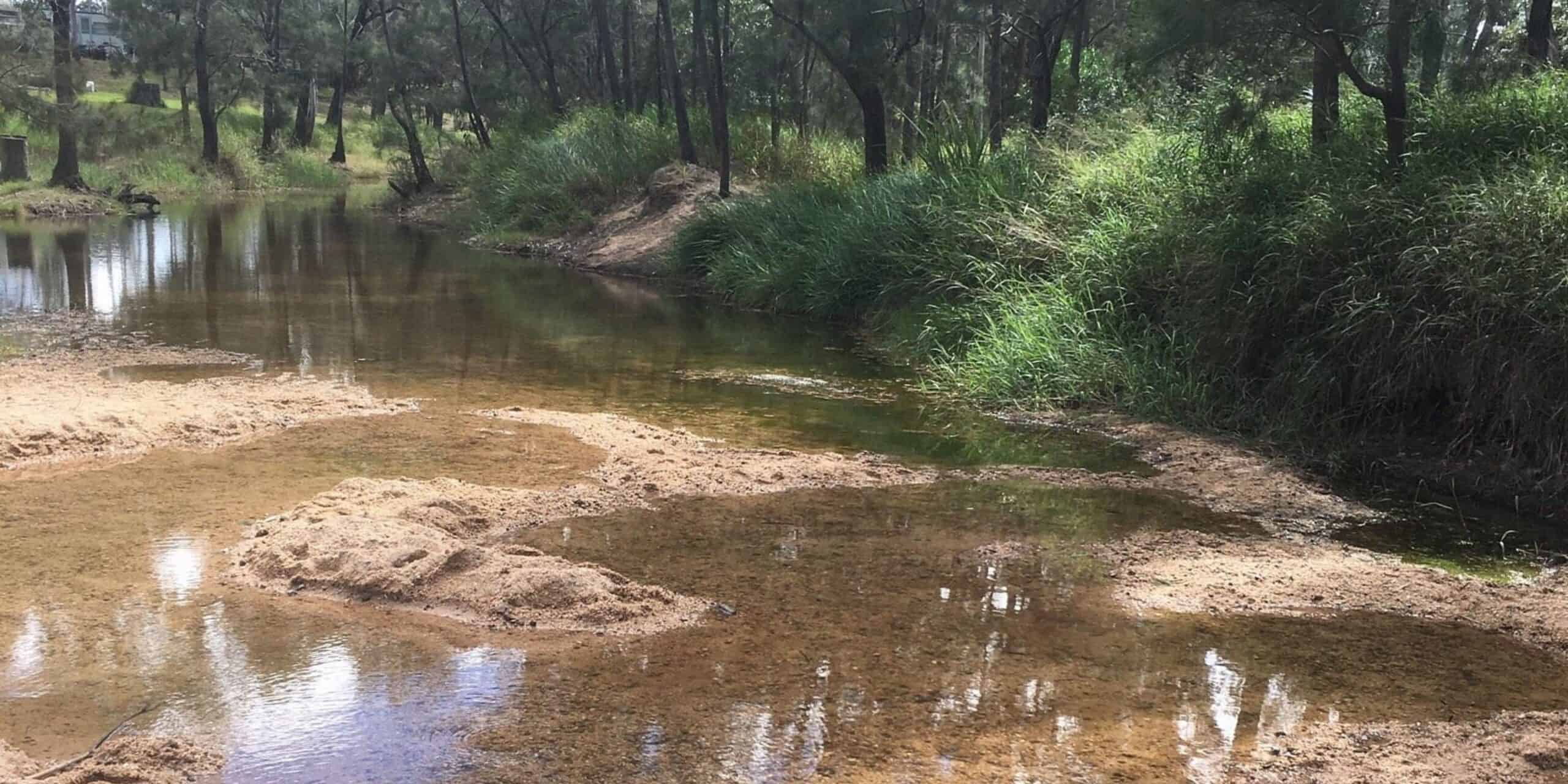 Innot Hot Springs – North West Queensland's Best Kept Secret
Innot Springs is a hidden gem located in North West Queensland. The springs are in a secluded spot, making it the perfect place to relax and escape the hustle and bustle of everyday life. The natural surroundings and clear waters make Innot Springs a must-visit location for all outdoors people.
Getting There
Innot hot springs are located in North West Queensland, just 2 hrs southwest of Cairns. You will arrive just outside Innot Hot Springs Leisure and Camping Park on the Kennedy highway and will need to walk down to under the bridge or upstream slightly.
What to Expect at the Innot Hot Springs
When you come to Innot Hot Springs, you can expect to find a relaxed and comfortable atmosphere. The natural springs provide a perfect opportunity to unwind and relax, while the surrounding area offers plenty of opportunities for exploration.
The hot spring water can be up to 75°C in some sections (be careful) and has rejuvenating and healing properties. But be warned, If you get too close and your feet sink into the sand, it will burn. Be careful if you have kids around.
When we arrived on a cold winter morning, there was only one other person and plantly of water flowing. Many holes were already dug out, but we needed to dig a channel to allow more water in.
Even though it was cold outside, it became very relaxing once we were in the water.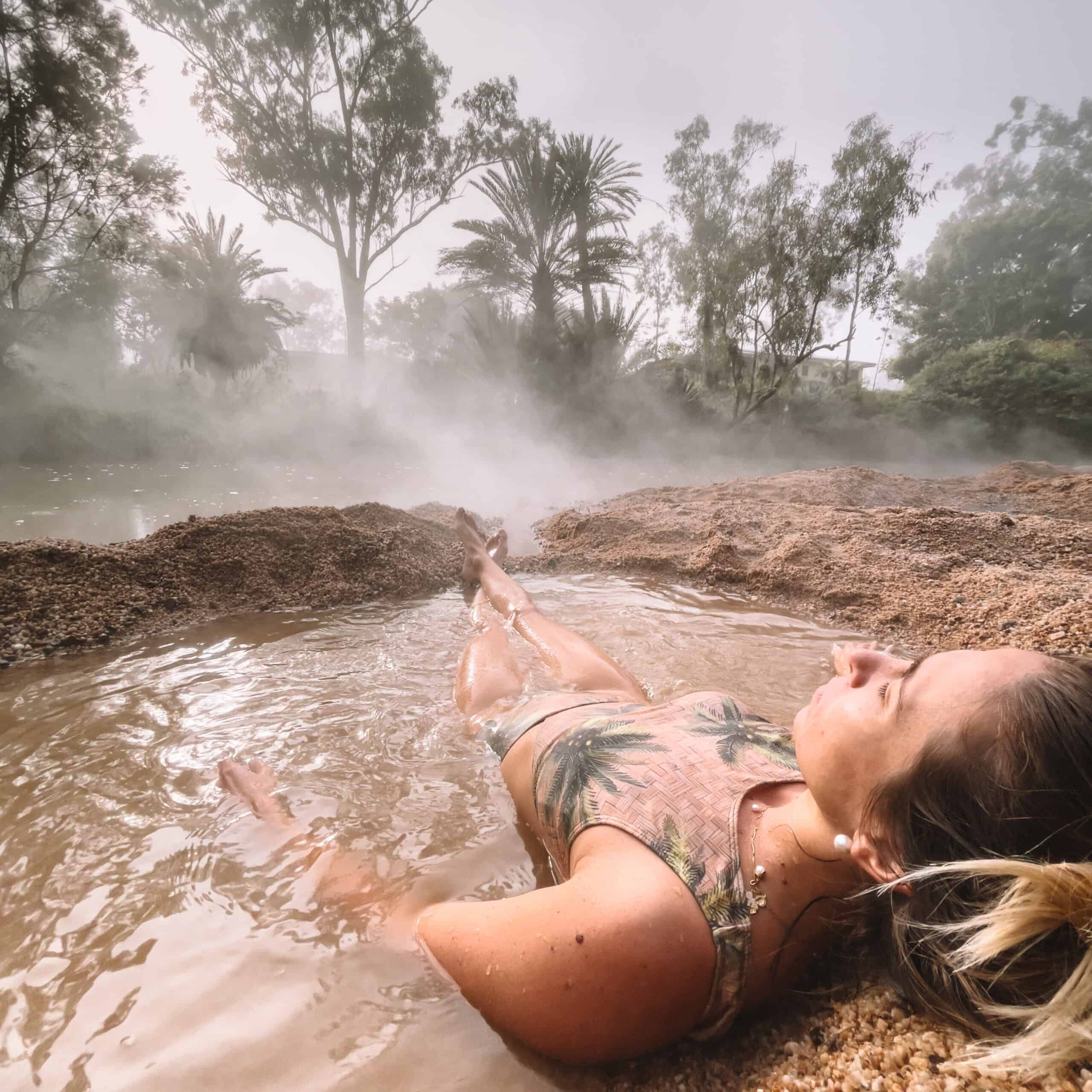 What to Bring
When packing for a trip to a hot spring, there are a few essential items to bring. First, always remember to pack your swimmers. You'll want to be able to enjoy the warm water without having to worry about getting your clothes wet.
Don't forget to pack a towel. A towel will come in handy for drying off after a dip in the hot spring.
I would also recommend taking a small shovel. It helps if the water is too hot, you can dig a channel to allow the hot water to flow out or cold water to flow in.
When to Go
It will depend on you. The water is hot year-round. However, it could be too hot for some people during Summer.
The water levels will change depending on how much rain there has been.
We believe the best time to visit would be Spring or Autumn.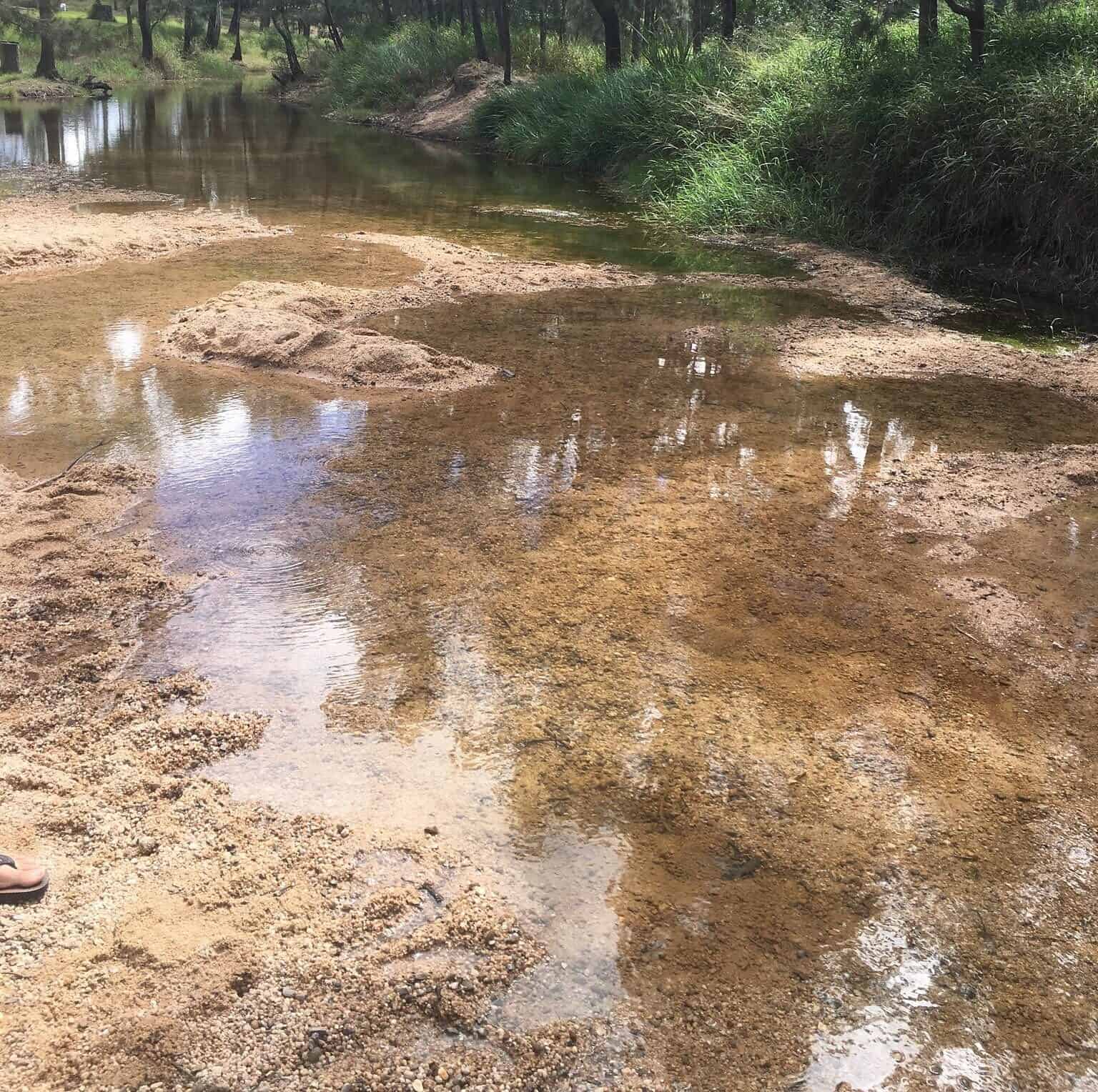 Innot Hot Springs Caravan Park
Tucked away in the rainforest of Far North Queensland, Innot Hot Springs Caravan Park is a hidden gem that is perfect for those who love adventure. With its natural hot springs, hiking trails, and proximity to the Great Barrier Reef, there is no shortage of things to do at Innot Hot Springs.
Innot Hot Springs leisure park features are
Powered sites
Unpowered camping sites
Cabins
Pools
Spa access
The Natural Hot Springs
Innot Hot Springs Leisure Park is home to two natural hot springs, which are heated naturally underground. The hot springs are open 24 hours a day so you can enjoy them anytime or at night. Cold and hot showers are also available if you want to cool off after a soak in the hot springs.
The Hiking Trails
If you love hiking, you will be in heaven at Innot Hot Springs Caravan Park. There are numerous hiking trails of varying lengths and difficulty levels, so there is something for everyone. Make sure to bring your camera, as there are plenty of opportunities to take stunning photos of the rainforest scenery.
The Great Barrier Reef
One of the best things about Innot Hot Springs Caravan Park is its proximity to the Great Barrier Reef. You can easily drive or take a bus to the reef, where you can snorkel or scuba dive among the colourful fish and corals. There is also an underwater observatory where you can get a close-up look at the reef without getting wet.
Can you swim in Innot Hot Springs?
Yes, Innot Hot Springs is an opportunity to swim in some natural hot springs without the crowds; however, be careful as some sections can be too hot and could burn your skin.
Alternatively, you can choose to swim at the indoor swimming hot pools. With seven distinct swimming pools, there's guaranteed to be a temperature perfect for you.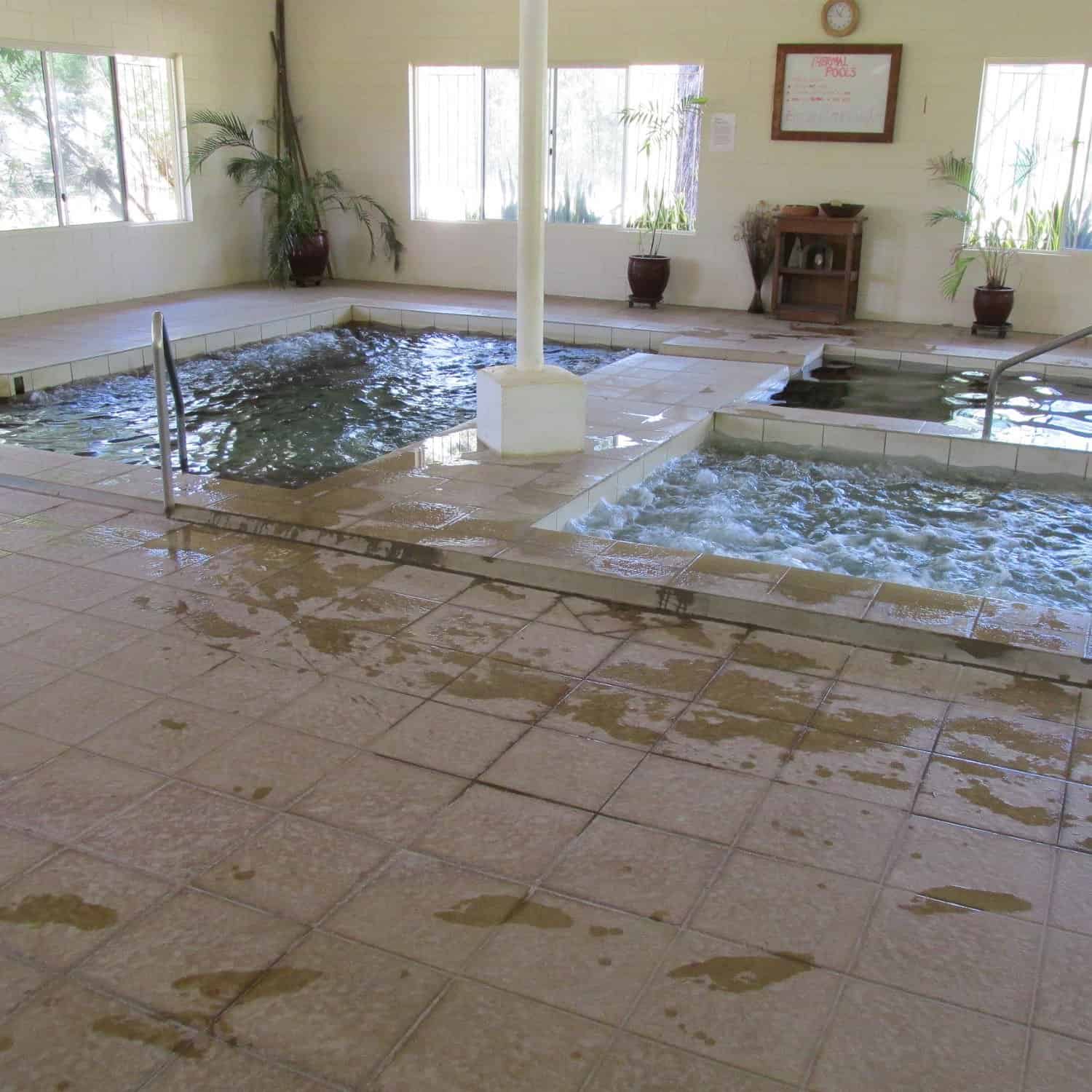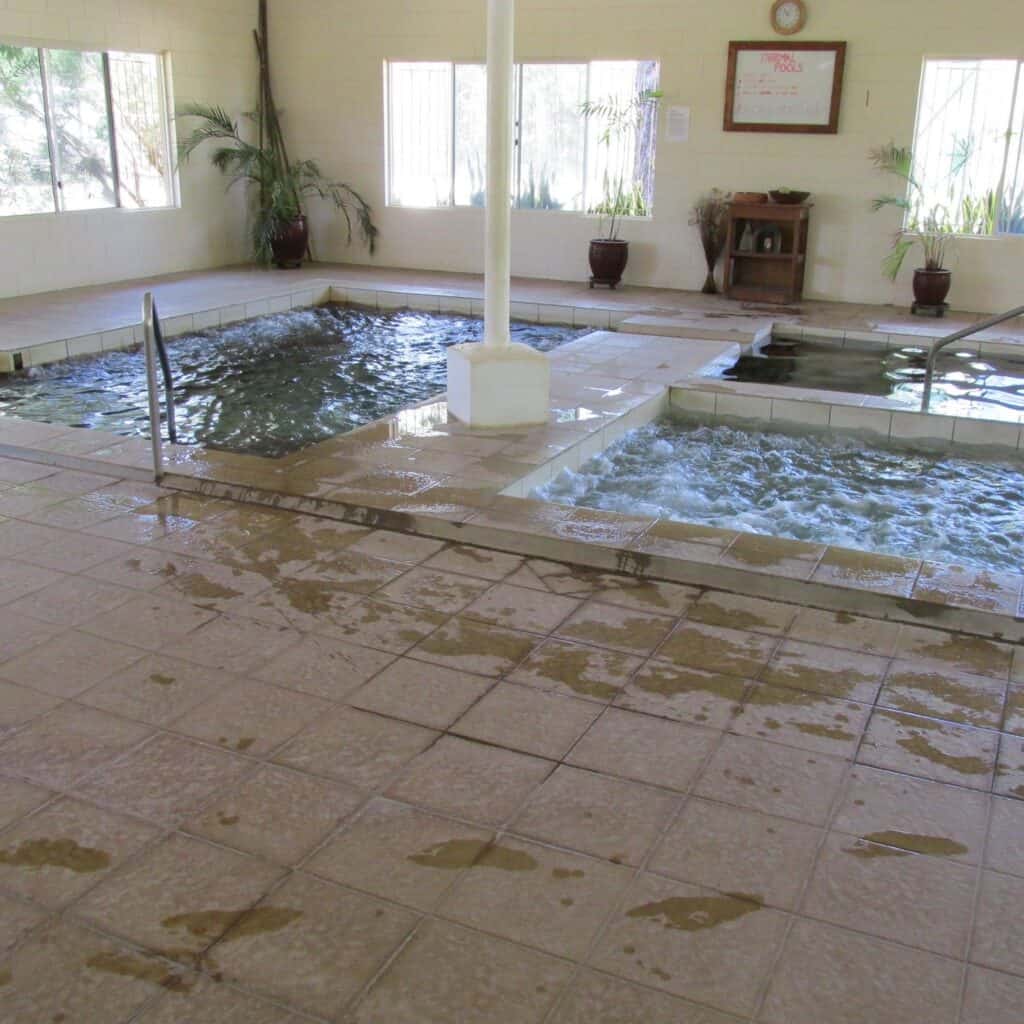 What makes Innot Hot Springs?
Innot Hot Springs are a result of meteoric water circulating through fluorite-bearing granitic rocks and are the surface expression of a low-temperature, non-volcanic geothermal system. (1)
The native people tell stories from the Dreamtimes of the Innot Hot Springs. They believe the waters were created by a giant turtle carrying hot stones out of the sea to cool the waters.