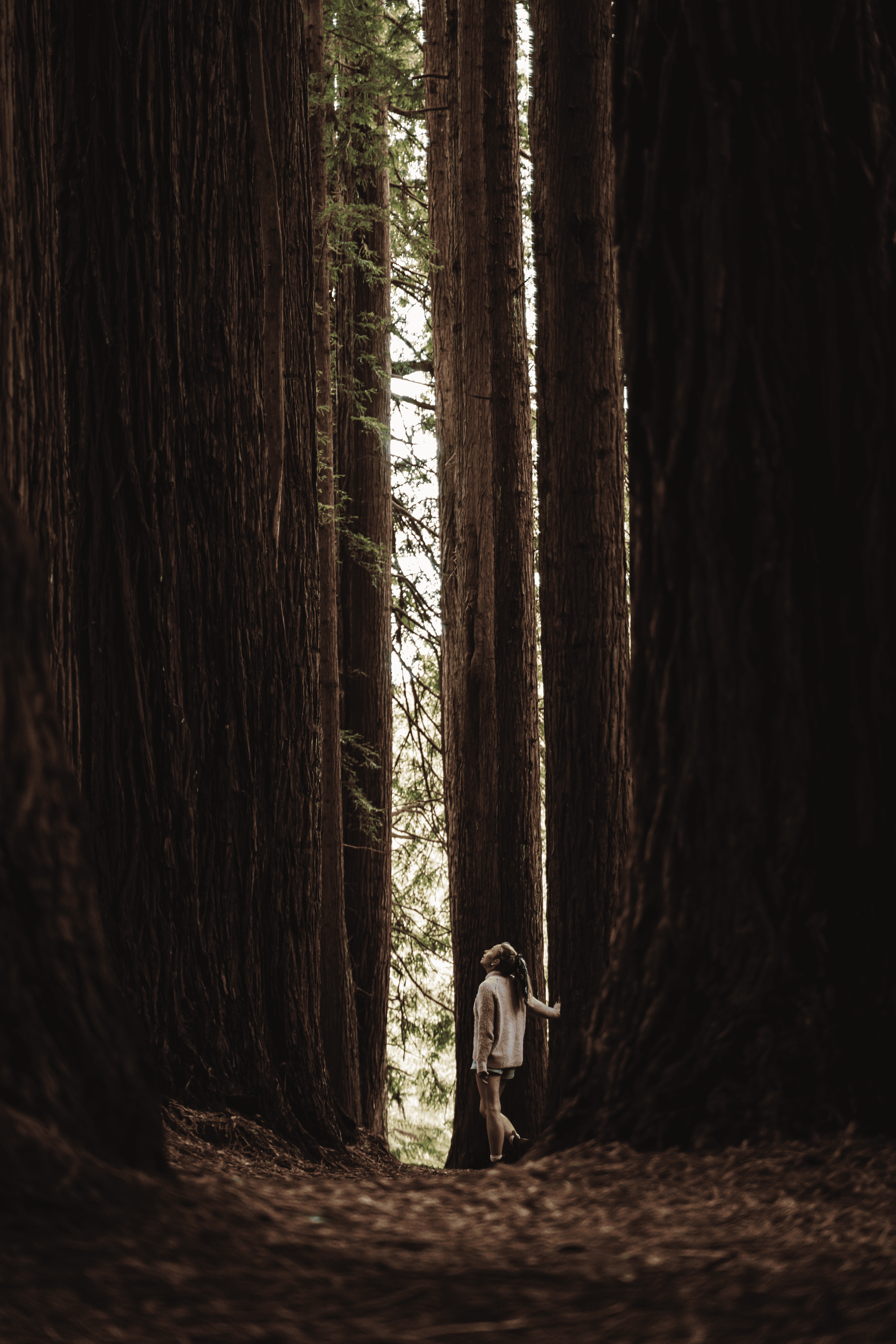 A Traveller's Guide to the Redwood Forest in Warburton (2023)
This post was updated on: September 1, 2023
If you're looking for a nature getaway within Victoria, Australia, the Warburton region may be just what you need.
Known for its beautiful forests and crystal clear rivers, it is home to the majestic Redwood Forest that will make you feel like you've been transported to a different world. The forest is located just outside the town of Warburton, around an hour and a half's drive from Melbourne.
The forest is home to majestic trees that are some of the tallest in the world, and if that's not enough to get you packing your bags, we have laid out a complete travel guide for you.
The redwood forest is a must-visit if you're a lover of the great outdoors or simply looking to escape the hustle and bustle of city life.
Please note that the Redwood Forest is currently closed to all vehicle and pedestrian access via Cement Creek Road due to improvement works to upgrade the Cement Creek Road Bridge. It is anticipated to stay closed well into 2023 when Yarra Ranges Council complete the bridge works. Visitors can access Redwood Forest by bike or on foot via the O'Shannassy Aqueduct Trail – a 16km round trip.
How To Get To The Warburton Redwood Forest
The forest is located in Warburton, Victoria, around 80 km east of Melbourne. It's a one-and-a-half-hour scenic drive from Melbourne's CBD.
Need a rental car to explore Victoria and go on your Great Ocean Road itinerary? Book here
After arriving at the charming town of Warburton:
Head east on Warburton Highway for approximately one kilometre.
Once you reach the fork, take Woods Point Road.
Travel for 6.5 km and turn left onto Cement Creek Road.
After travelling for approximately 500m, you will reach a one-way bridge.
Drive slowly across the bridge and continue for 500 meters on the unsealed road before you reach the car park on your right.
From here, you can explore the majestic redwood trees. It's worth noting that the forest's trails are not marked, so it's easy to get lost.
The Best Time to Visit the Redwood Forest in East Warburton
We visited the Redwood Forest in Warburton in October, which was very special.
The Redwood Forest is open to visitors throughout the year, but the best time to visit is from March to November. During this time, the weather is cooler, and there is less rainfall, making it the perfect time for hiking and exploring.
If you're looking to avoid crowds, visiting the Redwood Forest during weekdays is best. Many people flock to the forest on weekends and public holidays, especially during school holidays. Visiting during weekdays can offer a more peaceful and tranquil experience, allowing you to immerse yourself in the natural surroundings fully.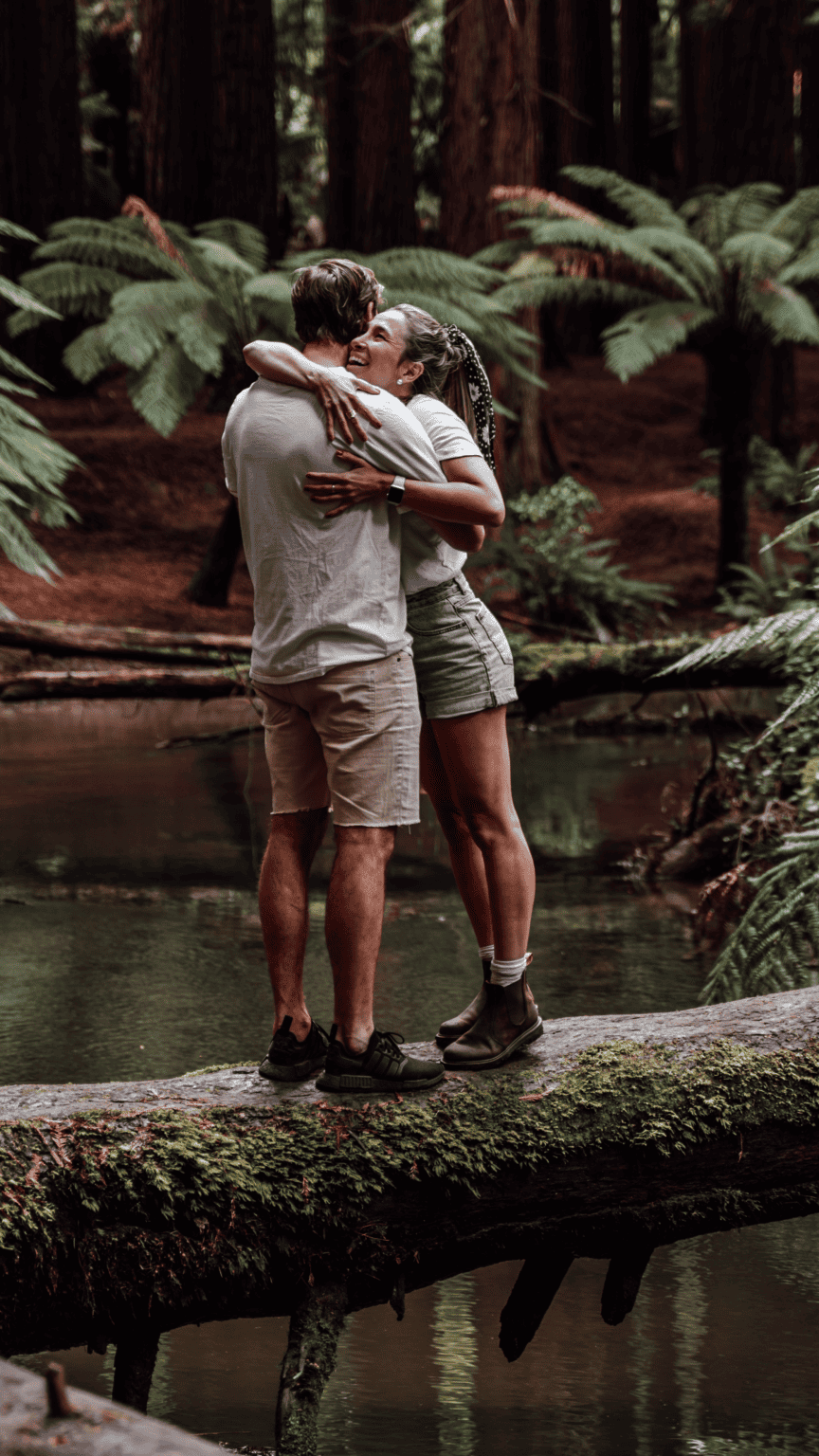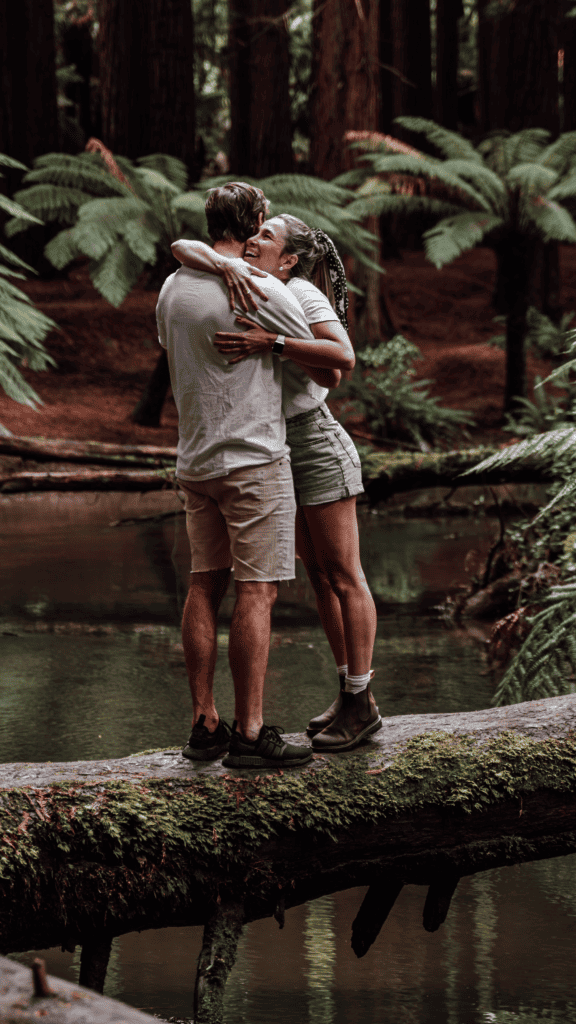 History and Facts About The Redwood Forest
The Redwood Forest in Warburton spans over 129 hectares, making it one of the largest in the Southern Hemisphere. It is home to the tallest trees in the world, which can grow up to 100 meters in height and 7 meters in diameter. This reputation makes it a true marvel of nature; with the forest's age estimated to be over 300 years old, it's a World Heritage site travellers must not miss. 
Before venturing into the Redwood Forest, it's essential to know that these magnificent trees are not native to Australia. Instead, they were introduced in the early 1900s as part of a Victorian government experiment to diversify the nation's timber industry.
Today, the forest serves as a beautiful reminder of Australia's past forestry practices. Plus, due to the forest's unique location and climate, the Redwoods have been able to thrive here in ways they may not have been able to elsewhere in Australia. In addition to towering Californian Redwoods, the area also includes Bishop Pine, Western Red Cedar, Douglas Fir, and Radiata Pine.
Parks Victoria now manages the Yarra Ranges National Park, which includes the 1476 trees in the area.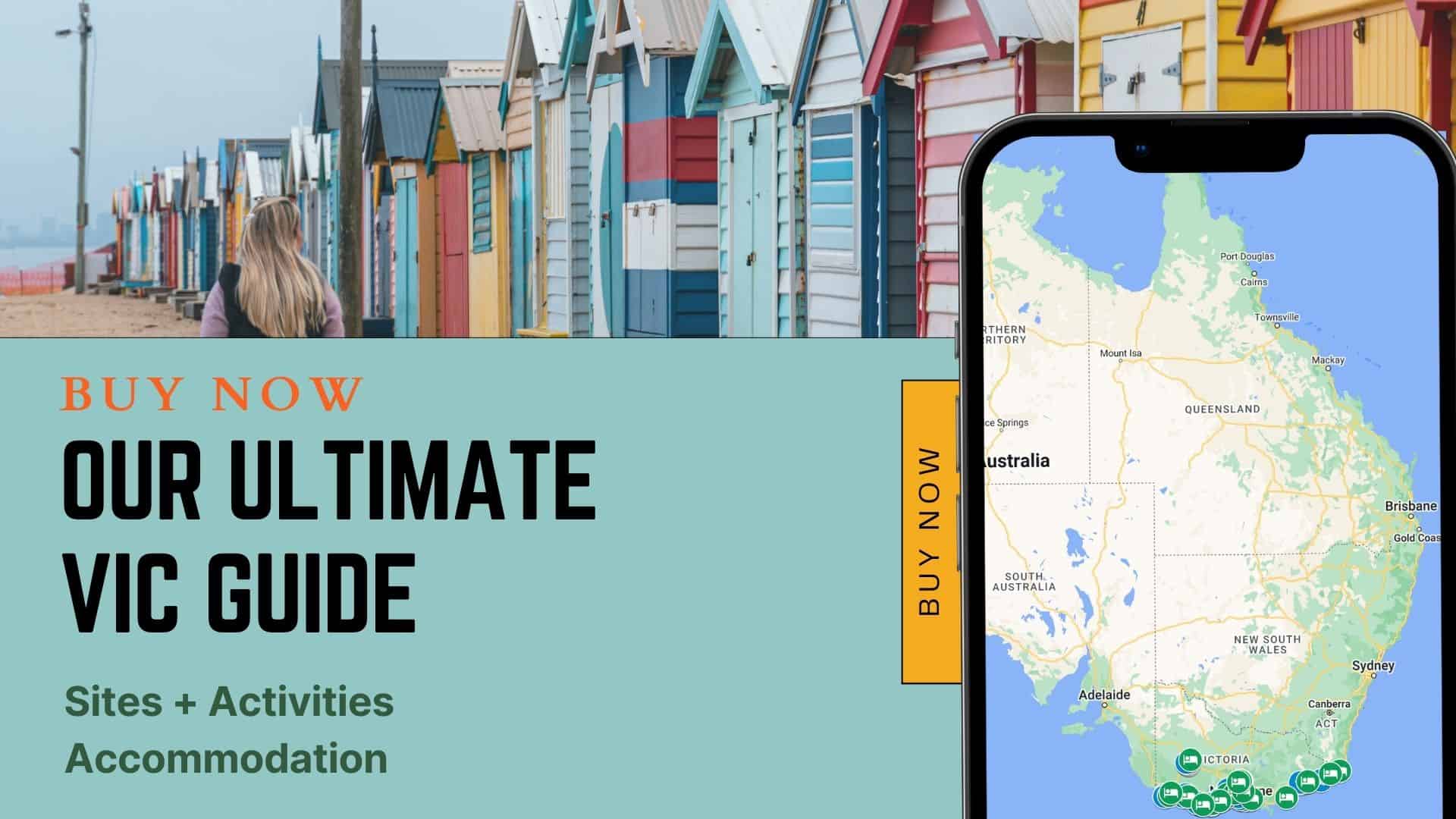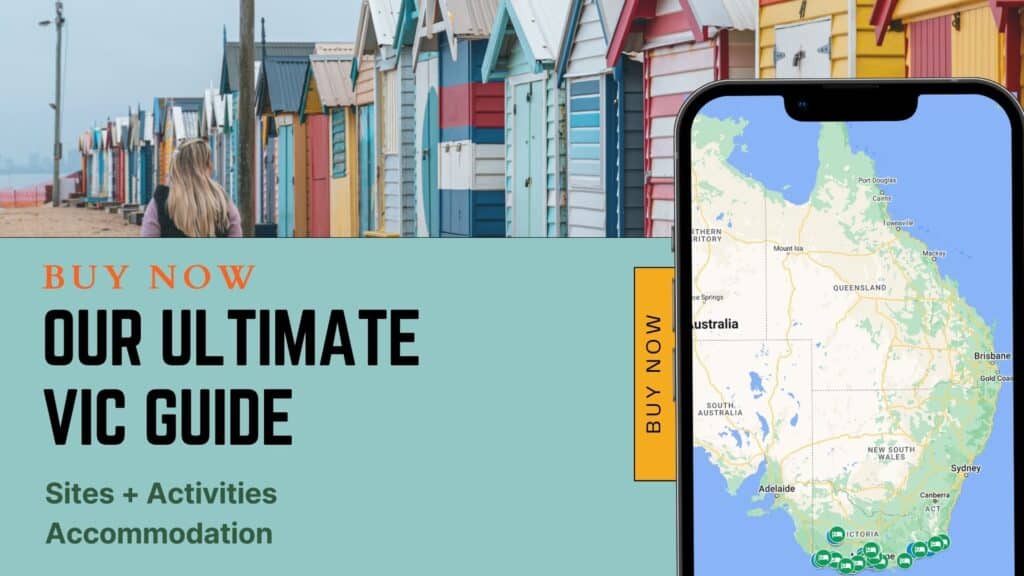 Do's and Don'ts When Visiting The Redwood Forest
Go for a walk in the Californian Redwood Forest
If you're looking for an immersive experience, getting lost among these giants is the way to go. 
The Redwoods in this forest are incredibly tall and make you feel like you are in a fairytale. You can let your worries away as you explore the many redwoods that stretch towards the sky.
The experience is more than just observing trees; the forest boasts a variety of birds and fungi that contribute to its enchanting ambience. Playing hide and seek among the trees will be an excellent activity for the kids.
Is it possible to have a picnic at the Redwoods? Yes, it's possible! We saw heaps of people doing just that when we visited. Make sure to bring everything you need and stay a bit longer to enjoy this unique experience fully.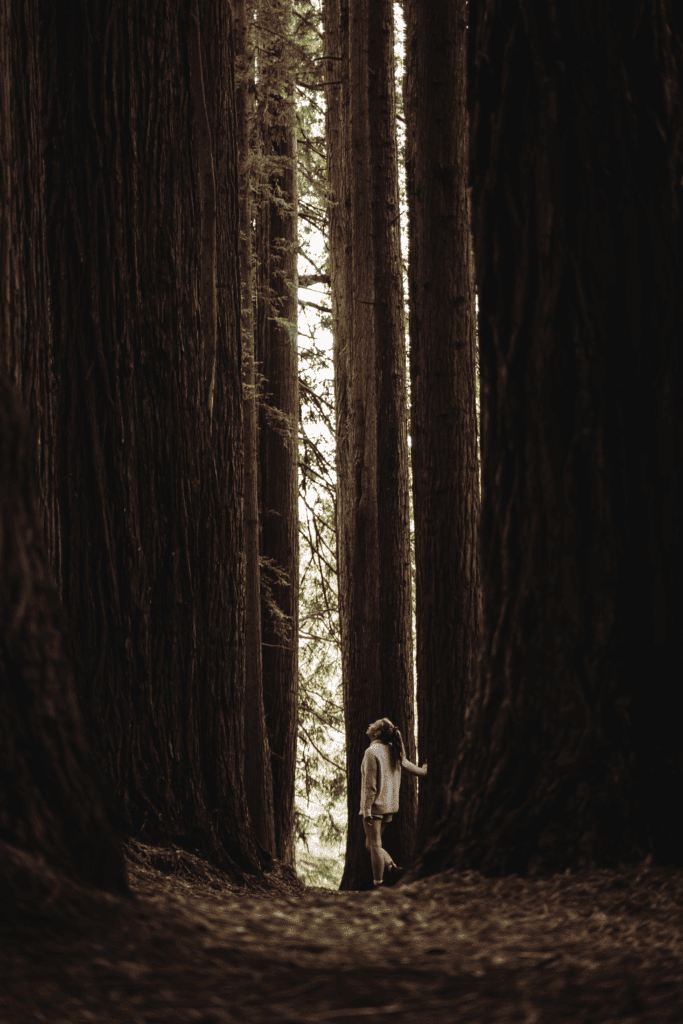 Go on another walk along Cement Creek
North of the Redwoods is Cement Creek, which flows continuously from Mt. Donna Buang to the Yarra River. Taking a short stroll can lead you to this scenic location.
The walk along Cement Creek is surrounded by lush green tree ferns and native Australian plants, offering numerous opportunities to enjoy the beauty of nature.
The walk is a circular route that starts at the Redwood forest and follows Cement Creek. It is easy to follow and passes the confluence of Cement Creek and the Yarra before cutting back to the Redwood forest car park.
Photography Opportunities
The Warburton Redwood Forest is a dream destination for amateur and professional photographers alike.
The forest inspires you to capture the natural beauty of the environment, giving everyone an excellent opportunity to take unforgettable photographs. Every season of the year offers a unique perspective.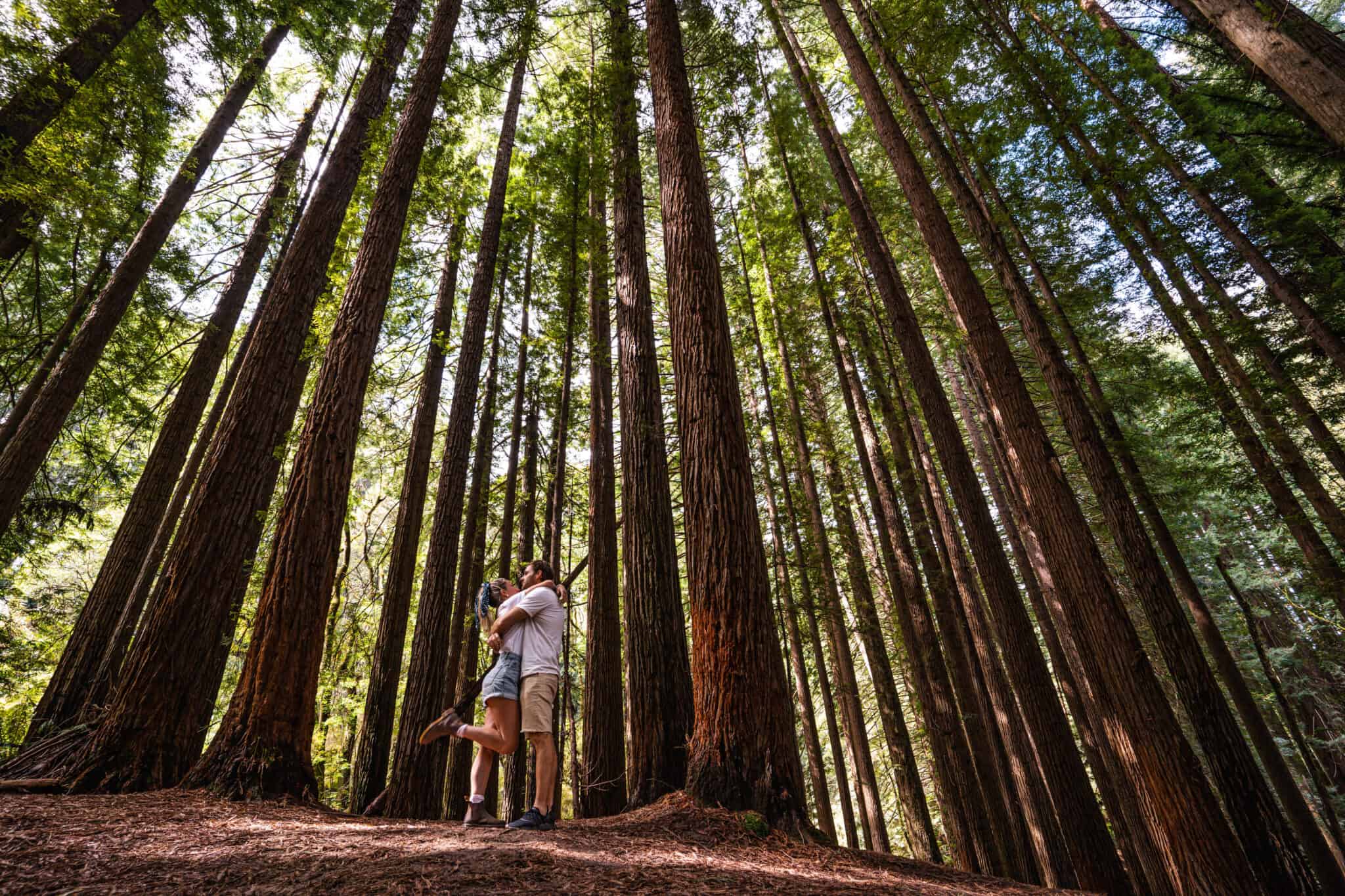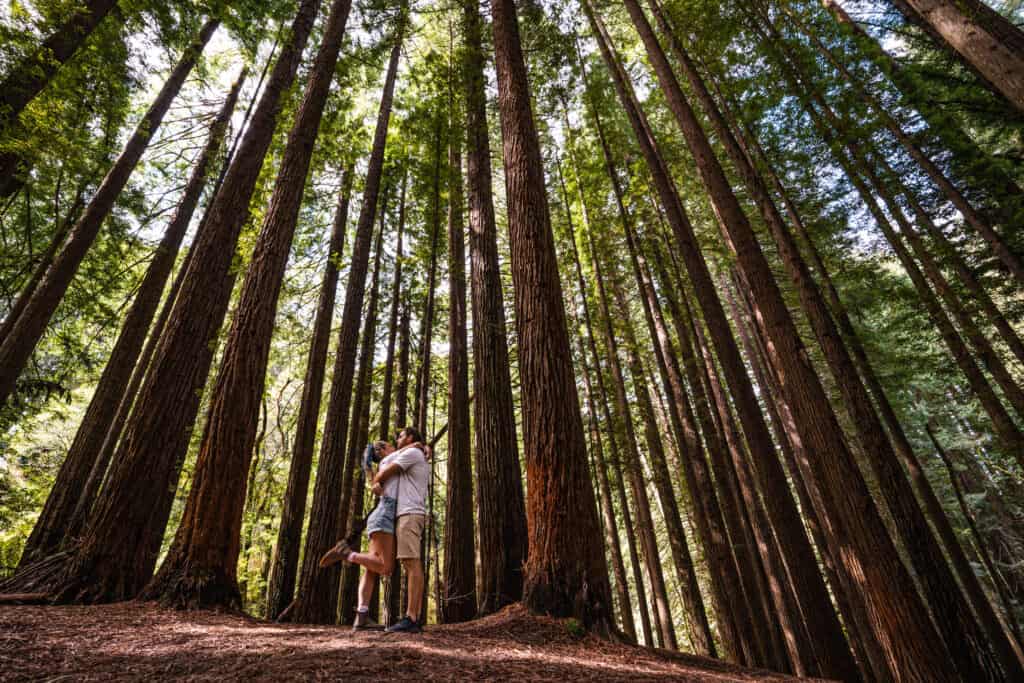 Don't ruin this experience for everyone else
Please make sure to take your rubbish with you;
Please DO NOT use the trees as a public toilet;
Avoid disturbing the natural environment. Stick to the designated paths and refrain from taking anything with you;
Nearby Attractions
After exploring the Redwood Forest, there are several nearby attractions that you can visit to enhance your Warburton experience. This area is home to the most beautiful waterfalls in Australia.
Make sure you see Beauchamp Falls, a breathtaking waterfall that drops 25 metres and is only 15 minutes away from The Redwoods.
Another nearby must-visit destination is Hopetoun Falls, located just a few kilometres north of the Redwoods on Binns Road. This stunning waterfall descends 30 meters into the Aire River.
If you are looking for a coastal atmosphere, Apollo Bay is a good option. Additionally, Wye River and Kennet River are also excellent choices.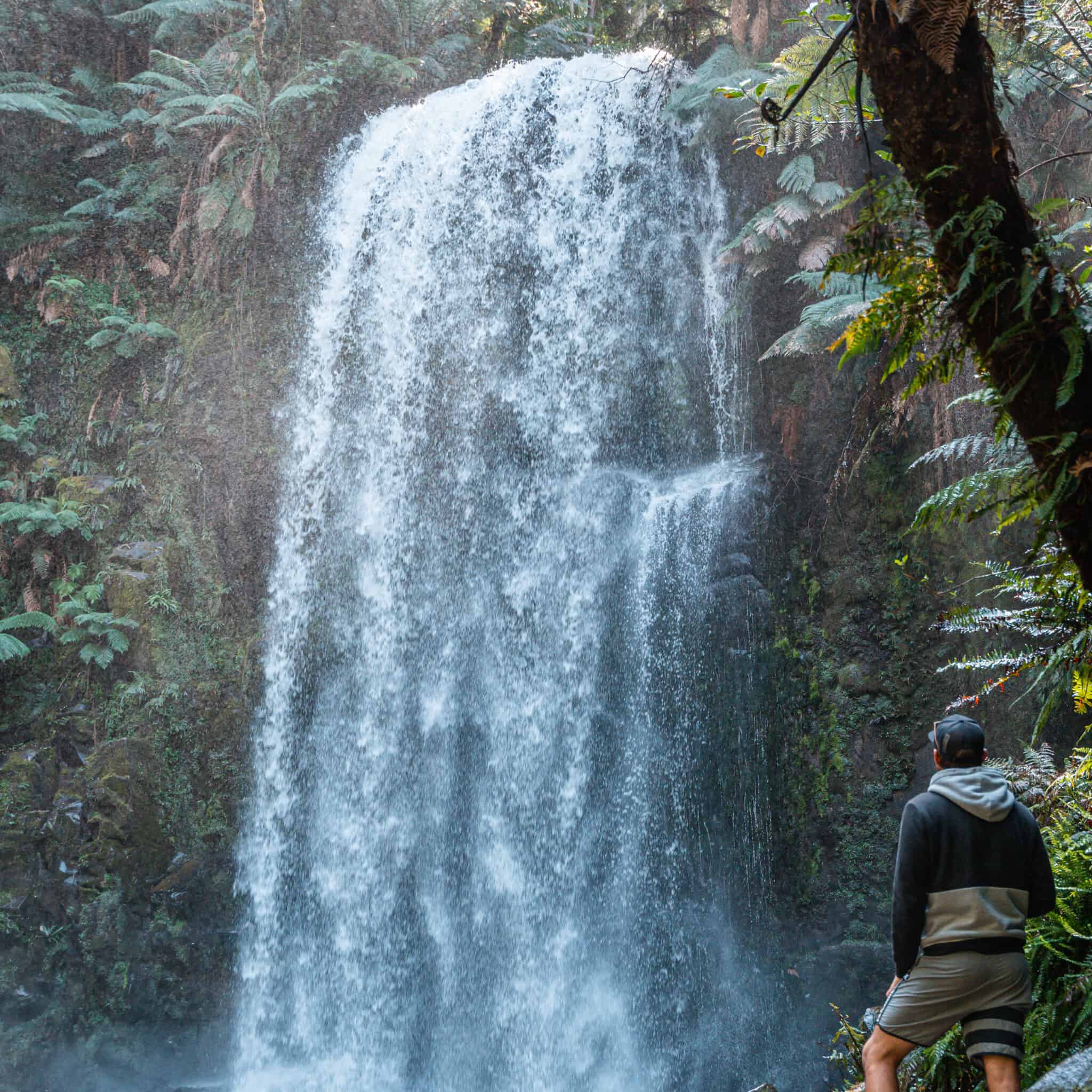 Things You Need To Know Before Visiting the Californian Redwoods
The site does not have any public toilets available.
No public facilities such as bins, BBQs, or picnic tables are available. 
Be cautious of snakes during summer
The Californian Redwoods are located at the Yarra Ranges National Park, so dogs are NOT allowed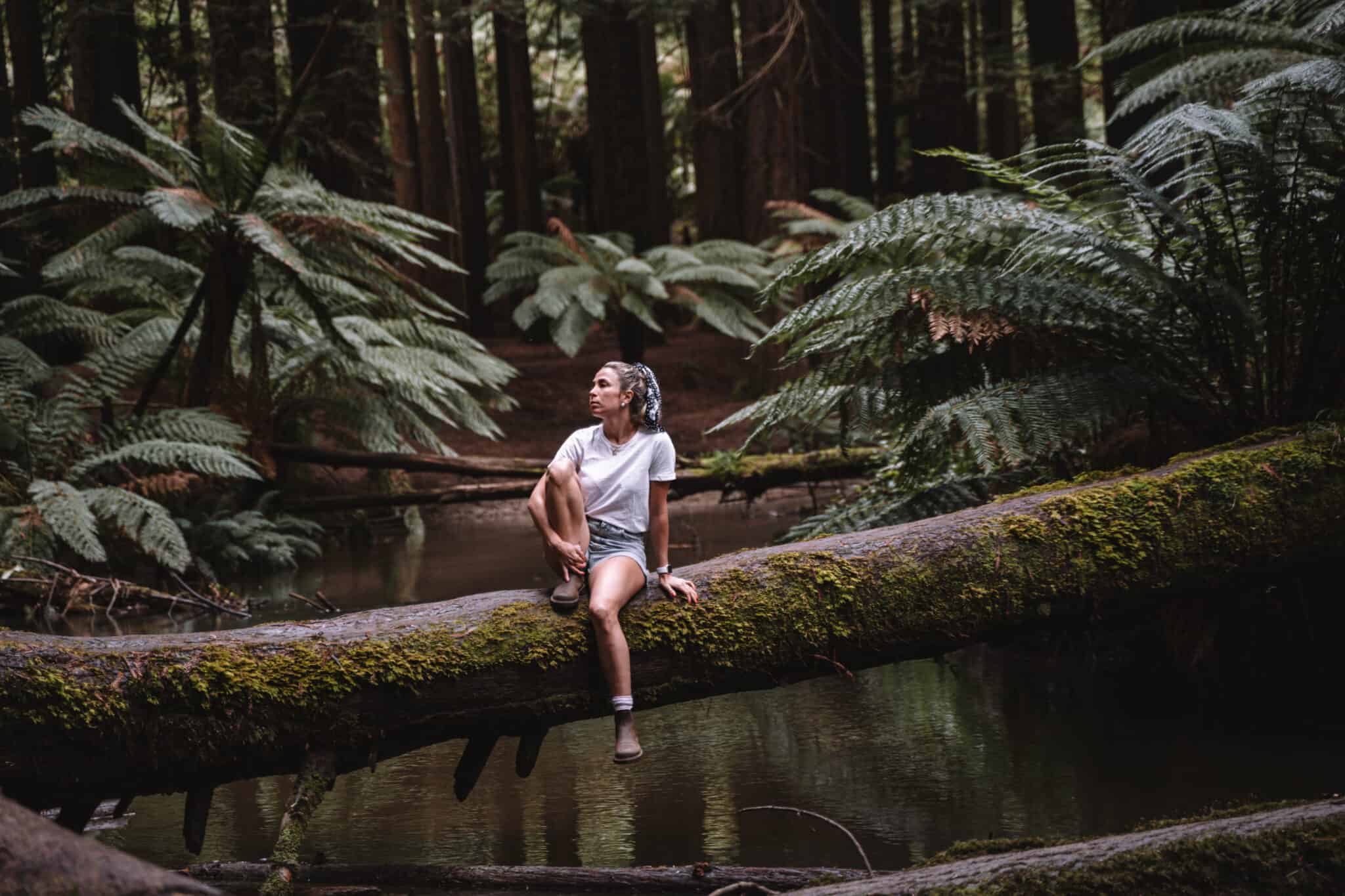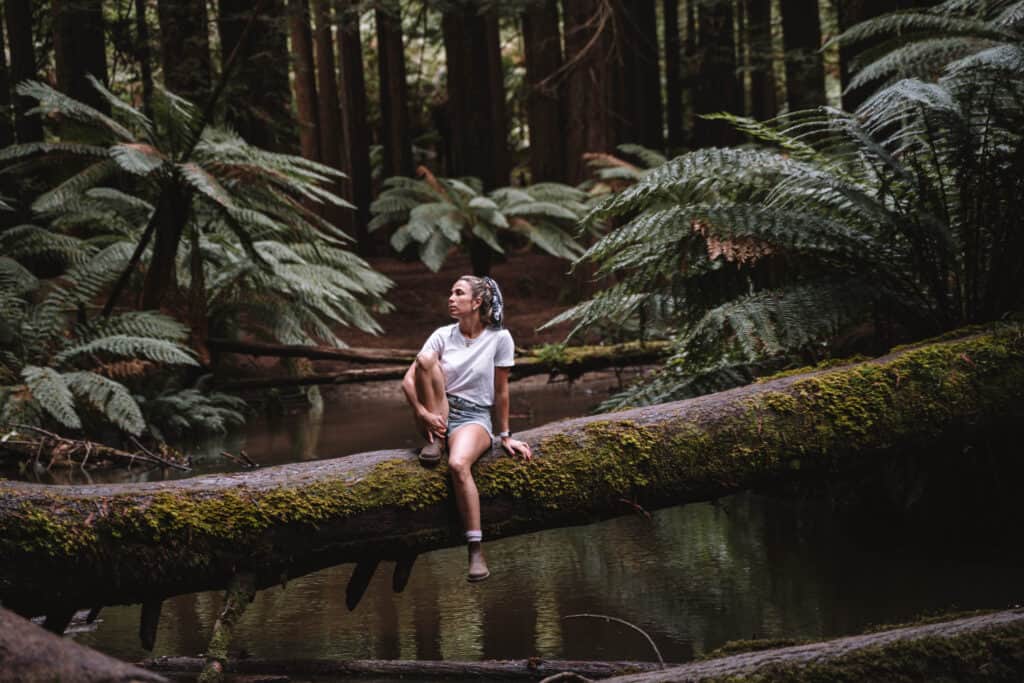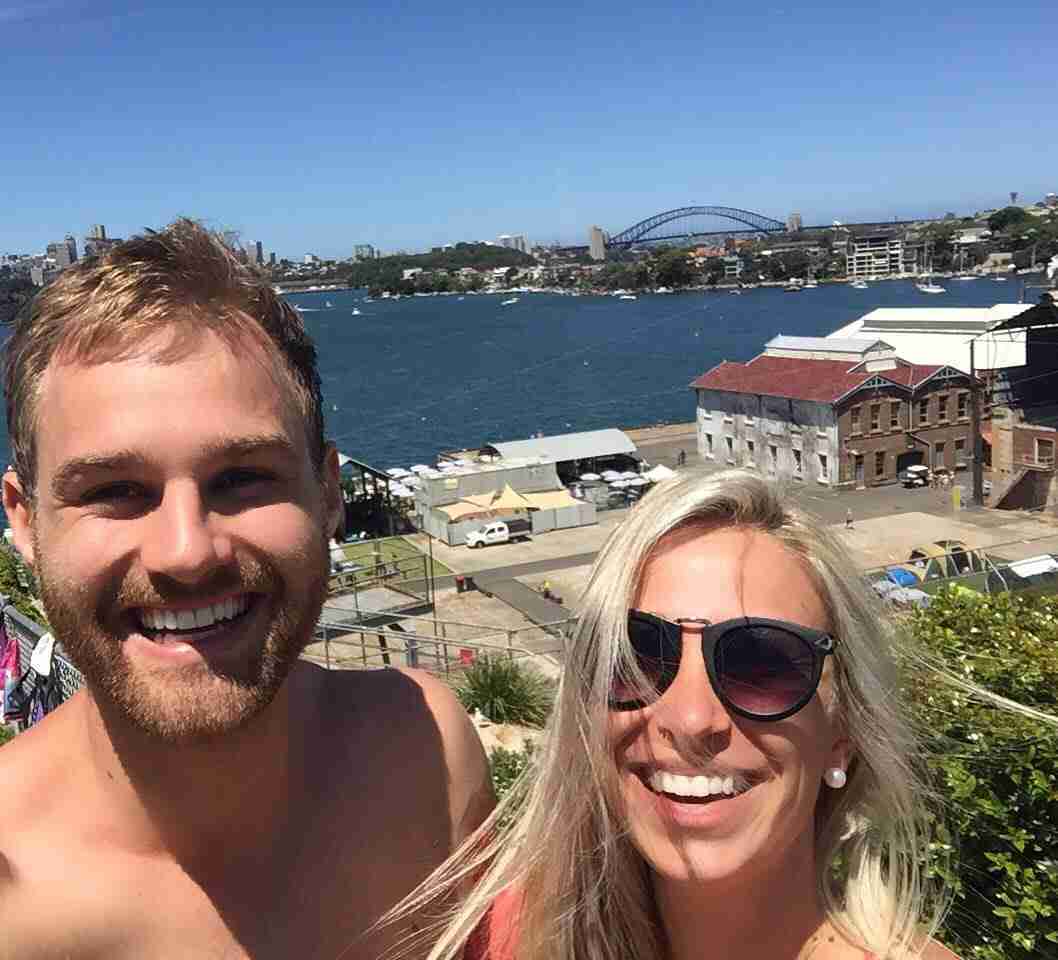 Wade & Dani
Hi! We're Wade and Dani, We're currently travelling around Australia in our 2017 Mercedes Sprinter Camper van and sharing our best experiences, stories, reviews and adventures as we go along. Make sure you follow us on Instagram @wadeanddani