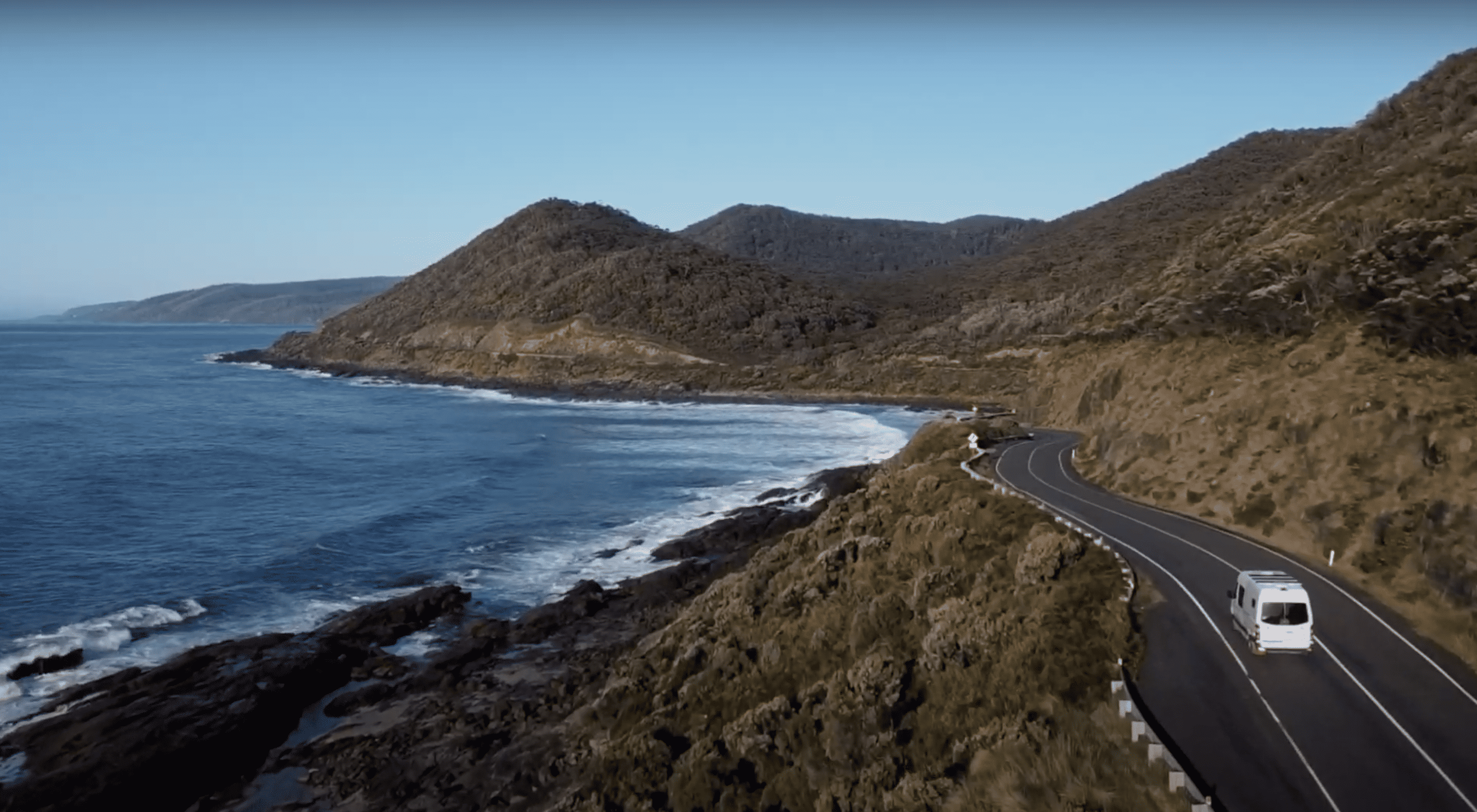 Explore the Great Ocean Road: Our 6-Day Self-Drive Itinerary
The Great Ocean Road is one of Australia's most iconic routes, winding along the south coast from Torquay to Warrnambool.
The Great Ocean Road is a 243 km stretch of road that winds along the shoreline. It's one of Australia's most iconic road trips, and with its beautiful beaches, stunning national parks, incredible wildlife spotting opportunities, and amazing views over the Southern Ocean, it's easy to see why. 
We have done this drive three times, and the last time was our favourite. We started our Great Ocean Road trip in Melbourne, where you can rent your car, and we will now share with you the best self-drive itinerary so you can follow what we did and you won't miss a thing!
Whether you're a local looking for a weekend getaway or an international visitor on a more extended holiday, this self-drive itinerary will give you the best of what this region offers. 
Day 1: Melbourne to Torquay (101 km)
Start your journey in Melbourne and head south towards Torquay, the gateway to the Great Ocean Road. On the way there, you'll pass through some charming towns – be sure to stop at Geelong.
Once you reach Torquay, take some time to explore the town and grab a bite to eat. Next, be sure to head over to the Australian National Surfing Museum. It is packed with relevant information and data about surfing in Australia and its growing popularity throughout the years. You'll also find the iconic Australian Surfing Hall of Fame located within this fantastic museum, a must-see for any avid surfer! The entrance is $12 per person.
After visiting the museum, head to the nearby surf stores featuring popular brands such as Rip Curl, Billabong, Quiksilver and more! You might find good deals there now and then.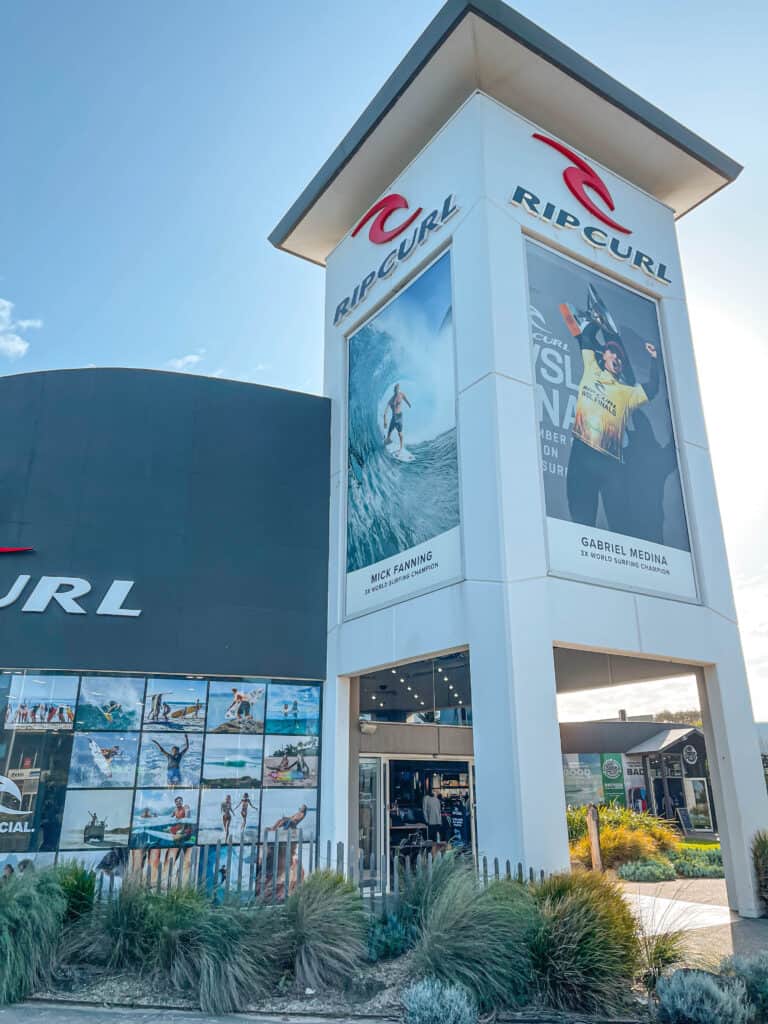 We spent the night in Torquay and woke up nice and early the next day for some more exploring.
Day 2: Torquay to Lorne (49 km)
We left Torquay town, drove about 7 minutes and stopped at some of Australia's most famous surf beaches, such as Bells Beach and Jan Juc.
Bells Beach holds a special place in surfing history, being the home of the renowned Rip Curl Pro since 1962. This prestigious surf competition has taken place each April at Bells Beach for over half a century, making it one of the longest-running events. If you want an exciting and memorable experience, witness this historic event!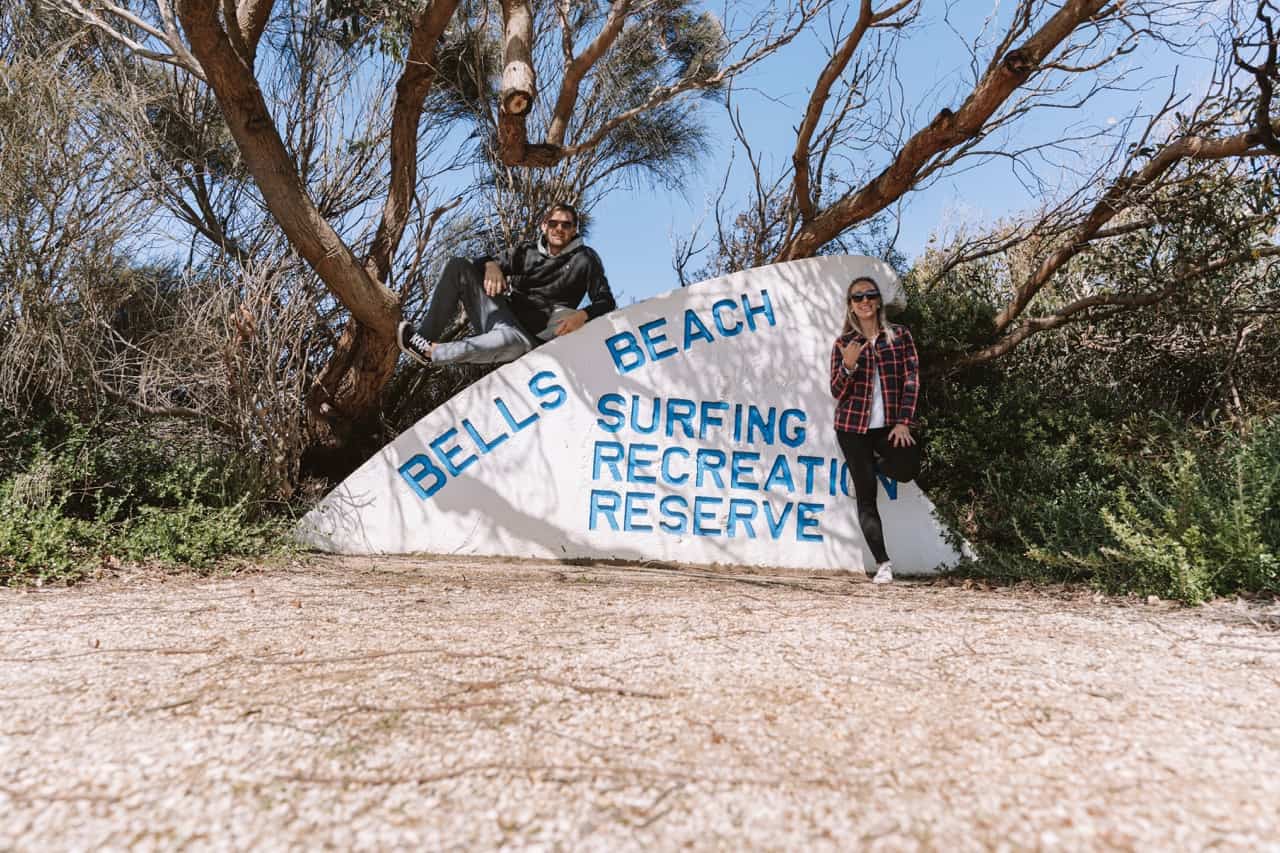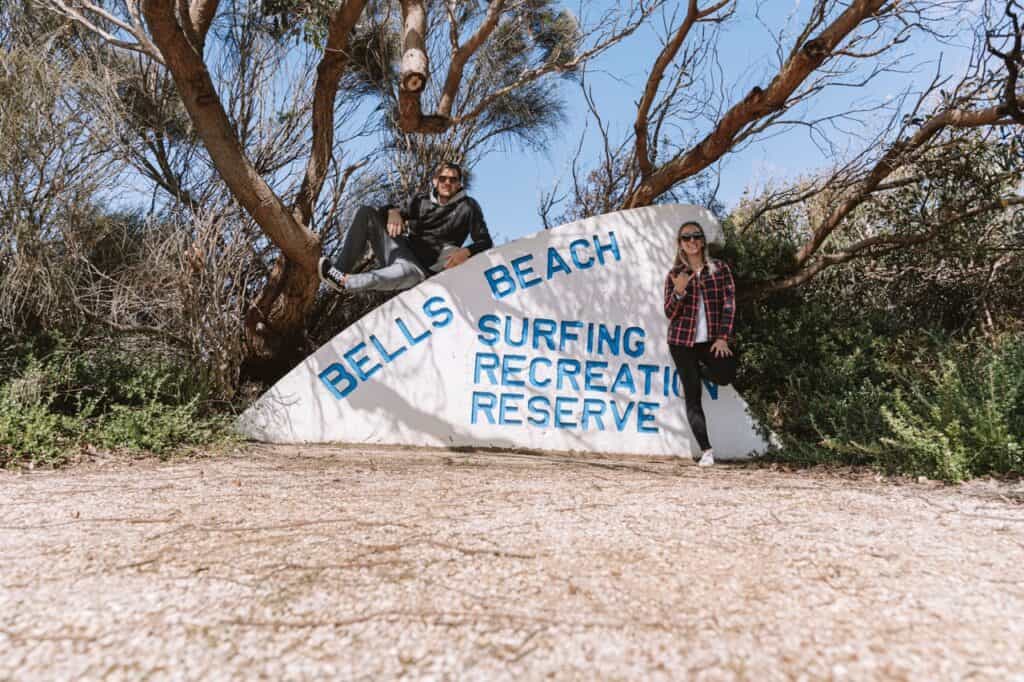 Leave Bells Beach and head east towards Anglesea, where you can take sweeping views from Point Addis Lookout before continuing to Lorne. Along the way, be sure to make stops at some of the region's top attractions, such as The Split Point Lighthouse (where you can get panoramic views of Bass Strait), Point Addis, and the Memorial Arch.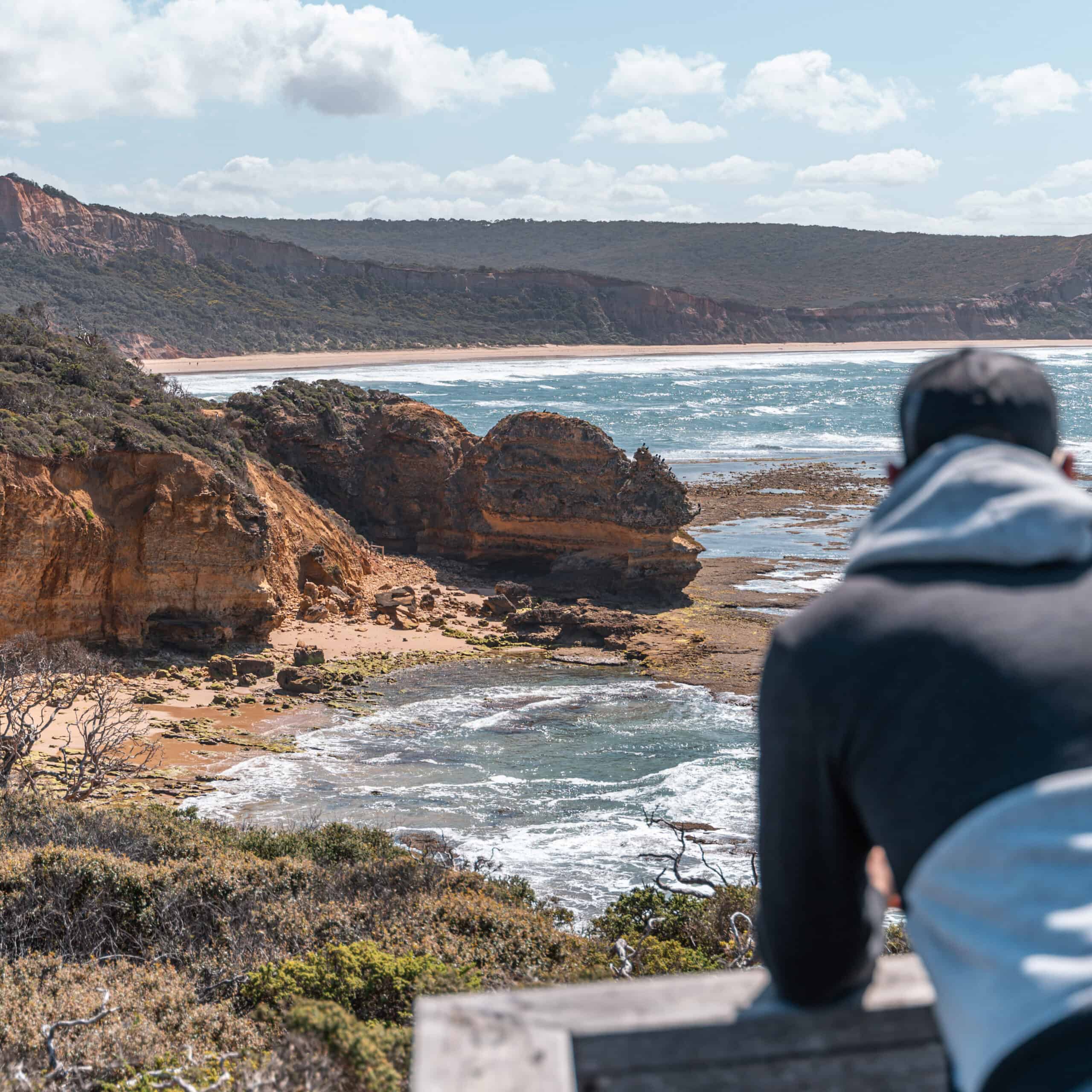 The iconic Memorial Arch is undoubtedly one of the most photographed landmarks along the Great Ocean Road. This stunning arch is a tribute to those who built this great road and welcomes every traveller who embarks on their Great Ocean Road itinerary. Make sure to snap some pictures before you begin your unforgettable trip!
Pull up in the carpark to admire the stunning sign, which can be seen from each side of the road. You can also read about the remarkable history behind Great Ocean Road on informative signs nearby.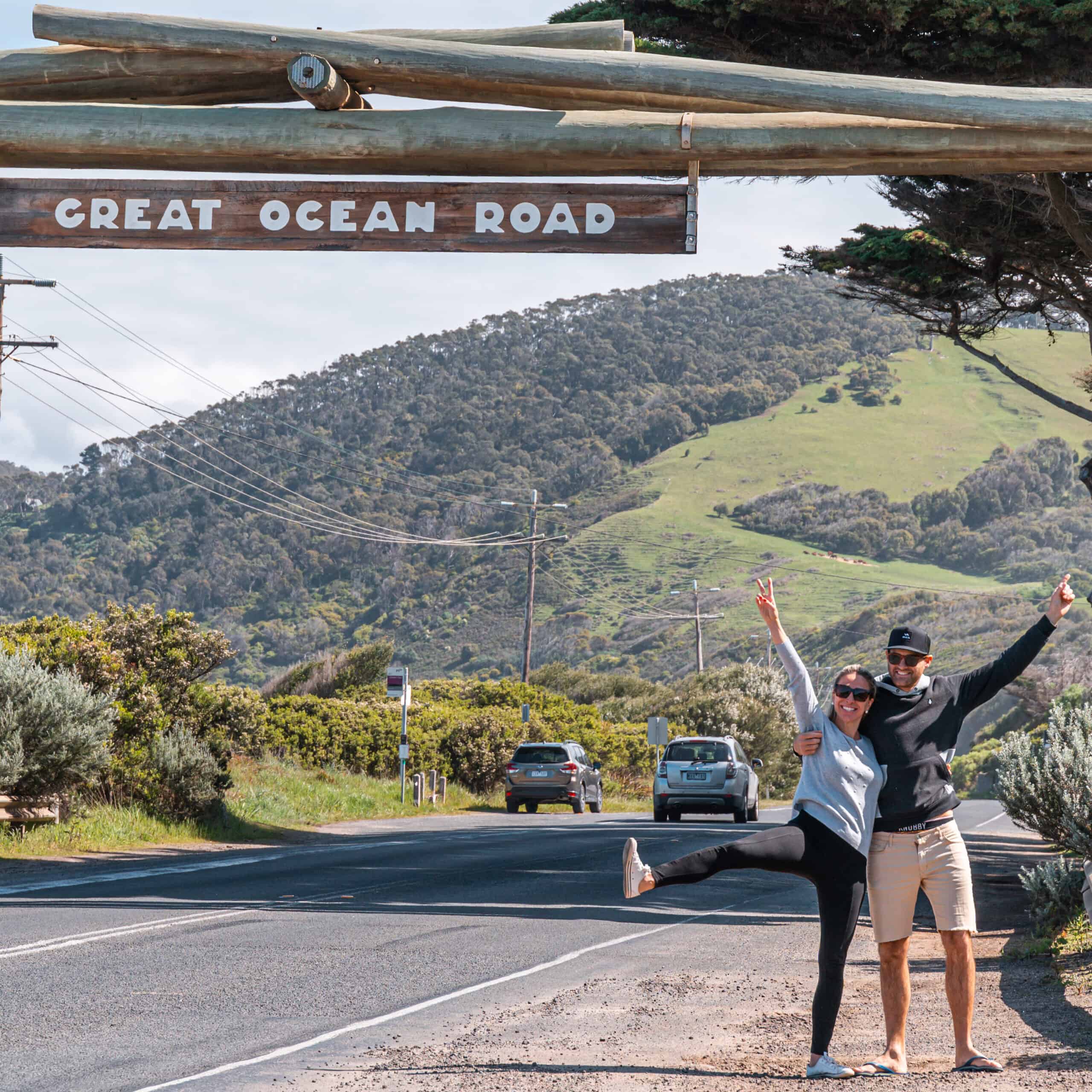 After exiting the car park, your day of exploration concludes at Lorne: another quaint seaside town with unparalleled beaches waiting to be explored.
Traverse the breathtaking Great Ocean Road in Lorne and discover many cozy coffee shops, restaurants, and pubs with outdoor seating – perfect for those sunny summer days! This is where we ended Day 2 of our Great Ocean Road itinerary.
Day 3 – Lorne to Beauchamp Falls (80 km)
Head away from the coast and take the inland route to go waterfall chasing and explore some of the not-so-famous Great Ocean Road attractions.
Drive 13 minutes from Lorne to your first stop of the day – Erskine Falls, in the Great Otway National Park. Here, you will be awe-struck by a cascading 30-metre waterfall that plunges into a wide gully below.
Enjoy panoramic views of the majestic falls and river from two lookout points – one at the top, overseeing it all, and another directly below. The trek to the base was steep but not too long; physically, it was relatively easy.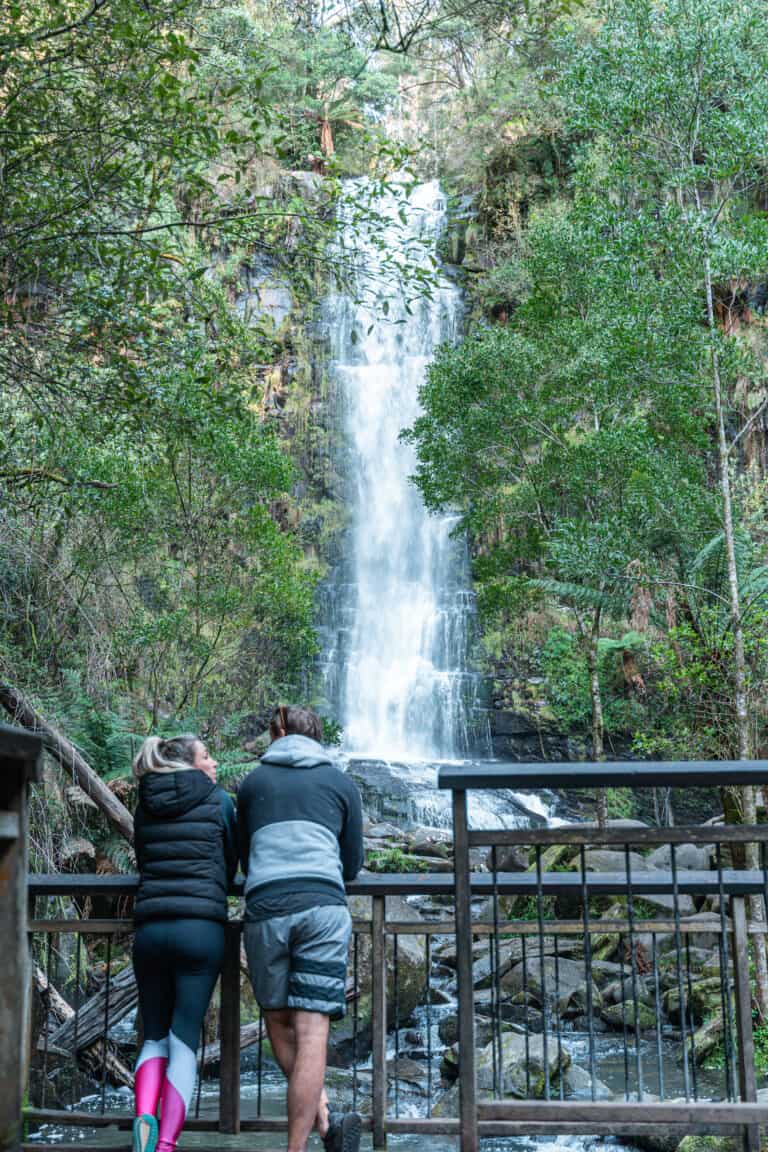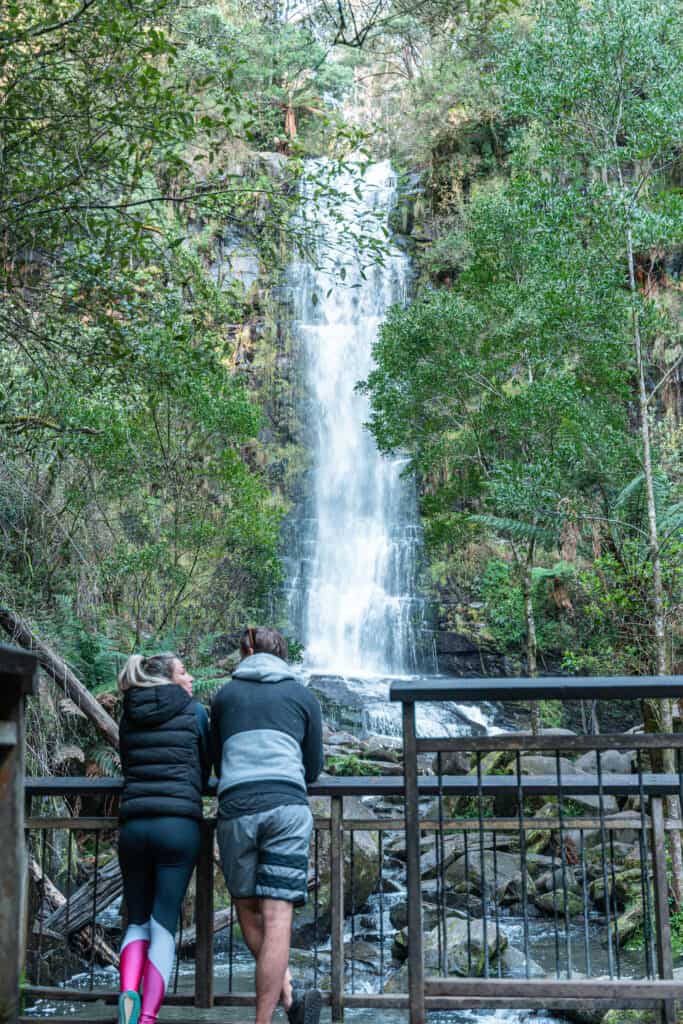 Leave Erskine Falls behind and drive 64km to Beauchamp Falls. Beauchamp Falls was our favourite waterfall near the Great Ocean Road, with its stunning shape and surrounding cliff walls draped in lush ferns. The sight of it provided a dramatic backdrop we won't soon forget!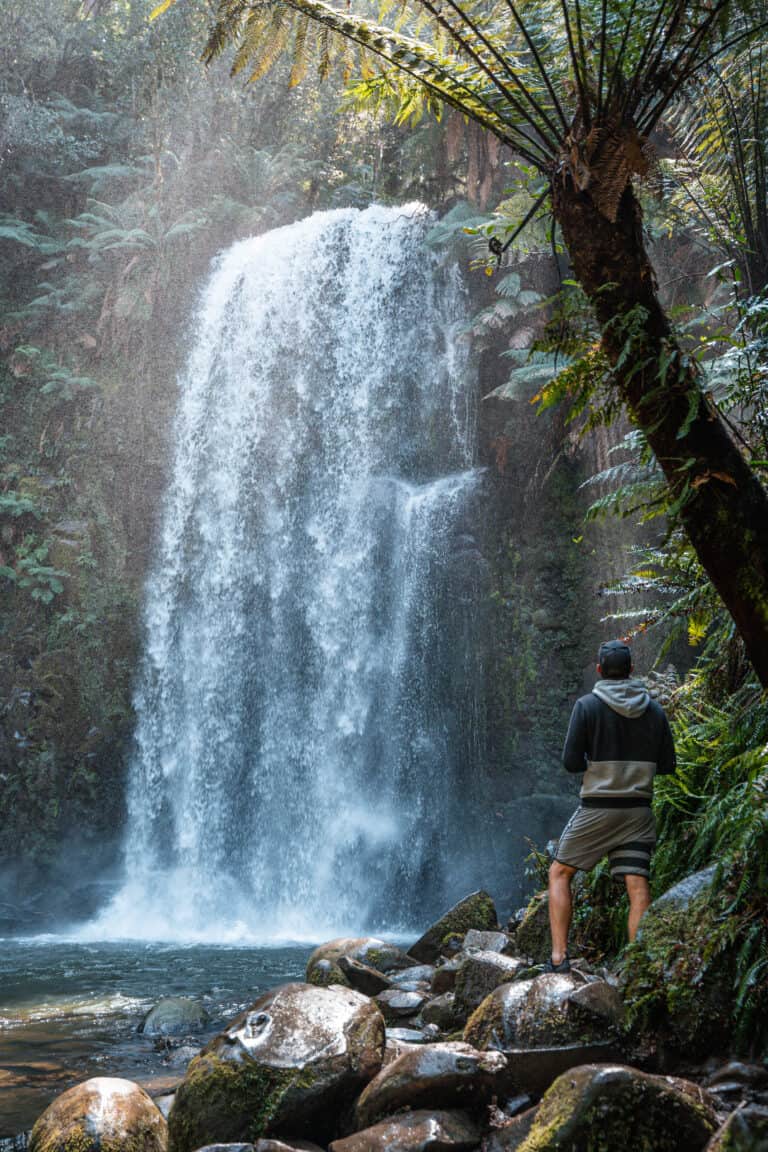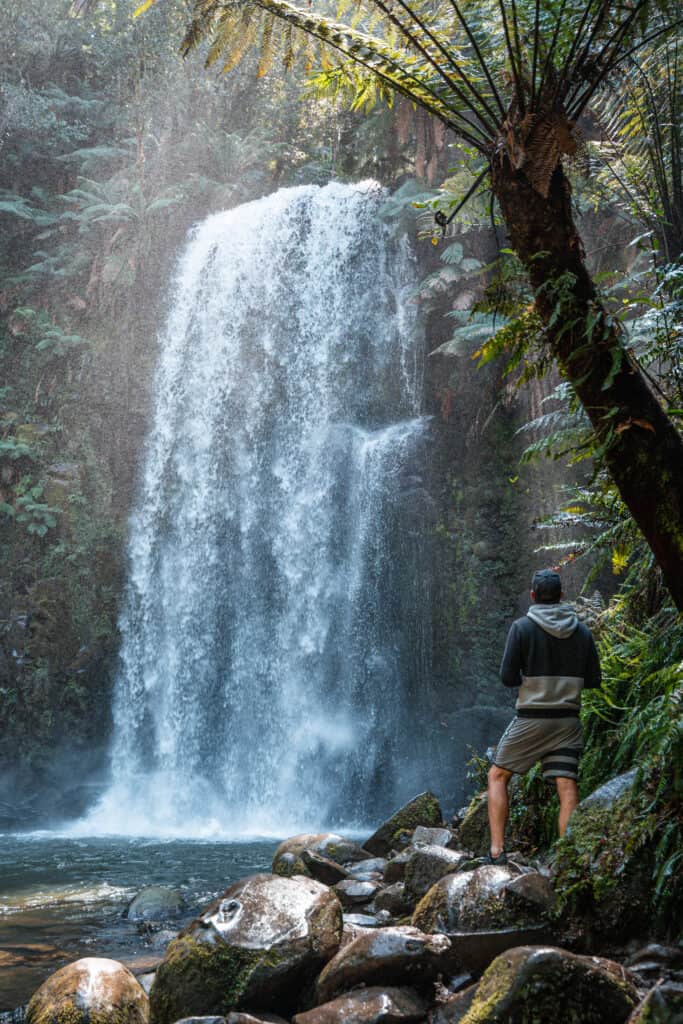 Beauchamp Falls also counts with THE BEST FREE CAMPSITE in Victoria. We LOVED it there!! The campsite is located at the starting point of the falls. The scenery is breathtaking, and the atmosphere is peaceful.
Spending a night there would allow you to access the falls at an uncrowded time, such as early morning or late afternoon while avoiding most people who come during daylight hours. There are toilets and a picnic area.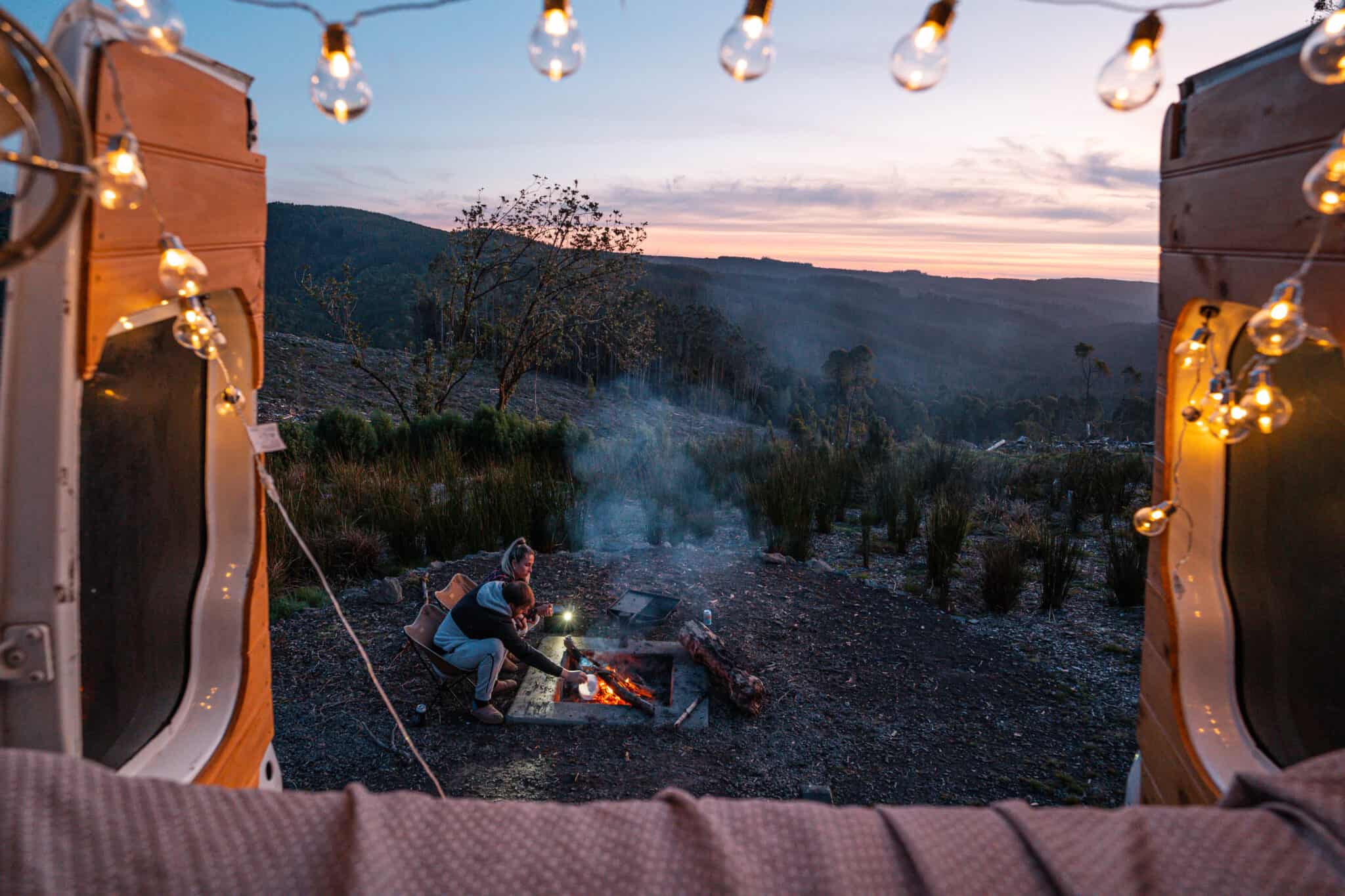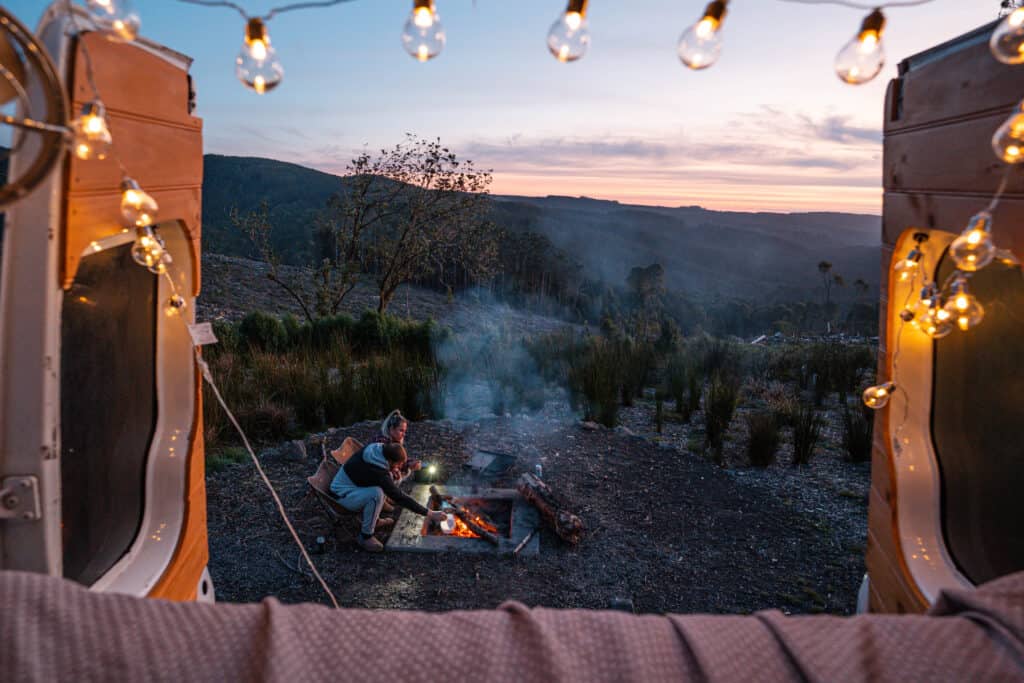 Day 4 – Beauchamp Falls to Hopetoun Falls and back (15 km)
If you arrived at Beauchamp Falls early enough to explore it the day before, you could go to the next destination. Otherwise, walk down to the falls early in the morning before the crowds arrive.
Whatever you do, do not skip the next stop in this Great Ocean Road itinerary, the Californian Redwood Forest. Take a short 18-minute drive from Beauchamp Falls to Cement Creek Road, where you will find the grandeur of over 1500 towering, red-barked trees – some reaching up to an astounding 55 meters high! Once you go through the forest, continue downriver along one of several available walking trails.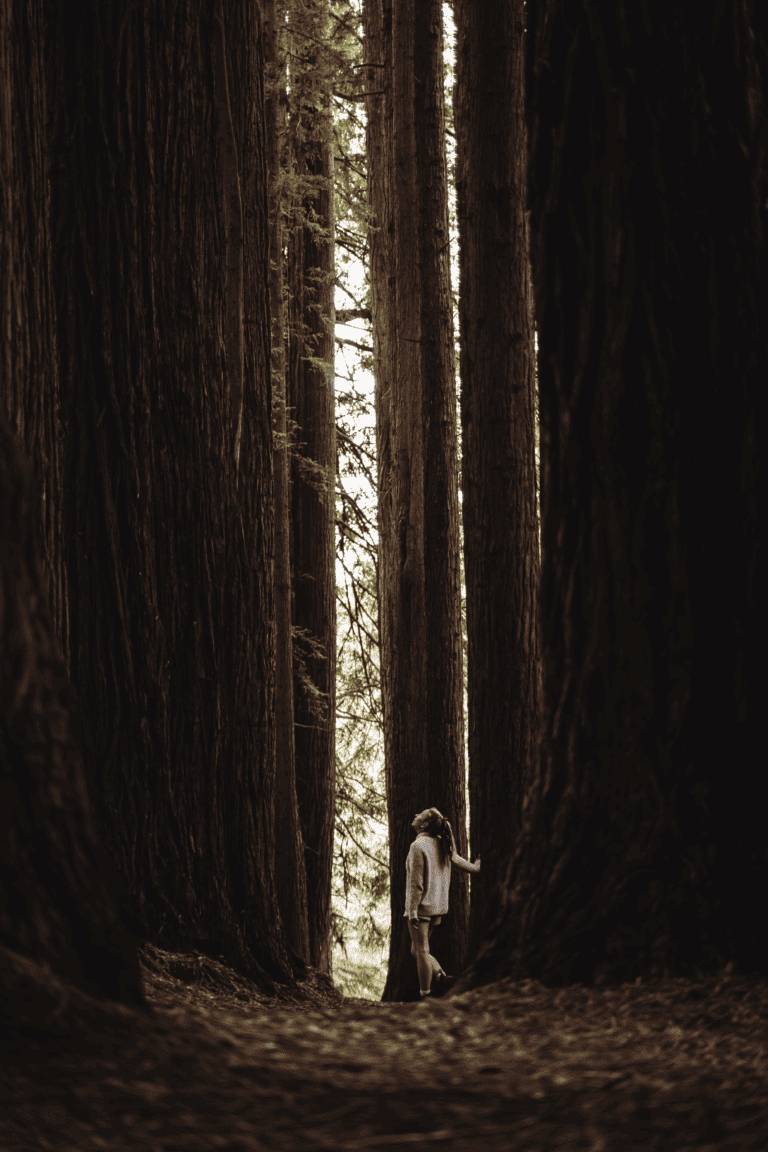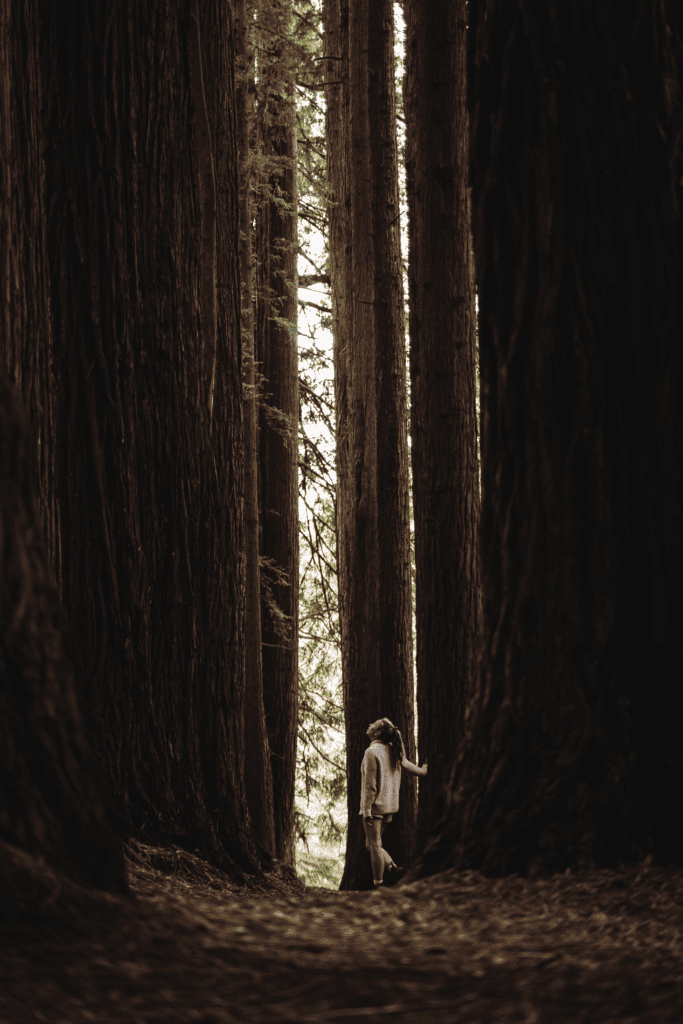 Experience nature's beauty like never before, and once you are done there, drive another 3 minutes to Hopetoun Falls.
Although the trek from the parking area is quite steep, you will likely have an effortless journey with wooden steps provided in parts that require some extra oomph.
By the end of the trek, you will be rewarded with a viewing platform from which you can gaze upwards in awe at this majestic waterfall.
The stunning beauty of Hopetoun Falls was magnified by the fact that we were its only visitors, making for an unforgettable and unique experience.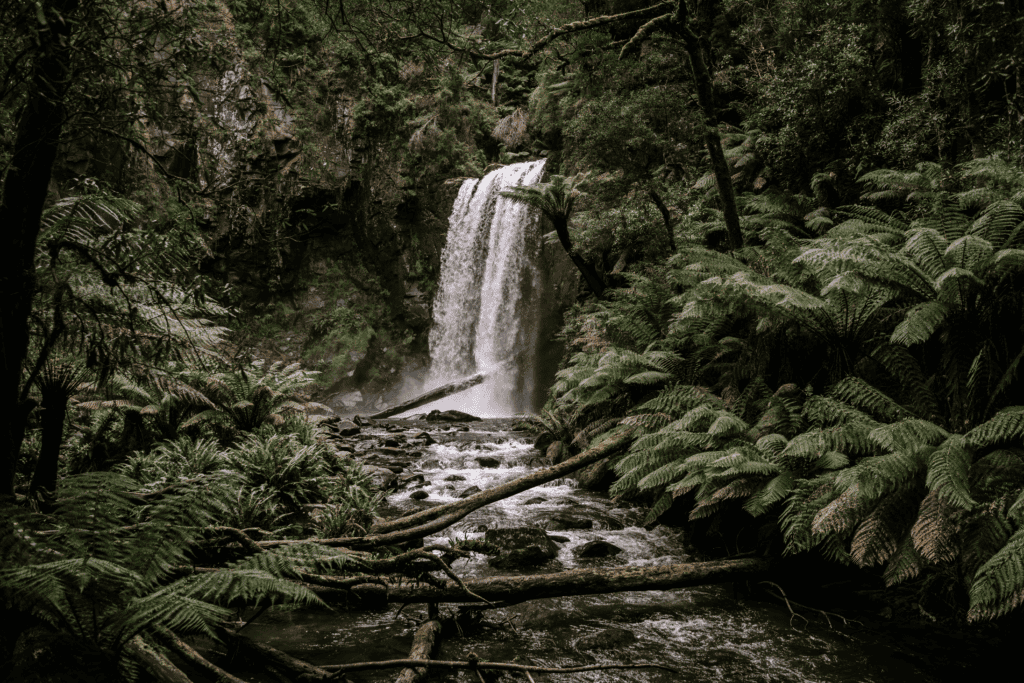 We loved the campsite at Beauchamp Falls so much that we returned for another night.
You will notice that we haven't mentioned Apollo Bay or Cape Otway in this Great Ocean Road itinerary, and that's because we have done this route before, and this time, we wanted to explore a different Great Ocean Road route.
Day 5 – Beauchamp Falls to Gibson Steps (60 km)
Day 5 of our Great Ocean Road itinerary started slow with coffee and breakfast, enjoying the incredible view.
We had to do some work that day, so we stayed at the campsite until after lunch before continuing our Great Ocean Road trip. We also wanted to be at our next stop for sunset.
We left Beauchamp Falls and drove 56 km to a very affordable camping option at Princetown Recreation Reserve, where we decided to spend the night. It costs $15 for one person for unpowered sites, $20 for two people, plus $10 for each extra person, or you can choose a powered site for $20 for one person, $25 for two, plus $10 for each extra person after that. It is located 6 km east of the Twelve Apostles, and bookings are required. They offer hot showers, an undercover barbecue area, picnic tables, a children's playground, a tennis court and laundry. Pets are allowed.
We checked in just after 4 pm and headed to Gibson Steps for sunset. We wanted the best lighting for some pictures we needed to take for a content creation work we had to do. It was worth going there for sunset.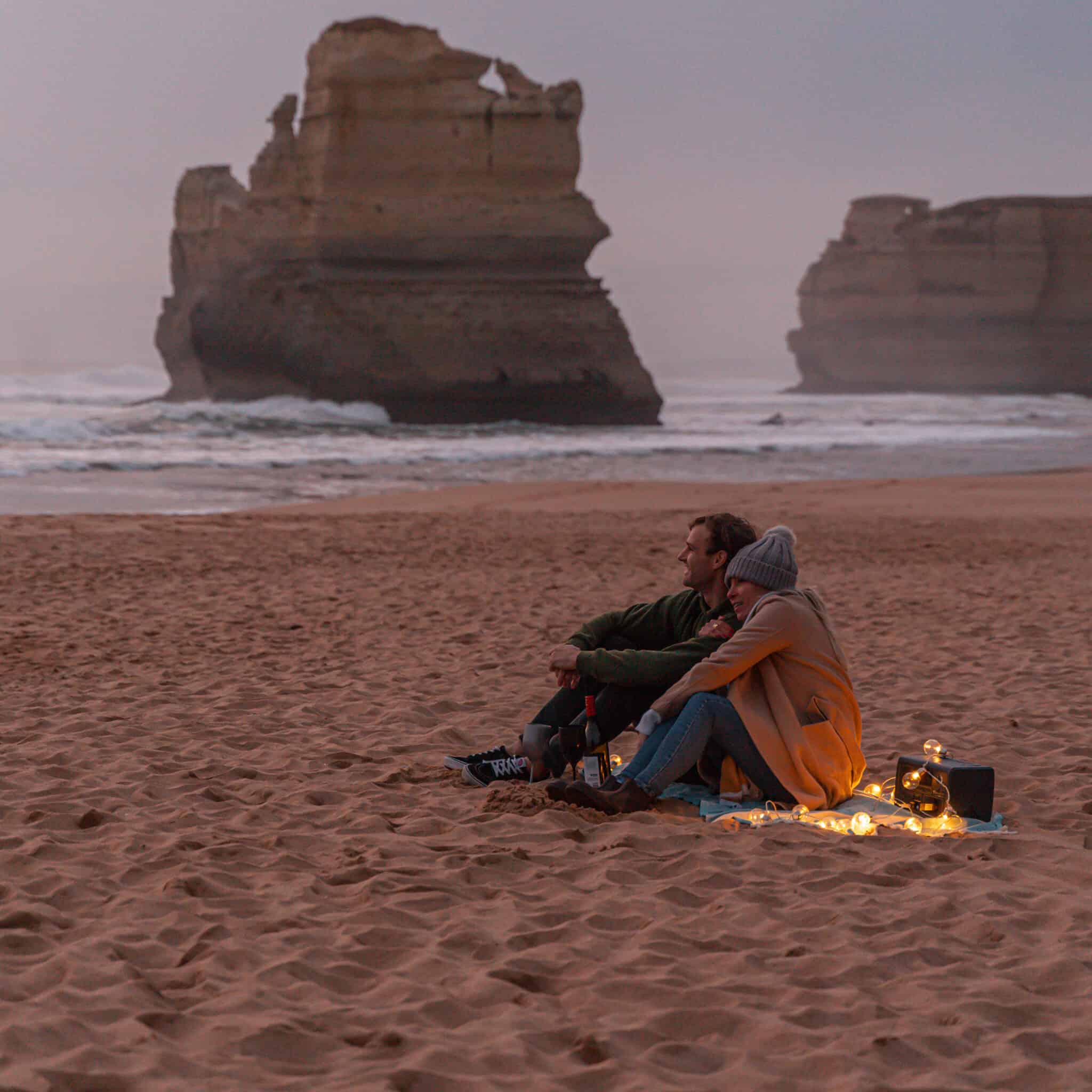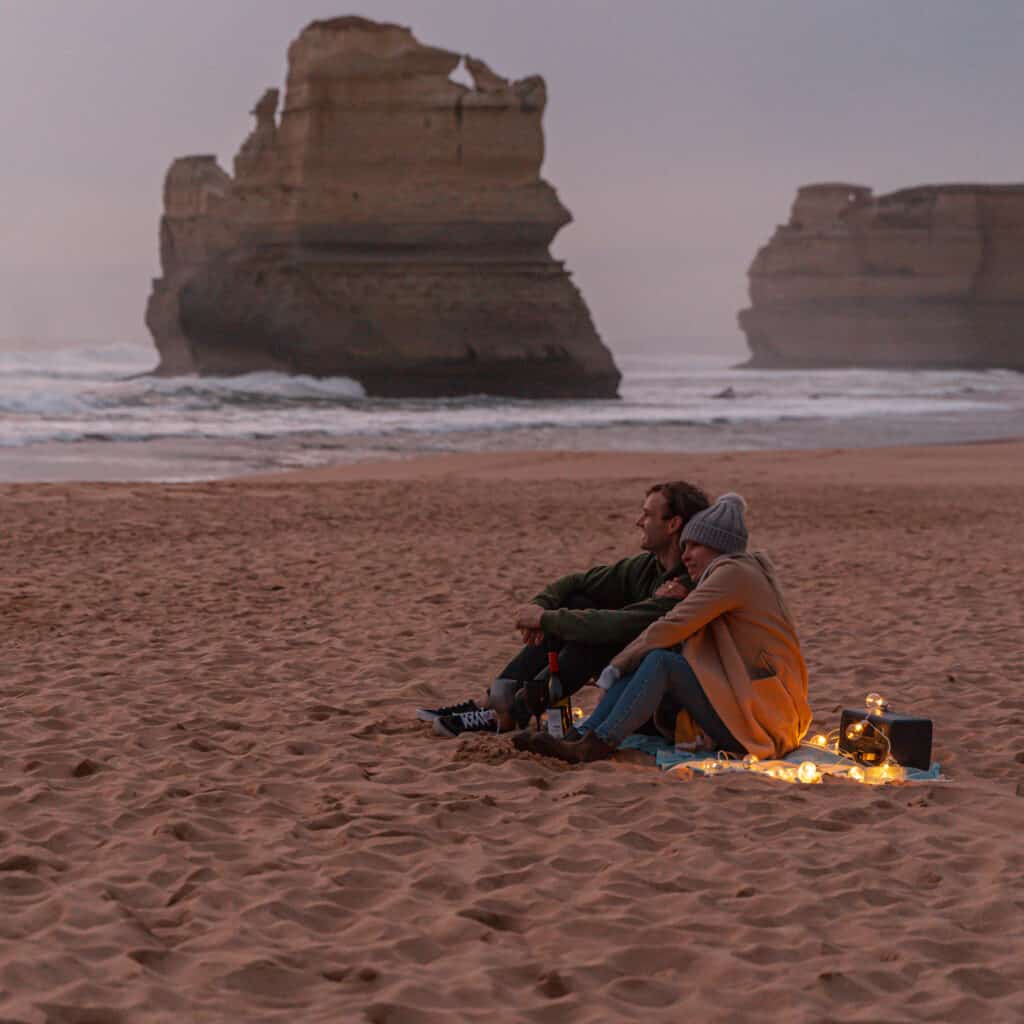 After we were done with the pictures, we made our way back to the campsite for dinner and sleep.
Day 6 – Gibson Steps to Warrnambool (74 km)
The last day of our Great Ocean Road itinerary has the most famous attractions, so we recommend getting up early to beat the crowds. Today, we will explore Port Campbell National Park, internationally recognised for its incredible limestone formations.
In the morning, we first visited the iconic Twelve Apostles. Unquestionably, the most famous stop of all the Great Ocean Road trip and Australia. We visited early in the day, and the car park already had a few cars and tour buses.
Although only seven of the Twelve Apostles remain, witnessing these immense 45-meter limestone structures in person is awe-inspiring. Watching the sunrise against these monumental columns will be an unforgettable highlight for many tourists during their Great Ocean Road itinerary.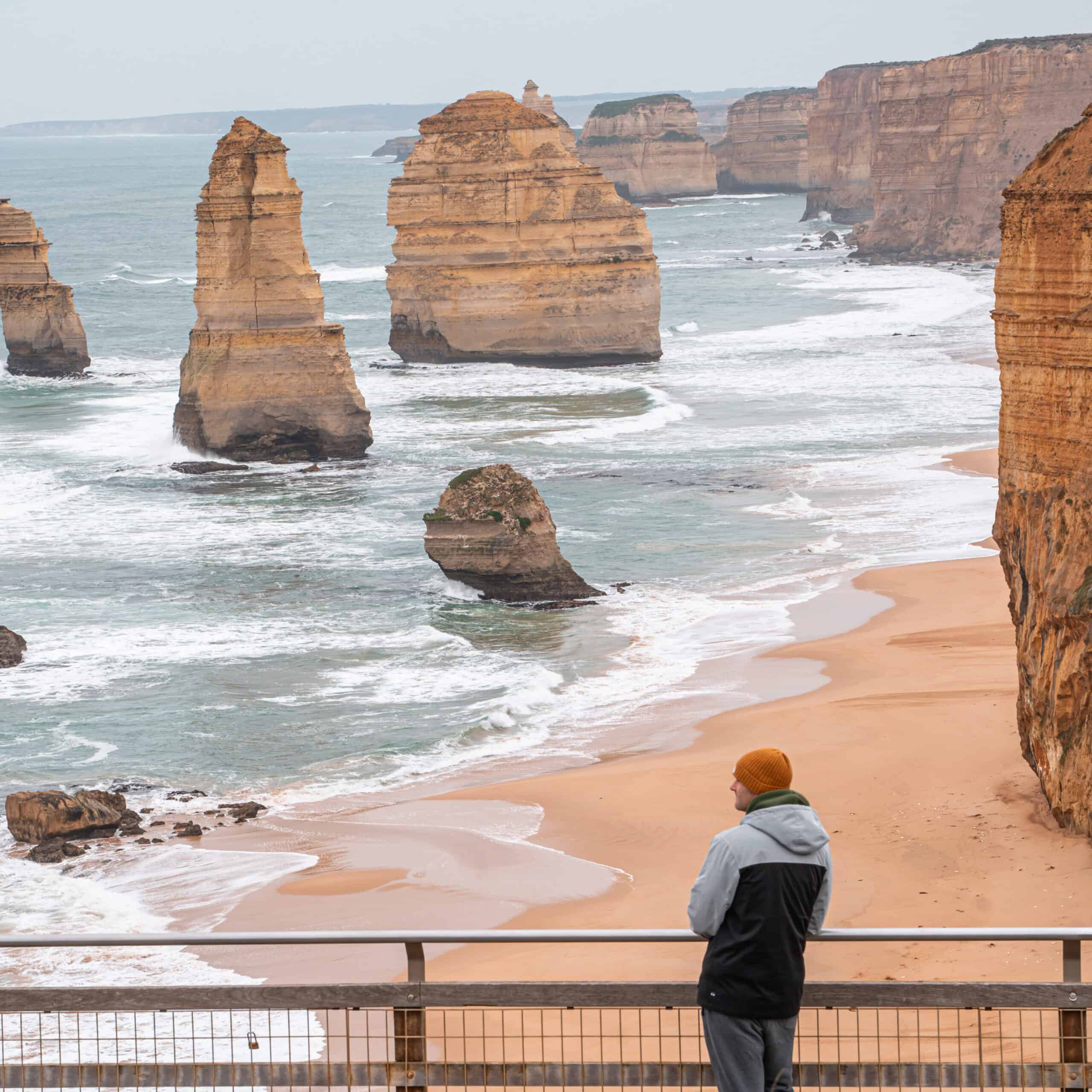 Drive only 5 minutes until your next stop: The Razorback, another astounding rock formation in Port Campbell National Park. Its unique jagged form and narrow appearance gave rise to its awe-inspiring name, making it one of the most remarkable wonders in the national park.
Just a stone's throw away is Loch Ard Gorge. Although the Twelve Apostles are renowned in their own right, we found Loch Ard Gorge an unforgettable adventure that should be included in your Great Ocean Road trip. You can easily spend an hour or two here!
Loch Ard Gorge was named after the Shipwreck Coast's most famous and haunting tale unfolded when two young survivors of the wrecked iron clipper Loch Ard made it to shore.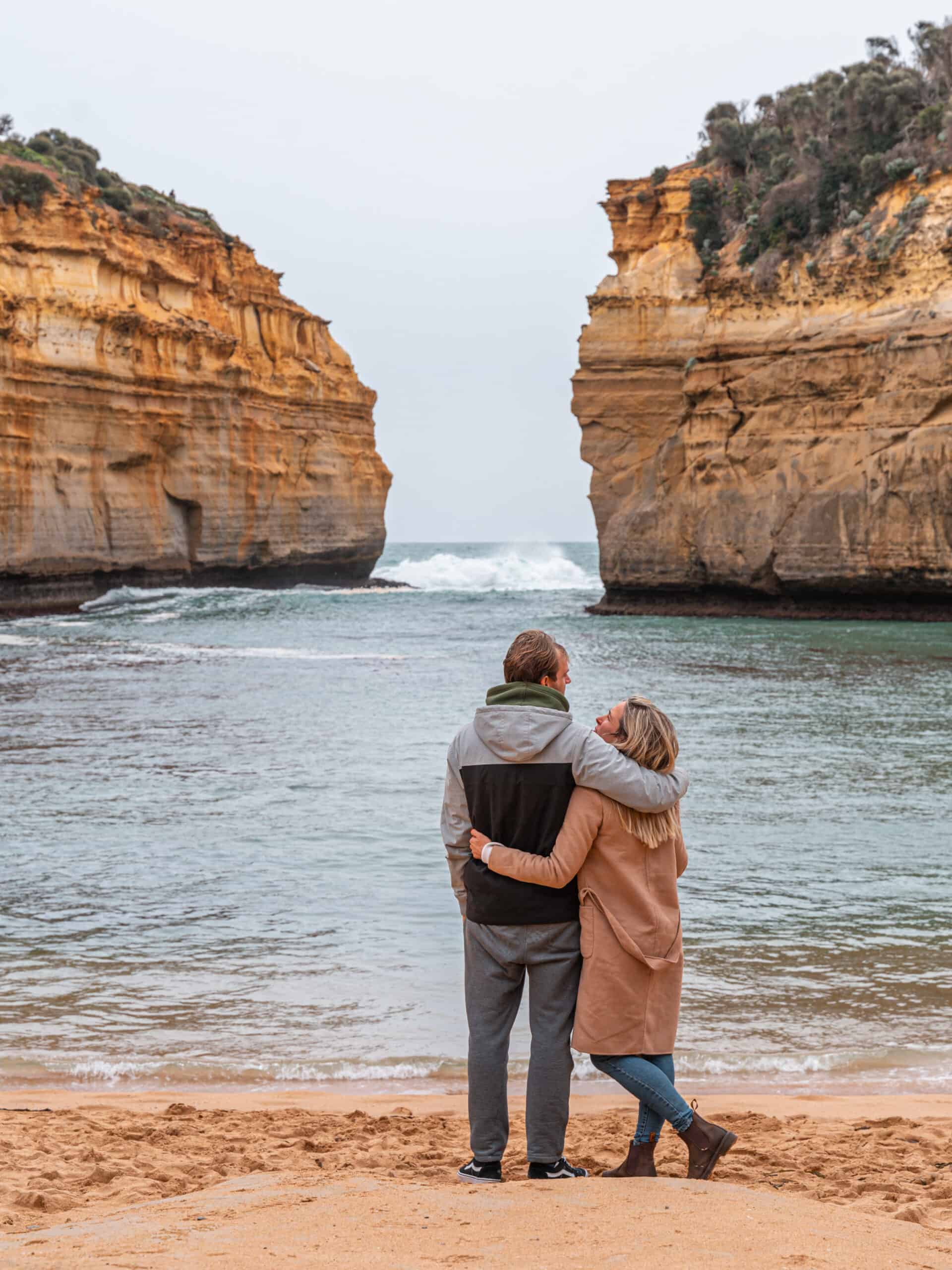 If it's lunchtime, stop at Port Campbell for a bite. This small coastal town is nestled near picturesque limestone cliffs and boasts a stunningly rectangular bay. A perfect destination to rest and recuperate after witnessing the breathtaking Twelve Apostles, it is also home to excellent hospitality options!
As you journey along the Great Ocean Road, more awe-inspiring rock stacks appear. Your next stop will be at London Bridge, now sometimes called London Arch. Formerly, a majestic double-arched rock platform connected the mainland to this enchanting site. Visitors could cross a narrow natural bridge, walking to the enormous rock formation. In 1990, however, the bridge suddenly collapsed, causing two tourists to become stranded on the newly formed island. They were eventually saved via helicopter.
Nearby, 5 mins driving, is the Grotto. Do not miss out on The Grotto during your Great Ocean Road itinerary! Don't be deceived into believing it is just a regular rock formation; this remarkable natural marvel consists of an archway, blowhole, and cave all in one location. Make sure you go down the stairs to witness its beauty.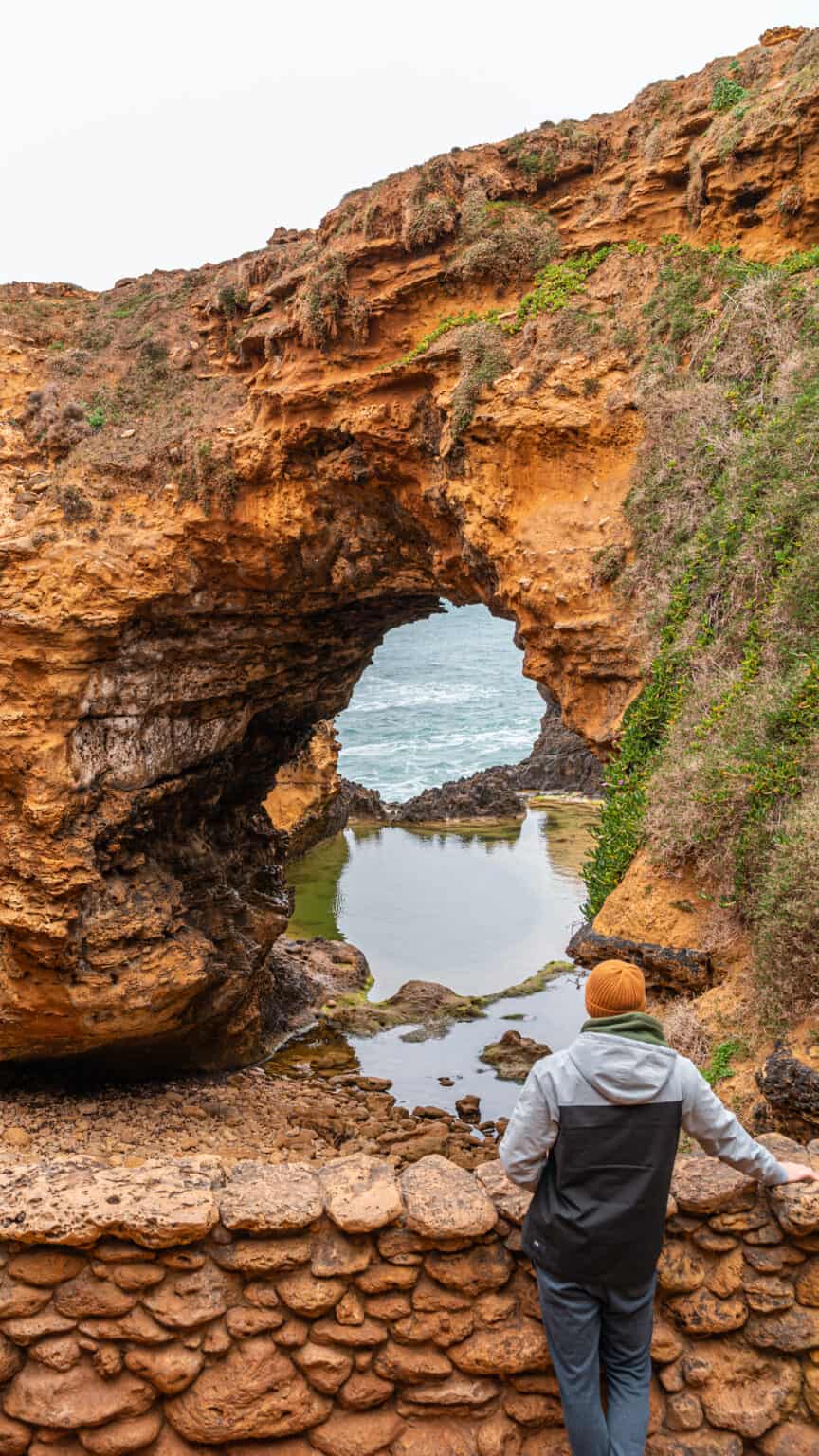 Located only 8km from the small town of Peterborough lies Bay of Islands – a spectacular area full of picturesque lookout points that can be accessed after just a few minutes walk from the car park.
Make your way to Warrnambool, and this is where your Great Ocean Road itinerary ends.
Things You Need to Know Before Planning a Trip Along the Great Ocean Road 
When is the best time to go on your Great Ocean Road drive?
The first time we did a Great Ocean Road drive was in November 2015, and it was great! Not too busy, not too cold, and we had a great time. The second time we drove it was when my mom and aunty came to visit from Brazil, and we drove it in May of 2018. It was cold, wet and windy. We still enjoyed it, but the weather did not help us!
Any time of year is an excellent time to drive the Great Ocean Road. But if you're looking for something extraordinary—when nature puts on its best display—try timing your visit for early spring (September/October) or late autumn (March/April). These months offer mild weather, plus you'll experience the wildflowers in bloom during springtime, while autumn will give you access to some breathtaking sunsets. 
Where is the Great Ocean Road? 
The Great Ocean Road runs along Victoria's southwest coast between Torquay and Allansford, taking in some of Australia's most stunning scenery.
It covers a total distance of 243 kilometres, with plenty of sights and attractions along the way. Whether you choose to drive it end-to-end or take your time exploring its many highlights, it makes for an unforgettable journey.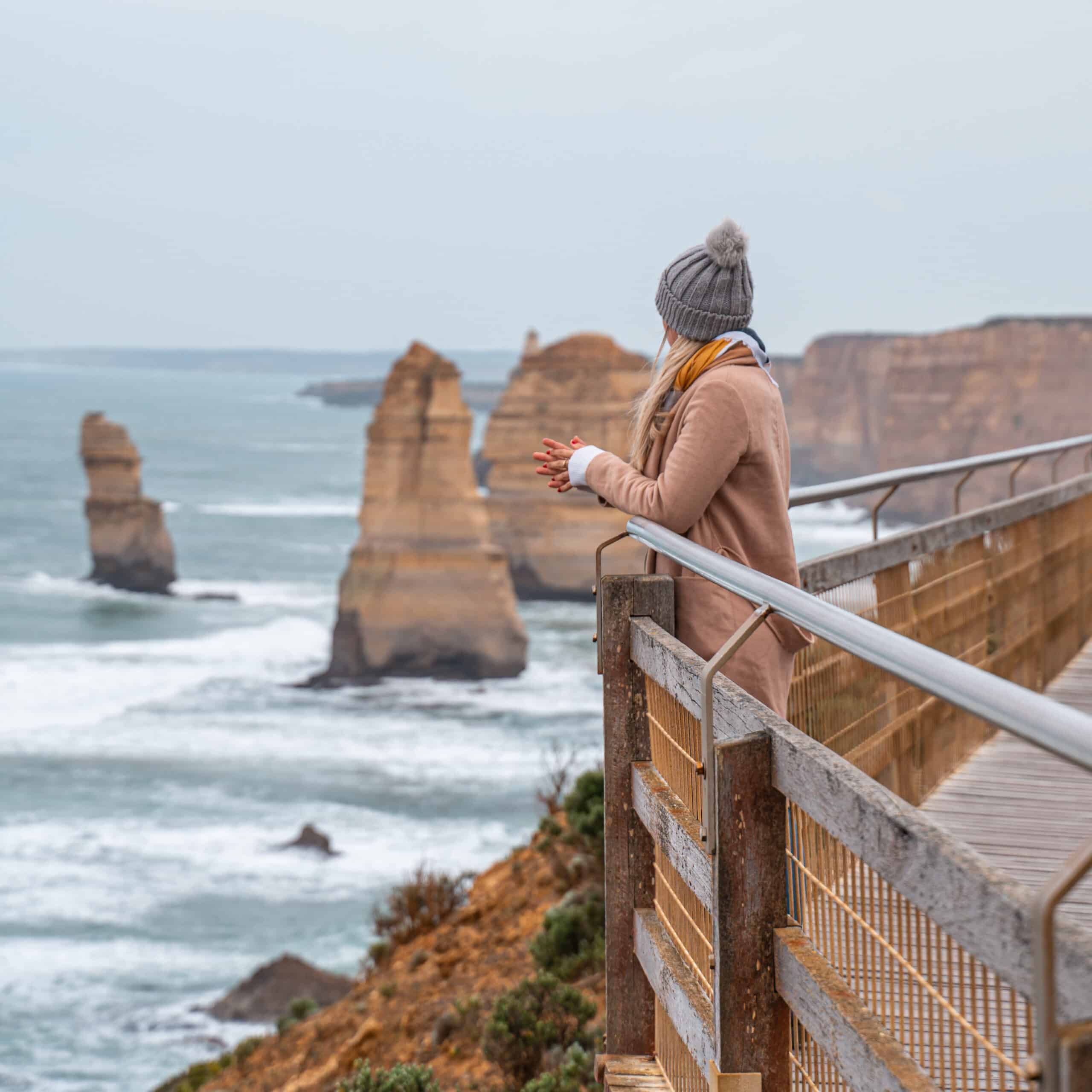 How long does it take to drive the Great Ocean Road? 
The length of time it takes to drive the Great Ocean Road depends on how much time you have available and how many stops you make along the way.
Driving straight through without detours or stops for sightseeing should take around five hours. However, if you want to explore all the region has to offer, we recommend allowing at least two days for your trip – more if you want an even more comprehensive experience. 
What do I need to bring to my Great Ocean Road drive? 
It's always a good idea to prepare when embarking on a self-drive road trip like this one.
Ensure your car is in good condition before setting off, and remember to pack plenty of snacks, drinks, and any other items you may need (sunscreen, insect repellent, etc.). And even though most of your journey will be spent in your vehicle, remember that comfortable walking shoes are essential – there will be plenty of opportunities along the way for short hikes or beach walks!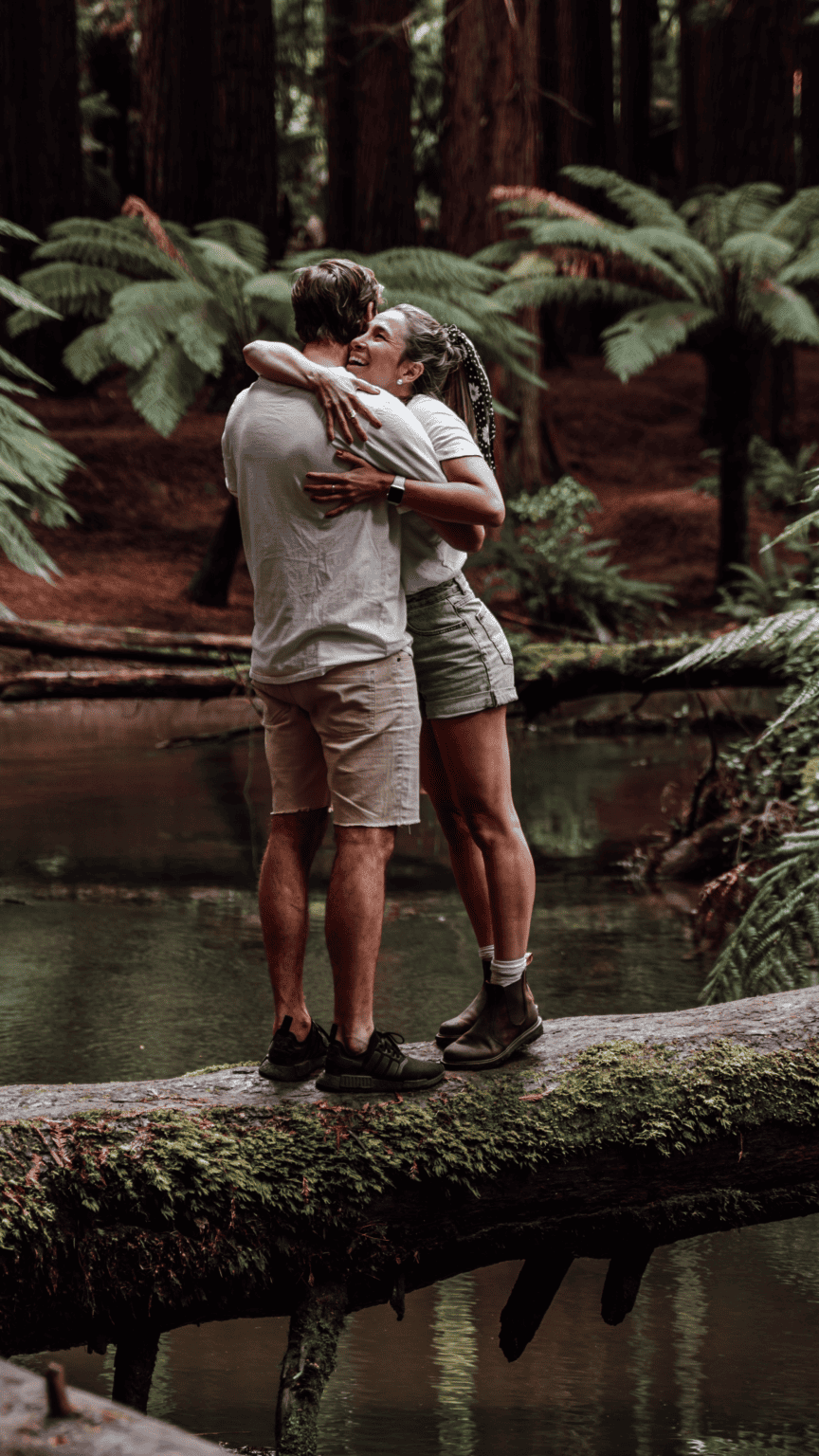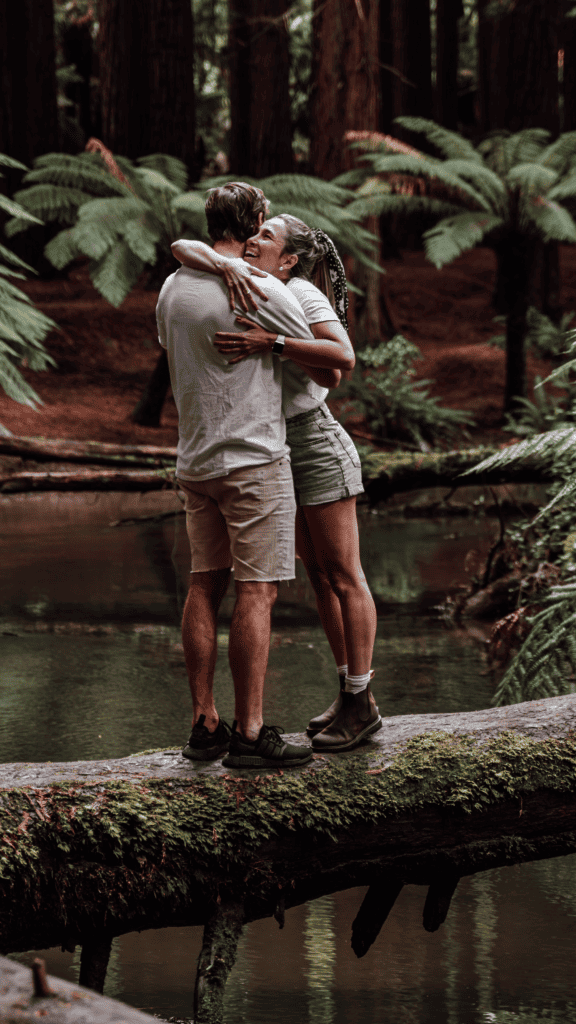 What if I don't have my own car for a Great Ocean Road drive? 
If you don't have your own car, don't worry—plenty of rental companies in Melbourne can provide you with a car for your trip. Just make sure to book ahead to get the best prices and avoid any disappointment if cars run out during peak periods.
You can also, obviously, join a Great Ocean Road tour. Several companies offer day trips along the Great Ocean Road route, which will take all the stress out of planning your journey yourself.
We have found a few that you can choose from and have listed them below:
What else is there to do on the Great Ocean Road?
You can tackle the Great Ocean Road in many ways, and we certainly left some fantastic places out of our list that you can visit if you have more time. Below is a list of some of these places:
Tower Hill Wildlife Reserve
A now dormant volcano that has not erupted for over 30,000+ years. Here you can experience a stunning landscape shaped by ash and discover the plentiful native wildlife, extensive wetlands and seasonal wildflowers.
Kennett River Koala Walk
Not a walk per se, more like a road where you can park; look up the many eucalyptus trees and almost guarantee you will see LOTS of koalas.
Maits Rest Rainforest Walk
Walking through the magnificent Great Otway National Park is a must-do for anyone passing by. The 30-minute loop will give you a stunning glimpse of some of the rare temperate rainforests in that area!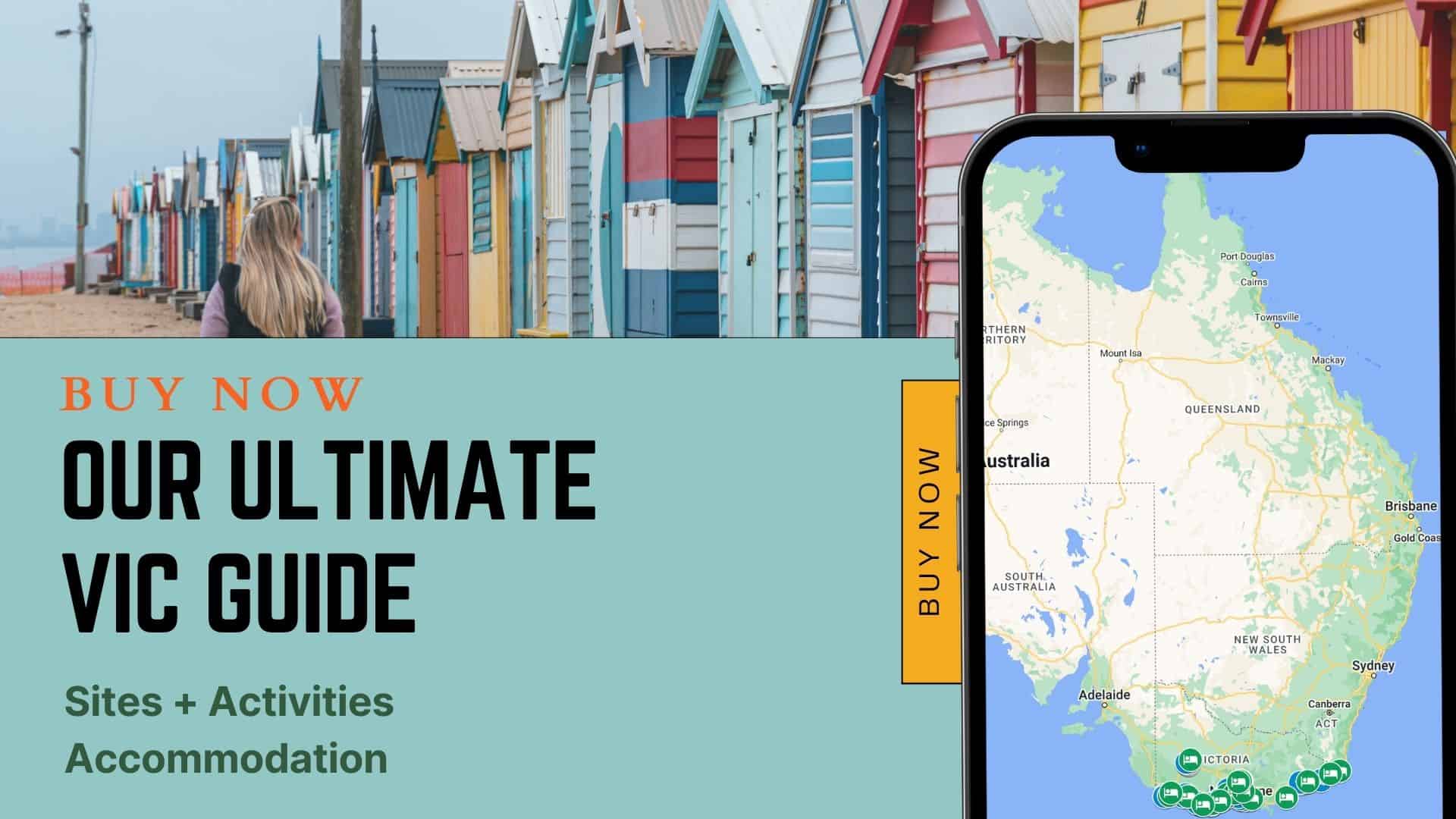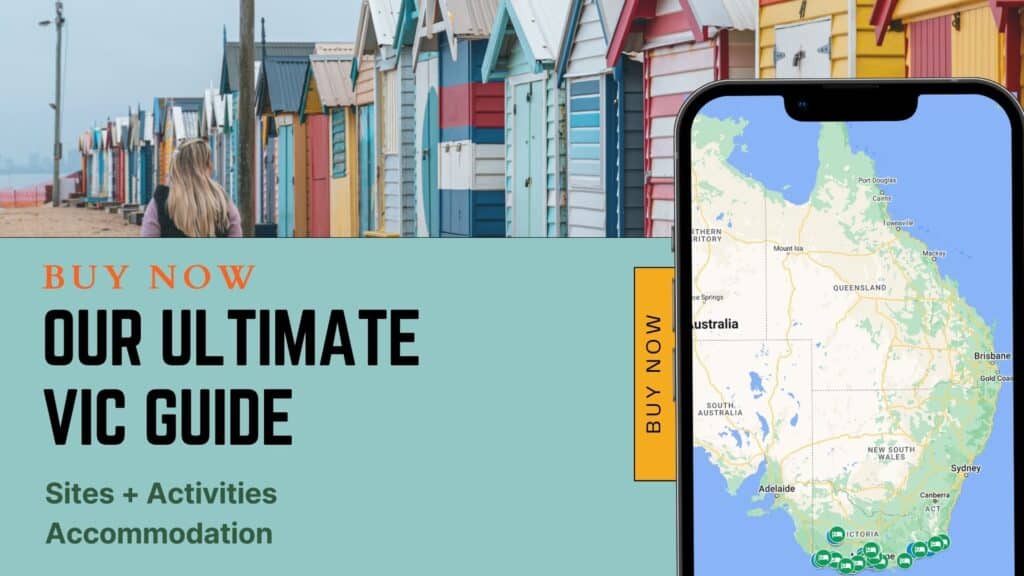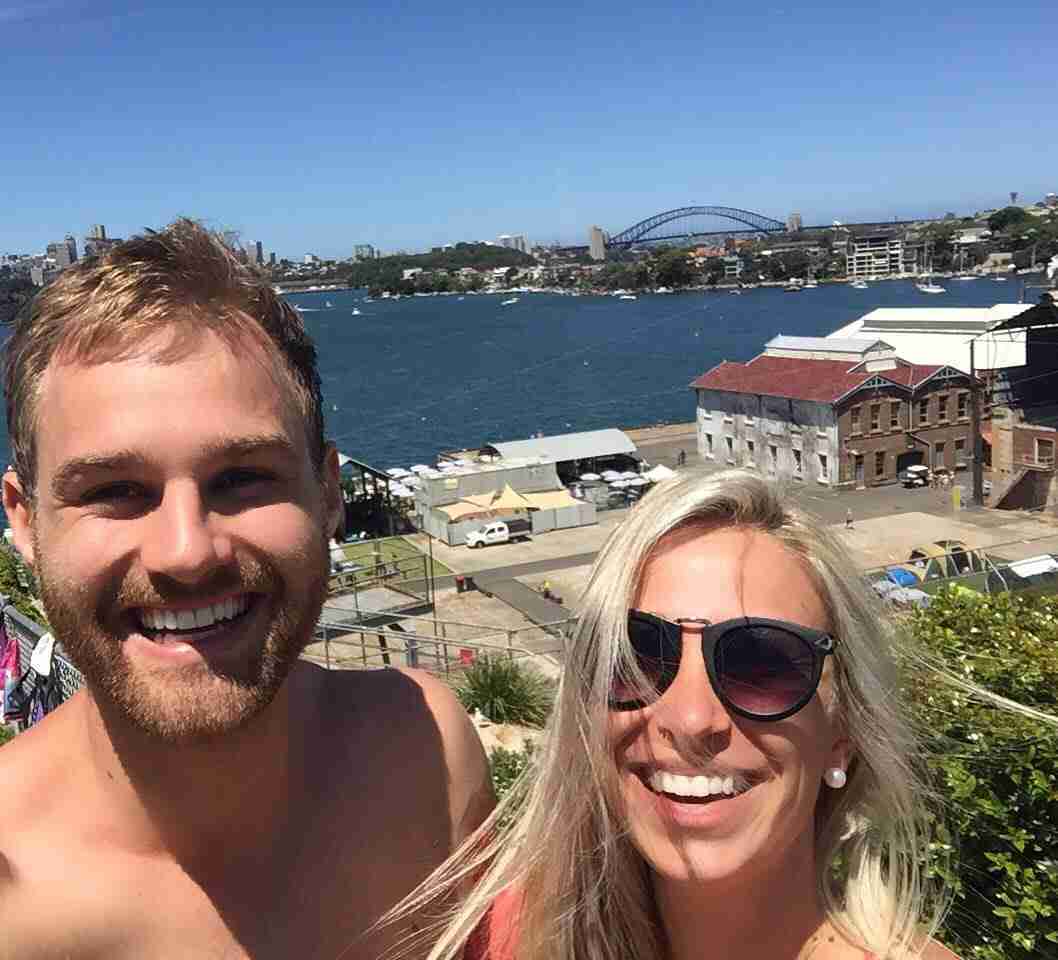 Wade & Dani
Hi! We're Wade and Dani, We're currently travelling around Australia in our 2017 Mercedes Sprinter Camper van and sharing our best experiences, stories, reviews and adventures as we go along. Make sure you follow us on Instagram @wadeanddani