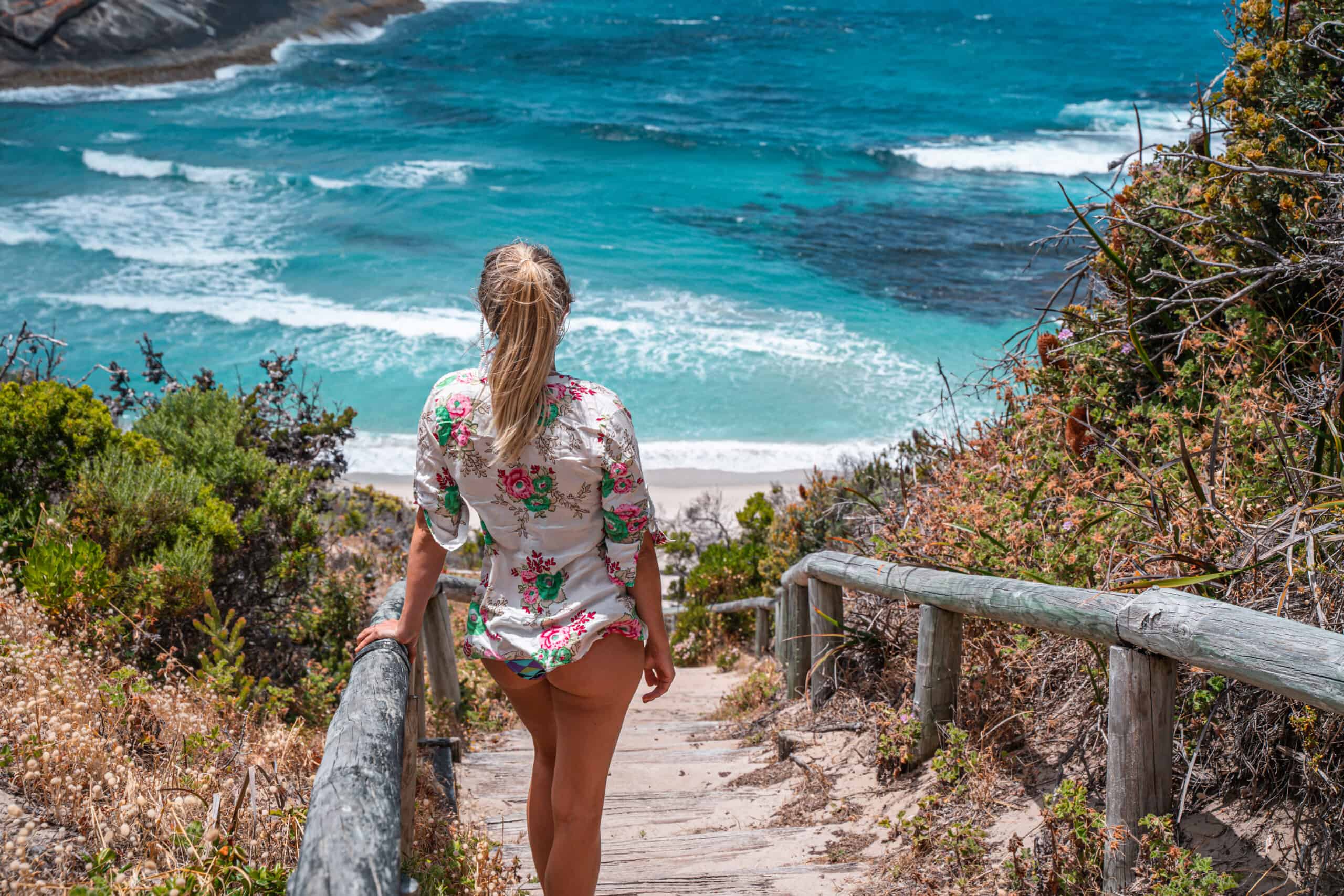 23 Incredible Things To Do in Albany in 2023
Pack your bags and prepare for an unforgettable adventure in Albany, Western Australia!
With its rich history and breathtaking natural wonders, Albany promises an experience like no other. Whether you're a history buff, a nature lover, or an explorer, this coastal gem has something for everyone.
Are you ready to explore the top things to do in Albany? Let's dive in!
Short Summary
Explore Albany's rich history, natural wonders and outdoor activities.
Enjoy coastal adventures in King George Sound & explore the wind farm for stunning views.
Take day trips to nearby attractions & experience all that the area has to offer!
Watch our Youtube video in Albany below:
Natural Wonders and Outdoor Activities
Albany offers a variety of natural wonders and outdoor activities, including stunning coastal landscapes, national parks, and hiking trails, perfect for nature lovers and adventure seekers. The South Coast of Western Australia is known for its gorgeous coastal landscapes:
1. The Gap and Natural Bridge
The Gap and Natural Bridge are two awe-inspiring natural landmarks within the Torndirrup National Park that have captivated visitors for generations.
Carved over millennia by the relentless force of the Southern Ocean, The Gap is a stunning cliff formation that plunges dramatically into the sea, creating a breathtaking sight as waves crash against the rocks below.
Nearby, the Natural Bridge stands as a testament to the power of nature, forming a natural bridge-like arch through which the waves flow gracefully. Both sites offer visitors an exhilarating experience and a profound connection with nature's raw beauty.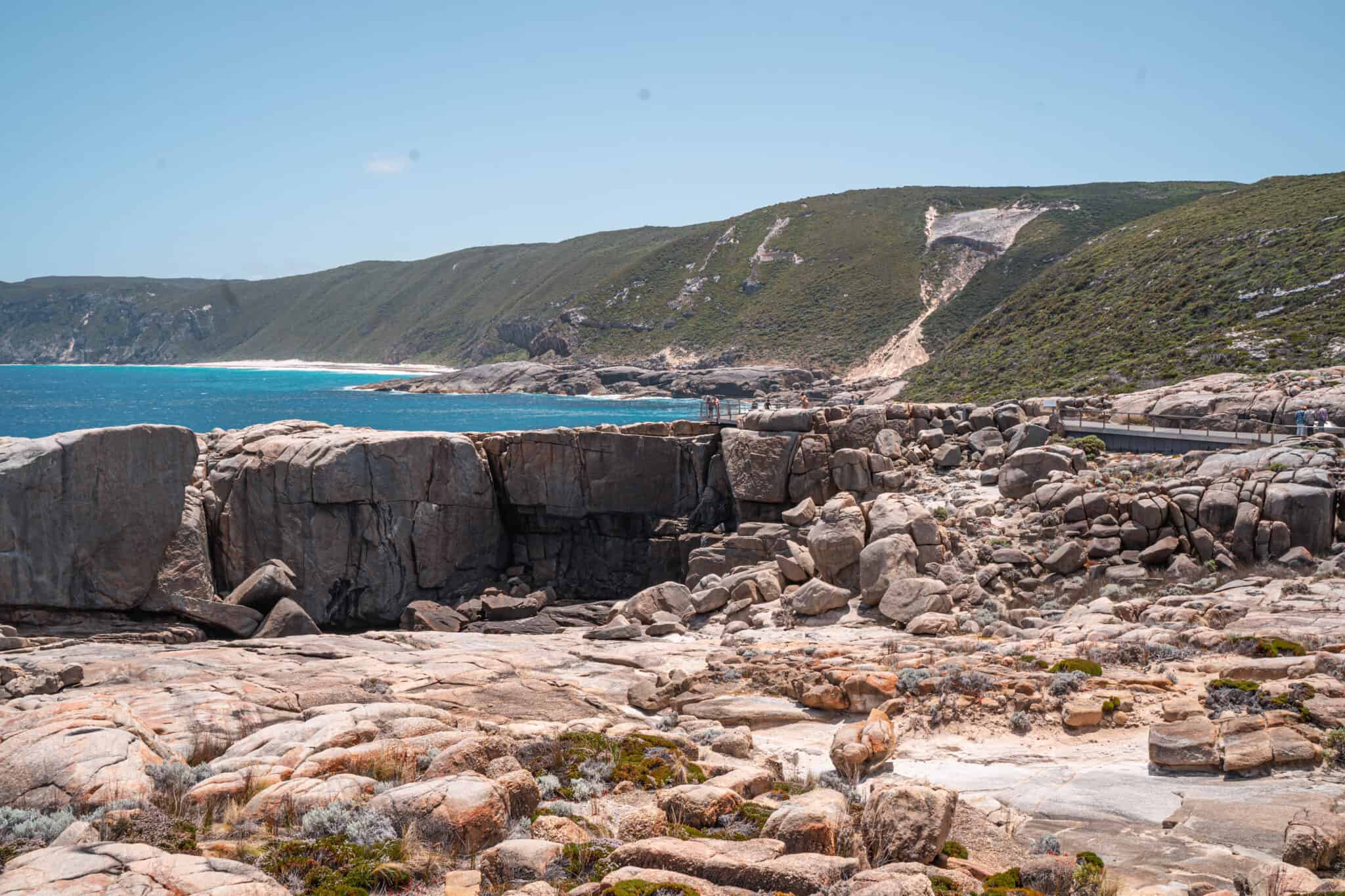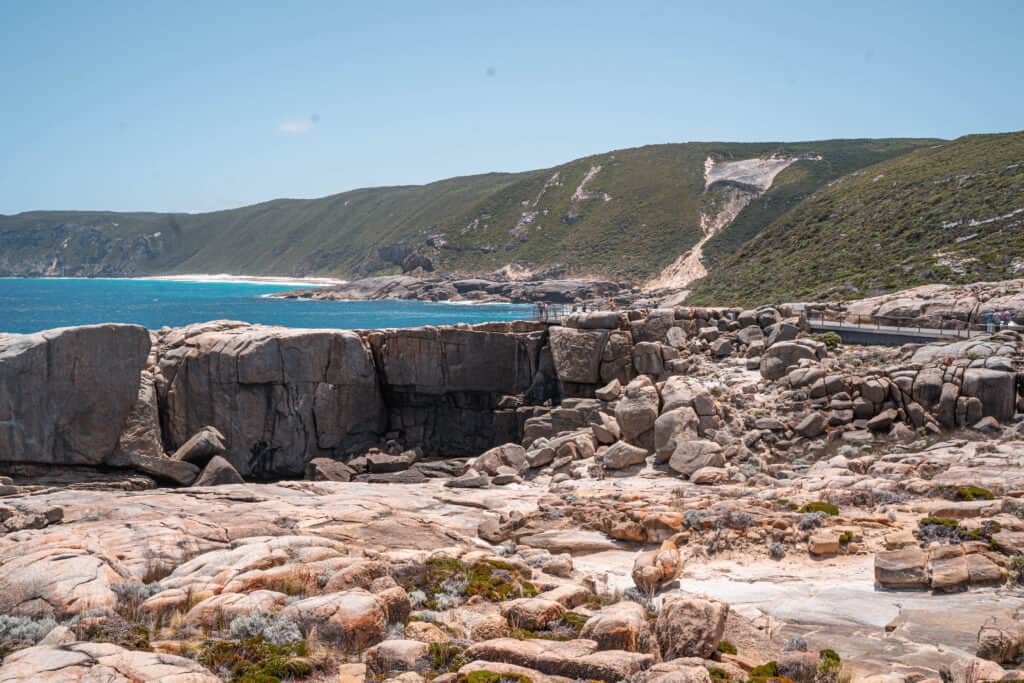 Visitors are also reminded to exercise caution, as the powerful surges of the ocean remind us of the delicate balance between beauty and danger in the natural world. Whether you're a nature enthusiast, a photographer seeking stunning vistas, or simply searching for a moment of contemplation, The Gap and Natural Bridge are destinations not to be missed from your things to do in Albany list.
2. Visit The Best Beach in Australia
Nestled along the stunning coastline of Albany, Misery Beach is a hidden gem that offers visitors a unique and unforgettable experience.
Despite its somewhat daunting name, Misery Beach is anything but miserable. In fact, it is one of the region's most picturesque and tranquil spots, attracting both locals and tourists alike.
In 2022, Misery Beach received well-deserved recognition by being crowned "Tourism Australia's Best Beach." This prestigious award came as no surprise to those who have been here. With its unspoiled beauty, untouched natural surroundings, and unique offerings that set it apart from other beaches in the region, Misery Beach should be at the top of your list of things to do in Albany.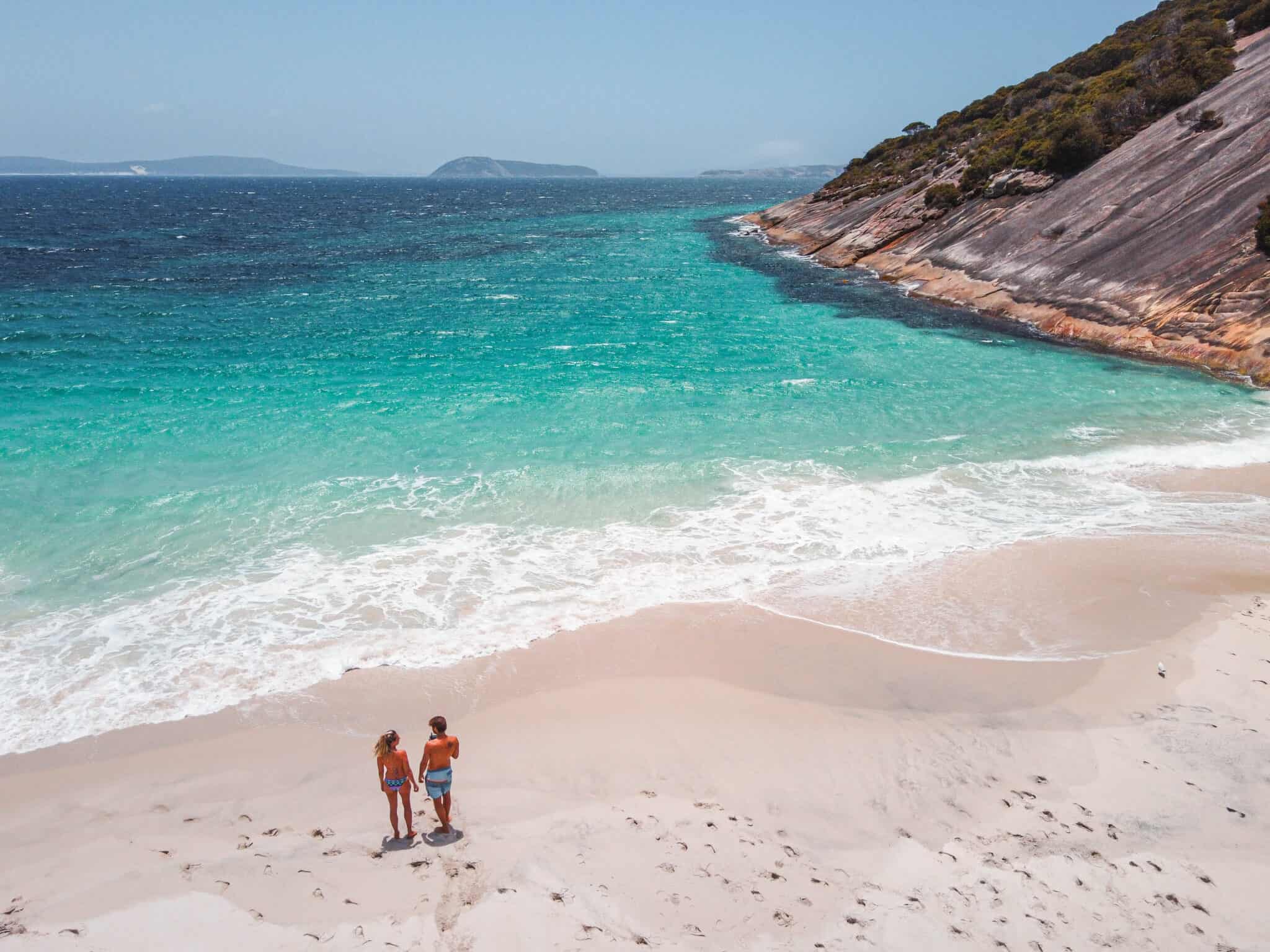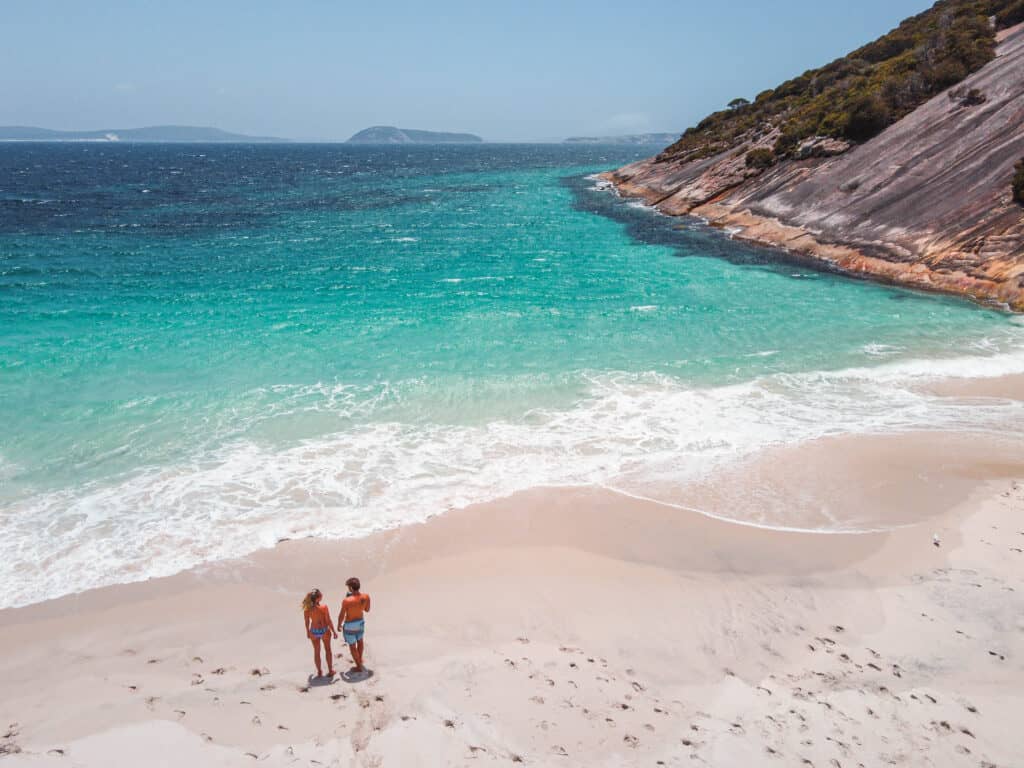 3. Middleton Beach and Ellen Cove
Middleton Beach is Albany's main beach, offering a tranquil and pleasant setting for a relaxing swim. The Ellen Cove Boardwalk commences from one end of Middleton Beach, encompassing the headland where Mt Clarence gracefully meets the sea.
As you make your way up the boardwalk, you'll be rewarded with breathtaking views of Middleton Beach and the expansive King George Sound. This sound serves as a crucial rest stop during the Humpback and Southern Right whale migration, presenting an incredible opportunity to catch glimpses of these majestic creatures from various lookout points along the boardwalk.
You can walk to or from the National Anzac Centre for an alternative route, linking up with the boardwalk.
To kickstart your journey along the boardwalk, you'll find a delightful café perched overlooking Middleton Beach. It's a perfect spot to refresh before or after your exploration.
4. Coastal Adventures in King George Sound
Explore the breathtaking King George Sound, with its rugged coastline, pristine beaches, and opportunities for whale watching, fishing, and diving. The region also has a significant World War history, which can be explored at the National ANZAC Centre in Albany Heritage Park (more on this later).
From late May to early October, you can witness the awe-inspiring migration of Humpback and Southern Right Whales as they pass through the waters. Hop on a cruise for an unforgettable whale-watching experience; if you're lucky, you might even spot some newborn whale calves!
5. Go fishing at Salmon Holes
For fishing enthusiasts, Salmon Holes is a popular beach fishing spot in south west Western Australia. Just remember to wear a life jacket when venturing onto or around the rocks for safety.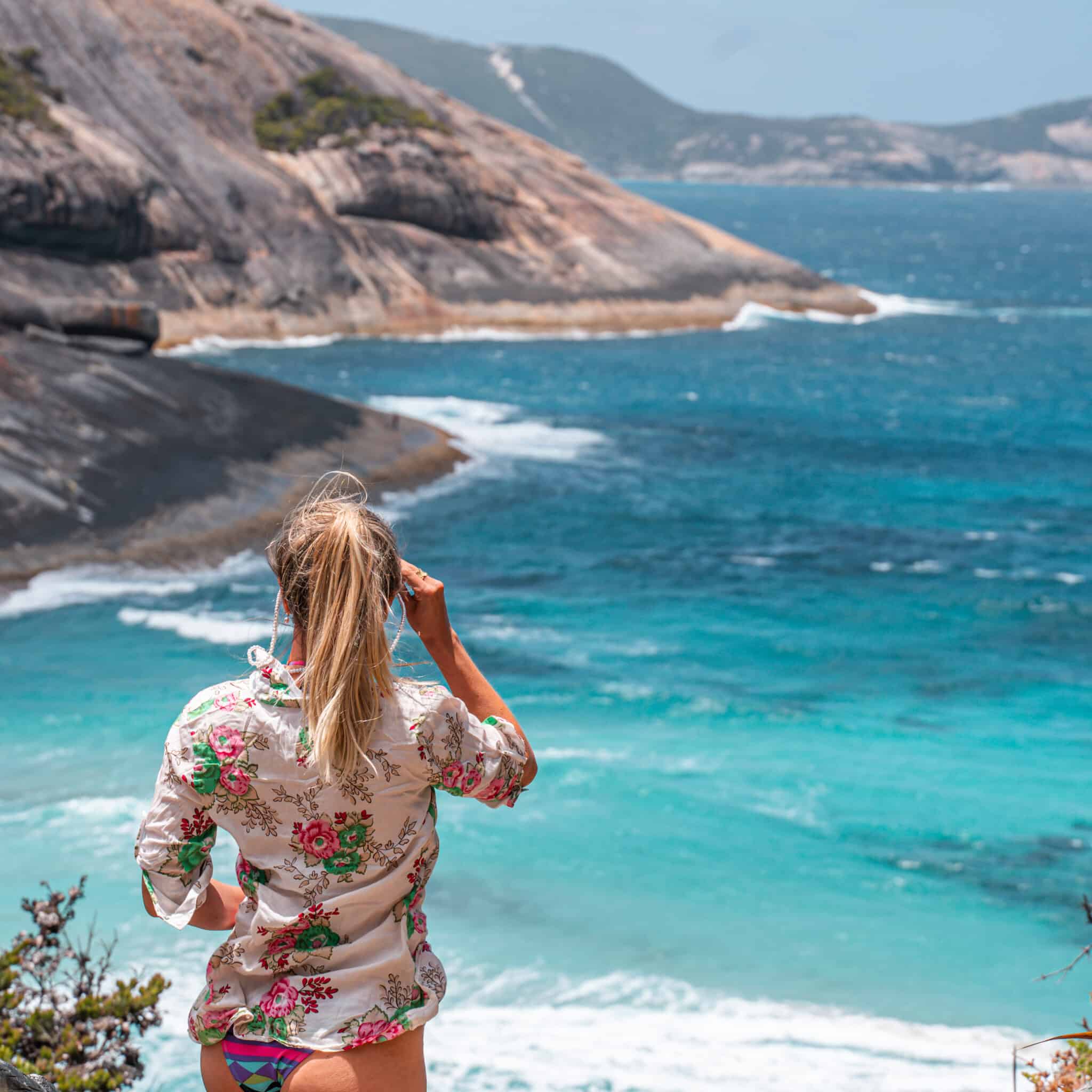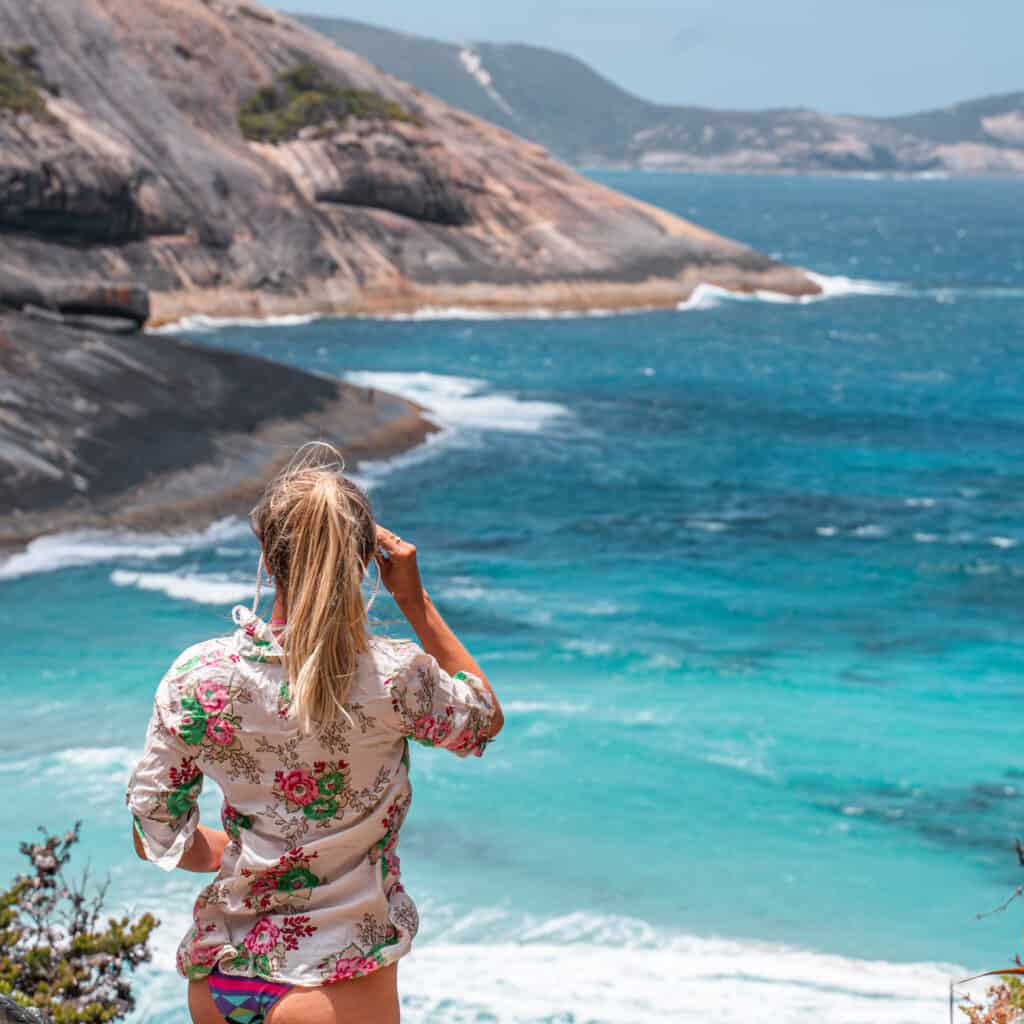 6. Dive at Frenchman Bay
For advanced divers, Frenchman Bay offers the chance to explore the HMAS Perth, a decommissioned naval vessel that's now a diving reef. On this exciting dive, you'll encounter various marine life and witness remnants of the vessel's Vietnam War service.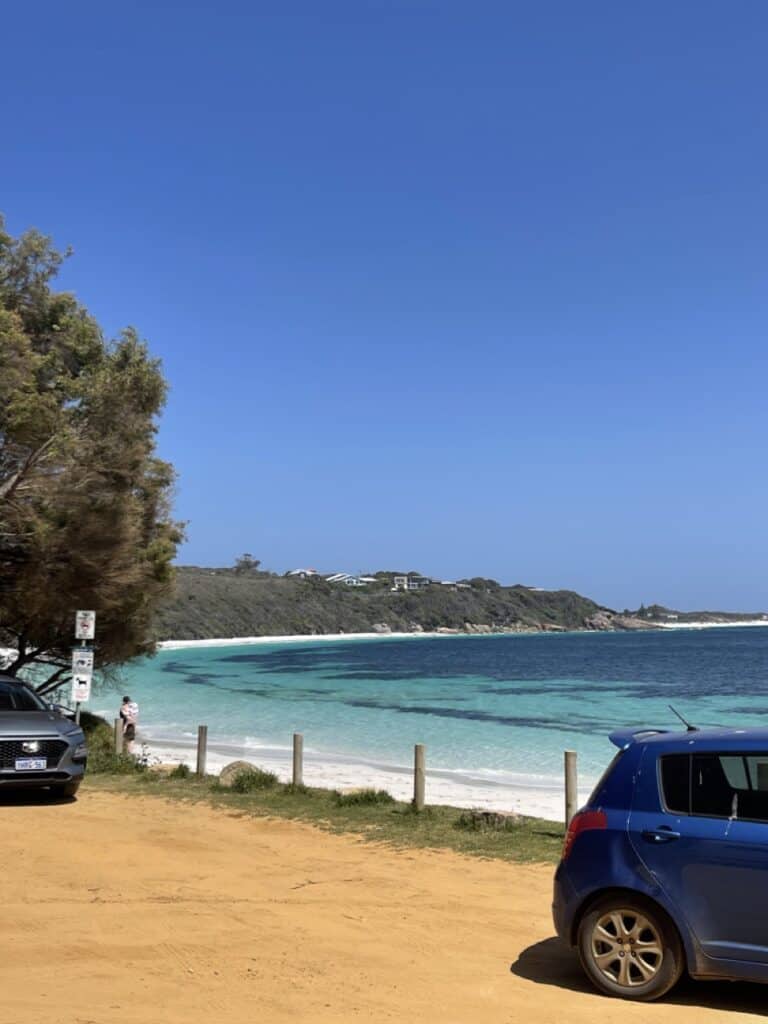 7. Exploring the Albany Wind Farm
Visit the Albany Wind Farm, an impressive renewable energy project with scenic walking trails, viewing platforms, and picturesque sunset views. Generating 80% of Albany's power, the wind farm offers a unique opportunity to learn about renewable energy while enjoying the stunning coastal scenery.
Stroll along the boardwalk and take in the magnificent vistas from the viewing platforms, or go on a hike to get a closer look at the towering turbines. Along the way, informative boards provide insights into wind power and how the wind farm contributes to the energy needs of the local area.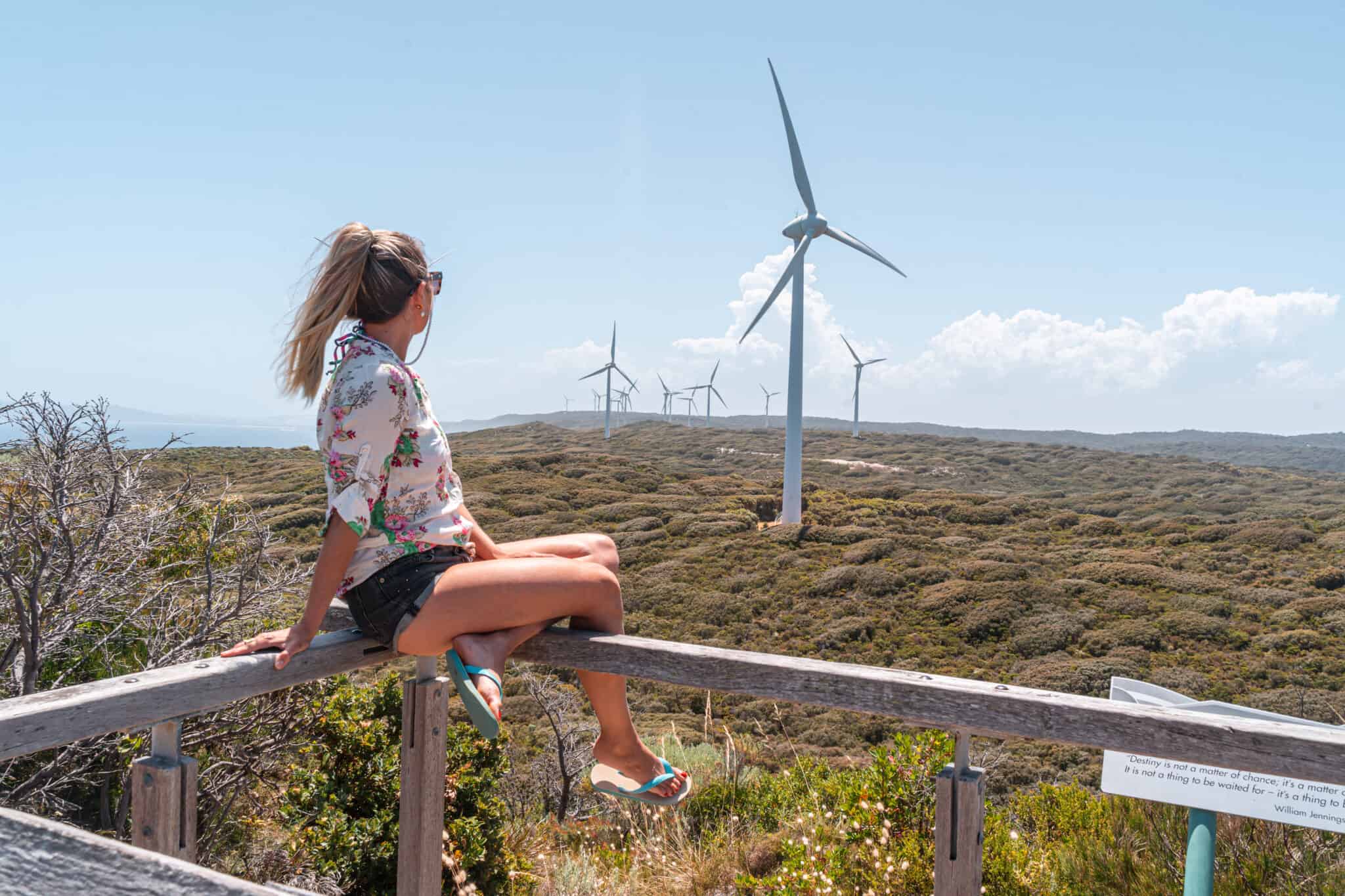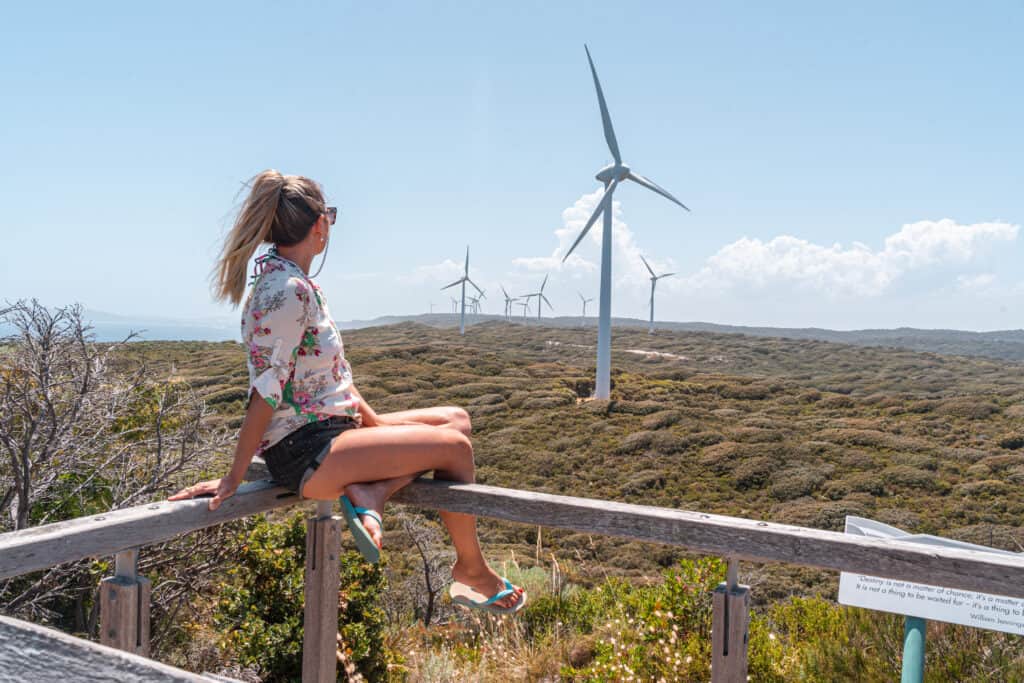 8. Bald Head Walk Trail
Go on a hike to the serene Two Peoples Bay Nature Reserve, home to unique bird species and beautiful beaches.
The Bald Head Walk Trail, located in Torndirrup National Park, offers a steep and challenging 12.5 km, 6-8 hour trek with awe-inspiring views of the Southern Ocean and King George Sound.
9. Two Peoples Bay Nature Reserve
Located approximately 25km northeast of Albany, Two People's Bay is renowned for having some of the best beaches in Australia.
Little Beach, the most photographed beach in this region due to its immaculately arranged rocks positioned at the centre of the bay, and Waterfall Beach, with its perfect white sand and turquoise waters, are a must!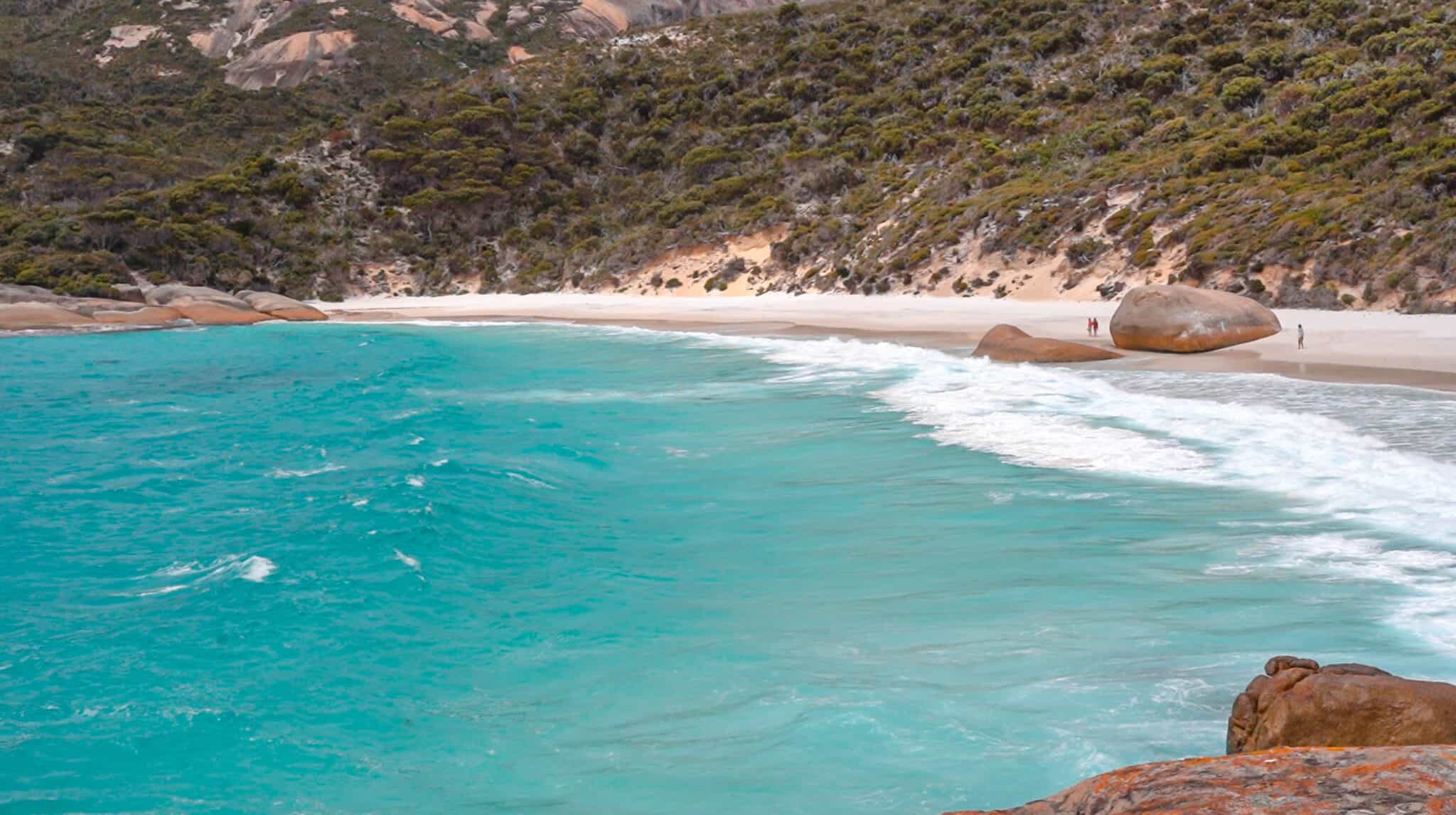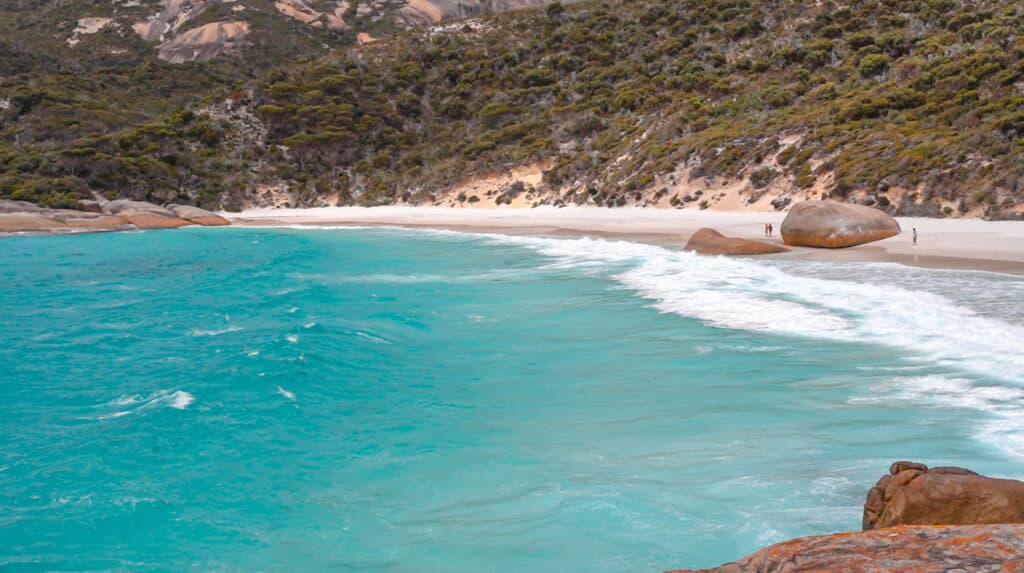 If you're in for an adventure, The Two Peoples Bay Heritage Trail is a delightful 5km round-trip trail leading to a scenic viewpoint overlooking the breathtaking bay. This hiking adventure is pleasantly moderate, and the visitor's centre is the ideal starting point. Don't forget to pack your swimming gear for a refreshing dip!
10. Emu Point Beach
Emu Point Beach, nestled along the pristine coastline of Albany, Western Australia, is a true coastal gem that captivates visitors with its natural splendour and tranquil ambience. Its soft, golden sands stretching endlessly offers an idyllic setting for strolls and sun-soaked relaxation.
The azure waters of the Southern Ocean gently lap the shore, inviting swimmers and water enthusiasts to take a refreshing dip. Emu Point Beach also boasts a unique feature—a picturesque wooden jetty extending into the sea, granting breathtaking views of the surrounding landscape.
Families and friends gather here to enjoy picnics, barbecues, and the playground facilities available, make it a favourite spot for joyful gatherings. As the sun sets over the horizon, casting a golden glow on the waters, Emu Point Beach becomes an enchanting destination where memories are created, cherished, and revisited for years to come.
11. Discover the Breathtaking Beauty of Cave Point Lighthouse
Although no longer active, the Cave Point Lighthouse is one of the most beautiful lighthouses amidst Western Australia's coastal splendour. The lighthouse is nestled amidst short, dark green vegetation, creating a striking contrast against the awe-inspiring rocky coastline that serves as its dramatic backdrop. Gazing beyond the rugged cliffs reveals the endless expanse of Albany's renowned turquoise-blue waters.
A brief and pleasant 10-minute stroll from the car park leads you to this captivating sight. While entry into the lighthouse is not permitted, you can get up close to its base, fully immersing yourself in its magnificence. Situated just a stone's throw away from The Gap and Natural Bridge, this two-minute detour is well worth taking when exploring the area.
Discover Albany's Rich History
Albany boasts a rich history dating back over 18,000 years, with Indigenous settlements and European explorations, making it a fascinating destination for history buffs. The Minang Noongar People were the first to occupy the region, followed by Major Edmund Lockyer, who established the first European settlement in the area, then known as Frederick Town. Today, you can step back in time by visiting historical sites such as:
12. St John's Anglican Church
St. John's Anglican Church in Albany is a testament to the region's rich heritage and spiritual significance. Established in 1841, making it the oldest church in Western Australia, it has a distinguished history that spans over a century and has become an integral part of the community.
Its stunning architectural design, characterised by a blend of Gothic Revival and Victorian styles, makes it a captivating landmark in the area.
Free entry
13. The Old Post Office
Constructed in the late 1800s, this iconic building exudes a sense of grandeur with its well-preserved Victorian-era facade and intricate detailing.
This is the oldest post office in Western Australia. Once serving as a bustling hub for postal services, the Old Post Office building is now occupied by The University of Western Australia.
Although the building's interior is not accessible to the public, its exterior presents a captivating structure that is well worth a visit. The intriguing design will catch your attention and make it a worthwhile stop on your journey.
14. Patrick Taylor Cottage
Patrick Taylor Cottage stands as a beautiful testament to Albany's rich history.
Originally constructed in the 1830s, this is the oldest surviving dwelling in Western Australia. Today, Patrick Taylor Cottage serves as a living museum, allowing visitors to step into the past and gain insight into Albany's early settlement.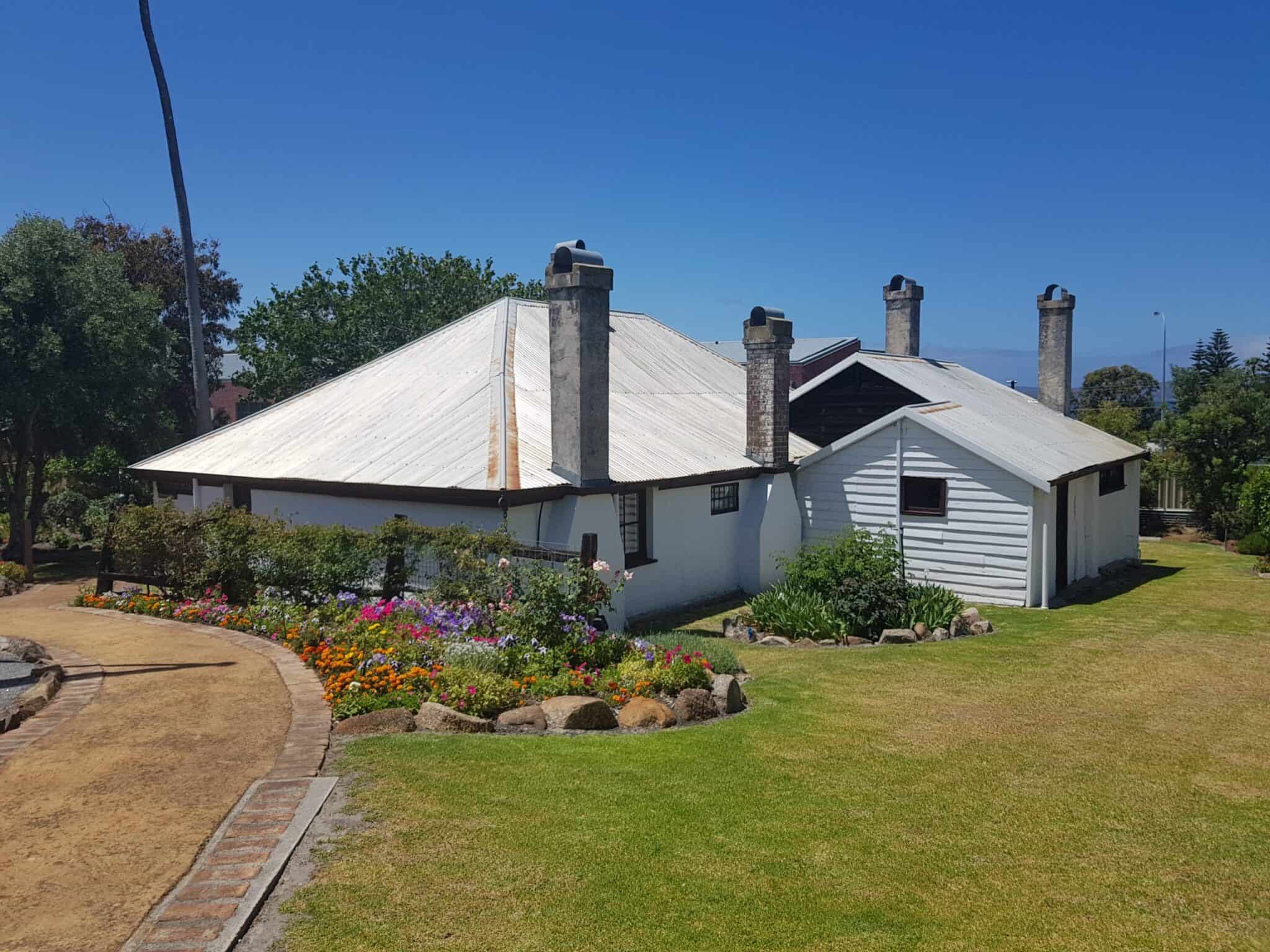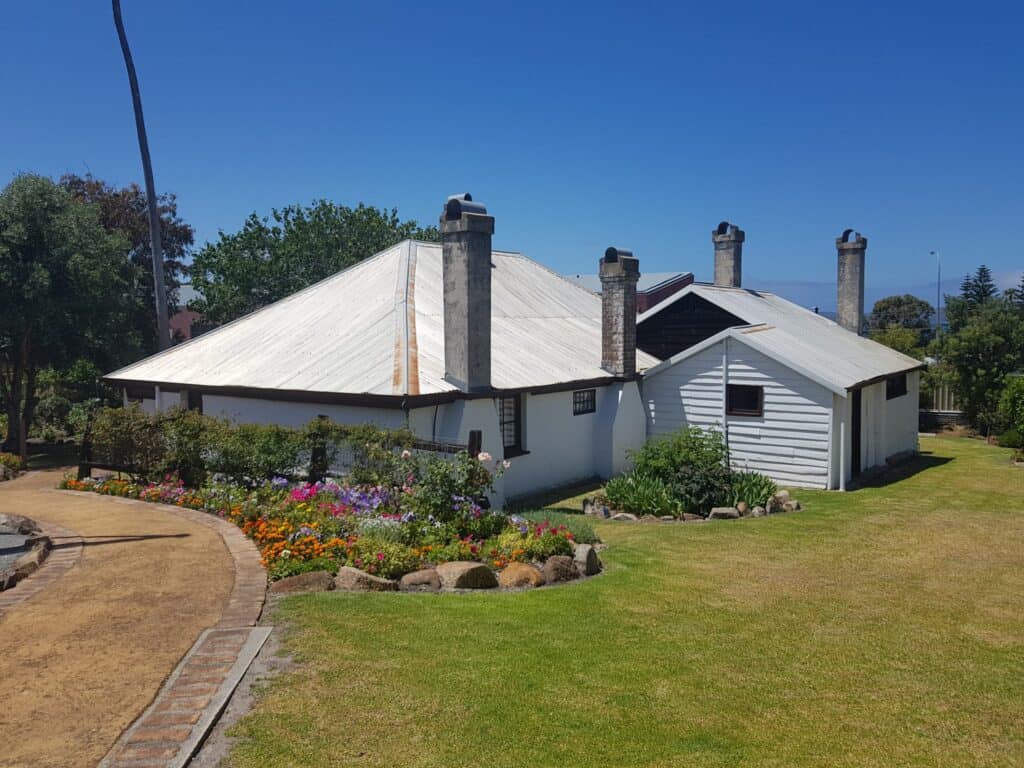 15. Albany Heritage Park
Between the peaks of Mount Clarence and Mount Adelaide and extending from the port to the tranquil shores of Middleton Beach, Albany Heritage Park is a must-visit destination abundant with historical, cultural, and natural wonders.
Embark on a delightful journey along the Heritage Walk Trail, where the enchanting beauty of wildflowers and significant Aboriginal and European cultural sites await exploration. Meander through the past as you traverse the trail.
Culminate your hike at the majestic Point King Lighthouse, from where you can savour breathtaking panoramic views of the surrounding area, a sight that promises to leave you amazed.
16. National ANZAC Centre and the Princess Royal Fortress
The National ANZAC Centre stands as a poignant tribute and a must-visit destination for history enthusiasts and those seeking to pay their respects to the brave soldiers who fought in World War I. The centre holds deep significance as it tells the story of Australia's involvement in the World War.
Immerse yourself through the experiences of these courageous servicemen and women, following their personal stories as they embark on their arduous journeys far from home. Through state-of-the-art technology, interactive exhibits, and engaging displays, visitors profoundly understand the ANZACs' sacrifices, courage, and determination.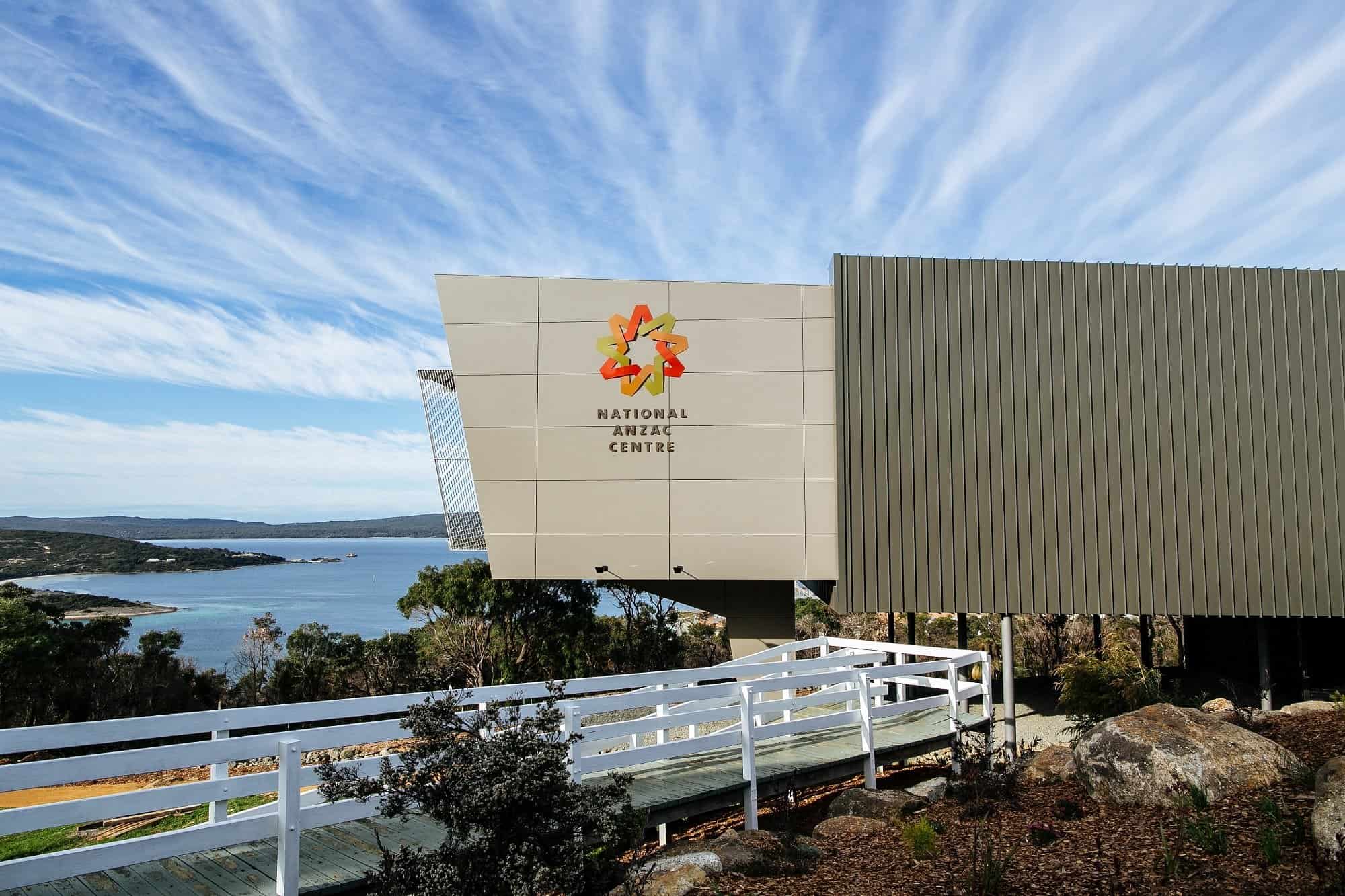 The stunning panoramic views of King George Sound and Princess Royal Harbour from the centre's vantage point provide a tranquil setting for reflection after exploring the moving and thought-provoking exhibits inside. The National ANZAC Centre is a place of remembrance and a tribute to the ANZAC spirit, ensuring that their legacy lives on for generations to come.
The Princess Royal Fortress, situated on Mount Adelaide, is one of Australia's premier outdoor military museums. This historical site is one of the two pre-federation fortresses strategically built to safeguard intercontinental trade routes. While its active military role ceased in 1956, along with other coastal defences across the Commonwealth, the fortress now welcomes the public with open doors, allowing visitors to explore all its buildings and immerse themselves in its rich heritage.
Check availability and book below:
17. Albany Convicts Gaol and Museum
Albany's Old Convict Gaol and Museum is a complex built in 1852 to house convicts who played a significant role in establishing Western Australia's first settlement. Remarkably, the gaol remained in operation until the 1930s.
Inside the gaol, visitors are transported back in time as scenes depicting the harsh realities of life within its walls are recreated. A fascinating collection of historical photographs from the local area adds depth to the experience.
For those seeking an extra thrill, the gaol now offers ghost tours during the night, capitalising on the reputation of being a haunted location.
18. Albany's Historic Whaling Station
Discover a truly unparalleled experience at Albany's Historic Whaling Station – a unique attraction unlike any other in the world, making it a must-experience within our list of the things to do in Albany. Delve into the history of whaling as you immerse yourself in an intact whale processing factory and even step aboard a real whale-chasing ship. This was the last operating whaling company in Australia.
In 1978, The Cheynes Beach Whaling Company marked the end of an era by ceasing all whaling operations in Australia. Just two years after its closure, this location transformed into an enthralling interactive museum dedicated to whales and the art of whaling. Be prepared to dedicate a couple of hours, at the very least, to relish this captivating and enriching experience fully!
Here, you can explore a fully restored whaling ship, an old processing factory, and a massive blue whale skeleton.
Check availability and book below:
19. The Museum of the Great Southern
This fascinating museum offers a plethora of exhibitions, public programs, and educational activities, all dedicated to the region's distinctive history.
At the Museum of the Great Southern, you'll discover captivating stories about the Menang Noongar people, the early settlers, and the convicts who shaped the region's past. Gain insight into how peace was ultimately achieved in this area through engaging displays and informative materials.
Beyond its historical focus, the museum also celebrates the region's exceptional natural landscape, showcasing its diverse flora and fauna. Prepare to be amazed by the richness and uniqueness of Albany's environment as you explore the exhibits.
For history buffs and nature enthusiasts alike, the Museum of the Great Southern promises an unforgettable experience that sheds light on the region's past and present wonders. It also features exhibitions and educational programs illuminating the region's unique history.
Day Trips and Nearby Attractions
Venture beyond Albany with day trips to nearby attractions such as Denmark, Walpole, and Porongurup National Park, offering additional opportunities for exploration and adventure.
20. Walpole
Just a 90-minute drive from Albany, the town of Walpole is home to the Valley of the Giants Tree Top Walk, where you can wander among the tingle trees and ancient forest, taking in the breathtaking views from above.
21. Denmark
Denmark, another nearby town, is famous for its scenic drives through farms and forests and a range of outdoor activities that cater to all interests and abilities. Discover the region's natural beauty and enjoy a taste of rural life in this charming destination.
22. Porongurup National Park
For a more adventurous day trip, head to Porongurup National Park, a mountain range with fantastic bushwalks and abundant plant life.
Don't miss the Granite Skywalk Tour, a thrilling hike that takes you to the top of Castle Rock in Porongurup National Park, offering stunning panoramic views of the surrounding landscape.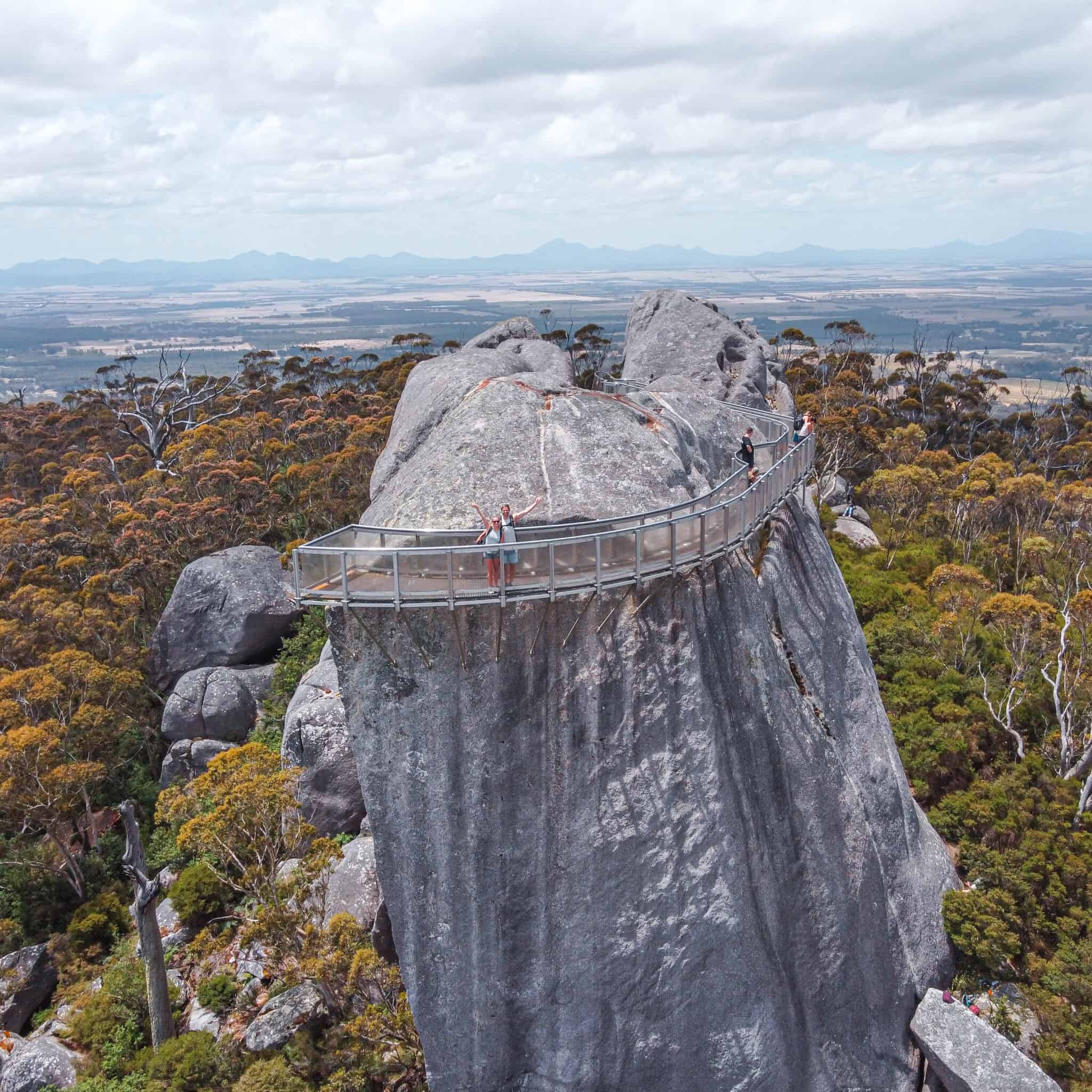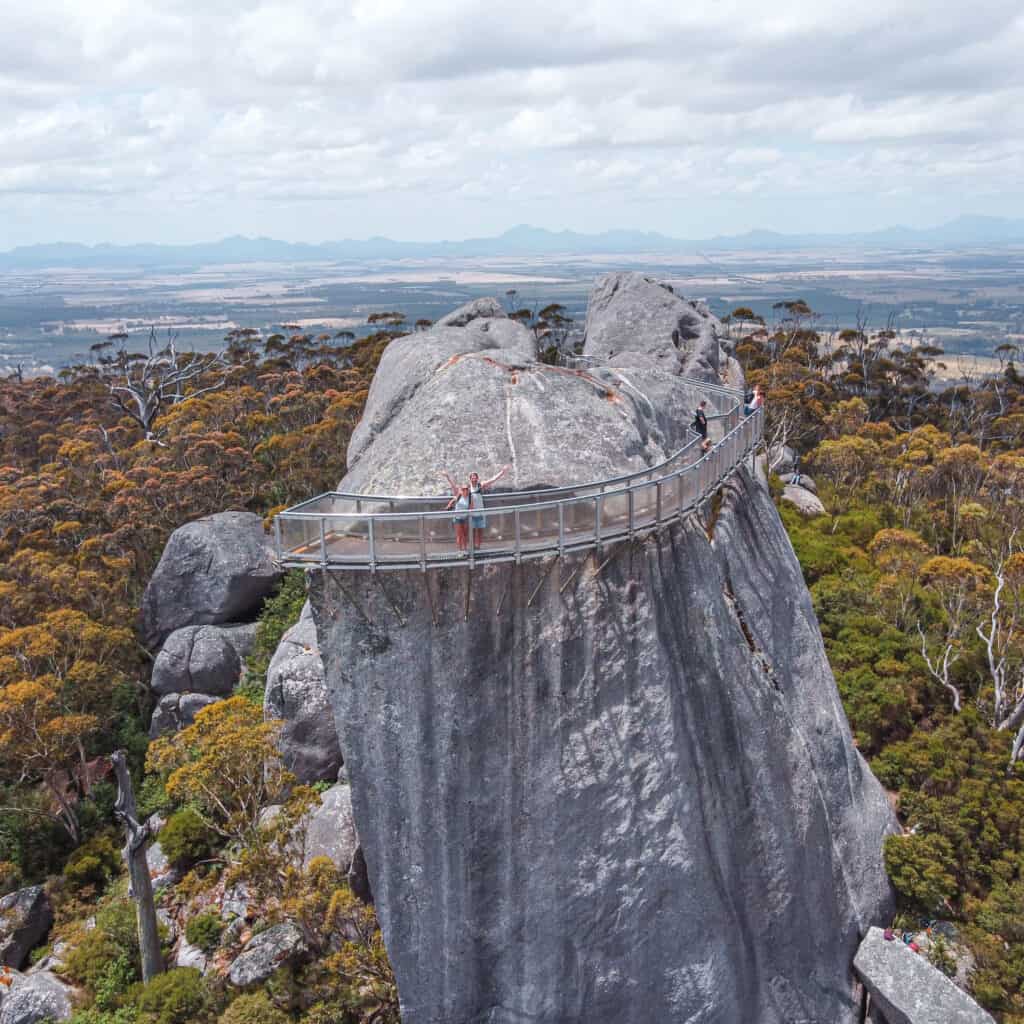 23. Bluff Knoll
Discover the magnificent adventure of ascending to the summit of the Stirling Range's tallest peak, Bluff Knoll – a renowned trail celebrated as one of Australia's finest hikes and a must-visit destination within the national park.
Plan for a fulfilling three to four-hour journey to conquer this majestic trail, which demands a reasonable fitness level. Bluff Knoll is conveniently situated just an hour's drive from Albany, making it easily accessible for an unforgettable outdoor escapade.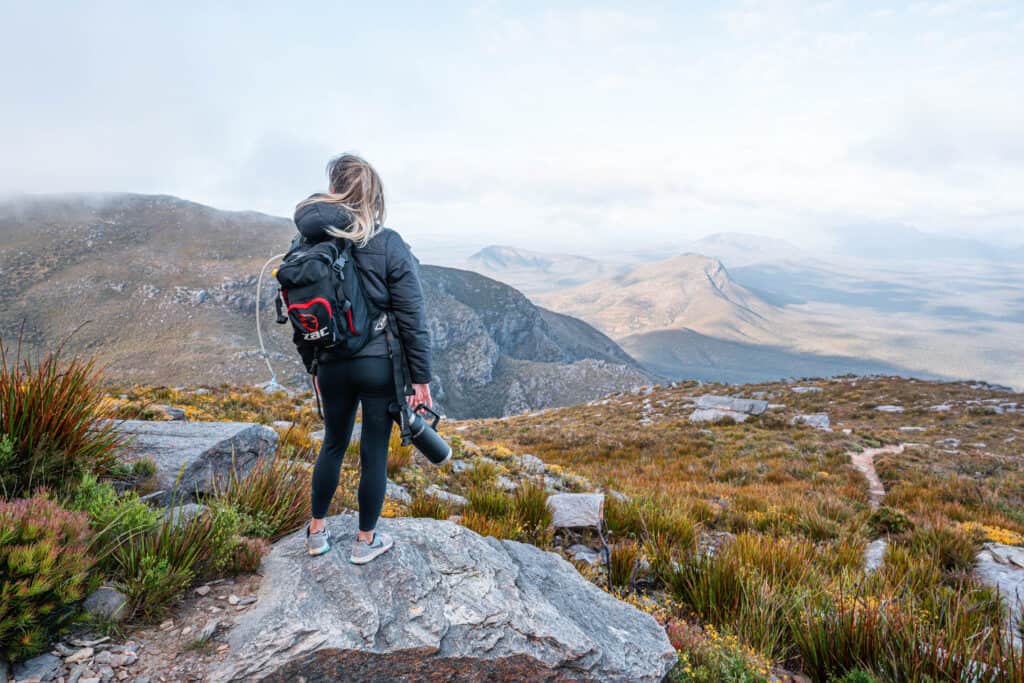 Accommodation Options in Albany
Find the perfect accommodation in Albany, with options ranging from budget-friendly motels and caravan parks to boutique hotels and self-contained apartments. Whether you're travelling solo, as a couple, or with the whole family, Albany has a wide variety of lodging options to suit your needs and preferences.
For those on a budget, consider staying at Middleton Beach Caravan Park, Big 4 Holiday Park, Banksia at Middleton, or Kinsellas Water Views. These wallet-friendly accommodations offer comfortable rooms and facilities without breaking the bank.
For a more upscale experience, Albany Bali Style Accommodation offers stylish, Balinese-inspired lodging and a 6-hour food and wine tour in Denmark, allowing you to indulge in the finer things during your stay in Albany.
Summary
In conclusion, Albany, Western Australia, is a destination that promises a diverse and unforgettable experience for all travellers.
With its rich history, breathtaking natural wonders, delicious local cuisine, and vibrant community events, Albany is a coastal gem waiting to be explored.
So pack your bags and prepare to embark on an adventure of a lifetime in this beautiful corner of the world.
Frequently Asked Questions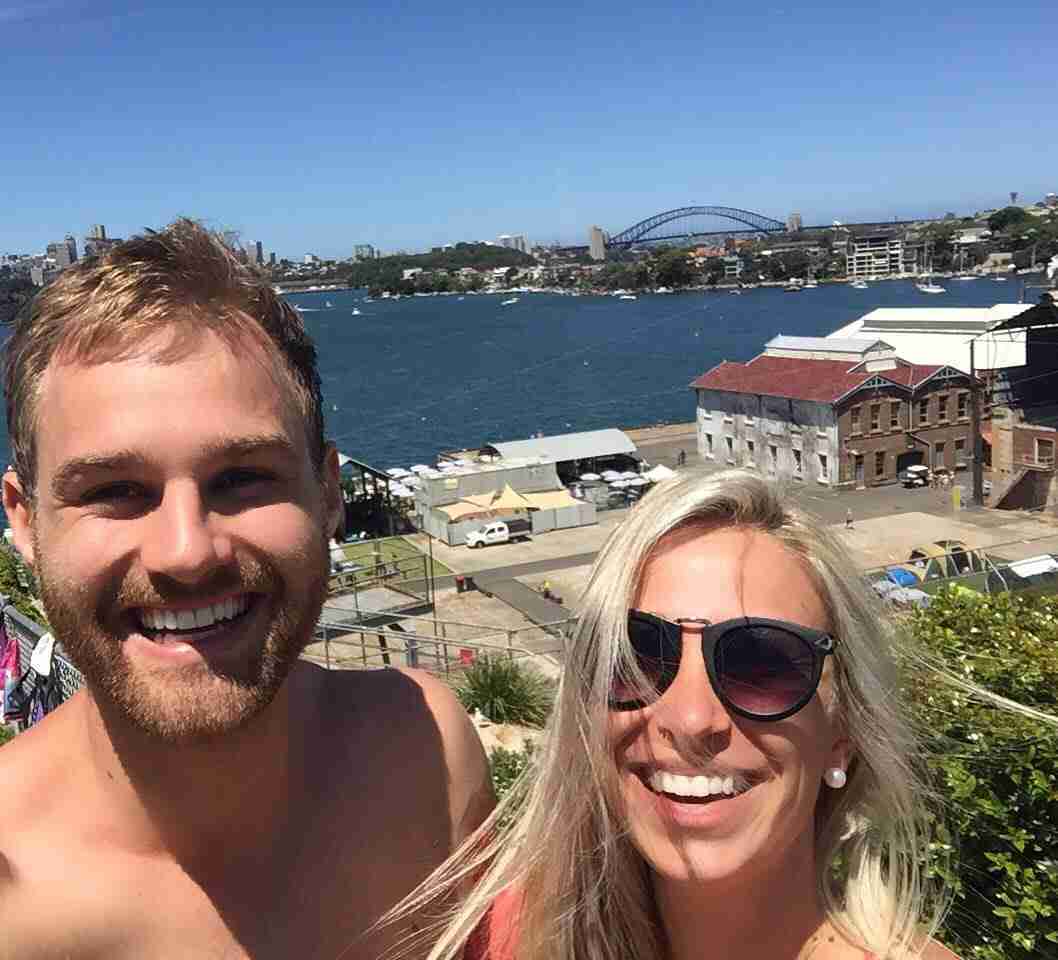 Wade & Dani
Hi! We're Wade and Dani, We're currently travelling around Australia in our 2017 Mercedes Sprinter Camper van and sharing our best experiences, stories, reviews and adventures as we go along. Make sure you follow us on Instagram @wadeanddani