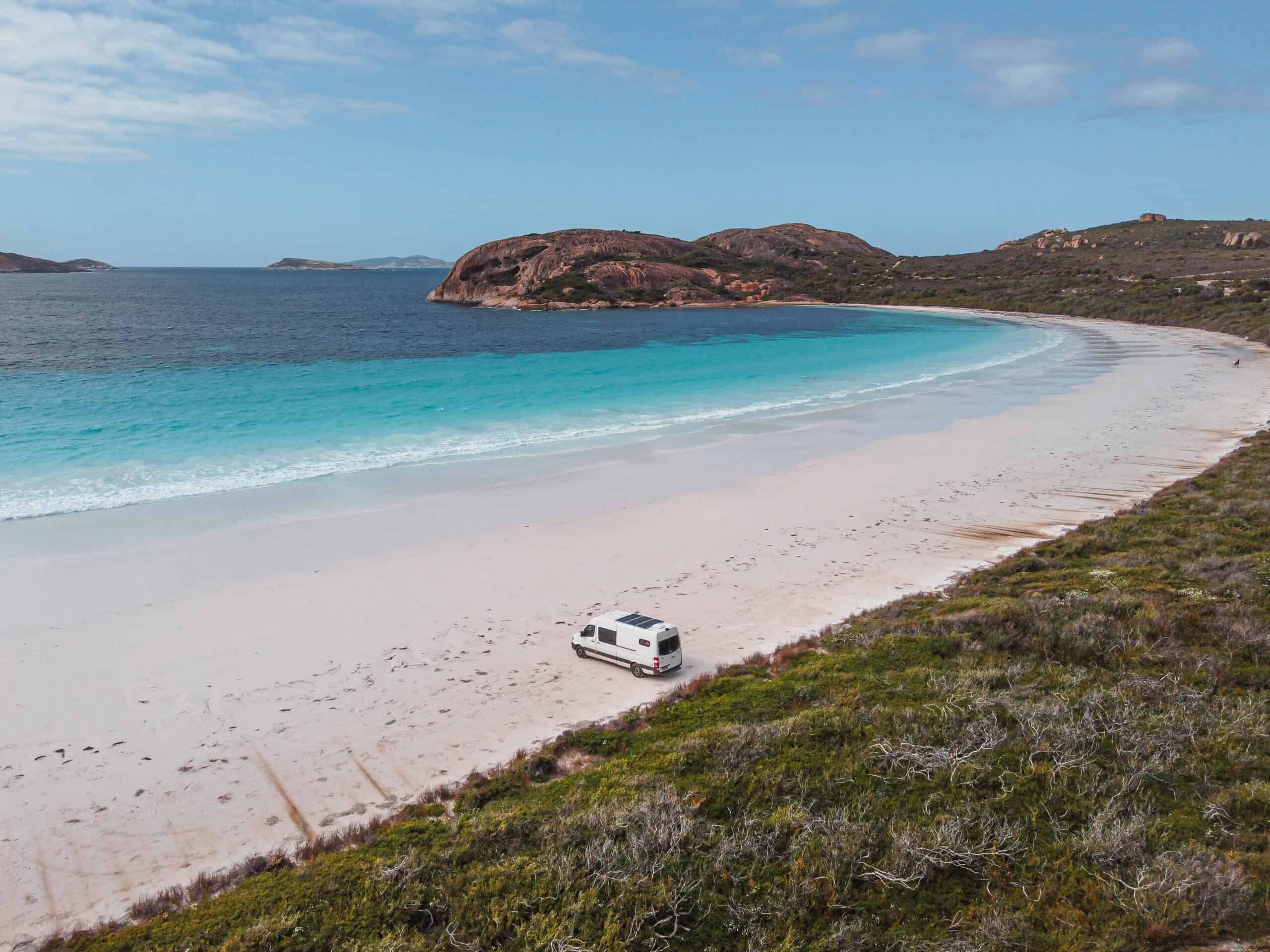 Explore the Best Esperance Beaches in 2023 – A Comprehensive Guide
This post was updated on: September 1, 2023
Imagine a place where pristine white sand meets crystal clear turquoise waters, where friendly kangaroos come to sunbathe, and where stunning rock formations create a picturesque landscape. Welcome to Esperance, Western Australia, a coastal paradise boasting some of the most beautiful beaches you'll ever see.
In this blog post, we'll take you on a journey to discover the wonders of Esperance beaches and beyond, offering helpful tips, cultural insights, and even pet-friendly options for your next beach getaway.
Short Summary
Explore the stunning beaches of Esperance in 2023, from Lucky Bay's kangaroo paradise to Thistle Cove's Whistling Rock.
Enjoy activities like surfing, whale watching and camping at Le Grand Beach or West Beach.
Don't miss out on cultural and historical insights when visiting this coastal treasure!
Cape Le Grand National Park: Beaches and Beyond
Cape Le Grand National Park is a true gem of Esperance, boasting stunning beaches and diverse landscapes that offer visitors a wide range of activities and experiences. Some of the highlights include:
Exploring the park's many beaches, such as Lucky Bay, famous for its crystal-clear waters and resident kangaroos.
Embarking on scenic hikes, like the Frenchman Peak Trail, offers panoramic views of the park and surrounding coastline.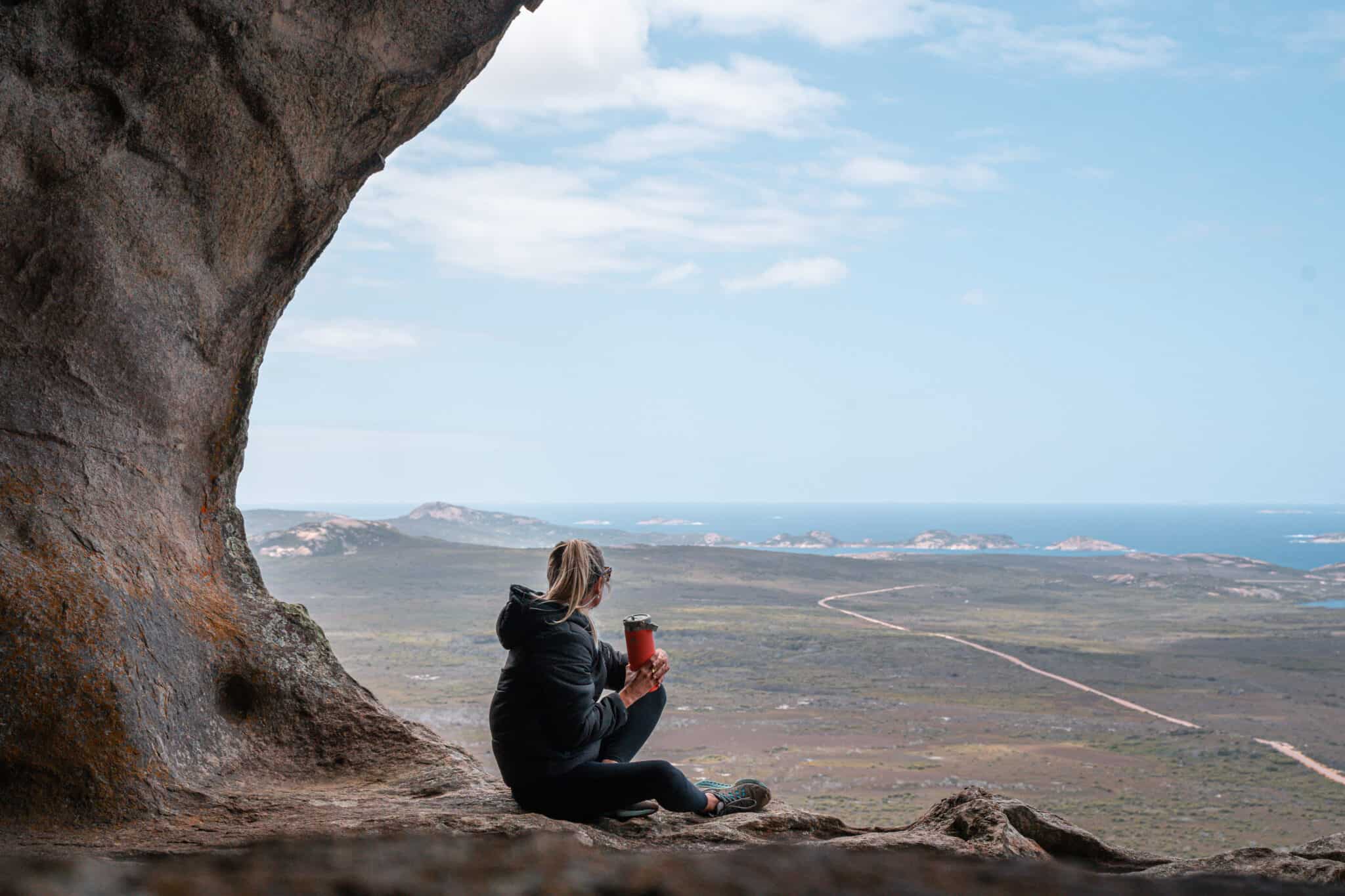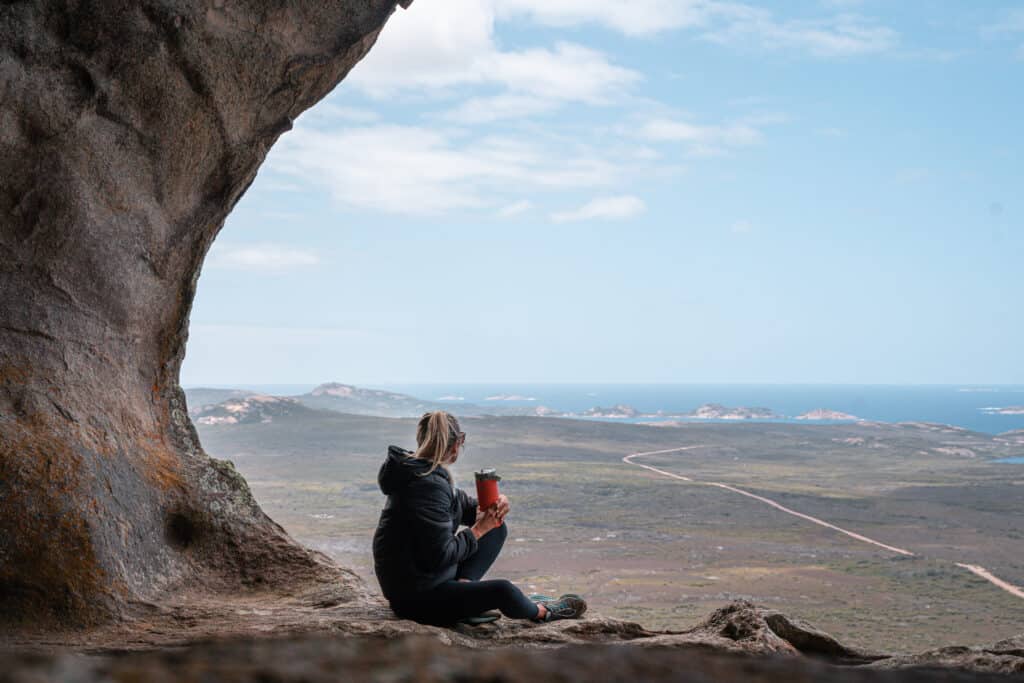 With so much to see and do, there's never a dull moment in this beautiful park.
To fully immerse yourself in the beauty of Cape Le Grand National Park, consider setting aside a few days for your visit. With so much to see and do, you'll want to take your time exploring all that this incredible park offers. So pack your bags, and let's dive into the wonders of Cape Le Grand National Park!
Watch our Youtube video where we explore Esperance below:
Lucky Bay: A Kangaroo's Paradise
Imagine sinking your toes into powdery white sand while turquoise waters gently lap the shore and friendly kangaroos hop along the beach beside you. Welcome to Lucky Bay, a secluded beach nestled in the beautiful Cape Le Grand National Park, where all this and more awaits you.
Not only is Lucky Bay famous for its postcard-perfect scenery, but it also offers visitors a wide range of activities. Some of the activities you can enjoy at Lucky Bay include:
Taking a refreshing dip in the chilly waters
Strolling along the shore to explore the rock formations at Cape Le Grand Beach
Visiting the nearby Mile Lagoon for a unique beach experience
So whether you're looking for relaxation or adventure, Lucky Bay has something for everyone.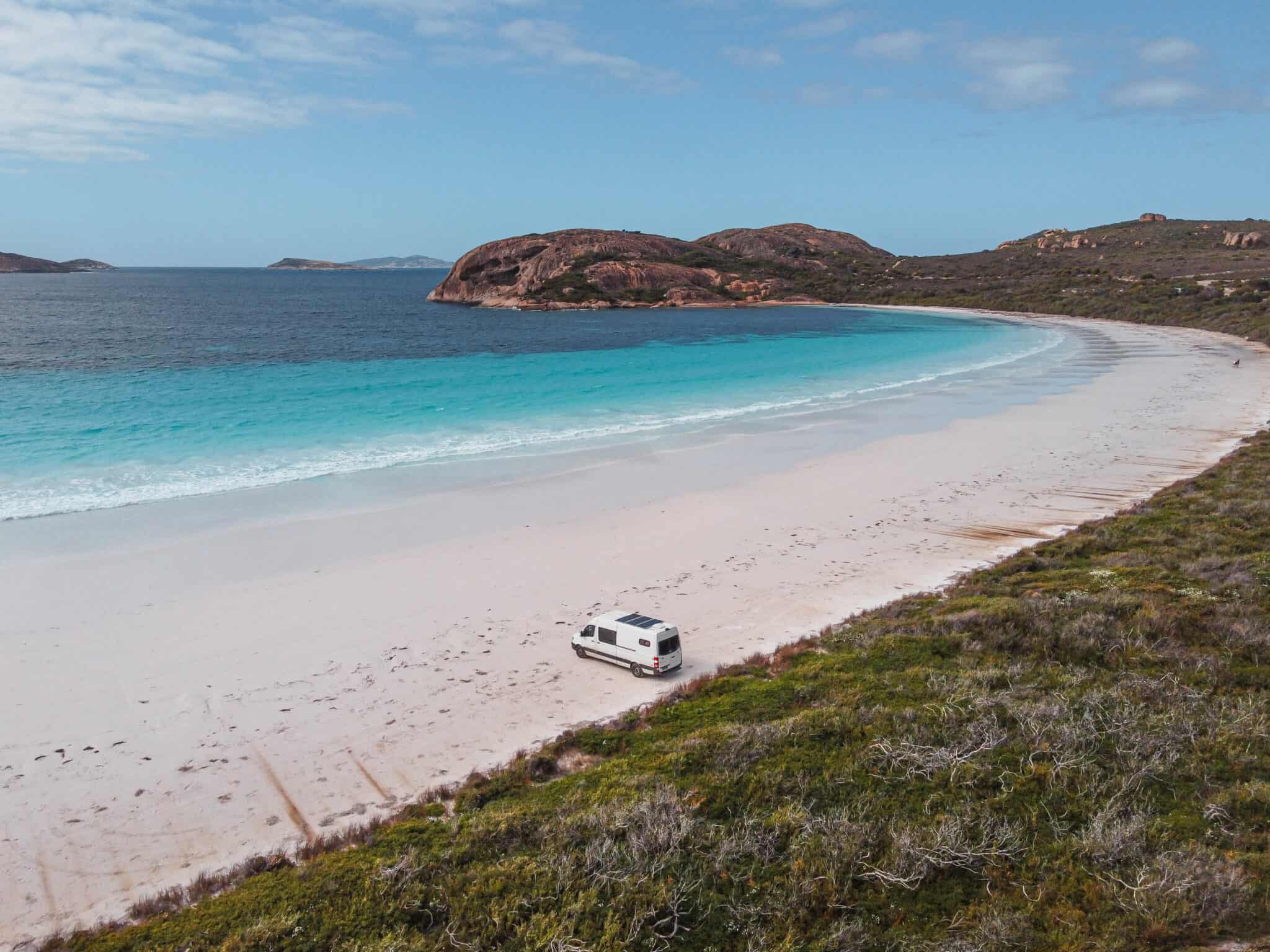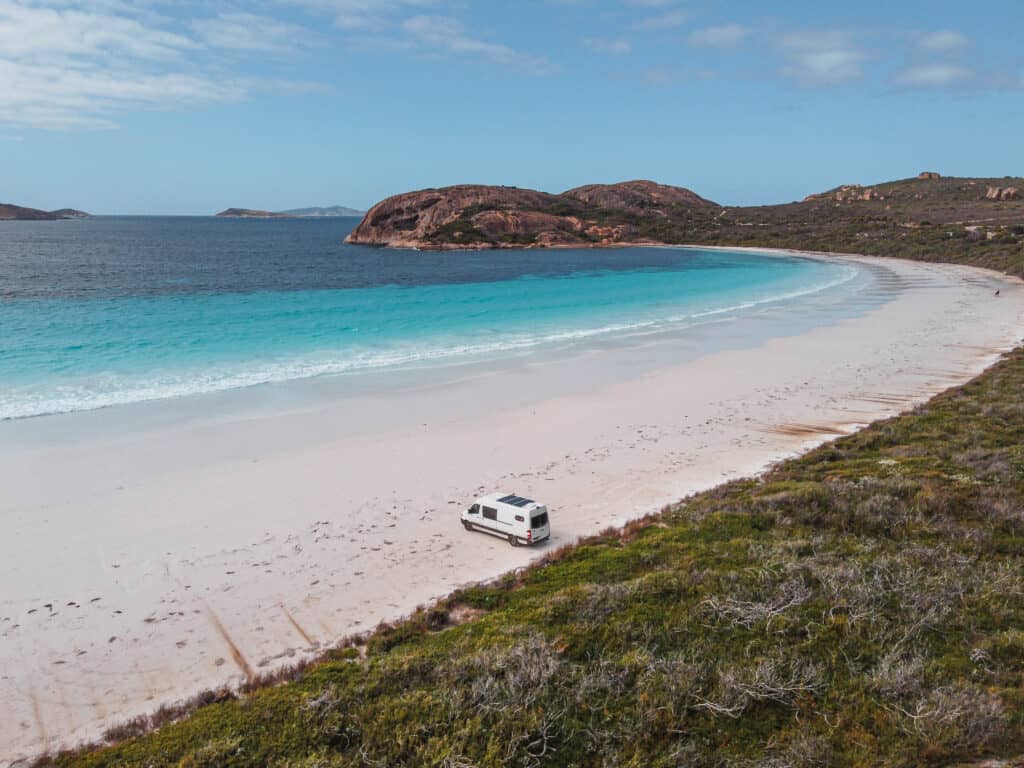 Hellfire Bay: A Secluded Gem
Are you looking for a beach getaway that's off the beaten path? Hellfire Bay is the answer. This hidden gem, tucked away in Cape Le Grand National Park, offers crystal clear water, snow-white sand, and fewer crowds, making it the perfect spot for a quiet day of relaxation and snorkelling.
Located just 45 minutes from Esperance town centre, Hellfire Bay is well worth the drive. Visitors will find toilets and BBQs with picnic benches for their convenience. For those feeling adventurous, a 15-minute hike will take you to Little Hellfire Bay, a small but equally beautiful beach with intriguing rock formations.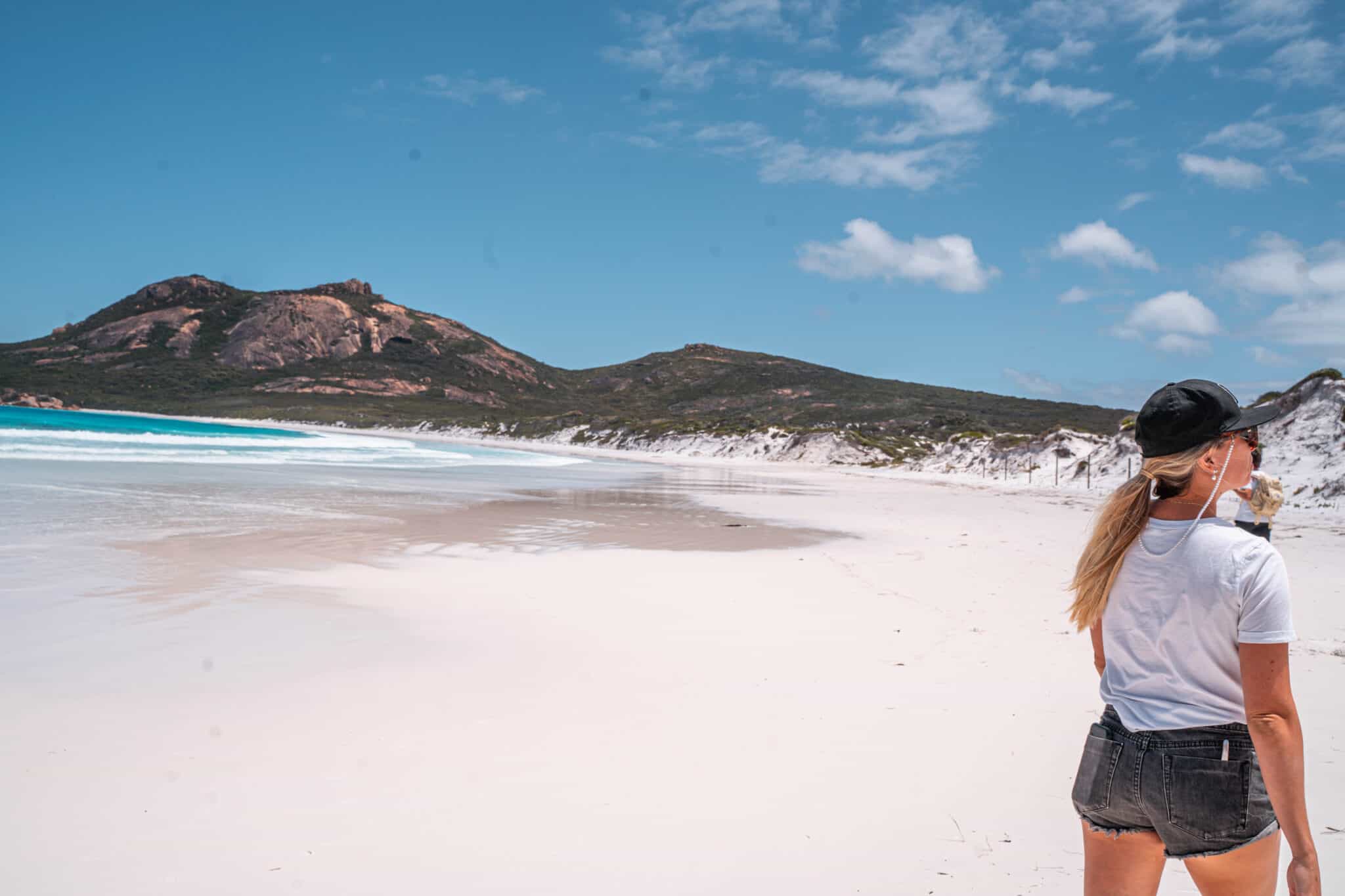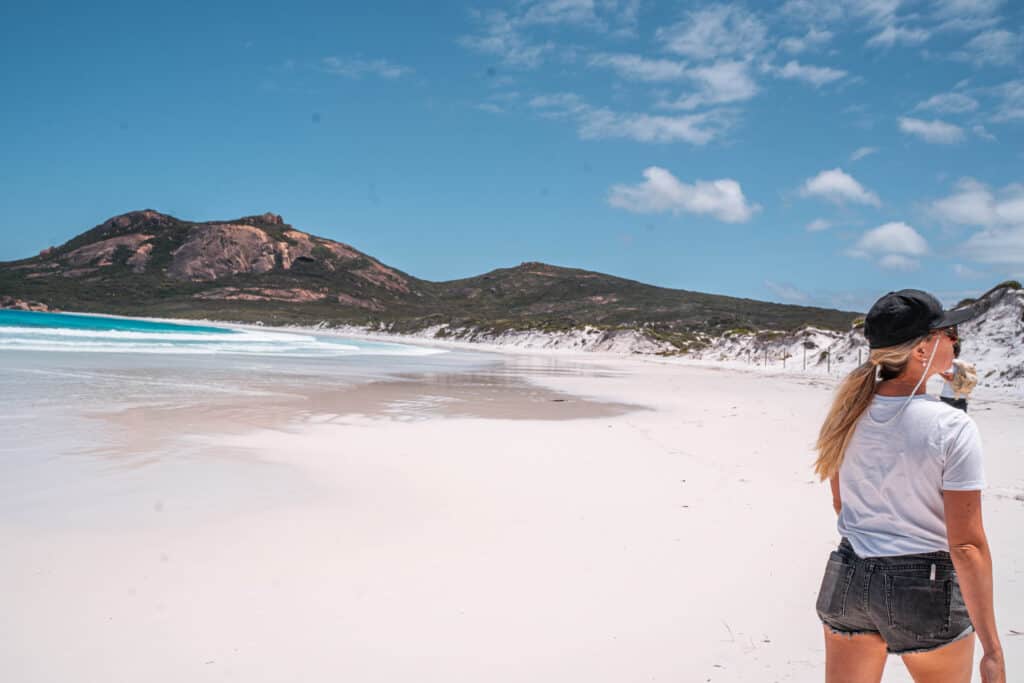 Thistle Cove: Whistling Rock and Scenic Hikes
At Thistle Cove, you'll find more than just a beautiful beach. This spot is home to the unique Whistling Rock, a rock formation that whistles when the wind blows. The sound of the whistling rock combined with the peacefulness of the cove makes for a truly calming experience.
For those who enjoy hiking, Thistle Cove offers scenic trails that lead to nearby Lucky Bay and Hellfire Bay. The 2-km route to Lucky Bay and the more challenging 4.5-km hike over granite rock towards Hellfire Bay allows visitors to explore the park's diverse landscapes and take in stunning views along the way.
Le Grand Beach: Adventure and Camping
Le Grand Beach is a hub for adventure, offering a variety of activities for visitors to enjoy. From surfing the waves to bushwalking through the park, there's something for everyone at Le Grand Beach. With BBQ facilities and small boat access, this beach is perfect for a fun-filled day outdoors.
For those who want to extend their stay, Le Grand Beach also offers camping options, including powered and unpowered sites, so you can truly immerse yourself in the beauty of Cape Le Grand National Park. Remember to take a moment to enjoy the stunning views from the top of Le Grand Beach hill, where you'll get a birdseye perspective of the bay.
The Wonders of Esperance Beaches
Esperance is a treasure trove of fantastic beaches with unique natural features, abundant sea life, and crystal-clear blue water just waiting to be explored. Most of Esperance's beaches are located in national parks, but some aren't.
Wylie Bay
Wylie Bay is a hidden gem of a beach that you can only reach by car by navigating through towering sand dunes. It's absolutely breathtaking.
The natural sandbar right in front makes it even more special, creating the illusion of having beaches on both sides. It's pure bliss and seclusion, making Wylie Bay the ultimate spot to catch a mesmerizing sunset. We guarantee an unforgettable experience that will leave you in awe.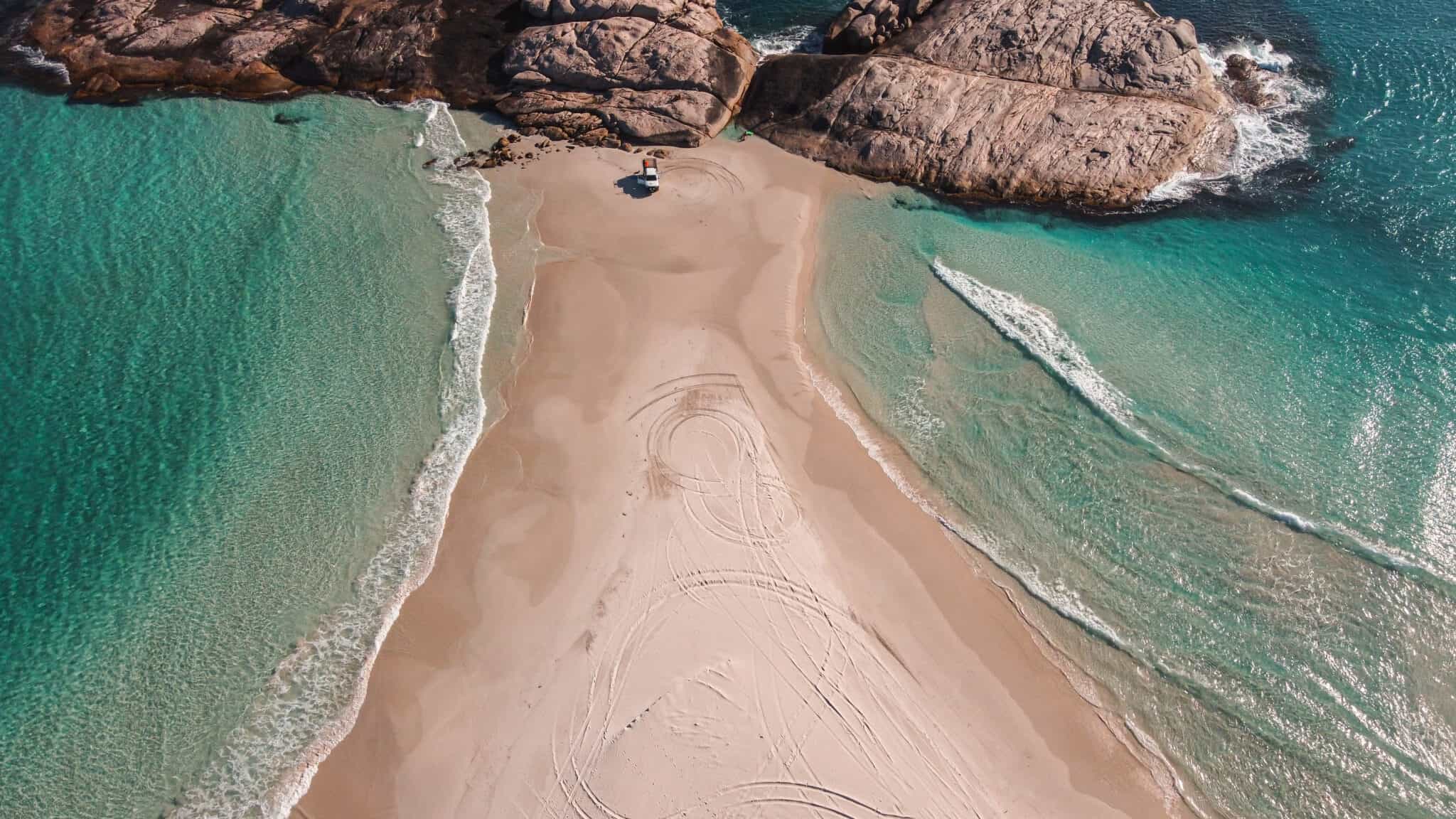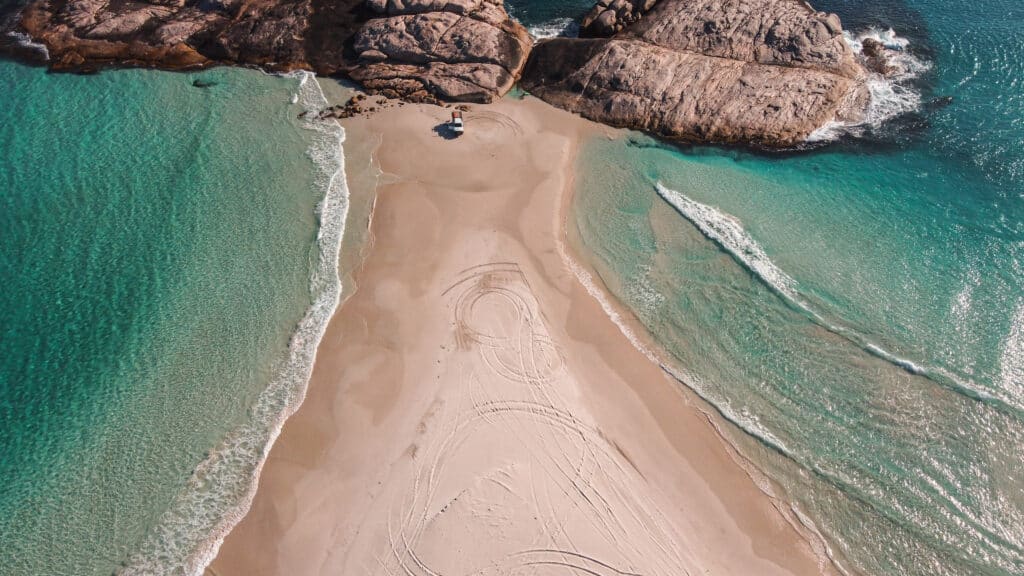 Great Ocean Drive: Esperance's Coastal Treasure
Great Ocean Drive is a picturesque coastal route that showcases some of Esperance's most beautiful beaches, including West Beach and Twilight Beach. This 40-kilometre drive in Western Australia offers stunning coast views, making it a must-see for any beach lover visiting the area.
As you journey along the Great Ocean Drive, you'll come across unique and breathtaking spots like 11 Mile Beach & Lagoon and Twilight Cove. Be sure to explore these coastal treasures, as each offers something different and exciting for visitors.
West Beach: Surfing and Whale Watching
Located near Esperance town, West Beach offers the following attractions:
Surfing
Whale watching (migrating humpback or southern right whales between June and October)
Unique rock formations made up of mica and garnets create a stunning backdrop
West Beach is not only an excellent spot for beach activities but is also pet-friendly, making it perfect for visitors travelling with their furry friends. Dogs are allowed off-leash at West Beach from 5 am to 8 am and 4 pm to 8 pm, so be sure to bring your pup along for some fun in the sun.
Blue Haven Beach: A Tranquil Retreat
If you're seeking a peaceful retreat, look no further than the beautiful Blue Haven Beach, one of the best beaches around. This sheltered beach is surrounded by sloping rocks that protect it from the wind, creating the perfect spot for swimming and snorkelling in its turquoise waters.
Before you head to Blue Haven Beach, check the tides, as the amount of sand space available can vary. If the tide is high, you may have to lay on the rocks instead. Regardless, Blue Haven Beach's stunning views and serene atmosphere make it a must-visit location in Esperance.
Salmon Beach: A fisherman's spot
Salmon Beach is a fantastic spot for fishing enthusiasts. The long line of rocks along the beach is perfect for casting your line and reeling in some tasty fish. And when the weather is nice and calm, it's also an excellent place for a refreshing swim.
Just keep in mind that Salmon Beach can get pretty dangerous on rough days, so it's best to steer clear then.
Fourth Beach: Water sports playground
Fourth Beach is an epic, never-ending stretch of sand that's a total hit among water sports fanatics.
Whether you're into surfing, bodyboarding, paddleboarding, or kite surfing, this place has your back. Oh, and keep your eyes peeled during Whale Season (July to October) because you might catch a glimpse of some majestic whales cruising along this part of the coast.
Twilight Beach: Family Fun and Natural Beauty
Twilight Beach is a family-friendly destination that offers clear waters, picturesque granite formations, and a range of activities for all ages. From swimming and snorkelling to simply relaxing on the beach, Twilight Beach is the perfect spot for a fun-filled day with the whole family.
Located just 10 minutes away by car from the town centre, Twilight Beach is easily accessible for visitors. Its calm waters make it an ideal spot for beginners to try snorkelling, offering a glimpse of the colourful underwater world beneath the surface.
So pack your goggles and fins, and dive into the natural beauty of Twilight Beach.
Exploring Duke of Orleans Bay and Wharton Beach
Duke of Orleans Bay and Wharton Beach are remote and beautiful locations between Cape Le Grand National Park and Cape Arid National Park, offering visitors a chance to explore pristine beaches and enjoy activities like fishing, snorkelling, and four-wheel driving.
Located about an hour from Esperance town, Duke of Orleans Bay is a gorgeous bay that offers a range of water activities, including fishing, surfing, wakeboarding, and water skiing. Pack a picnic and spend a day soaking up the sun and enjoying the beautiful bay.
Not far from Duke of Orleans Bay, you'll find Wharton Beach – our favourite beach in the whole of Australia – famous for its:
crystal-clear waters
surfing
snorkelling
sunbathing
The long sheltered bay provides excellent swimming conditions, making it a must-visit spot for anyone exploring the area. You can also drive on the beach, which makes this place even more special!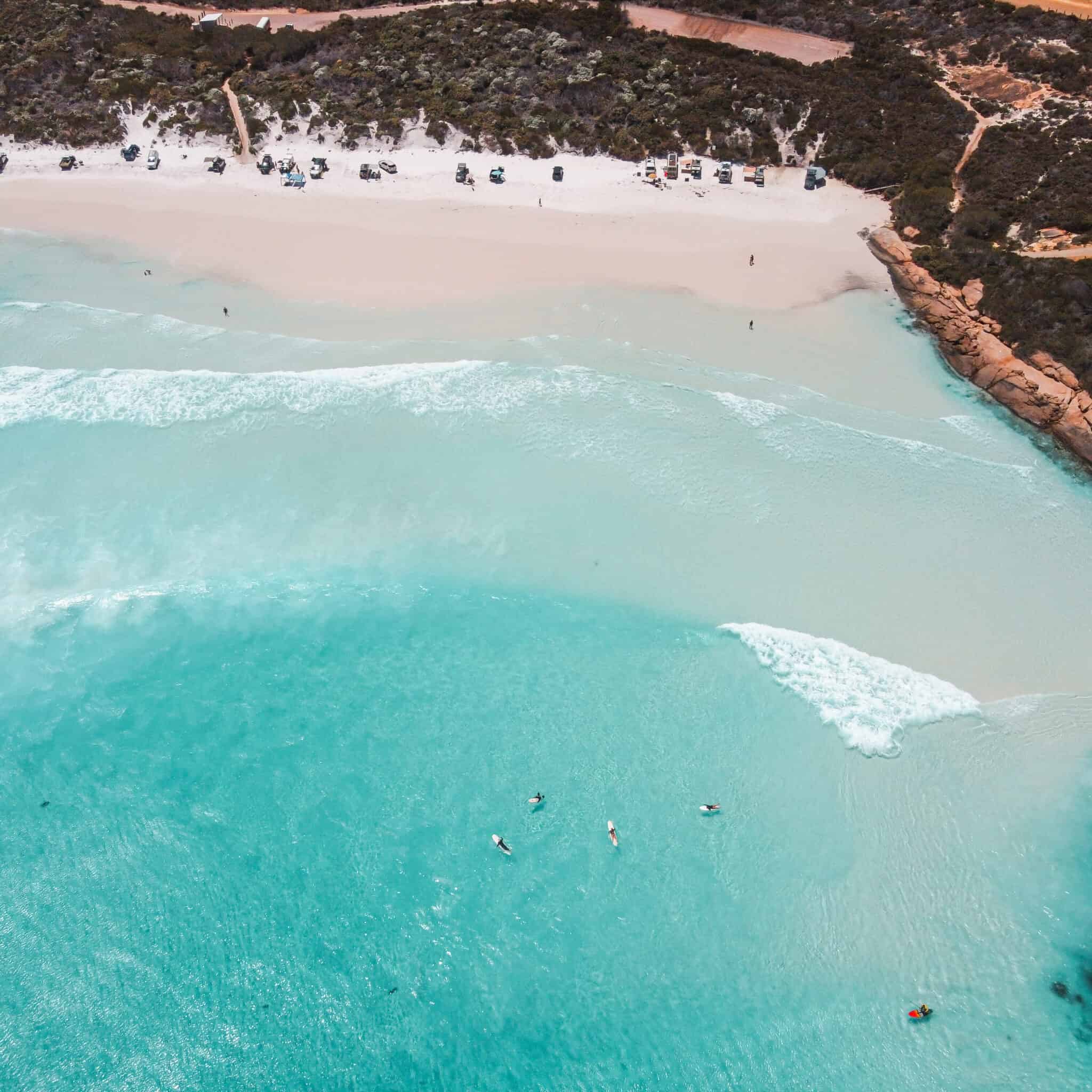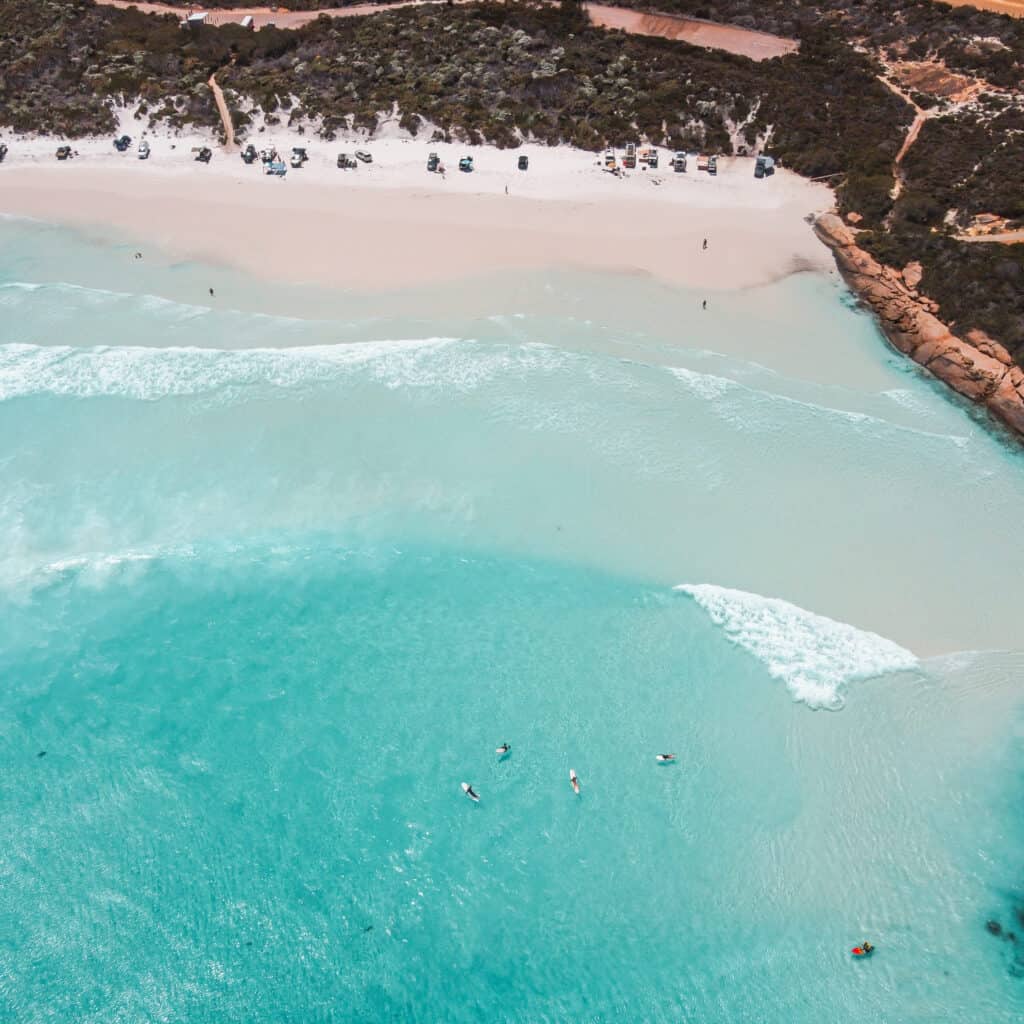 Pet-Friendly Beaches and Accommodations in Esperance
Are you travelling with a furry friend? Don't worry.
When it comes to pet-friendly beaches in Esperance, it's essential to follow the rules and regulations. Dogs are not allowed on beaches within national parks and are prohibited at Twilight Beach. However, pet owners can still enjoy a day at the beach with their pups at other designated pet-friendly locations, such as Wharton Beach, Salmon Beach, Eleven Mile Beach, Blue Have, Ten Mile Lagoon, and Fourth Beach.
There are two great spots to stay with your pets: the RAC Esperance Holiday Park and the Esperance Bay Caravan Park. Both offer pet-friendly accommodations for a comfortable stay.
Tips for Visiting Esperance Beaches
Consider these helpful tips to make the most of your visit to Esperance beaches.
The best time to visit for whale watching is between June and October when humpback and southern right whales migrate through the area.
If you plan to explore the many 4WD tracks around Esperance, ensure you're confident in your driving skills and mindful of the tides, as they can change quickly.
Lastly, consider purchasing a Western Australia National Parks Pass to get the most out of your beach-hopping adventure. This pass will grant you access to the many beautiful beaches within the national parks, allowing you to fully immerse yourself in the natural beauty of Esperance and its surroundings.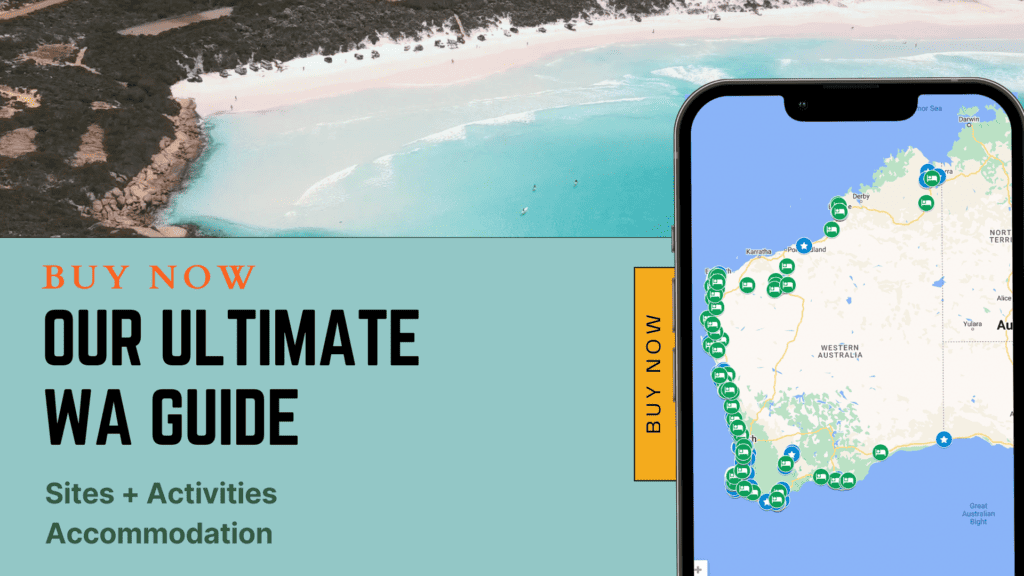 Cultural and Historical Insights
Esperance has a rich history filled with stories of love, tragedy, and even pirates. The town got its name from a French ship, the Espérance, captained by Jean-Michel Huon de Kermadec. The town and its beaches have been a popular tourist destination for years, with many national parks in the area for people to explore the natural beauty.
The traditional custodians of the land within the Cape Arid National Park are the Ngatjumay and Wudjari people. As you explore the beautiful beaches and landscapes of Esperance, take a moment to appreciate the cultural and historical significance of the area and the natural beauty surrounding you.
Summary
From the iconic Lucky Bay to the tranquil Blue Haven Beach and the hidden gem of Hellfire Bay, Esperance's stunning beaches offer a diverse range of experiences and natural beauty that will leave you in awe. Whether you're an adventure seeker, a family traveller, or simply looking for a peaceful retreat, Esperance offers something for everyone. So pack your bags, hit the road, and get ready to discover the wonders of Esperance beaches and beyond.
Frequently Asked Questions
What's the best way to explore the Esperance Beaches?
The most convenient way to explore the beaches in Esperance is by car. If you don't have your vehicle, renting one would be the way to go.
When considering hiring a car to explore Esperance, we highly recommend renting a 4WD. This will allow you to easily navigate the diverse terrains and access more remote and off-road beach destinations.
How many Esperance beaches can you drive on?
Esperance has a total of four beautiful beaches that you can drive on. Cape Le Grand Beach is the most popular, stretching 20km long and 45 minutes from Esperance.
Other spots include Duke of Orleans Beach, Rossiter Bay and Cape Arid – perfect for beach-goers looking for an unforgettable experience.
Can you swim in Esperance?
Yes, you can enjoy swimming on all of Esperance's beaches! With its picturesque white beaches and vibrant turquoise waters, Esperance is a popular destination for visitors hoping to have a unique swimming experience.
So get your suit on and enjoy the waters of Esperance!
Where is the best surf spot in Esperance?
Esperance is renowned for its surf spots, but the best one has to be Wharton Beach! It usually has the best conditions for surfing.
The waves here are perfect for beginners and experienced surfers alike, and the beach is well-maintained and clean. The beach is also great for swimming, sunbathing, and other activities.
What are the best beaches in Esperance?
The most popular beaches in Esperance are Lucky Bay, Blue Haven Beach, Wharton Beach (our personal favourite) and Hellfire Bay – all renowned for their stunning crystal-clear waters and stunning white sand.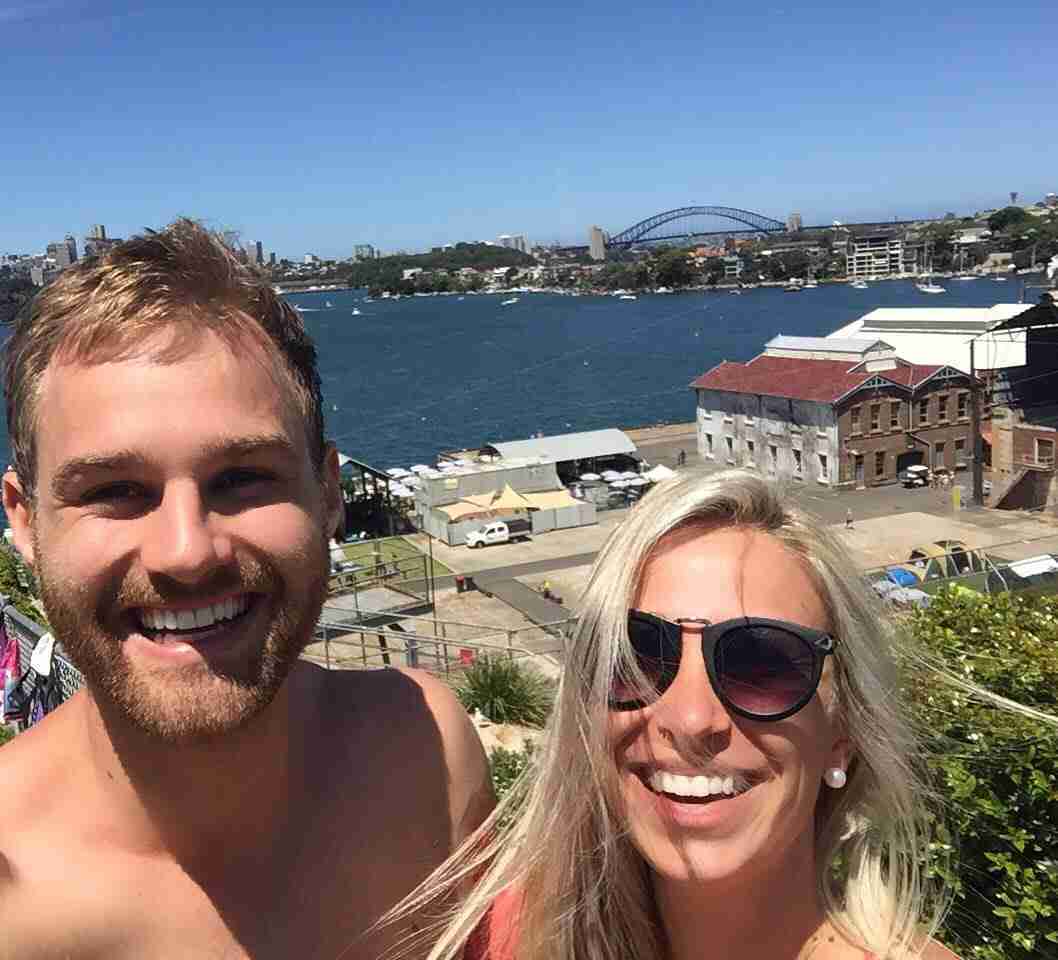 Wade & Dani
Hi! We're Wade and Dani, We're currently travelling around Australia in our 2017 Mercedes Sprinter Camper van and sharing our best experiences, stories, reviews and adventures as we go along. Make sure you follow us on Instagram @wadeanddani