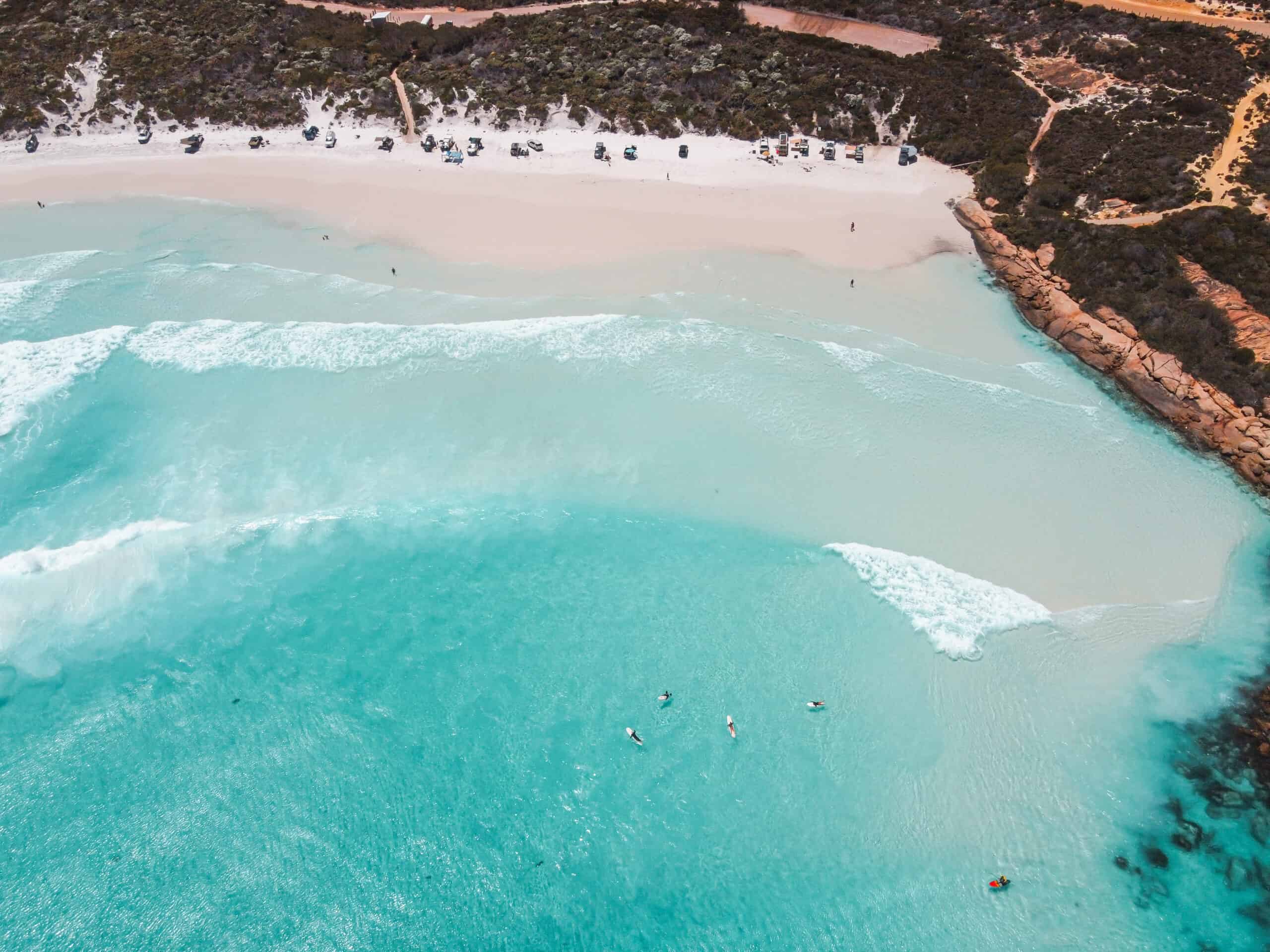 23 Amazing Things to Do in Esperance: 2023 Guide
Have you ever dreamed of exploring a hidden gem on Australia's southern coast, filled with stunning beaches, unique wildlife, and fascinating attractions?
Esperance is that dream come true! Get ready to embark on a journey filled with unforgettable experiences as we guide you through 22 amazing things to do in Esperance in 2023.
Short Summary
Discover Cape Le Grand National Park
Just 45 minutes east of Esperance lies the breathtaking Cape Le Grand National Park. With its rolling heathlands, home to Pygmy Possums, Western Grey Kangaroos, and diverse flora, Cape Le Grand National Park is a haven for nature lovers.
The park boasts some of the most amazing beaches in Western Australia, like Lucky Bay, Hellfire Bay, and Cape Le Grand Beach, where you can surf, swim, snorkel, and dive.
If you're up for some adventure, hike the Cape Le Grand Coastal Trail and take in the stunning views from the top of Frenchman's Peak.
Don't forget to book your camping spot early at one of the park's non-powered campgrounds. Just remember, the national park has a $15 vehicle entrance fee.
Watch our Youtube video on Esperance below.
Visit our Favourite Beach in Australia – Wharton Beach
Our favourite beach in the whole country is Wharton Beach, which is around 80 kilometres from Esperance. Even though it's a bit of a journey, it is worth it.
It is possible to access the beach with a 4WD vehicle, and depending on the daily sand conditions, a 2WD vehicle may also be able to drive on the beach.
One of the MUST things to do in Esperance is visit Wharton Beach. With its stunning white sand and clear turquoise waters, this beach is an excellent option for a day out with your family. It is also pet friendly.
What more could you ask for?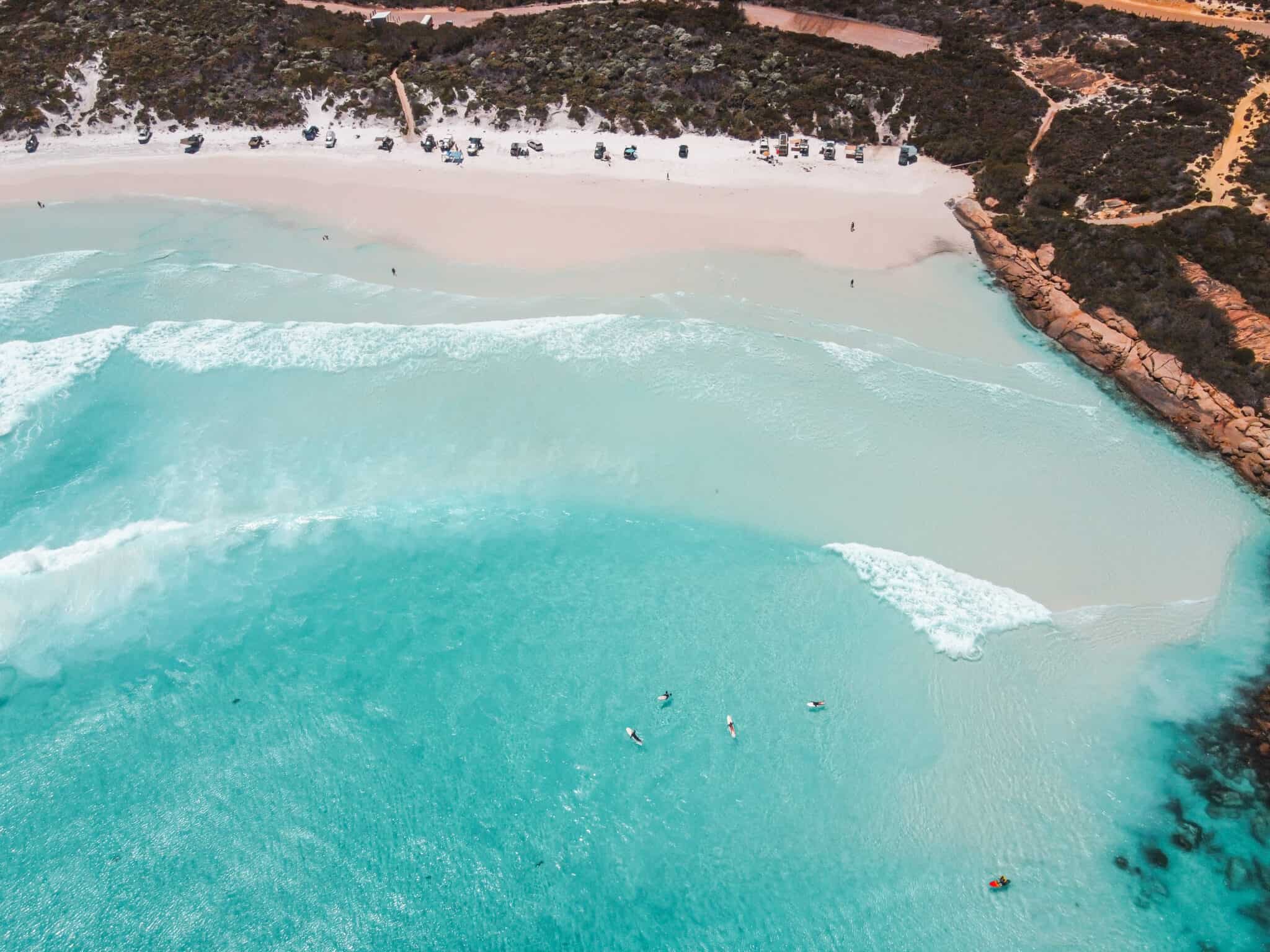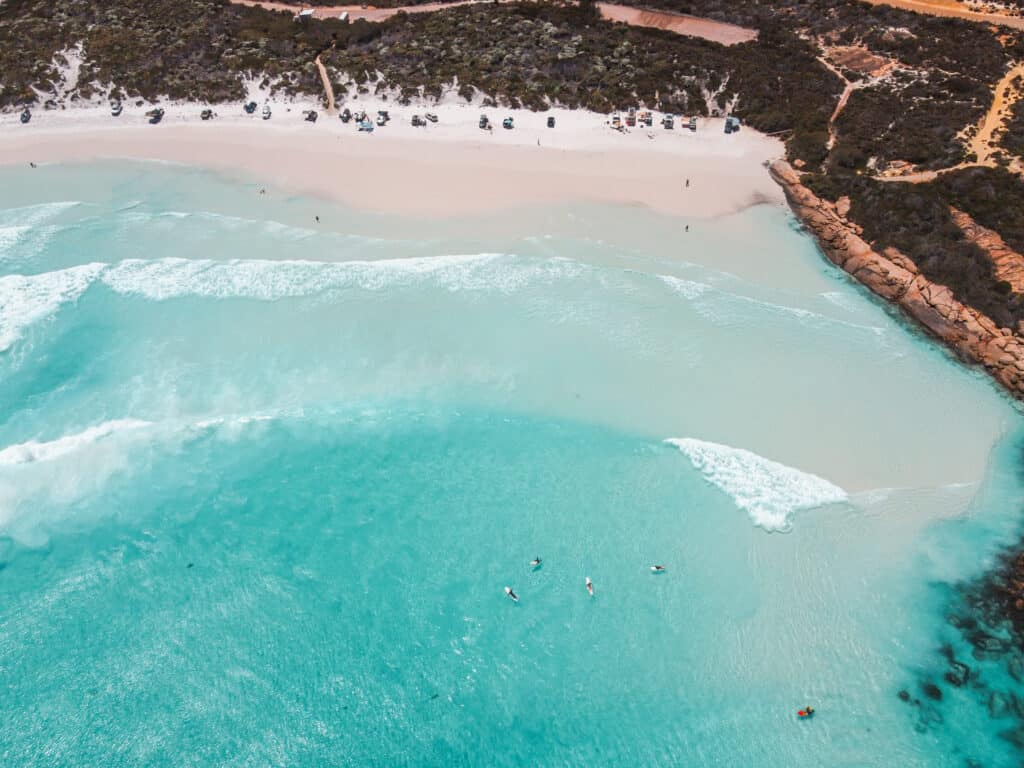 Unwind at Lucky Bay
Lucky Bay, nestled within Cape Le Grand National Park, is a must-visit destination for anyone seeking picturesque beaches and an unforgettable wildlife encounter.
Imagine sunbathing on a pristine white sand beach alongside kangaroos, who often visit the shore to soak up some sun. The turquoise blue waters of Lucky Bay provide a range of activities, such as beach fishing, boating, swimming, snorkelling, and surfing.
Easily accessible by 2WD, Lucky Bay is perfect for a day trip or an extended stay. Pack a picnic, grab your swimmers, and don't forget your camera to capture the unique beauty of this idyllic spot.
Just remember to respect the local wildlife and refrain from feeding or touching the kangaroos.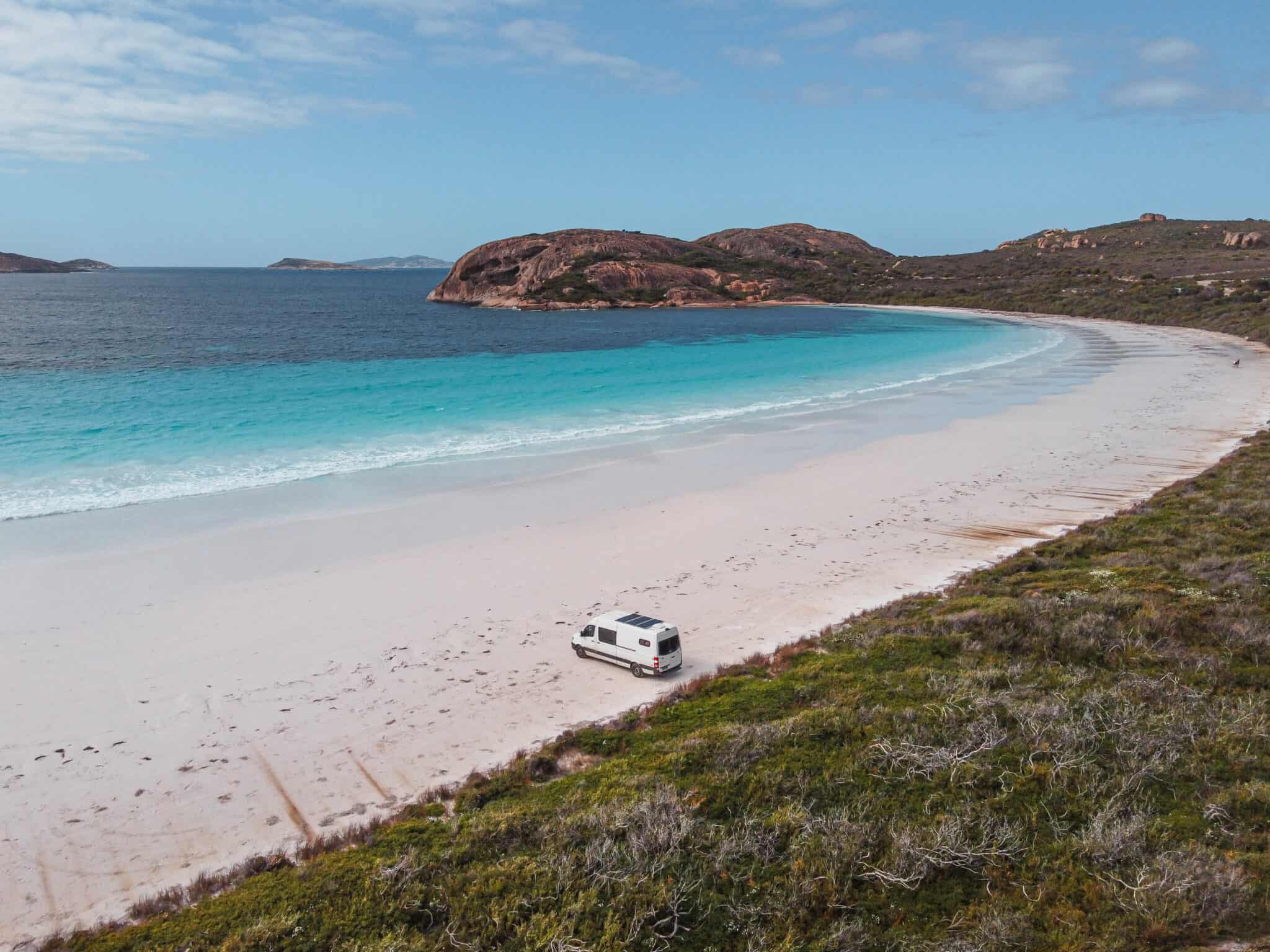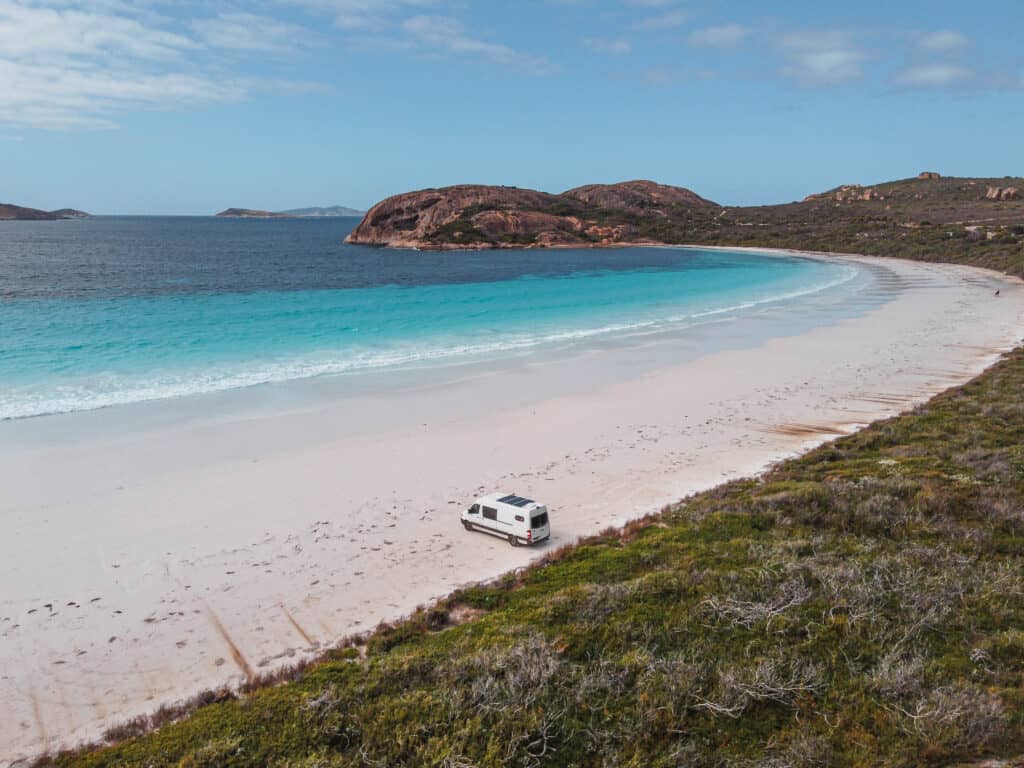 Experience Twilight Beach
Twilight Beach, located on the south coast of Esperance, is a tranquil retreat away from the bustling town centre. Surrounded by large boulders and white sand, it's an ideal spot for families and those looking for a more peaceful beach experience. During the summer months, the beach is patrolled by surf lifesavers, ensuring a safe environment for swimming and frolicking in the turquoise waters.
Choose the western-patrolled area for the safest swimming and surfing experience, and let the gentle waves wash away your worries. With its stunning scenery and calm atmosphere, Twilight Beach is a perfect place to unwind and create lasting memories.
Taste Local Flavours at Lucky Bay Brewing
Lucky Bay Brewing is the place to be if you're craving delicious food and refreshing beverages!
Located within the Esperance region, this microbrewery offers a variety of locally-brewed beers, ciders, wines, and alcohol-free drinks, made using fresh local produce.
One of the highlights of Lucky Bay Brewing is its commitment to sourcing raw barley straight from local farmers, ensuring a truly unique and authentic taste. Pair your chosen beverage with a delicious woodfired pizza, cheese board, salad, fries, or dessert from their mouth-watering menu.
With live music on Fridays and Sundays, you'll immerse yourself in the vibrant atmosphere of Lucky Bay Brewing, making it an essential stop on your adventure.
Explore Blue Haven Beach
Blue Haven Beach, a hidden gem in Esperance, boasts a breathtaking viewing platform and a steep wooden staircase that leads you to a serene white sandy bay with turquoise waters. This picturesque beach is perfect for swimming, and its surrounding activities, like hiking, snorkelling, and cycling, make it an ideal destination for adventure seekers.
Not only does Blue Haven Beach offer stunning scenery and a range of activities, but it's also dog-friendly, so you can bring your furry friend along for fun. Take the chance to explore this stunning beach and create unforgettable memories.
Adventure to Woody Island
Venture off the beaten path and explore Woody Island, located 15km off the Esperance coast in the Recherche Archipelago. Home to unique wildlife like Australian Sea Lions and Rock Wallabies, this island is a paradise for nature enthusiasts.
Whether you're looking for a relaxing getaway or an adventurous experience, Woody Island offers a range of activities, such as walks, snorkelling, swimming, hiking, and camping.
To visit Woody Island, simply book a tour with Woody Island Eco Tours and embark on an unforgettable island adventure.
Experience a Local's Secret at Bread Local
Oh my God, I still dream about this place!! Bread Local Bakery is open every Friday from 9 am to 5 pm.
The bakery is located west of Esperance, four kilometres from the town centre, hidden under the gum trees. You can place an order in advance through our website or visit us on the day to select from our wide variety of cakes displayed in the cabinet.
The establishment provides a variety of sweet and savoury pastries, sandwiches, meals, salads, and crusty sourdough loaves baked in a woodfired oven. This makes it a perfect spot for indulging in delicious food during the weekend!
Dive into Esperance's Pink Lakes
Discover the fascinating history of Esperance's Pink Lakes, which were once vibrant pink due to the presence of algae that produced beta-carotene. However, over a century of commercial salt mining, freshwater inflow, and increased groundwater inflow caused the pink lake to lose its signature pink hue.
Today, efforts are being made to restore the pink colour of the lakes by increasing salinity and reintroducing the algae responsible for the unique hue.
While visiting Esperance, take the time to explore these intriguing lakes, learn about their history, and witness the ongoing restoration efforts.
Hike Hellfire Bay and Surrounding Trails
Nestled within Cape Le Grand National Park, Hellfire Bay is a picturesque spot perfect for a picnic, with facilities like picnic tables and BBQs available. But the true beauty of Hellfire Bay lies in its surrounding trails, which offer panoramic views of the coast, an abundance of wildflowers, and unique granite boulders.
One such trail is the short but scenic hike from Hellfire Bay to Little Hellfire Bay, a tiny bay with white sand and bright waters near Middle Island. The hike takes only about 15 minutes, making it an ideal detour on your visit to Hellfire Bay.
Don't miss the opportunity to explore the stunning landscape of Hellfire Bay and its surrounding trails. With breathtaking views and diverse flora, this destination is a must-see for nature enthusiasts and adventure seekers.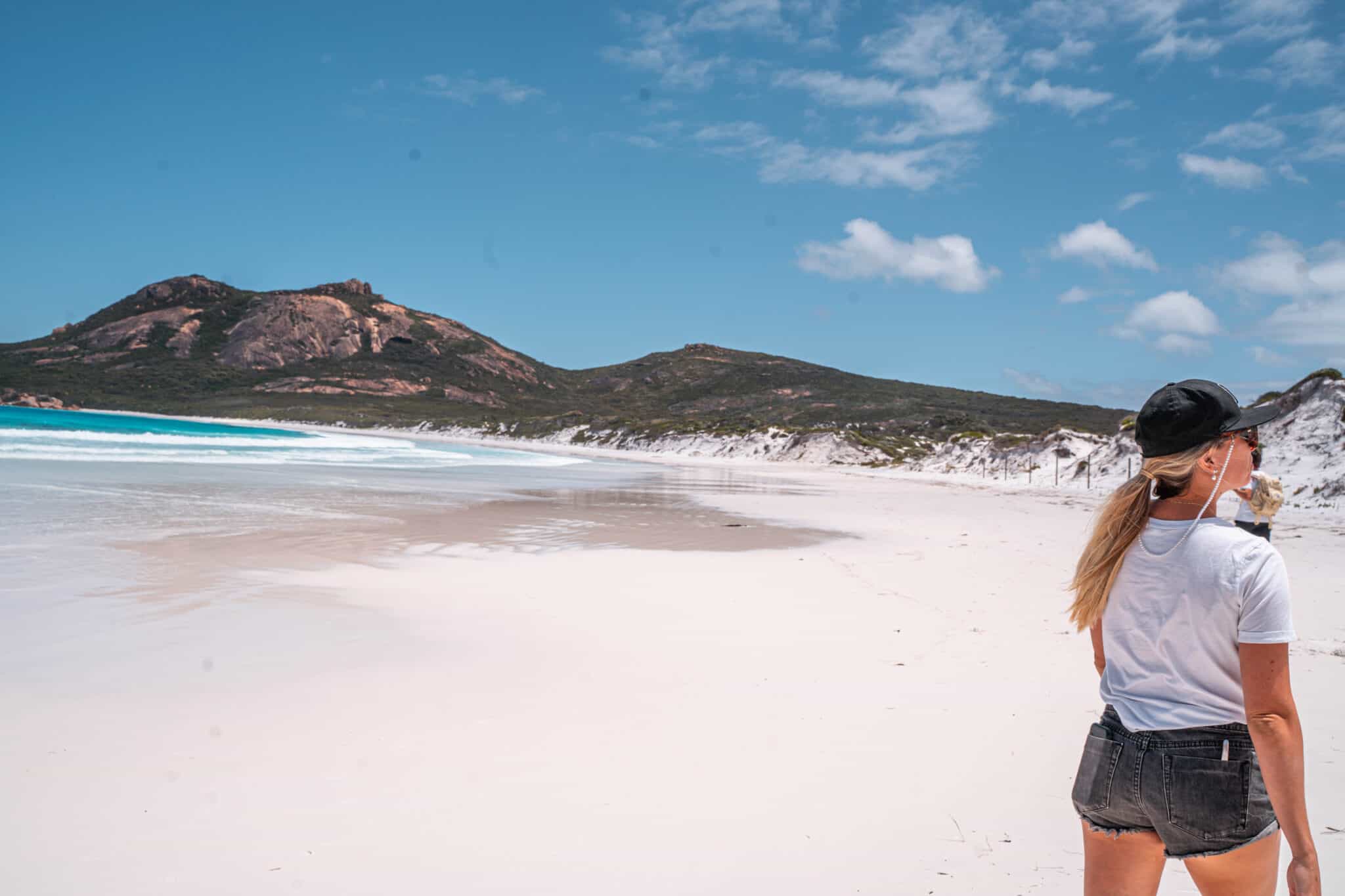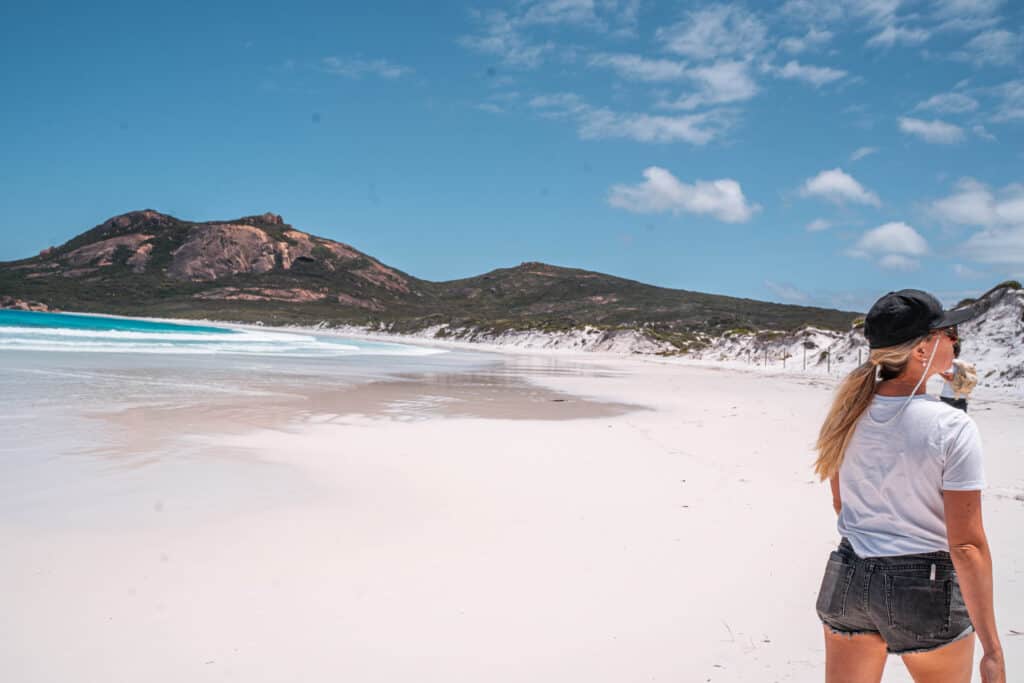 Marvel at West Beach's Scenery
Experience the captivating beauty of West Beach, a sandy bay with stunning rock formations and swimming lagoons. Popular with surfers and swimmers alike, West Beach boasts a unique landscape that will leave you in awe. However, visitors should be aware of strong rips and currents when visiting this beautiful beach.
Whether you're looking to ride the waves or simply relax on the sand, West Beach offers a picturesque setting for your day at the beach. Don't forget to bring your camera to capture the mesmerizing scenery and create lasting memories of your time at this magnificent location.
Visit the Iconic Esperance Stonehenge
Step back in time and visit the iconic Esperance Stonehenge, a life-size replica of the world-famous historical site in the UK.
Located on the way to Cape Le Grand National Park, this fascinating attraction provides a unique opportunity to experience the mysterious beauty of Stonehenge without travelling halfway across the world.
With an admission fee of $14 for adults, the Esperance Stonehenge is open daily from 9 am to 3 pm. Don't miss the chance to explore this awe-inspiring site and immerse yourself in a piece of ancient history during your visit to Esperance.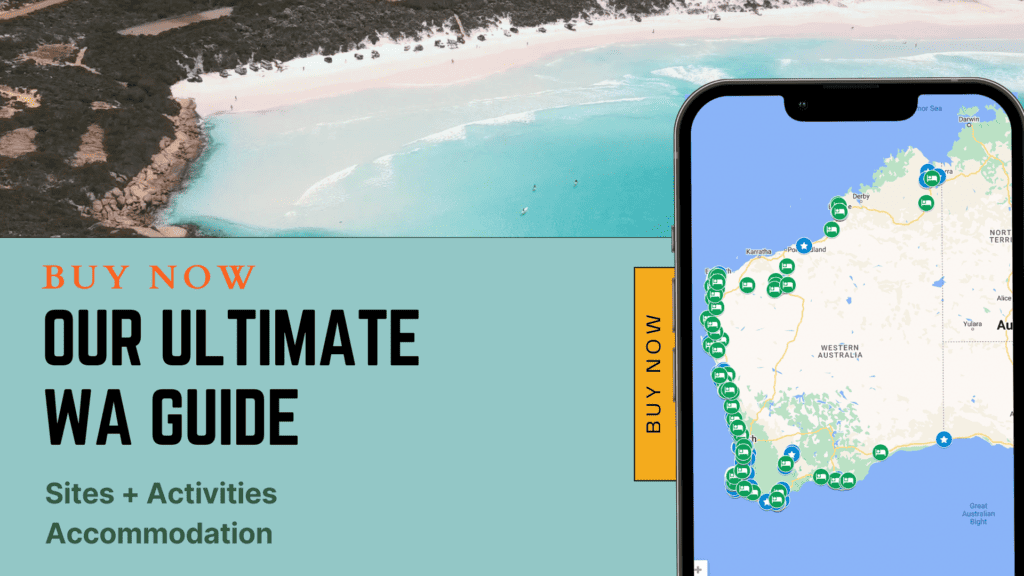 Embark on the Great Ocean Drive
Experience the breathtaking beauty of Esperance's coastline by embarking on the Great Ocean Drive, a 40 km loop with 23 stops and attractions that showcase the region's stunning scenery. This picturesque drive offers diverse attractions, from sandy beaches and rocky headlands to hidden rock pools and unique landmarks.
Some key stops along the Great Ocean Drive include the Rotary Lookout & Walk trail, which offers 360-degree views of the town and its stunning beaches, and the Coffee Cat Van near the Esperance foreshore for a quick caffeine fix. Don't forget to check out the Ten Mile Wind Farm, Australia's first commercial wind farm, for an unforgettable experience.
With its 23 points of interest and awe-inspiring landscapes, the Great Ocean Drive is an essential part of any adventure itinerary. Whether you're a first-time visitor or a seasoned traveller, this scenic drive will leave a lasting impression.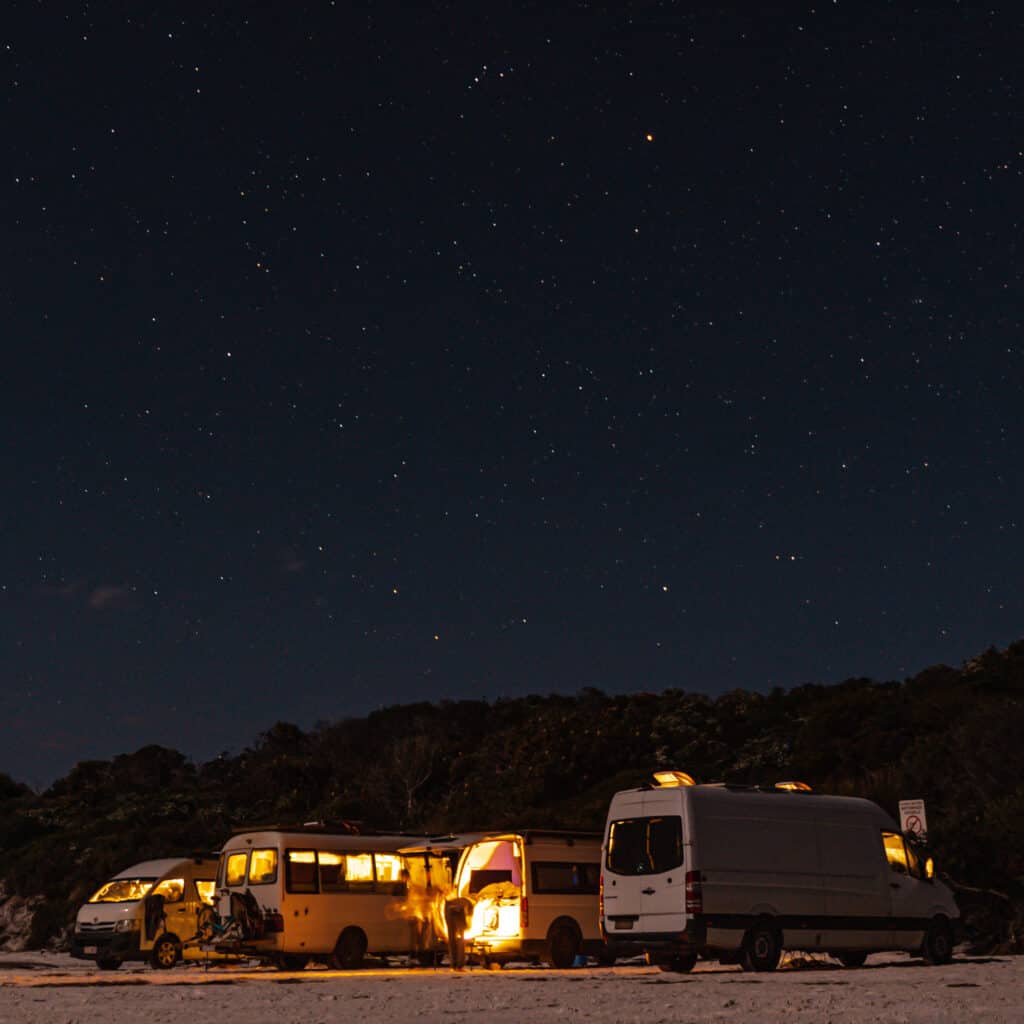 Experience Esperance's Rich History
Delve into the rich history of Esperance by visiting attractions such as the Esperance Museum, which offers a glimpse into the town's past from the 1800s to the present day. With exhibits ranging from Skylab debris and fossils to trains and maritime displays, the museum provides a fascinating insight into the town's diverse history.
Stroll along the Esperance Esplanade and visit Adventure Park, where you can enjoy various activities for all ages. Continue your historical journey by walking through the waterfront garden, visiting the Jetty Headland, and taking a guided tour to learn more about the town's heritage. Don't forget to indulge in the local food scene, with restaurants, cafes, and pubs offering a taste of Esperance's unique flavours.
From its intriguing historical attractions to its vibrant food scene, Esperance offers visitors a rich and diverse experience. Immerse yourself in the town's fascinating past and create unforgettable memories as you explore its many treasures.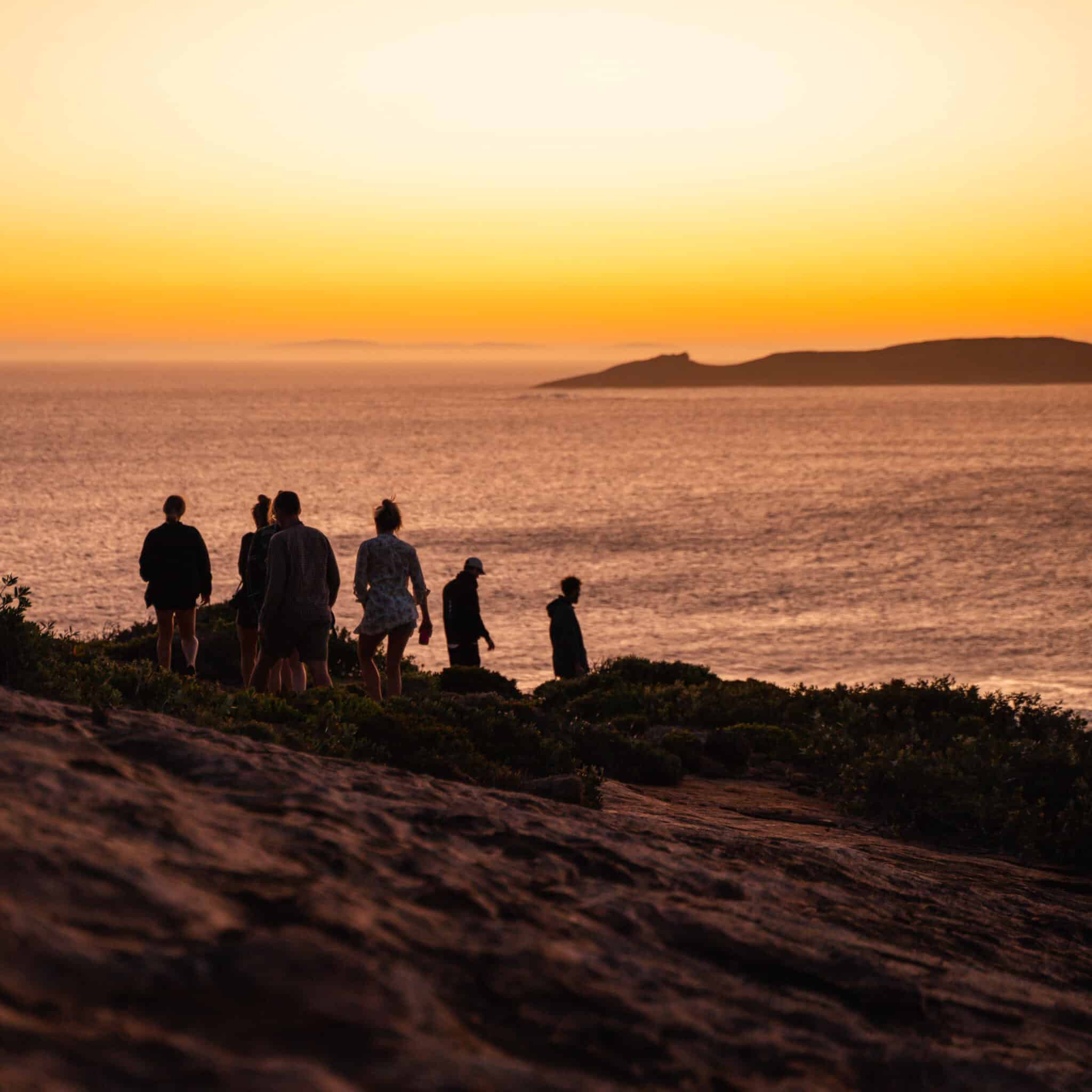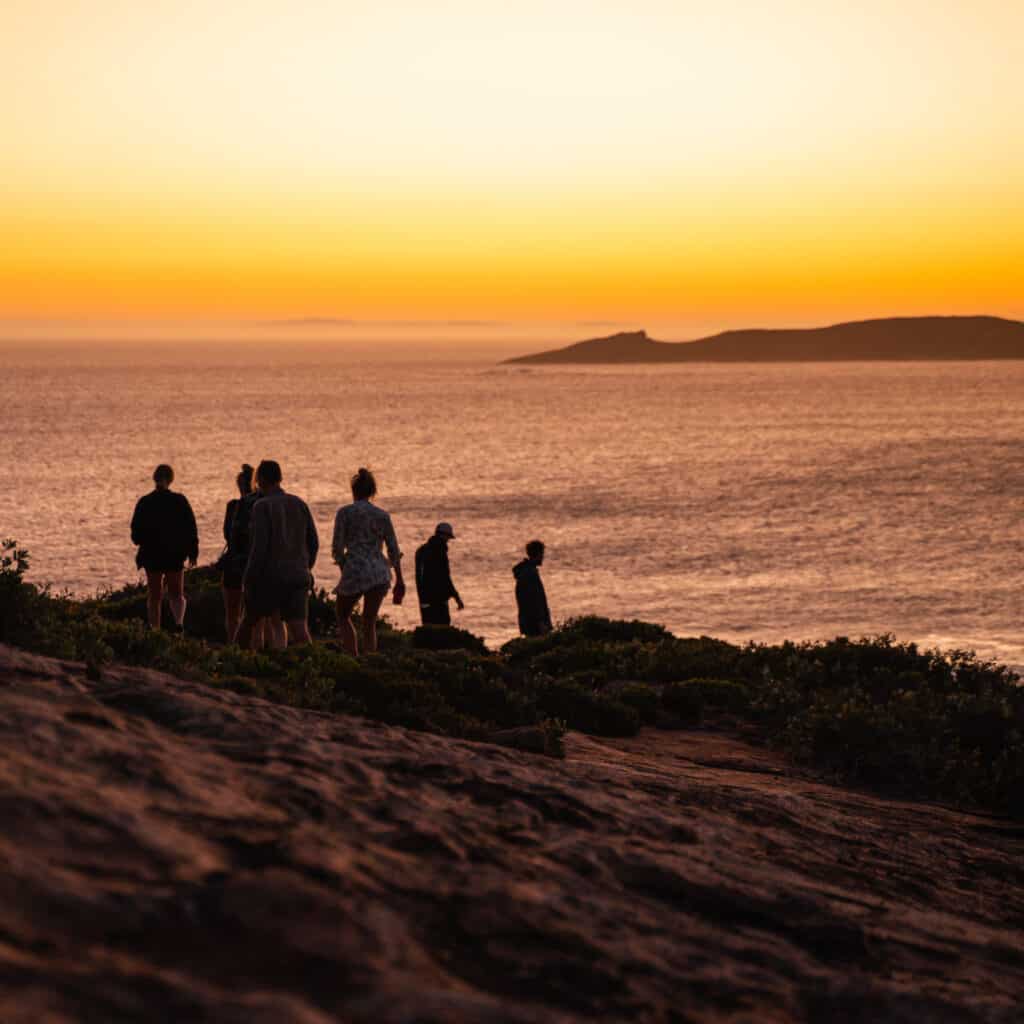 Witness Wildlife at Salmon Beach
For bird-watchers and beachcombers alike, Salmon Beach is the perfect destination to witness the diverse wildlife of the Esperance region. Rossiter Bay, located near Salmon Beach, is home to a wide variety of birdlife, making it an ideal spot for bird-watching enthusiasts to catch a glimpse of their favourite species.
In addition to its birdlife, Salmon Beach offers excellent beach-combing opportunities at Rossiter Bay. Whether you're an avid bird-watcher or enjoy exploring the shoreline, Salmon Beach is a must-visit destination for nature lovers.
Enjoy a Relaxing Day at Eleven Mile Beach
If you're seeking a relaxing day at the beach, look no further than Eleven Mile Beach. This serene destination features unique rock pools and a "free beach" area where clothing is optional. The calm atmosphere and beautiful surroundings make it an ideal spot to unwind and enjoy a peaceful day by the water.
Pack a picnic, grab a good book, and soak up the sun at this tranquil beach. With its unique features and laid-back vibe, Eleven Mile Beach is the perfect place to escape the hustle and bustle of everyday life.
Stop at Thistle Cove
If you're looking for a quiet beach, consider visiting Thistle Cove, as it is less busy than the other beaches mentioned earlier.
Discover the sculpted rock formations at Thistle Cove, where you can listen to the soothing sounds of the wind and waves. Try to locate the rock that sometimes makes a whistling sound, known as "Whistling Rock".
Go for a hike to reach the summit of Frenchman's Peak
Frenchman Peak is a challenging hike that offers fantastic 360-degree views at the summit and the opportunity to explore a vast cave.
Although the trail is only 3km roundtrip, it is very steep. However, the effort is worth it, as you will see the stunning views of Cape Le Grand National Park from a new perspective.
When you reach the top of Frenchman Peak in Esperance, take some time to appreciate its beauty and enjoy the achievement of your hard work. This is a great adventure that you should not miss in Esperance.
To enter Cape Le Grand National Park, visitors must pay a fee. The current fee for a standard vehicle with 12 or fewer occupants is $15.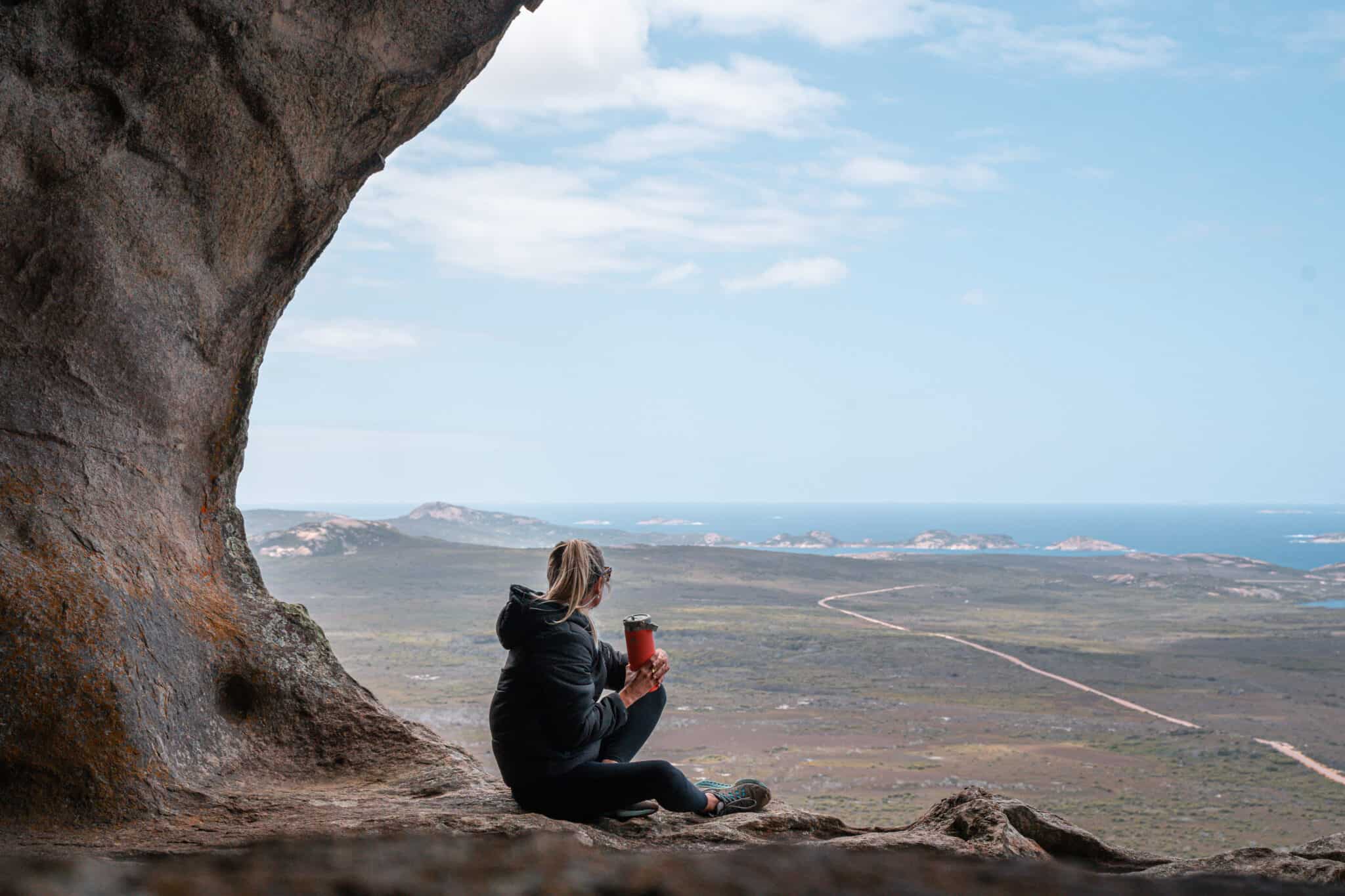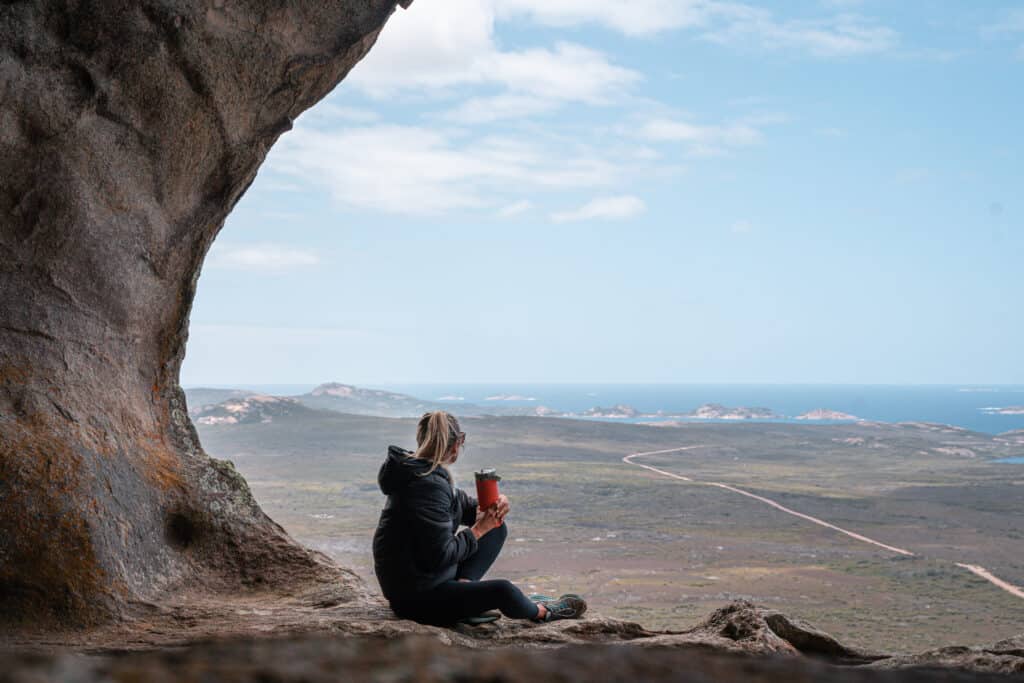 Soar Above Lake Hillier
For an unforgettable experience, take to the skies and soar above the mesmerizing Lake Hillier on a scenic flight.
This once-in-a-lifetime adventure offers panoramic views of 300 km of Western Australia's coastline, including Esperance Bay, Frenchman's Peak, Cape Le Grand National Park, and the Recherche Archipelago.
As you glide above the vibrant pink waters of Lake Hillier, you'll be captivated by the breathtaking beauty of the Esperance region. With its stunning landscapes and unique attractions, a scenic flight over Esperance is an experience you'll never forget.
Observatory Point Lookout
Observatory Point was one of our favourite things to do in Esperance.
The road leading to it provided stunning views. Once you reach the high vantage point via the wooden stairs, you can indulge in the breathtaking sight of the coastline.
Experience a sunset at Wylie Bay Rock
Wylie Bay Rock is one of the best spots to experience a mesmerizing Esperance sunset.
Wylie Bay Rock offers spectacular views atop a cliff and is set against an expansive ocean backdrop. Watch as the sun slowly sinks into the sea, creating a magnificent golden sky that will take your breath away.
Make sure you fly your drone there too. You will not regret it!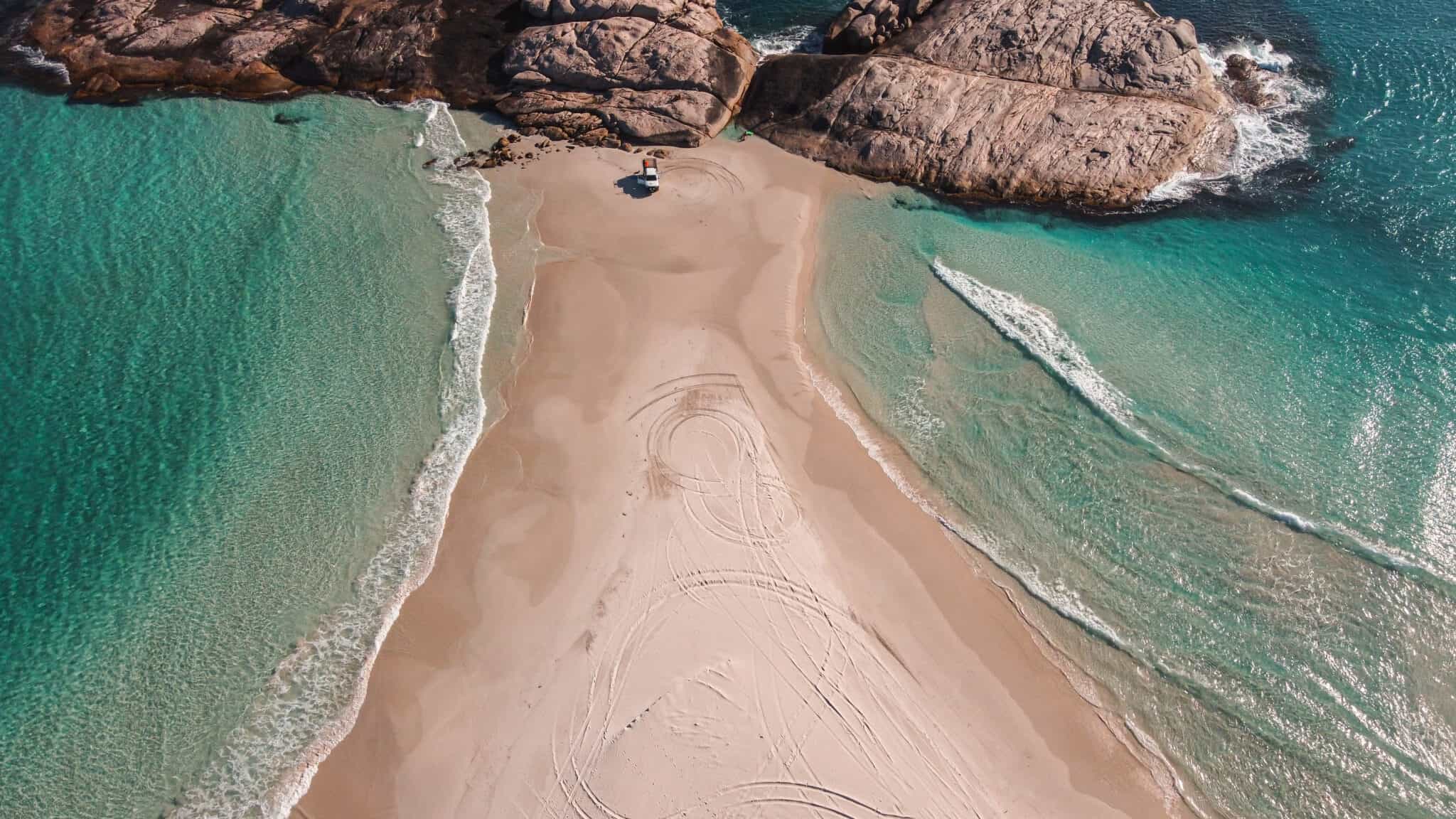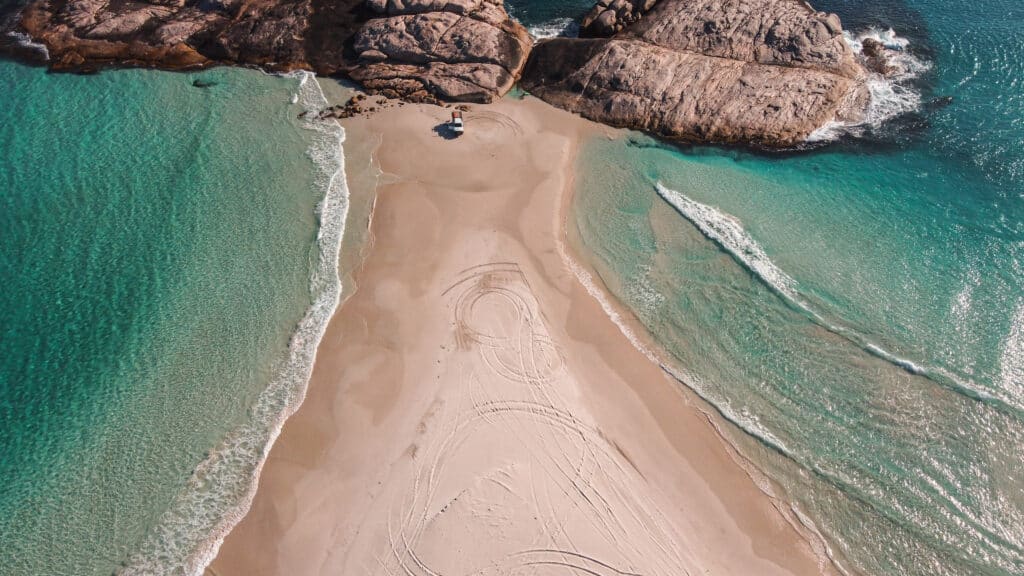 Indulge in Esperance's Food Scene
After a day of exploring Esperance's stunning beaches and attractions, indulge in the town's vibrant food scene, offering a diverse range of restaurants, cafes, pubs, food vans, and takeaway shops. From local flavours to international cuisine, there's something to satisfy every palate in this charming coastal town.
For a truly unique dining experience, visit Taylor St Quarters, located on the foreshore with a view of the bay. This popular restaurant offers a delectable menu featuring fresh, local ingredients that showcase the flavours of the Esperance region.
If you're looking for a more casual dining option, check out the Esperance Growers Market and Museum Village Markets, where you can sample various food, coffee, and handmade items.
A visit to Esperance would only be complete with sampling the local gin at the Esperance Distillery. Open Wednesdays to Saturdays from 10 am-4 pm, the distillery offers tastings and bottle sales of their unique gins, distilled with local native botanicals. Treat your taste buds to the flavours of Europe and create lasting memories of your culinary journey.
Participate in Water Activities
Esperance's beautiful beaches and crystal-clear waters along the Esperance coastline provide the perfect setting for a variety of water activities. Whether you're a seasoned pro or a beginner, there's something for everyone to enjoy, from fishing and surfing to snorkelling and diving.
Some of the best spots for water activities in Esperance include the famous beaches like Lucky Bay, Hellfire Bay, and Twilight Beach, as well as the Esperance Jetty, where you can fish for herring, skippy, whiting, flathead, and squid. If you're looking to catch a glimpse of majestic whales, visit Fourth Beach and the surrounding areas during whale season, which runs from July to October.
No matter your skill level or preferred activity, Esperance offers visitors a wide range of water adventures. Dive into the turquoise waters and discover the beauty beneath the surface, or ride the waves and experience the thrill of catching the perfect break. With so many options, you'll find the perfect water activity to suit your tastes and abilities.
Summary
From its stunning beaches and unique wildlife to its rich history and vibrant food scene, Esperance truly offers something for everyone.
Whether you're seeking adventure, relaxation, or a combination, this hidden gem on Australia's southern coast is a destination not to be missed.
So pack your bags, grab your sunscreen, and get ready to embark on an unforgettable journey through the captivating beauty of Esperance.
Frequently Asked Questions
What is Esperance best known for?
Esperance is best known for its magnificent beaches and stunningly blue waters that are perfect for swimming, surfing, fishing, and simply soaking in nature's beauty.
The area is also home to a variety of wildlife, including dolphins, seals, sea lions, and a wide range of bird species.
The town is a charming mix of old and new, with vibrant arts and culture.
Is Esperance worth visiting?
Esperance is a stunning destination that should be on everyone's bucket list. Its serene coastal environment, enchanting beaches, and immense wildlife are some reasons you should consider visiting!
The natural beauty on offer makes it a must-see for any nature lover.
What is the best time of the year to visit Esperance?
The best time to visit Esperance is from March to May, when the days are sunny and temperatures range from 18-22°C. This period makes for an ideal experience with a mild climate perfect for sightseeing and participating in outdoor activities.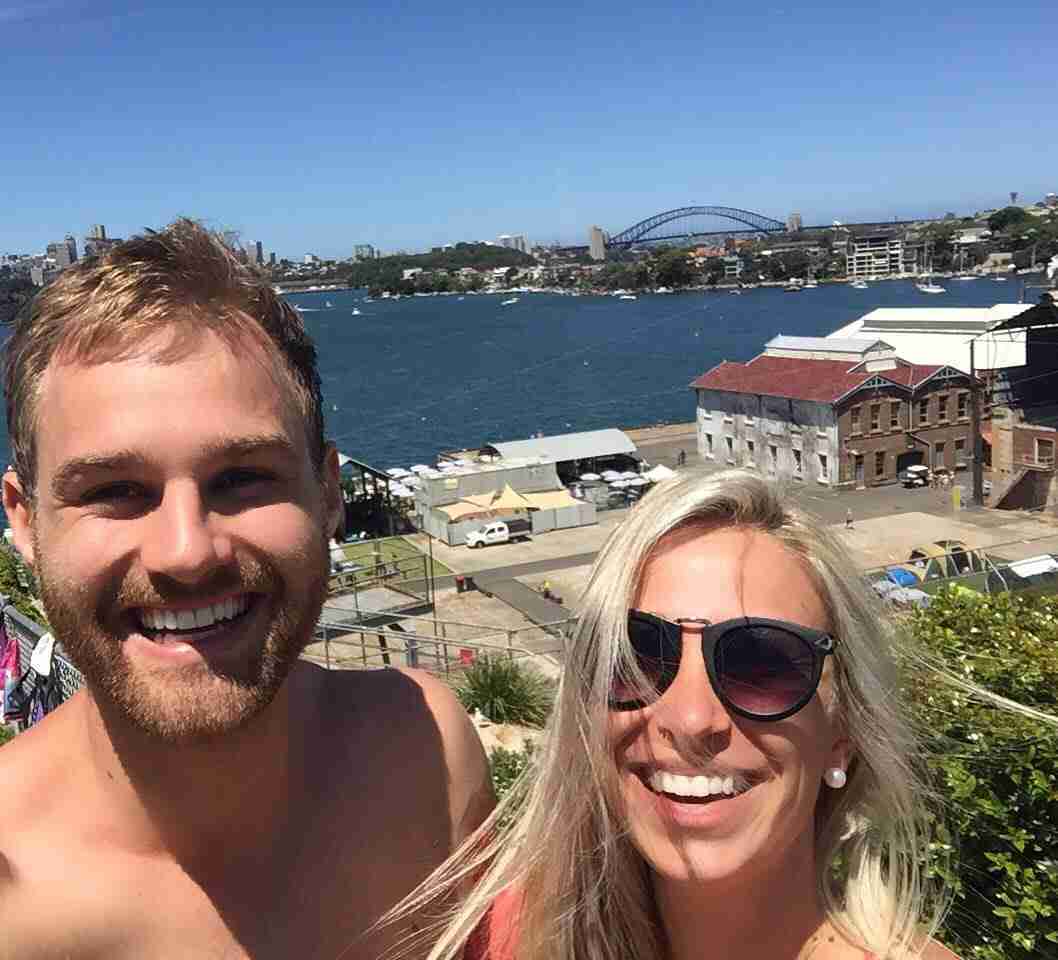 Wade & Dani
Hi! We're Wade and Dani, We're currently travelling around Australia in our 2017 Mercedes Sprinter Camper van and sharing our best experiences, stories, reviews and adventures as we go along. Make sure you follow us on Instagram @wadeanddani