Exploring the Great Ocean Drive in Esperance
14 Must-See Attractions
Esperance is a beautiful town situated on the south coast of Western Australia. It's a paradise for travellers looking for stunning beaches, crystal clear waters, and breathtaking scenery.
One of the most popular attractions in Esperance is the Great Ocean Drive, a 40-kilometre road that takes you through some of the region's most spectacular coastal landscapes.
In this blog post, we'll take you on a virtual tour of the Great Ocean Drive and introduce you to 14 must-see attractions along the way. So buckle up, and let's hit the road!
Short Summary
Explore the Great Ocean Drive and uncover 14 must-see attractions, from Twilight Beach to Salmon Beach Adventures
Enjoy art & culture at Cindy Poole Glass Gallery or Cannery Arts Centre & Lookout
Visit during summer for optimal outdoor activities and extend your adventure with a trip to Cape Le Grand National Park
Great Ocean Drive Map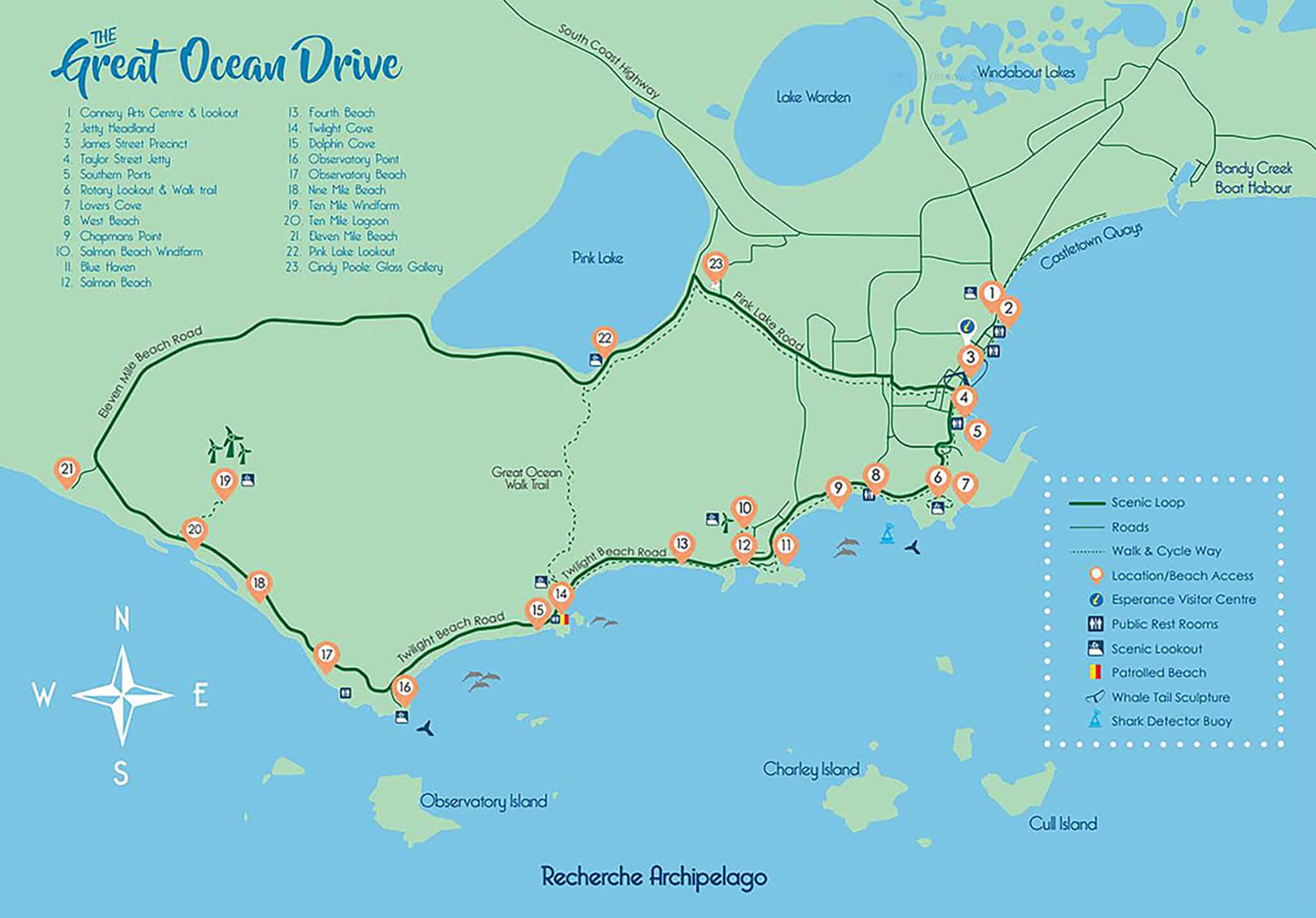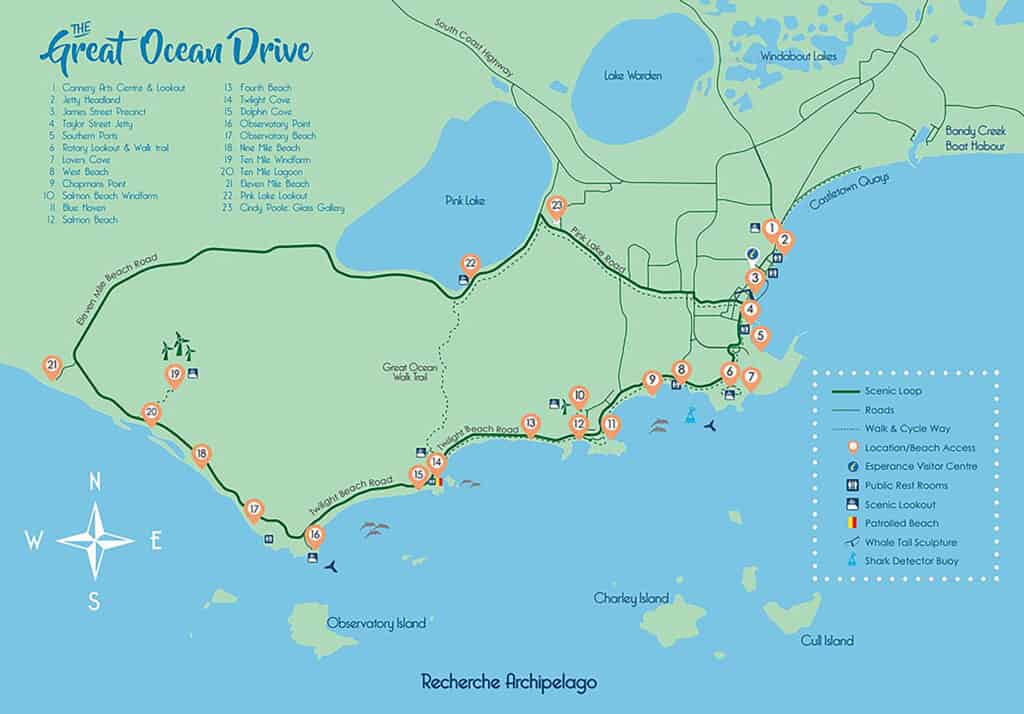 Discovering Twilight Beach
Twilight Beach, a world-class free beach, boasts super soft white sand and amazing blue waters that will leave you in awe. The beach is one of the stunning beaches in Esperance, featuring giant granite boulders in the water you can explore, even one with a cave you can climb into at the nearby Twilight Cove.
Swimming is practically the main activity at Twilight Beach, and it's a safe spot thanks to the presence of a surf life saving club. The beach offers decent parking, showers, and toilets and is surrounded by beautiful rocky headlands, making it a perfect family spot to spend the day.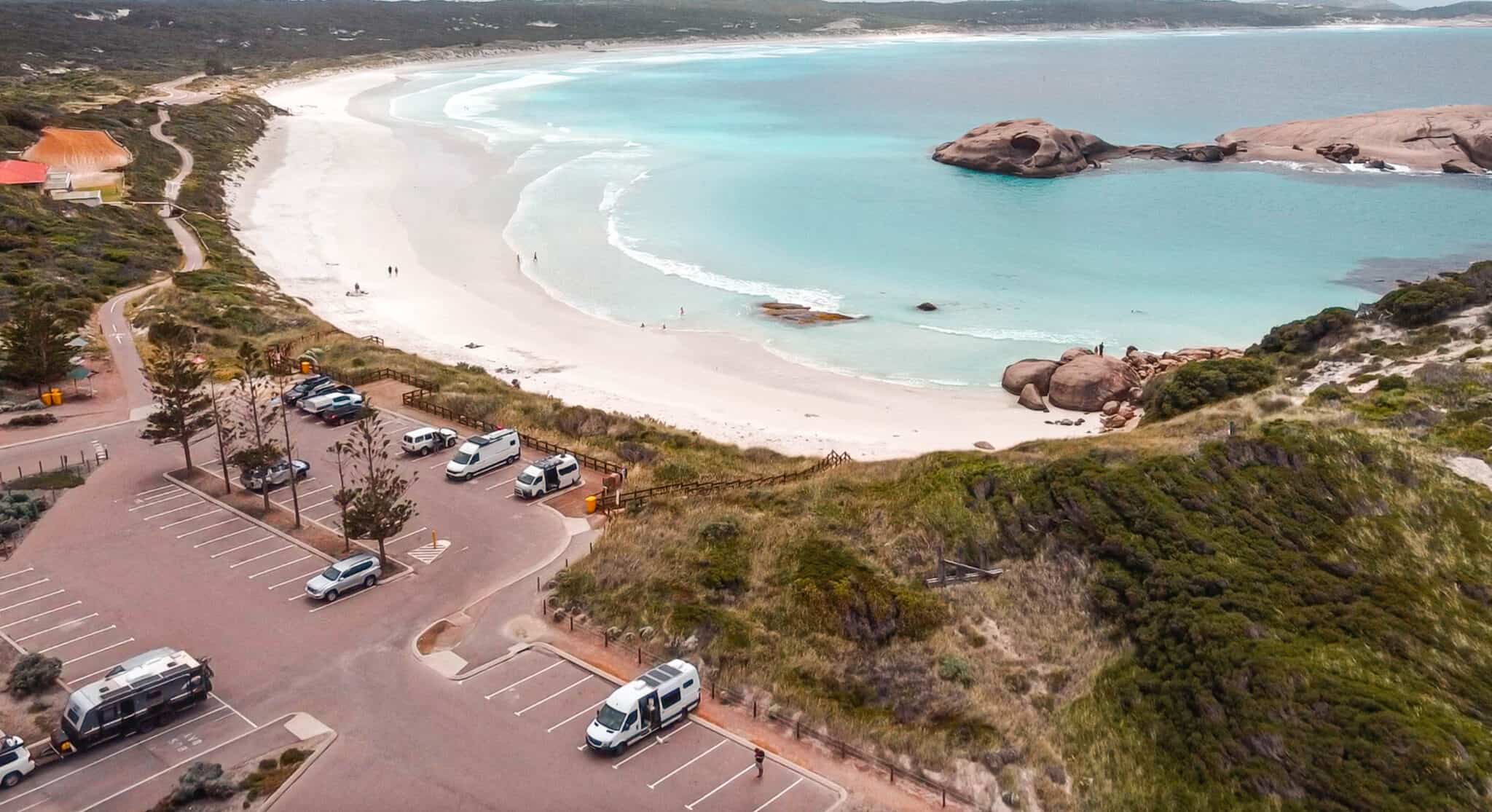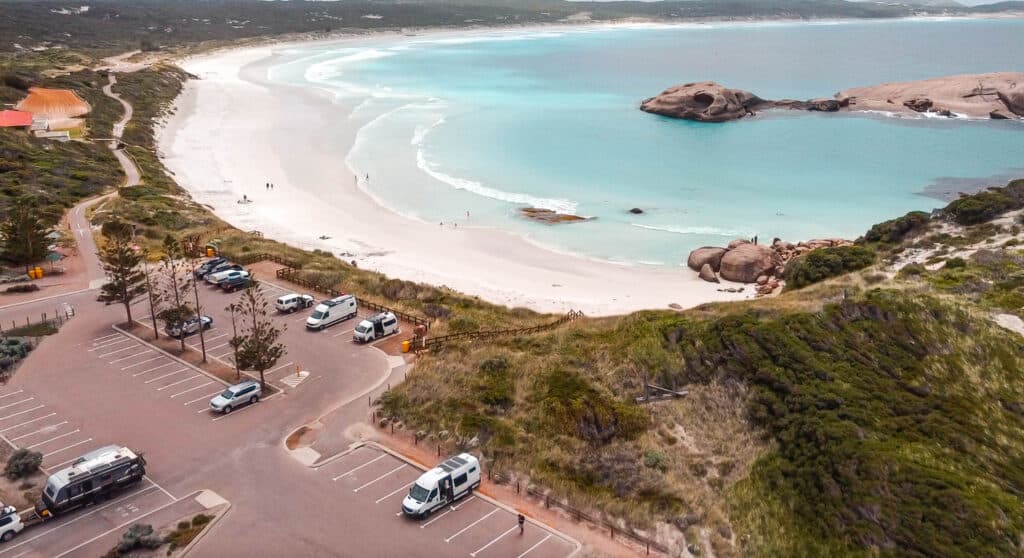 Unveiling the Mystery of Pink Lake
The Pink Lake Lookout offers picturesque views of the lake that used to be pink due to microalgae. However, the lake has been looking less pink lately, making it a rather exciting mystery to unveil. You can learn more about why it's no longer pink and its history on-site, making it an excellent spot for photography enthusiasts and curious minds.
Don't let the lake's colour discourage you from visiting the Pink Lake Lookout. The area is still fantastic for capturing mesmerizing photos with stunning surroundings. So grab your camera and let the breathtaking views inspire your creativity.
Salmon Beach Adventures
Salmon Beach is a must-see location with its gorgeous coastline and crystal-clear blue water. It's an excellent spot for fishing all year round, making it a popular destination for anglers. However, swimming is not highly recommended due to sharp rocks that can easily cause injuries if you're not careful.
Instead, enjoy shark spotting from the shore or simply take in the beauty of this stunning coastline.
Watch our Esperance Youtube video below:
Exploring Mile Beaches
Nine Mile Beach, Ten Mile Lagoon, and Eleven Mile Beach are scenic spots you shouldn't miss along the Great Ocean Drive. Nine Mile Beach is a fantastic location, featuring great rock pools and wicked break peaks that surfers love. Snorkelling, tanning, and swimming are just a few activities you can enjoy at this beautiful beach.
Ten Mile Lagoon offers swimming and fishing opportunities, making it an excellent spot for families and adventure-seekers. Meanwhile, Eleven Mile Beach is perfect for swimming and surfing, allowing you to explore the underwater wildlife and ride the waves.
So pack your gear and get ready to make some unforgettable memories at these Mile Beaches.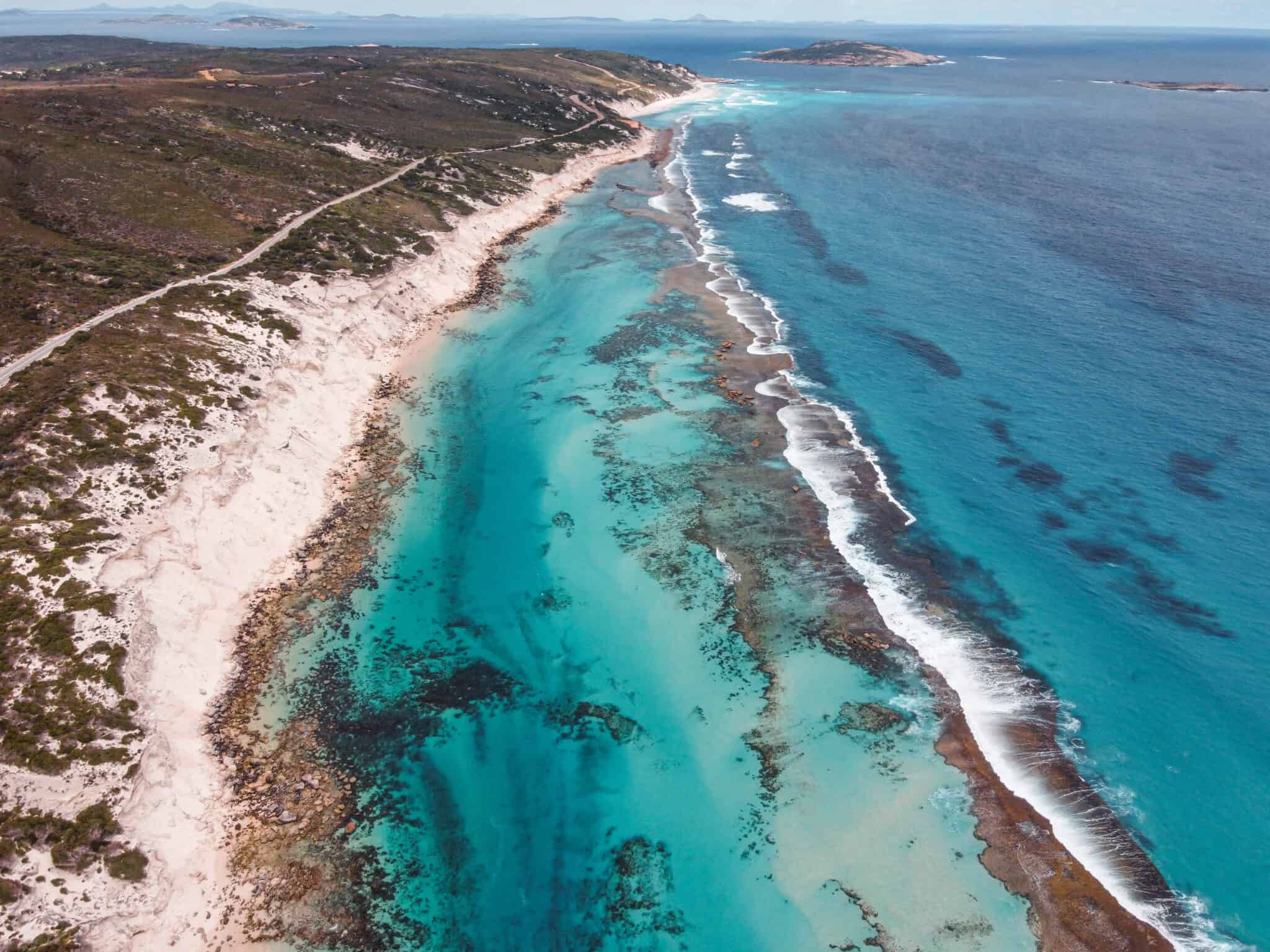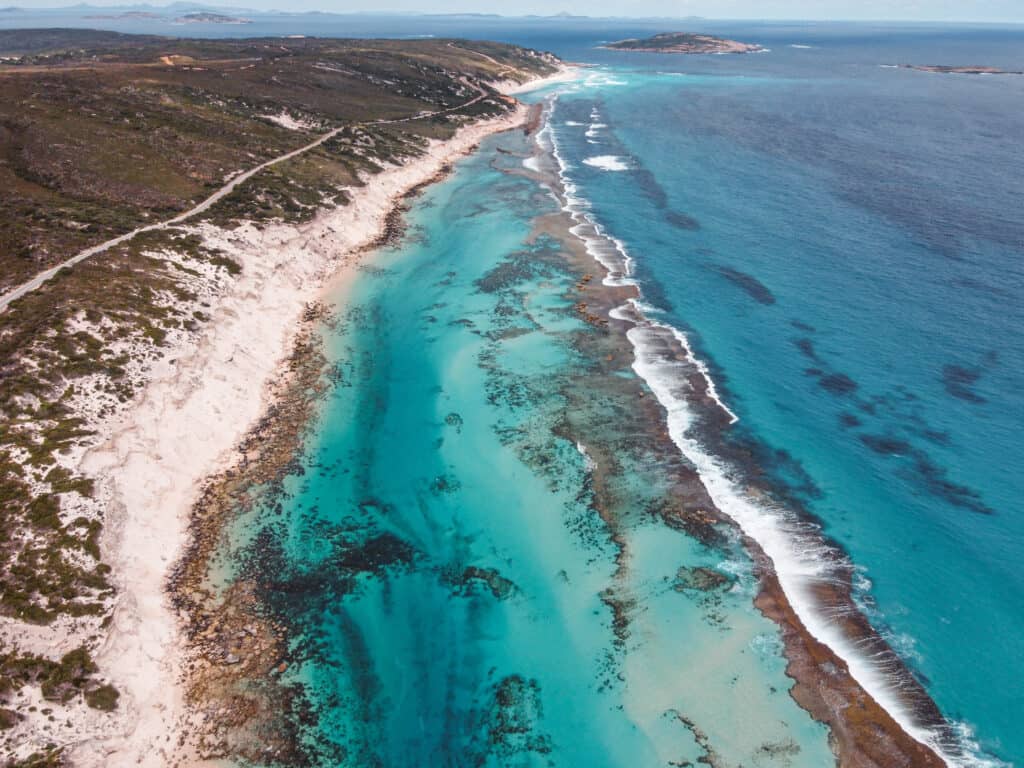 Rotary Lookout: Panoramic Views at Your Fingertips
For breathtaking panoramic views of Esperance's beaches and the Recherche Archipelago's islands, head to Rotary Lookout, a high granite outcrop that will leave you speechless. From this vantage point, you can take in stunning coastal views and maybe even spot some dolphins or whales swimming near the shore.
Located off Twilight Beach Road at the far end of the Esplanade, Rotary Lookout is a must-visit for those seeking awe-inspiring landscapes and unforgettable memories.
West Beach Wonders
West Beach, known for its turquoise waters and fantastic rock formations, is a paradise for surfers, snorkelers, and whale watchers. The beach offers a range of exciting activities for adrenaline junkies and nature lovers alike.
However, swimming is not recommended at West Beach due to a strong rip that could drag people out to sea. Nevertheless, the striking beauty of West Beach and its thrilling activities make it a must-see attraction on your Great Ocean Drive adventure.
Blue Haven: A Slice of Paradise
Blue Haven is a stunning beach with beautiful blue water and smooth granite rocks, making it a slice of paradise not to be missed. Blue Haven's views are breathtaking, enticing you to dive into the refreshing waters for a swim or snorkel adventure.
Remember to watch your step and wear shoes with good grip when exploring the rocky terrain, as the need for safety matches the beauty of Blue Haven.
Wind Farm Wonders: Ten Mile Wind Farm
For a unique experience, visit the Ten Mile Wind Farm, where you can learn about wind turbines and enjoy stunning views from the hill. The wind farm harvests energy from coastal winds and stores it, making it an educational and eco-friendly attraction.
Embrace the opportunity to learn about the history of the Esperance Wind Farm while taking in the mesmerizing views of the ocean.
Wind Farm Wonders: Salmon Beach Wind Farm
Salmon Beach Wind Farm, Australia's first commercial wind farm, is an off-the-beaten-track attraction for those interested in renewable energy and coastal views. Built-in 1987 as a research facility and running for 15 years, this wind farm holds historical significance and offers an engaging experience for visitors.
Explore this pioneering wind farm and marvel at the beautiful coastline and captivating views it provides. Enjoy the unique experience of learning about renewable energy and the history of the wind farm.
Art and Culture: Cindy Poole: Glass Gallery
Take a break from the beach and immerse yourself in the world of glass art at the Cindy Poole: Glass Gallery. This artist's studio and exhibition space showcases unique glass jewellery, home décor, sculpture, and wearable art, all hand-fired by renowned Aussie artist Cindy Poole, one of the artisans responsible for the Whale Tail sculpture.
While there, enjoy a coffee break and admire the exquisite craftsmanship, making this artistic experience a memorable part of your Great Ocean Drive adventure.
Art and Culture: Cannery Arts Centre & Lookout
Discover the vibrant arts scene of Esperance at the Cannery Arts Centre & Lookout, a community arts centre that features exhibitions and workshops. This creative hub offers a chance to explore local art exhibitions and connect with the community through various events and workshops.
Don't forget to check out the view of Esperance Bay from the stairs at the back, adding another layer of beauty to your artistic experience.
Observatory Point
Observatory Point is a must-visit location, offering fantastic views of the coastline, high coastal cliffs, and a winding staircase that leads down to the beach. From the lookout, you can take in the stunning views of Esperance Bay and Twilight Beach, and if you're visiting between June and October, you might even spot dolphins and whales migrating.
Climbing the stairs to the Observatory Point lookout is an excellent workout with a rewarding view, making it a perfect addition to your Great Ocean Drive experience.
Local Eats and Treats: 33 Degrees Esperance
After a day of exploring the wonders of Esperance, unwind at 33 Degrees Esperance, a newly renovated waterfront pub along the Esperance Esplanade with a great view of the Bay of Isles. Enjoy a selection of craft beers, cocktails, and delicious pub grub, including burgers, pizzas, salads, and more.
With live entertainment on weekends and special events throughout the year, 33 Degrees Esperance offers a chilled atmosphere, making it a perfect spot to relax and indulge in local flavours.
Local Eats and Treats: Lucky Bay Brewing
For a taste of local hand-crafted beers, visit Lucky Bay Brewing, a microbrewery in Esperance that uses barley from local farmers. With a superb selection of hand-crafted beers, this microbrewery offers a unique and authentic taste of the region.
Having picked up a few awards for their hand-crafted beers, you can be sure that a visit to Lucky Bay Brewing is a treat for your taste buds and your soul.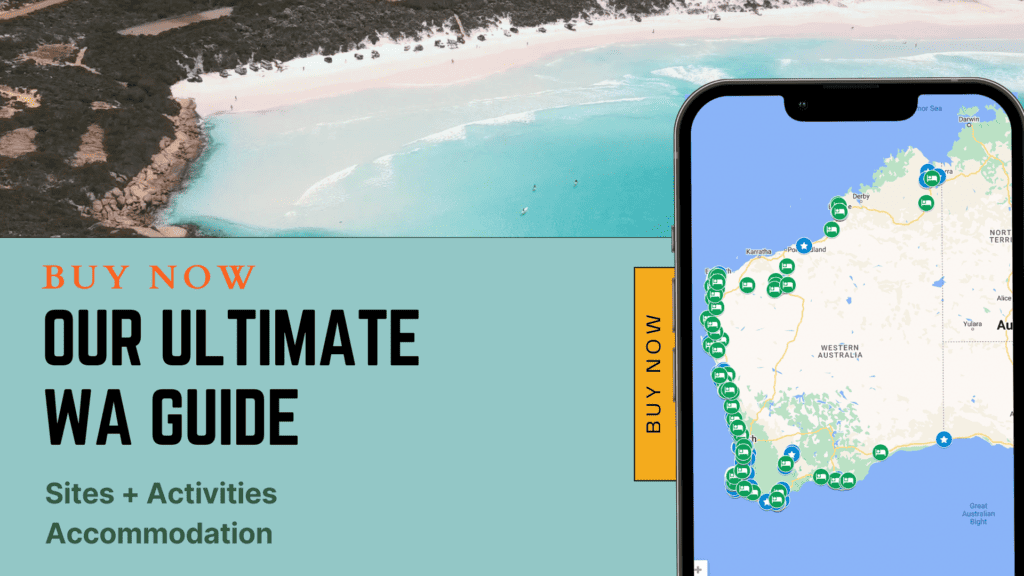 Family Fun on the Great Ocean Drive
Esperance offers a variety of family-friendly attractions to make your Great Ocean Drive adventure memorable for all ages. Adventureland Park, Esperance Bird and Animal Park Café, and Esperance Foreshore provide fun and engaging experiences for the entire family. So gather the troops and get ready to create lasting memories while exploring the wonders of Esperance.
While enjoying the beautiful beaches and stunning views of the Great Ocean Drive, don't forget to stop for a treat at the food and ice cream vans in the Twilight carpark. Satisfy your cravings and fuel up for more exciting adventures as you continue to explore the breathtaking beauty of Esperance and its surrounding attractions.
Navigating the Great Ocean Drive: Transportation Tips
To fully experience the beauty of the Great Ocean Drive, consider various transportation options such as 2WD, 4WD, and bike rentals. The Great Ocean Trail, a bike or walk trail, starts in town and takes you to Twilight Beach and Pink Lake Lookout, offering an immersive experience into Esperance's bushland, limestone headlands, dunes, heaths, and seasonal plants.
Pack plenty of water, snacks, and sunscreen when cycling the Great Ocean Trail to ensure a comfortable and enjoyable journey.
Best Time to Visit Esperance
The best time to visit Esperance for pleasant temperatures and optimal outdoor activity conditions is during summer, between December and February. With various outdoor activities such as snorkelling, surfing, swimming, biking, and bushwalking, it's essential to plan your visit accordingly to make the most of your Great Ocean Drive experience.
Be sure to plan for a couple of days to explore the stunning beaches and breathtaking views Esperance offers fully.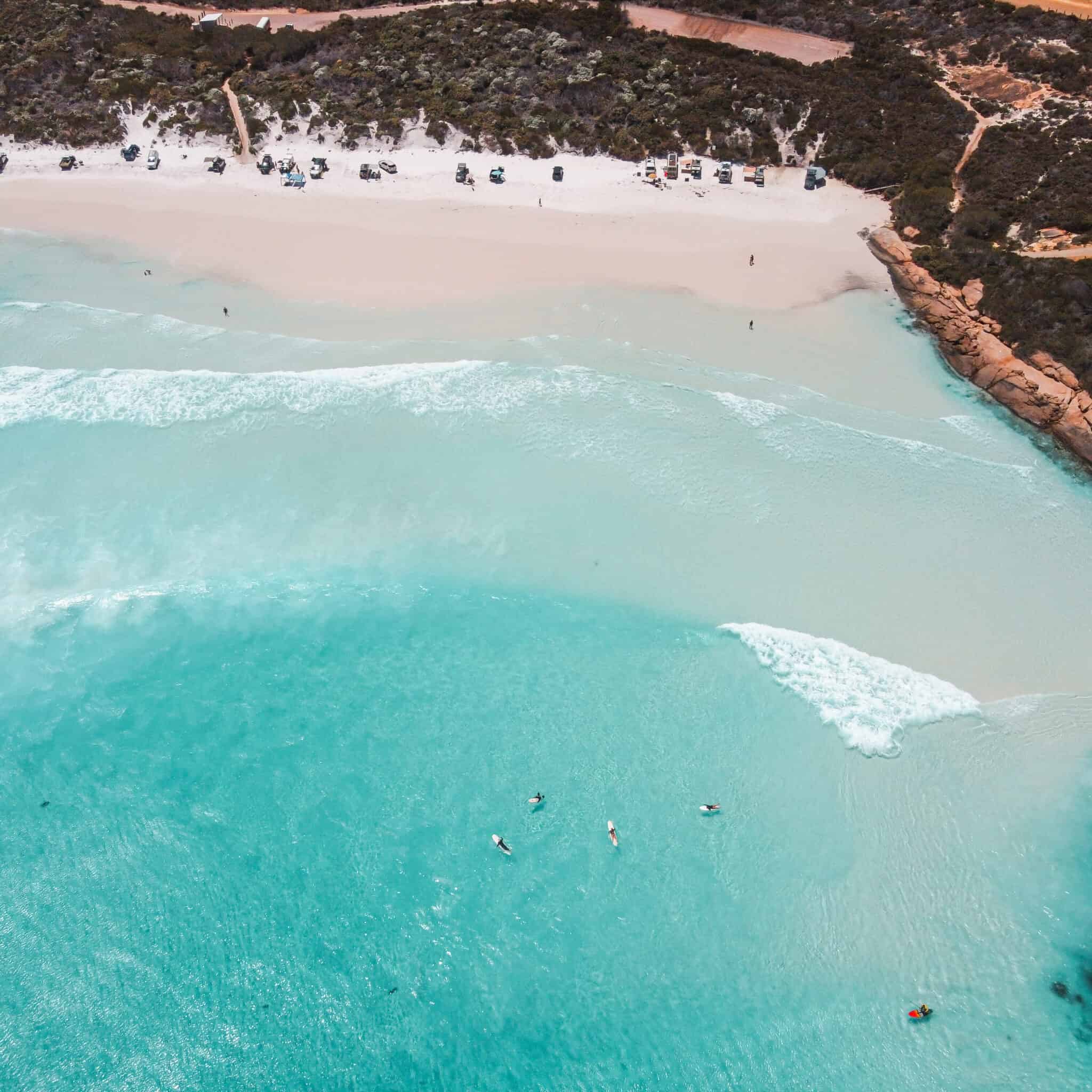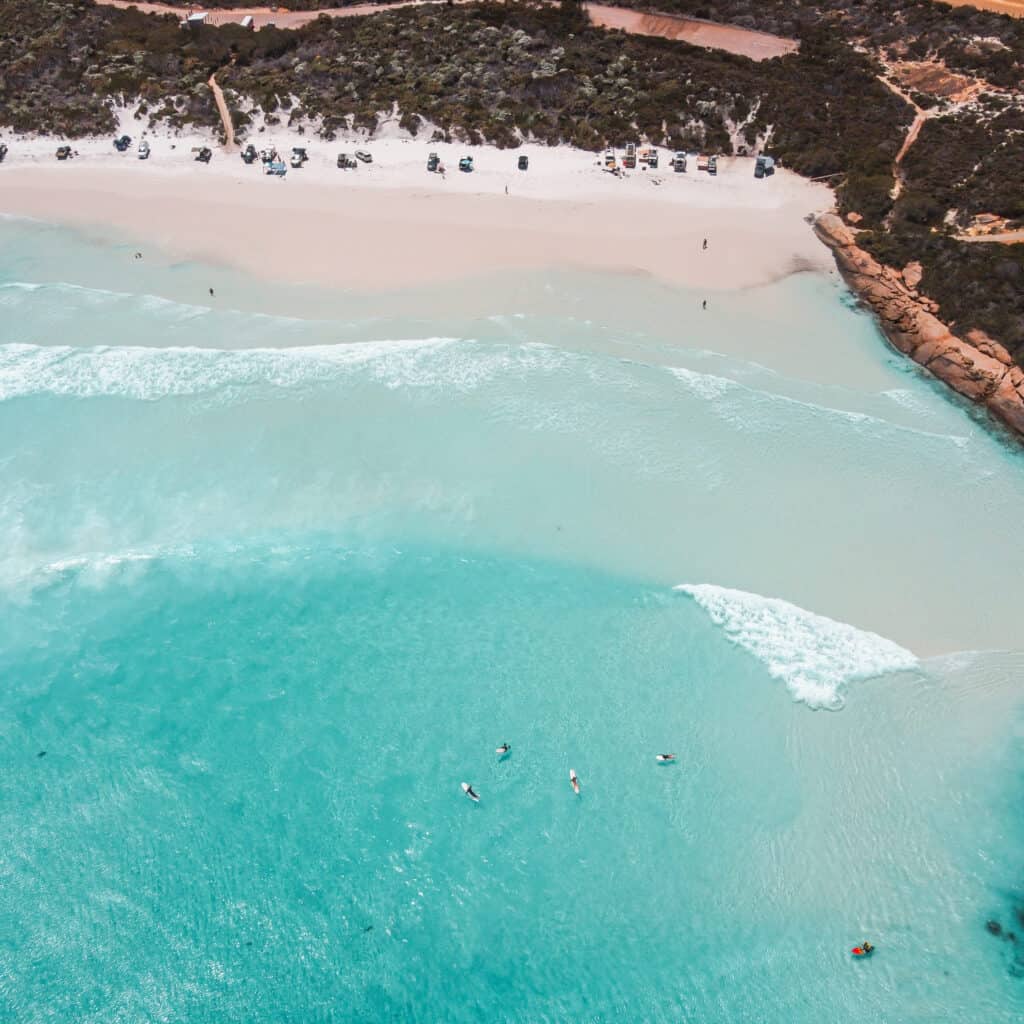 Extending Your Adventure: Cape Le Grand National Park and Nullarbor Journey
To extend your adventure beyond the Great Ocean Drive, consider visiting the beautiful Cape Le Grand National Park. Known for its amazing beaches, granite peaks, and diverse wildlife, this national park promises an unforgettable experience. Hike the 3 km trail to the top of Frenchman's Peak, or Mandooboornup, to enjoy panoramic views over Cape Le Grande National Park and explore the big cave at the end of the trail.
For a genuinely Australian road trip in Australia, embark on the Nullarbor Journey, a road trip from Norseman (north of Esperance) to Ceduna (in South Australia) that takes you through the Nullarbor Plain. This journey will allow you to witness the Australian outback's vast landscapes and breathtaking beauty.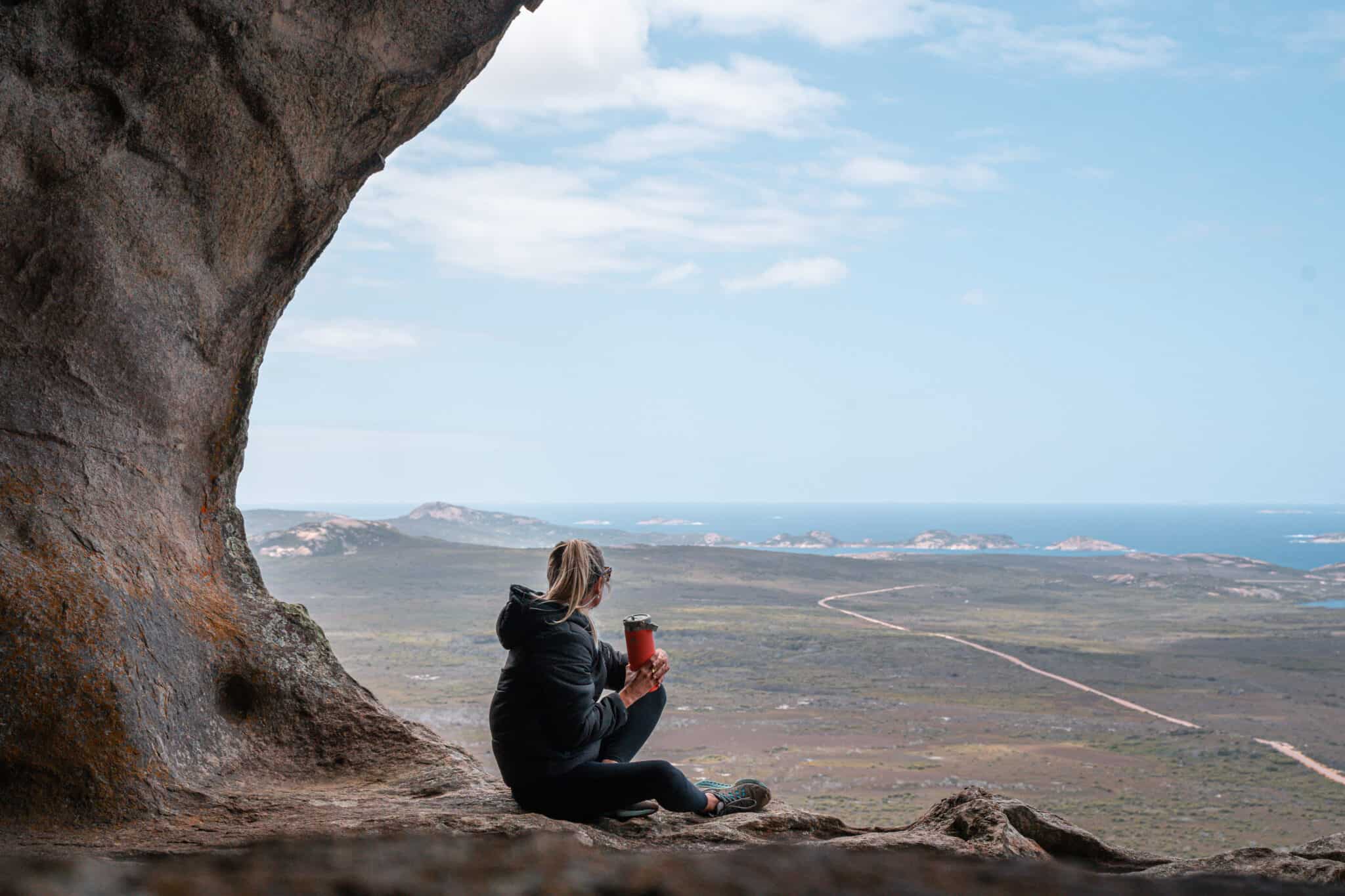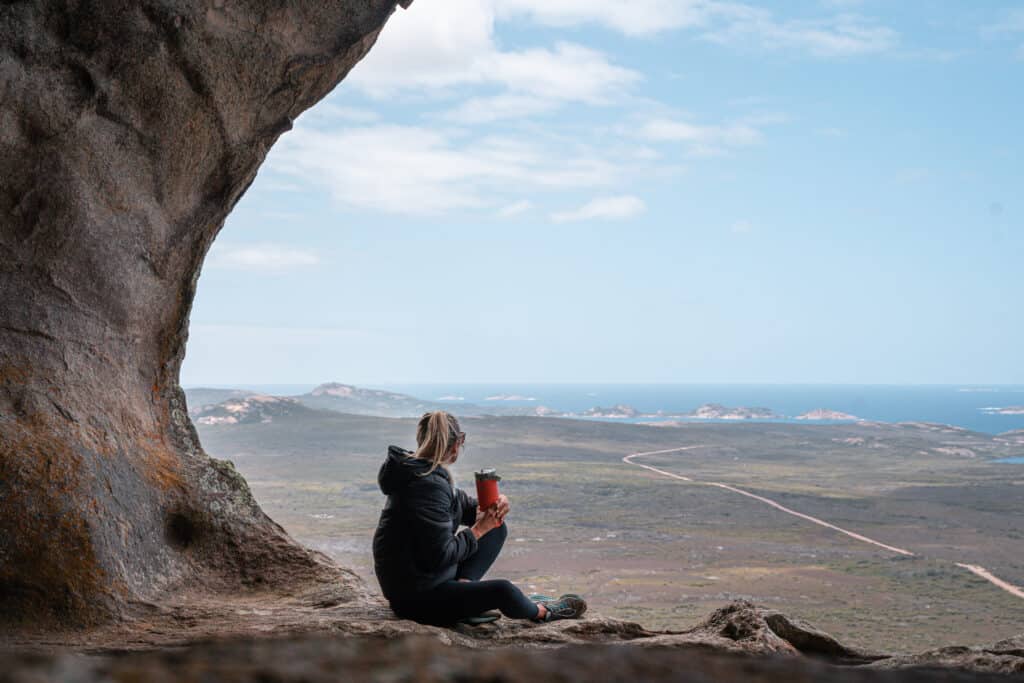 Summary
From stunning beaches and breathtaking lookouts to unique art galleries and local eateries, Esperance's Great Ocean Drive offers an unforgettable experience for every traveller. With 14 must-see attractions and an array of family-friendly activities, there's something for everyone to enjoy in this beautiful coastal region of Western Australia. So pack your bags, gather your loved ones, and embark on an unforgettable journey filled with adventure, beauty, and wonder.
Frequently Asked Questions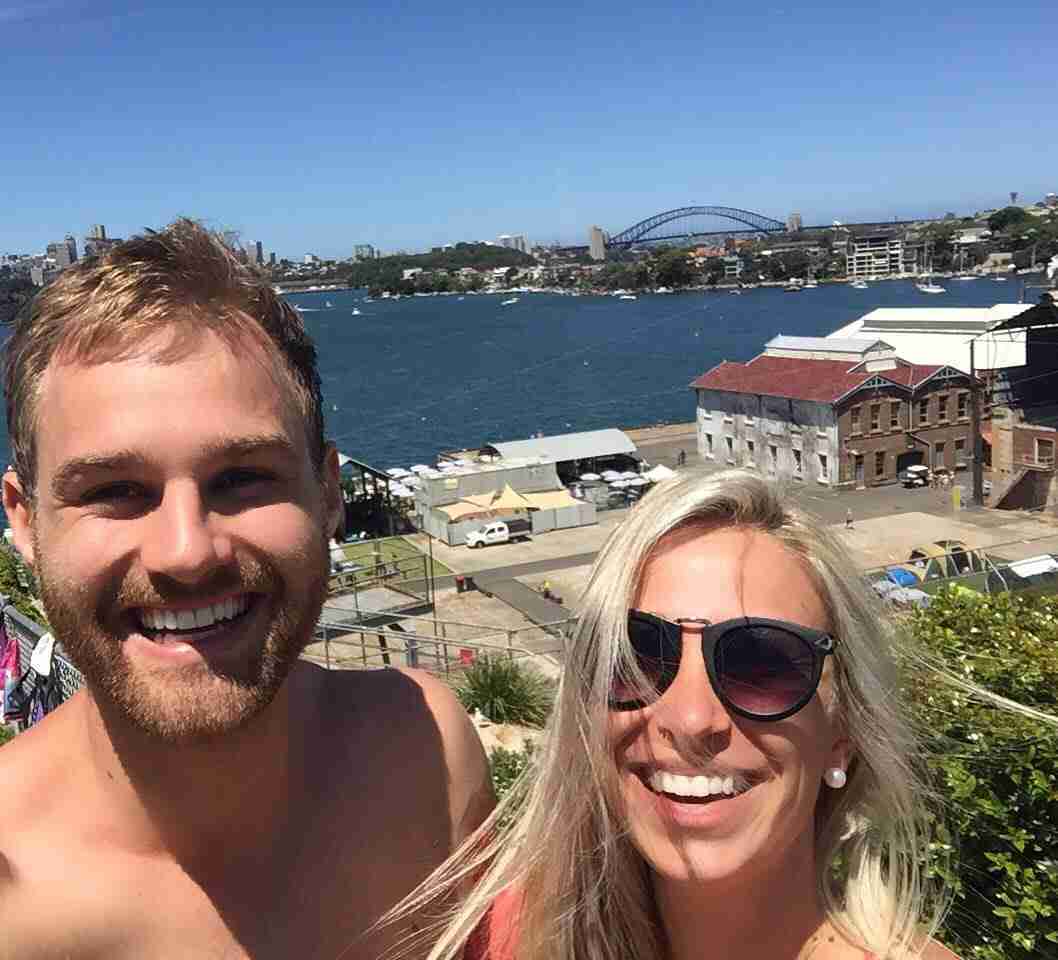 Wade & Dani
Hi! We're Wade and Dani, We're currently travelling around Australia in our 2017 Mercedes Sprinter Camper van and sharing our best experiences, stories, reviews and adventures as we go along. Make sure you follow us on Instagram @wadeanddani