Exploring Frenchman Peak:
All You Need to Know
Adventure awaits at the breathtaking Frenchman Peak Trail, a popular hiking destination in Cape Le Grand National Park, Western Australia.
Get ready to uncover its unique geological features, rich Aboriginal heritage, and practical tips to make your hike a genuinely memorable experience. Let's embark on this thrilling journey together!
Short Summary
Explore Frenchman Peak, a stunning granite dome in the Cape Le Grand National Park with Aboriginal heritage and an unforgettable hiking experience.
Prepare for your visit by planning and packing essentials like water, snacks & sun protection.
Check out nearby attractions after your hike, such as Lucky Bay Beach.
Discovering Frenchman Peak
Nestled in the stunning Cape Le Grand National Park, Frenchman Peak captures the hearts of hikers with its picturesque beauty and fascinating history.
Steeped in Aboriginal heritage and named after the hats worn by French troops in the 1800s because of the rock's resemblance, this granite dome offers an unforgettable hiking experience for those who venture to its summit, and the hike to the summit is impressive.
Geographical Features
Frenchman Peak, a magnificent granite dome, rises 242 meters above sea level and dominates the landscape of Cape Le Grand National Park with its massive rock outcrops. Its unique granite and gneiss form makes it a geological marvel, offering breathtaking panoramic views of the surrounding area and ocean.
From the summit, you'll be treated to an unparalleled vantage point, with sweeping views of Lucky Bay, the southern coastline, and the Recherche Archipelago. The awe-inspiring scenery will make the challenging hike worth every step.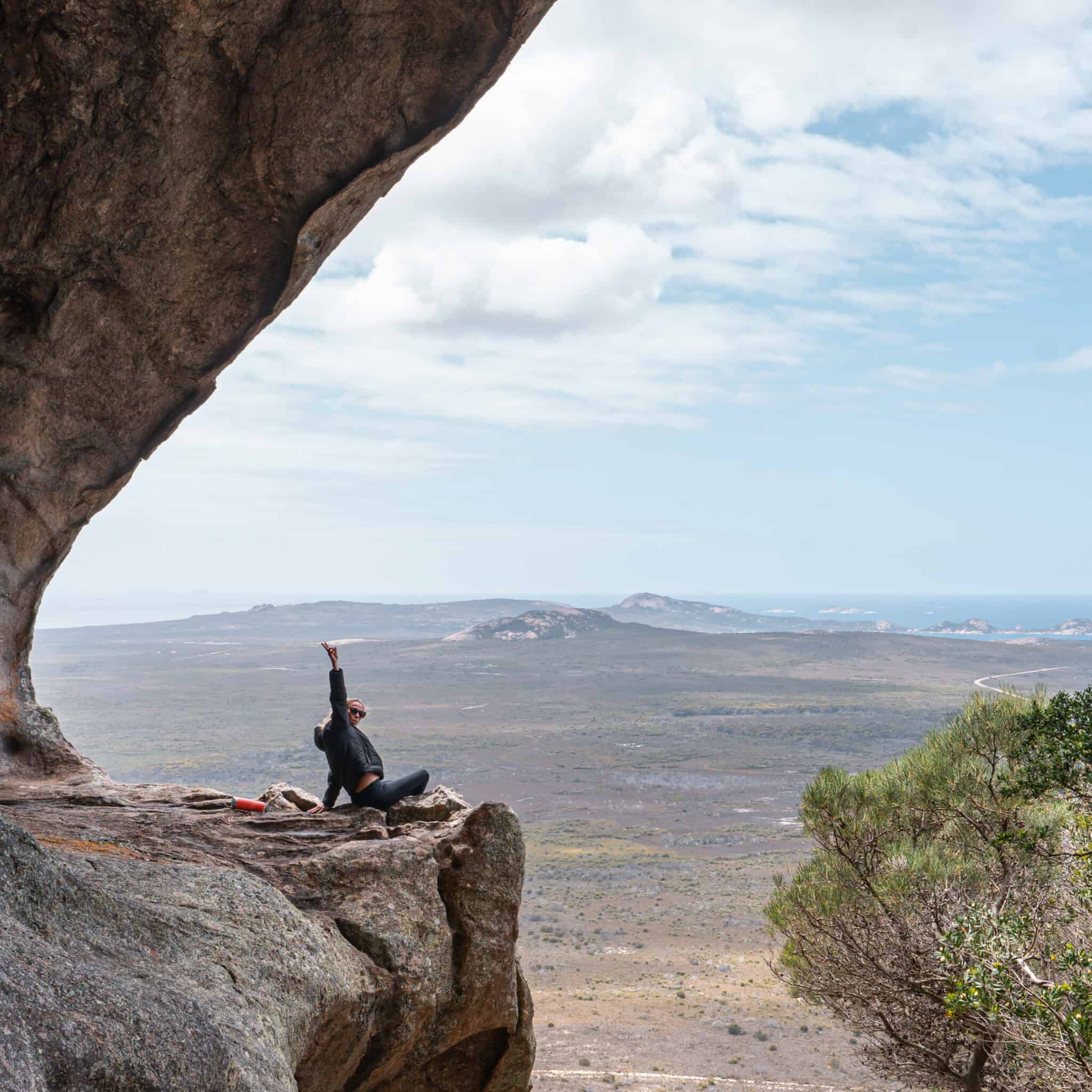 Aboriginal Heritage
The Aboriginal name for Frenchman Peak is Mandooboornup, a testament to its rich cultural history and significance in the region. The peak holds a special place in the local Aboriginal culture.
The Aboriginal story behind Frenchman's Peak tells of two eagles that flew down to Esperance and landed in Cape Le Grand. While the father eagle ventured to Stokes Inlet in search of food, the mother eagle established a nest and deposited her eggs in this location. A group of aboriginal people were camping nearby, and two children from the group stole the eagle's eggs.
Upon discovering her missing eggs, the mother eagle caught the two children, lifted them, and dropped them to the sea along the southern coastline. Each time the children swam back to shore, the mother eagle would seize them and repeat the process of casting them out to sea once more.
Two rocks offshore are believed to symbolise the children, while Frenchman Peak represents the mother eagle vigilantly overseeing the sea, ready to prevent the children's return.
Planning Your Visit to Frenchman Peak
Before embarking on your Frenchman Peak adventure, planning your visit is essential. This includes gathering travel information about how to get there, as well as understanding the facilities available on-site.
Let's dive into the details to ensure a smooth and enjoyable experience.
If you don't have your own car, we recommend renting one for the drive to Esperance. 
From Perth to Frenchman Peak
Located approximately 750km from Perth, reaching Frenchman Peak requires an 8-9 hour drive through the scenic landscapes of Western Australia. The journey is an adventure, taking you through charming towns and picturesque countryside as you make your way to the captivating Frenchman's Peak.
From Esperance to Frenchman Peak
For those travelling from Esperance, Frenchman Peak is a mere 57km away, accessible by a 45-minute drive. Take Fisheries Road east out of Esperance, turn right onto Merivale Road, and follow it until you see the signs for Cape Le Grand. Once you reach the area, continue your journey on Cape Le Grand Road to explore the breathtaking surroundings.
The anticipation builds as you approach the majestic peak, ready for the adventure.
Watch our Youtube video on Esperance below:
Parking Facilities
Upon arrival, you'll find a sealed car park at the base of Frenchman Peak, with space for up to 15 vehicles. This convenient parking area provides easy access to the trailhead, allowing you to begin your hike without hassles.
Just ensure you arrive early during the peak season to secure a spot!
The Frenchman Peak Hike Experience
The Frenchman Peak hike offers a challenging yet rewarding experience for those willing to take on its steep inclines and rugged terrain. In this section, we'll delve into the trail's difficulty and duration and highlight some unforgettable sights you'll encounter.
The trail is rated as a moderate to difficult hike, with a total return distance of only 3km.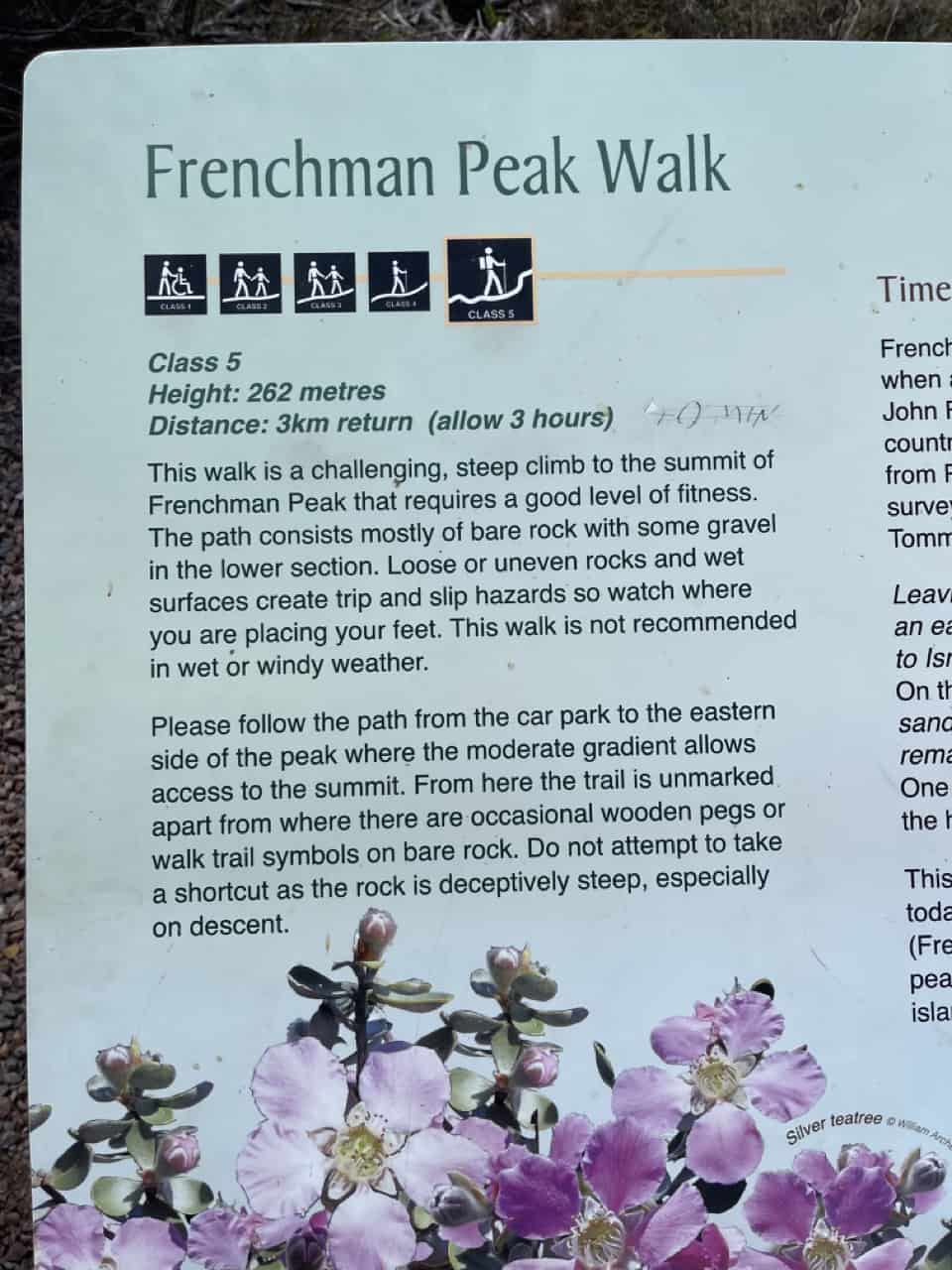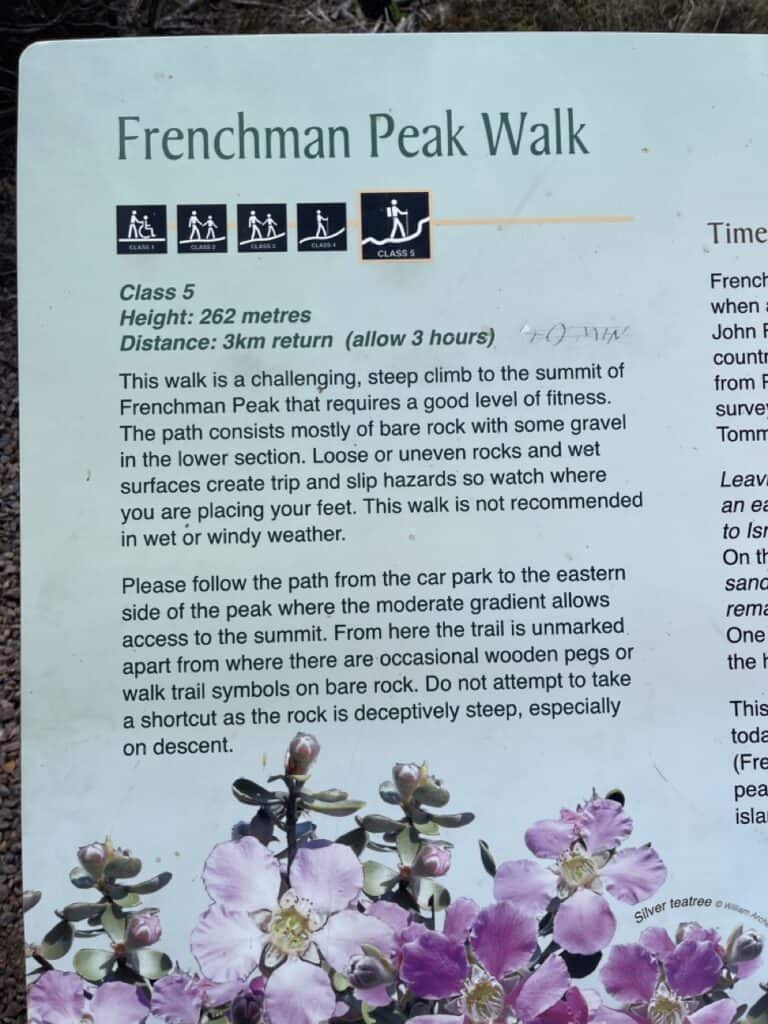 Trail Difficulty
Rated as a grade 5 trail, the Frenchman Peak hike is recommended for experienced bushwalkers due to its steep and rugged path.
The deceptively steep climb can be even more challenging in wet or windy weather conditions, so it's crucial to prepare accordingly and assess your skill level before embarking on this exhilarating adventure. Start by following the footpath from the car park to the easy angled east slope.
Pack plenty of water, wear appropriate clothing and footwear, and follow the signs.
Duration and Distance
The Frenchman Peak hike:
Distance: 3km round trip
Duration: Approximately 1-2 hours
Terrain: Steep inclines and challenging
Views from the summit: Stunning
The summit's stunning views feel like a well-earned reward, the perfect way to cap off the journey.
Highlights of the Hike
One of the most striking features of the Frenchman Peak hike is the massive cave that awaits exploration. This cave is believed to have been formed due to waves and underwater currents shaping the landscape 40 million years ago. The peaks of Cape Le Grand were largely submerged.
The steep inclines and rugged terrain may be challenging, but the summit's panoramic views are breathtaking. As you stand atop Frenchman Peak, take in the awe-inspiring vistas of the southern coastline, the Recherche Archipelago, and the surrounding landscape of Cape Le Grand National Park. It's a sight you'll never forget.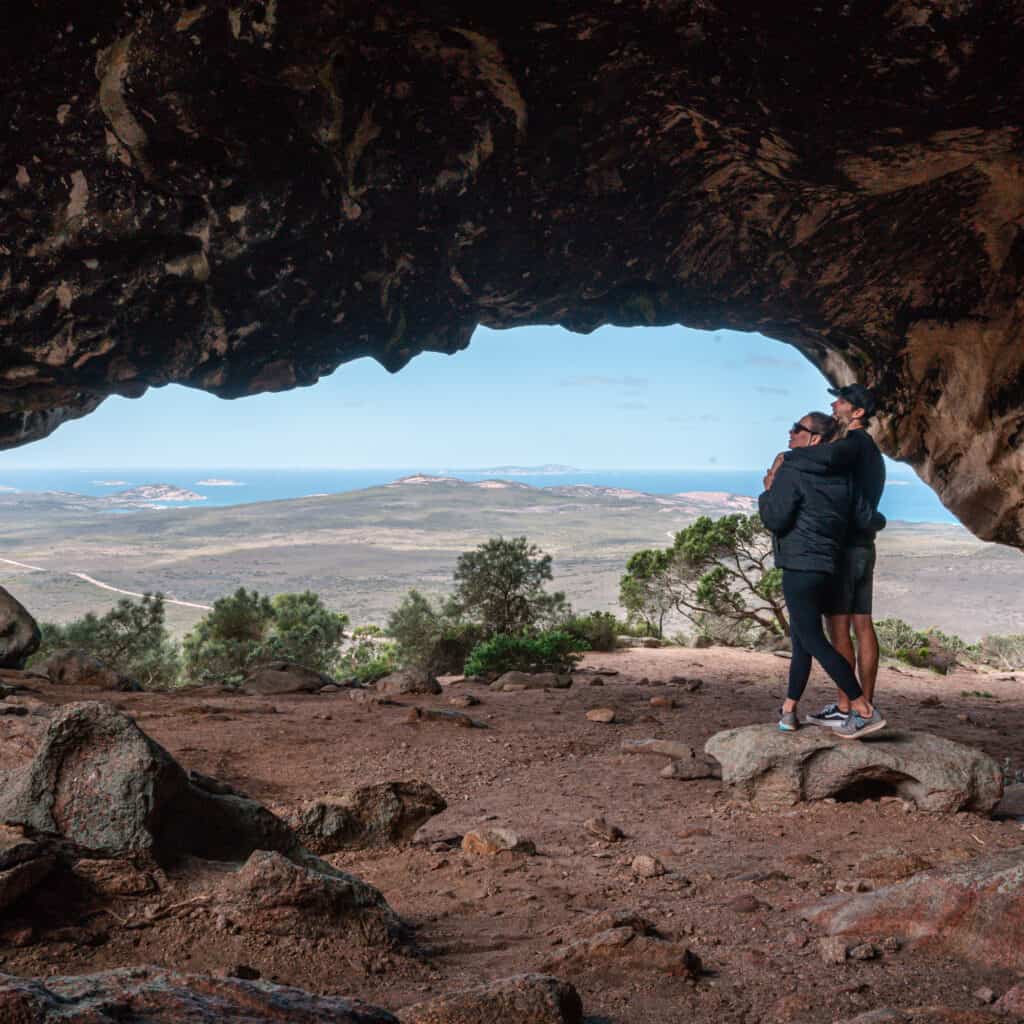 Preparing for Your Frenchmans Peak Adventure
Proper preparation is critical to a successful and enjoyable Frenchman Peak adventure. In this section, we'll share tips on the best time to visit, essential items to pack, and appropriate clothing to ensure your hike is comfortable and memorable.
Best Time to Visit
The best time to visit Frenchman Peak, and the whole Esperance area, in our opinion, is during Summer and Spring (Sep-Mar), when the weather is favourable, and the park is awash with vibrant wildflowers, such as wattles, everlastings, and orchids in full bloom. The warm and dry conditions during this time of year provide the perfect backdrop for your hike, making the experience even more enjoyable.
The best starting time for your hike will vary depending on the month of your visit. During cooler days, you can embark on the hike virtually any time. However, if you plan to hike in the summer, we suggest beginning early in the morning to avoid the intense heat that emerges around midday.
Packing Essentials
When embarking on your Frenchman Peak adventure, it's crucial to pack essentials such as:
water
snacks
sunscreen
a hat
a camera to capture the stunning views
Staying hydrated, nourished, and sun-protected is vital for a safe and enjoyable hike.
And, of course, a camera will help you immortalise the breathtaking scenery you'll encounter.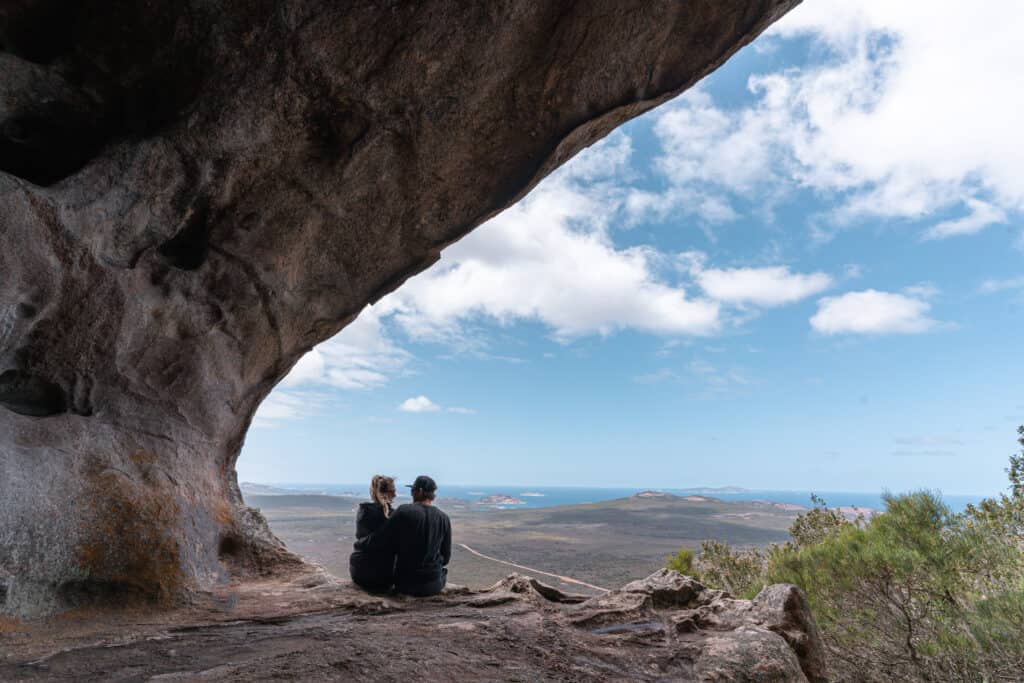 Dressing for the Hike
When dressing for the Frenchman Peak hike, opt for the following:
Comfortable and flexible clothing that allows for ease of movement
Trainers or hiking boots with good grip to tackle the steep and rugged terrain
Sun protection in the form of a hat, sunglasses, and sunscreen to shield you from the intense Australian sun.
Staying comfortable and protected will ensure a more enjoyable hiking experience.
Frenchman Peak Rules and Regulations
Before setting off on your Frenchman Peak adventure, it's essential to familiarise yourself with the rules and regulations specific to the area. This section will cover park entry fees, pet restrictions, and phone reception, ensuring you're well-informed and prepared for your hike.
Park Entry Fees
A park entry fee of $15 per vehicle is required to access Frenchman Peak. For those planning multiple visits or exploring other national parks, holiday passes for five days, 14 days, or four weeks, and all park passes for an entire year are available. You can purchase there here. These fees contribute to the maintenance and preservation of the park, ensuring its beauty and accessibility for future generations.
The fees are a great way to support the park and ensure its longevity. They also provide excellent value for money.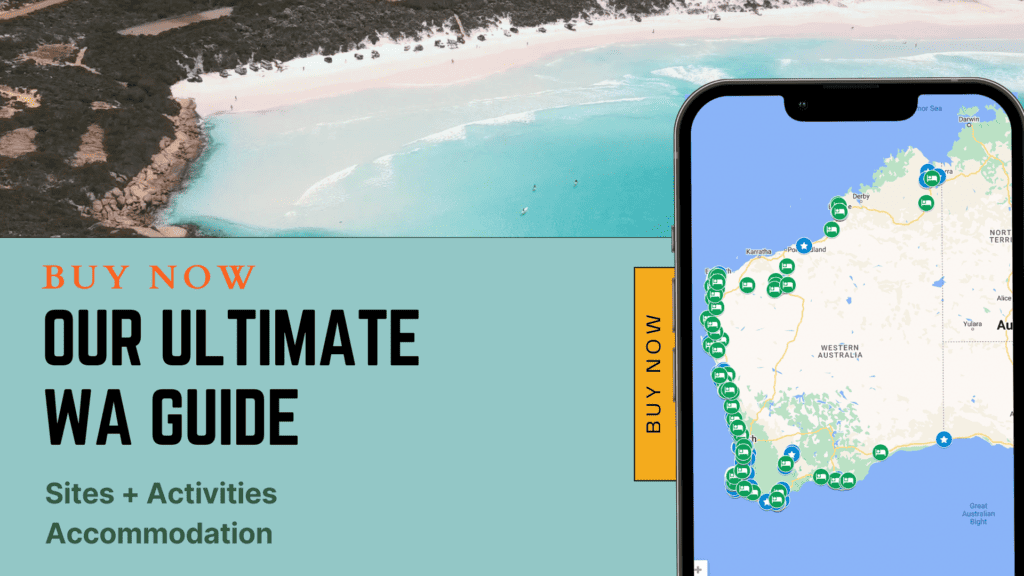 Pet Restrictions
Due to Cape Le Grand National Park regulations, pets are prohibited at Frenchman Peak. This rule helps protect the local flora and fauna, ensuring the park remains a pristine and undisturbed environment for all visitors.
Phone Reception
While phone reception may not be available in the car park area, it is generally accessible on the trail and at the summit of Frenchman Peak. This allows you to:
Stay connected
Share your incredible hiking experience with friends and family
Capture and upload photos and videos
Use GPS and navigation apps
Access emergency services if needed
All while immersed in the beauty of this remarkable landscape.
The views from the peak are breathtaking, and the experience of reaching the summit is unforgettable.
Nearby Attractions and Facilities
Aside from the captivating Frenchman Peak hike, other nearby attractions and facilities are worth exploring. In this section, we'll introduce you to the beautiful Lucky Bay and the small picnic area at Frenchmans Peak, perfect for a relaxing break before or after your hike.
Lucky Bay
Located just a 7-minute drive from Frenchman Peak, Lucky Bay offers a picturesque beach getaway with crystal-clear waters, soft white sand, and friendly kangaroos hopping along the shore. To reach this paradise, take the scenic Lucky Bay Road.
As the nearest toilet facility to Frenchman Peak, Lucky Bay is a convenient and stunning location to visit during your adventure.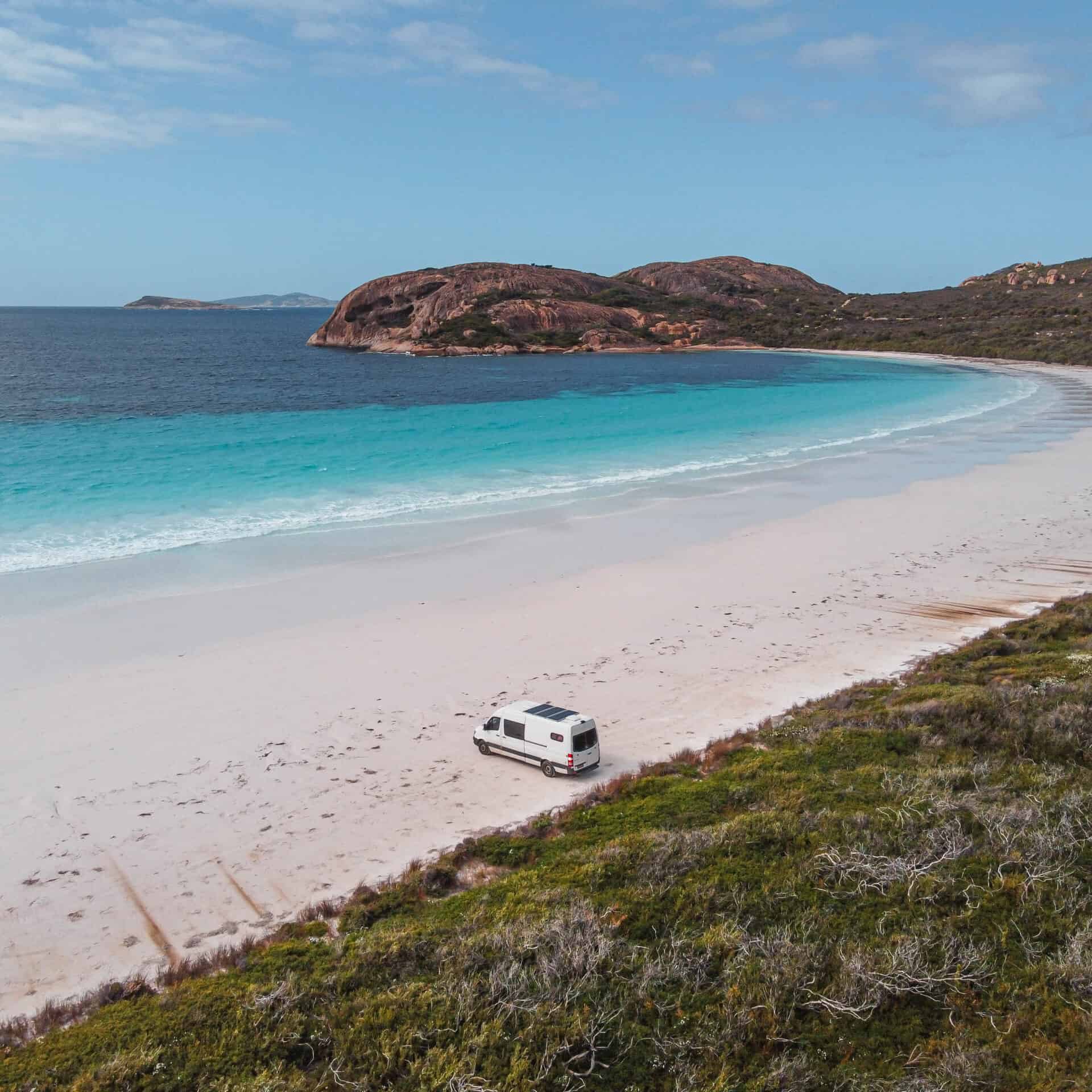 Picnic Area
A small picnic area with one bench is available at Frenchman Peak, providing a serene spot for visitors to enjoy a break before or after their hike. Take a moment to appreciate the area's natural beauty, and perhaps indulge in a well-deserved snack as you recharge for the next leg of your adventure.
The picnic area is the perfect place to take a break and enjoy the scenery. Enjoy the day!
Summary
Frenchman Peak offers an unparalleled hiking experience, showcasing the captivating beauty of Western Australia's Cape Le Grand National Park. As you embark on this unforgettable adventure, remember to plan and prepare for the challenging hike, respect the park's rules and regulations, and explore the nearby attractions. Ultimately, the breathtaking views from the summit will leave you with memories that will last a lifetime.
Frequently Asked Questions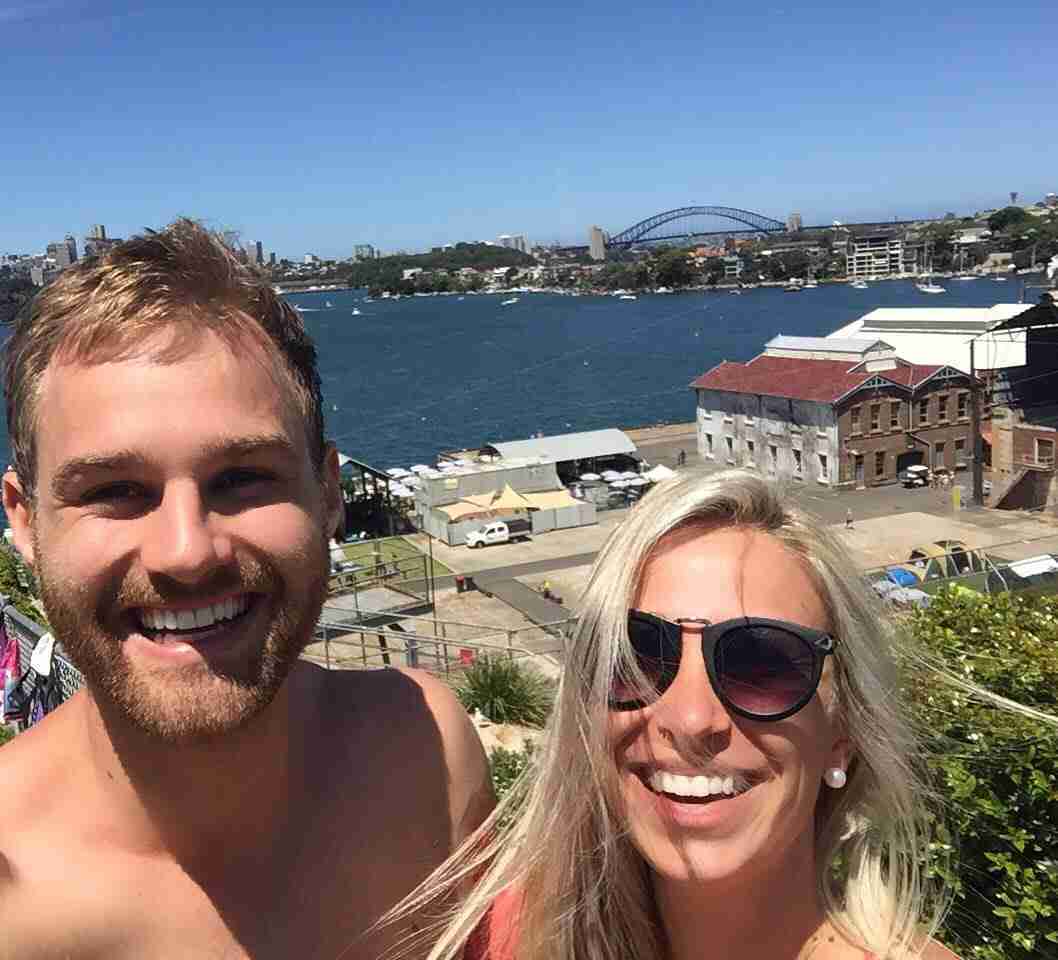 Wade & Dani
Hi! We're Wade and Dani, We're currently travelling around Australia in our 2017 Mercedes Sprinter Camper van and sharing our best experiences, stories, reviews and adventures as we go along. Make sure you follow us on Instagram @wadeanddani