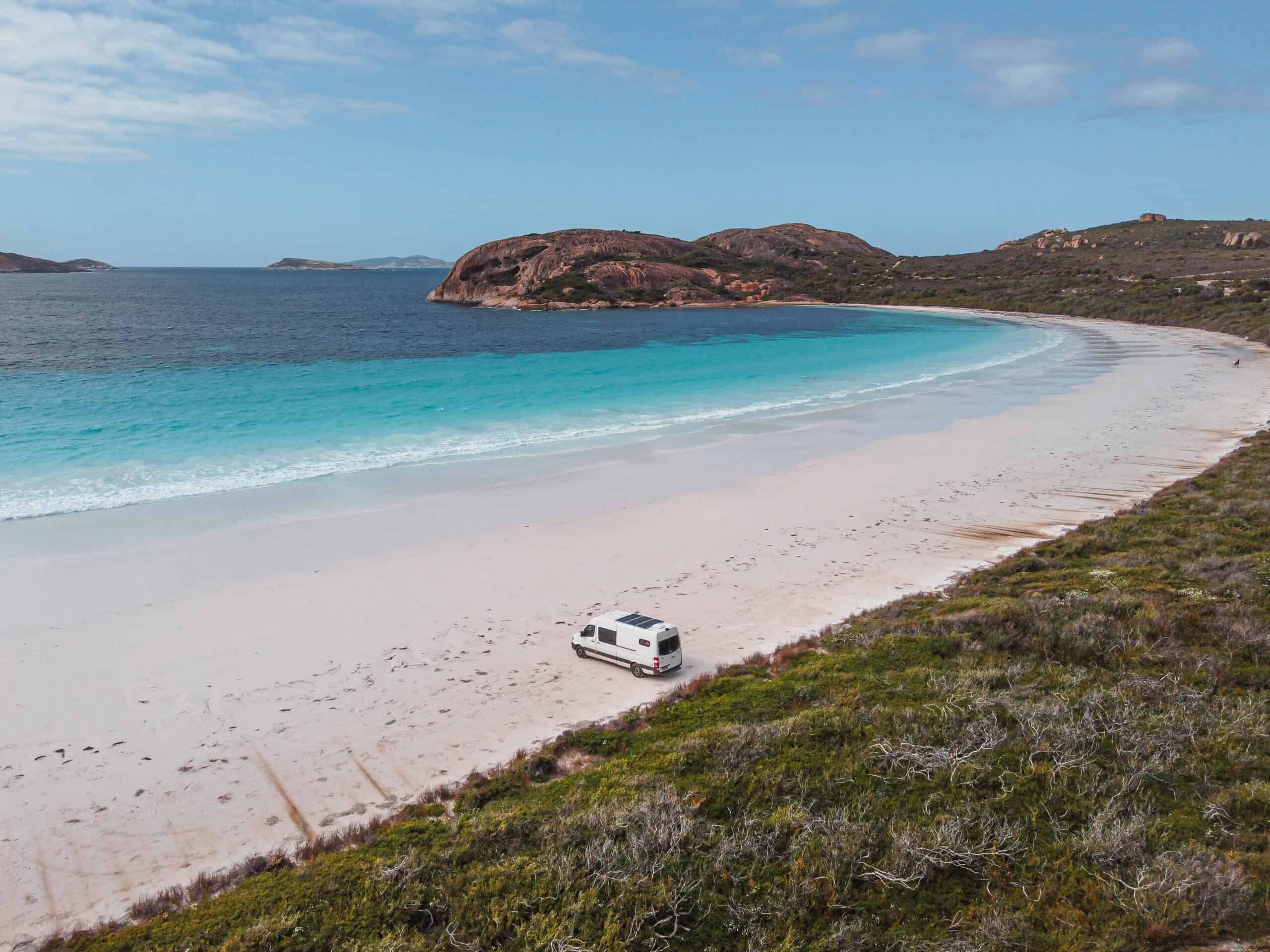 Exploring Lucky Bay: The Perfect Camping Destination in Western Australia
Imagine a perfect camping destination with white sandy beaches, crystal clear waters, and friendly kangaroos lazing around – that's Lucky Bay in Western Australia.
In this blog post, we'll guide you through the beauty, adventure, and experiences that await you at Lucky Bay, a true haven for nature lovers and adventure-seekers alike.
Short Summary
Explore the stunning panoramas, activities and wildlife of Lucky Bay in Western Australia.
Enjoy various engaging activities such as swimming, fishing & surfing at the budget-friendly campground with amenities.
Get ready for your trip by checking weather conditions and packing essential gear & supplies.
Discovering Lucky Bay
Nestled along the south coast, Lucky Bay boasts some of the whitest sand in Australia, creating a stunning contrast with its pristine turquoise waters. This beautiful beach, located within Cape Le Grand National Park, is not just about breathtaking panoramas; it's also a perfect spot for a wide range of activities. Visitors can explore the nearby reef and sand dunes or set up camp at the Lucky Bay Campground, just a stone's throw away from the beach.
During your visit, you may come across the friendly local wildlife, including kangaroos that can often be seen lazing on the beach and even taking a dip in the water. Lucky for you, Lucky! Bay got its name from Matthew Flinders in 1802 when his ship, HMS Investigator, sheltered there during a summer storm. Today, it provides a serene escape for those seeking a unique Australian beach experience.
Getting to Lucky Bay
Lucky Bay is conveniently located less than 65 kilometres (a 50-minute drive) southeast of Esperance, making it an accessible destination for camper trailers and adventure-seekers alike. To reach Lucky Bay, take Cape Le Grand Road, which leads directly to the campground. While a four-wheel-drive vehicle is recommended, it's not absolutely necessary.
Remember that some areas of the beach can be tricky for vehicles, and getting stuck in the sand is easy. Before venturing onto the beach, ask the local park ranger about the surface and tide conditions.
Always drive slowly and be mindful of other beachgoers and wildlife while on the beach, as regular road rules still apply.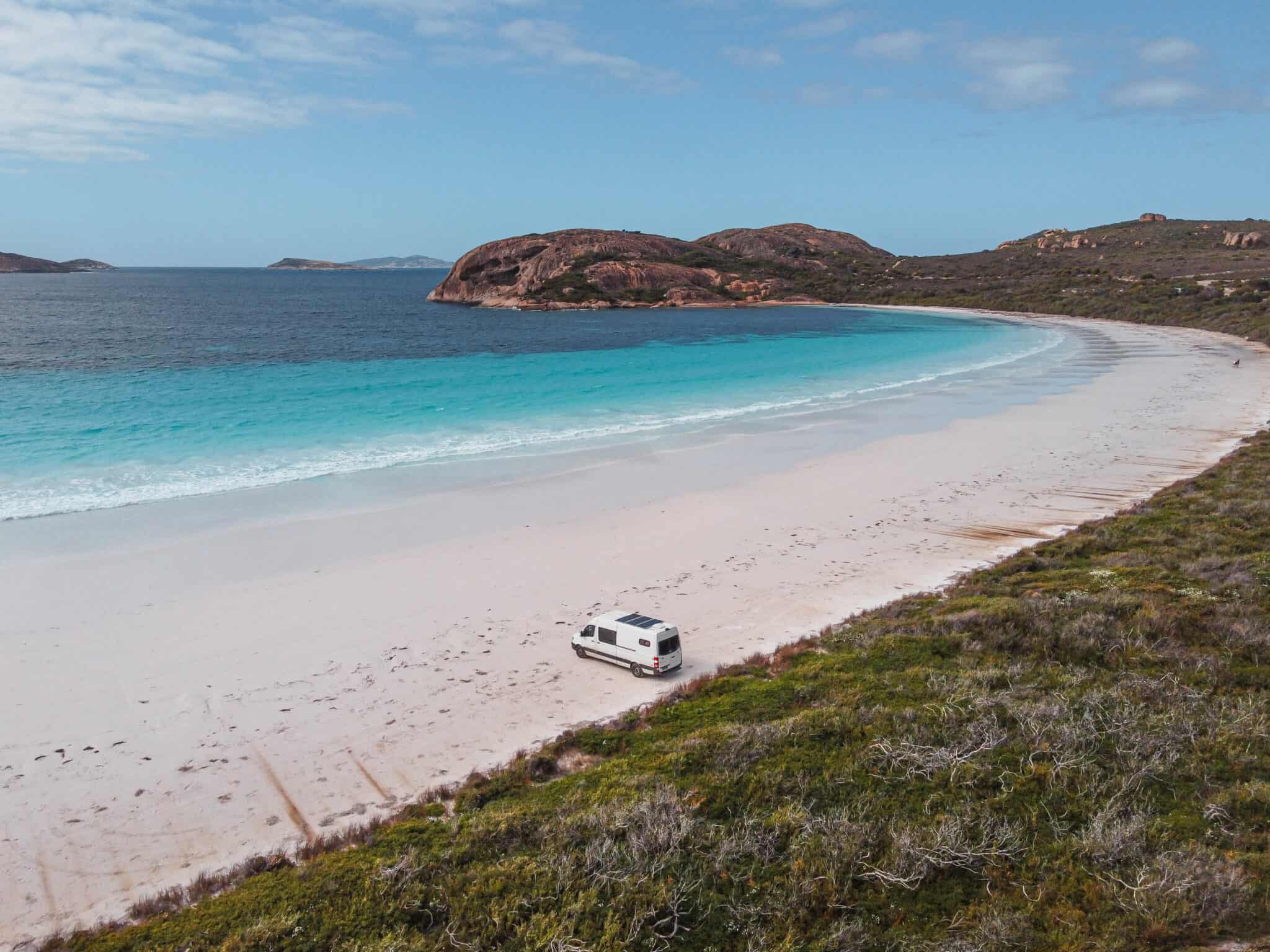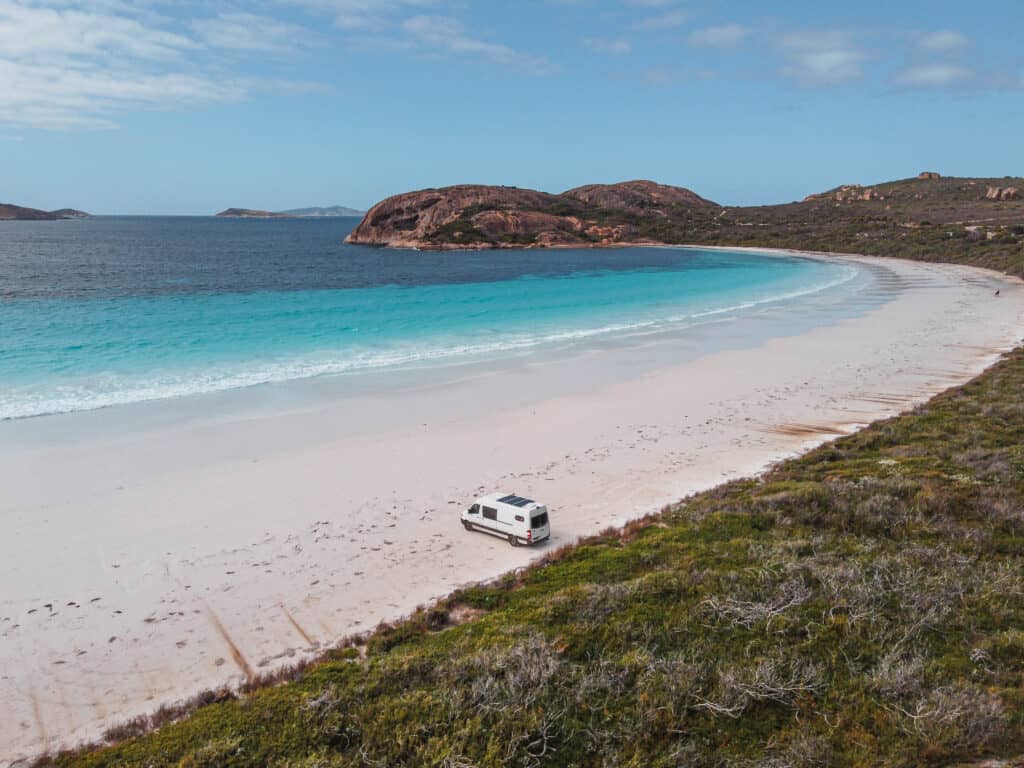 Embracing Nature at Lucky Bay
Lucky Bay's natural beauty is truly captivating, with its incredible coastline, white sand beaches, and crystal clear waters. The area is teeming with diverse wildlife and plant species, making it an ideal destination for nature enthusiasts and photographers.
The area is home to a variety of birds, mammals, reptiles, amphibians, and a wide range of native plants. Visitors can explore the area on foot, by bike, or even by boat, taking in the sights.
Wildlife Encounters
One of the most memorable experiences at Lucky Bay is the opportunity to encounter native wildlife, such as kangaroos, wallabies, emus, echidnas, and numerous bird species. The beach is a particularly popular spot for kangaroos, which can be seen lounging on the sand throughout the day. The best time to observe these adorable creatures is during the afternoon when they're most active.
While getting up close and personal with these fascinating animals is tempting, it's essential to respect their space and observe them from a safe distance. Be sure to follow local rules and regulations regarding wildlife interaction, and always prioritize the well-being of the animals.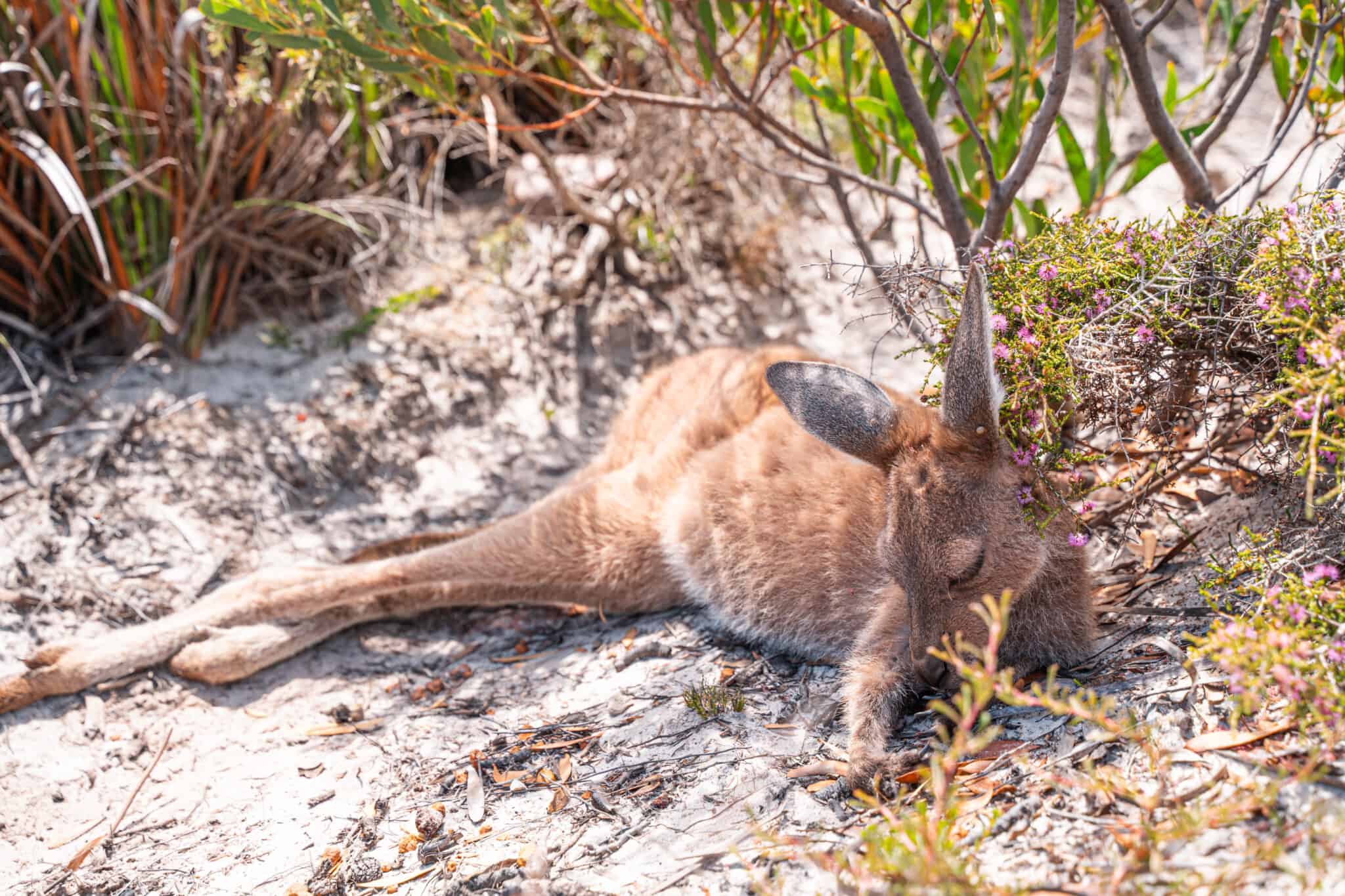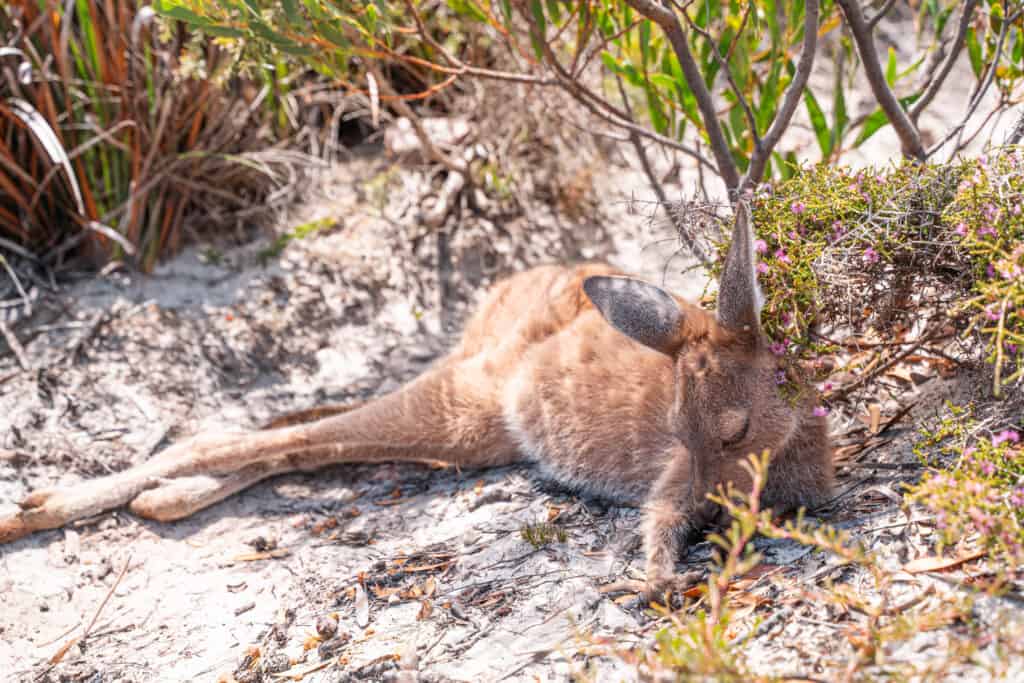 Flora and Fauna
In addition to its rich wildlife, Lucky Bay is home to various native plants, such as banksias, eucalyptus, and acacias. The area is also famous for its vibrant wildflowers, like showy banksia thickets, which add colour to the landscape.
For a comprehensive list of species in and around Lucky Bay, check out the Atlas of Living Australia. This valuable resource provides detailed information on the unique flora and fauna that thrive in this beautiful coastal paradise.
Engaging Activities at Lucky Bay
Whether you're a water sports enthusiast or a beachcomber, there's no shortage of engaging activities to enjoy at Lucky Bay. Take a refreshing dip in the sheltered bay, cast your fishing line from the shore or a boat, catch some waves while surfing, or simply stroll along the beach, through the bush, or up to the nearby hills. Lucky Bay Road offers easy access to all these activities and more.
If you're planning to launch a small boat during your visit, it's crucial to be aware of the tides and weather conditions. Always ensure that your boat and gear are correctly prepared, and follow safety guidelines for a smooth and enjoyable experience on the water.
Watch our Youtube video on Esperance below.
Staying at Lucky Bay Campground
Lucky Bay Campground offers accommodations and amenities to cater to the needs of its visitors. The campground offers 56 reverse-in campsites with compacted crushed rock surfaces. Please note that all campsites are unpowered.
Situated within one of Western Australia's beautiful national parks, Lucky Bay Campground is the perfect place to relax and enjoy the great outdoors. With a range of activities and attractions nearby, visitors can explore the stunning coastline, dip in the crystal-clear waters, and experience the natural beauty of Western Australia.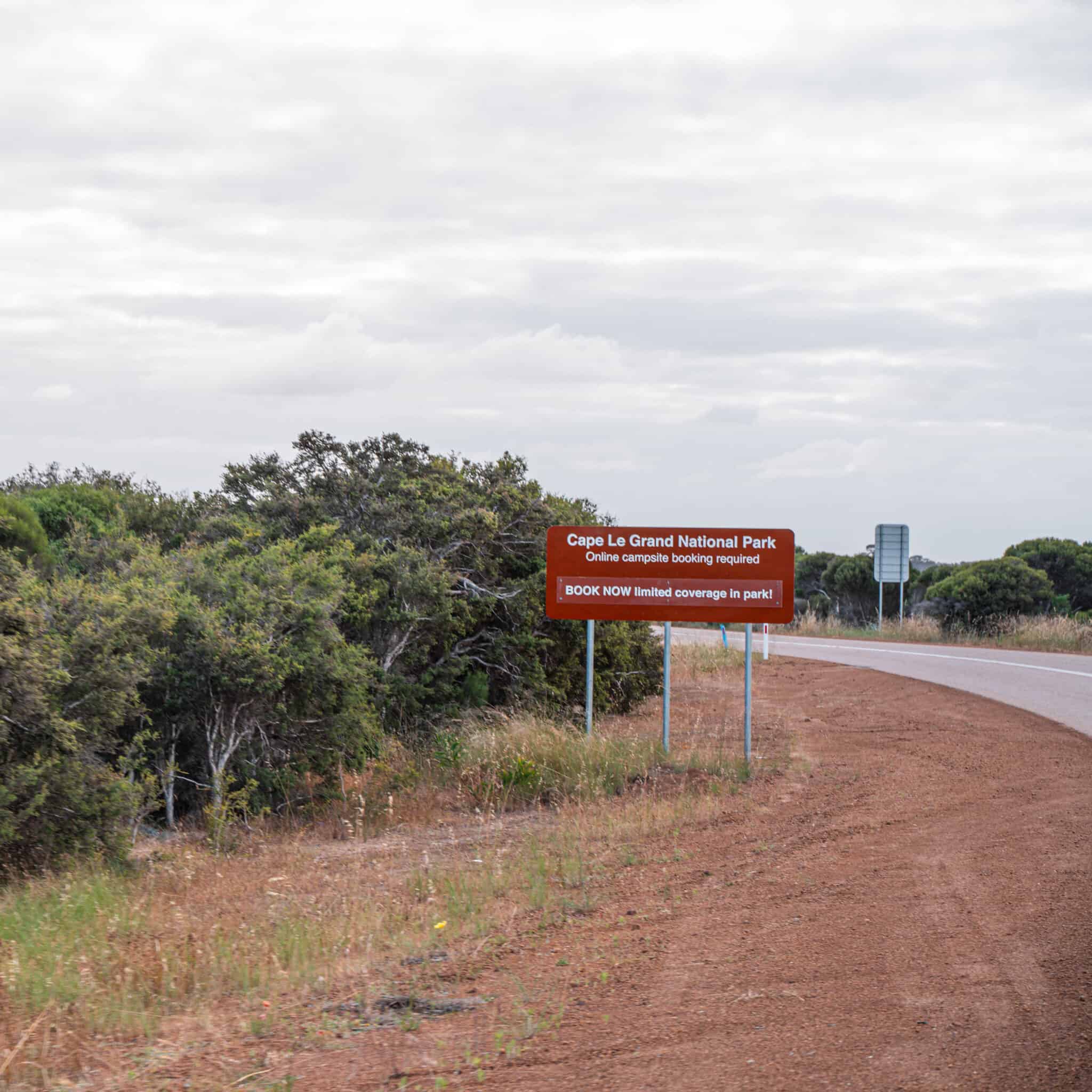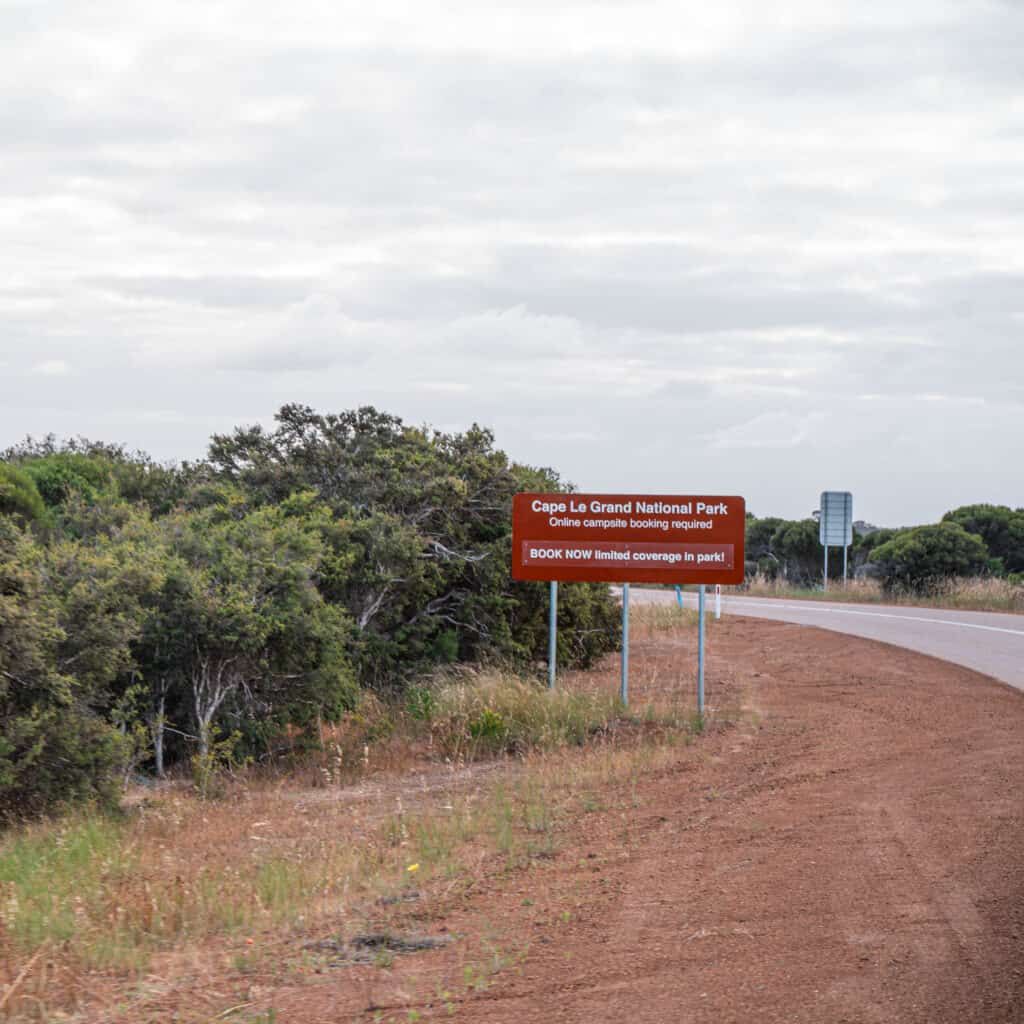 Accommodations for Different Travellers
Whether you're a couple seeking a cozy getaway, a family on vacation, or one of the many small groups camping, Lucky Bay Campground has separated individual camp sites that will blow your mind.
Keep in mind that there's a maximum stay limit of 28 days at Lucky Bay (14 days during Western Australia's public school holidays), ensuring that as many visitors as possible can enjoy this stunning destination.
Amenities and Services
During your stay at Lucky Bay Campground, you won't have access to any luxuries. The campground does not offer drinking water. There are both showers available, but hot water is not guaranteed. You will have access to flush toilets and no-flush pit toilets, shelters with gas barbecues, dishwashing sinks, food preparation surfaces, picnic tables and benches. Unsheltered gas barbecue, picnic tables and benches are also on site.
To secure your spot at the campground, you can book online up to 180 days (approximately six months) before your arrival. Fees for camping at Lucky Bay range from $8 per adult per night to $3 per child per night (over five and under 16 years). Keep in mind that availability cannot be guaranteed, and specific questions about availability cannot be answered.
Experiencing Local Culture
While the natural beauty of Lucky Bay is undoubtedly its main draw, it's also worth taking the time to learn about the local culture and history. The traditional owners of Cape Le Grand National Park, where Lucky Bay is located, are the Aboriginal people. Acknowledging and respecting their connection to the land adds a deeper layer of meaning to your visit.
In addition to its indigenous history, Lucky Bay has a unique local culture shaped by its coastal setting and fishing traditions. Immerse yourself in this vibrant community by engaging with locals, learning about their way of life, and participating in activities celebrating the region's rich heritage.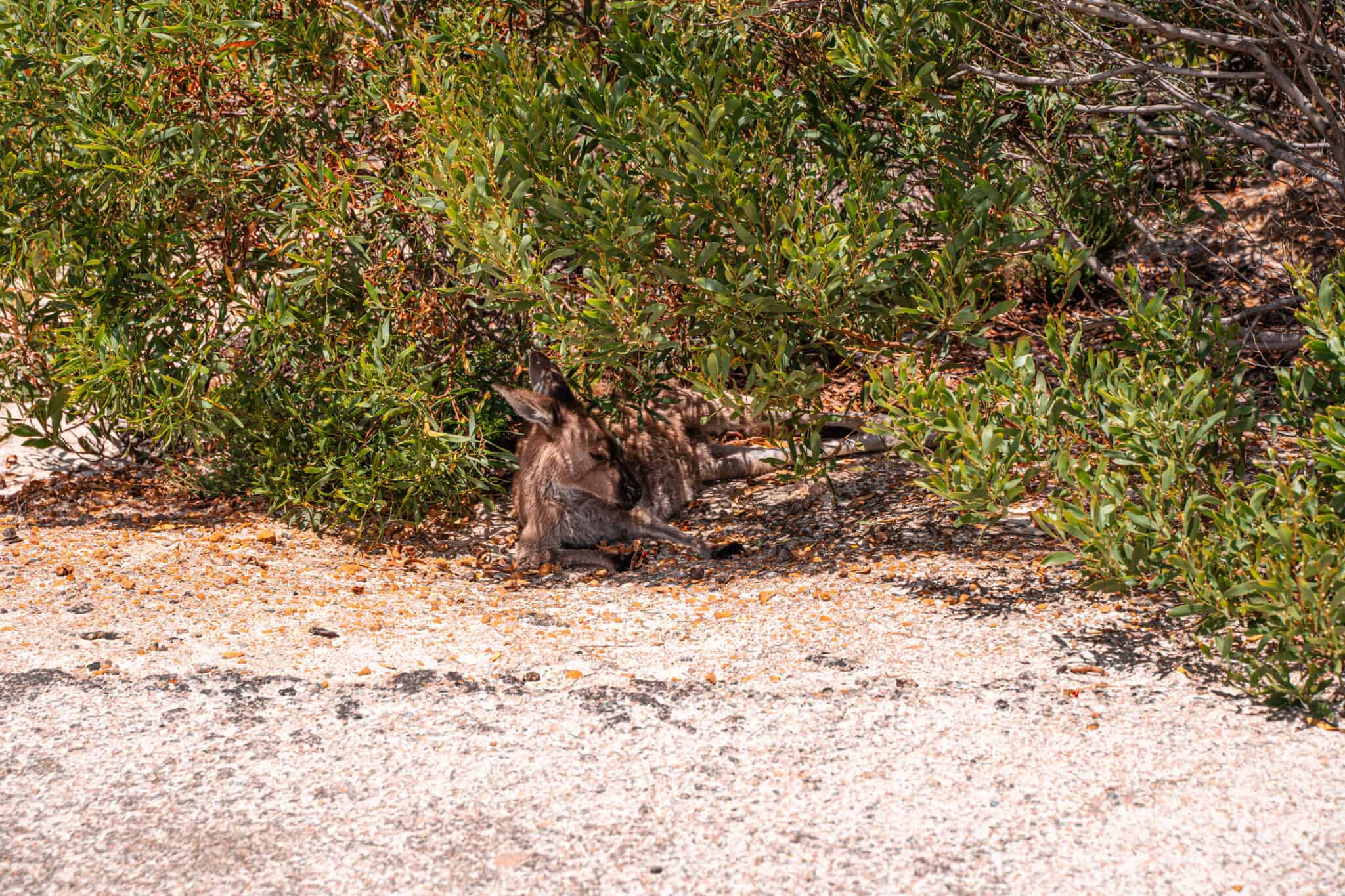 Preparing for Your Trip
To ensure a successful and memorable trip to Lucky Bay, it's essential to consider weather conditions and pack the necessary gear and supplies. From clothing suitable for unpredictable temperatures to a personal location beacon (PLB) for emergencies, being well-prepared will make your visit an enjoyable and hassle-free experience.
It's essential to check the forecast before you go and to bring the proper clothing for the conditions. Layering is a great way to stay comfortable in a variety of temperatures. A waterproof jacket and sturdy shoes are also essential.
Weather Considerations
While Lucky Bay can be enjoyed year-round, many visitors find summer the best time to explore the area. With warmer temperatures, you'll have more opportunities to experience the natural beauty and wildlife.
To avoid the crowds while observing kangaroos on the beach, we suggest visiting during the early morning or late evening hours, just before sunset.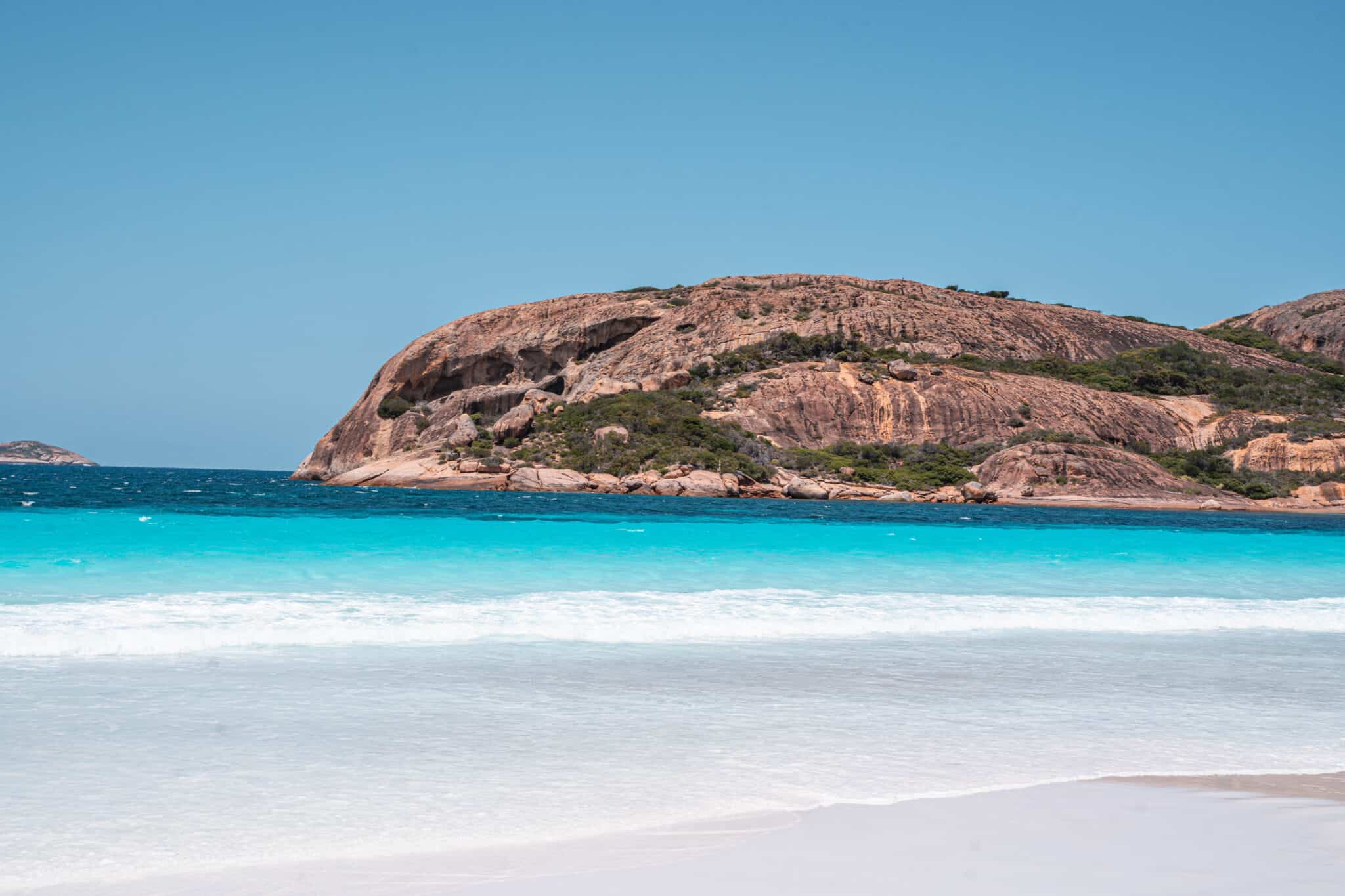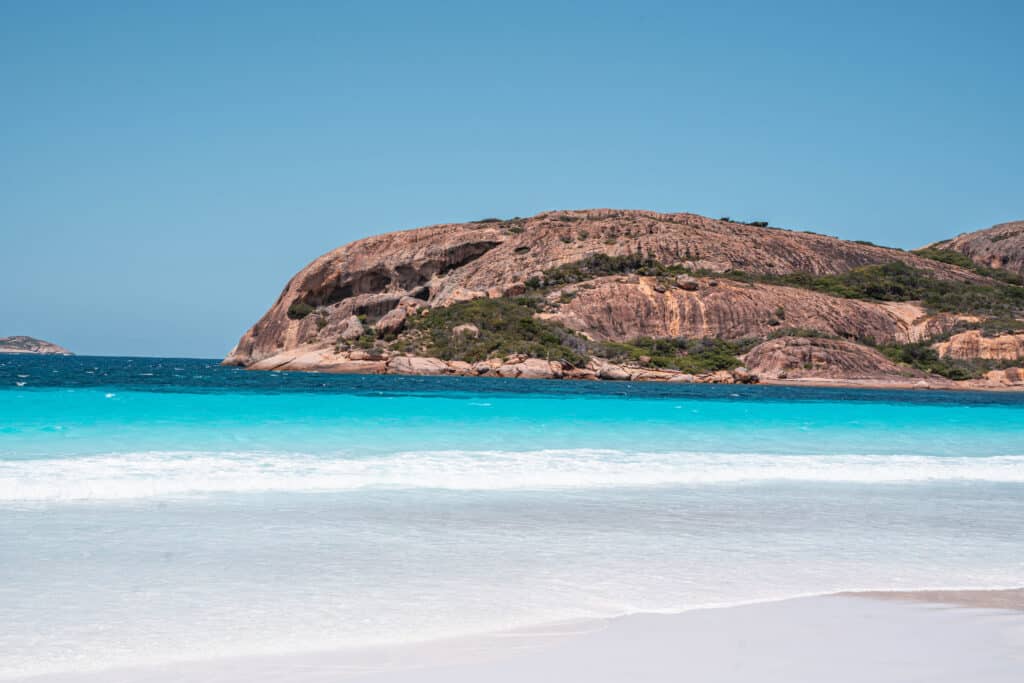 Essential Gear and Supplies
Before embarking on your adventure to Lucky Bay, ensure you have all the necessary gear and supplies for a successful trip. This includes camping equipment, a first aid kit, food, and a battery pack for charging your devices.
It's also critical to carry a personal location beacon (PLB) for emergencies, especially if you plan to venture off the beaten path or explore more remote areas. Additionally, ensure you have enough drinking water to stay hydrated and healthy during your visit, as access to clean drinking water may be limited at Cape Le Grand National Park.
Tips for Launching Small Boats
To launch small boats at Lucky Bay can be an exciting and rewarding experience, but it's essential to do so safely and responsibly. Before setting off, check the weather and tide conditions, as these can significantly impact the ease and safety of boat launching.
When preparing your boat for launch, inspect it for any damage, ensure all safety equipment is on board, and secure the boat properly to the trailer. Attach a bow line to the trailer and the boat for added security, and push the boat off the trailer slowly and steadily.
By following these tips, you'll enjoy a smooth and enjoyable boating experience at Lucky Bay.
Summary
From its stunning white beaches and crystal-clear waters to its diverse wildlife and rich local culture, Lucky Bay is an exceptional camping destination in Western Australia. Whether you're seeking adventure, relaxation, or a close encounter with nature, Lucky Bay has something for everyone. Start planning your unforgettable trip to this coastal paradise today, and experience the beauty and wonder of Lucky Bay firsthand.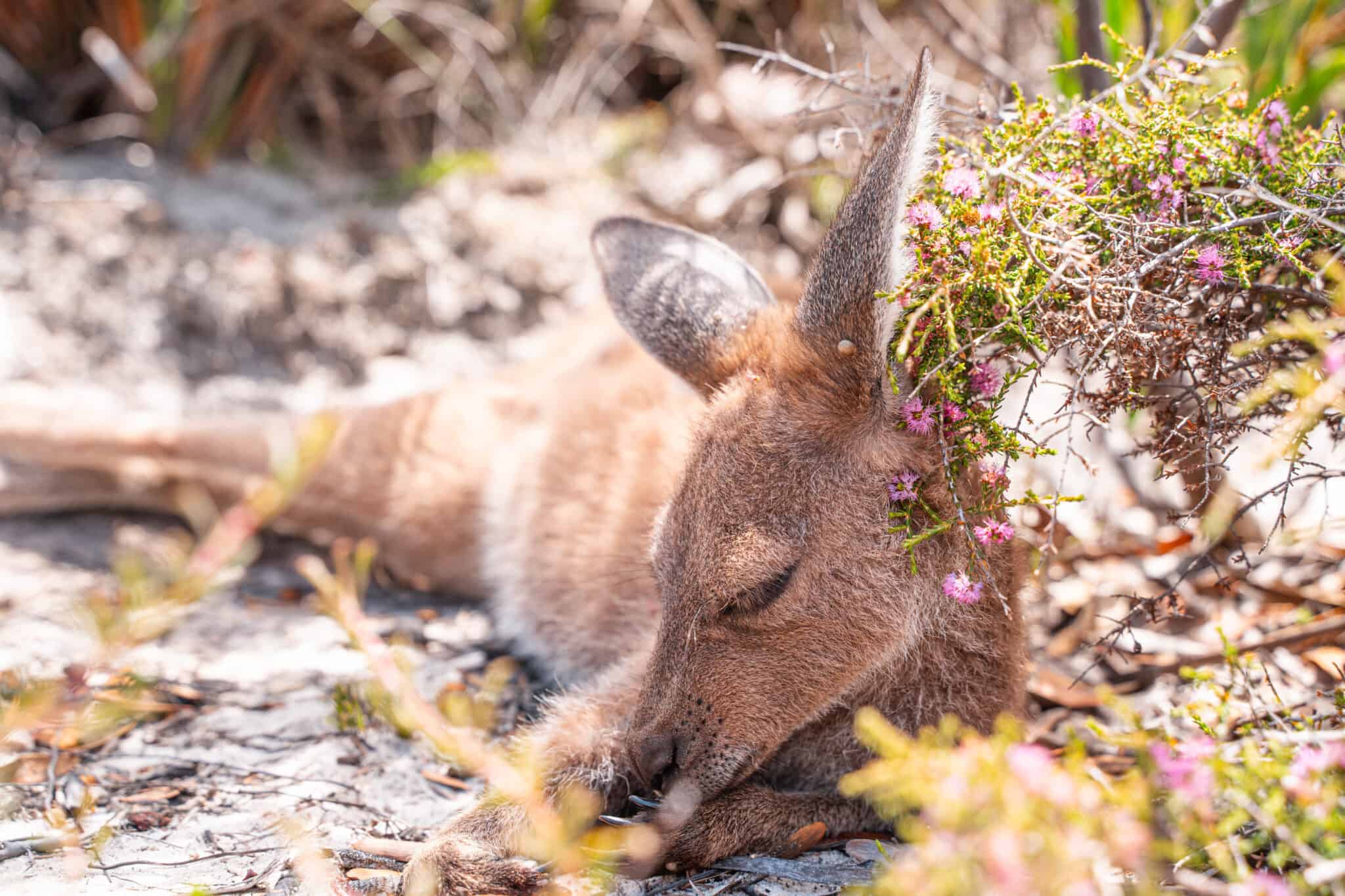 Frequently Asked Questions
Can you swim in Lucky Bay?
Yes, you can swim in Lucky Bay! The area is known for its pristine waters and gentle waves, perfect for a leisurely swim.
How much is it to camp at Lucky Bay?
Camping at Lucky Bay is quite affordable, with fees starting from just $8 per night for adults and $3 for children.
You'll also need to book a spot in advance – bookings are essential!
Is Lucky Bay free?
No, Lucky Bay is not free. There is a $15 fee per vehicle for the park entry, as well as a camping fee. Park entry fees are paid separately from camping fees and only for the first day.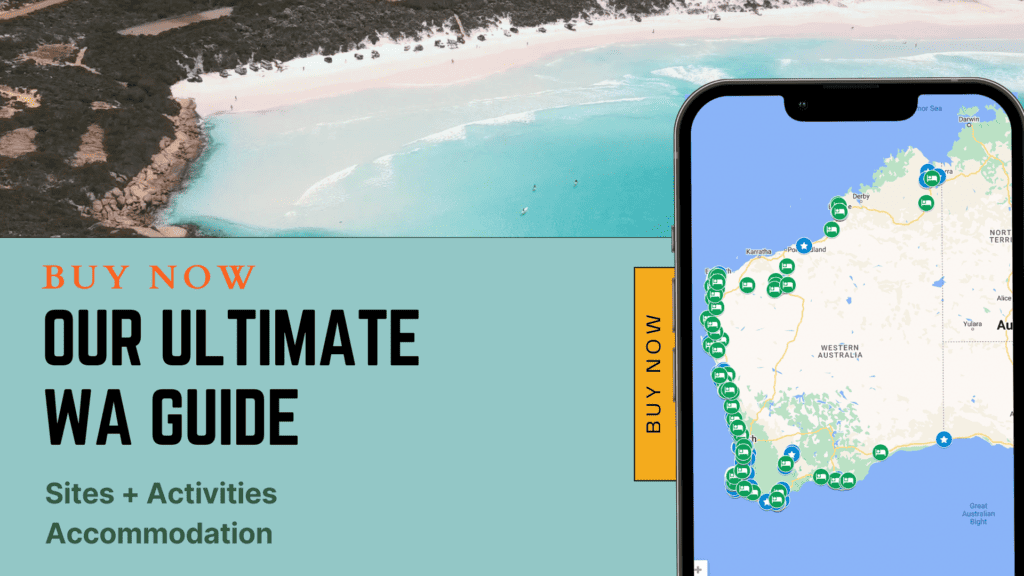 What is the best time of year to visit Lucky Bay?
If you're looking for an ideal time to visit Lucky Bay, summer is your best bet with warmer temperatures. However, if you are after peace and quiet, visiting during winter will most likely guarantee a lack of crowds.
How do I book a spot at Lucky Bay Campground?
If you're looking to stay at the Lucky Bay Campground, you can book a spot on the Department of Parks and Wildlife website. All you have to do is go online up to 180 days in advance and reserve your spot.
Happy camping!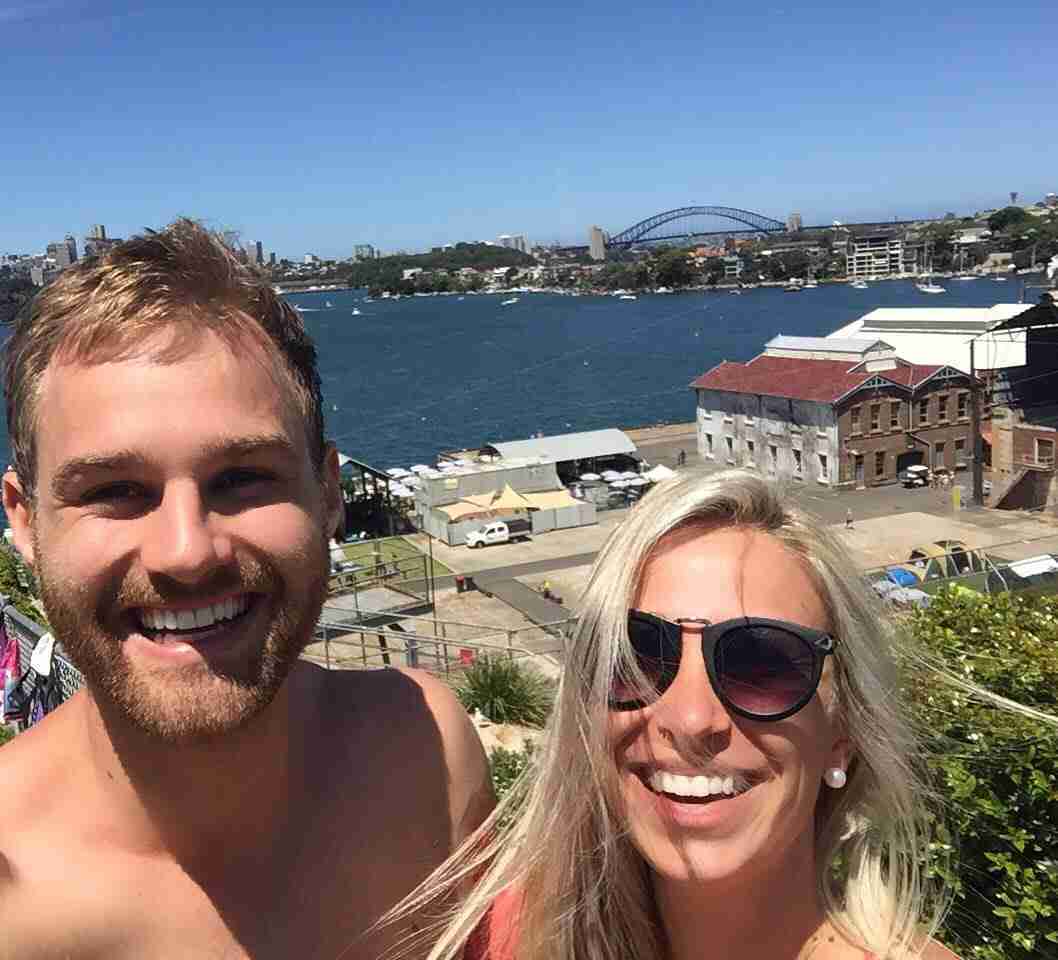 Wade & Dani
Hi! We're Wade and Dani, We're currently travelling around Australia in our 2017 Mercedes Sprinter Camper van and sharing our best experiences, stories, reviews and adventures as we go along. Make sure you follow us on Instagram @wadeanddani