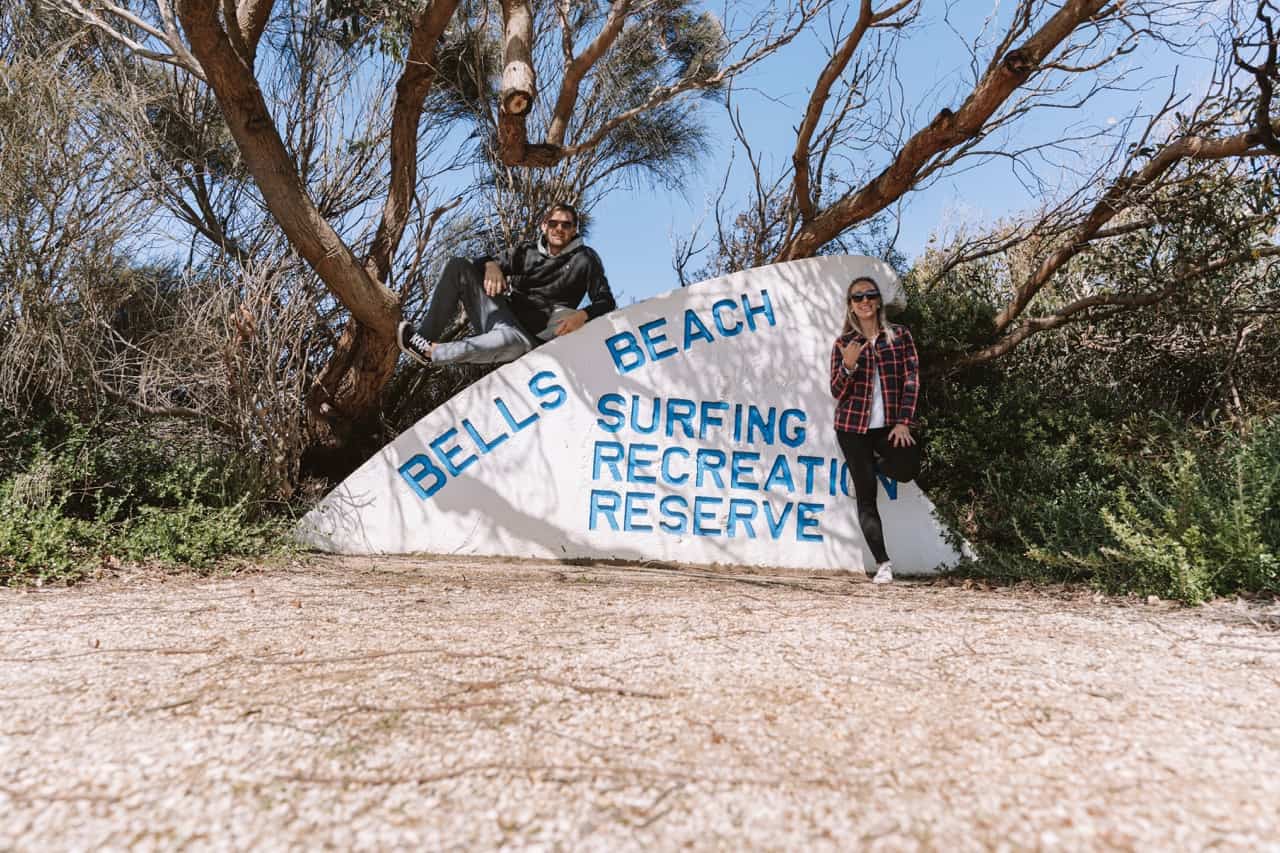 Exploring Torquay, Australia: The Ultimate Guide 
Torquay is a coastal town in Victoria, Australia, best known as the "Surf Coast" of the country, and it is the official start of the Great Ocean Road.
Located in the South West of Victoria, Torquay is Australia's surf capital. About 100km from Melbourne, it is home to some of Australia's most stunning beaches. From beachside activities to shopping and dining experiences, there is something for everyone in this seaside town.
Read on to learn more about all that Torquay has to offer. 
Need a rental car to explore Victoria? Book here
Best things to do in Torquay
1. Spend a day at the famous Bells Beach
Bells Beach is one of Australia's most renowned surfing spots, home to the world's longest-running surf competition, so it's no surprise that it's one of the top things to do in Torquay. No visit to Torquay, Victoria, is complete without a day at Bells Beach.
This picturesque beach is one of Australia's most famous surfing spots and has been featured prominently in movies such as Point Break and Endless Summer. Even if you don't surf, it's worth spending an afternoon here to take in the beauty of this iconic beach.
The beach is surrounded by an impressive cliff face and offers year-round surfing opportunities for experienced surfers and beginners.
Tours including Bells Beach: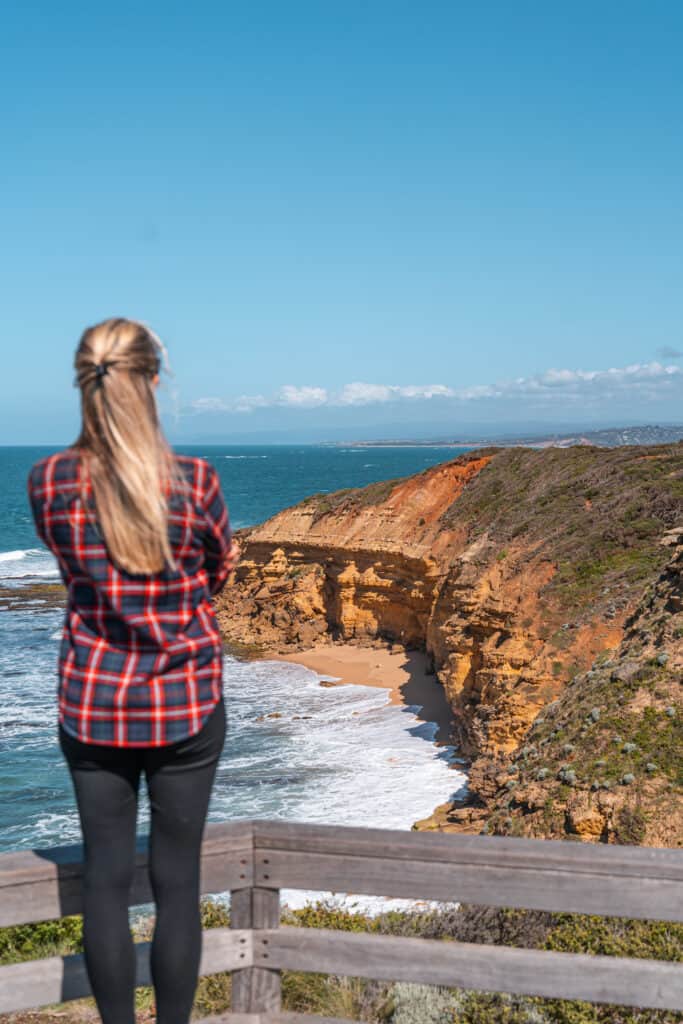 2. Visit the Australian National Surfing Museum
Did you know that Australia is home to the world's first surf museum? The Australian National Surfing Museum offers an interactive journey into the history and culture of one of Australia's most popular pastimes. From surfboards to films, photographs and interactive displays, visitors can explore over 200 years of surfing history. 
This accredited surfing museum offers visitors a hands-on experience with Australia's rich surfing heritage. Browsers can view artefacts from some of the earliest known surfboards to modern high-tech boards used by today's professional surfers.
In addition to its permanent exhibitions, the Australian National Surfing Museum also hosts various events throughout the year. From surf film festivals to educational lectures, there is something for everyone at this fantastic Torquay surf museum. And don't forget about family-friendly activities such as craft workshops, storytelling sessions and more! There are plenty of opportunities for children and adults alike to learn about Australia's vibrant surf culture.  
A visit to the Australian National Surfing Museum would only be complete with exploring its Surfers Hall of Fame. This Australian surfing hall celebrates some of the country's most influential surfers who have made big waves in the industry. Learn about their inspiring stories and achievements – all while soaking up some sunshine on your next holiday! 
3. Torquay Surf Beach
On the outskirts of town lies Torquay's closest surf beach. Torquay Surf Beach is where rookie and veteran wave-riders can enjoy a day in the sun.
The area also provides convenient accommodations for visitors; you may rent a board nearby or take part in a stimulating two-hour surfing lesson to ensure you get your journey off on the perfect foot.
Not only that but there is ample parking space as well as restroom facilities and BBQ picnic areas available too!
4. Torquay Front Beach
Torquay Front Beach is the perfect place to relax and unwind. With its picturesque strip of shoreline, gentle waves and sandy shores, this Torquay beach is a great place to spend a day with family and friends.
With plenty of restaurants and cafes nearby, you'll never go hungry. Plus, you can get there from town on foot or by car. There are parking spaces there too.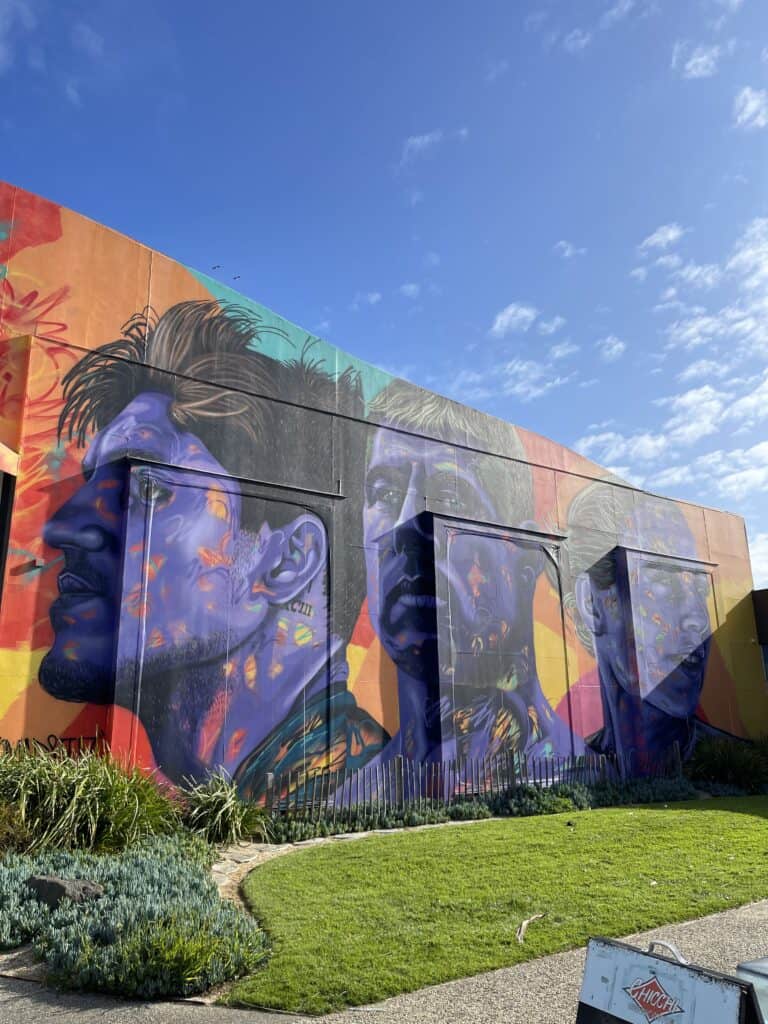 5. Point Danger Marine Sanctuary
Torquay's two beaches, Back and Front, are separated by a bustling marine oasis of limestone shelves and rocky outcrops that form an entire reef ecosystem.
Snorkelling and Scuba diving are your best bet to have a complete view of the Point Danger Marine Sanctuary. You can only explore it fully during low summer tides. With an average depth of fewer than 7 metres, you can easily take in all the wondrous creatures that reside here.
Teeming with life, the spectacular limestone reef boasts huge fields of seaweed that offer a striking diversity of species. This sanctuary is home to 26 species of beautiful and diverse marine plants, as well as an astounding 96 varieties of the majestic sea slug – some found nowhere else in the world.
Among the many marine life you can glimpse during your visit are majestic Eagle Rays, Weedy Sea Dragons, and playful dolphins.
Spanning an impressive 21.7 hectares and extending out into the ocean for nearly 600 metres in one direction, and 400 metres in another, this park offers a stunning natural environment to explore. For a unique and fascinating experience, why not visit the wreck of Joseph H. Scammell within the park's limits?
6. Explore the Coastal Beauty of the Surf Coast Walk
The Surf Coast Walk spans 44 kilometres from Point Impossible Beach in Torquay, Victoria, all the way to Fairhaven Beach, but the great thing about this walk is that you don't have to do it the whole way if you don't feel like it.
Along this surf coast trek, you can expect to experience spectacular ocean views. In addition to the breathtaking scenery, you will find yourself walking through ancient rainforests, tranquil lagoons, rolling hillsides, and much more. The terrain is varied, making it perfect for all levels of hikers, from experienced trekkers to leisurely strollers. 
There are also plenty of opportunities for wildlife spotting with kangaroos, koalas, echidnas and many types of birds living in this diverse environment. 
In addition to its natural beauty, the track is equipped with several amenities, such as picnic tables and benches where you can take a break or have a snack before continuing your journey.
You'll also find information boards along various points on the path, which provide facts about local plants and animals and Indigenous history and culture.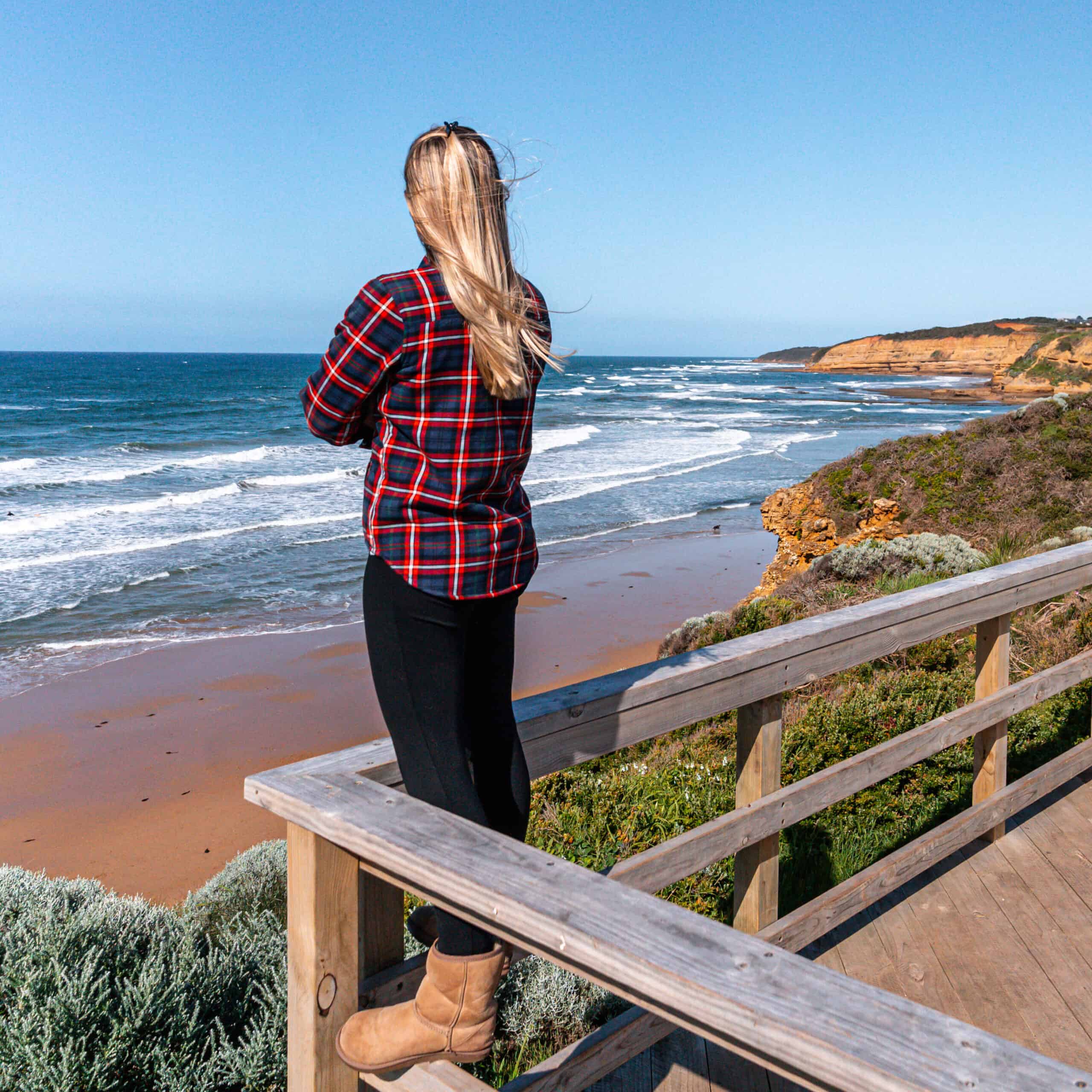 7. Bells Beach Brewing
Bells Beach Brewing offers various beers, all brewed on-site. The staff is friendly and knowledgeable and always happy to help you find the perfect beer for your taste.
The atmosphere is relaxed and comfortable, and the prices are very reasonable. If you're looking for a great place to grab a beer, Bells Beach Brewing is the place for you!
The brewery offers a rotating selection of beers, so there's always something new to try. If you like good beer, include a stop at Bells Beach Brewing, one of our favourite Torquay attractions, during your visit to the surf coast.
8. Pick your berries at Surf Coast Strawberry Fields
Situated on the outskirts of Torquay, Victoria, the Surf Coast Strawberry Fields is a must-visit for anyone in the area.
The fields are open to the public from October to April, and during that time, visitors can pick their strawberries, enjoy a delicious strawberry ice cream, or take in stunning views.
9. Shopping Heaven at Surf City Plaza 
Torquay is the birthplace of two top-rated surf brands, Rip Curl and Quiksilver. Founded in 1969, these companies have since become iconic symbols within Australia's surfing culture.
One of the most popular things to do in Torquay, Victoria, is to do some retail therapy at local shops, but even better than that, explore Torquay Surf Outlets and find discounted items from last season. You can spend hours hopping between Roxy, Rip Curl, Billabong, Patagonia and Ghanda in search of irresistible bargains.
You can spend countless hours here. The factory outlets are situated in the back of primary retail stores in spacious warehouses – full to the brim with clothing racks and boxes overflowing with discounted items! This is an ideal opportunity for those who enjoy treasure hunting through sale finds.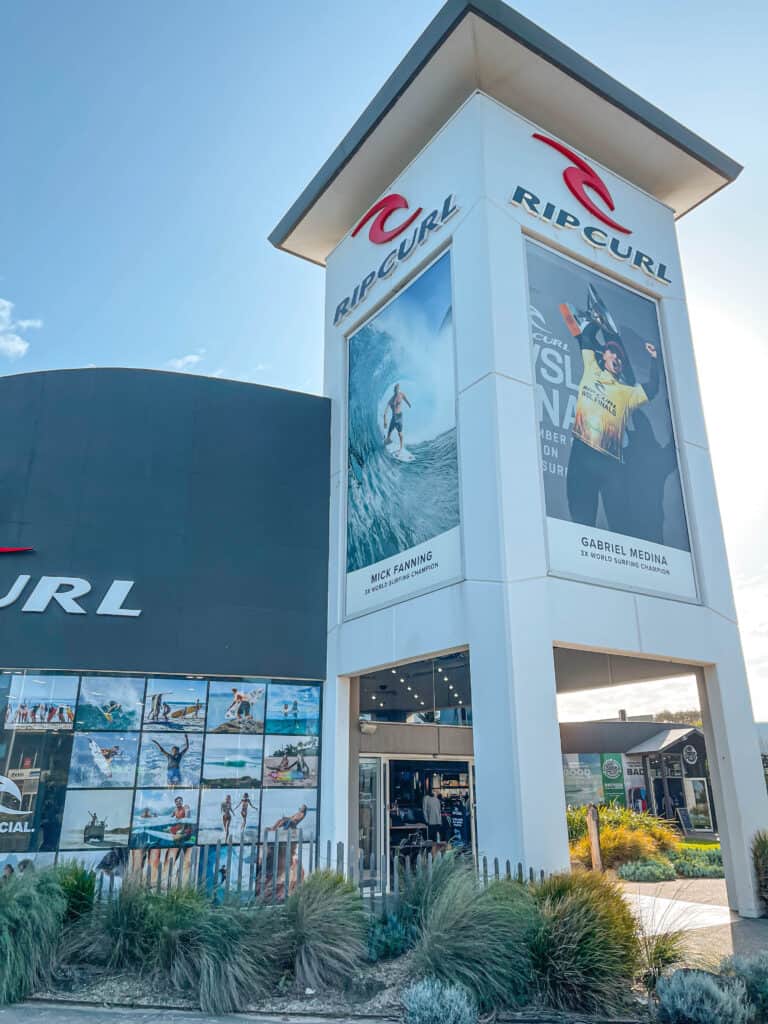 10. Great Ocean Road Chocolaterie
Who doesn't love chocolate? The Great Ocean Road Chocolaterie offers a unique experience for visitors and locals alike.
Located only 11 minutes' drive from Torquay, Victoria, it is a must-visit destination for any lover of sweet treats. From freshly made pastries to thousands of delicious chocolates, from delightful desserts to artisan ice creams – they have it all!
11. Torquay Surf Lessons
There's no better place to learn how to surf than Torquay, Australia. This small town on the Great Ocean Road is renowned for its world-class waves and laid-back Torquay beach surf culture.
Whether you're a complete beginner or an experienced surfer looking to catch some waves, there are plenty of surf schools in Torquay that can cater to your needs.
12. Explore the Coastline with Tiger Moth World
For those seeking a thrilling experience, Tiger Moth World in Torquay, Victoria, offers daring skydiving and flight experiences! Hop onboard one of their vintage WWII Tiger planes with an outdoor cockpit for maximum excitement.
Embark on an unforgettable journey with a standard flight along the coast or add some excitement to your trip – opt for an aerobatic experience featuring breathtaking loops and barrels! Suitable for everyone, Tiger Moth will prep you with all necessary gear before takeoff.
Tiger Moth World is open from Friday to Monday, welcoming guests between 9:30 am and 5 pm. Take advantage of this – book your visit online on the park's official website today!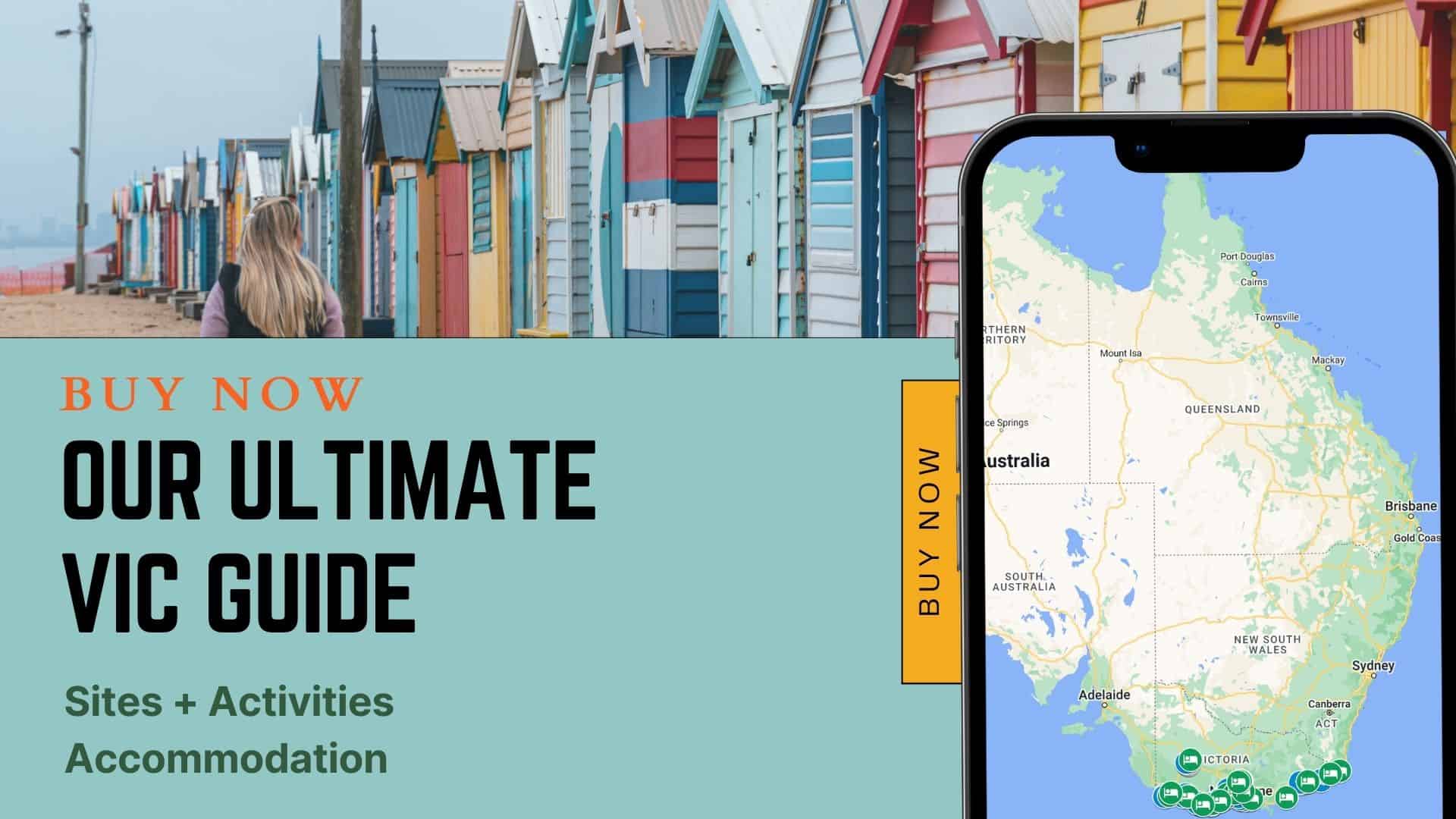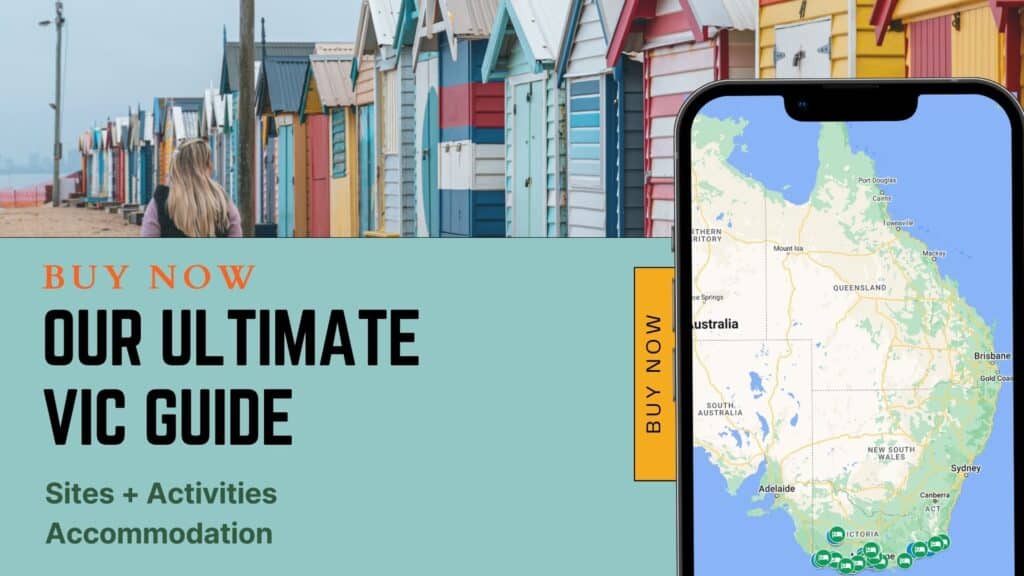 13. Hit a Hole-in-One at Torquay Golf Club 
Do you enjoy golfing? Then you can't miss this item from your list of things to do in Torquay. Want to perfect your swing? Come and enjoy a round of golf on some of the exceptional courses in Torquay! Bring your clubs and experience a great day out.
Offering vistas of the coast and pristine greens, Torquay's stunning seaside town boasts some of the most spectacular golf courses in this area.
Stuart Appleby, an acclaimed Australian pro golfer, designed the magnificent 18-hole links-style Sands Torquay Golf golf course. It's a spectacular sight and provides an unforgettable experience for all levels of players.
Boasting wide fairways, carefully cultivated greens, and lush fescue roughs, the RACV Torquay Golf Club provides a unique golf experience.
14. Otways Waterfalls
If you feel like exploring a bit further away from Torquay when you are in the area, do not miss the Great Otway National Park and its incredible waterfalls!
A visit to the stunning waterfalls of Otway National Park is not one you'll soon forget. One must-see scenic spot, Carisbrook Falls, can be reached with ease in just 10 minutes from the carpark – its exact path leads straight to a lookout over the spectacular gorge.
A mere 20 metres from the carpark, Hopetoun Falls  an iconic view of its majestic falls cascading down into the picturesque Aire River – a sight you won't soon forget.
A shorter but invigorating walk for about an hour will be rewarded with a magnificent view of the 20-metre-tall Beauchamp Falls, which cascades over a ledge into a massive pool just beyond Beech Forest. You'll need some fitness and strength to fully appreciate this spectacular sight.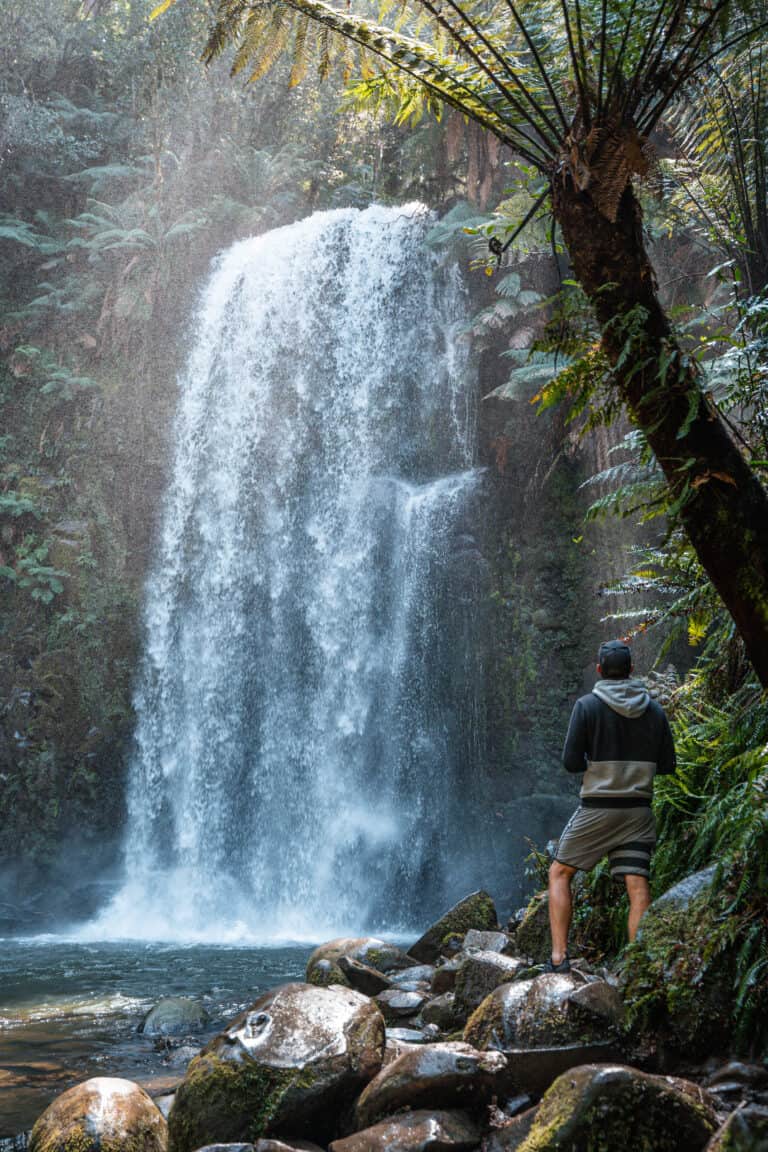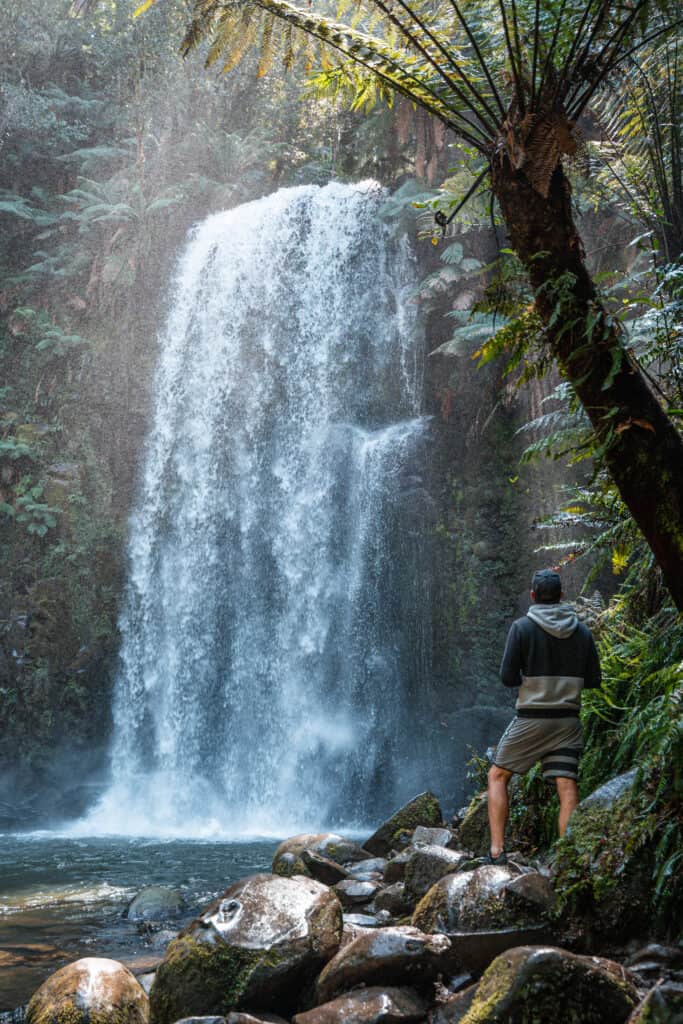 Where to Stay in Torquay? 
If you're looking for a beautiful beachside escape, Torquay should be at the top of your list. This small town in Victoria, Australia, is known for its stunning coastline, world-class surf spots and great shopping.
But with so many accommodation options available, it can be hard to decide where to stay. So if you're planning a trip to Torquay, here are some of the best accommodation options and places to stay for an unforgettable holiday. 
Top Hotels in Torquay, Victoria
RACV Torquay Resort
The RACV Resort Torquay is the ideal destination for a memorable stay, with its abundant on-site activities and attractions. Relax in the spa or try your hand at golfing. Work up a sweat at the fitness centre or challenge yourself to an intense game of tennis – no matter what you decide to do, there's something for everyone!
Remember that RVAC is just walking distance away from some beautiful beaches and the town centre; it's almost too good to be true. On top of all this, plenty of delicious dining options are available as well – so get ready for an unforgettable experience!
Make RACV your choice of accommodation when visiting Torquay. Select from the traditional golf course view or upgrade to witness a magnificent ocean vista for no extra cost! Breakfast is already included in each stay, and two people can savour this remarkable experience.
Wyndham Resort Torquay
Wyndham Resort Torquay stands at the forefront of Zeally Bay, presenting its guests with breathtaking ocean and coastal views. Enjoy a large outdoor pool or spend some time in the heated indoor one; for those seeking leisurely activities, there is also a playground, fitness centre and tennis court.
Staying at the Wyndham Resort Torquay gives you a stunning view of the pool or coastline from one of our beautiful balconies. Basic hotel-style rooms and modern, self-contained apartments are available – perfect for two people!
Desa Retreat Eco Villas
For those seeking a tranquil environment and to live consciously, Desa Retreat in Torquay near Jan Juc is the perfect place. Not only does the estate provide roomy bedrooms with an outdoor fire pit, private garden, and hot showers –– but it also has its yoga studio where classes are offered regularly! Its proximity to Surf Coast Walk makes it all the more inviting.
If you're looking for the perfect place to relax and unwind, this Torquay accommodation is your ideal destination. Each villa can host up to 4 people comfortably, each filled with delightful details that will make it feel like a home away from home. Enjoy the 2-night minimum stay option or take advantage of their plant-based meal plan if desired! Plus, Jan Juc beach is within walking distance, so you'll always be close to sand and surf!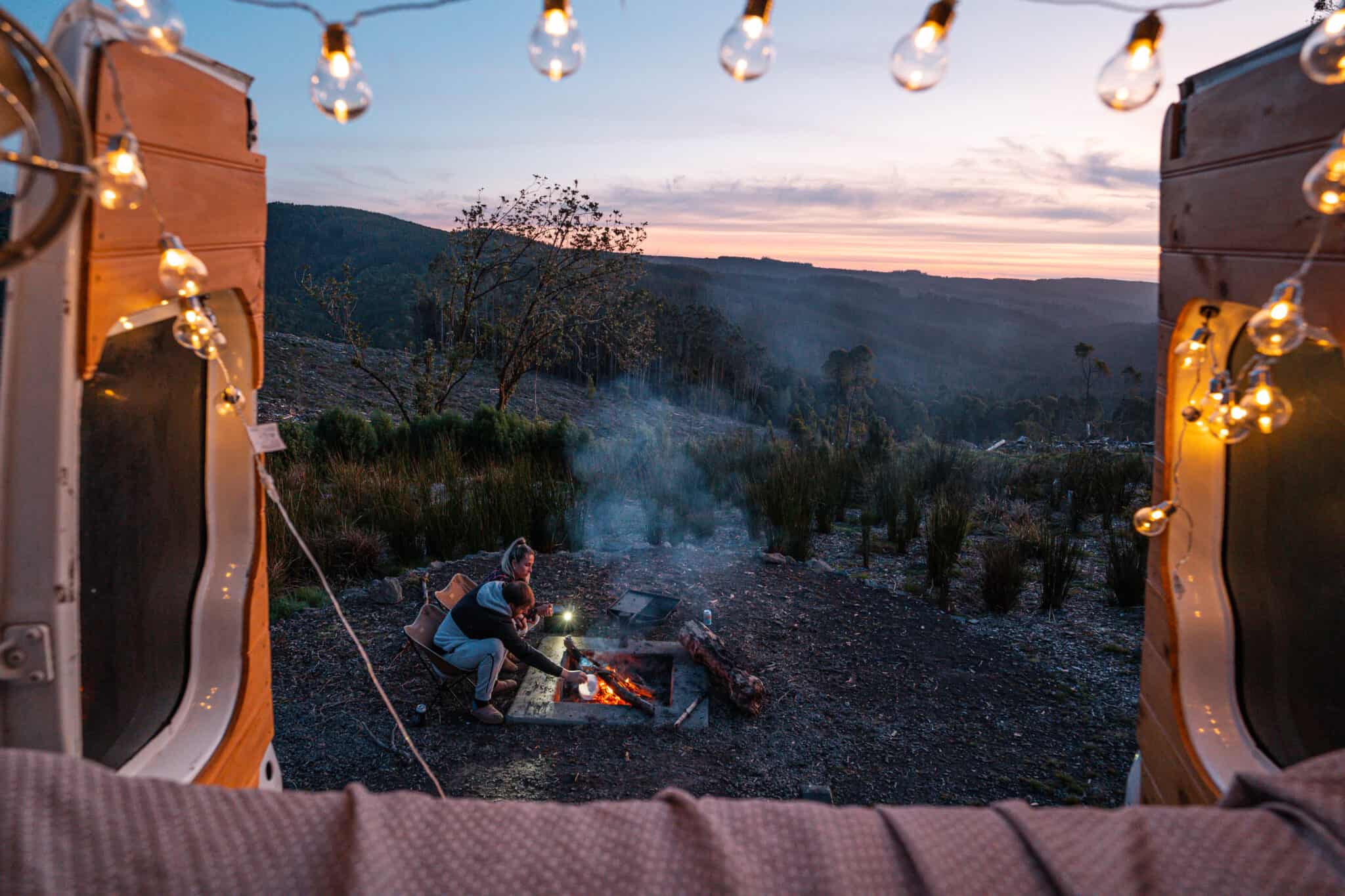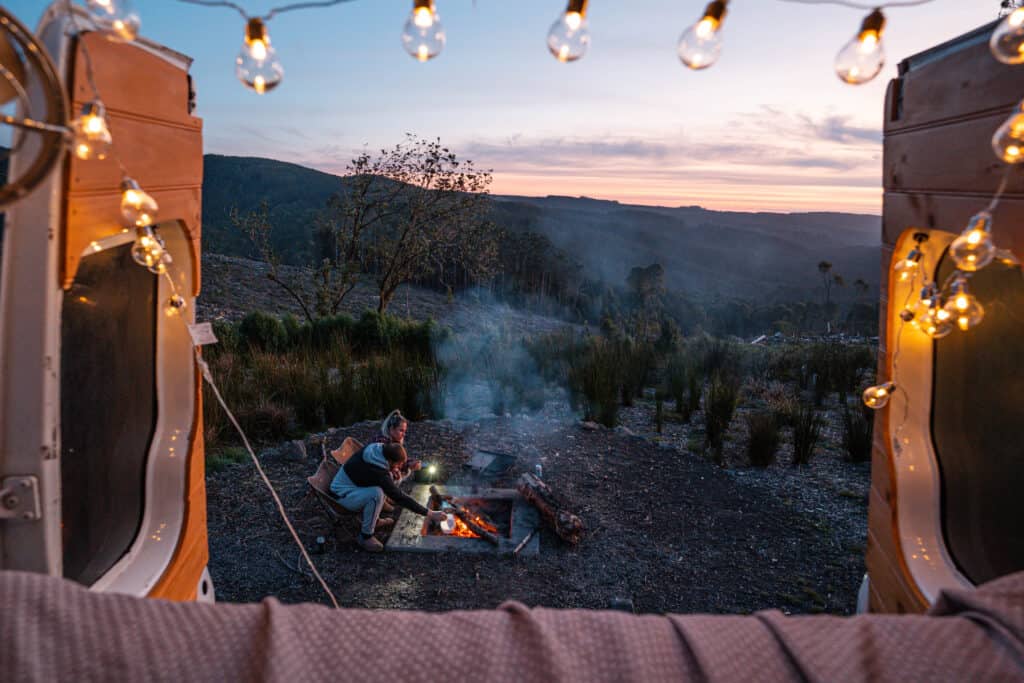 Budget Accommodation in Torquay
For those travelling on a budget or simply looking for more affordable accommodation options in Torquay, here are our recommendations:
Torquay Foreshore Caravan Park
Unwind in this budget-friendly accommodation situated just a stone's throw away from the city centre and beach. With powered campsites, glamping sites, or cozy cabins to choose from – there is something for everyone! Enjoy your stay with friends and family as you bask in an inviting setting designed especially with families in mind.
At Torquay Foreshore Caravan Park, you can enjoy a competitive game of table tennis in the recreation room or access their coin-operated laundry facility. For those who prefer to camp out under the stars, the powered campsites fit four persons – all camping equipment is required to be brought by guests. Alternatively, glamping pods provide an upgraded experience, and studios with queen beds come with added comfort.
Torquay Tropicana Motel
Looking for a place to stay in Torquay? Look no further than the Tropicana Motel! They offer basic rooms, superb amenities and a convenient location right in the centre of town. The large outdoor pool area is perfect for relaxing, and they also have shared BBQ facilities and table tennis available for guests to enjoy.
Located a mere 20-minute walk from some of the best beaches Torquay has to offer and within minutes of both restaurants and surf city plaza, Tropicana Motel offers excellent value for your money. The rooms may be old-fashioned, but they are spacious yet clean, with free wifi and parking!
Bells Beach Backpackers
Bells Beach Backpackers is the number-one hostel in Torquay! Offering a large kitchen, standard room and outdoor area to match, it's ideal for solo travellers or those wanting to socialize. Located conveniently at the heart of town rather than on Bells Beach (which lies ten minutes away), you'll be sure to enjoy your stay here!
The owner of this Torquay backpacker's accommodation is incredibly amiable and always willing to lend helpful advice. With various lodging options available, you can pick and choose the right fit for your budget.
Conclusion 
Torquay is an incredible destination that offers something for everyone – from stunning beaches and iconic surfing spots to unique attractions like the Australian National Surfing Museum to Bells Beach Brewery.
Whether you're looking for an action-packed adventure or want to relax by the beach during your Great Ocean Road trip, Torquay has it all! So if you're planning your next vacation spot – look no further than this beautiful coastal town!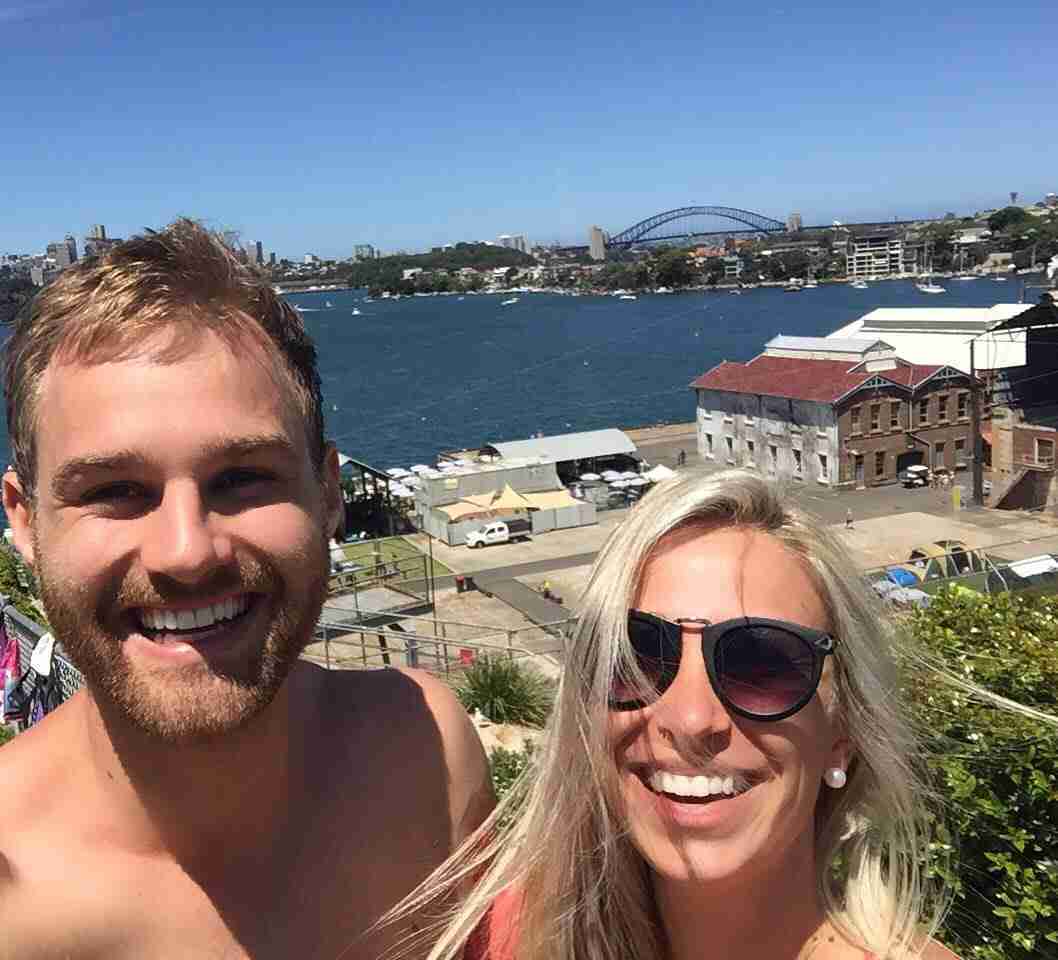 Wade & Dani
Hi! We're Wade and Dani, We're currently travelling around Australia in our 2017 Mercedes Sprinter Camper van and sharing our best experiences, stories, reviews and adventures as we go along. Make sure you follow us on Instagram @wadeanddani