Best 6 Portable Camping Clothes Lines
This post was updated on: December 2023
On a camping trip, you are likely to get wet clothes at some point – whether it's because you're swimming, in the rain or simply just washing them. Finding water and somewhere to hang your clothing might be a small luxury that is sometimes overlooked when camping.
You can use an improvised camping clothesline if you have trees near your camping location; however, this is not ideal. A basic portable camping clothesline is available for purchase that will make your next camping trip more pleasant and comfortable.
There are several different kinds of clotheslines available that may be used while camping. All of the alternatives may be readily folded away for easy transportation, so it boils down to personal preference.
Although the rope type is significantly smaller and more compact than the rotary variety. A rotary style isn't that large and far more attractive than clothes strung out across your campsite. Regardless, let's get into our camping clothing line reviews.
| | | | | | | |
| --- | --- | --- | --- | --- | --- | --- |
| | | | | | | |
| | | | | | | |
| | Companion Portable Clothesline | Camec Expanda Clothesline | Sea To Summit The Clothesline | Companion Quick Fold Clothesline | Caravanning with Kids Slide 'n Dry Pegless Clothesline | Zempire Wind-Up Clothes Line |
| | | | | | | |
| | | | | | | |
| | | | | | | |
| | | | | | | |
Companion Portable Clothesline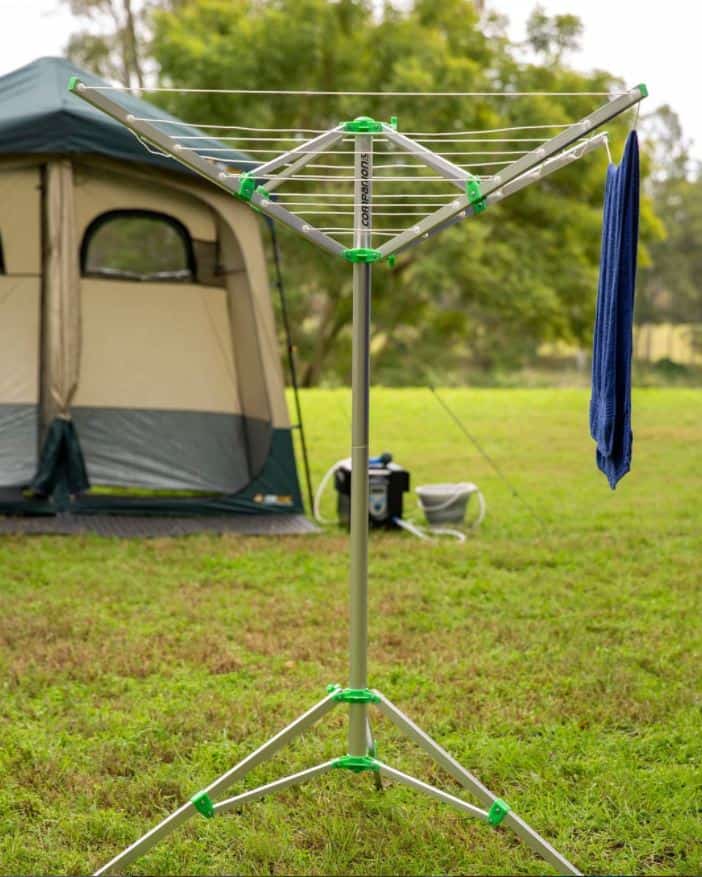 The first product on this list is a collapsible clothesline. It's the perfect item to take with you when you go camping.
It is incredibly flexible and light, weighing only 2.2 kg, so you won't feel the weight even if you have to trek to your destination. It's great for solo travellers or families on the go.
The design uses a folding metal frame that can be collapsed. It may be folded and compacted, fitting easily within the carry bag.
It has three legs and four arms, ensuring that it can stand firmly on the ground. The ground stand is large enough to ensure stability, even if there is weight on the arms.
The clothesline is easy and fast to put up. It also comes with pegs for the legs, it helps for those windy days so that the clothesline fall over.
The best thing about this item is that you can customize its height to meet your needs. Clothes on the lines are a breeze to put on. It includes a carry bag for easy transportation and storage when not in use.
can quickly move it if it rains

Need to be set up for each use

Can fall over if weight is uneven
CAMEC EXPANDA CLOTHESLINE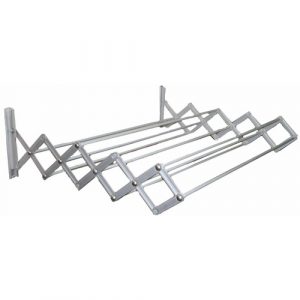 The Camec retractable clothesline is easy to install in your caravan, so you don't have to worry about where to store it or take it down every time you use it.
You'll be restricted to where you can attach an expanda clothesline since you'll need some wall with open space.
This clothesline can hold a fair bit of weight on the washing line, so quite a decent capacity for such an easy to use clothesline. You'll be able to hang your clothes up in minutes with this contraption, and you won't need any tools to do it!
The expanda clothesline is a great way to keep your caravan tidy, and not having to carry a bulky clothesline is definitely a bonus.
A bonus is that you can slide the washing line out of the brackets and remove it if you want. This is useful when it rains unexpectedly, and you need to move your washing quickly.
There is nearly 7 meters of hanging space

It takes up no space when it is packed away

It needs to be attached to the wall

You cannot change the position based on the weather.
Sea To Summit The Clothesline
This product is the perfect solution for people who need a clothesline that does not take up much space while they travel.
This ingenious little clothesline is the most compact we've ever come across, requiring no additional equipment, pegs, or hooks to hang your clothing while camping. It weighs only 22 grams.
This is a product that is not like the other clotheslines you can buy. This one has two cords with beads on them.
The beads hold your clothes in place while they dry. You don't need to have pegs for this. You put the clothes between the cords, and then put a bead on each end of the clothes. Then you bring the beads together and secure things with them.
The cord is 3.5 meters long and only needs to be wrapped around two trees to assemble it. It can be done quickly. The line comes in a cloth pouch that is pretty small and can fit in your pocket.
The cord is reflective so that it will be visible at night. The beads work great to secure your clothes, so your clothes will not fly away in the wind. The cord is so compact and can endure a lot of weight, which is perfect for your upcoming adventure.
You can hang it almost anywhere

Needs two ends to connect the rope

The rope needs tension, so clothes don't slip out
Companion Quick-Fold Clothes Line Stand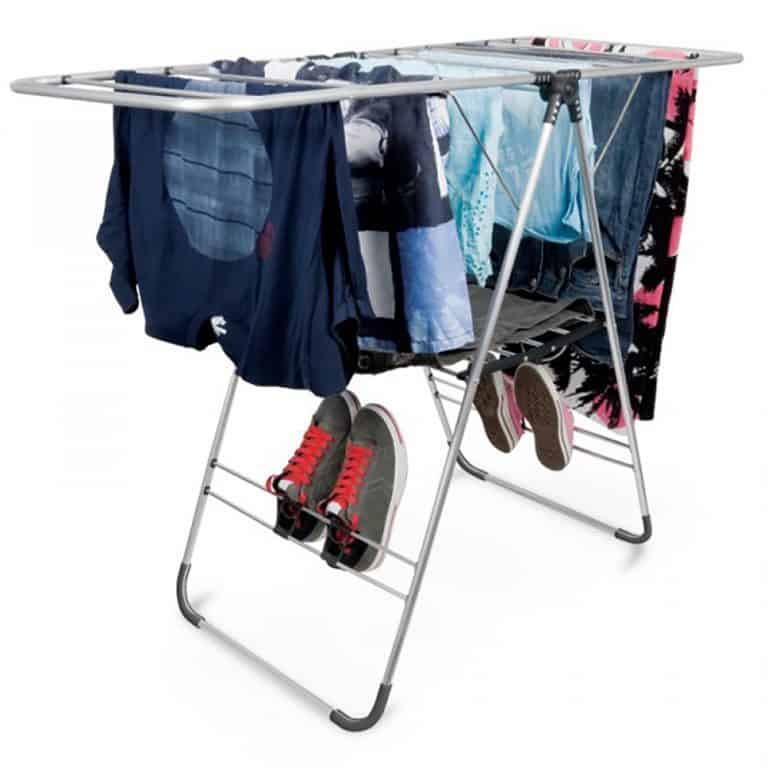 It can also be called a clothes horse. It is also used to designate a simple clothes airer. It's generally quite effective. Most people have one of these at home, so throwing it into your caravan or camper van when you go away will save you money.
Clothes horses are fantastic in that they allow you to move them about and follow the sun on the road while they're drying. They can hold a lot and fold down quickly and compactly into a long, flat shape.
However, It can be difficult to store a clothes horse inside your van at times, but if you have room in the back of your car or the trunk, it can be easy enough to store.
A clothes horse is ideal for drying wet towels and swimwear, where it isn't easy to get a rope clothesline up. It has multiple legs that are often adjustable, giving you more options as to how you can hang it up. A clothes horse is designed to support more weight than a clothesline, so there's no risk of anything accidentally blowing away or breaking off.
Clothes horses are versatile and convenient, whether you're in your house or away from home. They can be used in various situations for all types of clothing.
Can move it around to follow the sun

Can put under an awning if it rains

It's simple to set up and pack away.

Can be difficult to be store

Will fall over on really windy days
Caravanning with Kids Slide' n Dry Pegless Clothesline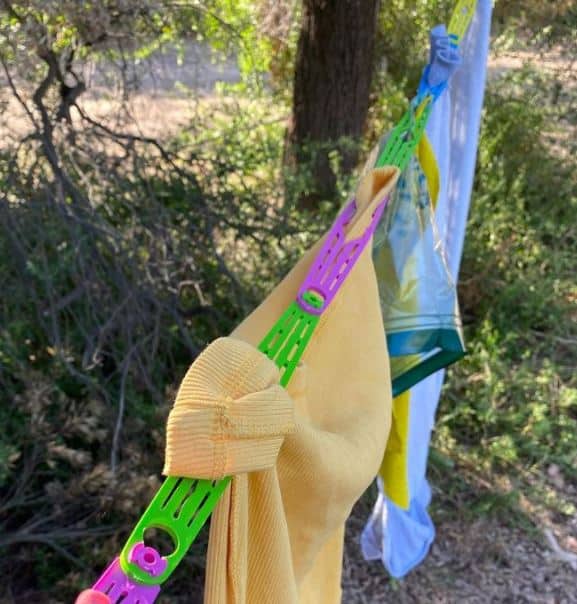 These Pegless Clotheslines are popular in Australia and make it easy to hang your clothes. They're easy and light and suitable for people travelling.
Each Pegless Clothesline comes with 12 slides. That means 24 points for where you can hang clothes. If you need more hanging space, you will need to buy a few more and link them together.
Two bungee cords and hooks (holding up to 40kg) are included with your kit so that you can hang the Pegless Clothesline from wherever you choose.
The Slide 'n' Dry Pegless Clothesline does not require any pegs. You simply slide your washing into the slots, which will hold them securely as your clothes dry.
The clothesline is made of UV protected recycled plastic. This means that, unlike ordinary plastic, it won't go brittle or fade. It will last for years, even under the direct heat of the Australian sun.
The Pegless Clothesline is perfectly designed for camping and caravanning. With its simple-to-hang design, it's easy to pack away when you're done with it too.
Add or remove sections to choose the length

You need two solid ends to connect to

You need more than one pack to make the line longer
Zempire Wind-Up Clothes Line
The Retractable Zempire Wind-Up Clothes Line is a good choice for people who like to travel. It is a compact and handy washing line that can be easily transported.
The clothesline comes with a round container that automatically winds up your clothesline when it's time to put it away. The line has a clasp for hanging up one end, while the box includes a hanging hook one end and a clip on the other.
The Retractable Clothesline is the simplest way to dry clothes on our list. The only issue you'll face with it is finding two locations to put your clothesline. Depending on your setup, you might go from the awning to the van or a tree.
The line is made of robust, durable, and weather-resistant material to protect it from the weather. The line expands to 6.8 m and retracts back up into its container when not in use.
The retractable clothesline is great for camping holidays since it's easy to transport and hang up.
3-axis 360 degrees gimbaled design. The fan can go up, down, forwards, backwards, and at any angle you want.

You can set the timer on the fan to turn off after 3,6,9 or 12 hours.

The fan is compact, it can be folded flat against the wall when not in use.

Low current draw – When it is on its lowest setting, it uses 0.12A of power. Medium uses 0.22A, and high uses 0.35A of power.

The cabin fan is high quality and robust. We took it on bumpy roads, and it never came loose or rattled around.

The fan is noisier when it is set to high speed, but it is probably as quiet as a fan can be.

The bluish light that signals the timer can be annoying at night, especially if the fan is near your bed.

This fan doesn't come with a remote.
Buying Guide for Camping Clothesline
Whether you're are camping with your family or heading out solo, picking the correct clothesline for your journey is important. When buying a portable clothesline, keep in mind how many days you'll be camping for many days and how many clothes you will plan to bring with you.
If you are buying online, make sure the clothesline will fit in your campervan. Don't forget to pack your pegs if it is not included.
This guide will help you to buy a clothesline for camping. You can find the right clothesline for your camping experience.
1.Adjustable height
There are a number of features that come with the best clotheslines and this includes an adjustable height. It's important to be able to lower your items while putting them away, but also have it at heights where you'll want or need for convenience purposes as well.
The ability to have an adjustable height on the clothesline will help to make it more versatile while you are out and about. This can be extremely important if you're not only camping but also using it for other purposes as well. You'll want to be sure that the clothesline can adjust to different heights so that it is suitable for your needs.
2.Size of the line
When it comes to camping, you'll want to keep your items as lightweight as possible. The last thing you'll want is for your clothesline to add any extra weight. This is why it's important that you consider the size of the line before purchasing it.
Some lines are much bulkier than others and this can be a nuisance when it comes to packing and transporting it. Be sure to find one that is not only adjustable in height, but is also a lightweight material. This will help to make your camping trip less of a hassle overall.
3.Durability
When looking for a clothesline, it's important to find one that is durable. This means that the line will not only be able to hold a lot of weight, but also be resistant to weather conditions.
Many camping trips take you outdoors and into different environments. This can include rain, sun, and even wind. For this reason, it's important to find a line that can hold up against all of these conditions.
If you're looking for a clothesline that will last, be sure to find one made with durable materials. This will ensure that your line is able to withstand whatever the outdoors has in store.
4.Weight
Another important factor to consider when buying a clothesline is the weight. This is especially important if you're planning on carrying it with you on your camping trip.
Some lines are much heavier than others and this can be a nuisance when trying to pack everything up and move on. Be sure to find a line that is lightweight and easy to transport. This will help to make your camping trip a little less stressful.
When it comes to camping, you'll want to keep things as simple as possible. The last thing you'll want is a clothesline that is difficult to use.
5.Easy Assembling
The clothesline should not take too long to set up. You want it so that you can get back into your trip without having any additional time setting things up and doing chores around the campground. It's also nice if no tools are required for assembly – which means less hassle when packing everything away afterwards.