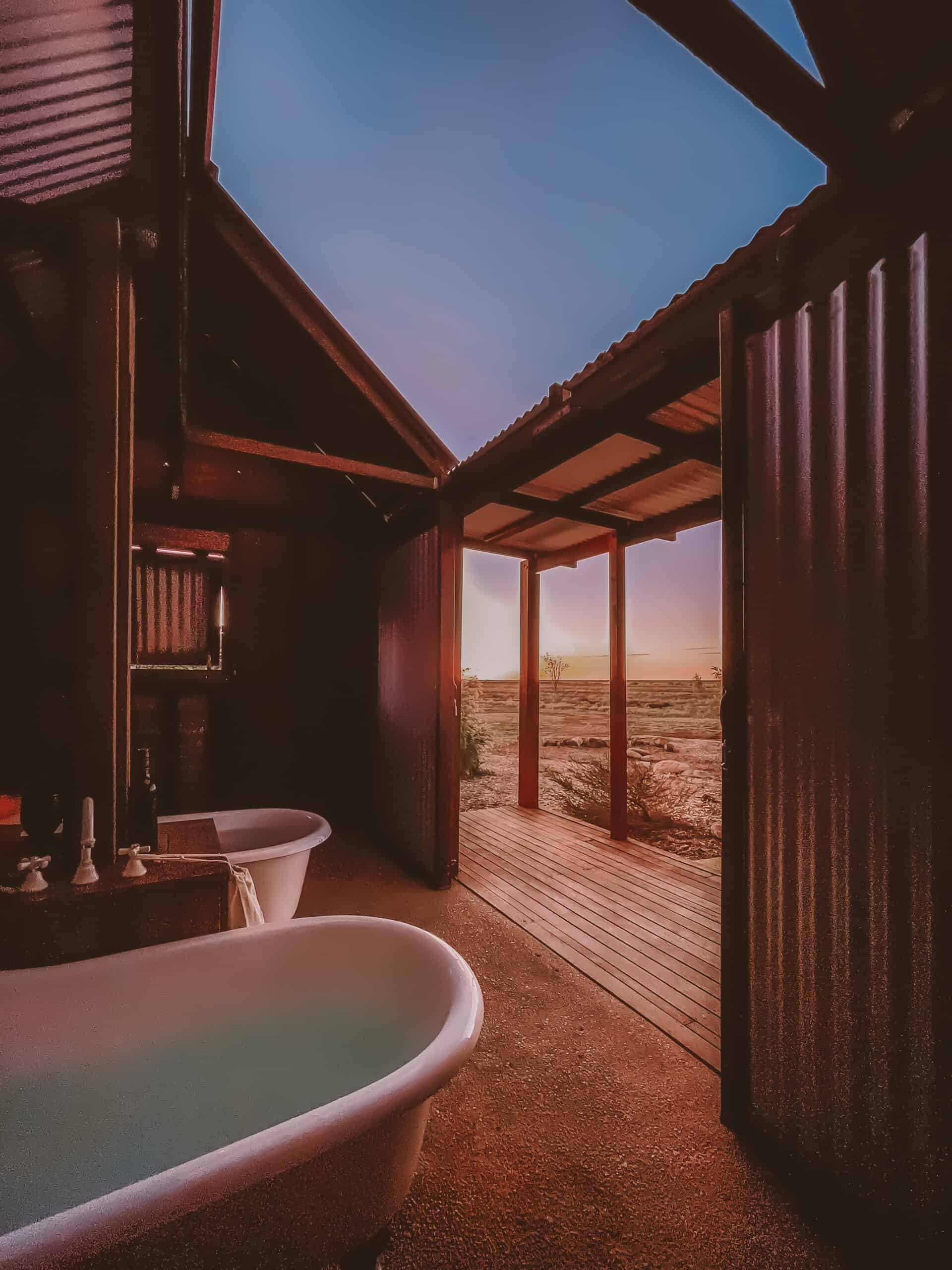 What to Expect at Julia Creek Caravan Park(2023)
This post was updated on: September 1, 2023
A country town called Julia Creek is tucked away in the Outback of Queensland. There is a quiet and welcoming oasis called Julia Creek, Caravan Park. Offering a range of modern facilities and services, the Julia Creek Caravan Park is the perfect stopover for any traveller.
Getting to Julia Creek Caravan Park
Julia Creek is located 3 hours east of Ms Isa, or 7 hours west of Townsville, in Outback Queensland. The best way to get to Julia Creek is by car. The Caravan Park is just off the Flinders Highway, a short drive from the Julia Creek township.
Need a rental car to explore Queensland? Book here
Park Facilities
The award-winning Caravan Park offers a variety of accommodation choices, including powered sites, unpowered camping sites, new self-contained cabins, and twin-single apartments.
The site has two amenities blocks with laundry facilities and a camp kitchen. You can also access FREE Wi-Fi and rent Cruiser Bikes onsite.
If you're coming for the Artesian Bath houses from June to September, be sure to have a meal at the Julia Creek Caravan Park Bush Dinners on Monday nights.
The park offers a wide range of modern facilities and services, including 
Powered sites for caravans]
Unpowered grass sites
Kitchen and Dining area, stovetop and eating area 
Laundry facilities 
Dump point 
Wireless internet access
Complimentary BBQs 
Children's playground 
Bush Dinner Night
If you're staying at the park on Monday nights, be sure to join the popular bush dinner night. For just $20 per adult or $5 per child, you'll enjoy a delicious two-course meal cooked by their very own camp oven expert.
If you are lucky, there can be live music to enjoy whilst you dine under the stars. It's an experience not to be missed.
Please note that bookings are essential, so be sure to let the park know in advance if you'd like to join.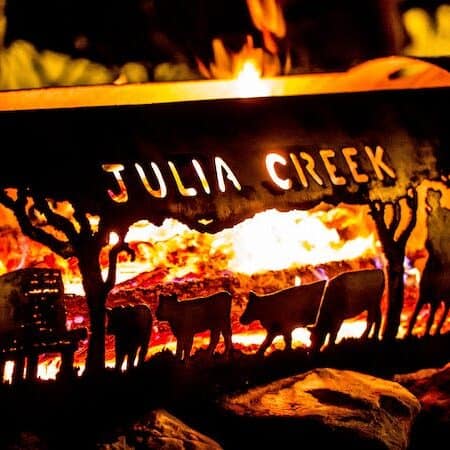 The Julia Creek Artesian Baths
Since 2016, visitors have been able to enjoy the benefits of this peaceful location in privacy, soaking in iron-cast tubs while enjoying the beautiful view.
Julia Creek Caravan Park's main tourist attraction is its 12 tubs. There are four corrugated tanks that have two baths in each one.
There are also two more Boundary Rider huts. They are a little bigger than the other huts, and each has two baths. They also have a veranda and chair out front.
The late afternoon and sunset sessions are the most popular time slots. Make sure to book your spot ahead of time! We only had one slot to choose from when we spontaneously decided to go. If you're not staying at the park, don't worry, you can still enjoy the Bath Houses at the full price.
Each session lasts 45 minutes, allowing the park staff to clean the baths and fill them with fresh water for the next people. This space is perfect for couples because you will have complete privacy throughout your session. You don't have to worry about people looking in or walking by.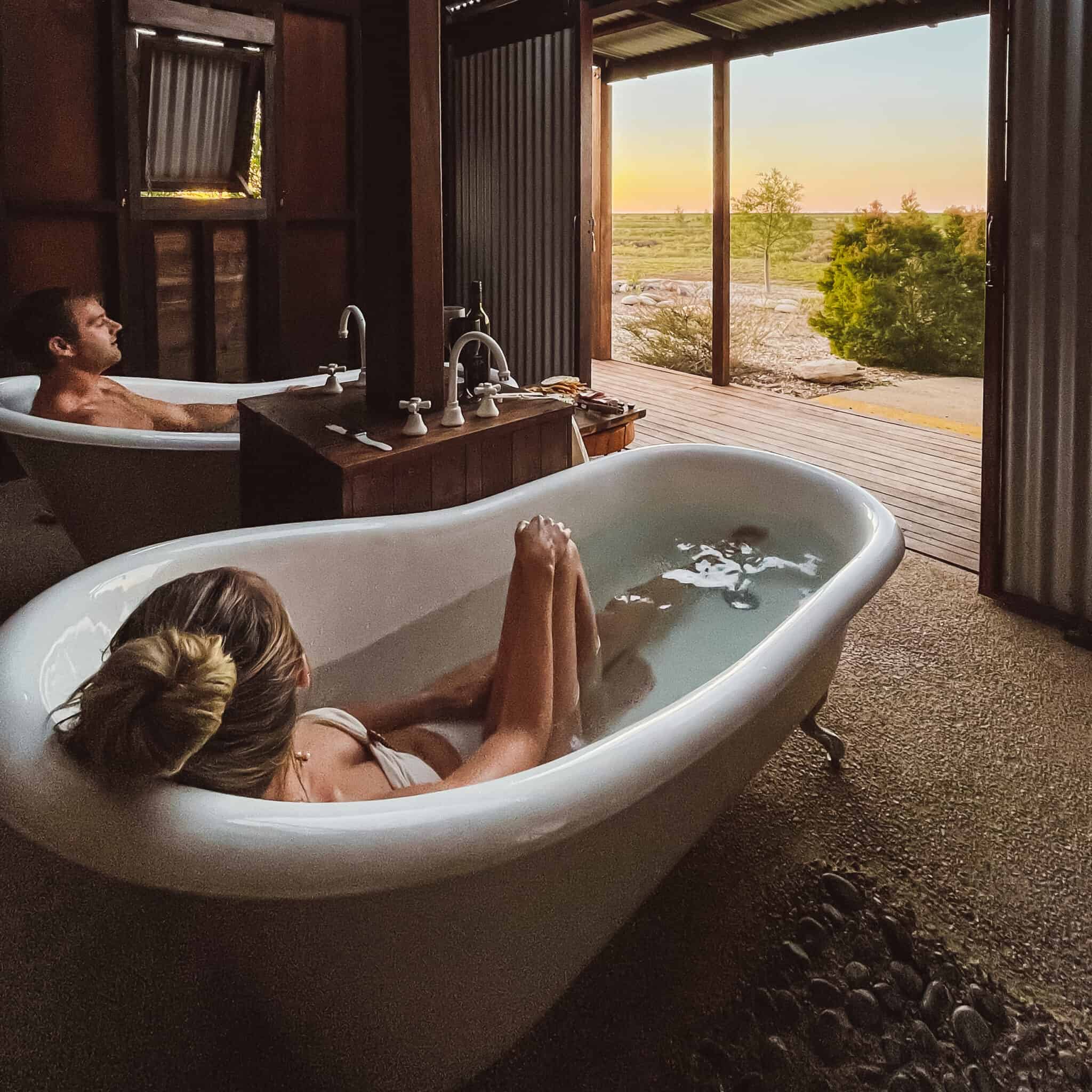 What are the Julia Creek Artesian Baths?
The Julia Creek Artesian Baths are a series of baths that are fed by an artesian spring. The water for the baths is drawn from a natural underground aquifer and is heated by the earth's heat, making it a natural hot spring. The water is then pumped into the bathhouses, where it is filtered and treated before being used. The baths are open to the public and are a popular tourist destination.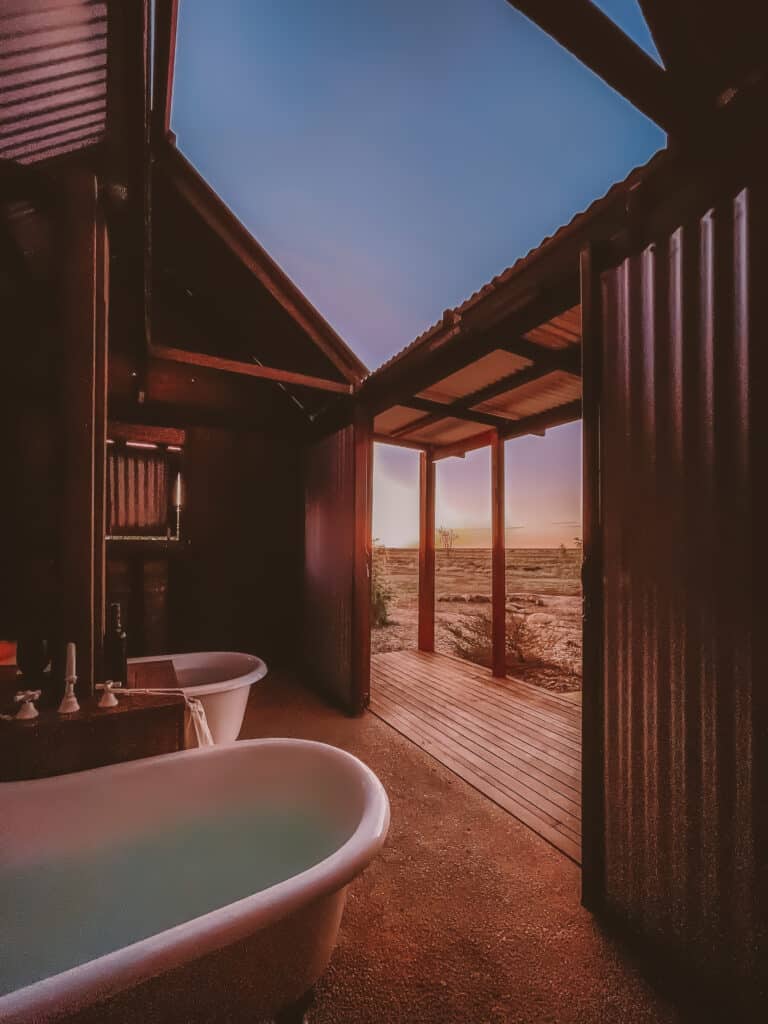 Julia Creek Artesian Bath House Pricing 
BOUNDARY RIDER HUTS Regular:
Caravan Park Guest – $45 Individual | $80 Couple
Visitors – $55 Individual | $95 Couple
Sunset:
Caravan Park Guest – $60 Individual | $110 Couple
Visitors – $70 Individual | $130 Couple
RAINWATER TANK BATHHOUSES Regular:
Caravan Park Guest – $25 Individual | $40 Couple
Visitors – $40 Individual | $70 Couple
Sunset:
Caravan Park Guest – $35 Individual | $60 Couple
Visitors – $50 Individual | $90 Couple
Optional Cheese Platter $30.00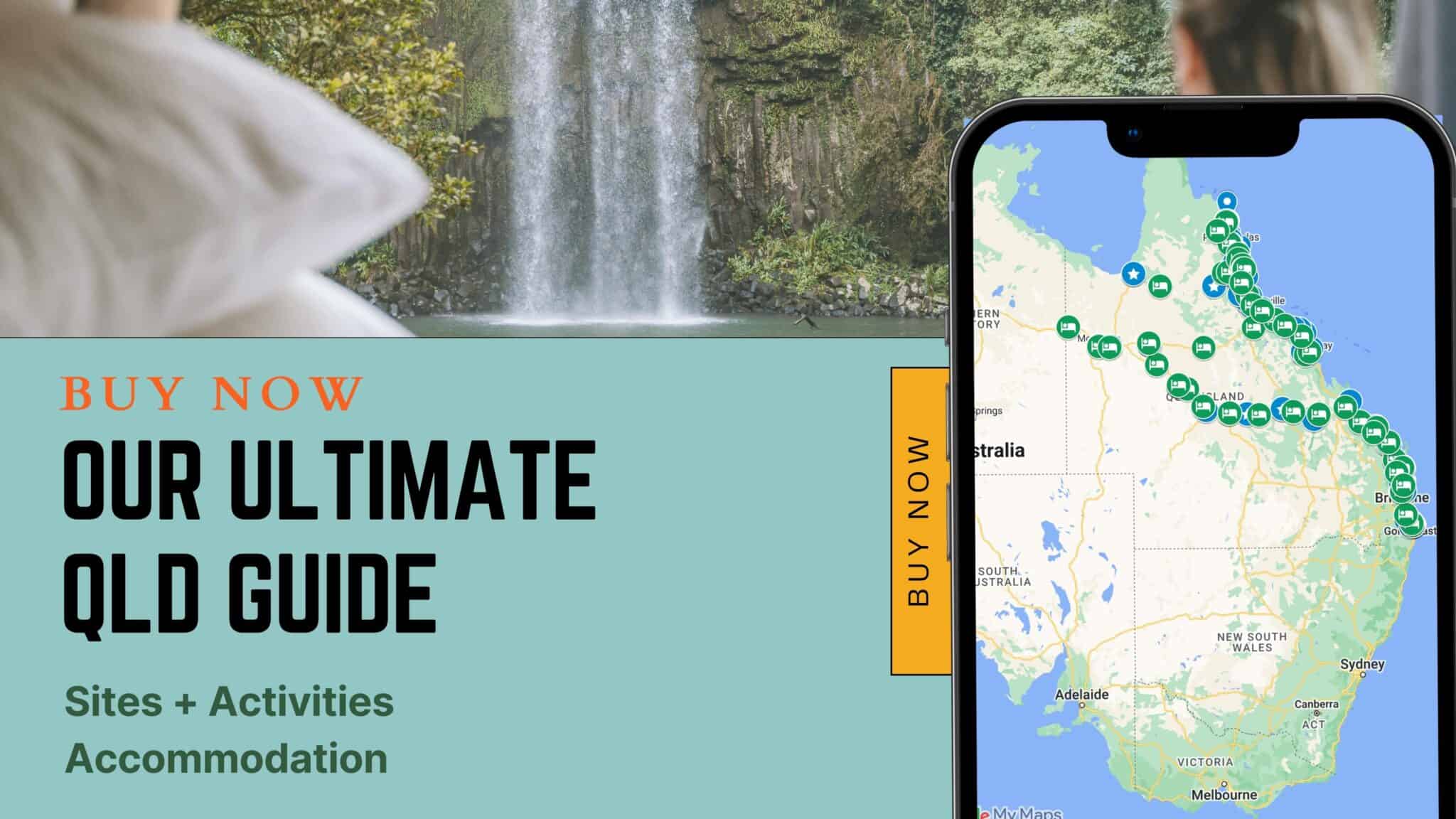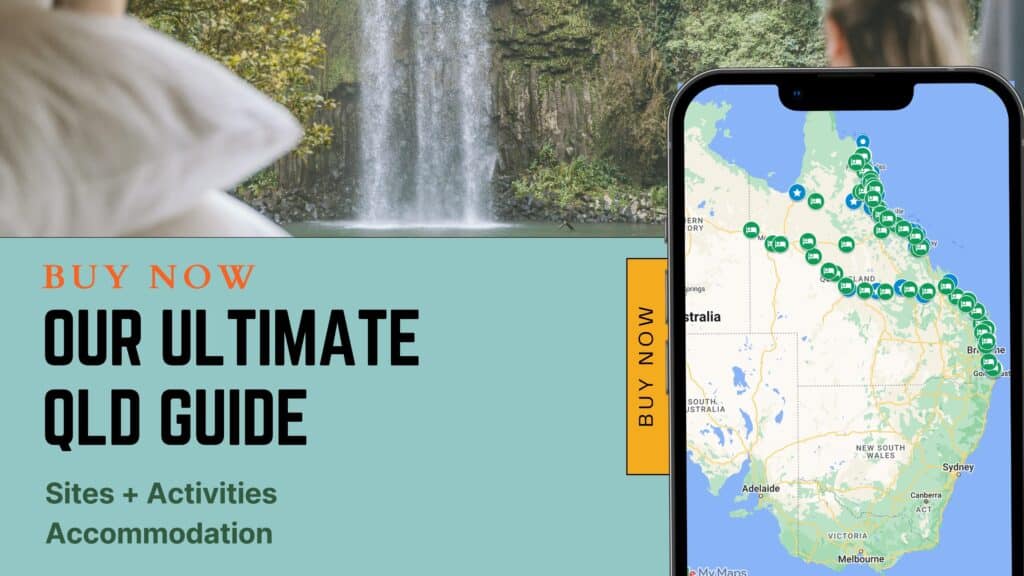 Things To Do In Julie Creek
In addition to soaking in the Artesian Baths, there are plenty of other things to do in Julia Creek.
We hired the free cruiser bikes from the caravan park to ride into town. Once in town, we stumbled across the Julia Creek Historical Walk.
There are 38 signposted sites. You can also drive the historical tour, which will take you to different parts of town.
We did the main street one and found the Duncan McIntyre Museum.
Julia Creek caravan park doesn't have a pool onsite. However, there is the Julia Creek swimming pool right next door, just a short 5 min walk.
The entrance is free if you are a paid guest at the Julia Creek Caravan Park. If you are not a guest, entrance is $2 per adult and $1 per child.
RV-FRIENDLY REST STOP (Free)
Another option to camp if you do not want to stay at the caravan park is the RV-friendly rest stop. We stayed here for one night before spending a night at Julia Creek caravan park.
The free camping area is on the bank of Julia Creek, adjacent to the water's edge. It is accessible for self-contained RVs and caravans and is located 1.3 kilometres east of town.
You can now get free permits from the onsite Camp hosts during peak tourist season (April to September) or from the Julia Creek Visitor Information Centre from October to March.
Cruiser bikes are free to hire to travel into town on the fully sealed walking/riding track.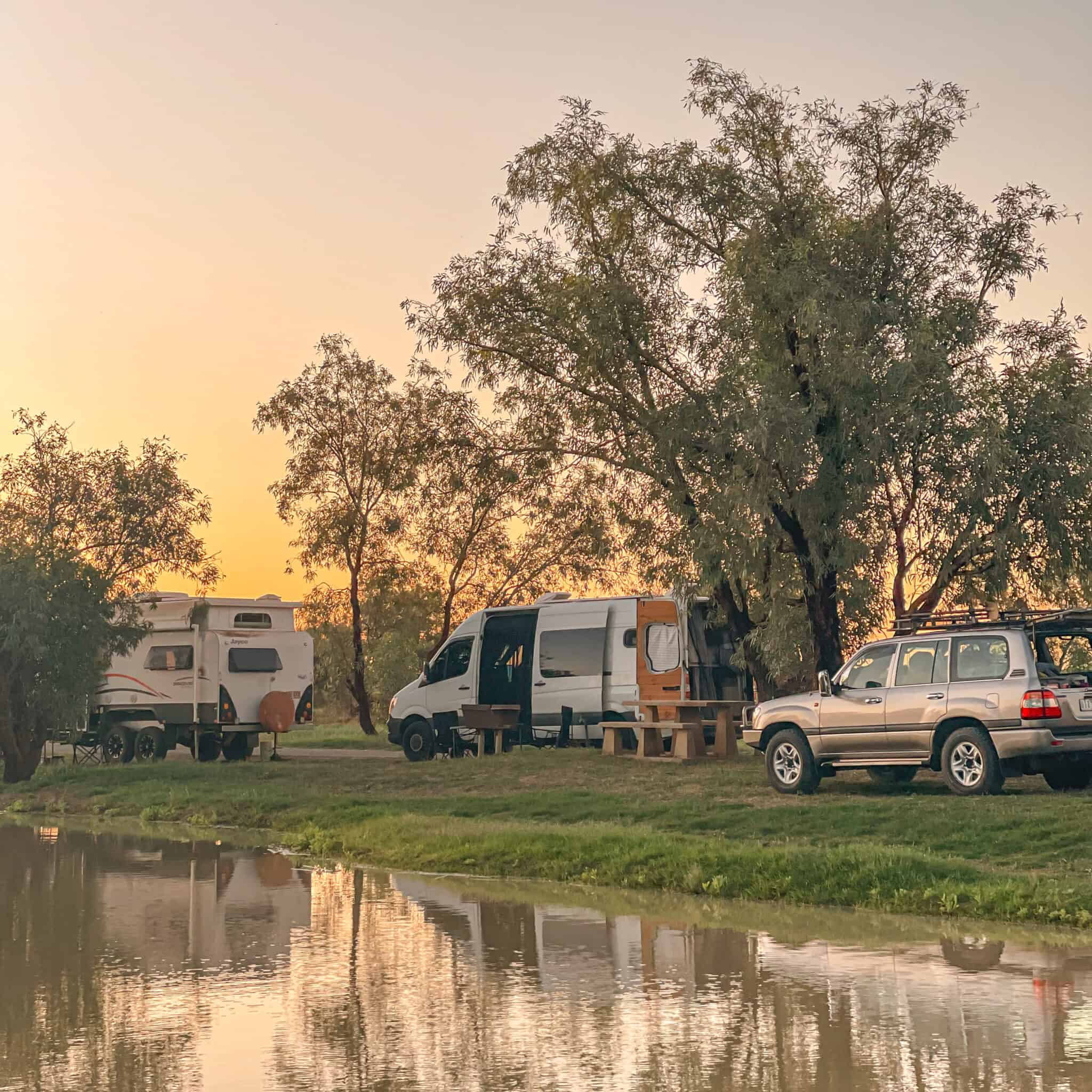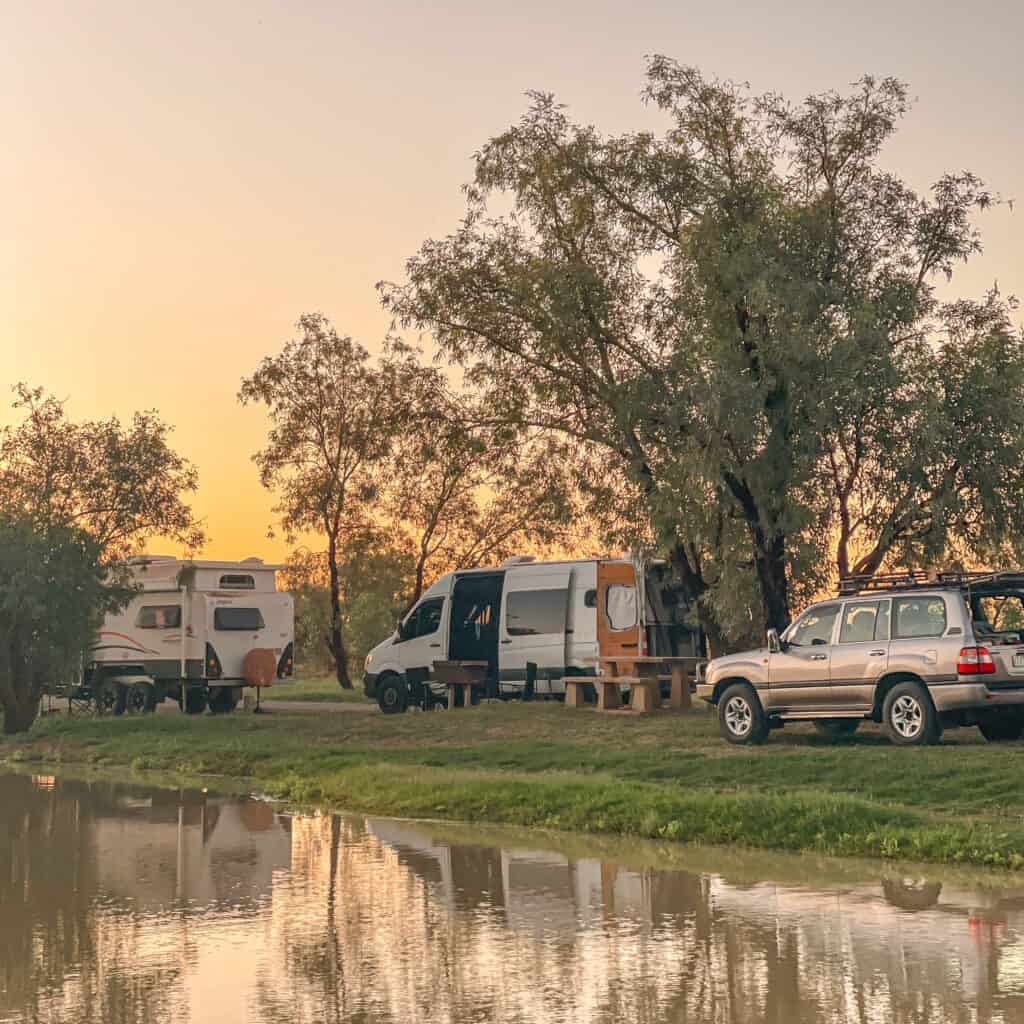 CONDITION OF ENTRY
Fully self-contained (portable showers are not acceptable)
Built-in and/or propriety brand toilets secured in the van are accepted.
The van must have a black water holding tank or toilet cassette
No illegal dumping of black/grey water
No dumping of garbage
No open fires
Pets are allowed but must be restrained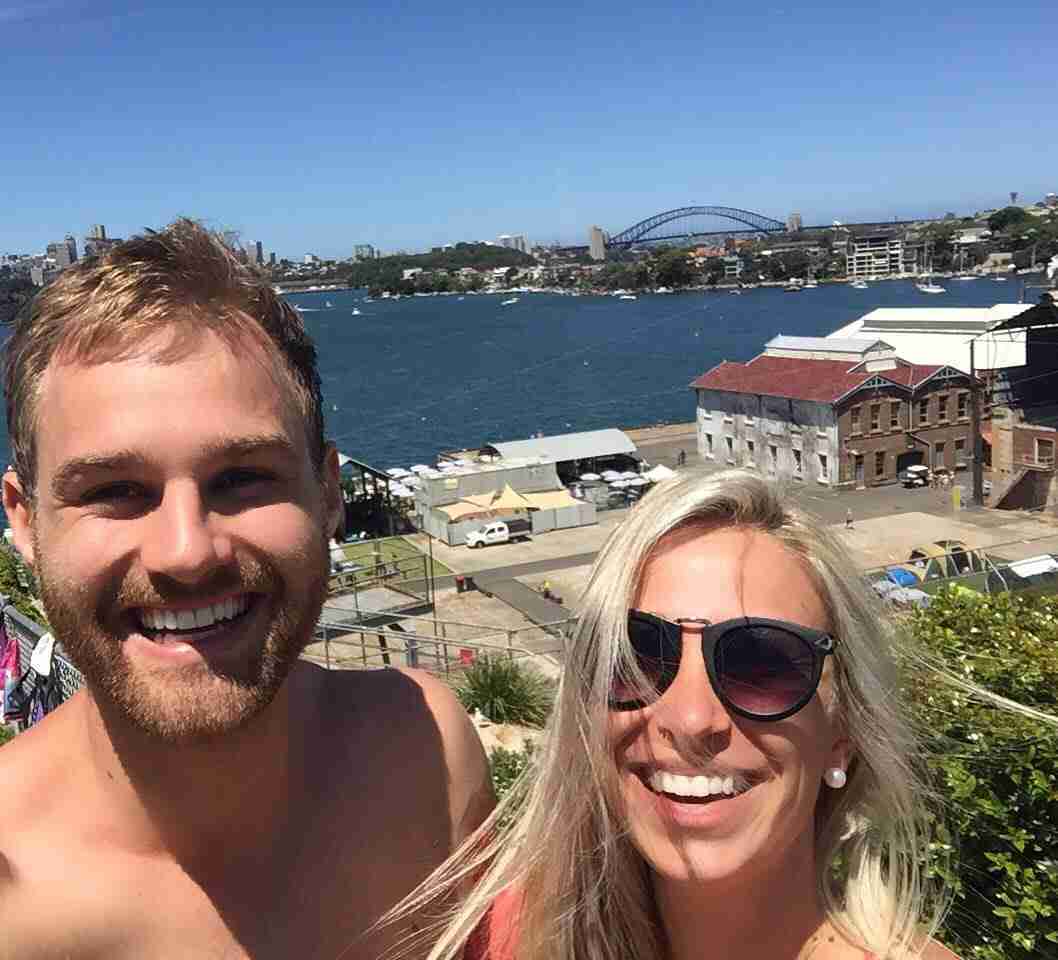 Wade & Dani
Hi! We're Wade and Dani, We're currently travelling around Australia in our 2017 Mercedes Sprinter Camper van and sharing our best experiences, stories, reviews and adventures as we go along. Make sure you follow us on Instagram @wadeanddani