A Guide to Exploring the Nullarbor Plain
Crossing the Nullarbor is an iconic Australian trip, and completing it is much more than ticking an experience off your bucket list. Embarking on a road trip across Australia's Nullarbor Plain is an experience like no other.
The Nullarbor Plain stretches over 1,200 kilometres of open desert and starkly beautiful coastal scenery. This vast stretch of land has been dubbed "the longest straight line in the world" due to its long stretches of seemingly endless highways. You are guaranteed to see lots of road trains and semitrailers taking goods across the continent.
But while there may not be much in the way of places to stop along the Eyre Highway, there are still plenty of incredible sights to enjoy and experiences to be had.
We had to cross the Nullarbor when going from South Australia to Western Australia in December 2022, and we took four days to complete it, taking our time to see everything we wanted in this journey.
In this blog post, we will share our itinerary with you, take a look at all the top stops you should make on your journey, and also some interesting facts about this iconic Australian landscape.
Nullarbor Plain Information
Before we get into the itinerary, we thought it would be interesting to share some valuable and interesting facts about the Nullarbor Plain!
Need a rental car to explore the Nullarbor? Book here
What is the Nullarbor Plain?
The Nullarbor Plain is a vast desert landscape stretching from Western Australia to South Australia. It is the most extensive limestone plain in the world, spanning an area of over 200,000 square kilometres (77,220 square miles).
The name "Nullarbor" comes from the Latin words nullus (no trees) and arbor (trees), aptly describing this treeless region.
Where does Nullarbor start and finish?
The Nullarbor begins in Ceduna, a coastal town located just west of Adelaide in South Australia. From there, it runs eastwards until it reaches Norseman in Western Australia.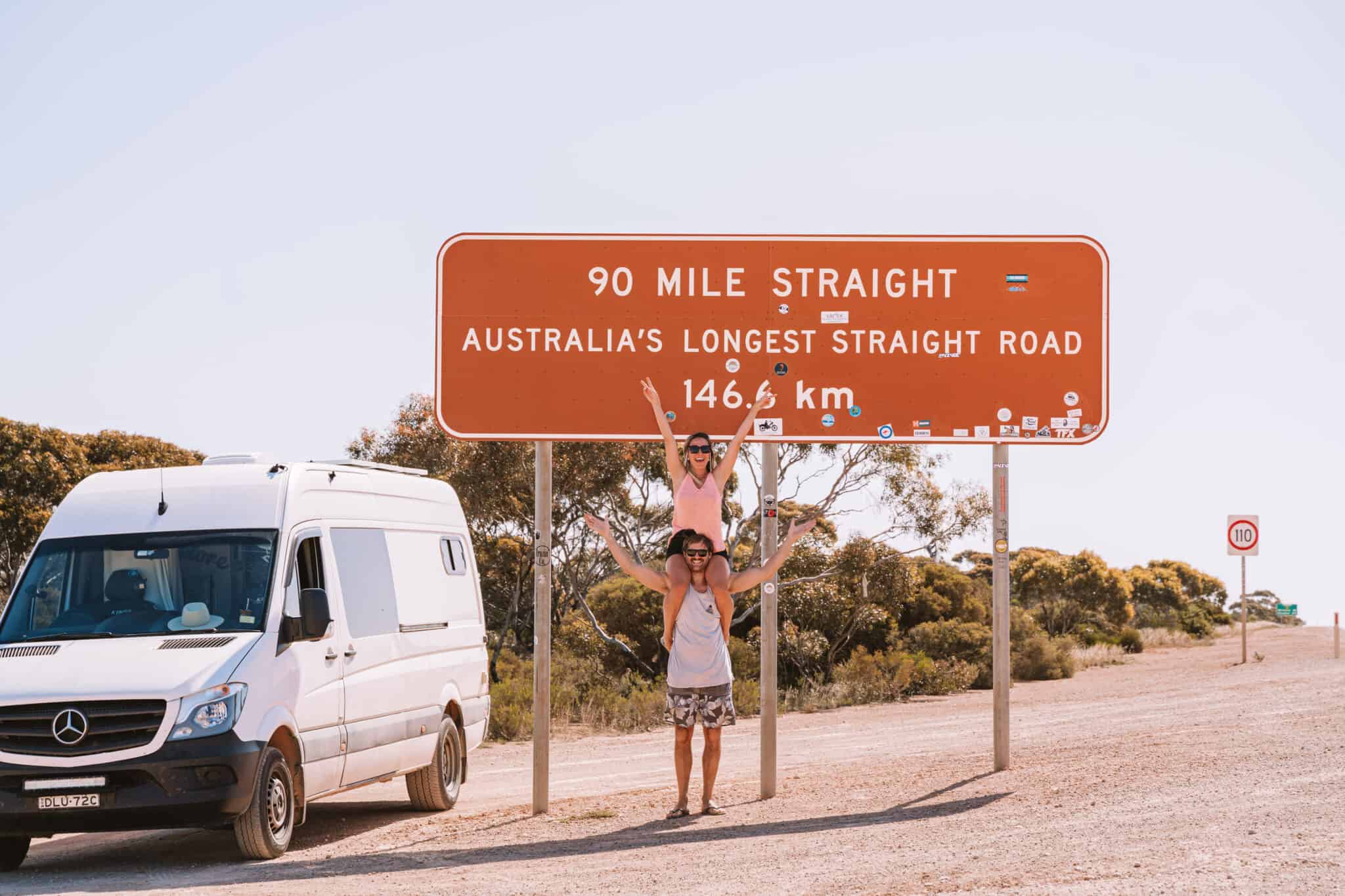 How long does it take to do the Nullarbor?
The distance between the two towns is 1,201 km, which would take 12 hours and 20 minutes without any stops.
However, the length of your trip will depend on your preferences and what you want to do while you're there. Depending on your timeframe, you can make it a quick trip or an extended journey.
We crossed the Nullarbor in four days and will share our complete itinerary with you below.
What is the best time of year to cross the Nullarbor?
The best time of year to cross the Nullarbor depends on what you want from your trip.
During spring and summer, you'll experience warmer temperatures with more daylight hours, which means more opportunities for sightseeing and exploring.
If you prefer cooler weather, then autumn or winter might be better suited for your needs. During winter, the Great Australian Bight is a popular place to witness southern right whales as they breed and give birth. Viewing these majestic creatures from atop the bight's towering cliffs creates an unforgettable experience.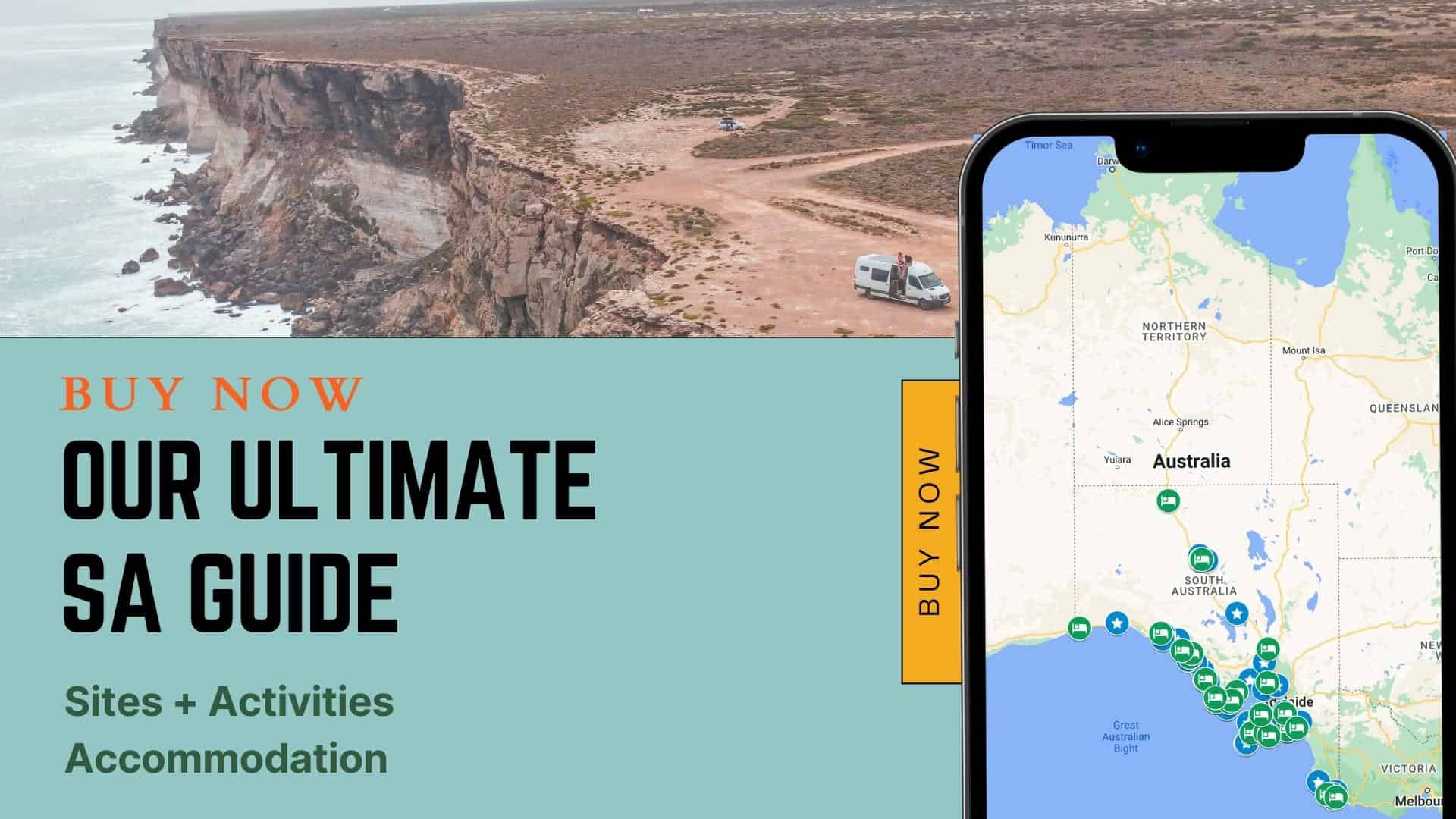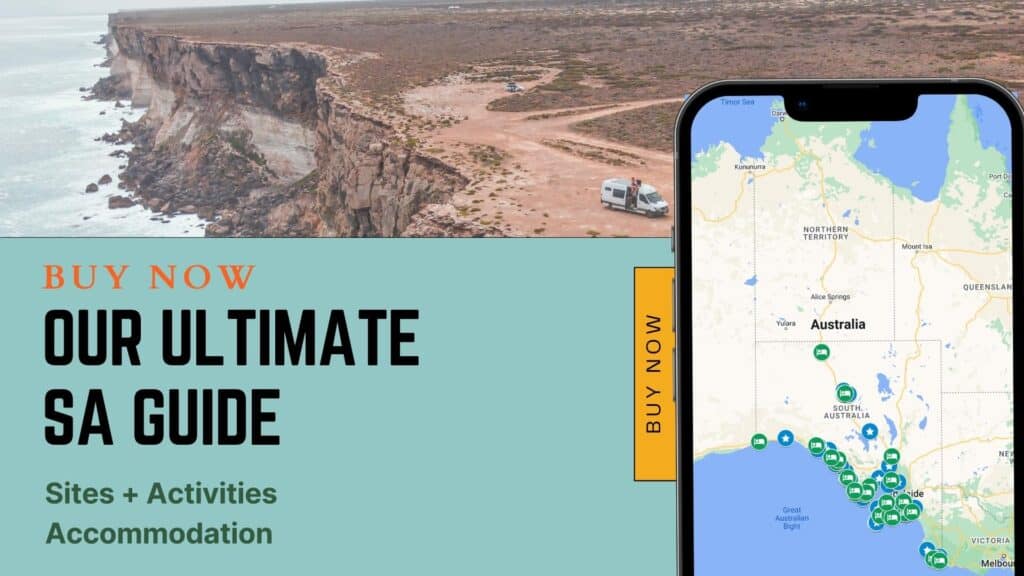 The Nullarbor Links
The Nullarbor crossing is also home to the world's longest golf course, the Nullarbor Links.
The Nullarbor Links golf course is an 18-hole, par 72 that stretches across 1,400 kilometres (860 miles) of some of Australia's most remote countryside. It has one hole in each town or roadhouse along the Eyre Highway from Ceduna to Kalgoorlie.
It is officially recognised as being the longest golf course in the world. It takes players through 12 towns on both Western Australia and the South Australian border.
Nullarbor Plain Itinerary
See below our route in Google Maps: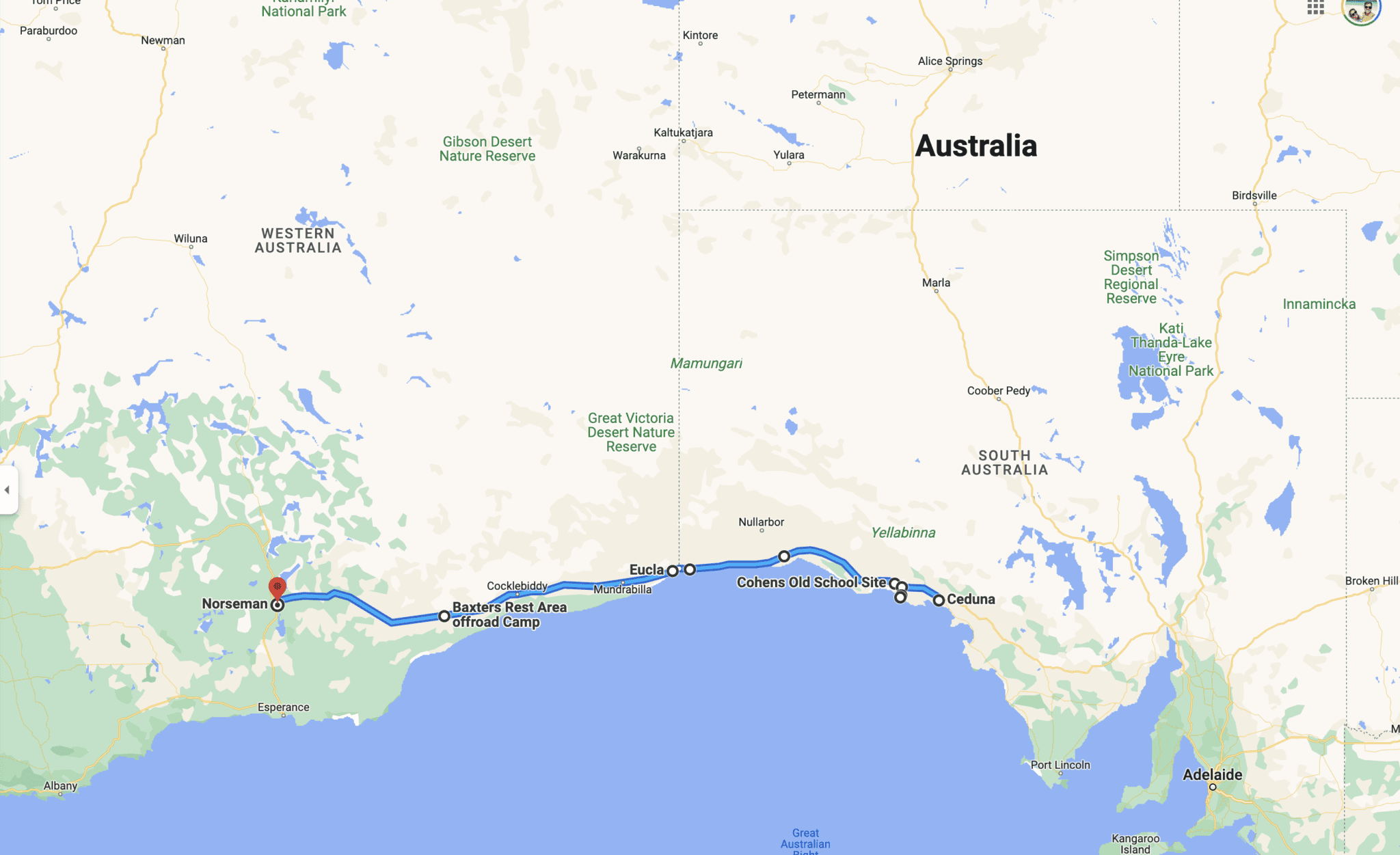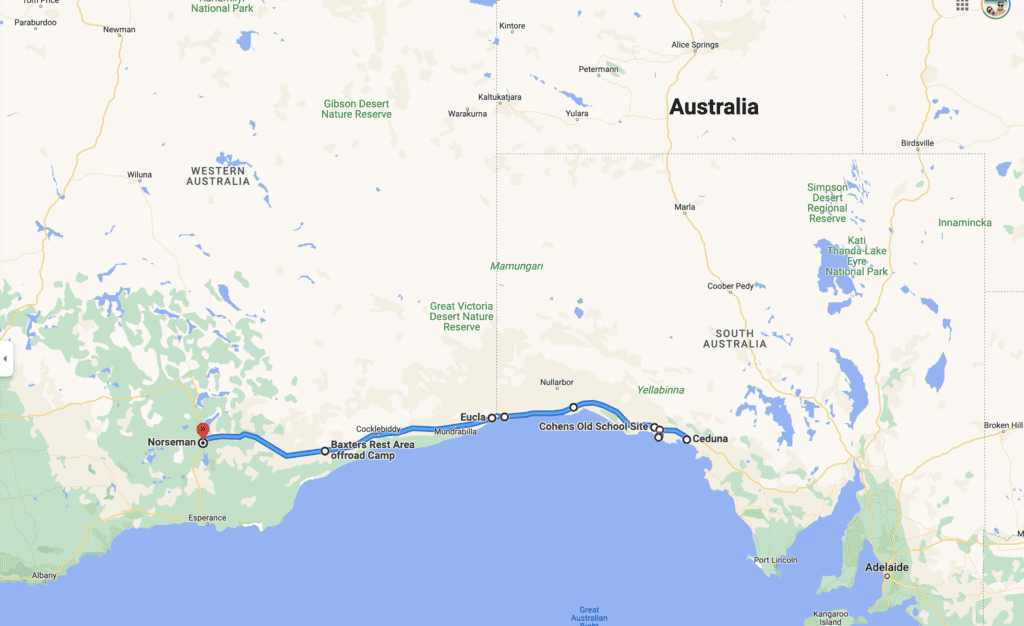 Day 1 – Ceduna to Cohen's Old School Site (86.5 km)
Ceduna is a small town in South Australia and is the last big-ish town you'll see until you finish crossing the Nullarbor. While it may not have much to offer, it has a stunning foreshore and jetty with essential services.
Here is where you should fill up on fuel (check prices on Petrol Spy app or Fuel Map Australia) and stock up on essential items such as groceries and water ($1 for up to 150L) for your trip.
Leave Ceduna and drive 72 kilometres (45 miles) until you arrive at the awe-inspiring windmill museum in Penong. Here, be prepared to take a trip down memory lane as you marvel at dozens of vintage windmills!
Just 15 kilometres south of Penong, make your way towards Lake Macdonnell, and, if you are lucky, you will see a beautiful pink salt lake. This salt lake is insta famous as one side of the road is pink and the other is blue, making it the perfect picture if you have a drone.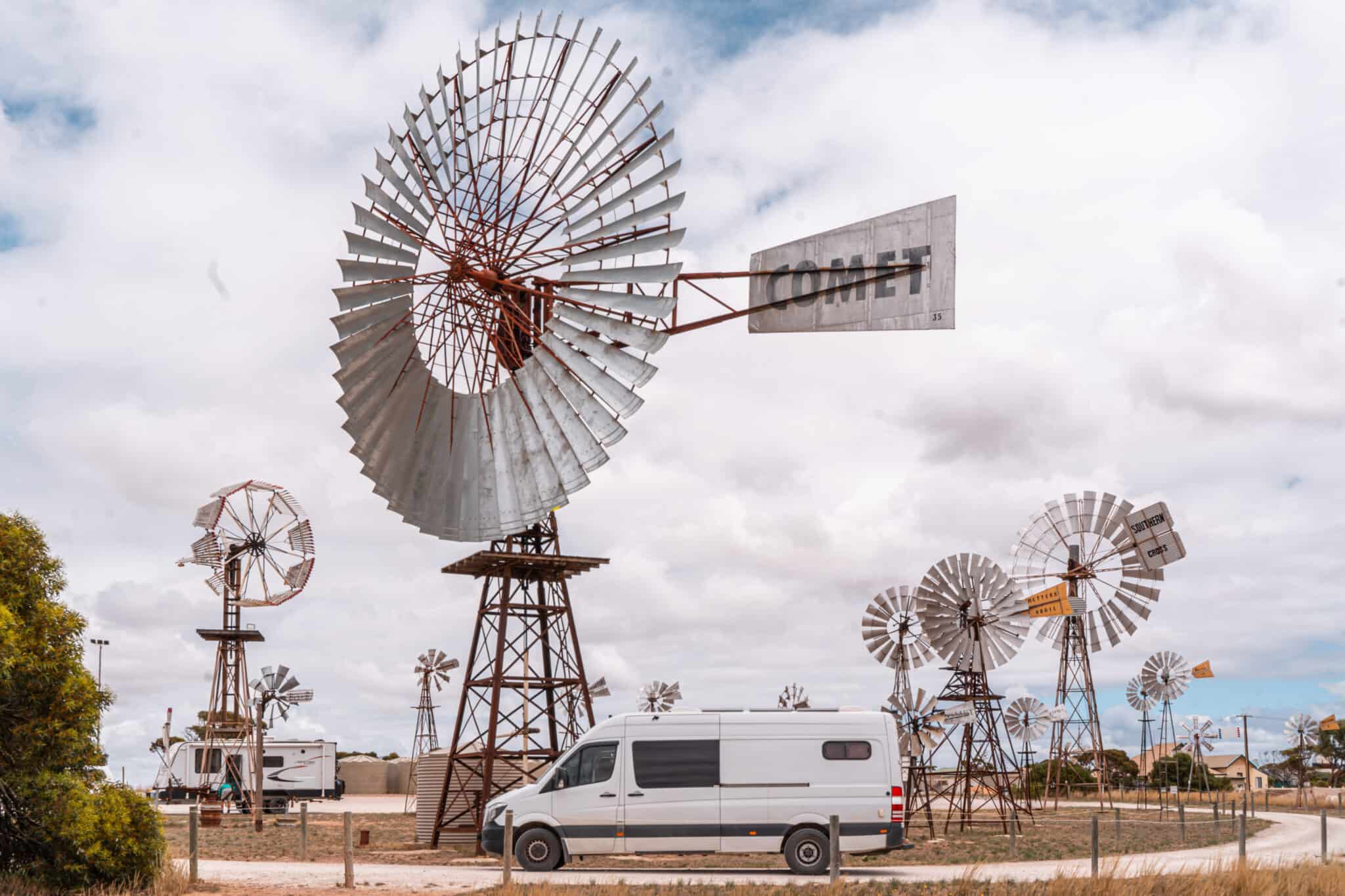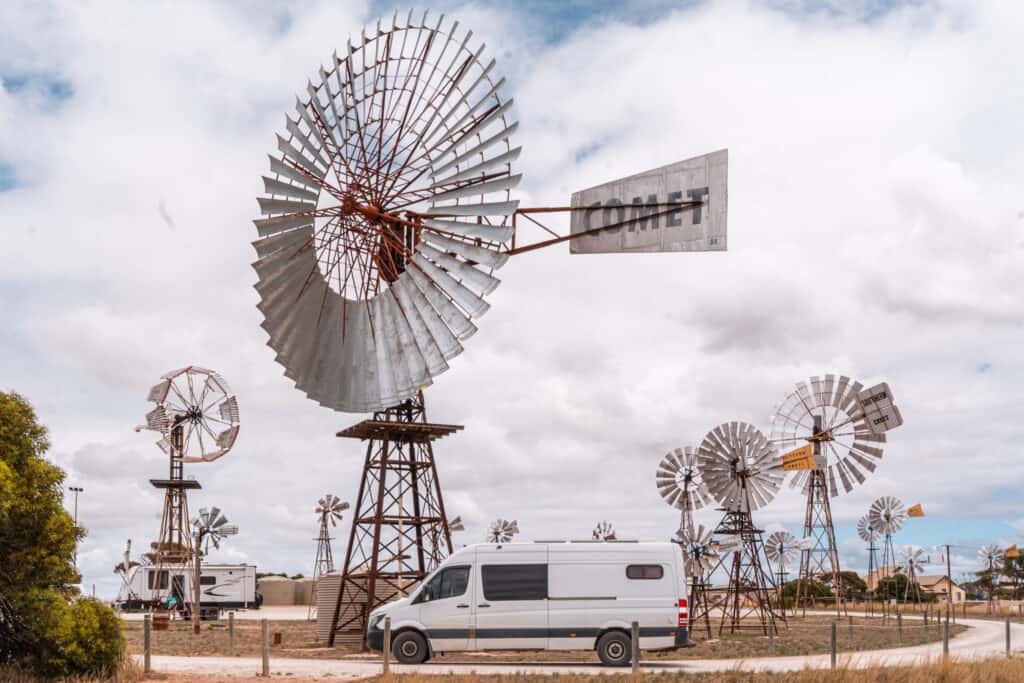 Take some pictures and make your way to the world-class surf breaks of Cactus Beach. For any ocean lover, surfer, or road-tripper, this is the perfect accommodation option after Ceduna.
If you decide to stay at Cactus Beach, it will cost you $17.50 per adult, and $5 per child, per night. When we visited, the weather wasn't good, so it didn't make sense to pay to park by the beach if we were not going to make the most of it.
We left Cactus Beach and made our way to a free camp only 13 km from Penong called Cohen's Old School Site, where we spent our night after day 1, crossing the Nullarbor Plain.
Day 2 – Cohen's Old School Site to Bunda Cliffs (374 km)
The first stop of day 2 is at the Nullarbor Roadhouse, 209km from Cohen's Old School Site.
You can stop at Nullarbor Roadhouse to grab a coffee and something to eat, fuel, and you can also stop for the night if you would like to. They have caravan park and motel options.
Make sure you walk over to the still-standing original Nullarbor roadhouse from the 1950s before moving on. This is the perfect spot for some Instagram pictures!!
We stopped at the Nullarbor Roadhouse for pictures and a hot shower. Their bathrooms have hot showers available to anyone for $1 for 5 minutes.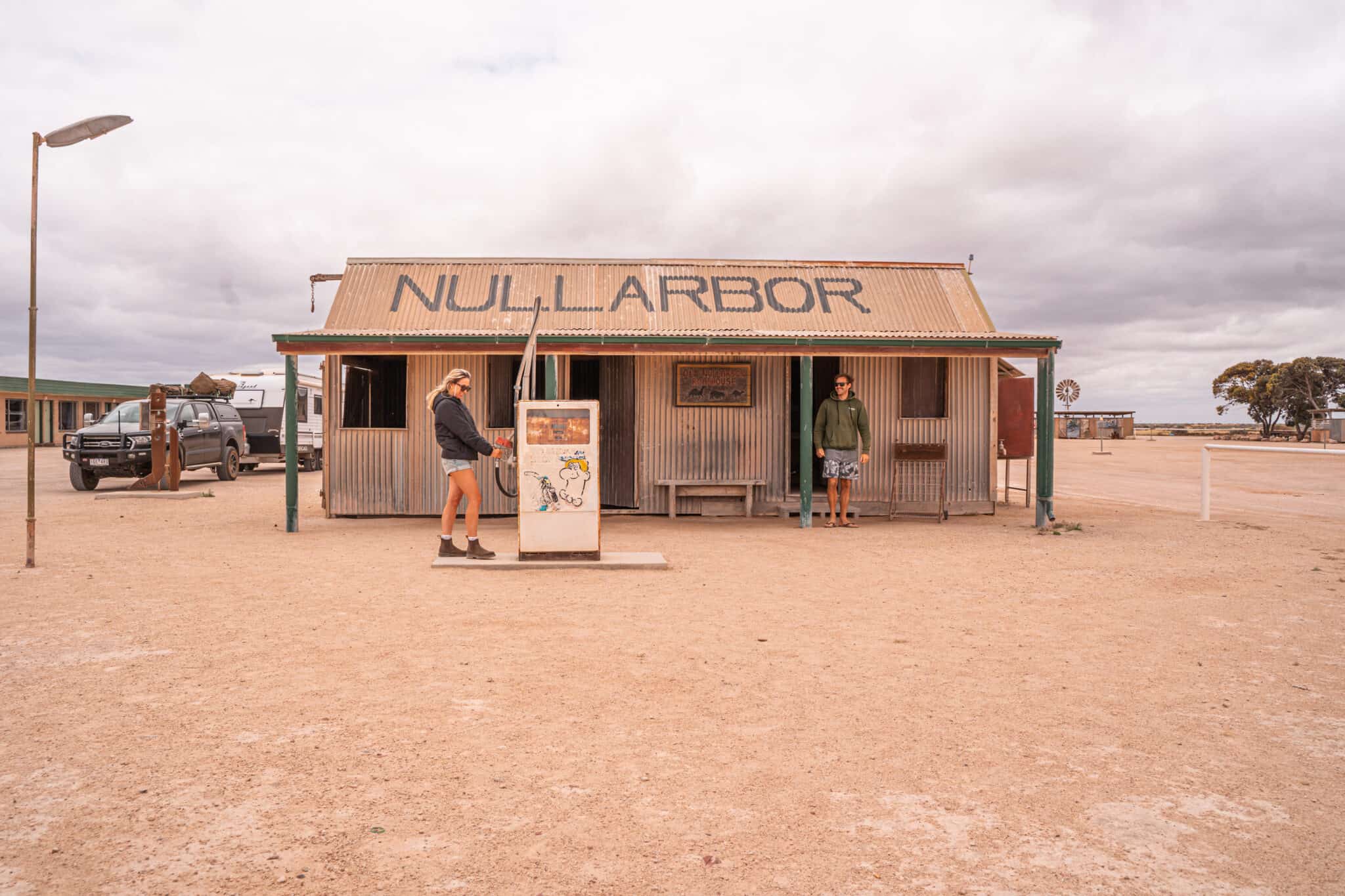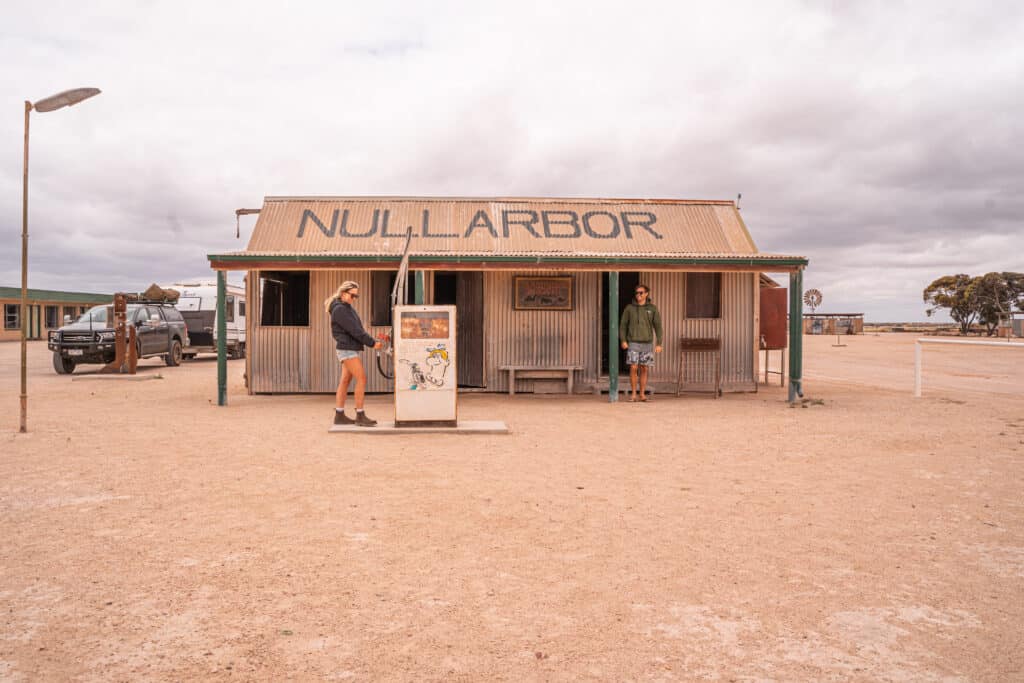 We then drove another 165 km to Bunda Cliffs, a series of incredible cliffs that are more than 65m high and stretch for well over 100km, making them the longest line of sea cliffs in the world.
After that, we embarked on a journey of 165km to the Bunda Cliffs – an awe-inspiring chain of cliffs that are more than 65m high. They extend for over a hundred kilometres, making them the world's longest line of sea cliffs in the world!
Don't miss the opportunity to see a breathtaking Southern Ocean view from atop these magnificent cliffs! You can camp here for free; that was precisely what we did! Highly recommend it, but make sure you don't park too close to the edge.
Our Youtube Video on the Nullarbor – Part 1
We recorded our road trip crossing the Nullarbor Plain in 2 Youtube videos. Watch part 1 from Ceduna to Bunda Cliffs here.
Day 3 – Bunda Cliffs to Baxter Rest Area (435 km)
Day 3 of the Nullarbor crossing started by leaving Bunda Cliffs and heading towards the WA Border Crossing at Border Village.
Be aware that at this point, you will have to stop, and a quarantine officer will come to your car/van and inspect your vehicle for fresh fruits and vegetables, honey, soil and other items that are not allowed into Western Australia. This check aims to control the spread of pests, diseases and weeds.
After crossing the border, our next stop was at Eucla, the first city in WA if you come from the South Australian border.
The Nullarbor has a few fuel stops, including Eucla. We decided to get enough diesel there to get us to the end of the Nullarbor. Diesel at the Eucla petrol station was $0.20 cheaper than at Border Village but $0.50 more expensive than at Norseman, so we filled up just enough to get us there.
While in Eucla, step back in time and explore what was once Australia's busiest regional telegraph station, now slowly engulfed by the sand dunes.
Eucla has great paid accommodation options but we decided to leave the town and drive to the free camp where we stayed for the night: Baxter Rest Area. There are toilets and a dump station there.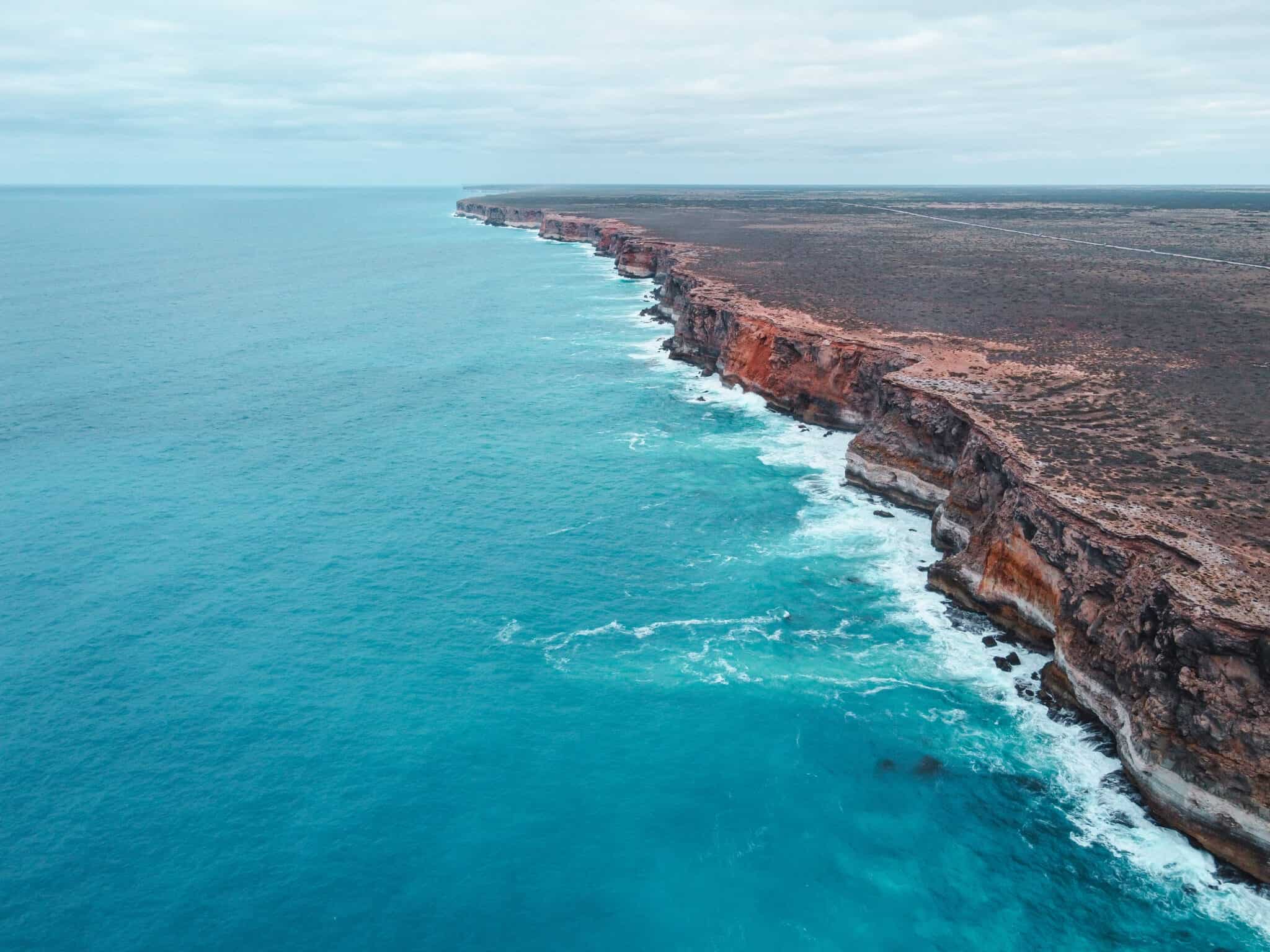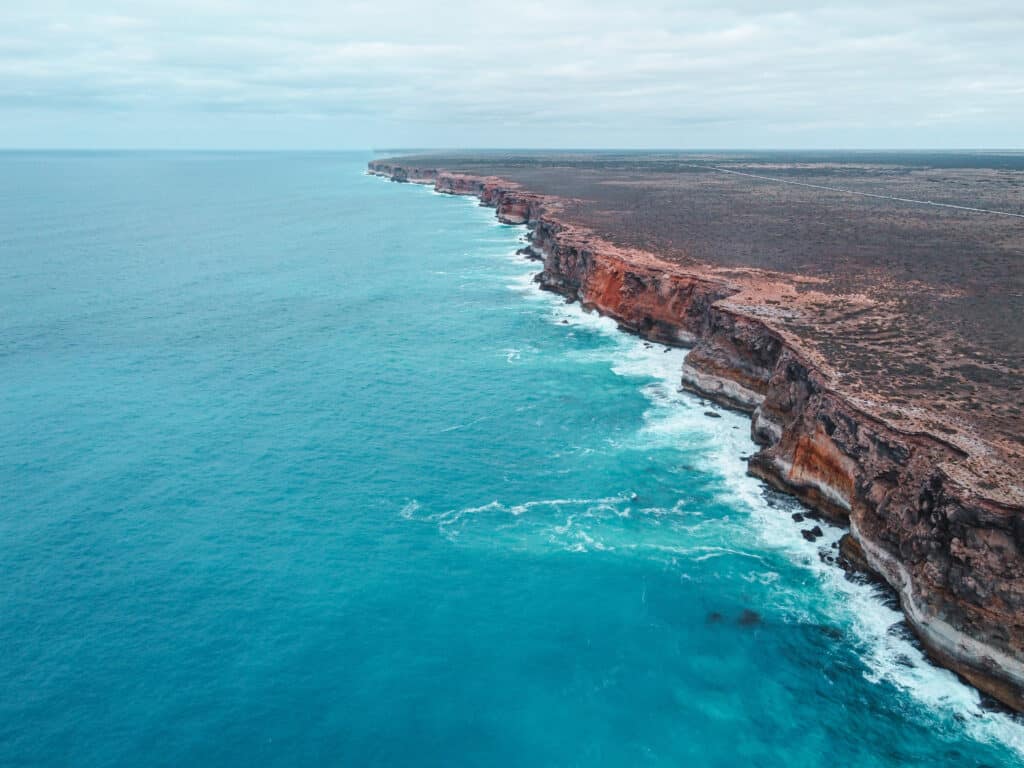 Day 4 – Baxter Rest Area to Norseman (305 km)
The next day we woke up at 4:30 am due to jetlag. The Nullarbor has two time zones. As soon as you cross the border from South Australia to Western Australia, you are 2:30 hours behind in time. For us, 4:30 am felt like 7 am. We made some coffee and jumped back on the Eyre Highway to continue our Nullarbor Crossing.
We drove 305km straight and arrived in Norseman, officially the end of the Nullarbor Plain.
However, that didn't mean the end of driving for us. Norseman is a tiny town, and we still had a few hours of driving before reaching our next destination.
Norseman is the perfect place to fill your tank, stock up on necessary items, and celebrate having crossed the Nullarbor.
Our Youtube Video on the Nullarbor – part 2
We recorded our road trip crossing the Nullarbor Plain in 2 Youtube videos. Watch part 2 from Bunda Cliffs to Norseman here.