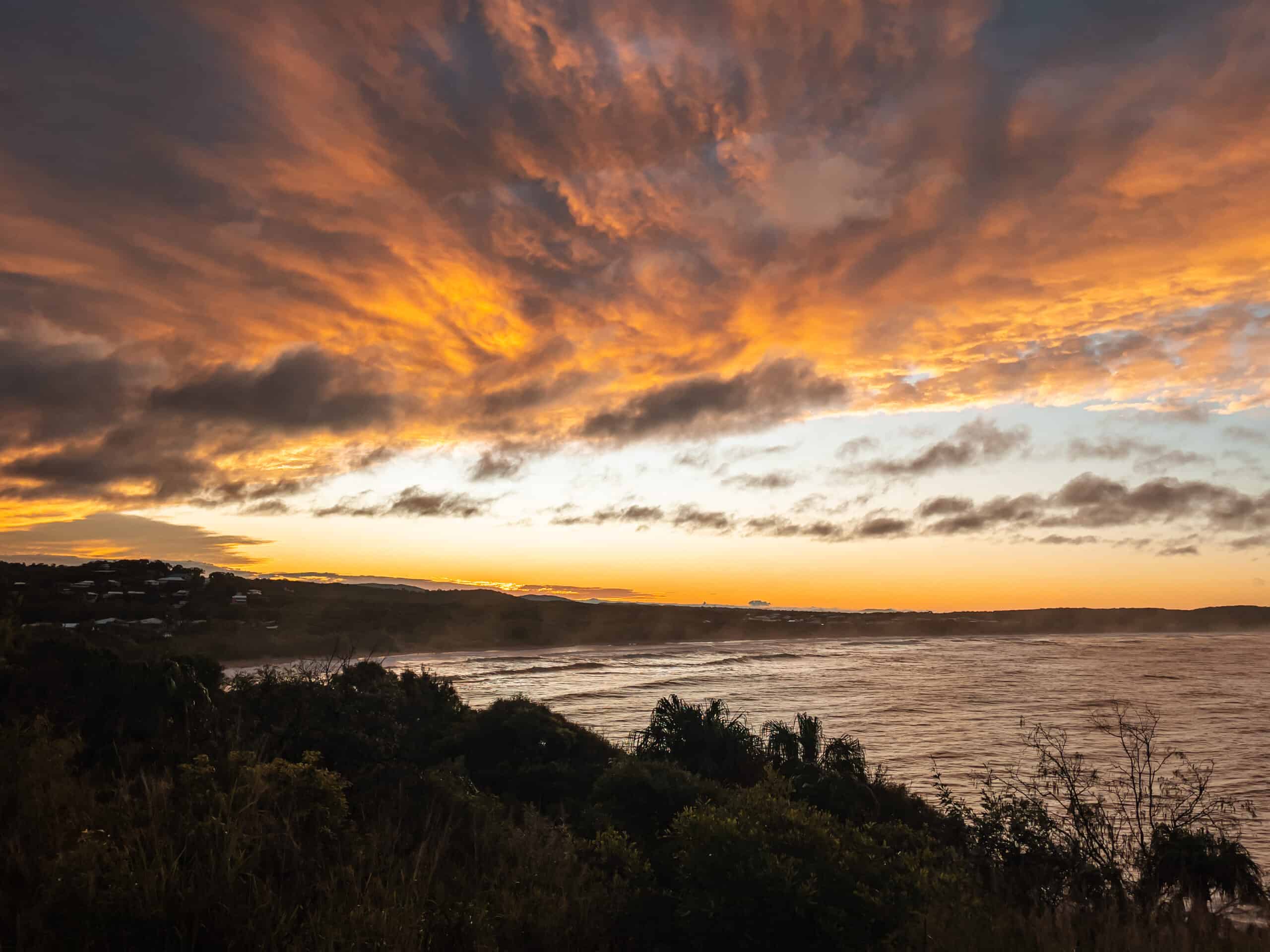 Agnes Water Caravan Park – The Perfect Place to Unwind
Are you looking for a place to relax and unwind? Somewhere with beautiful scenery, good surf and is close to all the amenities you need? Look no further than Agnes Water Caravan Park!
This camping has everything you need to make your stay comfortable, including laundry facilities, a kitchen, a dump point and an on-site cafe. The park is steps away from the beach and shops, so you can enjoy the sun, surf and do some shopping during your stay.
With its beautiful location and plethora of amenities, Agnes Waters Holiday Park is the perfect place to kick back and enjoy some well-deserved rest on the most northern surf beach on the east coast of Australia.
The only other caravan park in Agnes Water is The Reef Caravan Park, a 5-minute drive from Agnes Water beach.
Here's everything you need to know about the idyllic Agnes Water Beach Holiday Park.
How to get to Agnes Water Beach Holidays Park
The NRMA Agnes Waters Caravan Park is situated in picturesque Agnes Water and 1770, on the Southern Great Barrier Reef. It is a 1 hour and 30 minutes drive from both Bundaberg and Gladstone and a 5 hour and 30 minutes drive from Brisbane.
The address for the camping grounds is Jeffery Ct, Agnes Water QLD 4677. The best way to get there is by car.
Need a rental car to explore Queensland? Book here
How far is Agnes Water from Brisbane?
Agnes Water is located 478 kilometres north of Brisbane. The town is considered the gateway to the Great Barrier Reef.
There are a few different ways to get to Agnes Water from Brisbane. The most direct route is by car, and the drive takes about five and a half hours. You can also take the bus or a train, but both options take significantly longer than driving.
Agnes Water Beach Caravan Park Accommodation Options
The Agnes Water Beach Park is located on the beachfront of Agnes Water. The caravan parks offer various accommodation options to suit all budgets and needs, including powered caravan sites, unpowered sites, beach houses, two-bedroom villas, studios, and safari tents with stunning beachfront views. 
The powered caravan sites are suitable for caravans, motorhomes, and big campervans. Most have a concrete slab and water. The powered tent and unpowered sites are suitable for tents, small campervans and swags.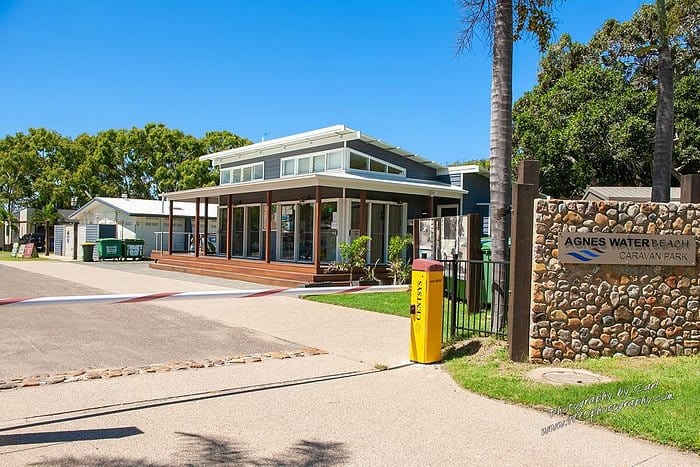 Agnes Water Beach Caravan Park Facilities
The park offers guests laundry facilities, a clothesline, a camp kitchen with barbecues, toilets with hot showers, and a dump point. The campground is also steps away from the beach, shops, and restaurants.
The town of 1770 has an excellent boat ramp and parking facilities, and it is only 6km from the caravan park.
All of this comes at a great price. When writing this blog post, the cost for a Powered Van and Tent site or Powered Tent site starts at $53 a night.
If you are a member with RACV, RACQ, RAA SA, RAC WA, RACT or AANT, you can save 10% on stays. The park also offers one FREE night if you book a seven-night stay (book seven and only pay for 6), so check this out before booking.
Agnes Water Beach Holiday Park does not have a swimming pool.
Agnes Water Caravan Park Glamping
At Agnes Water Caravan Park, you will find plenty of options if you want to go camping. They have space for you if you travel with your caravan, motorhome, or campervan. Prefer a more luxurious experience? They also have safari tents that will give you an ocean-front glamping adventure.
Luxury meets nature in the Southern Great Barrier Reef glamping safari tents – perfect for those who want to experience camping but don't necessarily have, or want to take, camping gear.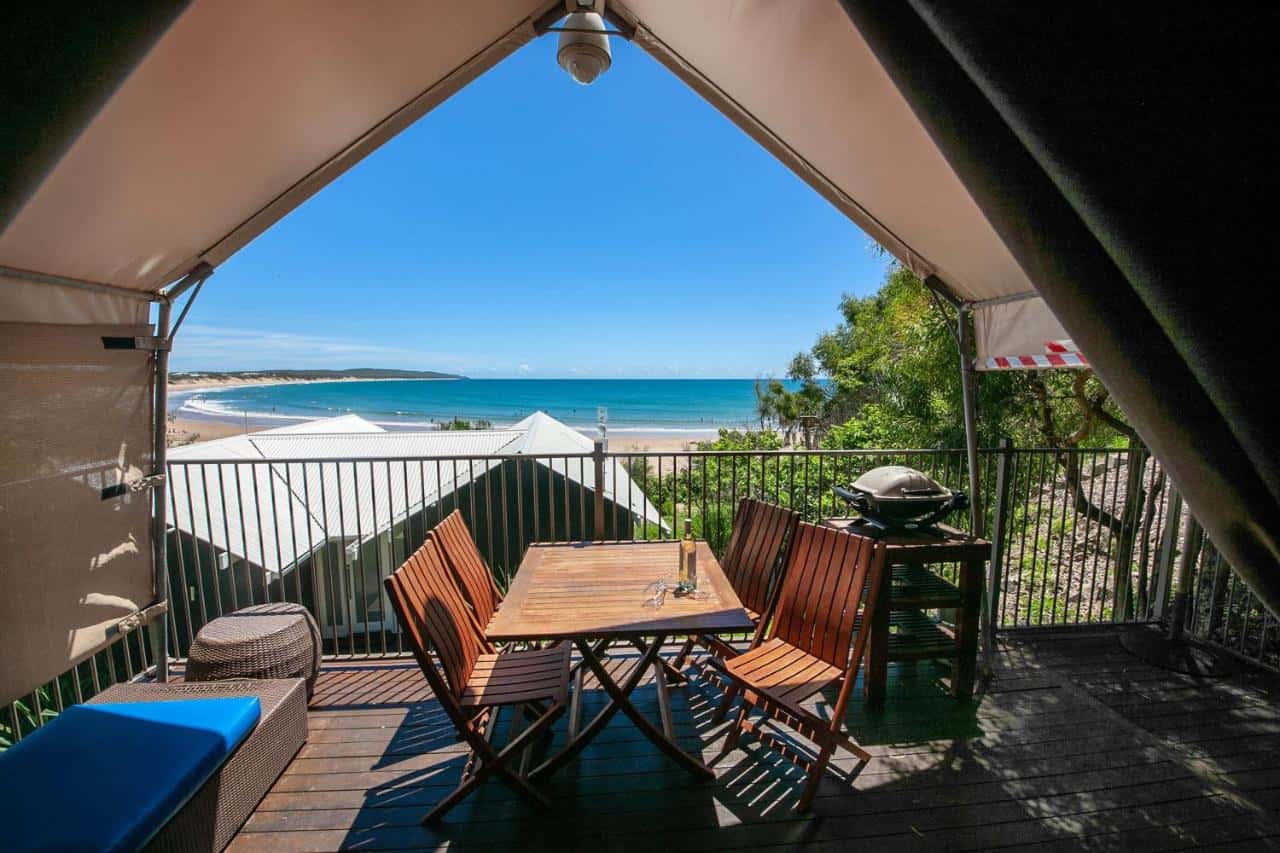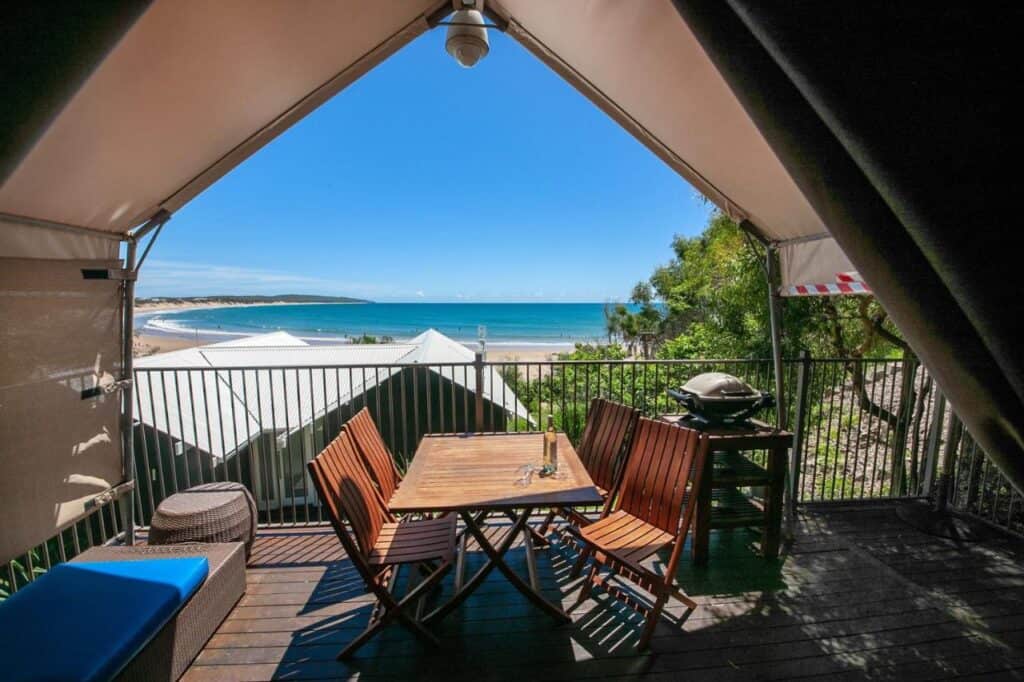 Is the Agnes Water Caravan Park Pet Friendly?
Yes, your four-legged friend can accompany you on your next trip to Agnes Water. Some accommodation options are pet-friendly, but not all.
Pets are permitted in the Powered sites, Powered van and tent sites and Unpowered tent caravan sites.
Pets are not allowed at the beachfront studios, apartments or cabins.
Dogs must always be on a lead and under your control. You can't leave them unattended.
Can you swim at Agnes Water?
The answer is yes! In fact, swimming is one of the most popular activities in Agnes Water.
Agnes Water has two main beaches: Agnes Water Beach and 1770 Beach. Both beaches are great for swimming, sunbathing, and more.
Agnes Water Beach is the more popular of the two. It is patrolled and has lifeguards on duty during busier seasons, making it a safer place to swim for families. Additionally, this surfing spot holds the title of being the most northern surf beach on the east coast of Australia!
1770 Beach is a bit more secluded but just as beautiful.
Agnes Water Beach is pet friendly, but only in certain areas. Check where you can take your pet for a walk or a swim before you go.
Are there crocodiles in Agnes Water?
You can rest assured that there are no crocodiles in Agnes Water!
If you're planning a trip to Agnes Water, you might wonder if there are any crocodiles in the area. After all, Australia is home to some of the world's deadliest creatures, so it's natural to be cautious.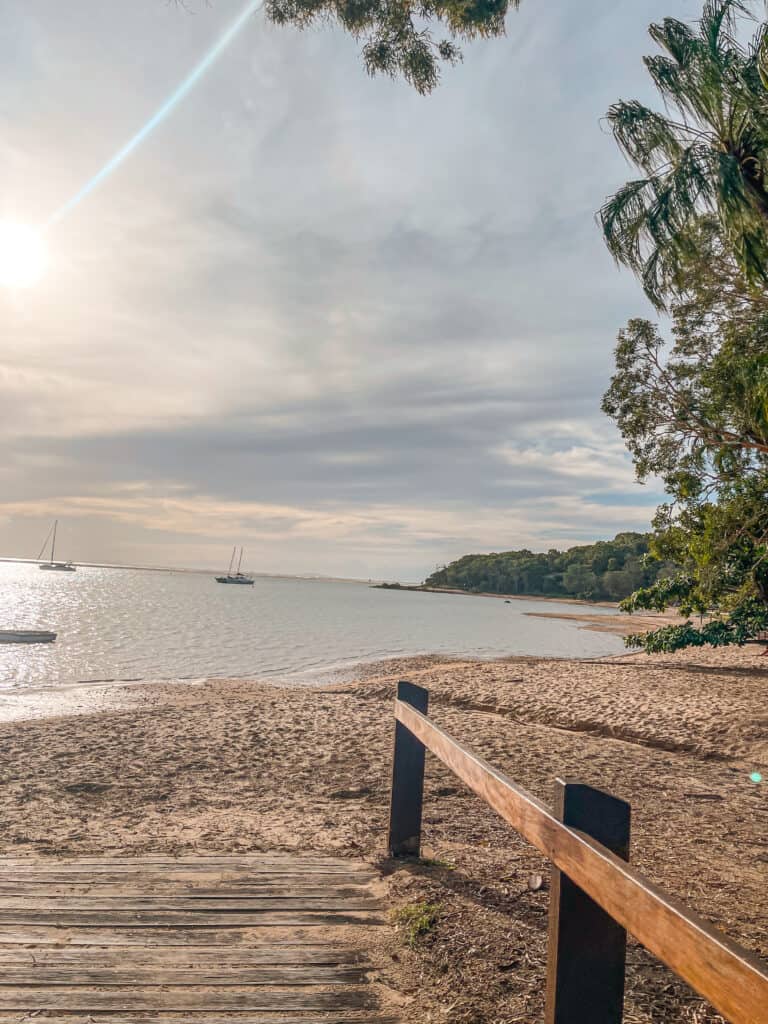 Popular Attractions near the Agnes Water Caravan Park
Agnes Water is a beautiful town in Queensland, Australia, and is the perfect place to set up base camp as you explore all the surrounding area has to offer.
Here are three popular attractions that will keep you entertained while staying at the Agnes Water Caravan Park.\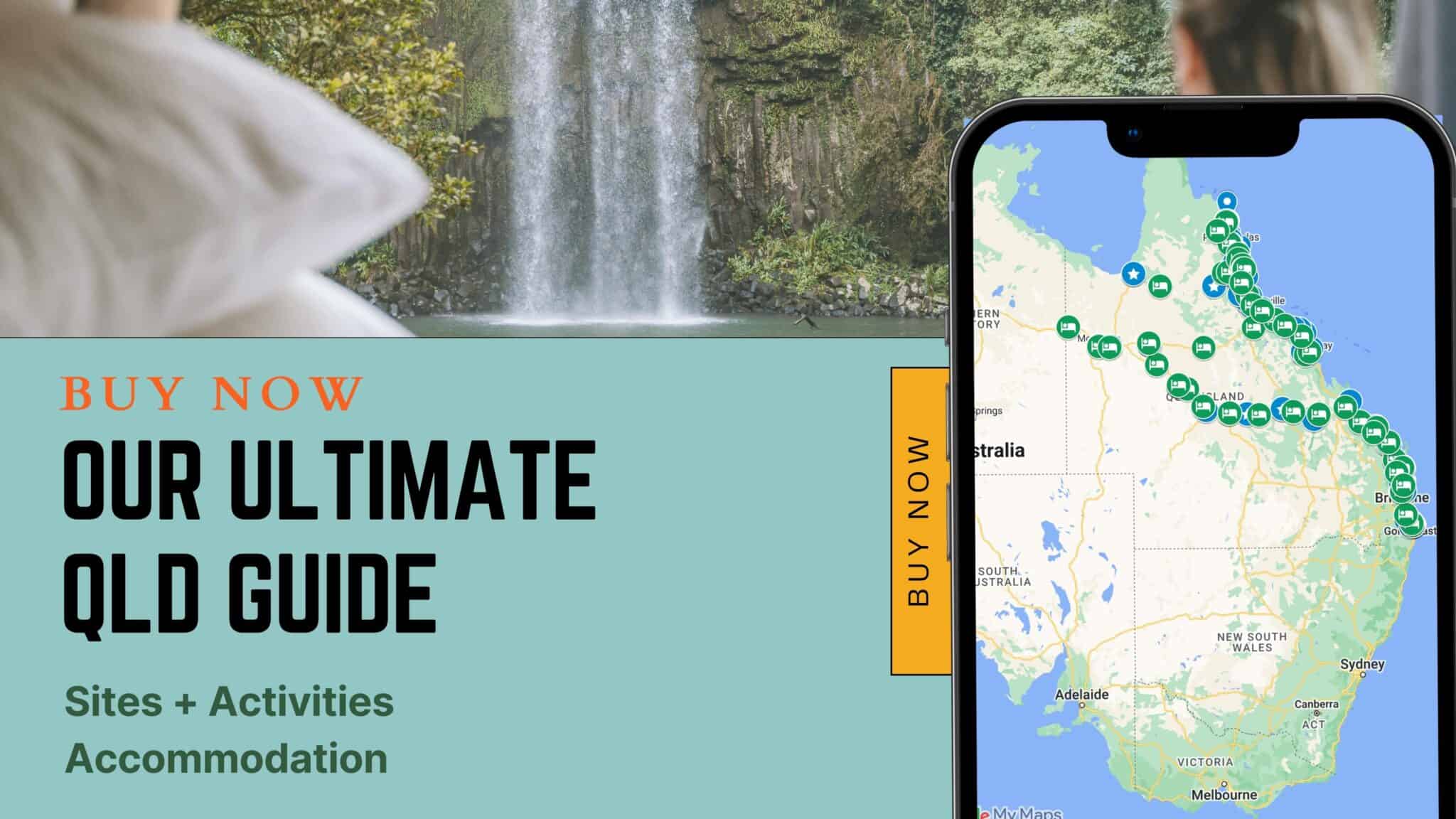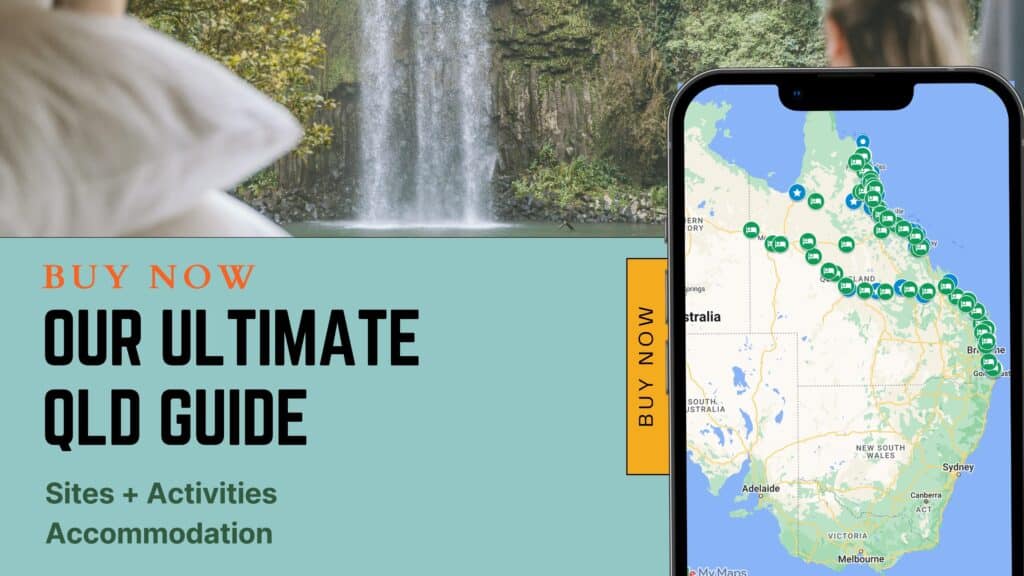 Paperbark Forest Boardwalk
The Paperbark Forest Boardwalk is one of the main attractions in Agnes Water and is a must-see for any visitor to the town.
The boardwalk winds its way through a stunning paperbark forest and offers visitors the chance to see some of the most beautiful scenery in the area.
The park is an excellent location for families, only a few minutes from the Agnes Water Holiday Park. The Paperbark Forest Boardwalk is open all year round and is free to enter.
The best part of this walk is jumping from stone to stone over the water crossings. It's not only fun, but it also keeps the kids entertained.
This walking trail might not be the best option for people with mobility issues. Young children will need help from an adult when crossing water areas, as some level of balance is required to jump from stone to stone.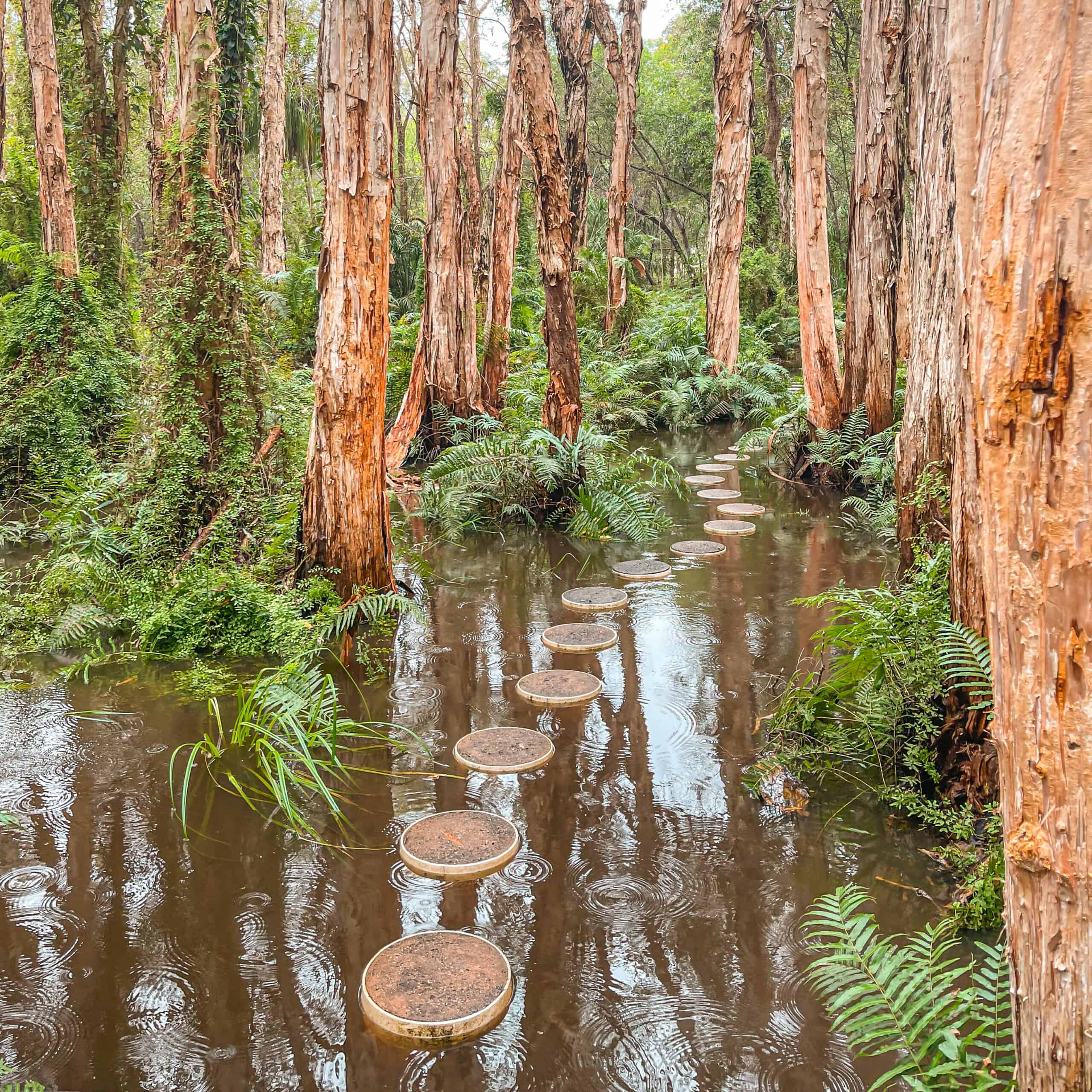 1770 Larc! Tours
Looking for a unique way to explore Agnes Water and the Town of 1770? Then look no further than 1770 Larc! Tours. These tours offer visitors the chance to see the area in a whole new way – from the water!
1770 Larc! Tours offer various tour options, all conducted aboard their fleet of amphibious vehicles. That's right; you'll be touring the area in a pink boat that can drive on both land and water! Whether looking for a leisurely sightseeing tour or an adventurous off-road adventure, 1770 Larc! Tours have something for everyone.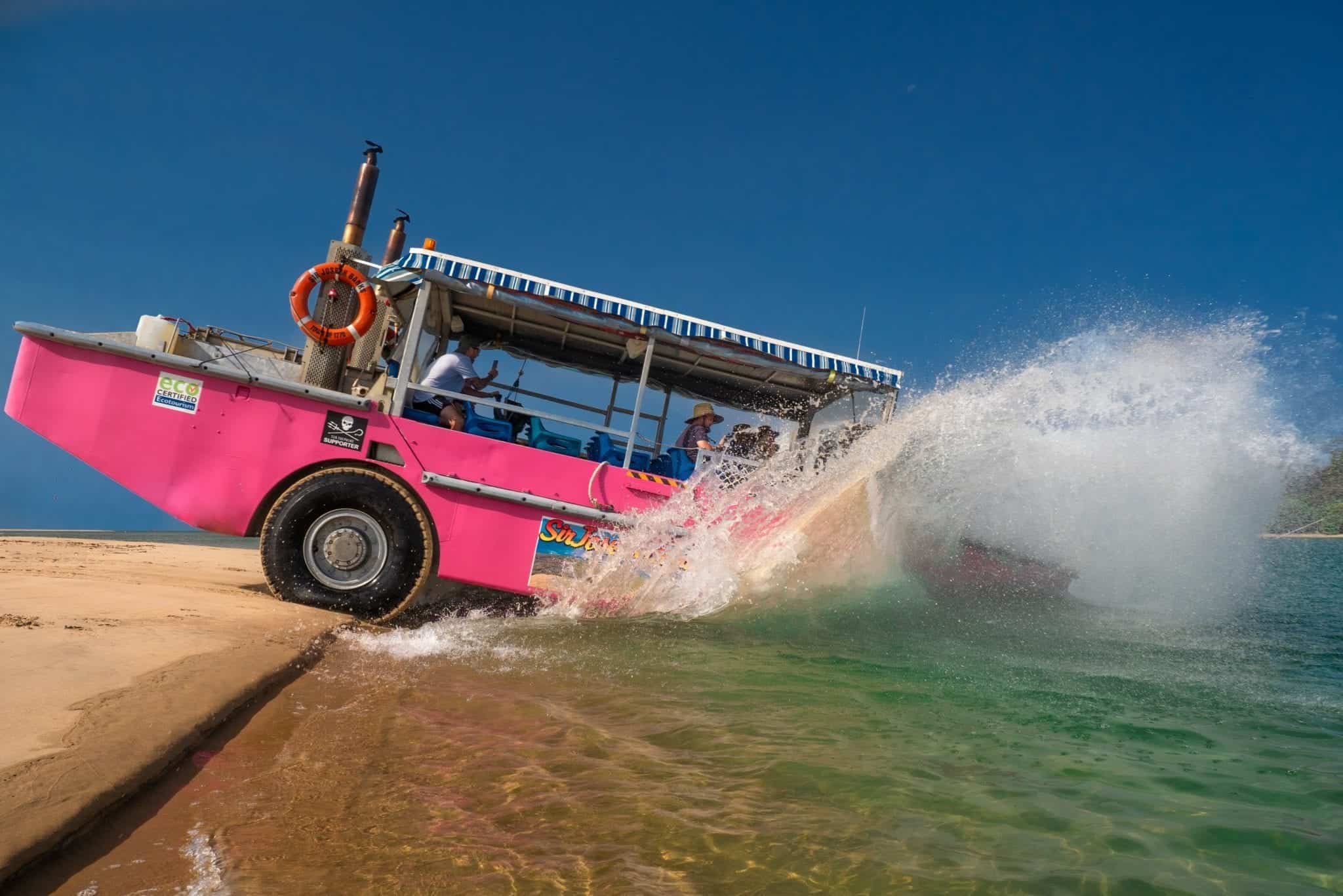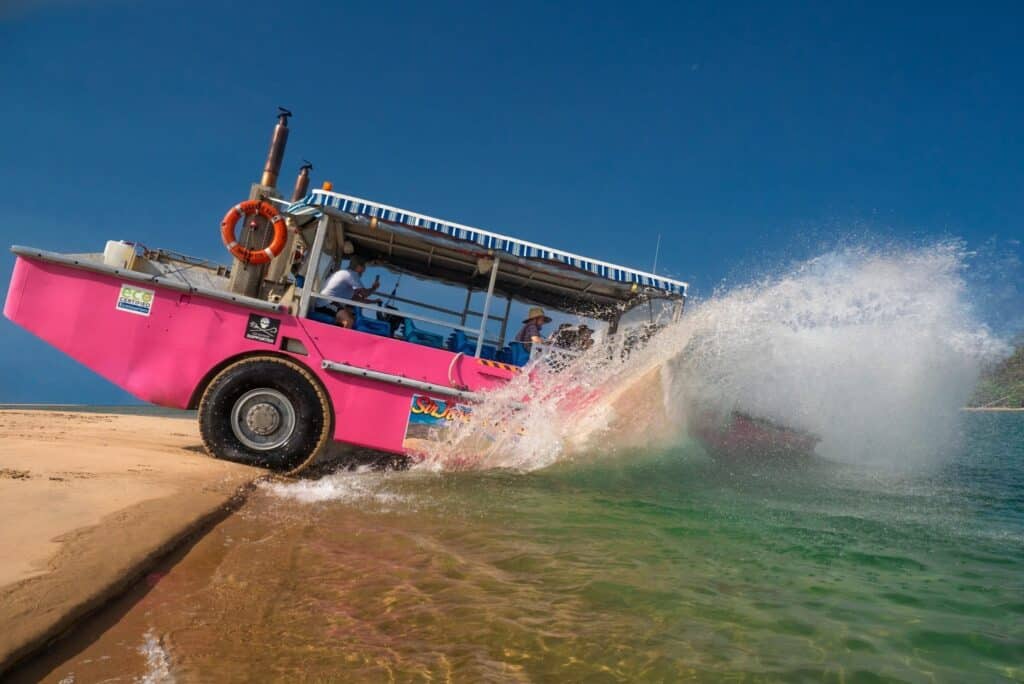 Deepwater National Park
If you are in the Agnes Water area, do not miss the opportunity of visiting Deepwater National Park.
The unblemished beauty of the coastline, with its long expanse of sandy beaches and freshwater creeks, makes this park a perfect place to relax and enjoy fishing.
The eucalypt woodlands are a beautiful sight, and you may even catch a glimpse of some local wildlife, including wallabies, emus and many different types of birds. You will need a four-wheel drive to visit this area.
If you're looking for a fun day out, why not pack a picnic and explore the Wreck Rock and Flat Rock day-use areas? There are plenty of things to do, like fishing or exploring the rock pools.
Lady Musgrave Island
If you're looking for a hidden gem in the Great Barrier Reef, look no further than Lady Musgrave Island.
This tiny island is located off the coast of Queensland, Australia. Lady Musgrave is the southernmost island in the Capricorn Cay region. It's the only coral island surrounded by a vast turquoise lagoon.
Lady Musgrave Island is surrounded by pristine coral reefs and crystal clear waters. Visitors can enjoy snorkelling, diving, and swimming with turtles, fish, and other marine life.
Lady Musgrave Island is a true paradise and a must-visit for any traveller to the Agnes Water region.
The Southern Great Barrier Reef has many phenomenal snorkelling and diving sites, but Lady Musgrave Island is unique because a large coral wall encircles its lagoon. This wall acts as a barrier from the outer ocean waves, leaving the inner lagoon tranquil, and the water clarity is astounding.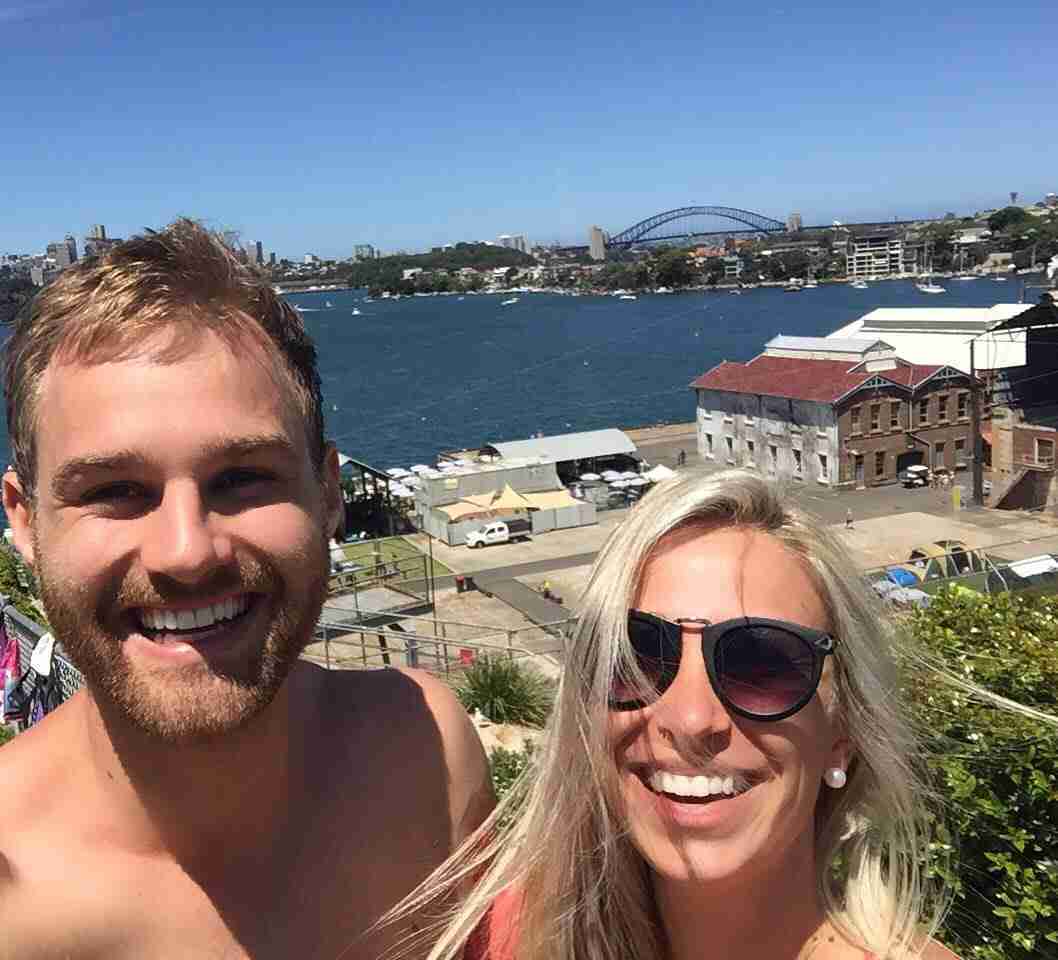 Wade & Dani
Hi! We're Wade and Dani, We're currently travelling around Australia in our 2017 Mercedes Sprinter Camper van and sharing our best experiences, stories, reviews and adventures as we go along. Make sure you follow us on Instagram @wadeanddani