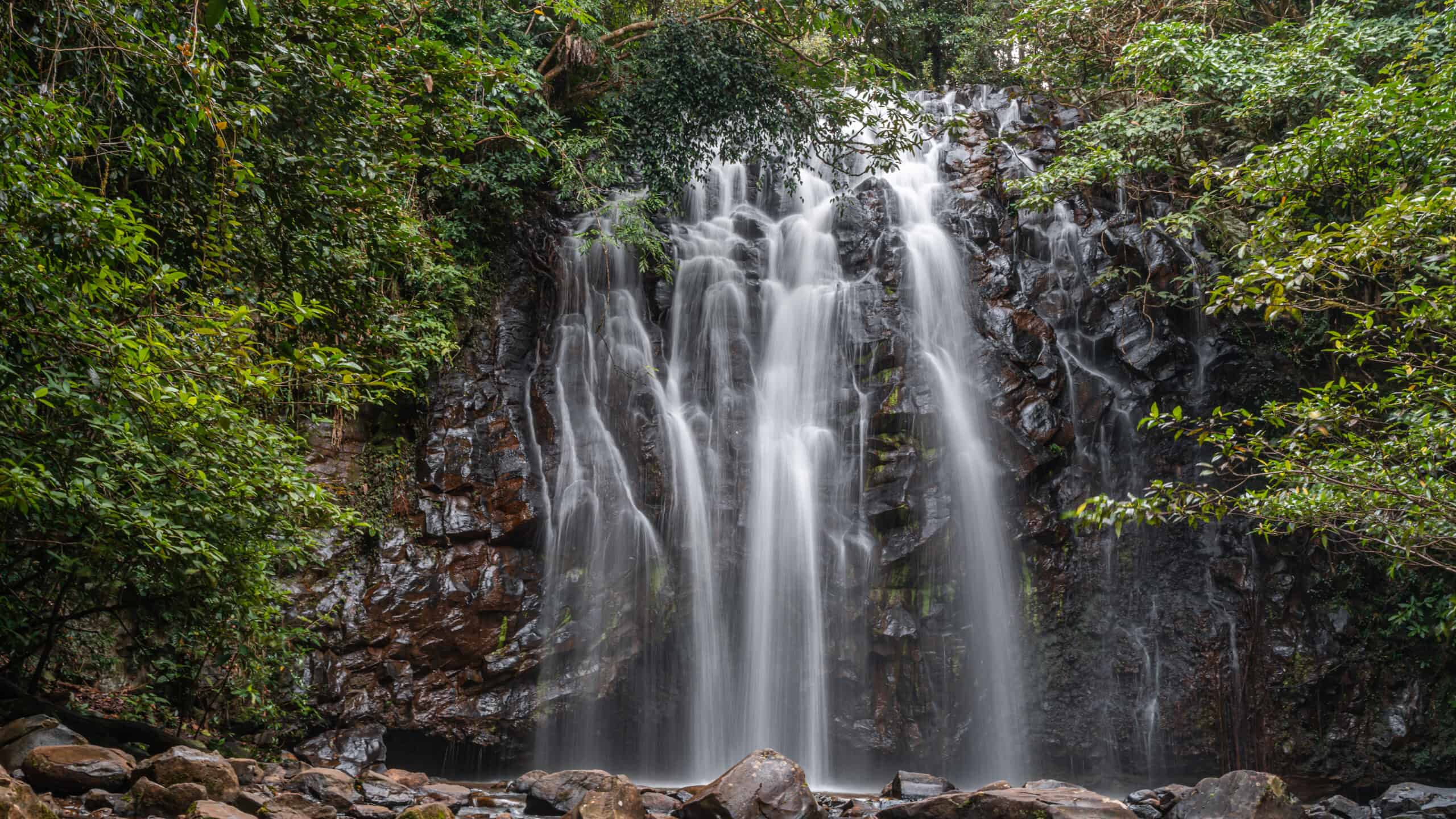 Discover Ellinjaa Falls, Queensland's Hidden Gem
Tucked away in the Atherton Tablelands region of Tropical North Queensland is a hidden gem called Ellinjaa Falls. This natural wonder is one of the many reasons to visit Far North Queensland. With its spectacular views and lush rainforest surroundings, Ellinjaa Falls is a must-see for any nature lover. 
This beautiful waterfall is one of three spectacular falls in the Waterfalls Circuit, including Millaa Millaa Falls and Zillie Falls in Wooroonooran National Park in Far North Queensland.
Here's everything you need to know about visiting Ellinjaa Falls.
Where is Ellinjaa Falls?
Ellinjaa Falls is located in the Wooroonooran National Park, about 2 hours south of Cairns or a 10-minute drive from the town of Millaa Millaa. 
The best way to experience Ellinjaa waterfall is to drive the Waterfall Circuit. These falls are the first (or last, depending on where you are coming from) of three waterfalls along the picturesque Theresa Creek Road.
How to Get to Ellinjaa Falls?
The best way to get to Ellinjaa Falls is by car, although you can also book a waterfall tour to Millaa Millaa.
Driving from Cairns
The easiest way to get to Ellinjaa Falls is with your own car. The drive from Cairns to Ellinjaa Falls is scenic, so be sure to take your time and enjoy the views. 
If you don't have your own vehicle, I highly advise hiring a vehicle in Cairns to drive out.
From Cairns:
Head south on the Bruce Highway for about 30 km until you see the also famous Walsh's Pyramid;
Follow State Route 52 to Lake Barrine Rd in Yungaburra
Follow Lake Barrine Rd to Patrick St/State Route 25 in Malanda
Follow the signs to Millaa Millaa.
Follow the signs to Millaa Millaa.
The falls are all very well signed, so that you will have no issues finding any of them.
This is a car park area with a picnic area with a couple of picnic tables; there are no bathrooms here.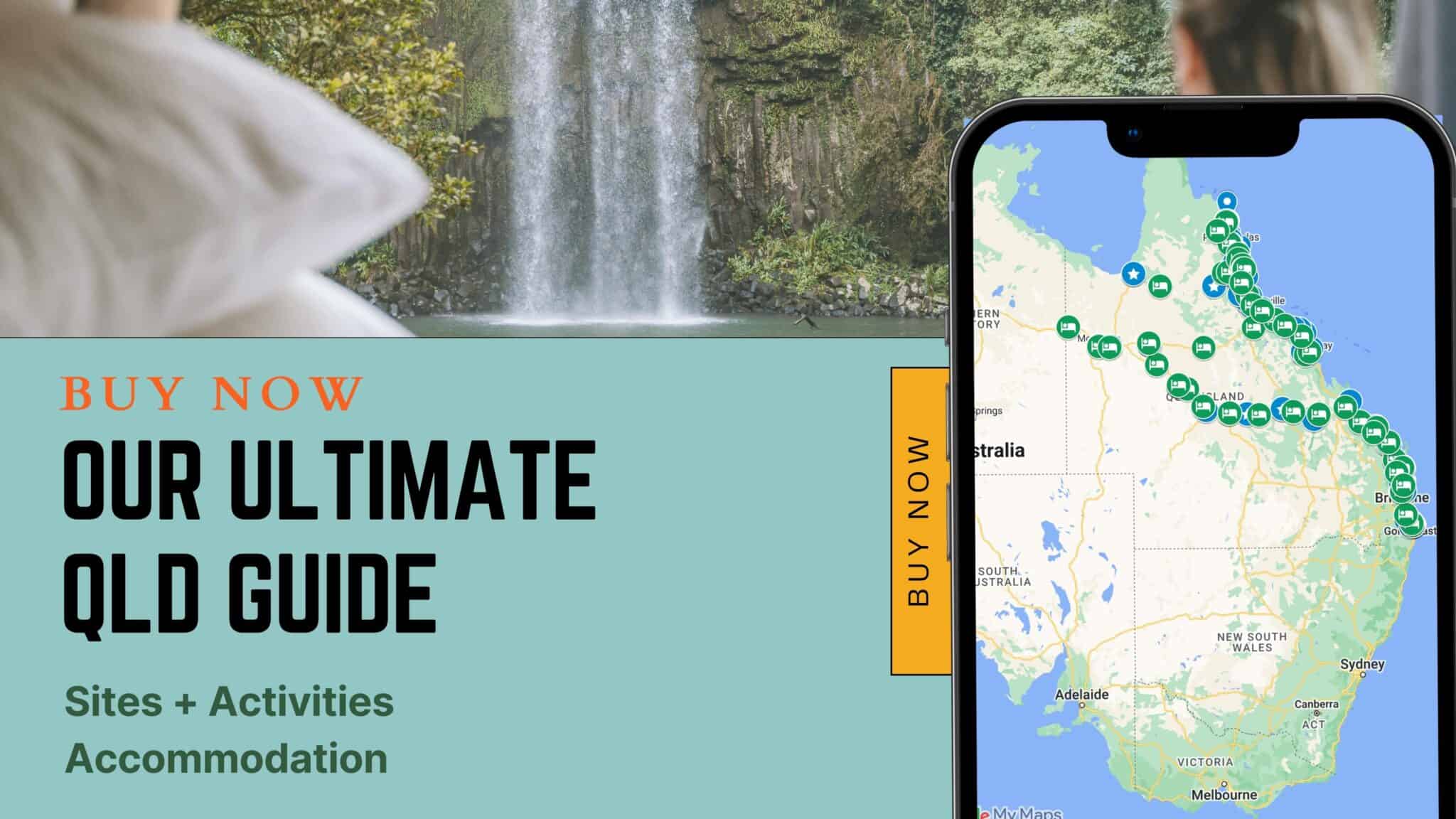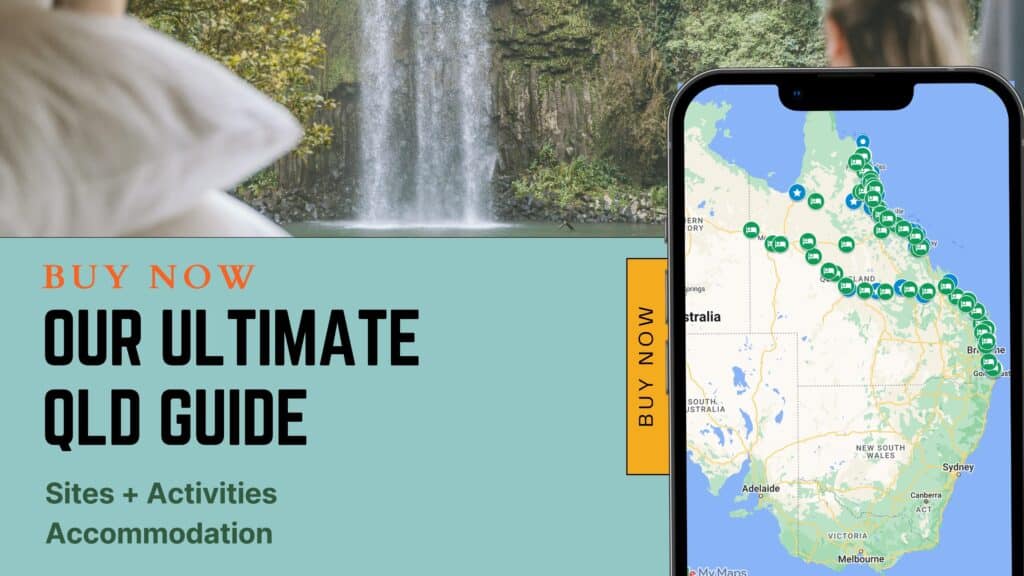 Waterfall tour to Millaa Millaa
It was hard to find a tour that included Ellinjaa Falls as a stop. Most tours only go to the most popular Millaa Millaa falls, not the other two waterfalls in the Waterfall Circuit.
However, we found one tour, see it here that stops at the three spectacular waterfalls (Millaa Millaa, Zillie and Ellinjaa Falls) that form the Waterfall Circuit.
Best Time to Visit Ellinjaa Falls
One of the best things about this waterfall is that it flows all year round.
In our opinion, the best time to visit is during the wet season (November to April). During this time, you will experience Ellinjaa Falls to its fullest, and this is also the summer season in North Queensland, meaning the weather will be warm and perfect for a refreshing swim.
If you're looking for a more relaxed experience, the best time to visit Ellinjaa Falls is early morning or late afternoon to avoid crowds.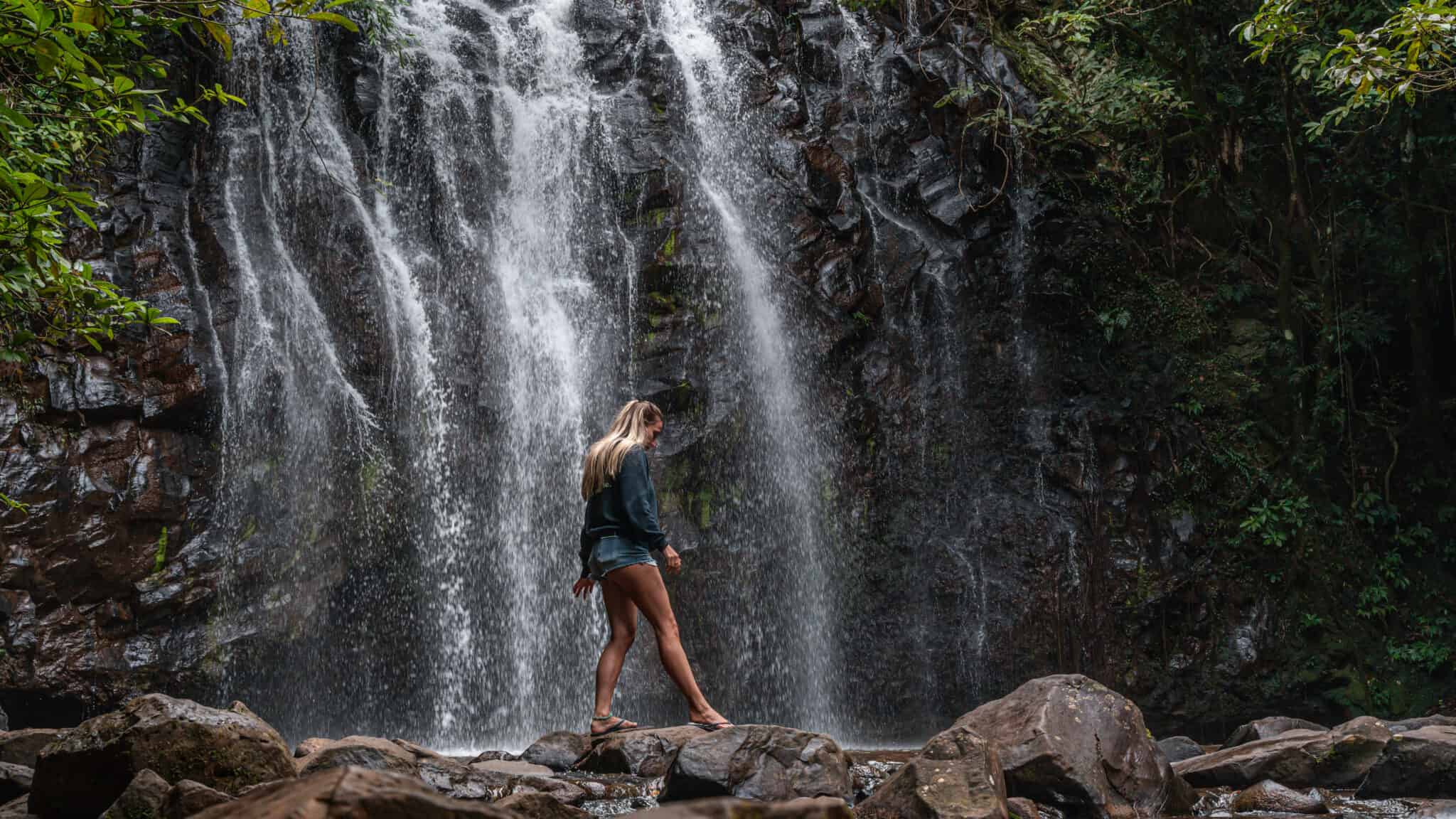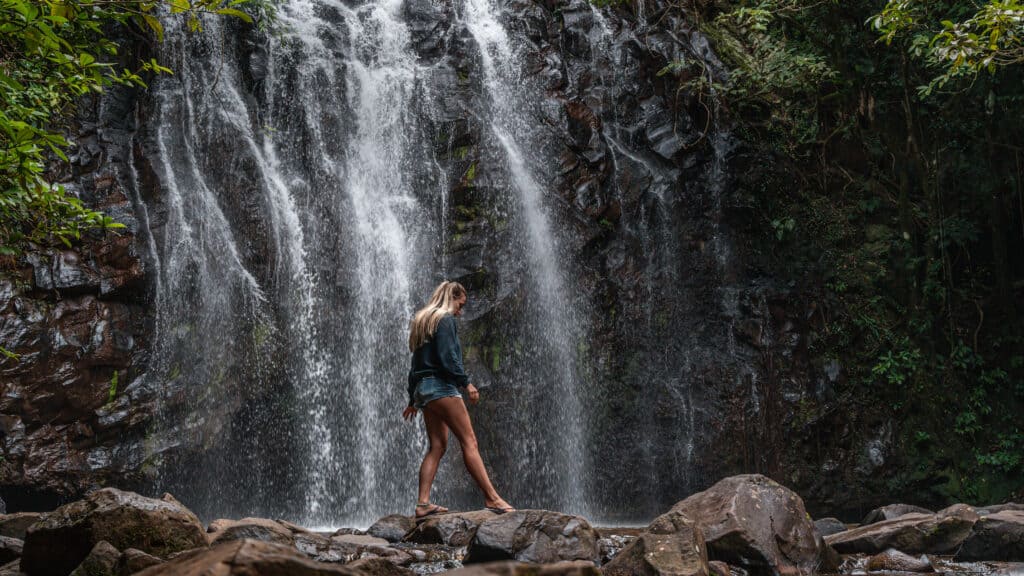 What to Expect at Ellinjaa Falls in Queensland
Ellinjaa Falls is located in the Wooroonooran National Park. The falls are easily accessible via a short walk from the nearby car park. The track is suitable for all fitness levels and takes approximately 5 to 10 minutes to complete.
Once you reach the end of the trail, you will first see Ellinjaa Creek, and then you'll be treated to views of the water cascading down from a height of approximately 12 metres.
For the best views, you can walk to the waterfall's base, where you will find smooth stones and rocks to stand on. A great spot for some fantastic photos. Just be sure to take caution, as these rocks can be slippery.
You can also swim in the pool at the base of the falls, but the waterhole is not deep, so you will likely not be fully submerged.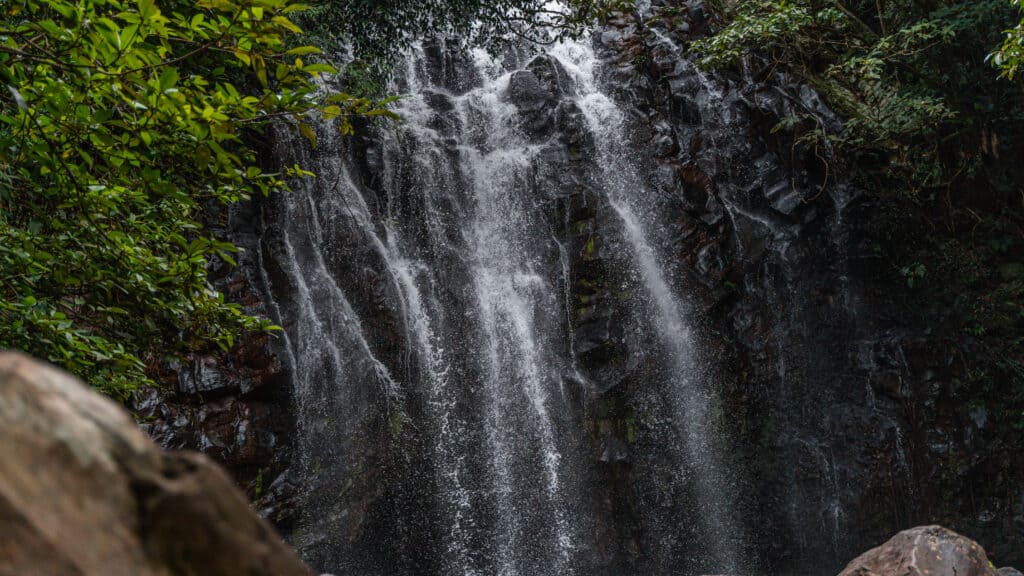 The Millaa Millaa Waterfall Circuit
The Millaa Millaa Waterfall Circuit is one of the most popular tourist attractions in Far North Queensland. The circuit takes you to three different waterfalls (Ellinjaa Falls, Zillie Falls, and Millaa Millaa Falls, the most photographed waterfall in Australia, each with unique beauty.
Accommodation in Cairns
Cairns is a beautiful city in Australia that is known for its stunning beaches and fantastic weather. If you plan a trip to Cairns and the region, you need to know where to stay.
Your budget is the first thing you need to consider when choosing accommodation in Cairns. Many accommodation options are available in Cairns, ranging from backpacker hostels to luxury hotels. Once you have decided on your budget, you can look at specific accommodation options.
If you are on a tight budget, your best bet is to stay in a backpacker hostel. Backpacker hostels are relatively cheap and offer basic amenities like beds and showers. You can also meet other travellers at backpacker hostels, which is excellent if you travel solo.
If you have a bit more money to spend, you might consider staying in a hotel or resort. Many excellent hotels and resorts in Cairns offer stunning views of the city and its surroundings. Most hotels and resorts also have swimming pools and restaurants, so you can relax and enjoy your holiday without leaving the comfort of your accommodation.
Booking.com is excellent for finding the best accommodation for what you need.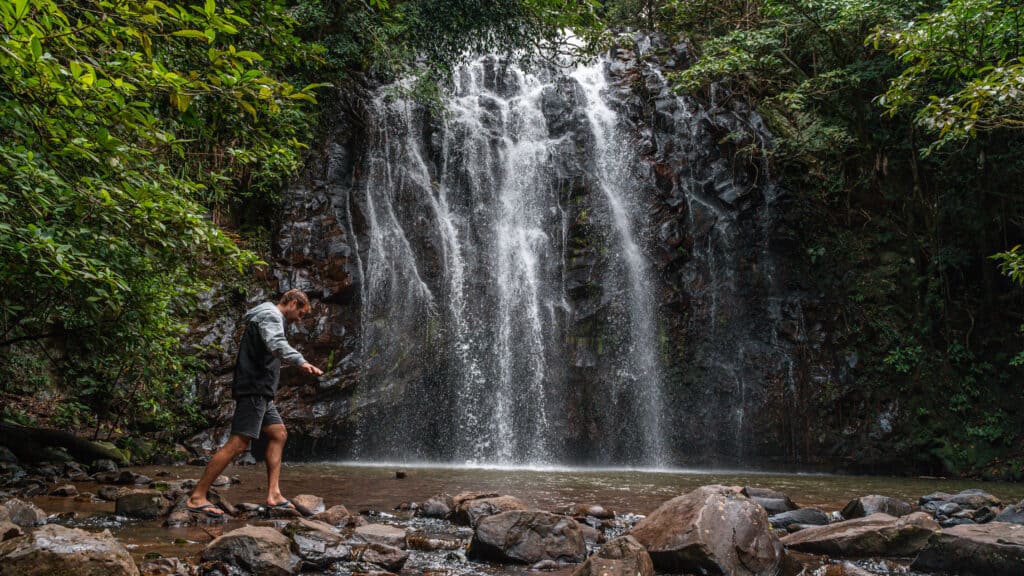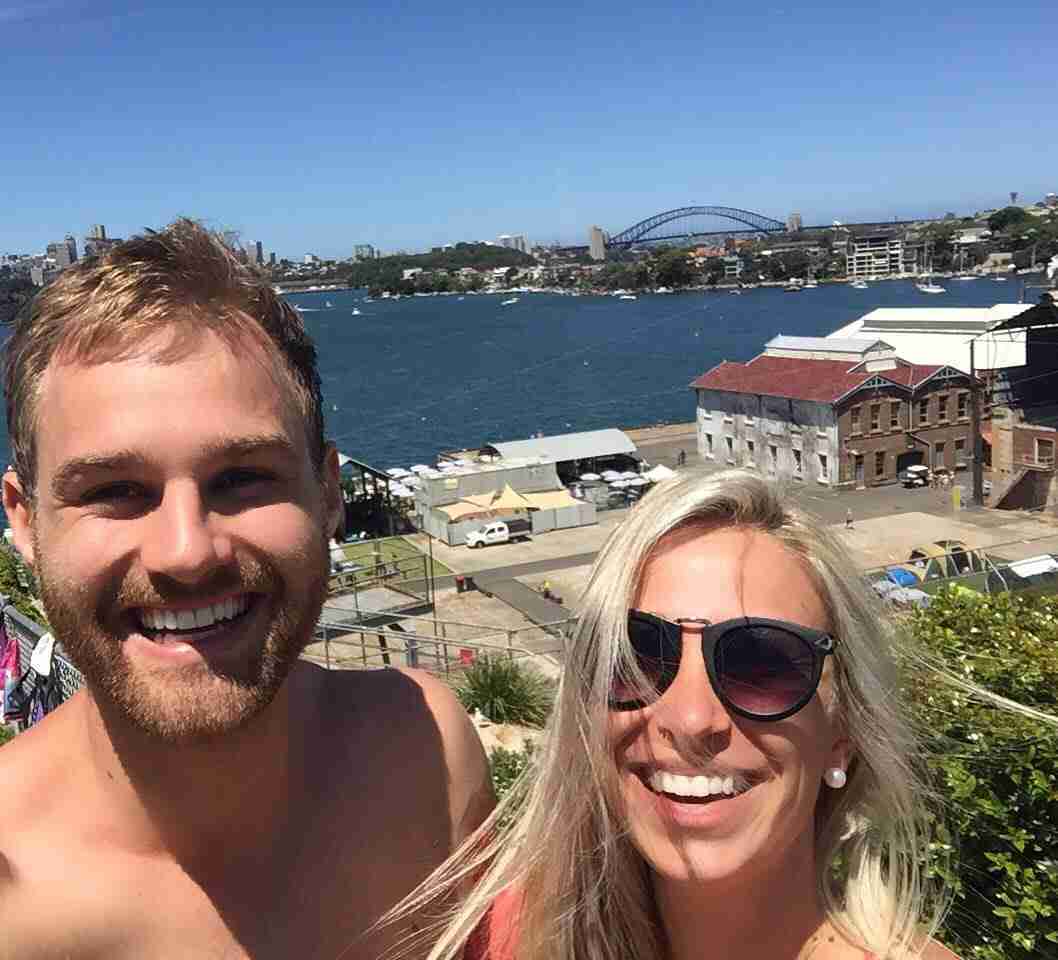 Wade & Dani
Hi! We're Wade and Dani, We're currently travelling around Australia in our 2017 Mercedes Sprinter Camper van and sharing our best experiences, stories, reviews and adventures as we go along. Make sure you follow us on Instagram @wadeanddani