12V Camping Fan: The Best on the Market Today
Updated on: December 2023
You might be considering purchasing a 12-volt camping fan because you're always hot while on the road or want to have a fan available in case of an emergency. No matter your reason, we can guarantee that a camping fan will come in handy!
Many people struggle with finding the best 12V camping fan because they don't know what to look for.
It can be hard to know where to start when looking for the best 12V Camping fan. We understand your struggles and are here to help! This article will consider all the different factors you need to take into account when purchasing a camping fan.
Key Points
| | | | | | |
| --- | --- | --- | --- | --- | --- |
| | | | | | |
| | Caframo Sirocco II Fan 12V fan | Companion Aerobreeze Lithium Fan 30cm | | Maxxair Fan Deluxe with Rain Dome | Fantastic Vent 2250 WIth Lid |
| | | | | | |
| | | | | | |
| | | | | | |
| | | | | | |
| | 12v = 0.12, 0.22, 0.35/24v = 0.06, 0.11, 0.21 | | 12v = 0.15, 0.18, 0.27/24v =0.06, 0.10, 0.18 | | |
| | | | | | |
| | | 12V Battery (4-5Hrs of use) | | | |
| | | | | | |
| | | | | | |
Caframo Sirocco II Fan 12V fan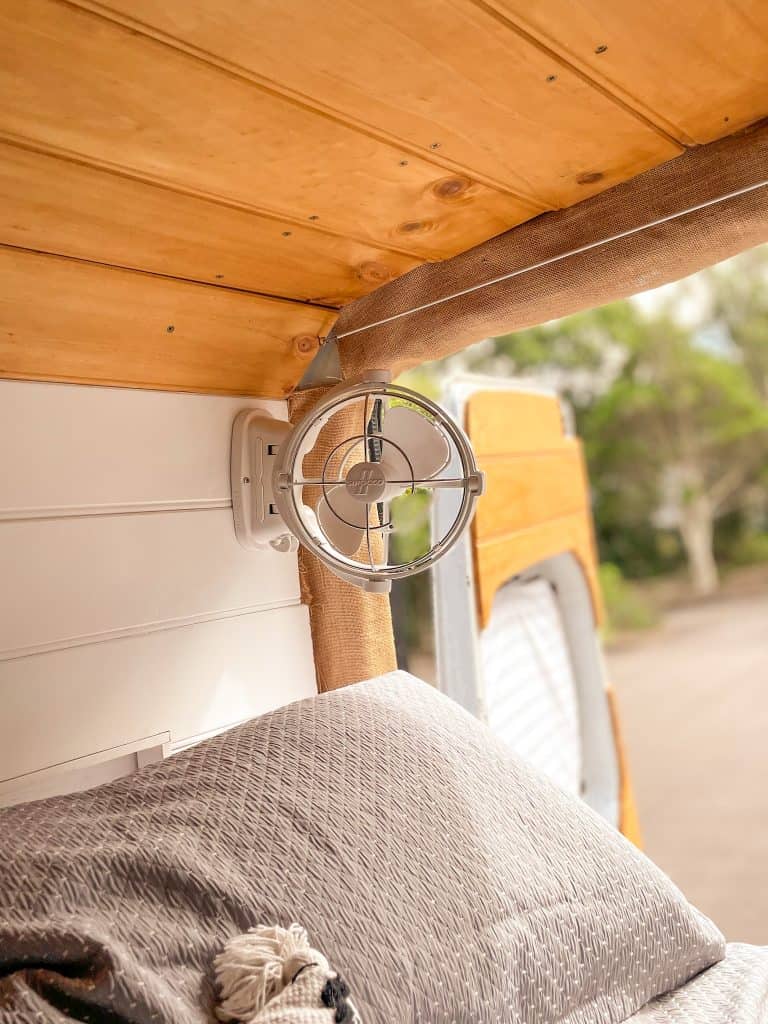 The Caframo Sirocco II is made in Canada with an outstanding reputation among the vanlife community. Caframo's latest model in their high-end campervan line is the Caframo Sirocco II. It includes a more user-friendly switch control arrangement, making it considerably easier to operate than its predecessor.
This caravan fan is one of the quietest you can buy. It's ultra-quiet and has a long-life motor, making it ideal for those who want to keep a low profile while camping.
The Caframo Sirocco II is also one of the most energy-efficient 12V fans on the market. It has a three-speed setting and an LED light, making it perfect for use during both day and night.
The fan's swivel design allows for 360-degree directional airflow and it makes it easier to store than other fans.
It is the most expensive wall fan in our list. It can cost up to $240 when not on sale, but it comes with a two-year warranty.
We think the Caframo Sirocco II is the best 12v fan on the market, and it's perfect for those who are looking for a high-quality, energy-efficient, and quiet fan.
We have this fan installed in our van and we go into a more in-depth review of this particular fan in this article.
3-axis 360 degrees gimbaled design. The fan can go up, down, forwards, backwards, and at any angle you want.

You can set the timer on the fan to turn off after 3,6,9 or 12 hours.

The fan is compact, it can be folded flat against the wall when not in use.

Low current draw – When it is on its lowest setting, it uses 0.12A of power. Medium uses 0.22A, and high uses 0.35A of power.

The cabin fan is high quality and robust. We took it on bumpy roads, and it never came loose or rattled around.

The fan is noisier when it is set to high speed, but it is probably as quiet as a fan can be.

The bluish light that signals the timer can be annoying at night, especially if the fan is near your bed.

This fan doesn't come with a remote.
COMPANION AEROBREEZE 30CM LITHIUM FAN

The Companion Aerobreeze fan is the only one on our list powered by a rechargeable lithium battery. It can be charged via 240v or cigarette lighter.
This small portable camping fan is ideal for any outdoor trip because it has three powerful wind fans and two independent speed controls to help with staying cool. It can be used anywhere since it is completely portable with the carry handle, allowing you to get more fresh air circulation.
You may also take this fan with you on camping with a tent, business trips, and anywhere else since it is lightweight and rechargeable.
Its main features are
Lightweight, portable lithium rechargeable fan
2 Speed Oscillating Fan
Lithium Rechargeable
Up To 5hrs Run Time
AC/DC Charging Cables Included
Portable and rechargeable

It can be used for both indoor and outdoor sites

No mounting bracket or clamp
CAFRAMO BORA FAN 12V Fan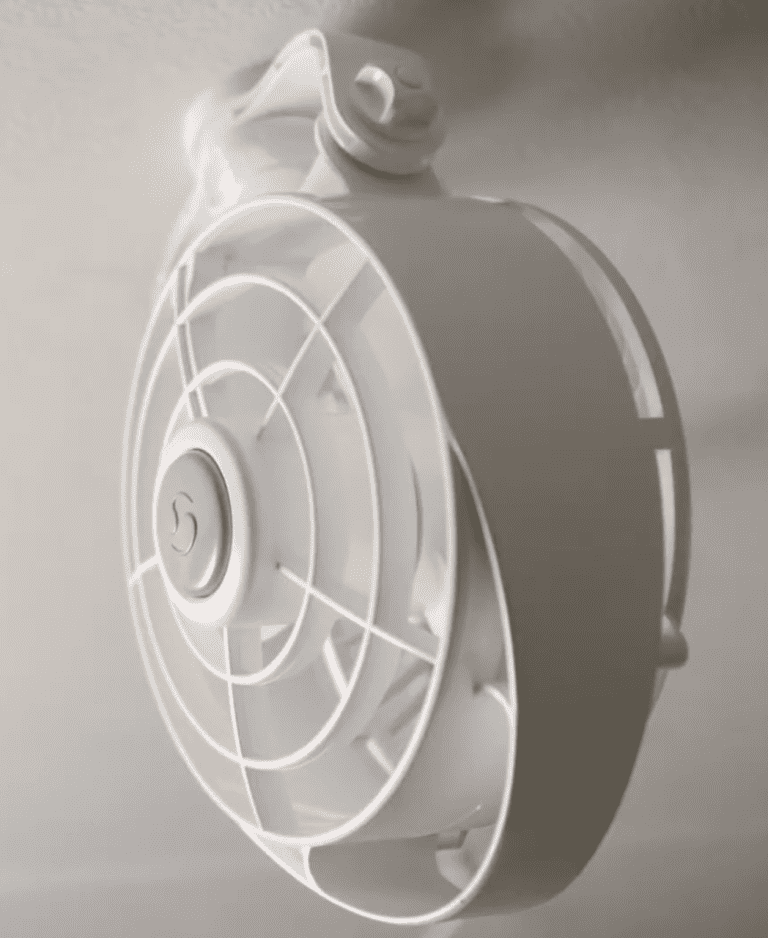 The Caframo Bora fan is designed to be convenient for everyone.
This caravan fan isn't as expensive as its brother, the Sirocco, but it is still an excellent choice when looking for a fan. It's easy to install and has a compact design.
Some vanlifers will find this fan's size better than others on this list because space in camper van can be limited and this is the smallest fan we could find. It provides a 3-speed touch control and low power consumption for precise airflow control in your caravan. This 12-volt fan is highly battery friendly.
It's sturdy, and it'll stay in place even on rugged terrain. You can install it in many directions, so you should be able to locate a spot for it in your van.
You will use way less power to operate a caravan fan than an air conditioning unit, but the Bora fan takes this to a new level. When connected to a 12-volt power source, the power consumption of this fan is as low as 0.15/0.18/0.27 Ah/hr, depending on the setting.
It also has the option to run at 24V if needed.
At a price around the $140 mark, with a two-year warranty, the Bora could be a good option for your camper van. We believe this fan is a close 2nd next to its brother, the Caframo Sirocco II.
This fan has a motor that will last up to 5,000 hours.

Not as much air as the others

The blades on this fan are not balanced well.



MaxxFan Deluxe with Rain Dome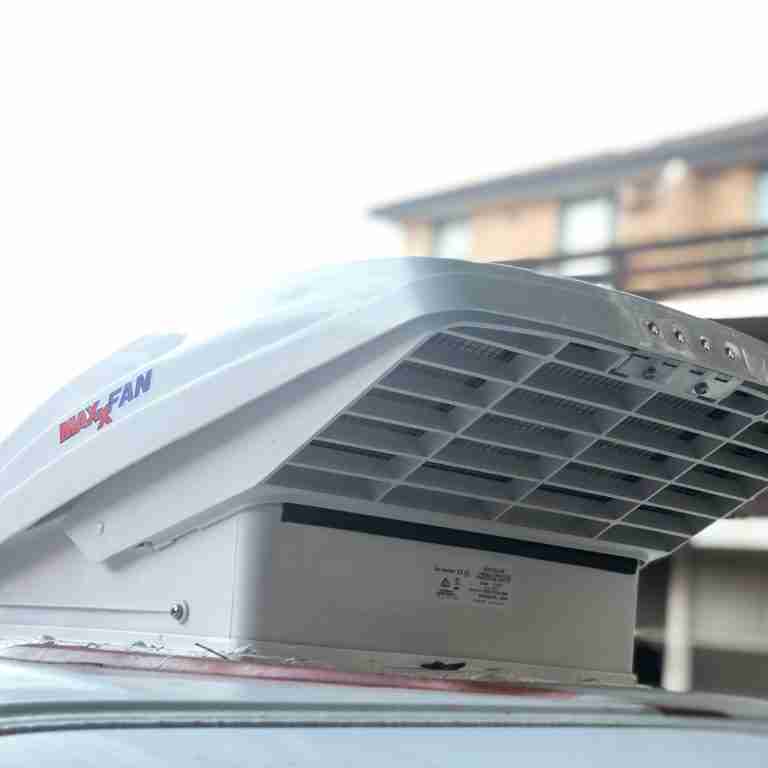 This is one of the best built-in ceiling fans you can have for your camper van. It is specially designed and powerful enough to keep fresh air moving in your van.
It comes with a remote control device for easy use. This remote control provides you with the option to turn the fan on and off, as well as control the fan speed. Simply set the desired temperature using the remote, and your fan will start running automatically as soon as the temperature in your space reaches or falls below your specified level.
The Maxxfan Deluxe also has a rain dome that always protects your van's interior from water.
It is easy to install and is made with high-quality materials that will last for years, so you can be sure that you are getting a product that is built to last. The fan comes with a one-year warranty.
The Maxxfan Deluxe is a bit more expensive than some of the other fans on this list, but it is worth the investment if you are looking for a high-quality, durable, and powerful fan for your camper van.
We have two Maxxfan Deluxe fans paired with one of the Caframo Sirocco II in our van. This is the best combination we have found for our camper van.
You can check out how we installed our Maxxair fan here.
Ceiling mounted – great for saving space

Powerful motor – can move a lot of air

Rain dome protects the fan from water, dirt and bugs

Remote control – easy to use

High-quality materials and construction – built to last

More expensive than some other fans on this list

Can be a little noisy when using the high speeds



FANTASTIC VENT 2250 WITH WHITE ARCHED LID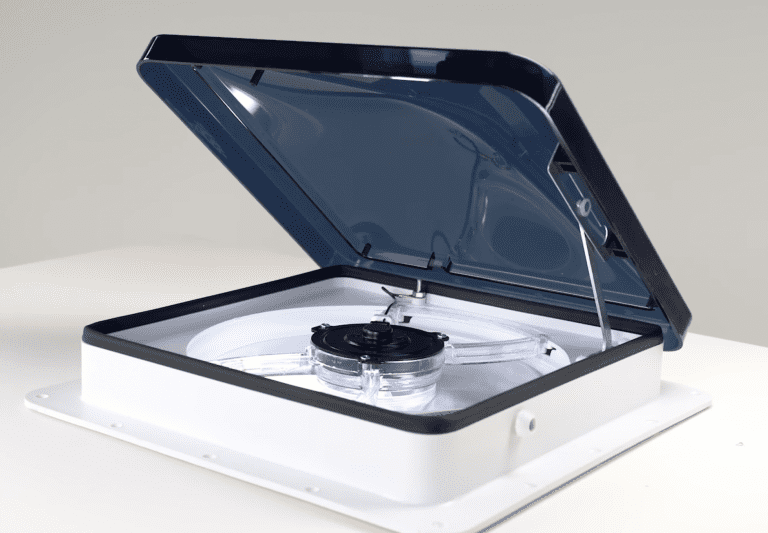 Another exceptional product to fulfil your demands is the Fantastic camper van roof vent with thermostat. It has three settings, and the 10-blade fan does an excellent job of moving the air throughout the camper van.
This camper fan not only pulls the air out of your van to help with condensation and heat, but it also has a reversing setting that pulls the air in from the outside. This is great to use on hotter days. You can open a door or window to create a wind tunnel for extra airflow.
The fan's thermostat helps to control the temperature in the camper van. It doesn't work as an AC, but we have found that it cools the van down on a hot day. You will love that you don't have to use too much of your battery bank to provide refreshing cool air on warm days.
The remote control enables you to adjust the fan's settings, but the writing on the remote was too small for us. Besides this, the remote is easy to use and functions well. We were even able to use it while we were in the van's cabin.
Fantastic roof fans are compatible with standard 356cm x 356cm holes and include a self-sealing vent cover to keep the rain and moisture out. It takes around an hour to install, and no special tools were required.
Operate by the remote control or manual buttons

Rain dome protects the fan from the elements

Fast and easy to install.

Too many LED lights on the controller



Things To Consider When Purchasing Caravan Fans
You must consider a few things before purchasing a caravan fan.
If you are confused about which one to buy, we have put together a list of factors that you must consider before deciding.
How much power will the fan use
The power usage of each fan will be different. Some will use more power than others, so it is essential to consider this before purchasing. If you are going to be using the fan regularly, you will want to make sure that it doesn't use too much power.
You can check the amps per hr of the fan by reviewing our table above.
Generally, the more expensive fans will use less power.
It's vital to keep power usage in mind since it impacts your camper van batteries. It can add up fast if you add all of your other gadgets and appliances into the mix.
If you want to use your caravan's solar panels frequently while off the grid, be sure they're big enough to handle the power draw you require.
The Caframo Sirocco II Fan is one of the lowest power consumption fans on the market. It's one of the more expensive ones for a reason.
Power Source
You will need to know the fan's power source before buying a camping fan. Camping fans can be run from 12 volts, 24 volts or small batteries.
While fans that run from alkaline batteries are portable, they aren't so efficient when running them all the time in hotter climates.
Installing a 12 volt or 24v fan in your van is a great way to get more use out of it. If you have a big campervan, you can get a more powerful fan that will move more air.
Be sure to check the amperage rating of the fan against your camper van's electrical system. If you're not sure, it would be best to consult with an auto electrician before making any changes.
Size and Weight
When looking for a caravan or camping fan, you must also consider its size and weight. If you are going to be travelling a lot, then you will want to make sure that the fan is not too big or too heavy.
The smaller fans are more portable but may not have as much power as the larger ones.
It would help if you also considered how easy it is to install the fan. Some fans come with brackets that make installing easier, while others will need to be screwed into place.
How much will you use the fan
You will need to work out how much you are planning to use your fan before purchasing. If you are only going to use it occasionally, you may not need to spend as much money on a more expensive fan.
You might also be planning to travel in mostly cold weather, so you will not be using the fan as often. In this case, you might also want to look into a diesel heater.
However, if you plan to use the fan regularly, you will want to make sure that it is durable and can withstand regular use. You will need to look into the more expensive ones, for example, the MaxxFan Deluxe or Caframo Sirocco II.
Final thoughts
We hope that this article has helped you understand the different factors that you need to consider when purchasing a caravan or camping fan. Be sure to consider all of the above before making your final decision.
We have also highlighted some of the best fans on the market today. So whether you're looking for a small and portable fan or a fan that can keep you cool during those hot summer days, we have got you covered!
Thanks for reading, and we hope this article was helpful. If you have any questions or comments, please feel free to leave them below. We would love to hear from you! Happy travels! 🙂