How to Wash Clothes in a Camper van
Updated on: December 2023
Dirty clothes are inevitable when you're on the road all day and living in your van. It's not easy to find space for a washing machine when there isn't much room left over inside such small spaces!
This means that you will have to go out of your way to wash your clothes most of the time. The choices you have while on the road are mainly to use a laundromat, pay for the coin-operated washing machines at a campground or do hand washing laundry.
This article will discuss the options on how to wash clothes in a campervan. We'll share what has worked for us and give you some tips on how to keep your clothes clean throughout your travels.
Before all else, the number one rule is to only bring necessary clothes with you. This will allow you to do laundry less often while still covering all of your bases for different weather conditions.
Where to wash your clothes while on the road
Do your laundry at a Laundromat
Laundromats can be found in most towns, no matter how small they are. Generally they are open early and close late on most days of the week. You can usually find a laundromat not far from you with a simple search on Google Maps.
To wash laundry in a Laundromat, you will need to bring your own detergent and money for the washing machines. We have seen prices range from $2.00 a load, all the way up to $6.00 depending on which city you are in.
Nearly every city will have a laundromat close to where you are staying. However, it can be helpful to plan your route around laundromats on the days you know you will need to clean some clothes.
Larger washing machines and a laundry room can wash more clothes per load

Dry your clothes with access to clothes dryers

Cost can add up, which adds to your travel budget

Sometimes, you'll have to wait until there's a vacant machine

You'll need to go to the laundry mat after every trip. Plus, you'll have to carry all of your washing and detergent in and out.

It's time-consuming and tedious just to wait for the laundry to finish.
Do your laundry at the caravan park
Nearly every caravan park you'll go to will have an on-site laundromat. They're usually a bit more expensive than a laundromat. Depending on the park, you might have to pay an extra fee per load or for the time it is used.
Caravan park laundromats are very convenient if you are regularly staying at parks. You can do the washing while you're doing other things like walking around the site, having breakfast or dinner.
It's simple. Clothes, detergent, money, and the play button - that's all there is to it.

Multiple pieces of clothing may be put in one load. You can do all of your washing at once.

The quick rinse cycle makes it simple to dry your clothes.

You won't need to own any portable clothes washer.

It might quickly become costly at the cost of $4-8 per load.

Many washing machines only accept $1 coins. It can be hard to find loose change these days.

It's a commitment to put on a load. You'll need to wait in place or establish an alarm to get back just before the cycle ends.
Portable Washing Machine
Many caravans and RV's don't have any washing machines. This is where campervan washing machines come in handy. Portable washing machines are basically mini versions of a normal machine that you can easily take with you.
A portable washing machine makes doing your laundry on the road super easy. However, the downside is it will take up valuable space in your camper van and use up your freshwater supply much faster.
Washes clothes as well as a regular washing machine

It's an excellent way to stay on top of your washing

It fits undersheets and small blankets

They can be inexpensive and make their money back within a few months

It requires 240V electricity and water

It isn't easy to catch up on a backload of laundry if you free camp frequently

It's difficult to set and forget because you need to move clothes between wash and spin-dry

Because the basket is 1/2 the size of the washing capacity, you must spin-dry in groups

It takes up a fair amount of room in the caravan.
Use The Scrubba Washing Clothes Bag
It's revolutionized travelling and doing laundry! The Scrubba Wash Bag is essentially a strong wash bag with an internal washboard. It folds down to almost nothing and only needs a few litres of water. With this product, doing laundry on the road has never been easier.
Here's how it works
Fill the Scrubba Wash Bag with a small load of laundry
Fill the water chamber to the appropriate line marked on the side with water
Add a squirt of laundry detergent to the mix
Remove the air from the bag, roll down the top, and fasten with the clip.
Twist the valve to remove any remaining air from the bag
Press down and rub the clothes on the interior washboard
Rinse for 30 seconds (quick wash) or 3 minutes (full wash), then rinse again.
Unclip and unroll the seal to remove dirty water and laundry from the bag
Use a clean, fresh water-filled bag or under a tap to rinse the laundry if needed.
Hang items to dry.
Compact and easy to store away

Uses only a few litres of water

Easier for off-grid living requires no electricity

They can be inexpensive and make their money back within a few months

Manual washing is required

There is no option to spin the clothes - hand ringing is needed

The capacity is small; therefore, it will take many loads to go through your washing
Wash your laundry in the sink
One of the cheapest and simplest ways to do laundry when you live in a vehicle is to hand wash your clothes in the sink.
A common misconception is that this method will not get your clothes clean, but this is not the case. In fact, it's actually quite effective.
The process of doing laundry in a sink is not complicated, but it does require a bit of effort and time from you. Here are the steps you will follow:
Fill up the sink with enough water to cover your laundry.
Add one tablespoon of baking soda and one tablespoon of distilled white vinegar, stirring into the water. The distilled white vinegar is to help soften your clothes for easier washing because it helps release stains out of your clothing fibres. The baking soda softens your clothes because it acts as a laundry detergent when combined with water.
Throw in your dirty laundry and allow the washing machine to soak for about 10 minutes.
Agitate your clothes by grabbing them from the bottom of the sink and rubbing them back and forth while underwater, moving along all of the clothing fibres.
Drain your sink of dirty water and refill with clean water to rinse your clothes.
Repeat steps 3-5 until you feel like your clothes are as clean as they can get. Then, drain the sink and take out your laundry to hang dry it outside on a drying rack.
Simple and straightforward

It's simple to set up, making it perfect for washing anywhere

It's great for free camping because you don't need power or running water

The collapsible tub takes up little space when folded

It might take you some time to clean your clothing thoroughly

You need to hand wring your clothes, that can be tough on bigger item

It takes longer to dry than if your clothes had gone through a spin cycle.
How to dry your clothes when living in a campervan?
Before putting your clothes away, make sure they're completely dry. Mould can infect your clothing, causing them to smell and stain. Don't put your damp clothes away. It's bad for the clothes and can leave an unpleasant odour.
When visiting locations with particularly low temperatures, you'll most likely need to dry your clothes in an electric dryer. Most dryers heat up quickly, so make sure to check the clothes frequently. No one wants their clothes to shrink.
It would be tempting to hang damp clothes in your van, but this is a sure way of creating condensation and mould. The water from the wet clothes has to go somewhere and will likely create mould in your van.
A good idea is to hang clothes on a camping clothesline for drying if you're in a warmer climate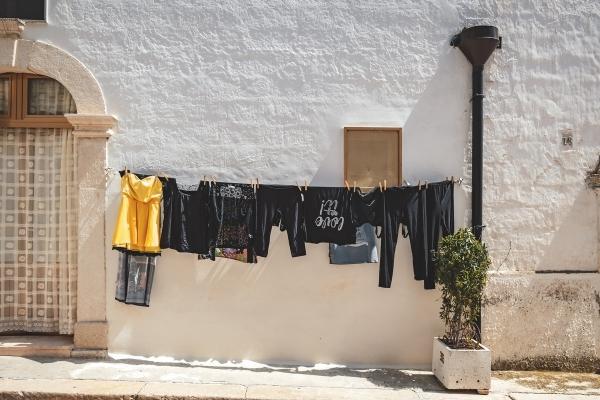 Reducing how often you need to wash your clothes
To reduce how often you need to wash your clothes, try to reduce how dirty you get in the first place.
This doesn't mean you can't have fun but stay away from things that stain clothes. I try to avoid activities that will get me dirty unless the shirt is an old shirt that needs to be washed soon.
If you do get something on your clothes, it's possible to remove stains by scrubbing with liquid soap right away.
Of course, if you are camping in a wet environment, you will probably get wet at some point. I would just recommend wearing clothes that dry quickly and putting your camp clothes in a mesh bag to let them air out.
The best way to store dirty laundry in a camper van
It's crucial to keep all of your dirtier clothes stored until they can be cleaned.
The best advice I can offer is to store them in an airtight bag and make sure it's sealed properly! This will minimize mildew formation on damp clothes between washes by keeping smells at bay.
The worst mistake is to put filthy clothing in odd nooks and crannies or other random areas. Seal those wet clothes up as soon as you return so they don't become your house's main odour. If you can't wash them right away, store them in the airtight container (mentioned above) to avoid smells.
We always keep our laundry bin in the van until we find somewhere to wash our clothes. This way, the dirty clothes aren't scattered everywhere, and they don't start smelling like mildew or anything else.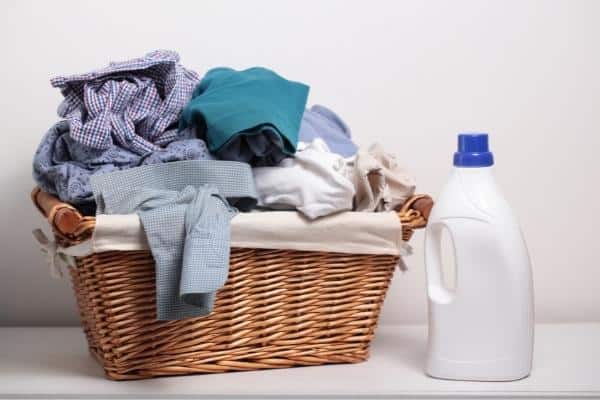 How to dispose of laundry greywater?
Living off-fgrid and camping can be a great experience, but it's important to think ahead and consider the small details. For example, what will you do with your greywater? Fitting an extra tank for wastewater is one way that we've found works well!
It's not recommended to drop your laundry greywater into the ground, especially if you are not using environmentally friendly products. Such products are notorious for polluting the environment.
Ideally, you will have a greywater tank that is big enough to hold all of your used water. Once it is full, you will take it to a dedicated greywater drop point.
Wiki camps is a great app to find graywater drop points. Some will even have a spot to fill your freshwater tank.
My thoughts and tips for choosing a campervan washing machine
It can be hard to find a good, efficient washing machine to take along with you on your travels. It isn't just a matter of washing clothes in a campervan or motorhome – it's more about needing the right kind of machine that will be easy to use and not drain your batteries and use all of your water.
We have put together some tips when looking for a washing machine.
You want your washing machine to have a spinning option
A washing machine with a spinning option is great because it not only helps get clean clothes through the spinning process but it extracts more water from your clothes.
When living in a small space with limited resources, this is one of the most important things to look for when looking for a washing machine. It will allow drying clothes quicker.
Look at water usage
Water in a camper van can be like gold. You always need to be thinking about how much water you are using.
When you are in a regular house using a normal washing machine to wash clothes, the washing machine will fill up to the level of water needed for the size of the load. But when you are in a smaller space, you must choose a washer that will only use the amount of water it needs.
For example, if your washing machine has an option to sense how much water is needed for the size of the load, choose that option.
Think about how much you will be washing clothes
The amount of laundry you will do daily will depend on what you are doing and where you are staying.
It is essential to consider this before choosing your machine. If you know that you won't be doing too much, choose a smaller washing machine that doesn't take too much space.
If you know that you will be doing a lot of laundry, choose a larger machine.
Conclusion
You will have to get creative when it comes to cleaning your clothes in a van. It's not easy finding space for a washing machine inside such small spaces, so you may want to find friends with washing machines or try some of these other ideas.
Washing clothes in a campervan is never easy, but hopefully, these might make it easier for you. I hope this article has helped you in some way when it comes to washing your clothes in a van!
If you enjoyed it, please share, like or comment on this post! You can also read more articles like this