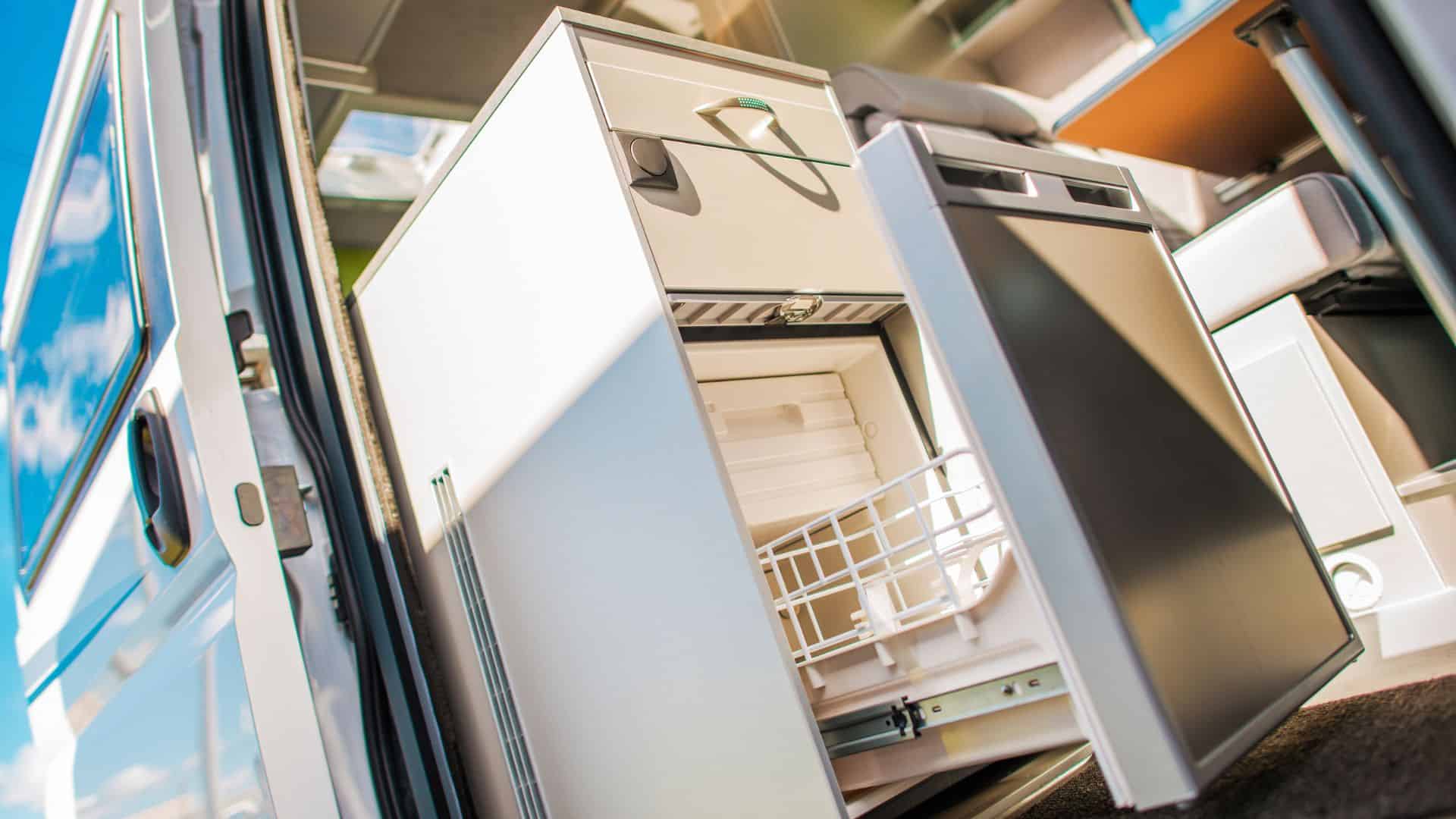 Ultimate Guide for The Best 12v Upright Camping and Caravan Fridges (2023)
This post was updated on: September 1, 2023
A portable fridge is one of the most important pieces of equipment you can take with you camping or caravanning in Australia. Given how much food and drink we like to bring along with us, it's essential to have a way to keep things cold. In this guide, we'll take a look at some of the best 12v upright camping fridges on the market.
Key Points
| | | | | | | | |
| --- | --- | --- | --- | --- | --- | --- | --- |
| | | | | | | | |
| | | | | | | | |
| | | | | | | | |
| | | | | | | | |
| | | | | | | | |
| | | | | | | | |
| | | | | | | | |
| | | | | | | | |
| | | | | | | | |
| | | | | | | | |
| | | | | | | | |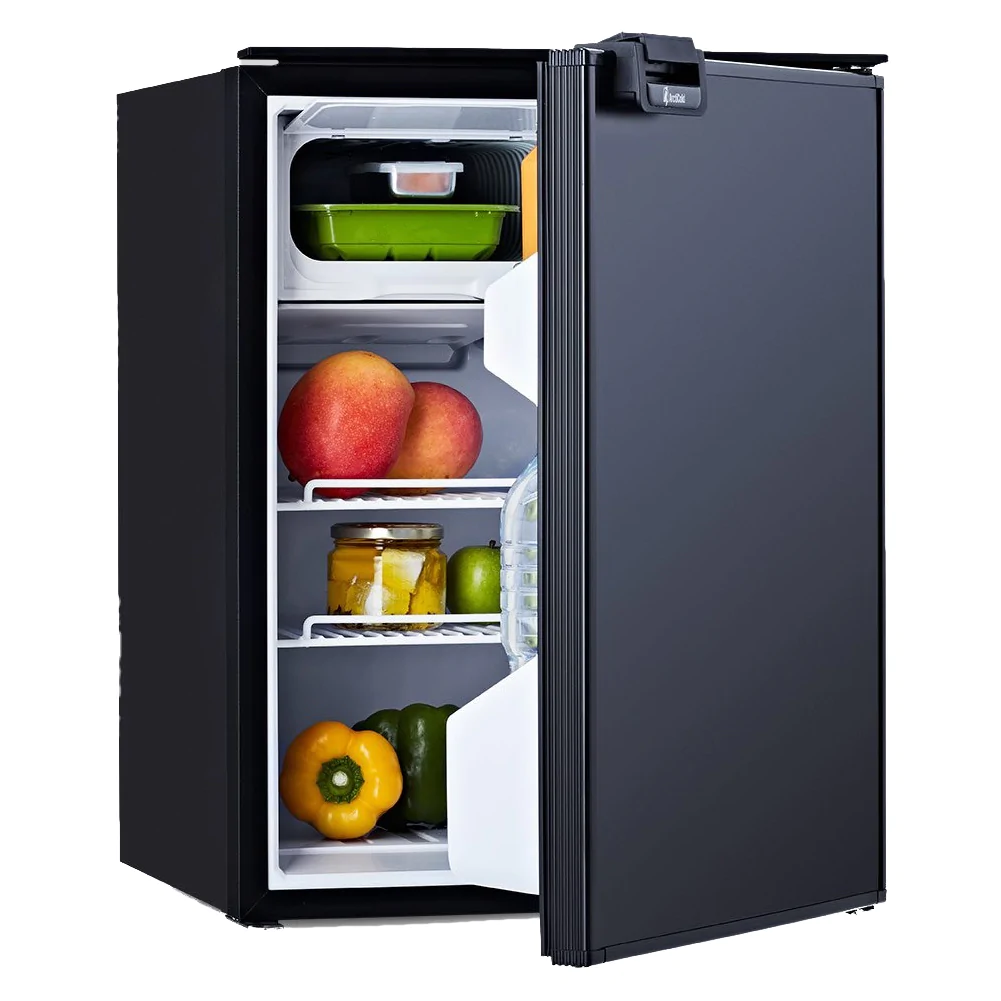 When you're looking for a quality fridge/freezer, the Bushman DC85X is definitely worth considering as your top pick. Let's take a closer look at some of its key features.
The new DC85X model features a deeper, narrower freezer design. This allows for more storage space and better organization of your frozen foods. Whether you have a large family or love to cook, this fridge will meet your needs.
The bushman upright fridge has an adjustable shelf that allows you to customize the fridge to your needs. You can easily adjust the height of the shelves to accommodate taller items. This is an important feature for those who like to have a lot of flexibility in their refrigerator.
This fridge also comes with large door balconies that have built-in safety rails. These balcony features offer extra space for storing large items and provide a safe place to put hot foods.
Here are just a few of the other reasons why the Bushman DC85X should definitely be considered: 
This fridge/freezer runs so quietly you'll hardly know it's there
The Bushman DC85X is Energy Star certified, so you can rest assured that it will conserve energy without sacrificing performance
It has 85 litres of storage space, which is more than enough to store all your food and drinks
It's simple to operate and easy to maintain
The Bushman DC85X fridge/freezer is a top-quality appliance that doesn't break the bank. It's perfect for anyone who wants a durable, well-performing fridge/freezer without spending a fortune.
This Fridge is currently on sale until the end of September 2023 at My Generator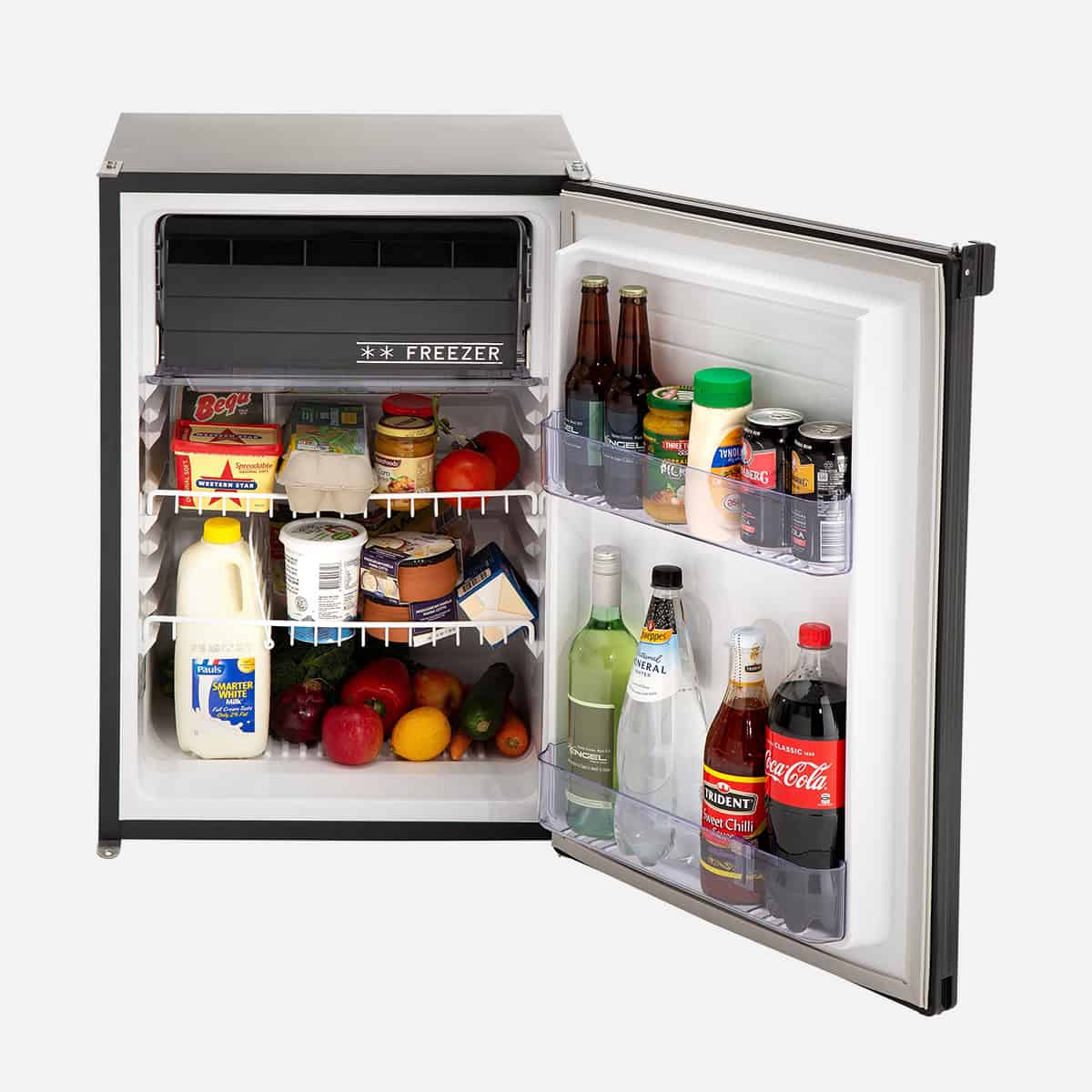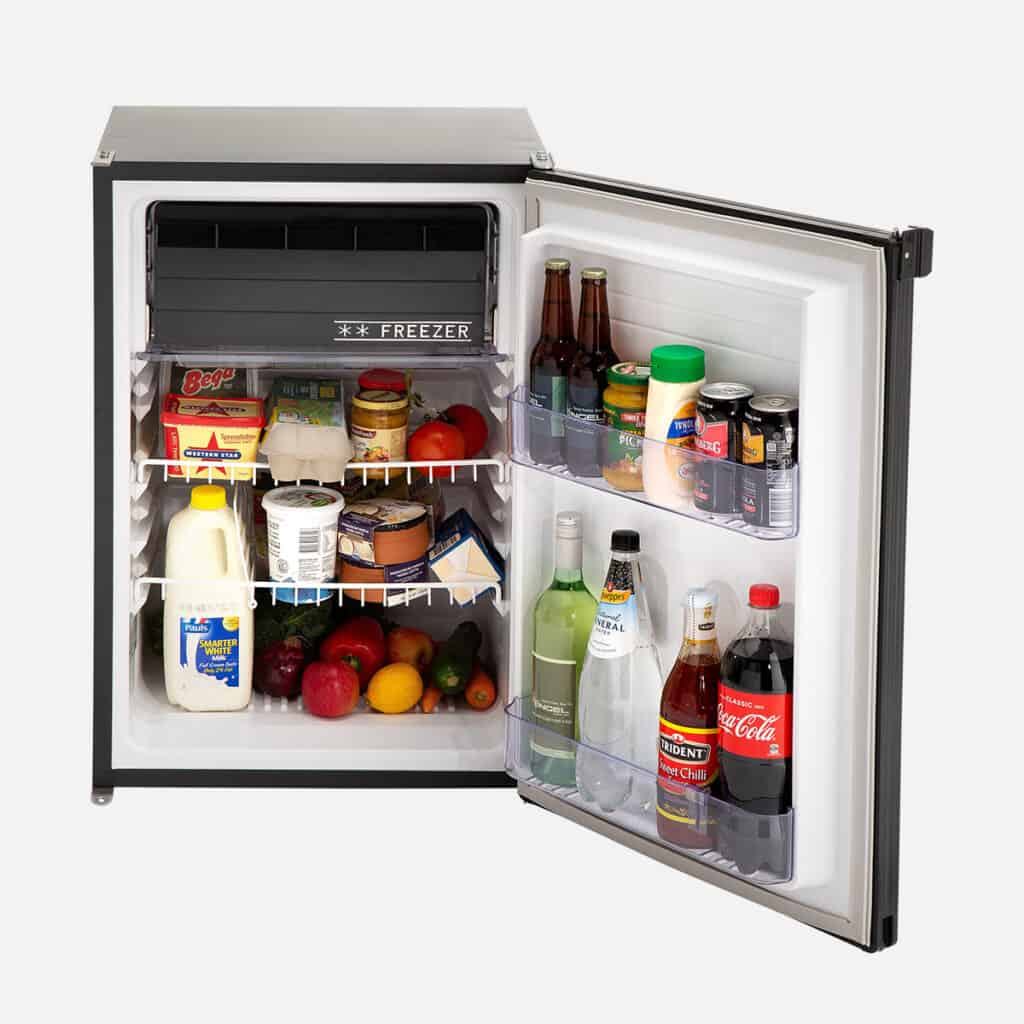 When you need to keep drinks chilled and ice frozen, the Engel ST90F is a good choice with its 80-liter capacity. With that size, it's perfect for families or groups who need to keep a lot of food and drink on hand.
The reversible door hinges can be positioned on either the left or right, and it's lightweight so you won't have trouble moving the appliance around!
This camping fridge's capacity is the perfect mix of style and storage. The modern design will easily fit into any space while giving room for all your favourite foods.
The best part about this device is that it automatically switches between AC and DC power for you, making outdoor use of solar panels or generators easy as pie!
Some of its other features are as follows:
Made without harmful chlorofluorocarbons
Built-in polyurethane insulation and is extremely safe
The thermostat-controlled generator is compatible with solar panels
The turbo fan can be user-controlled or set
Incorporates a Sawafuji swing motor for extra strength and durability
Is energy efficient, drawing a very low DC current of only 3.3 Amps at 12V
The noise level produced by this product is an impressive 32dB.
The Engel caravan fridge offers a smart design for the home with an innovative cooling system that saves on your power and money. It's an excellent option for anyone looking for a more efficient and environmentally friendly fridge.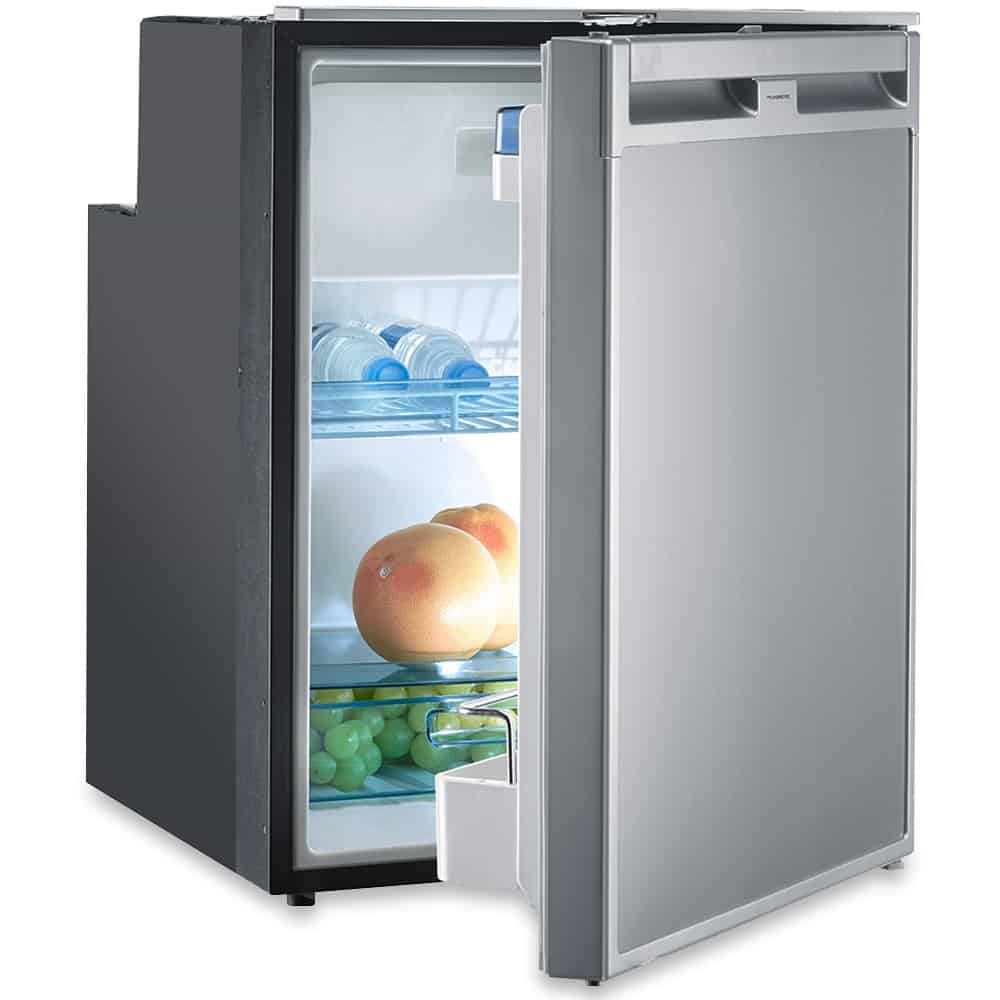 The Dometic CoolMatic CRX 80 model has many features that will make your life easier, including a reversible door, automatic voltage recognition, and a super low energy consumption mode. 
One thing you will appreciate about this fridge is how quiet it is. You barely even notice it's there, which is perfect when you're trying to enjoy a peaceful moment or get some work done. It's not like other fridges that clatter, buzz and make other disruptive noise.
Instead, it just steadily does its job, keeping your food chilled without any fuss. It's a great fridge for anyone who wants the convenience of a well-functioning unit without any unwanted noise.
Among other interesting features, the Dometic CoolMatic CRX 80 fridge has an LED light built into the interior. This makes it easy to see what's inside, even when it's dark outside.
The next one is an excellent feature if you want to go off the grid. A voltage transformer built into this fridge will allow your batteries or generator to power its functions, without needing an additional adaptor!
Speaking of its size, this fridge's storage is smaller than that of the Bushman DC85X DC. However, it still has plenty of room for all your food storage needs.
It's perfect for anyone who wants a small, compact model. It's the perfect size for a small kitchen, and it has all the features you need in a fridge. Plus, it's stylish and comes in a nice colour that will match any caravan's decor.
This Dometic RUC 6408X refrigerator, with a capacity of 188 litres, is big enough to store all your food and drink for long journeys. The RUC 6408X also comes with several handy features, such as a control panel that is easy to use and a narrow yet tall cabinet design.
It is the perfect addition to your caravan, with its sleek design and large storage capacity. However, you don't need to compromise on storage space as the fridge has spacious compartments with door shelving, allowing you to store plenty of food for all your family members.
This fridge was designed with the user's convenience in mind. The touch control panel is easy to use and navigate, allowing people to establish the temperature with various pre-set modes. In addition, it includes error messages showcased with an alarm that sounds if any issues occur.
Among other features, this fridge has crispers to keep your food fresh and delicious. They come with humidity control that will maintain optimal conditions for storing anything from meat to dairy products without spoilage!
Similar to BUSHMAN 85L, the Dometic RUC also has the option to adjust the shelves' location. The bottom shelf can be lowered at the back to store bottles and cans securely.
Dometic RUC 6408 is a high-quality, heavy-duty fridge with T ratings for performance. If you're looking for a large and efficient fridge/freezer space for your caravan or RV, the Dometic RUC 6408X is the ideal choice.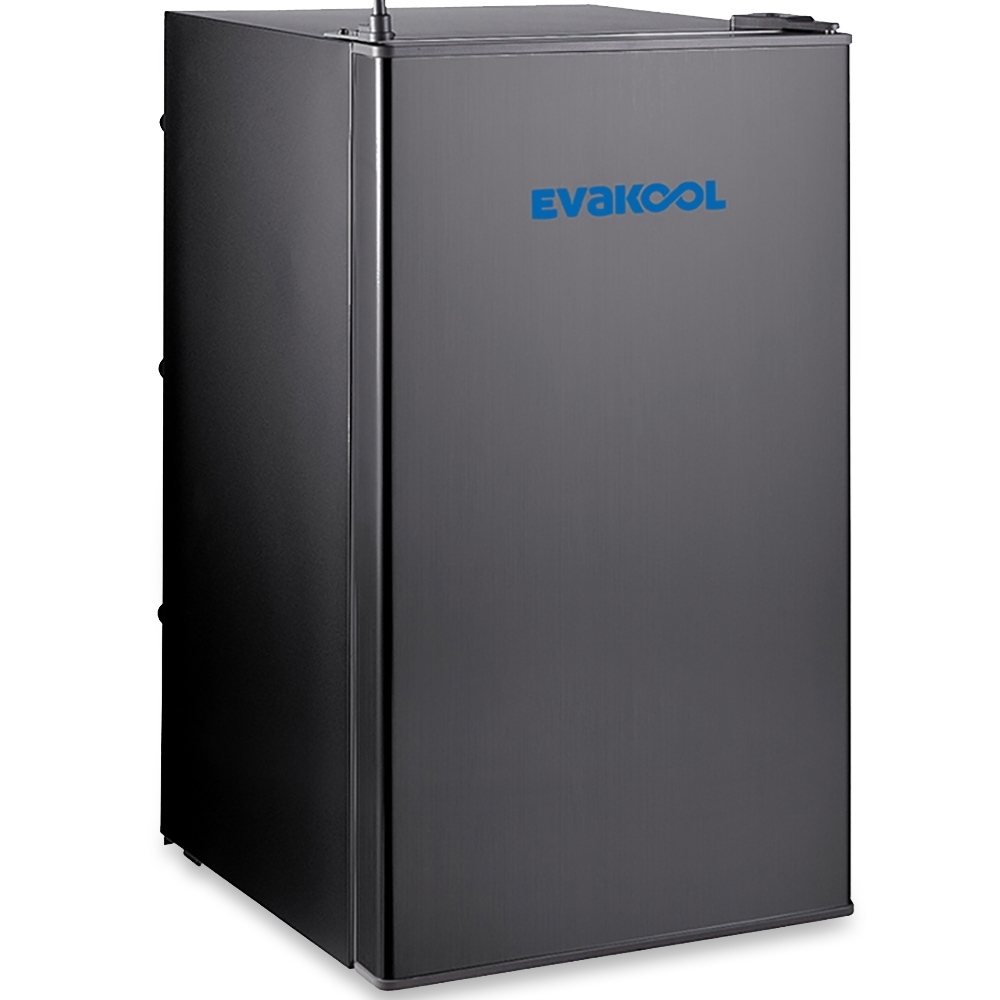 In the harsh Australian environment, Evakool has developed a range of upright fridges that provide maximum cooling capacity with their sleek design.
EvaKool DC110−SB−AU 110L features Include:
The Secop Compressor
Reliable and efficient electronics
A lockable door to keep your belongings safe while you travel
Differentiate freezer compartment
A low-level ambient heater
The fridge will work in ambient temperatures of the motor compartment from 10C to 43C
In addition to the above-listed features, the EvaKool fridge also has a metal cabinet made from high-quality steel designed to last.
The insulated walls of the EvaKool fridge help keep the cold air in and the warm air out. This is important for the freezer section, where you want to ensure that your food stays frozen. The walls are up to 65mm thick in order to provide maximum insulation. 
Similar to the Engel Upright Fridge Freezer, reversible doors on the EvaKool fridge are notable features because they allow you to open the fridge door from either the left or right side. This can be helpful if your kitchen layout allows for something other than a traditional swinging door. 
This fridge also features a metal cabinet, satin black finish, metal door latch, smooth internal walls, hygienic and easy to clean, interior light, wire shelves, vegetable/fruit crisper, and door shelves.
However, this refrigerator is not a frost-free model, and it's important to regularly defrost the back wall of this appliance for optimal performance.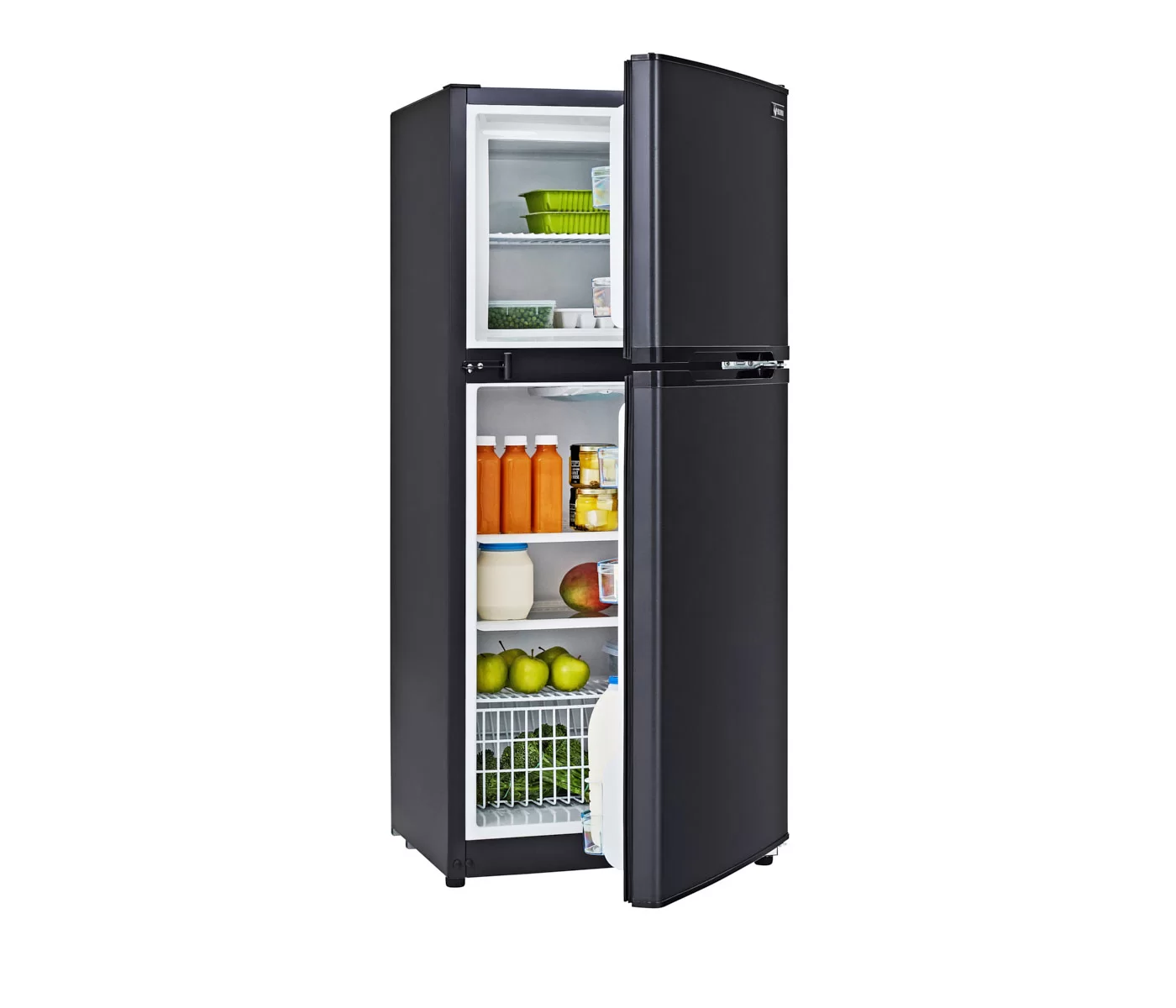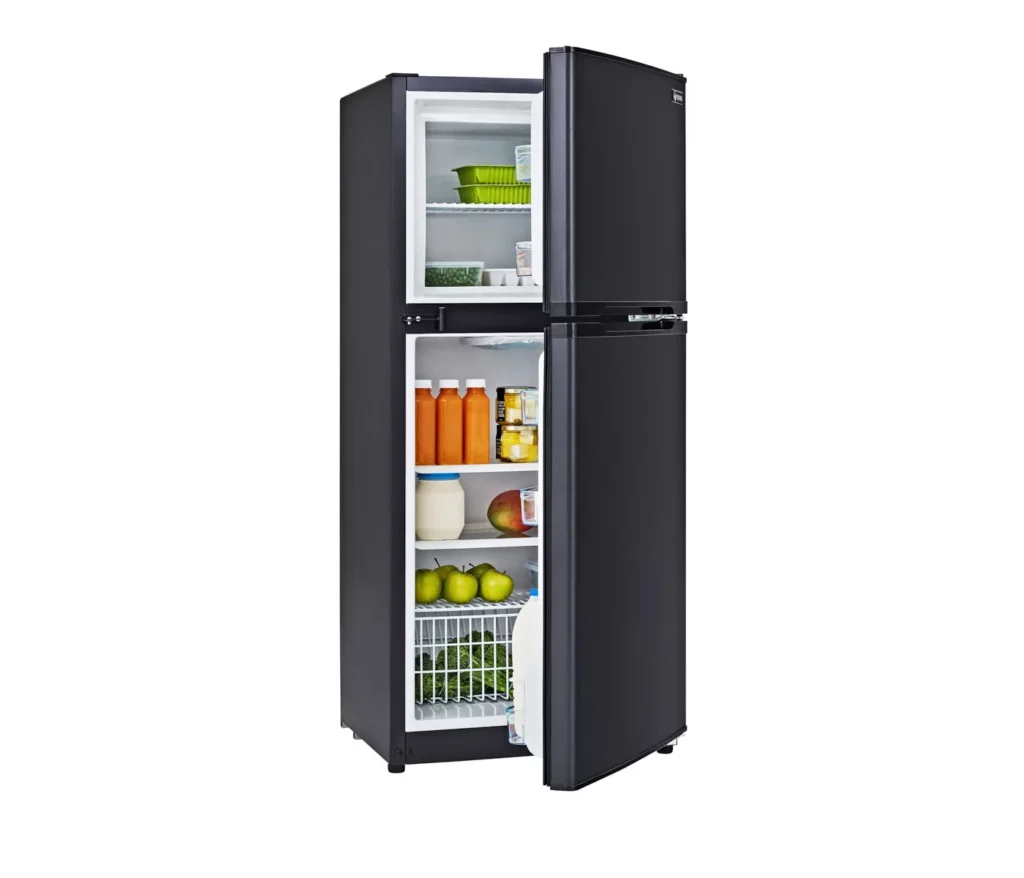 The Bushman DC190 is the ultimate all-inclusive fridge/freezer that can handle any adventure in Australia. It features an efficient cooling system with dual doors, keeping your food cool and safe while you're out on adventures during summer or wintertime!
It is suitable for those who want to live off-grid and have power in their caravan, and it loos elegant when connected on-site.
You're getting a versatile unit since it can be used free-standing or placed into a suitable built-in space. Whichever way you go, this refrigerator has the features for an efficient home kitchen.
The DC190L-X fridge has wide-door storage to hold your large bottles in securely and safely. It also comes with adjustable shelves to maintain the look of an entire domestic model while enjoying all its benefits, like easy cleaning up any spills.
This design has been updated with a new cooling system, door latch, and door profile. Therefore, it consumes very little power (2Ah per hour under regular conditions, 3Ah per hour in oppressive heat) and can function at 43˚C.
The Bushman freezer has some other great features, such as a built-in vertical fan that assists airflow, which makes it very efficient at keeping your goods cool or warm.
With all these benefits combined into one package, there's no doubt that the Bushman fridges will make a fine addition to your caravan.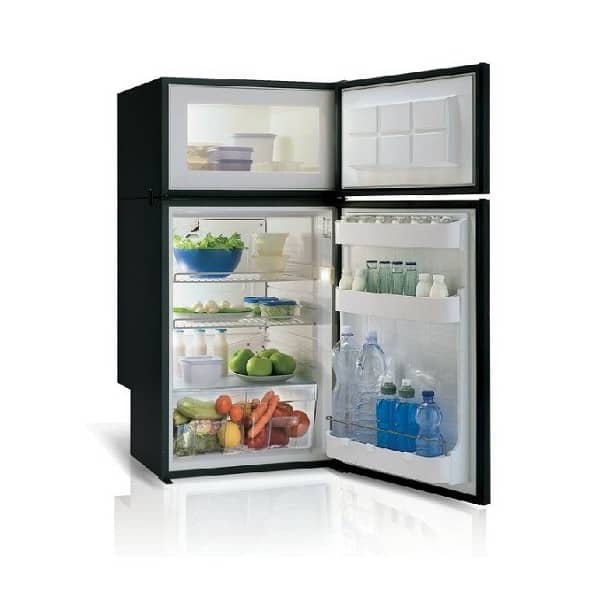 The Vitrifrigo DP150i is a fridge/freezer unit with a total capacity of 150L and two doors. The freezer has an internal cooling system that can run on 12v or 24-volt DC.
This fridge is perfect for those who need a large capacity and aesthetic that will match any home. The black finish with a silver handle/lock makes it a sleek, modern design. You'll appreciate all of the features, such as an LED light inside and crisper drawers. What more could you want?
With the new Airlock closure system, you can enjoy easier access and bask in the enjoyment of an innovative product.
The new fridge/freezer series is available in two fashionable colours that will match any kitchen's design and style.
What if we compare the Vitrifrigo DP150I, for example, to the Bushman DC190L? The Vitrifrigo DP150I is a 150-litre fridge freezer with a handy airlock feature. It's perfect for keeping your food fresh while you're on the move, and it's really easy to use. The Bushman DC190L is a 190-litre fridge freezer that also runs on 12 or 24 volts, and it comes with an impressive five-year warranty.
Which one should you choose? Well, it really depends on what you need. The Vitrifrigo DP150I is your choice if you need a compact fridge freezer, while the Bushman DC190L is perfect for larger families.
How to Choose the Best 12V Upright Fridge for Your Camping Needs
When choosing a portable camping fridge for your trip, there are a few things you'll want to keep in mind. First, think about how much space you'll need. If you're going on a long camping trip or if you're planning to camp with a large group, you'll need a bigger fridge. But a smaller fridge will suffice if you're only going on a short trip or if you're planning to store less food.
Next, consider what food and drinks you will store in your fridge. If you plan on storing mostly perishable items like meats and dairy products, choose a fridge with good cooling capabilities. On the other hand, if you plan on mainly storing non-perishable items like canned goods and drinks, any fridge will do.
Finally, think about your budget. Fridges come in all different price ranges, so it's important to find one that fits your budget. By considering these factors, you can narrow down your choices and find the best 12V upright fridge for your needs.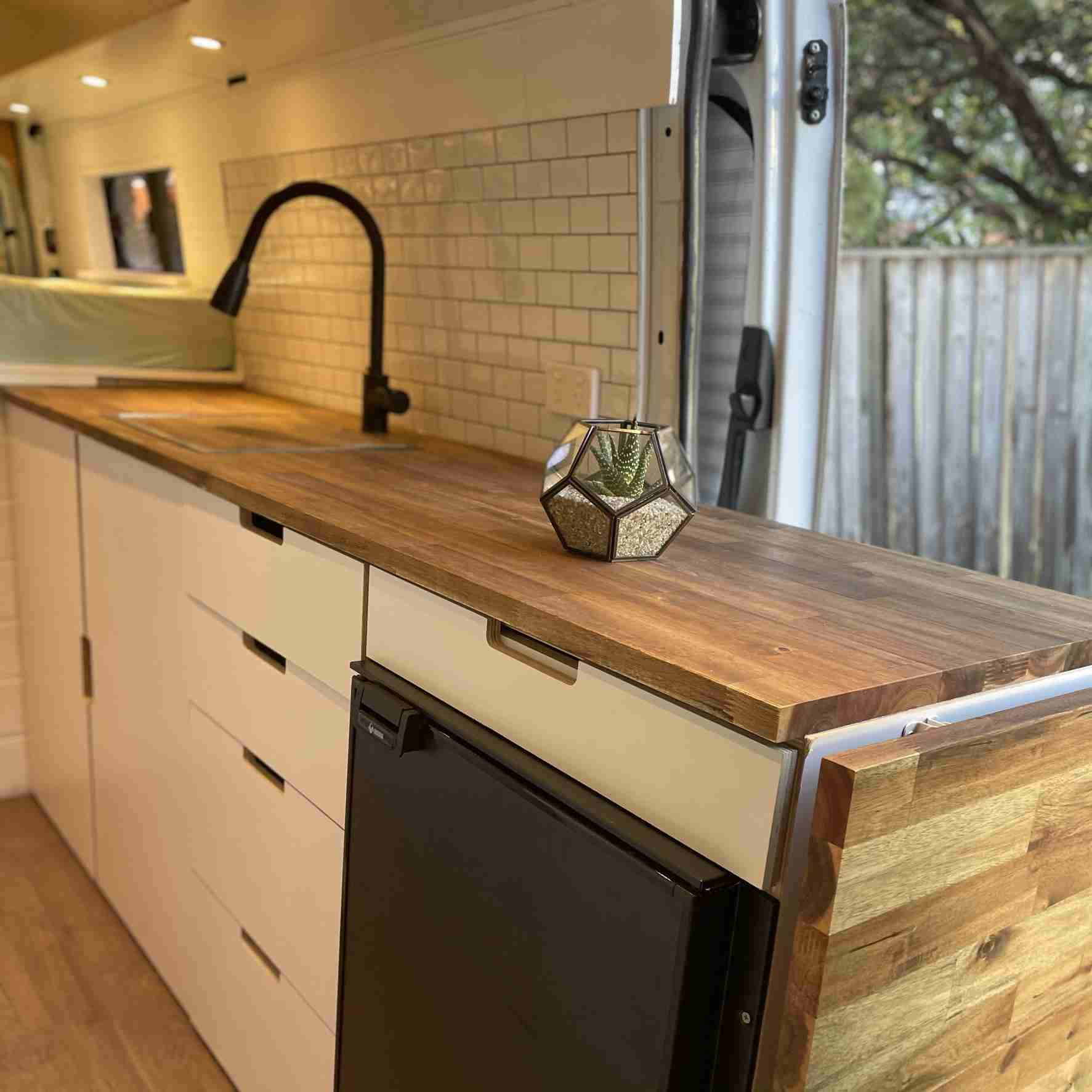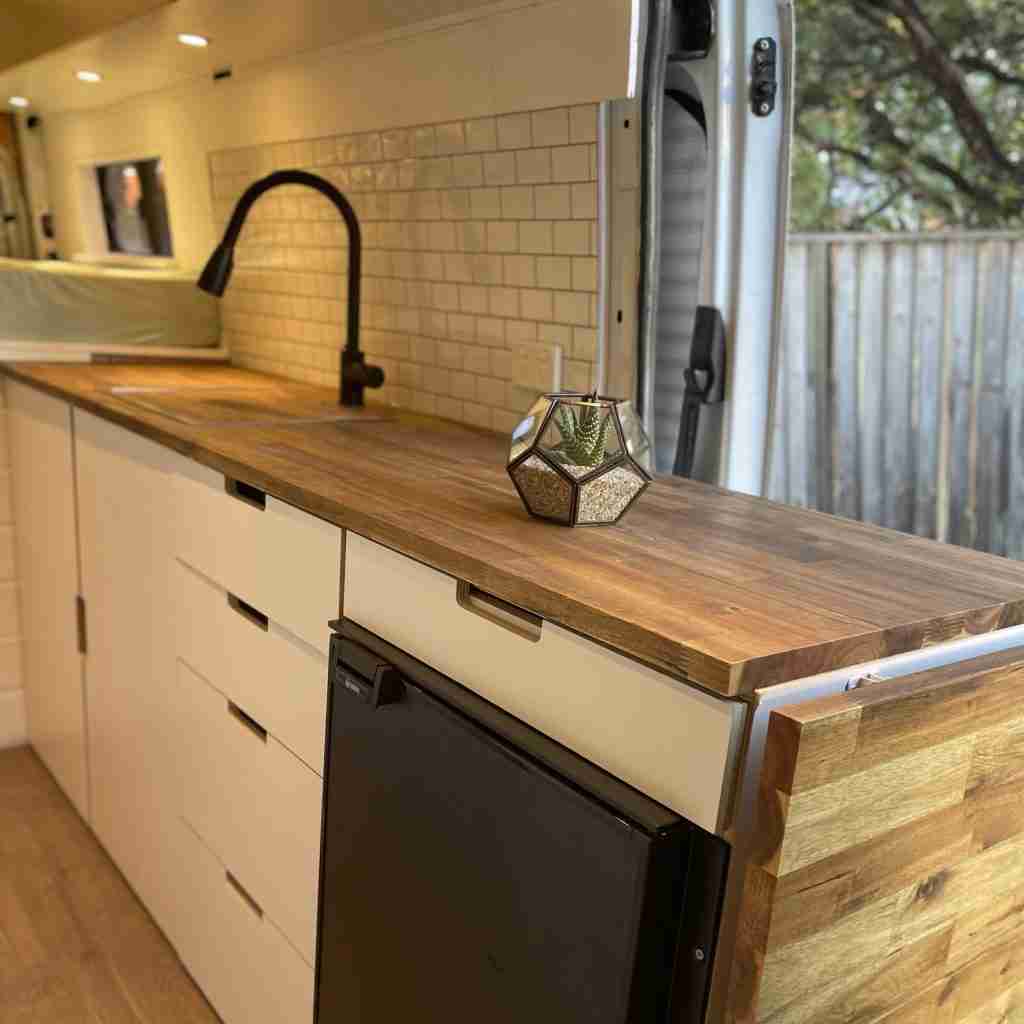 Size Matters
Size is one of the most important factors to consider when choosing a 12V fridge. After all, you need to make sure that the fridge will be able to fit all of your food and drinks. But size isn't just about physical dimensions; it also refers to capacity. A fridge with a higher capacity will be able to hold more food and drinks, which is ideal if you're camping with a large group. On the other hand, a smaller fridge might be better suited for solo campers or those who only plan on being out for a short period of time.
Power Consumption
Another important factor to consider is power consumption. After all, you need to ensure that your fridge can run off your van's battery. Some fridges are more power-hungry than others, so choosing one that won't drain your battery too quickly is important. A good rule of thumb is to choose a fridge with a lower power consumption rating; this way, you'll be able to keep your food and drinks cold without worrying about running out of juice.
Price vs. Quality
Of course, price is always a factor when making any type of purchase. But when it comes to fridges, you generally get what you pay for. The more expensive models will usually have features like automatic defrost and LED lighting, making them worth the extra cost. However, if you're on a tight budget, some great options are still available that won't break the bank. Just be sure to read reviews before making your final decision to ensure that you're getting a quality product 
Chest Fridge vs. Upright Fridge: Which is Best for Travellers?
There are two main types of fridges on the market: chest fridges and upright fridges. Both have their own set of pros and cons, so it's important to choose the right type for your needs. Here's a quick overview of each type of fridge to help you make the best decision for your next purchase 
Upright Fridges 
Upright fridges are more affordable than chest models 
They're also easier to organize since everything is stored on multiple levels 
On the downside, upright fridges are less energy-efficient than chest models and they don't maintain consistent temperatures as well, which can be a problem if you're storing perishable items 
Chest Fridges 
Chest fridges are more energy-efficient than upright models 
They're also better at maintaining consistent temperatures, which is important if you're storing perishable items 
On the downside, chest fridges are more difficult to organize than upright models since everything is stored on one level 
They also tend to be more expensive than upright fridges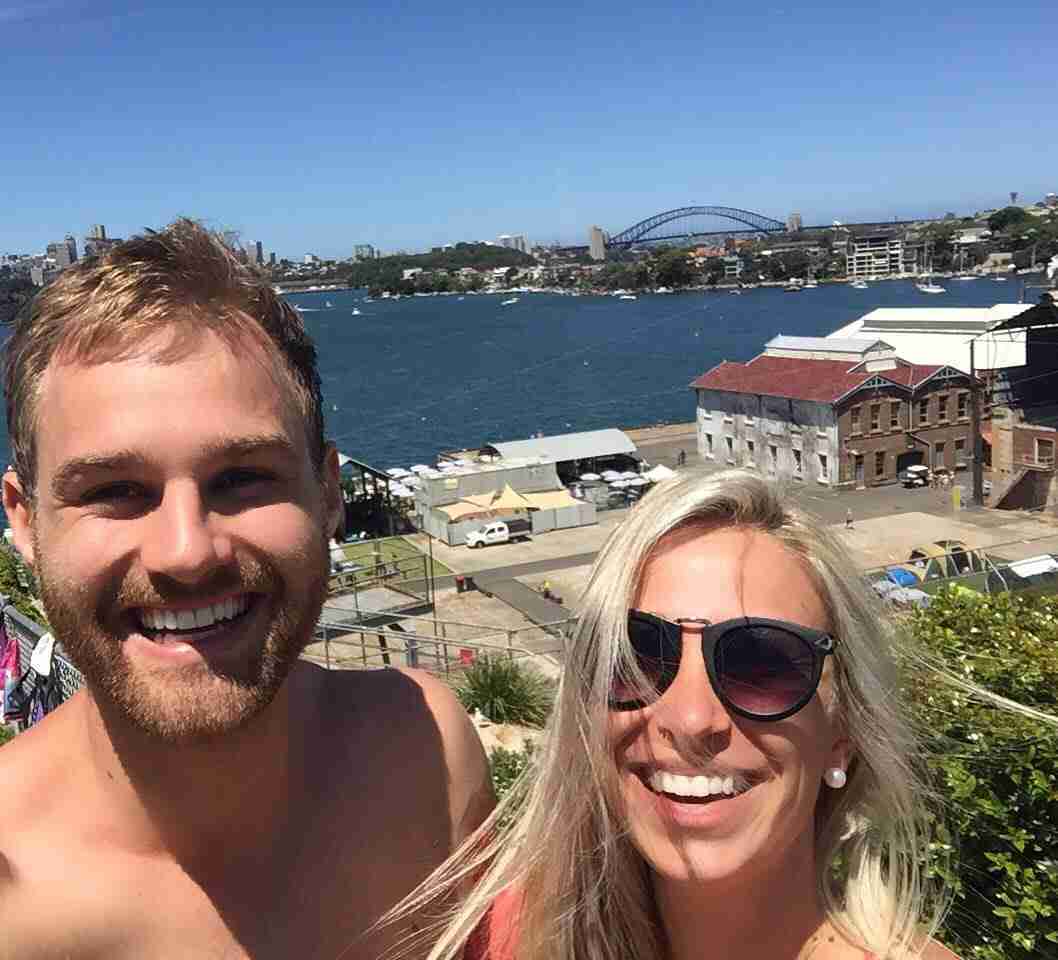 Wade & Dani
Hi! We're Wade and Dani, We're currently travelling around Australia in our 2017 Mercedes Sprinter Camper van and sharing our best experiences, stories, reviews and adventures as we go along. Make sure you follow us on Instagram @wadeanddani