Bushman Fridge Review – A Guide On The DC-X Range (2023)
This post was updated on: September 1, 2023
If you've been thinking about picking up a Bushman fridge for your next camper van build but are unsure whether they will be worth the price tag, then this blog post should help give you some insights.
The Bushman upright fridges are an excellent choice for those looking to buy a new, high-quality appliance. There is a reason why they have been voted the Best 12V Caravan Fridge 2020 + 2021 + 2022 on productreview.com.au
This blog post review will take you through the fridges' pros and cons and key features with comparisons against other brands on the market today! We will review the Bushmans DCX range of upright fridges.
We currently have the Bushman DC130X fridge installed in our campervan and love it. Keep in mind that the features remain the same between the Bushmans upright fridge range, the only difference between them is the sizing.
See the dimensions chart of each fridge below.
Let's get started
| | | | | | |
| --- | --- | --- | --- | --- | --- |
| | | | | | |
| | | | | | |
| | | | | | |
| | | | | | |
| Buy From Caravan RV Camping | | | | | |
| | | | | | |
| | | | | | |
| | | | | | |
| Minimum cut-out dimensions (mm) | | | | | |
| | | | | | |
| | | | | | |
| | | | | | |
Our Experience with the Bushman DX130L
We have been using our bushman upright fridge for around 8 months. When we planned our van build, we knew we wanted an upright fridge for the tidier storage capabilities compared to the top lid opening style.
We have used portable camping fridges in the past, and we would always be digging around trying to find our food. Things would get lost and forgotten about in there and we knew, when building the new van, that this was not a suitable solution for the future.
However, a disadvantage of upright caravan fridges is that they take up more space. Converting a van is all about compromise, meaning you need to choose between taking up more room or having organised food. We went with the second option and couldn't be happier about it.
The size is perfect for a couple to stock food for around a week, with good packing.
We have never had an issue with the door opening while driving. The locking device is awesome, it always holds strong and the insulation is also great.
The power consumption is minimal, and the look is stylish. It fits perfectly with our van style. 
Multiple upright fridge volumes ranging from 50-190L unit

Very low efficient power consumption

Excellent reputation - known for their reliability and high build quality

No digital temperature display

No Bluetooth control or USB port

Only single-stage battery protection
Bushman Fridges
The bushman fridges are split into 5 categories.
Their fridges are
Portable – To go anywhere and do everything
Caravan – Ideal for camper vans, caravans and camper trailers
Camping – The toughest built on the list
Car – Low power 12V car fridges are perfect for your 4WD, 4×4 canopy
Upright – Low power 12V and gas fridges. The perfect choice for outdoor adventures or living off-grid.
This article will only review the caravan range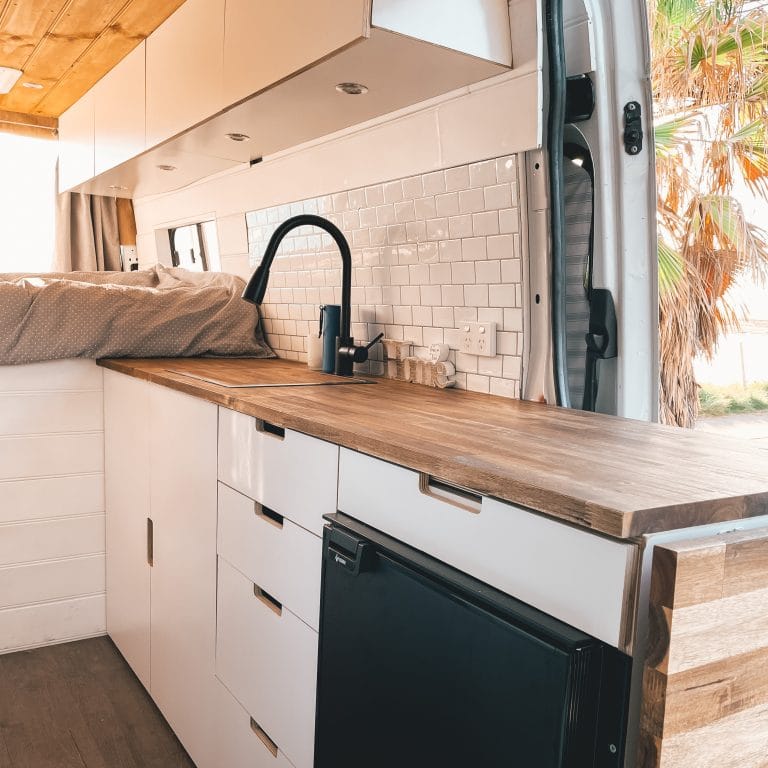 Bushmans – DC50-X, DCDC65-X, DC85-X, DC130-X
All of the DC-X fridges have really high quality, are low on power, and are easy to use. The features and accessories listed below are relevant to all of the Bushmans fridges models listed above.
This DC-X range is Bushman's top seller for caravans, RV's, tiny houses and smaller off-grid applications. There is an outstanding amount of space and value for money for fridges of this size.
A unique deep and narrow freezer design gives more room to stand up larger bottles without needing an extension collar. All the shelves are height adjustable, and the large door balconies have in-built stainless steel rails to prevent items from moving during transit.
You can install a bushman fridge flush mounted to your cabinet work or with the supplied mounting kit.

Bushman DC190-L
The DC190-L is highly efficient, light on power, and cold in the hottest temperatures.
Bushmans have designed this fridge specifically for mobile installations and camping off-grid living in Australia. They use a very large cooling system, extra-thick insulation and a low-speed compressor which significantly reduces the power draw, making this a brilliant fridge for caravans, RVs, boats.
Their DC-L models are big on fridge space and have full steel sides for extra strength.
Design
The whole bushman fridge range is housed in crisp, powder-coated steel bodies, making them very tough and stylish.
The Bushman upright fridge is entirely black, and the range is designed to fit perfectly under your van's kitchen bench, whatever size it might be.
The fridges are made of sturdy black steel, which looks great in any van. It has a very modern look to it. The handles are well placed so that getting a hold of the door is a breeze and it stays locked when driving.
Another feature that I have found handy is that the hinges are reversible. It allows you to change which side the door opens.
Please note that these units lack some of the more common features found on more recent versions, such as USB charging ports and Bluetooth app control.
The Bushman fridges are designed for performance and function above all else.
Also to note the Bushman fridges are not like a chest fridge, you are not able to install them on a normal fridge slide. 
Temperature Settings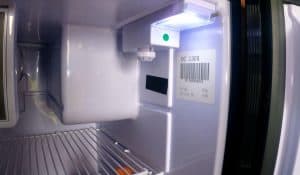 The Bushman fridge units can have a set temperature ranging from 14º( +/- 2ºC) for the main area and -12º ( +/- 2ºC) for the freezers compartment. This is a pretty typical range for portable fridges.
Note that all of them are dual-zone units, so they have a fridge and freezer compartment inside.
The compressor is set to run when the temperature drops below 8-12º (depending on the size of the fridge) to ensure that you do not require any cooling at all times. This has worked great for us and ensures you will never be without ice or fresh food in your fridge freezer.
One downside is that the unit doesn't have a digital display for displaying the temperatur
Power Specifications
The Bushman DC130-X fridge can be run off 12V or 24V power, and 240V cannot power it.
A great thing about the Bushmans fridges is how efficient they are. Based on a test I did at 25°C ambient temperature and the unit set at 4°C, the 130L fridge only consumed about 1.9Ah/hour on average, which is nice and low, a great advantage.
Different fridge manufacturers test their units at various ambient temperatures and conditions, making comparing apples to apples difficult; nevertheless, I can note that these Bushmans fridges are very energy-efficient.
While in operation, the units can draw anywhere from 2 to 4.5A.
Tip: The fridge will not operate correctly if it is empty, as air does not hold temperature well. If you are using a wireless thermometer, the readout will fluctuate significantly with the changes in ambient temperature, whilst your drinks inside the fridge will not vary much at all.
So make sure the fridge is not empty and if you are installing this in your camper or van, make sure there are enough things inside to keep the cold air turning into warm air 
We have found that having a couple of packages of frozen veggies or even frozen meat can help regulate the temperature, so it stays where you want it.
Warranty & Build Quality
The Bushman fridges are well regarded for their build quality. They're a known manufacturer for producing extremely dependable refrigerators that last a long time. The brand itself brings great reliability with it.
Bushman fridges are built to last, and they come with a 3-year warranty. They're made in Australia and designed to offer you many years of usage. Bushman fridges have been around for a long time, and they're well regarded as one of the best fridges available.
Known Problems
I'm not aware of anyone having problems with these appliances. They're praised on camping discussion sites and message boards all the time.
As always, make sure you get your fridge from a trusted source, and if possible, get a receipt in case it does break down or you need to service it.
Warranty
The bushman fridge units come with a 3-year warranty.
Bushman is a company that offers an exceptional amount of warranty time on their appliances.
I've never heard of anyone who had to go through the warranty claim procedure, so I don't know how well they keep their promises.
Their customer service has appeared to be excellent thus far, so I doubt they would fight customers on a genuine warranty claim.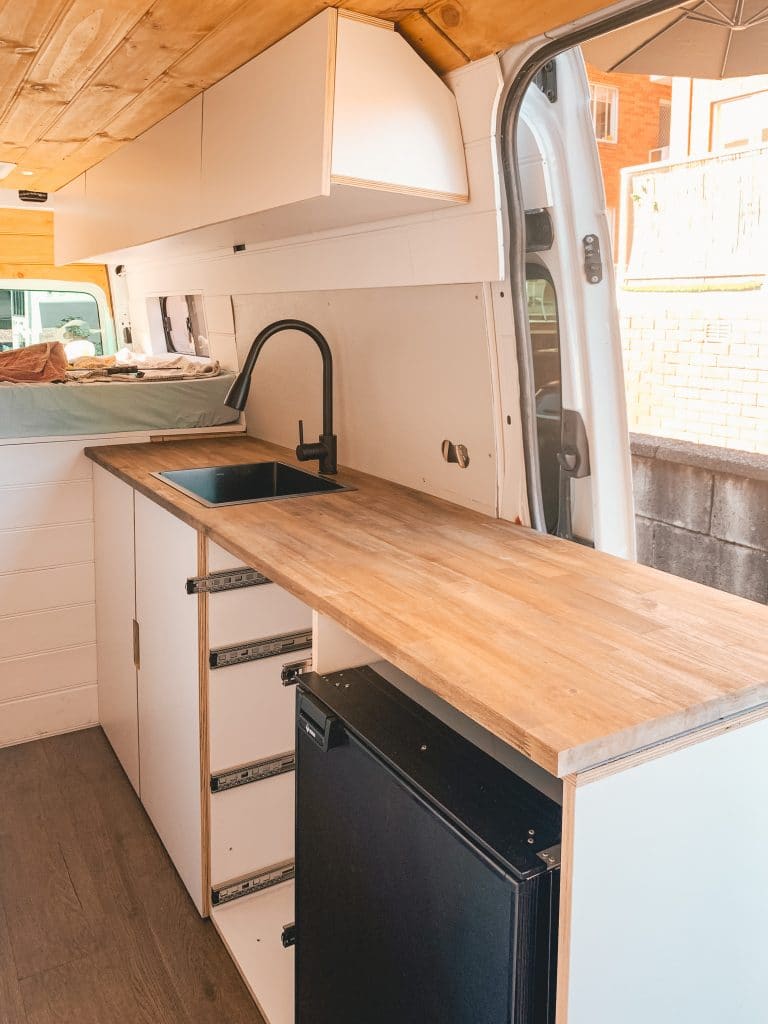 How to power a 12v fridge.
You have two options for keeping your fridge running when you're on the road. You may use your van's battery or invest in a second 12V battery.
It's perfectly safe to power your refrigerator off the car battery while your van is in operation. However, if you leave the fridge plugged into your car battery overnight, it might cut out once the voltage on the car battery reaches the limit.
This will work just fine for an overnight or brief camping journey, but this may result in food and drink that doesn't last for a lengthy trip.
If you like travelling on longer camping trips, it's worth considering investing in a second battery to operate your fridge when the car isn't running.
Read our guide on the Top 5 Lithium Batteries in Australia For Camping  
Solar Panels
If you have access to mains power overnight while camping or on a weekend trip, a good lithium battery will last until you return home.
If you're planning to stay on a more extended camping trip without access to power, consider investing in some solar panels to keep your battery charged and fridge running.
Conclusion – Bushman Fridges Review
The Bushman fridges are the greatest camping refrigerators available. They are excellent purchase choices because of their high grade, Australian manufacture, and unique multi-volume design.
Unfortunately, they are pretty expensive.
If the price you pay is not a deal-breaker for you, any of these fridges are great purchase choices when it comes to portable refrigeration.
I hope that my Bushman fridge review has assisted you in deciding whether or not these are the correct fridges for you!
If you have any queries, please leave them in the comments below!