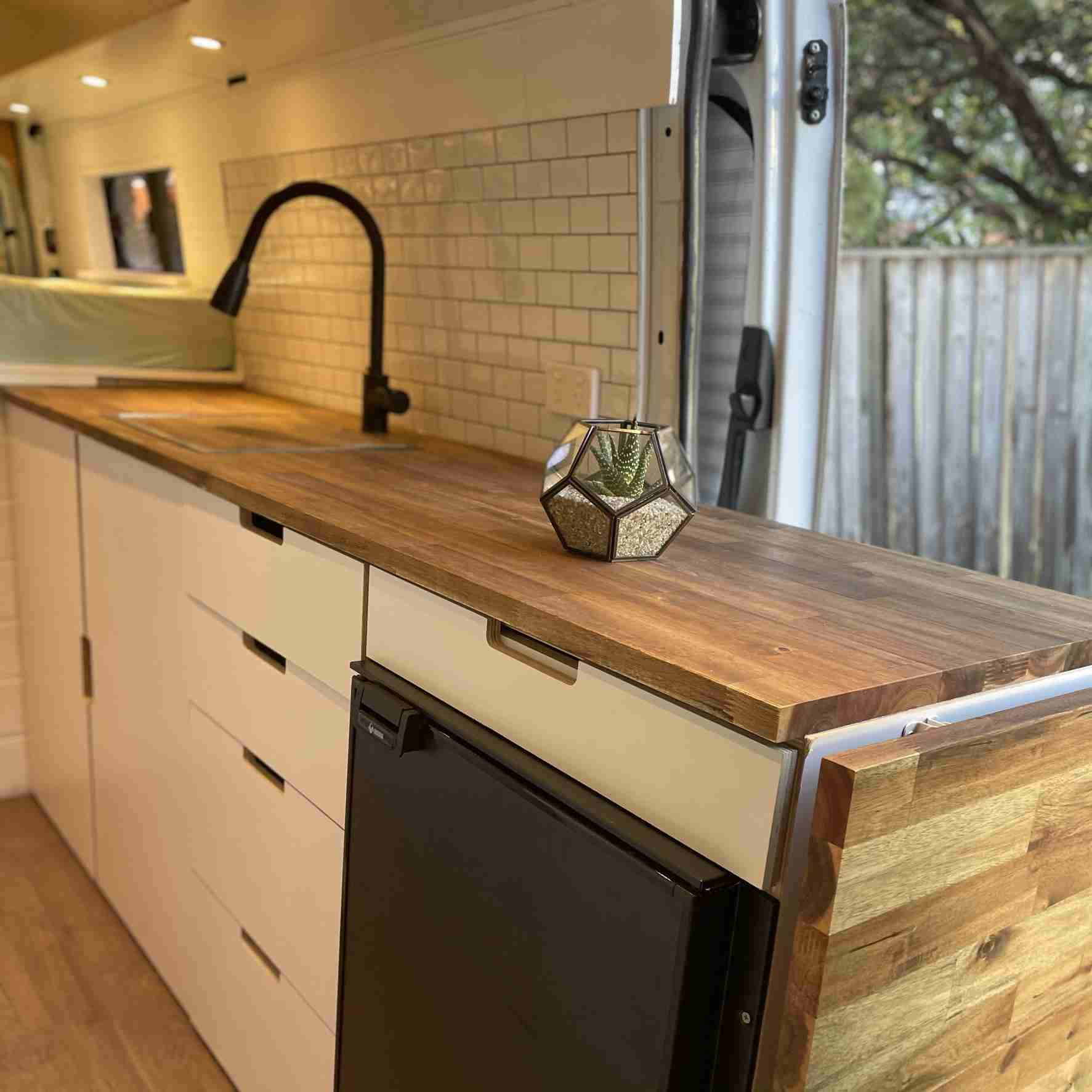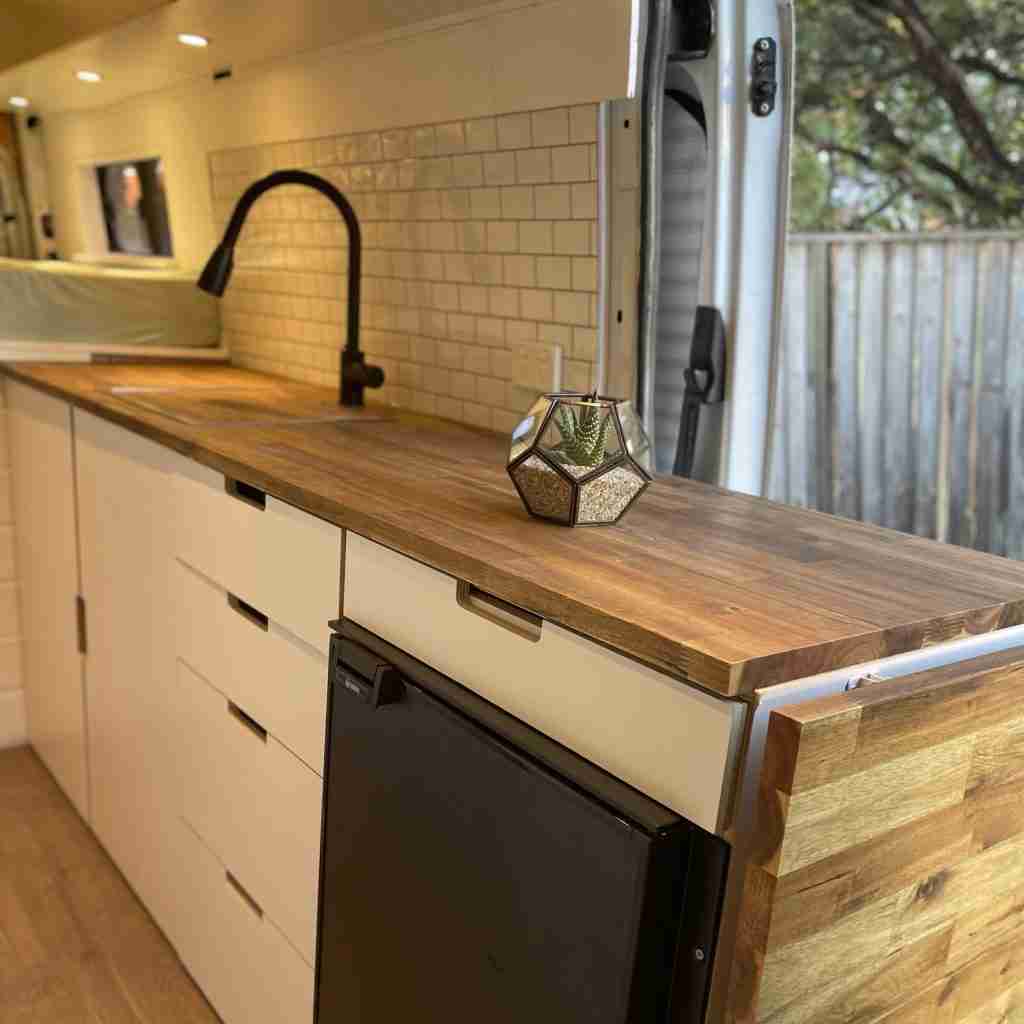 Camper Fridge Freezer: How to Choose Yours
If you're looking for a genuine off-grid Van Life experience, one of the essential things to consider is a camper fridge.
There's nothing like having a camper fridge to make travelling accommodations feel more like home. Refrigeration is a way to keep food and other cold items, such as vegetables, dairy, meat, and beer. It eliminates the need for you to worry about an ice-filled cooler full of wet food. Furthermore, having a campervan fridge freezer saves you money as it helps you eat healthier because it allows you to stockpile food and eat balanced meals.
An excellent portable fridge is one of the most significant purchases you'll make while building your van. And, as with any your vehicle choose, it's crucial to choose a fridge that will meet your needs and withstand the daily demands of life on the road without breaking your budget.
There are now camping fridges from all sorts of manufacturers, including some that are less well-known. The market has become increasingly complicated as new budget players enter the market, while major brands like Bushman and ARB have increased in price.
We're here to help you sort through all van life refrigeration alternatives, from cheap to premium. We go through the advantages and disadvantages of the top portable refrigerators model. We consider whether those pricey fridges are genuinely worth it and what sacrifices you may be making if you choose a less expensive
So, read on to learn about the best refrigeration solution for your build!
This article may contain affiliate links. I will earn a commission if you choose to purchase a product or service after clicking on my link. This helps pay for the cost of running the website. You will not be disadvantaged in any way by using my links.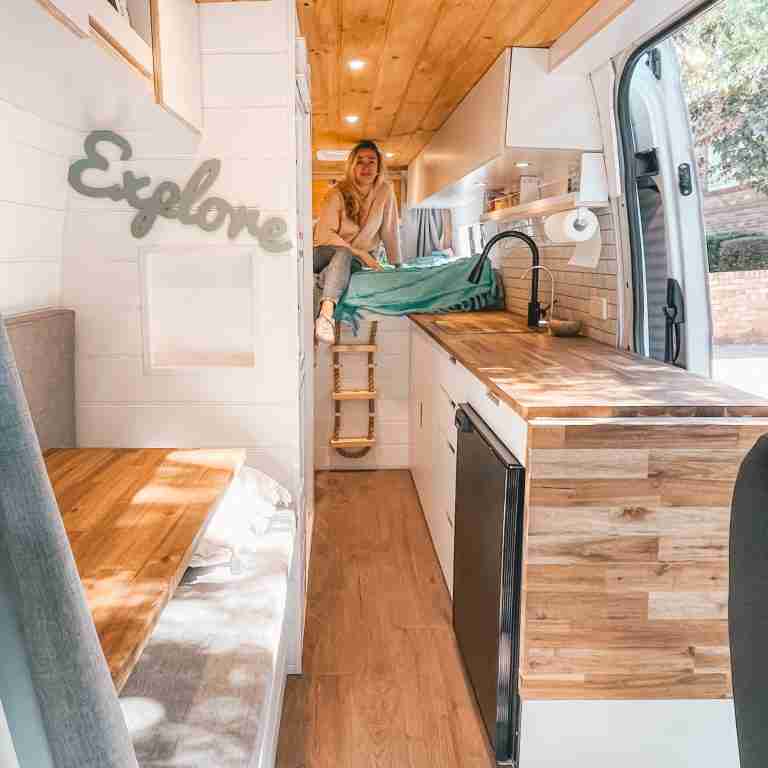 What Camper Fridge Do We Use
Before we get into the many fridge alternatives and what should be considered while choosing, I'll go through our van life fridge experience.
In our van build, we spent a lot of time discussing the style of the refrigerator to purchase. We ultimately decided on Bushman's energy efficiency 130L upright fridge as it works well for us.
This particular fridge is not one of the most affordable fridge freezers.
Because it's a front-loader, we may stack our food just as we would in a regular house refrigerator. However, one downside is that the internal space is not as significant as other camping fridges, such as a drawer fridge, so we need to shop at least once per week.
How Do You Pick The Write Portable Fridge For Your Build?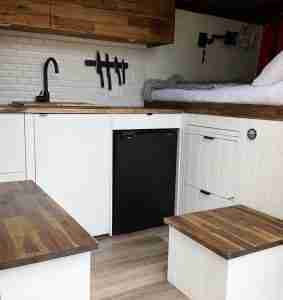 There are several excellent camper fridge freezer alternatives available. However, to narrow down the best campervan refrigerator for you, consider the following list of factors:
Power Consumption and Efficiency
One of the most crucial things to consider when it comes to Van life is Power Consumption. Before deciding, be sure to examine how much power the refrigerator will consume and whether your van's battery capacity can deal with it.
The best fridge for van life will be one that can hold the temperature for an extended period and requires minimal power to do so. It's important to note if the refrigerator uses AC or DC current, as this could also mean a price difference.
Bushman has their own in-house energy efficiency calculator to help you estimate your power consumption that can be found here                                                                                                                                                             
How Big Does Your Camping Fridge Need To Be
Your vanlife fridge will be smaller than what you're used to having. There are many fridge sizes to pick choose from. However, depending on their needs and the number of people living together, Van lifers typically select between 60 and 130 litres.
It would help if you considered the following questions:
What is the maximum amount of fresh food you will store?
Are you prepared to go food shopping often?
Do you want a place to put frozen meals?
How big do you want the freezer compartment to be
What Style Of Fridge Will Suit You
The style of refrigerator that best meets your van living demands is the next thing you should consider. Whether a fridge has a top or side door is essential. Aside from convenience and personal choice, there are several things to consider.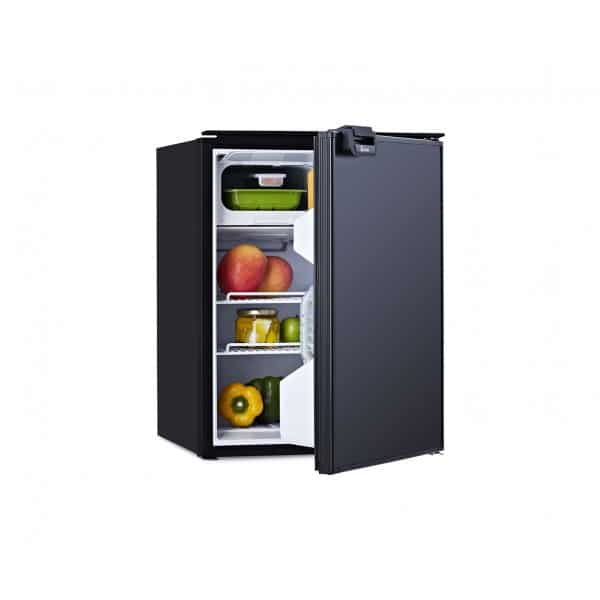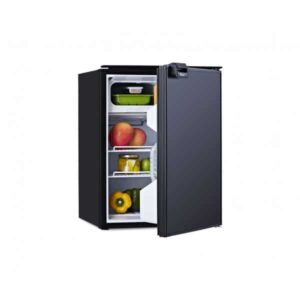 Upright Fridge Style
The main benefit of upright fridges is that it saves space. It's a huge space saver in even the tiniest vans. However, you won't be able to relocate the fridge anytime soon. It will be permanently fixed into the cabinetry.
These refrigerators are more expensive, but they're designed for the RV and boat crowd. You'll probably pay a lot more for upright fridges than chest style fridges.
Because of air thermodynamics, when doors open, more cold air will be lost. Cold air settles below heated air, so the colder air remains at the bottom when you open the door. This chilly air is allowed to "pour" out through a front door, and the compressor will have to work a little longer to cool the internal temperature back down again.
Chest Fridge Style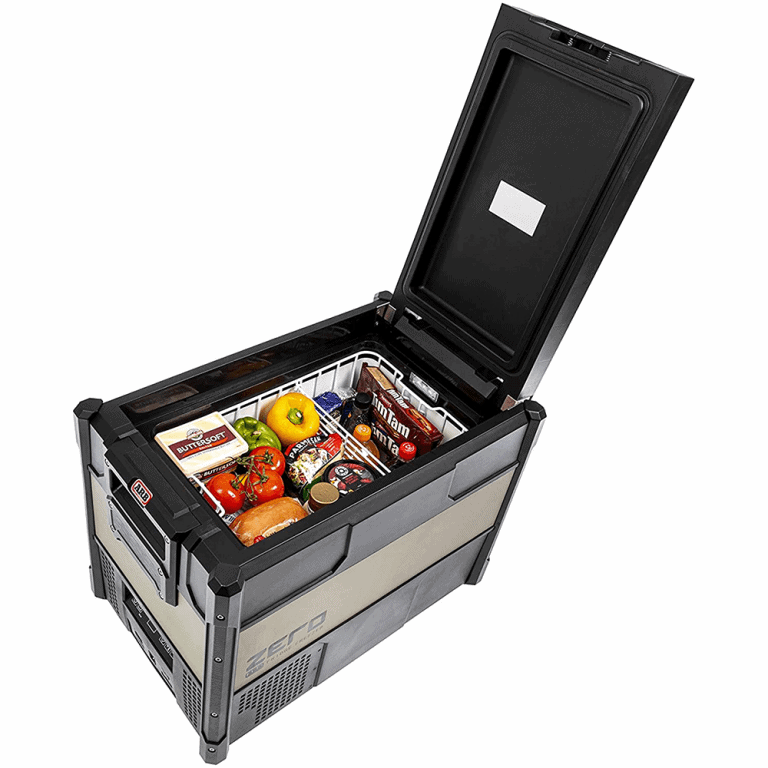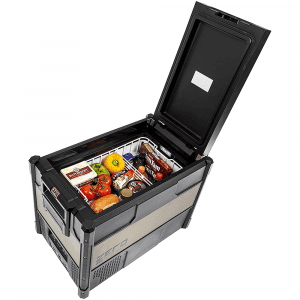 A great energy-efficient fridge. This means that the air inside the fridge will be cooler because the hot air will rise inside your fridge. When you open the fridge, less cold air will escape because it will be seating near the bottom.
In a camper van conversion, you need to think about space. You can't add more space to a chest-style refrigerator, but you could also use it as" a bench or workstation. Some people like to add a sliding area under their chest fridge so they can store it under a benchtop when they don't need to use it.
This refrigerator style can be taken outside and used as an esky if needed. A chest-style fridge has more interior room. 
The fridge will stay closed when you open it. This is helpful when you are travelling. It will keep all your food in the fridge tidy. You could also stack things and use up all the available space more easily.
If you decide to install a chest-style refrigerator under the counter, it will use up a little more space than other styled fridges because it has fridge slide-out hardware and the capacity to open the lid. However, attaching the refrigerator to the floor is one of the most cost-effective ways to use space.
Slide-drawer fridge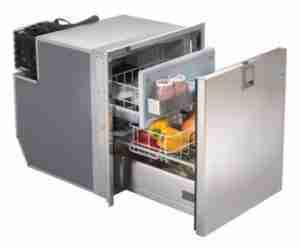 A slide-drawer fridge can be a good way to add shelves or extra counter room on top of the unit while avoiding the risk of your food falling out.
This chest fridge has a smaller internal storage capacity than the outside dimensions. This means you can stack food more effectively in it compared to an upright fridge. 
These are the least effective of the three since the fridge is exposed when it's opened and a lot of cold air can escape when opened 
How Much For A Camper Fridge Freezer 
A decent refrigerator is a must-have for van life, yet they are rather pricey! Some campervan refrigerators cost as much as a home fridge!
When you include everything up, converting a van may be an expensive process. Make sure to include the cost of a fridge in your van conversion budget. No matter how big or tiny your requirements are, prices can range from $500 up to $2000
What Is The Most Efficient Portable Fridge?
Compressor Refrigerators Vs Absorption Refrigerators Vs Thermoelectric Cooler
When choosing a fridge for your off-grid camper van, it is important to consider the power technology you want. Compressor fridges, Absorption refrigerators, and Thermoelectric refrigerators are all types of fridges that can be used for this purpose.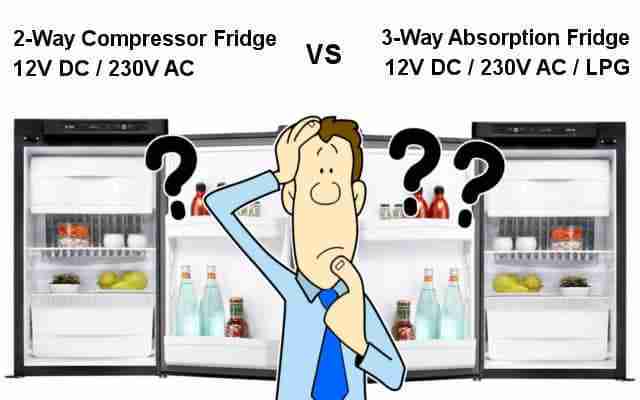 Compressor Fridges 
A small compressor in a compressed-powered fridge, sometimes known as a "two-way" fridge, is used to chill the fridge.
Compressor refrigerators are the most popular type of camping fridge for people who live in vans. They work well and last for a long time.
There are two common ways to power your fridge:
The most popular and low-maintenance fridges used in campervans are ones that operate on 12v. This is because it is more efficient to use a fridge that runs on 12v power than on 240v power, which would require the use of an inverter.
Pros:
Energy-efficient option for 12v.
Designed specifically for vans and are built to endure the rigours of being in a vehicle. 
Because of the strong compressor motor, most compressors can also function as freezers.
Cons:
It can be expensive with a price range from $500 to over $2000
3-Way Absorption Fridges
There are three ways to power an absorption fridge- 12V, 240V, and gas. Gas fridges used to be popular in the campervan sector because they have several benefits if there is enough room.
I preferred to run on a single fuel source. I didn't want to have to worry about running out of gas in the van.
This fridge needs to be kept level in order to work. If it isn't kept level, it might not work well. This is a problem if you are constantly on the move or if your parking spot is uneven.
Pros:
Many power options 
They may easily go for an extended time since they don't require a battery. They rely on the gas flow exchange system rather than 12V.
Cons:
Running them on gas means you have to worry about numerous other lines. In my van, I favour a single fuel source.
When operated on 12V power, they are prone to be relatively inefficient. They will drain the batteries much more than a compressor fridge.
Because of the gas flow, these refrigerators must be kept level to operate correctly.
It is more challenging to install than a compressor fridge.
Additional vents would be installed.
Thermoelectric Coolers
Thermoelectric coolers, also known as battery-powered iceboxes, are to keep food cold for short road trips. These are to keep foods cold for short distances in your campervan. The two most significant concerns when using a thermoelectric cooler in your campervan include:
They are less energy-efficient than a 12-volt compressor refrigerator.
They don't get cold enough to keep food for more than a few days.
An electric cooler can lower the ambient temperature by up to 5°C. As a result, if you're on the road on a hot 40°C day, the cooler will only drop to 15°F. While this is ideal for a short trip, it isn't a suitable long-term solution for life on the road.
We do not suggest using a thermoelectric cooler for full-time travel since they will not be cold enoug
How to Make Your Refrigerator More Efficient
When looking for a portable refrigerator, it is important to find one with a highly rated compressor. 
Refrigerators come in different types of insulation. The amount of insulation is important because it affects how efficient the refrigerator is. You want to find a refrigerator that has enough insulation so it doesn't use a lot of energy. You can find refrigerators with moderate or high insulation. If you want, you can also buy a refrigerator that already
It's also critical to have adequate ventilation. A clear zone around your refrigerator's vents and an area for the extra heat to filter out in order to get the most out of your fridge. It isn't desirable to put your refrigerator in a heated compartment created by the refrigerator's exhaust. People have used tiny 12V fans to help them draw the hot air out.
Some studies say that a fridge that is full to its limits work better and is more efficient. So don't be shy to have your fridge stocked.
You can reduce some of the cold air you lose in your fridge by not leaving the door open for as long.
Why Are Portable Refrigerators So Expensive
Most portable fridges are expensive because they are energy efficient. This makes them more costly than using an icebox. They are designed to be used in small spaces like campers and motorhomes, so less material is needed for their production. This means that they can easily cost twice as much as a regular fridge.
The cheapest camper fridge freezer on the market typically cost around $400, and they're not very energy efficient or reliable. If you want to get your money's worth out of a portable refrigerator, expect to spend somewhere between $900–$1500 for one that is both high quality and good value for its cost.
At this price point, you will also get a freezer compartment in your portable refrigerator.
Most people don't spend this much money on a refrigerator, but if you're willing to do some research and make an investment in yourself, it is possible to get an excellent camping fridge for under $1500.
Using a Battery Bank & Solar Panels To Power Refrigerator
During extremely hot weather, the compressor motor might run continuously, but it may not operate that much during the winter. Furthermore,
During extremely hot weather, the compressor motor might run continuously, but it may not operate that much during the winter. Furthermore,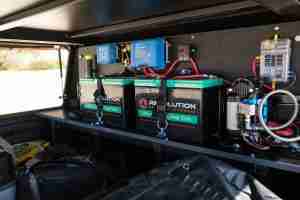 when the fridge is switched on, its startup amps and running amps are not identical. It will surge when it is turned on.
It's challenging to come up with a single number for daily Amp usage. Because so many elements affect compressor runtime, the best you can do is establish an average. You can do this with an ammeter or listen to the compressor run time. However, if you're planning a van build, this will not be possible.
In the summer, we calculate about 10 hours of refrigerator usage for each day. In the winter, our Bushmen fridge consumes as little as 15Ah per day, and when the weather gets hotter, it'll typically use closer to 40Ah.
Is A 12V Fridge Worth The Money
Even though a portable refrigerator is something that many people want in a camper, you don't really need one.
People often don't like to prepare food and eat out instead. This is because they don't have a refrigerator. However, if you don't have cold food with you on the road, you will be limited in the types of food you can make and how far from home you can go.
You could save a lot of money by not having a fridge a refrigerator. You will not have to spend as much money on solar panels.
Refrigerators generate a lot of heat when they are in use. This is good for cold weather but could be not so good for hot weather. In the summer, you can use a cooler to help keep your camper van from overheating as quickly.
If you are looking to save money, we would recommend checking out some good-quality esky before buying a 12-volt fridge. These eskys can keep ice in them for a long time, which might surprise you.
Conclusion
You have are numerous varieties of 12v fridges available, and they vary considerably. The compressor fridges are the most up to date and energy-efficient models available.
If you're looking to save money, you might consider using a cooler.
If you're searching for the best compressor refrigerator, we recommend ARB 12v Fridges.
To recap, here are our best camping fridge tips in brief:
Keep your food loaded up in the fridge to help keep it colder longer. – Use a different circuit than what you use for other appliances. – Install a fridge with high-gauge wires to avoid voltage drops and power problems.
Consider using coolers in the summer if you don't have a lot of money or space for solar panels.
If you're on a budget, check out some alternatives before buying a compressor refrigerator.