Best DC-DC Caravan Battery Chargers in Australia
Updated on: December 2023
The caravan-owning population in Australia has grown significantly and continues to grow. This is largely due to more people with flexible schedules since the work-from-home trend started. Plenty of retirees and families also prefer to go on extended trips.
It is important to keep your gear powered up, especially for long expeditions. There are phones, audio systems, water pumps, heating systems, refrigerators, lights, sockets, switchboards, and more that require a power source.
Caravan owners know the importance of a stable electrical supply, and your camper's alternator will struggle to maintain or charge too many devices. DC-DC charger, also known as a battery-to-battery charger, presents the solution to this problem.
| | | | | | | | |
| --- | --- | --- | --- | --- | --- | --- | --- |
| | | | | | | | |
| | Enerdrive ePOWER 40A DC to DC Battery Charger | Redarc Dual Input 40A DC-DC Charger | Thunder 20 Amp DC-DC Charger | Renogy 40A DC to DC Charger | CTEK D250SE 20A DC to DC Charger | Victron Orion-Tr Smart 30A Charger | Projecta 25A 5 Stage DC Charge |
| | | | | | | | |
| | | | | | | | |
| | | | | | | | |
| | | | | | | | |
| | Gel, AGM, Flooded, Lithium, Program | Standard Lead Acid, Calcium content, Gel, AGM, Lithium | Gel, AGM, Calcium, Lead Acid and Lithium | AGM, Flooded, Gel, and Lithium | Gel, AGM, Calcium, Lead Acid and Lithium | | |
| | | | | | | | |
| | | | | | | | |
What Is a DC-DC Charger?
A DC-to-DC charger is a battery charger that runs on 12 volts. It acts as the brain that tells your vehicle's alternator how to charge your deep cycle batteries. These chargers power up all the devices, appliances, and electrical systems in your caravan without pressuring the starter battery.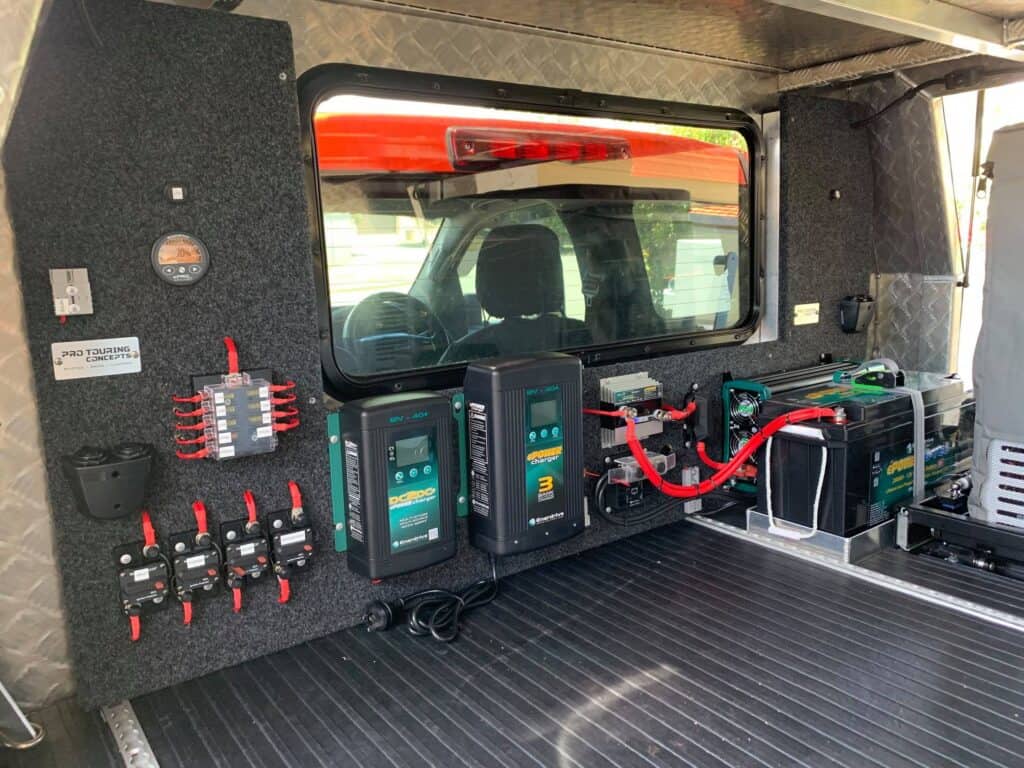 What to Consider When Buying A DC-DC Charger
Once you've decided to get a DC-DC charger, there are some factors to consider. You have to figure out what size battery charger you want. Sizes are measured in amps, and caravan chargers range from 4 amps to 100 amps. 40A chargers are ideal for caravans.
There's also the cost factor to consider. How much do you want to spend on a charger? When it comes to caravan equipment, you can spend as much or as little as you wish. Plenty of trusted sources sell battery chargers at reasonable prices to keep up with your budget.
Additionally, consider the features of the DC-DC battery charger, and decide if the charger's capability fits your specific needs.
Best DC to DC Charger
DC-DC chargers will improve your camping or travel experience. There are several of them on the market. It can be a challenge to choose the right one. Here is a list of the best DC-DC chargers.
The Enerdrive ePower is the top pick if you need a reliable, feature-packed caravan DC-DC battery charger. It's the most popular one on the market. This automatic multi-input charger is designed to meet rugged conditions while on the road.
With its ability to charge from both solar power and an alternator, this battery charger is ideal for long road trips without worrying about your energy usage. When your vehicle is on the move, the battery will charge from the engine.
As a result, you will have more power when you park to set up camp. The battery charges from the solar panels when your vehicle is stationary. This charger is manufactured to top quality and is worth its value. It is outstanding against its competitors.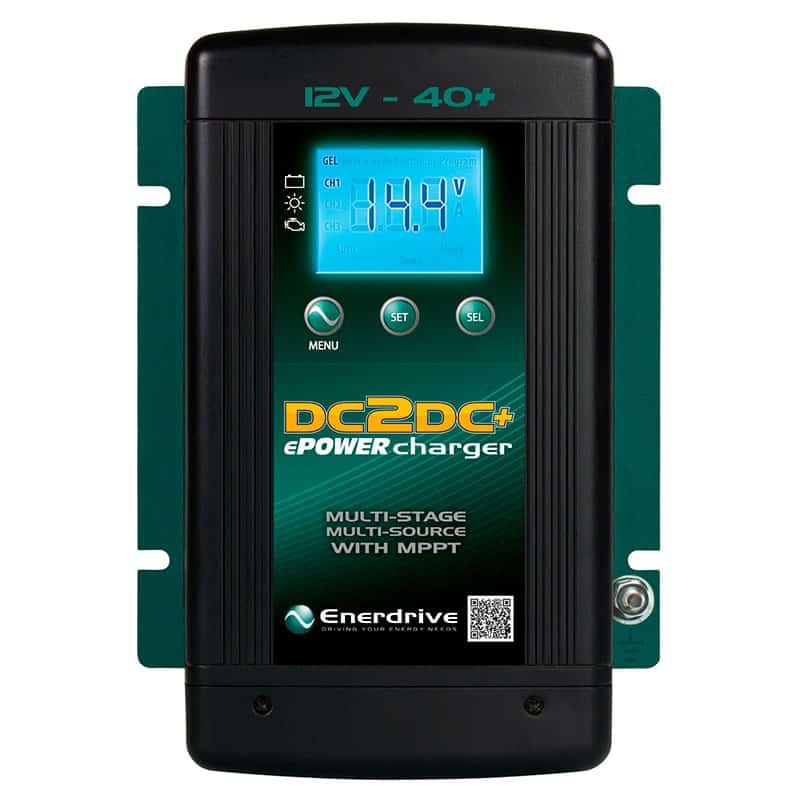 Enerdrive ePower 12V 40A Features
Smart charging feature. The battery charger adjusts its output depending on the loads connected to the battery bank. This function sustains your battery bank's life. Some chargers confuse loads for discharge and hold the batteries in the bulk absorption stage for long periods, therefore damaging the battery bank.
Two independent charging sources. The battery charges via the engine when your caravan is moving, and resorts to charging from the solar panels when parked. You can arrive at your destination with your gear fully powered up and never have to worry about pressuring the alternator.
Programmable LCD. This shows you which source is charging the battery. You can also see the amperage, voltage, and charging status.
It has a temperature sensor, which allows for accurate battery charging.
Enerdrive has 40A output of up to 40 degrees Celsius with a temperature control cooling fan.
DC M6 screw terminals facilitate large battery cable joining between multiple sources.
Maximum power point solar control.
It has the same battery process that is incorporated in the Enerdrive's AC primary ePower charger, as well as a lithium charging profile.
This DC to DC battery charger is currently on sale until the end of December 2023 at My Generator
Coming in a close second in quality and features, compared to the Enerdrive ePower 12V 40A, is the REDARC. It is manufactured in Australia and has been tested under every possible condition. This charger has advanced DC-DC charging technology and was designed to keep your dual battery system charged using multi-stage charging.
Portable solar panels charge your auxiliary battery while driving and when you are parked. It can be used for various battery types, including AGM, lithium, calcium, GEL and lead acid batteries. The REDARC charger is suitable for caravans with standard alternator charging systems.
This battery charger has similar features to its competitor, Enerdrive ePower 12V 40A.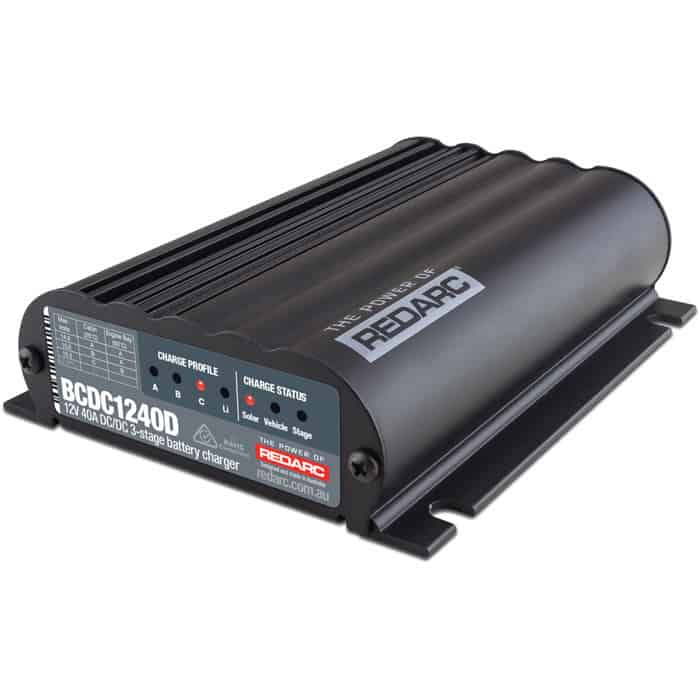 REDARC Dual Input 40A Features
Designed with solar input. Synchronized solar and DC inputs make this battery charger one of the most advanced.
REDARC has Mppt (maximum power point tracking), which enhances the match between the battery bank and solar array.
The green power priority and solar regulator gives the selection of using portable panels when motionless or solar panels when on the move.
Durable in extreme weather conditions and works in all terrains, including deep water crossing. The charger is protected against infiltration from dust and water.
You're ready to take on the adventure of exploring the outback, but you're on a budget. A short or long trip in your caravan will cost you as you have to ensure that everything, including equipment, is ready for the road.
Having a DC-DC battery charger is a crucial gear to help pull off your adventure without any electrical difficulties. The Enerdrive ePower 12V 40A and the REDARC Dual Input 40A In-Vehicle battery chargers hold the reputation of being the best technology on the market.
However, the Thunder 20v Amp with solar input is the best on the list when it comes to cost. It's a small charger, which makes it easy to connect. The charger offers a way to keep your secondary battery source powered up no matter what type of vehicle you have.
With the innovative pulse charging system to intelligently determine the optimal charge rate for the auxiliary battery, this model is ideal for any vehicle that runs on a double battery setup.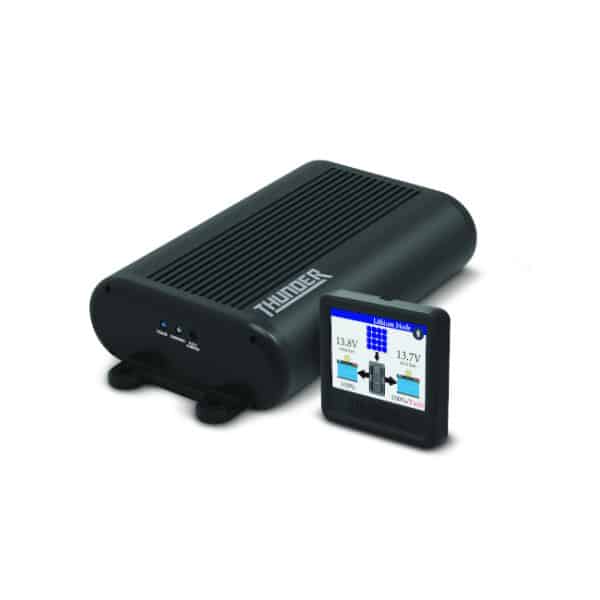 Thunder 20 Amp Features
The heavy-duty aluminium case keeps the battery charger well-protected.
A new Bluetooth LCD interface that shows the battery's charging status without having to look directly at the charging unit.
There is a new feature, MST (Modular Sense Technology), which allows you to connect more than one unit for a 60, 40, or 20A output. With this feature, it isn't necessary to buy a larger unit, which keeps you on budget.
The Thunder 20A is compatible with calcium, lead acid, lithium, AGM, and GEL batteries, making the charger a good addition for caravans, and four-wheel drives and camper trailers.
12-24 voltage system with 12 voltage output.
The microchip control and monitoring feature makes switching between power sources fully automatic so you can enjoy your adventure without worrying about technicalities.
It has longer battery life with reduced oxidation and temperatures from the pulse mode feature.
There is power output control and internal charger temperature monitoring.
Smart technology ensures protection from overheating, short-circuiting, and overcharging.
Integrated reverse polarity protection reduces the chance of damage to the battery if power supply polarization is changed.
Dust and waterproof technology make it capable of handling any terrain and harsh weather.
This battery charger is made to charge secondary battery sources while on the move, using the main battery that is connected to the vehicle's alternator. While Renogy 12V 40A is reputable, it lacks the solar input features that some of the other DC-DC chargers in its category have.
Solar controllers or regulators take the power made by the solar panels and lower the voltage to a safer level to charge batteries. The reduced voltage serves to prevent damage or overcharging of your battery.
This model also doesn't come with a temperature sensor compared to the Enerdrive ePower 12V 40A and has to be brought separately. However, the Renogy battery charger is affordable, and it works.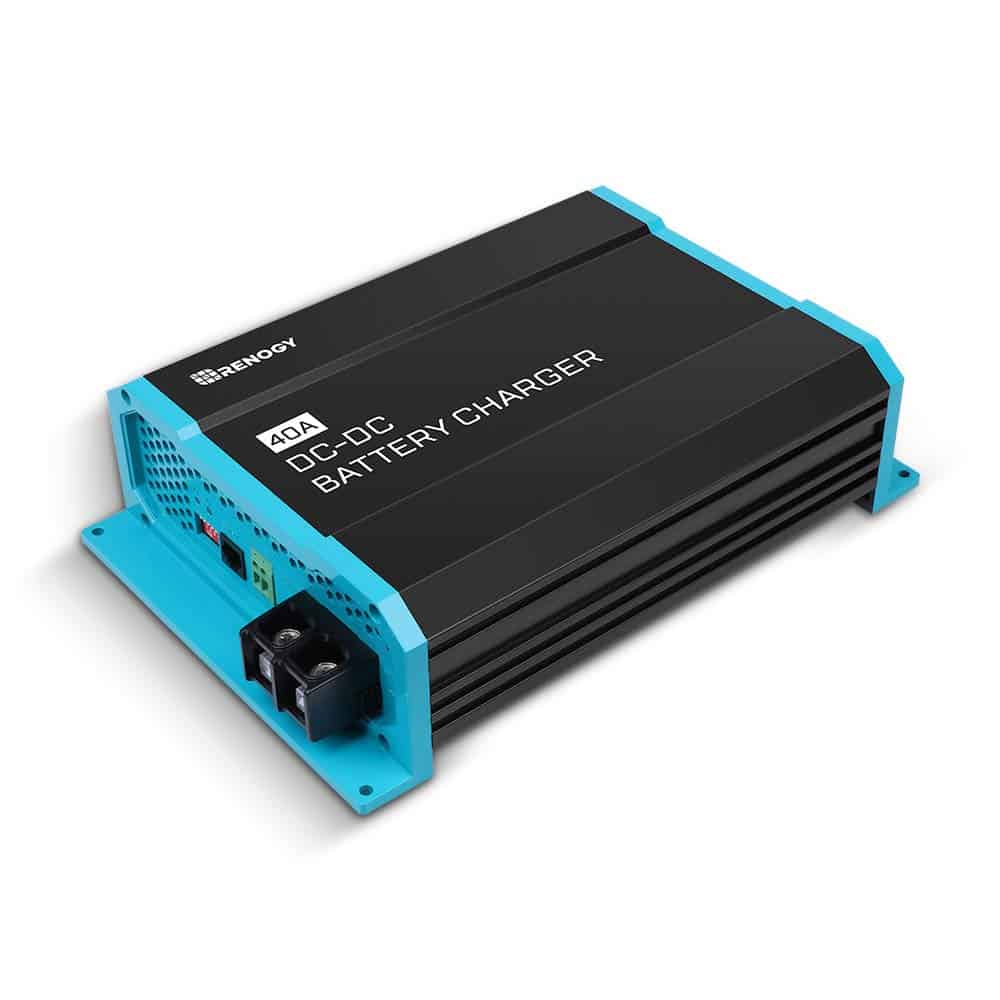 Renogy 12V 40A Features
Smart protection element that prevents overheating, damage from reverse polarity, and overcharging.
Prolonged battery life with temperature compensation if you buy a separate temperature sensor.
Able to charge AGM, flooded, GEL, and lithium batteries.
The charger has a three-phase charging feature: float, bulk, and boost.
Battery output and input isolation.
Prolongs the operating time of electrical loads, including lights and refrigerators.
Drops in voltage caused by long cable runs are overpowered.
The small design makes it easy to install.
This charger was built to withstand tough terrains and weather conditions.
CTEK D250SE 12V 20A DC-DC Battery Charger (Best Charger with Temperature-compensated Charging Technology)
This DC-DC battery charger boasts top-notch Swedish technology. It is a well-known, reliable charger that is an excellent choice for campers. You can enjoy your caravan with increased battery life. This is the ideal charger to use without accessing a primary power supply.
The CTEK is an automatic battery charger, meaning it switches between power sources on its own. It is similar to other popular brands in its sphere and shares many of the same features, including a temperature sensor, which allows you to monitor the charge.
It is a stable choice that helps you to keep a balanced and dependable power supply while on a trip of any length.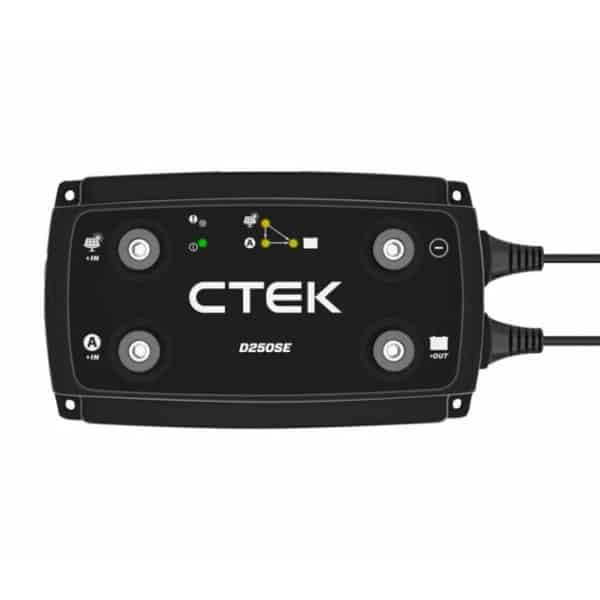 CTEK D250SE 12V 20A Features
CTEK has two input sources from solar and an alternator for joint charging.
It has a five-stage charging feature while driving and is completely automatic when switching between power sources.
Compatible with other batteries, including lithium, GEL, and AGM.
Enhanced charging for longer battery life.
MPPT solar regulator.
There is a temperature-compensated charging technology that detects hot and cold.
It is Water-resistant and dustproof. You have nothing to worry about when taking your vehicle through rough terrains and harsh weather.
The Victron Orion charger is an adaptable battery charger with integrated Bluetooth technology, which facilitates quick setup and switching the battery on and off from your phone. It is suitable for boats and vehicles where the starter and alternator batteries charge while driving.
This charger is non-isolated, unlike other battery chargers on the market. An isolated power converter separates output and input by separating the two electrical circuits.
In this way, it prevents a direct current surge between the two. In contrast, a non-isolated converter has no separation between input and output current flow, which makes power surges possible.
Deciding between a non-isolated and isolated battery charger depends on varying factors. Some systems need isolation for safety purposes, while others operate fine with non-isolation.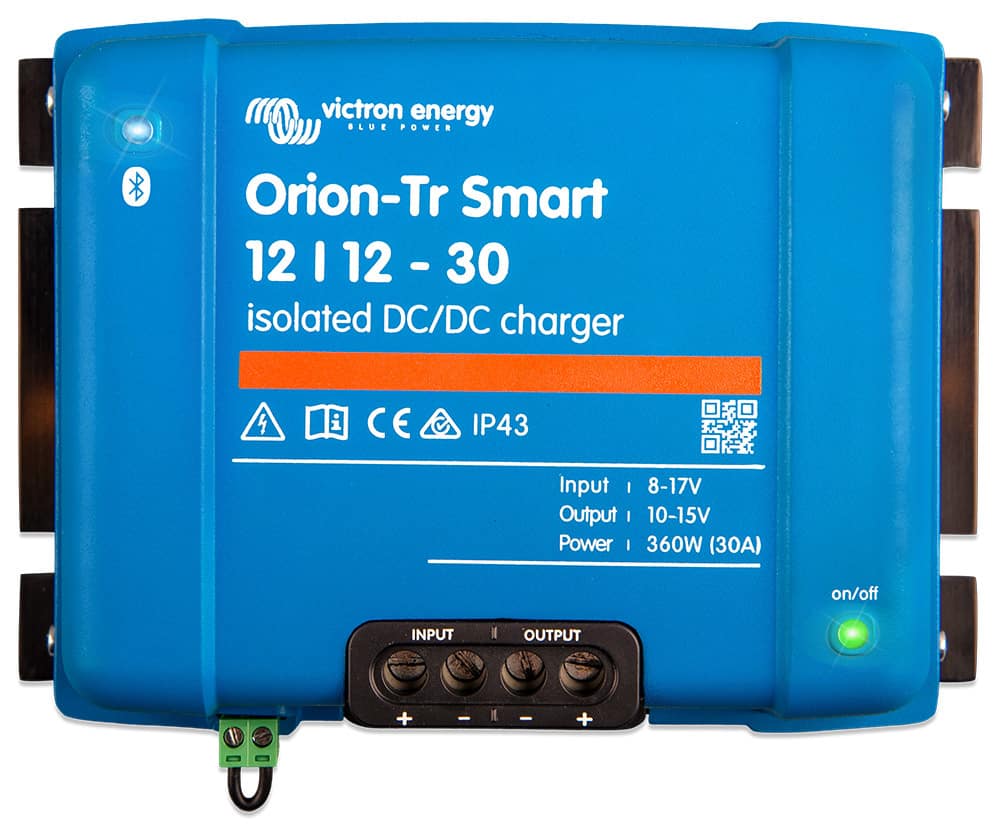 Victron Orion Features
As a non-isolated charger, it's cheaper, compact, and highly efficient.
It is suitable for higher temperatures up to 55 degrees Celsius and full output up to 40 degrees Celsius.
Efficient on 12V or 24V setups.
Several units can connect to the charger to increase electrical output.
Bluetooth technology that allows you to control settings from your mobile devices.
With the intelligent alternator compatibility feature, the alternator is controlled to reduce emissions and boost fuel productivity. The smart alternator provides a varying output voltage and shuts down when not needed. Its detection mechanism stops the converter from firing the starter battery, so the alternator does not provide power.
This advanced Enerdrive B-TEC 100Ah Slim Lithium Battery Review – Is It Really Good?">battery charger is made with modern lithium (iron phosphate) batteries. Projecta is another reliable brand suitable for caravans. Like other brands on this list, its intelligent technology allows it to mechanically adjust power output based on the battery's temperature, which prevents overheating and overcharging.
The charger is also secured against reverse connection as its detection feature will pick up on a change in electrical terminals. This prevents damage to the internal structure. Additionally, the charger has under and over-voltage protection, meaning it will power off if those problems are detected. With the protection features, this charger will last a long time.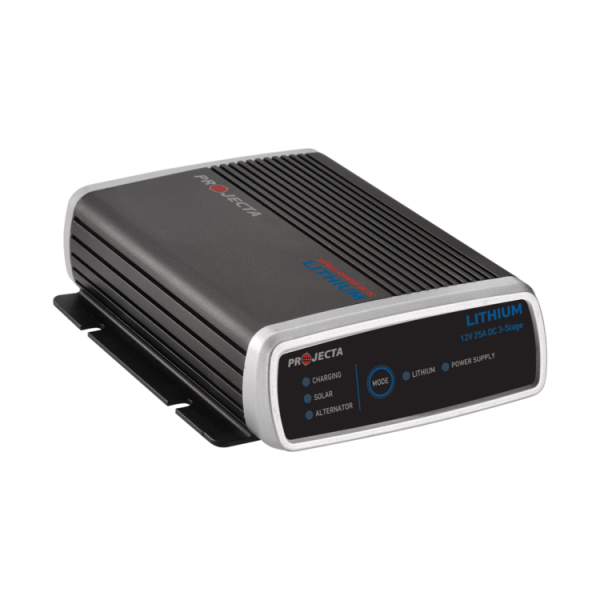 Porjecta 25A 5 Features
Multi-chemistry compatibility. It works with standard lithium batteries and modern lithium batteries.
Dual input process. Battery charging from both alternator and solar inputs is automatic. The charger has solar charging as a default but switches from solar to alternator charging if there is inadequate sunlight. This significantly decreases the pressure on your vehicle's power system.
Double charging modes. Projecta is made to work with standard and modern, smart alternators. The sophisticated switch-mode technology supports greater efficiency.
25A solar MPPT. This solar regulator system optimizes the power produced by the panels to give a complete charge to the auxiliary battery.
Final Thoughts
There is a noticeable rise in caravan owners in Australia. It's becoming especially popular with retirees and families because of its comfort and family-friendly features. Hopping into a huge moving home to take a trip, either long or short, has its appeal.
There are many reasons for more people owning camper vans or caravans today. However, the important thing is ensuring the van is safe and ready for the road. Whether you are taking a short drive for the weekend, going on a camping trip, driving across the country, you'll want a reliable power source in your vehicle.
Keeping multiple appliances and devices along with water heating systems and lighting in a caravan can pressure the vehicle's main power source. DC-DC battery chargers are the best bet for avoiding this problem.
With so many to choose from, there is a lot to consider regarding compatibility with your vehicle, cost, and the features of the battery charger. This list comprises some of the best that are on the market.
From the most popular and effective to the most reliable to the most cost-efficient, one of the above battery chargers is sure to be the right fit for your specific needs. Get that caravan ready for your outback adventure.