Best MPPT Charge Controller Australia
This post was updated on: December 1, 2023
A Campervan MPPT Charge Controller is a must-have component in your solar system. They regulate the flow of electricity between your solar panels and battery storage, ensuring that everything is working correctly, which will increase the life of your batteries.
The amount of solar chargers alternatives on the market may be intimidating, but there's bound to be one that will work best for your entire campervan solar power system.
To find a best charger for your solar power system, you'll need to ensure that the charge controller you pick is compatible with the type of battery you have and your solar panel array.
For example, if you have lithium batteries, you will require a controller that's lithium compatible.
In this post, we'll help you make sense of your options by researching the function of your solar charger in your solar system and comparing the advantages and disadvantages of each type (PWM vs. MPPT).
We'll look at the most popular technical characteristics of mppt solar charge controllers and review some of the best solar chargers on the market to determine which system is ideal for charging your solar array
| | | | | | | |
| --- | --- | --- | --- | --- | --- | --- |
| | | | | | | |
| | Victron SmartSolar MPPT 100/30 Charge Controller | Morningstar EcoBoost MPPT 30 Amp Solar Controller | Morningstar TriStar MPPT 30 Amp Solar Controller | Victron BlueSolar PWM-LCD&USB 12/24V-30A Charge Controller | Enerdrive ePOWER PWM 30A Solar Charge Controller | SPHERE PWM 12V/24V 40A SOLAR CHARGE CONTROLLER |
| | | | | | | |
| | | | | | | |
| | | | | | | |
| | | | | | | |
| | | | | | | |
| | | | | | | |
| | | | | | | |
| | | | | | | |
VICTRON SMARTSOLAR MPPT 100/30 CHARGE CONTROLLER
Victron has been making solar regulators for a long time now, and not just the 12 and 24V gear. Victron is a well-known manufacturer of high-quality equipment, and should you require assistance, they offer great customer service. The Victron Solar Controller is one of the most highly recommended solar controllers on the market today, and for good reasons.
With ultra-fast MPPT, the unit is constantly monitoring the battery bank voltage and current output of your solar panels. It ensures you get every available power from the solar panels to your batteries. This efficiency is most noticeable when the sky is partially clouded, and the light is constantly changing.
Bluetooth connection for programming and monitoring

Flexible charge algorithm

50% lighter, 30% smaller than its lead equivalent
Morningstar EcoBoost MPPT 30 Amp Solar Controller
The main purpose of this controller is targeted to residential and leisure consumer applications, where an MPPT controller is preferred. Morningstar has created a metered and a non-metered version and they are also available at 20, 30, and 40 amp charge ratings for 12 and 24-volt battery systems.
The EcoBoost controllers recognize if you have a 12 or 24 V system and automatically adjust. They're extremely efficient and precise controllers intended to guarantee that batteries are fully charged.
An added small detail that might be useful: you can power small DC loads directly from the EcoBoost by way of two USB charging ports.
Available in 20, 30, and 40 amp charge ratings

Automatically adjusts for 12 or 24 V system

Two USB-A ports on the unit

Four stage battery charging

Additional cost for the metered version
Morningstar TriStar MPPT 30 Amp Solar Controller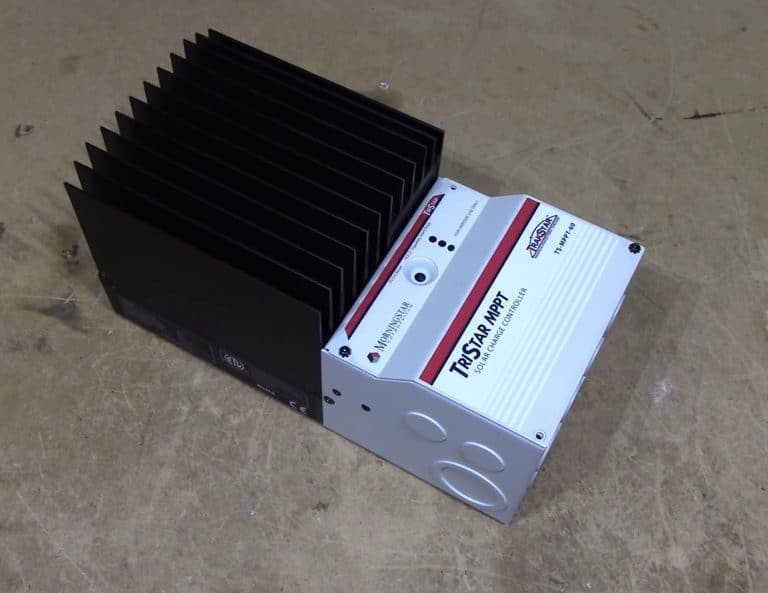 The Morningstar TriStar MPPT solar charger is one of the most expensive options on our list.
One of the main benefits is its extremely high efficiency. The TriStar is able to achieve 99% of the MPPT that solar panels are capable of, making it one of the most efficient options on our list. It also allows you to have up to a 3000-watt of solar panels.
| | |
| --- | --- |
| | |
| Up to 3000-watt solar system | |
Victron BlueSolar PWM-LCD&USB 12/24V-30A Charge Controller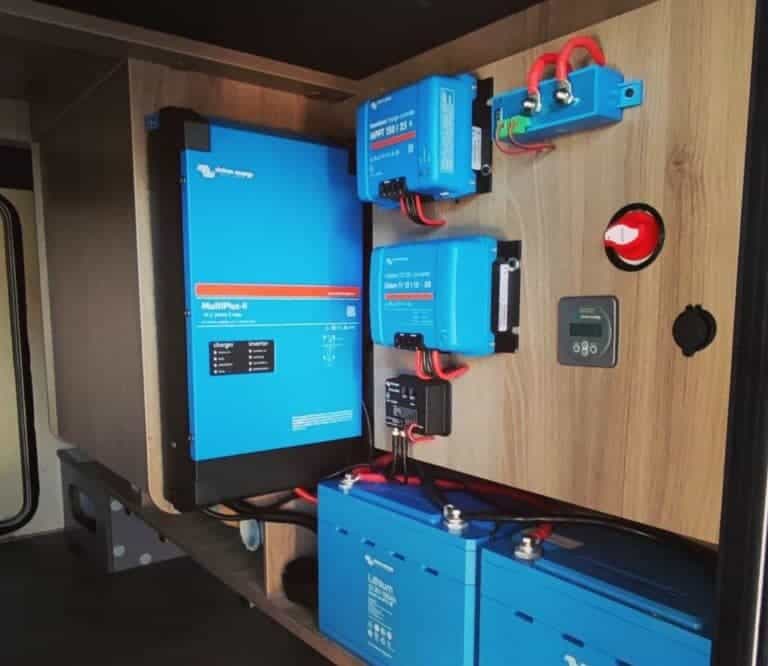 Another great solar charger option from Victron. If you are looking for a PWM charger and want to know that you will still get great value for your money, the Victron BlueSolar is definitely for you. This wonderful product is part of a series designed to meet different needs based on features and operating modes.
The Victron BlueSolar PWM-LCD+USB has Bluetooth connectivity, which makes it extremely easy to program and install. In addition to that, it also comes with 2 USB ports and a programmable battery charge algorithm depending on your choice of battery.
Programmable and flexible charge algorithm

The smallest unit on our list
Enerdrive ePOWER PWM 30A Solar Charge Controller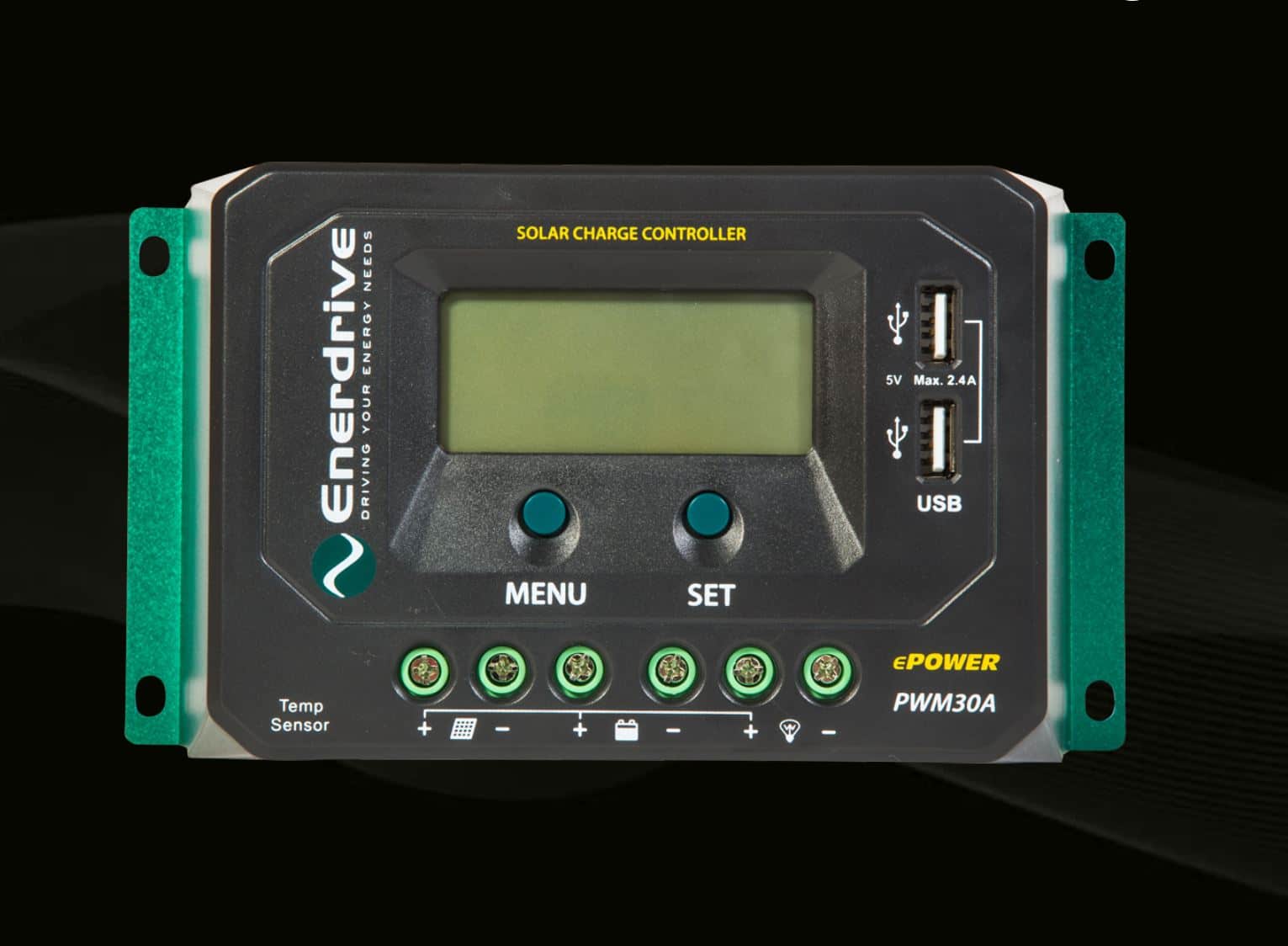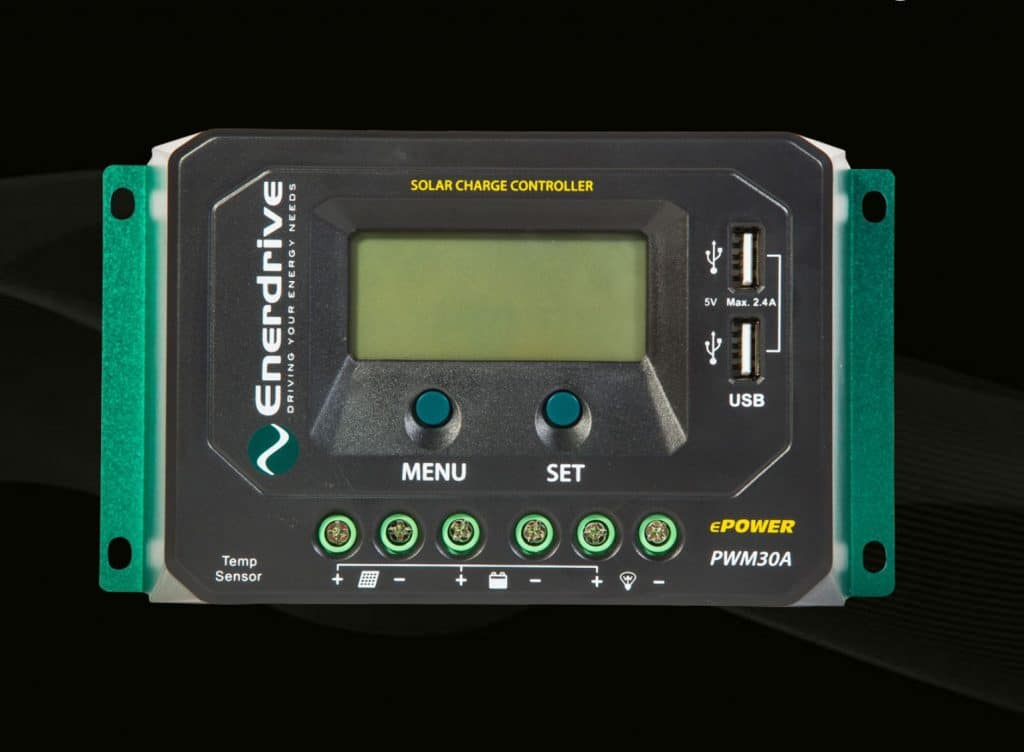 The Enerdrive ePOWER PWM solar charger has been intended to deliver a number of features for those looking for an economical PWM controller. Its technology consists of both PWM charging as well as the ability to connect to a 24 V battery source without needing an additional solar regulator unit. In terms of pure performance, this is one of the most efficient controllers out there.
The unit is extremely easy to install and use. The Enerdrive B-TEC 100Ah Slim Lithium Battery Review – Is It Really Good?">Enerdrive PWM makes it possible to connect multiple solar panels directly to a battery bank without the need for an additional MPPT charge controller. It has built-in safety features including short circuit, overload protection as well as reverse polarity protection. And finally, it's super-efficient, which is great for those who plan to run a number of electronics and other DC appliances.
| | |
| --- | --- |
| | |
| Multiple safety features including short circuit, overload protection and reverse polarity protection | |
SPHERE PWM 12V/24V 40A SOLAR CHARGE CONTROLLER
The Sphere PWM 12V/24V 40A Solar Charger is another product to look into if you are on a budget. This device comes with a wide range of features, to say the least. It has both an easy usage and easy installation process, making it highly convenient.
With its LCD design, this device makes the usage process as simple as possible. It allows you to manage the entire charging procedure for your campervan's battery whilst also displaying how far along it is in that charging cycle.
The Sphere PWM does what it is intended to do, which is to charge your battery. It has an excellent design and safety features are also included in this device. You don't have to worry about short circuits or reverse connections as there are safety measures already built in the unit.
LCD display makes usage and programming easy

Programmable and flexible charge algorithm

Safety measures built-in the unit including open-circuit voltage and overload protection as well as reverse polarity protection

It doesn't have Bluetooth connection

Screw Terminals are a little small
What is a Solar Charge Controller
A solar charge controller is important because it regulates the flow of electricity between the solar panels and the battery. This ensures that you're not putting too much power back into your battery bank, which can damage it over time. Make sure to get a high quality solar charge controller for the best results!
The goal of the solar system is to use sunlight to create clean, sustainable solar power. Solar panels collect the sunlight.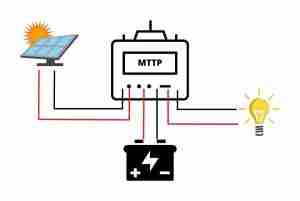 A solar panel consists of many cells. Because the sun's rays are unpredictable and spotty, they don't all receive the same amount of light at once.
Solar panels produce different amounts of energy, which can change a lot of times every second.
The voltage needed to charge deep cycle leisure batteries varies depending on the type of battery.
If you try to charge your batteries for less than they're worth, you might damage them. If you try to charge them more, there is a high risk that you will damage them.
If you connect the batteries directly to the solar panel array, it will damage the battery bank.
The charge controller is the last element in the charging procedure. It takes control of the entire charging process following this point. It's called a charge controller for a reason: it's responsible for regulating the solar charge to ensure that your battery is safe.
How Does a Solar Charge Controller Work?
A Solar Controller is a device that sits between your battery bank and your solar panels.
Your batteries will connect with your charge controller, which will then send the signal to the solar panels.
The incoming power enters the controller's semiconductor, and opens or shuts depending on your battery's current demands.
Deep cycle batteries have their own voltage capacity, and any extra volts put a severe strain on the cells.
A charge controller regulates the voltage generated by the solar panels and controls how much energy enters your battery based on its requirements.
They also have overload protection – which prevents your battery system from overheating if you apply too much current to it – and low-voltage disconnects, that cut off your battery automatically before it over-discharges and damages itself
Types of Solar Charge Controller
If you need to install a Solar Controller, we can help. Whether your system demands it or not, there is a suitable Charge Controller for you. The majority of charge controllers are classed into two categories:
Pulse Width Modulation (PWM) Charge Controller
Maximum Power Point Tracking (MPPT) Charge controller
The first stage in selecting a controller for your setup is understanding these two categories and picking the one that best fits you.
Pulse Width Modulation (PWM) Charge Controller
A Pulse Width Modulation (PWM) is a straightforward device.
A PWM is not designed to handle the high voltages produced by many solar panels wired together. Even if you only have a few solar panels, using a PWM can be risky because it may not be able to handle the large voltage.
With a PWM controller, the voltage of the solar panels must be equal to that of the battery bank.
In order to use 12v solar panels and a 12v battery system, you will need a 12v PWM charge controller.
When multiple solar panels are used in a solar array, they must all be connected in parallel to minimize the current flowing through each of the PV solar cells.
The PWM controller converts the power generated by the panels into direct current and sends it to the batteries.
You cannot use more amps than the solar array can provide.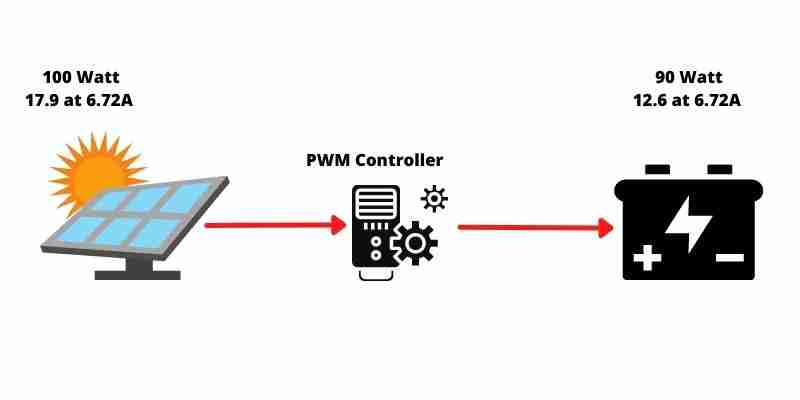 Pros & Cons of PWMs
Many camper van converters and vanlifers choose to go with MPPT over PWM, mainly because if you intend to live in a van off-grid for longer than a few days, and your camper van electrics are suitable, a PWM charger is not the best option. It's simply not efficient enough at extracting power from solar panels.
If you require to have more extra power, adding more panels would be necessary. However, the more panels you have, the more pronounced those inefficiencies become.
In a nutshell, if you can't live without your refrigerator and lights, spend the money on an MPPT controller.
Even thou a PWM is not super efficient, there is still a place for them. They are efficient when the battery is almost full and they are very inexpensive.
The price difference between a PWM and a MPPT charge controller for a 300w solar setup is around $280. PWM controllers cost around $120 and you will pay around $400 for a MPPT controller for the same-sized design.
.If you only use your generator for a few days at a time, setting off with full batteries and in good weather, a PWM controller might be enough.
Maximum Power Point Tracking (MPPT) Charge Controller
An MPPT solar panel charge controller is a more advanced technology than a PWM.
The panels can handle more voltage if they are wired in series.
MPPT solar charge controller must fulfill a number of conditions in order to charge the battery. When the input voltage is more than 5v higher than the battery voltage, charging begins. They continue to charge it when voltage stays at 1v or more above the battery voltage after charging has completed.
Certain chargers may need a minimum of 15v, and anything less will not charge the battery.
A maximum power point tracking (MPPT) controller is usually around 94-98% efficient, but the idea is the same. As a result, an MPPT controller may boost performance by up to 30% over a PWM.

Pros & Cons of a MPPT
The advantages of MPPT charge controllers are self-evident.
They may charge batteries with fewer solar panels due to their high performance.
Because the controller can operate with higher voltages, the use of solar panels in series is possible.
Finally, a series array will provide a greater voltage to charge the batteries than if they were connected in parallel. All of this adds up to allowing you to be off-grid for longer.
We've been travelling around Australia for the last six months, and we've hardly needed to be connected to a main power source. We have 170w panels wired in series with a MPPT controller, and, with good management, we're surviving just fine.
The MPPT disadvantage is in its high price, which is about 3 or 4 times that of a PWM controller for the same size system.
However, if you were to charge the same battery using a PWM charger on a 300w solar panel, you'll need an extra panel and more cable connections since you'll have to wire solar panels in series.
Overall, there's little difference in price between the set up of a system that uses a MPPT and a PWM charge controllers. sol
Which Is Better: MPPT Or PWM for your solar panels?
PWM controllers may handle simpler operations at a lower cost than MPPT chargers, but MPPT's are designed to manage more complicated systems and are more dependable over time.
A PWM controller and a full battery should suffice if you only need to power up a few lights and fans on weekends.
If you have a heavy-duty system or anticipate using your solar charger for weeks at a time, you should purchase a MPPT charger.
Solar panel systems that include a MPPT solar charge controller will be more efficient with converting the solar power from the panels to your battery bank.
If all you need is to trickle charge your battery, a PWM is enough.
If you use multiple panels or 150 watts, your system will need a MPPT solar charge controller for its more comprehensive charging capabilities.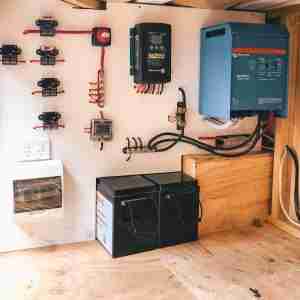 Do you need a Solar Controller?
A solar charge controller is necessary for most camper van solar installations.
Your battery could be destroyed after being exposed to a solar panel's random and chaotic voltages.
Not exactly what you're looking for if you're converting your camper van or seeking a nice van life.
If the solar panel is a small panel less than 5 watts, you may go without a charge controller. However, this panel would be so small that it wouldn't be enough to supply power to any of your appliances.
In a nutshell, if you want to install a camper solar panel system, you'll need a charge controller.
How to Use a Solar Charge Controller
The charge controller is what regulates how much solar energy goes into your system. But each model of charge controller is different in terms of the features it has and the way it works. So before you start using your charge controller, it's a good idea to read the instruction booklet carefully.

No matter the model, the basic way that the panels work is the same. The controller links to the solar array to create an electrical supply.
The Battery charge level, voltage (V), and temperature (°C) information may be used to customize your controller for your battery's various types and charging methods.

Follow the manufacturer's instructions carefully. The solar charge controller will be set up, and the batteries will be linked once and will require no more attention or maintenance afterwards.
What to Look for When Buying a Controller
Solar charge controllers, particularly MPPTs, are quite expensive, so you'll need the best solar charge controllers available for your system.
There are many different types of solar charge controllers. They come in different efficiencies, and they may have features like temperature compensation, or output limitations for different applications. Make sure you are aware of the following terms:
Supported battery technology – The type of battery the charge controller works with.
Efficiency rate – The percentage on the solar charger tells you how much wattage it can extract from the solar panel. The higher the number, the better.
Battery output voltage – The voltage of your campervan battery is measured in volts (V). Most controllers have a range between 12v and 48v. The majority of campervans use a 12v battery setup, but there are some that use a 24v system.
Maximum input voltage – The solar charge controller can take a certain voltage from the solar panels. If you want to know how much voltage your solar panels can provide, think about connecting the panels in series. This will increase the total voltage.
Maximum current output – The charge controller can send a certain amount of current to the battery bank. If you set this amount too low, your solar panels will not work well.
LCD screen – It's a really useful tool for displaying system status information and error codes. It's required since without it, you'll need battery monitoring displays to keep an eye on the system's condition.
Bluetooth module – For wireless management and monitoring.
The solar charge controller calculator is a great tool to use when designing a solar power system. It will help to prevent overcharging, overloads, short-circuits, polarity reversals and reversed currents.
Source @ DIY Solar Power with Will Prowse
Choosing the suitable Charge Controller Size
Solar charge controllers with a capacity of more than 20 amps are not necessary for vanlifers wanting to trickle charge their battery system.
If you only want to live off your solar energy installation but don't have any sophisticated devices that need charging, a 100 amp controller will keep the power flowing as long as the sun is out. Setups of at least 150 amps should require more planning.
When choosing your solar array, the last stage should be shopping for your Solar Controller.
This is because the capacity of your solar panels and the number of volts your battery bank can handle determines which size Solar Charge Controller you need.
Find out how many panels will be in your system and how much power they'll produce.
The size of the Solar Controller is determined by how much energy you want to store.
Summary
MPPT controllers can be more expensive, but they are also the most efficient charge controller. They allow you to connect multiple solar panels.
If you're looking for a quality solar controller that will last and that will provide your battery bank with continuous charging throughout the day, then MPPT is worth the investment.
However, if you're on a budget or want to save money by buying second hand equipment, PWMs might be better suited for your needs.
Either way, make sure to do some research before making any purchases, so you know what's best for your system!
Frequently Asked Questions