The 17 Best Things To Do In Lorne
Located on the stunning Great Ocean Road in Victoria, Lorne is a popular destination for travellers seeking natural beauty, outdoor activities, and a relaxing beachside vibe.
This charming town boasts plenty of things to do and see, from hiking trails and waterfalls to art galleries and trendy cafes.
In this post, we've compiled a list of 18 unmissable things to do in Lorne to help you plan your next adventure.
1. Visit Lorne Beach
Lorne Main Beach is among the most popular beaches on the Great Ocean Road. Stretching 2 km, this long and wide stretch of sand is perfect for a morning walk or an afternoon swim.
Patrolled by lifeguards in summer, Lorne Beach is a safe and family-friendly spot to soak up the sun and ocean views.
Plenty of cafes and restaurants are along the beach, so you can enjoy a meal or drink with a stunning view.
Two other beaches you should make time for while in Lorne are North Lorne Beach and Lorne Scenic Beach.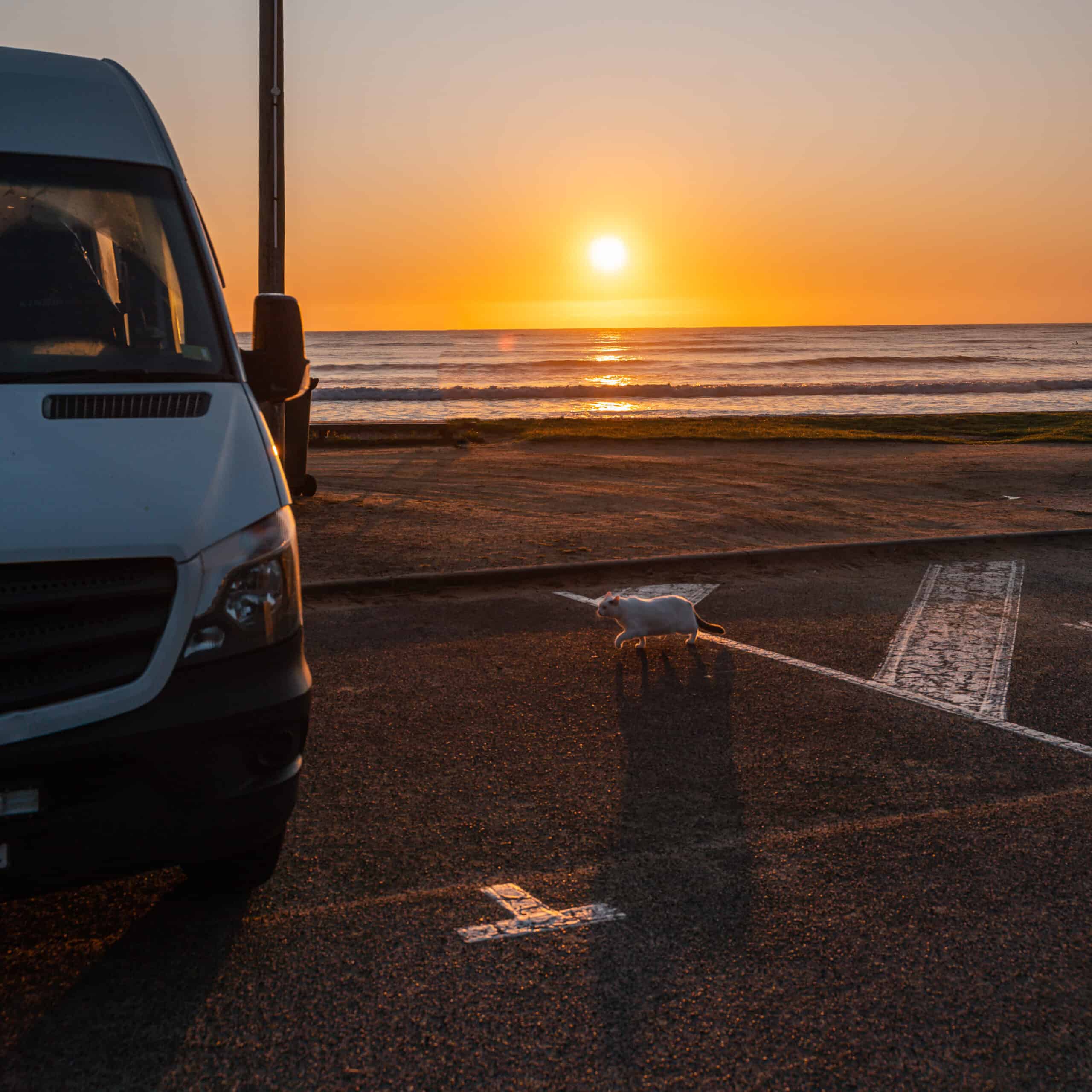 2. Visit Teddy's Lookout
For some of the most mesmerizing coastline views, head to Teddy's Lookout.
Located just a few minutes' drive from Lorne town centre, this Lookout offers a panoramic view of the southern ocean, including the Saint George River and the Great Ocean Road.
Teddy's Lookout is a great place to watch the sunset, take photos, picnic, or enjoy the scenery. It is a must attraction when visiting Lorne.
3. Go on a waterfall adventure.
Lorne Victoria is surrounded by numerous waterfalls, including Erskine Falls, Cumberland Falls and Phantom Falls.
Erskine Falls
Erskine Falls is one of the best waterfalls in the area and one of the best Great Ocean Road attractions. They are situated in the Great Otway National Park, home to a diverse array of flora and fauna, making it a popular destination for nature lovers.
The waterfall itself is nothing short of awe-inspiring, with a drop of approximately 30 metres.
You can view the falls from different angles depending on your preference.
There's a viewing platform at the top of Erskine Falls, only 80m from the car park, which offers a stunning panoramic view of the surrounding landscape and the upper falls. If you're feeling more adventurous, you can take a steep 220m hike down to the base of the falls for a closer look.
Some other Lorne waterfalls are Phantom Falls, Cumberland Falls, Cora Lynn Cascades, Won Wondah Falls, Henderson Falls, Upper & Lower Kalimna Falls, Swallow Cave and Straw Falls. However, Erskine Falls is the area's most famous and visited falls.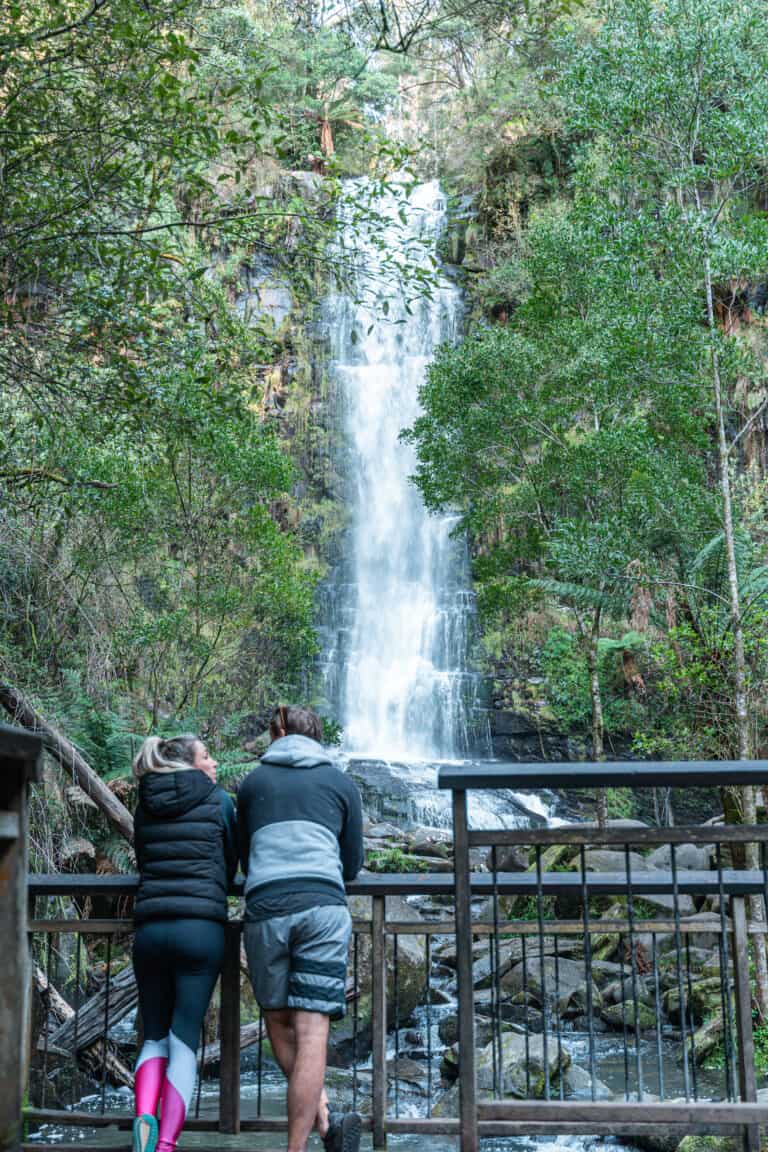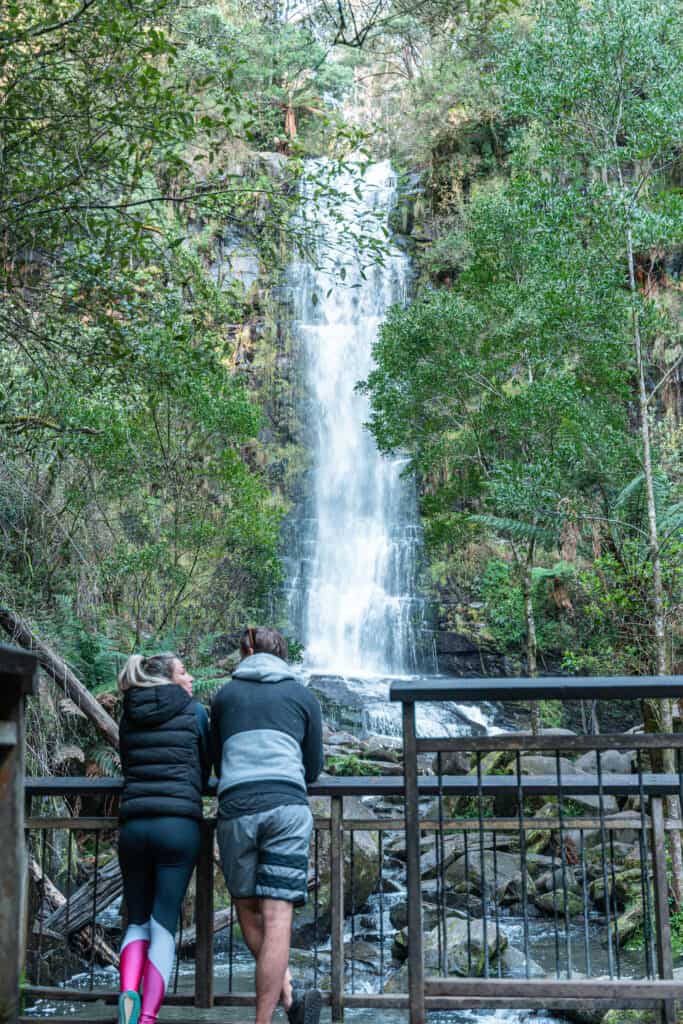 4. Take a scenic drive on the Great Ocean Road
Lorne is situated on one of the world's most scenic drives, nestled between the ocean and the forest.
The Great Ocean Road stretches for 243 km and offers some of the most spectacular views in Australia.
Take the time to explore this iconic road and its various attractions, including the famous Twelve Apostles.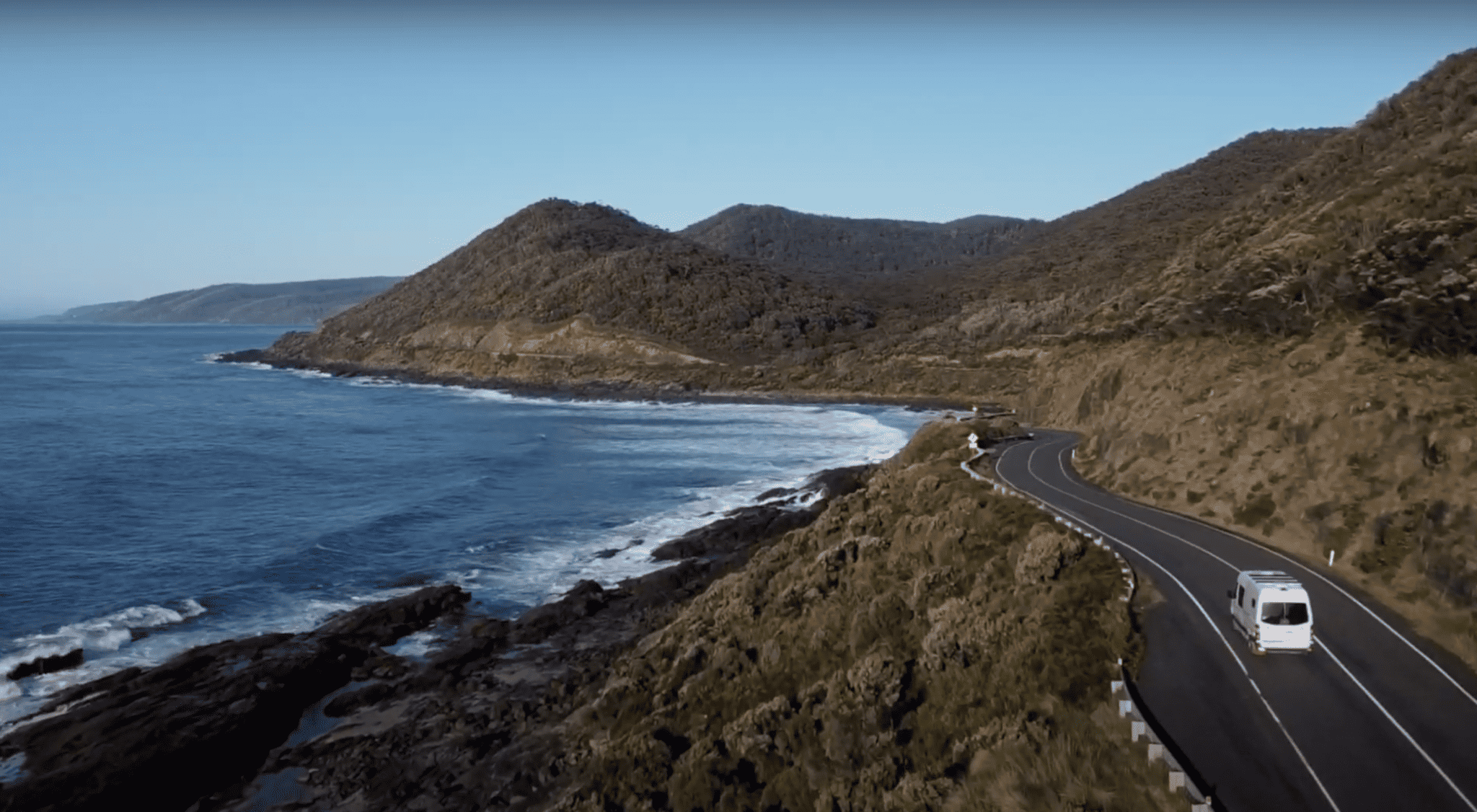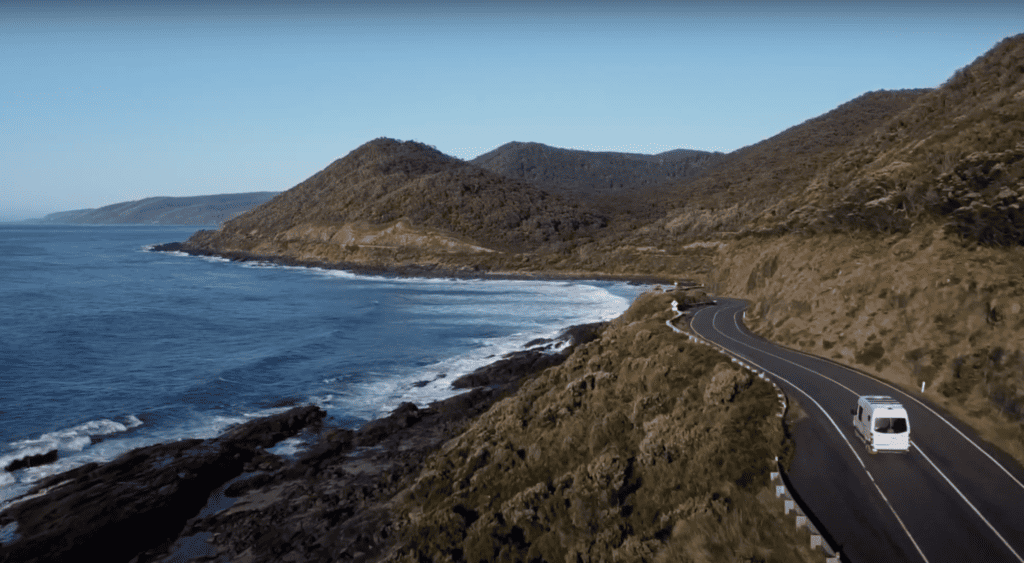 5. Walk the Lorne Pier
Walking the Lorne Pier is a must-do activity on Victoria's Southern Coast. The pier, which was first built in 1879 to serve the logging industry, has been a popular attraction in the town of Lorne ever since.
As you stroll along the pier, you'll be treated to stunning views of Louttit Bay and its surroundings. The pier is known for its 'shapely' beauty and offers a picturesque backdrop for photos, with its long wooden planks extending out over the water.
But walking the Lorne Pier isn't just about sightseeing. It's also a unique fishing destination, with the pier providing an elevated platform for casting out and reeling in a catch. The strong tidal waves, created by winds directly from the ocean, offer a challenging and exciting experience for anglers of all skill levels.
6. Relax at the Lorne Sea Baths
Lorne Sea Baths is a historic bathing complex and a popular attraction that offers a range of facilities, including a heated saltwater pool, a sauna, and a steam room.
The sea baths offer a unique combination of relaxation, rejuvenation, and breathtaking ocean views.
Located on the picturesque Lorne foreshore, the sea baths provide various services and activities to enhance your visit. You can dip in the naturally heated saltwater pool, which is rich in minerals and provides a soothing and therapeutic experience for your body and mind.
If you're looking for a more refreshing experience, you can take a plunge in the ice bath, which stimulates blood flow and aids in muscle recovery. Alternatively, you can unwind in the spa, sauna or steam room, soothing your senses and detoxifying your body.
The Lorne Sea Baths also feature a luxurious day spa, which offers a range of treatments, including massages, facials, and body wraps. The day spa uses natural and eco-friendly products to ensure you receive the highest quality of care.
The sea baths also have an on-site restaurant offering a selection of locally sourced and seasonal dishes. You can enjoy a delicious meal while taking in the stunning ocean views.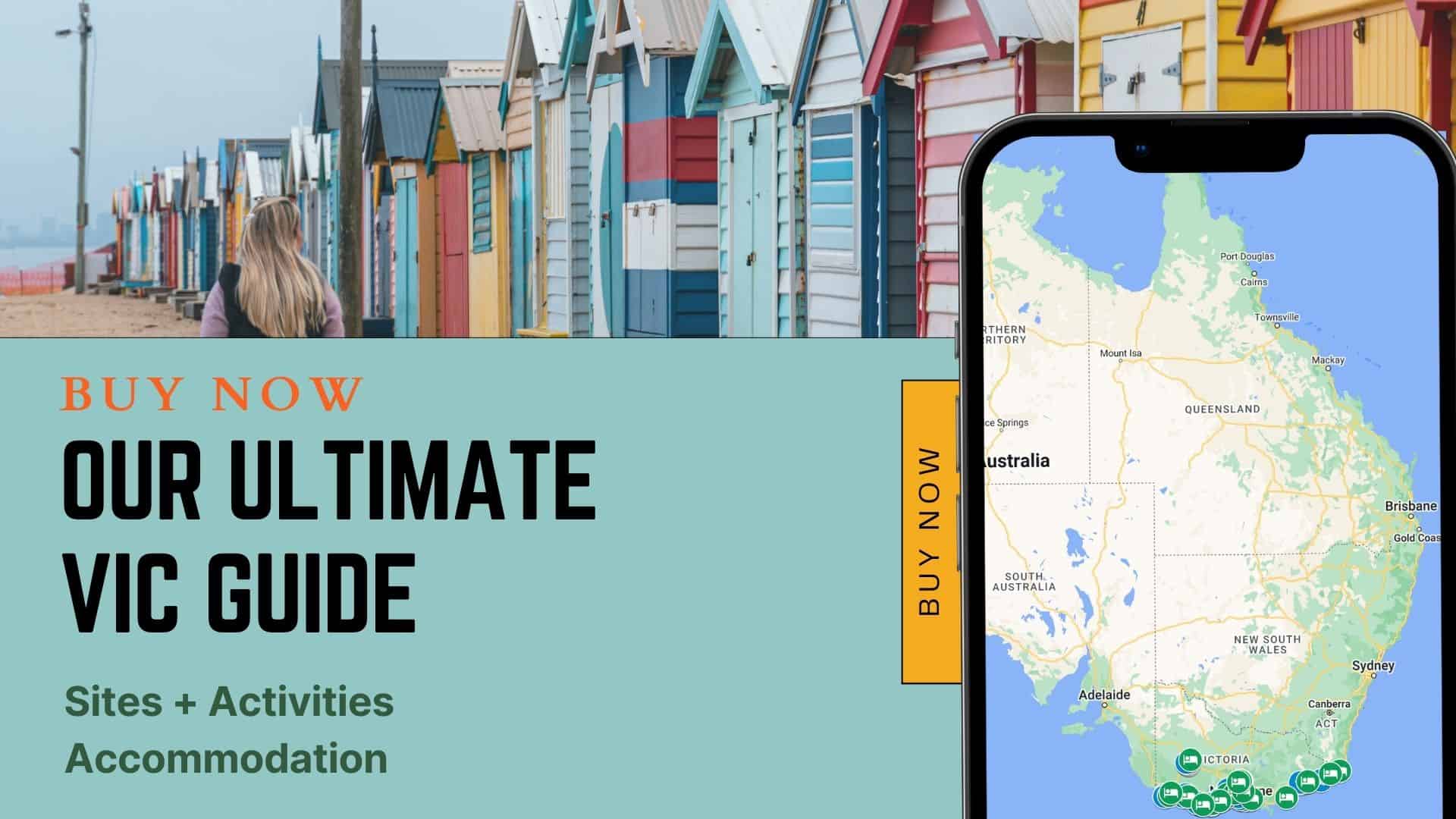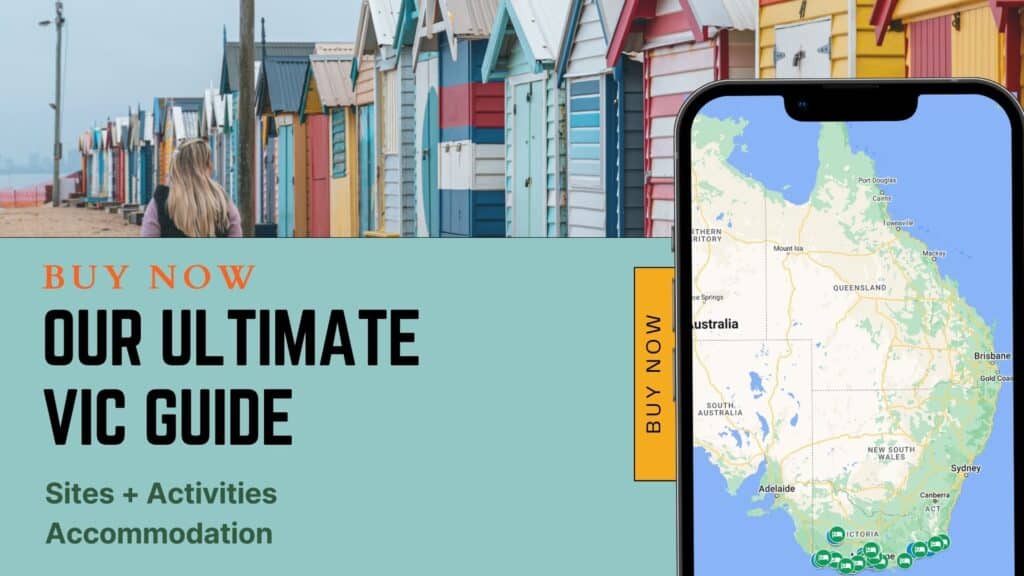 7. Visit the Lorne Country Club
Lorne Country Club is a golf course on a hill, offering stunning views overlooking Louttit Bay and Lorne Pier.
It's a great place to play golf or enjoy a meal at the clubhouse.
The Lorne Country Club is open every day of the year, from 6 am to 7 pm. Additionally, the Bistro is open for lunch, dinner, and drinks.
8. Swim at Jebbs Pool
Jebbs Pool is a beautiful body of water surrounded by bush, featuring crystal-clear water and breathtaking waterfalls. On a hot day, this place is the perfect spot to cool down.
The walk's distance is slightly less than 1.5km for each way, and the terrain is levelled and easy. Towards the end of the trail, a short river crossing adds adventure to the experience.
The pool has shallow and deep sections for children and adults to enjoy. If you don't feel like swimming, you can still enjoy the area as a picnic spot. There's a big rock shelf on top of the waterfalls where you can lay out a blanket and dip your feet.
9. Go Wild Koala Spotting
A great place in Australia to see wildlife is the Great Ocean Road. If you want to see koalas, the Kennett River Koala Walk on Grey River Road is an excellent option, with a high chance of spotting them.
The Kennett River Koala Walk, which offers some of the best wild koalas spotting opportunities in Australia, is only a 35-minute drive away from Lorne.
The walking area is accessible 24/7, but it is recommended to visit during the daytime for optimal koala sightings.
Kafe Koala is a cafe there that you can visit daily from 7 am to 7 pm to have something to eat and use the public toilets.
The walk is a simple circuit that follows the Kennett River. Be sure to search the trees for koalas, as they may be difficult to see! This was one of our favourite things to do in Lorne.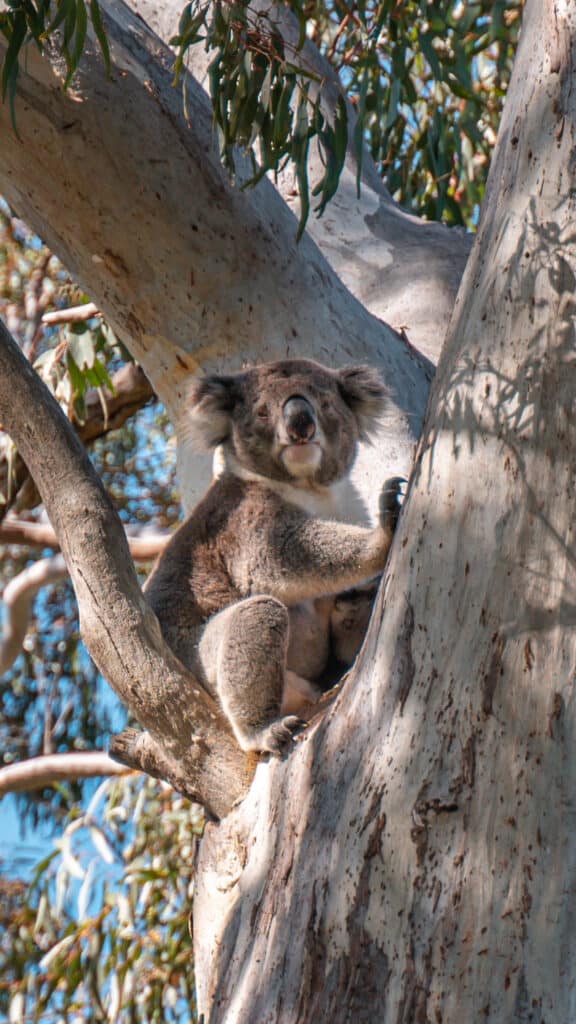 10. Go surfing
Lorne is a popular surfing destination, thanks to its consistent waves and excellent conditions. Several surf schools in the area offer lessons for beginners.
If you're a beginner or an experienced surfer, Lorne Point offers an excellent break for riding the waves. You can rent a board or take a lesson from one of the local surf schools.
11. Visit Split Point Lighthouse
Located just a few minutes' drive from Lorne, the Split Point Lighthouse offers stunning coastline views and is an iconic landmark of the Great Ocean Road.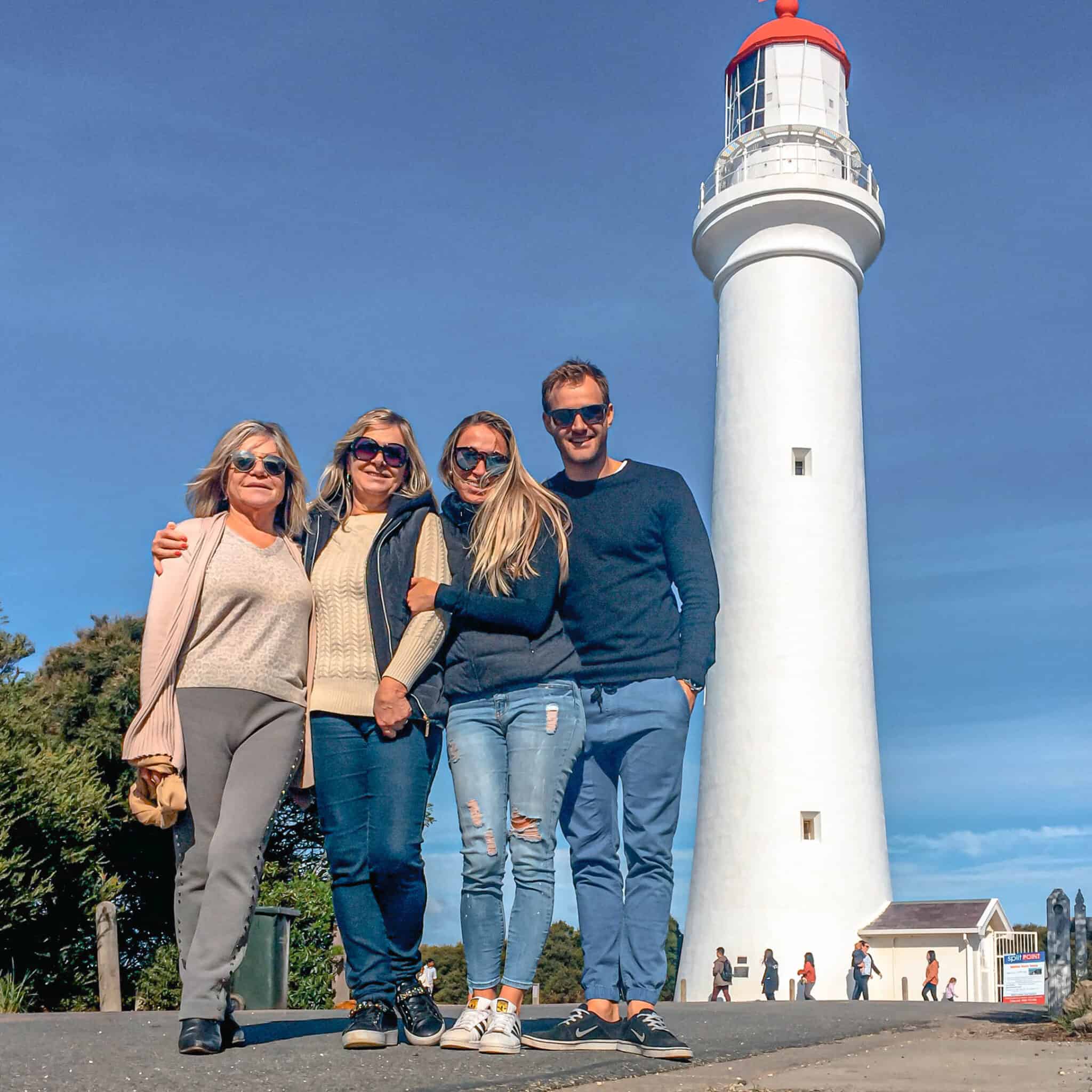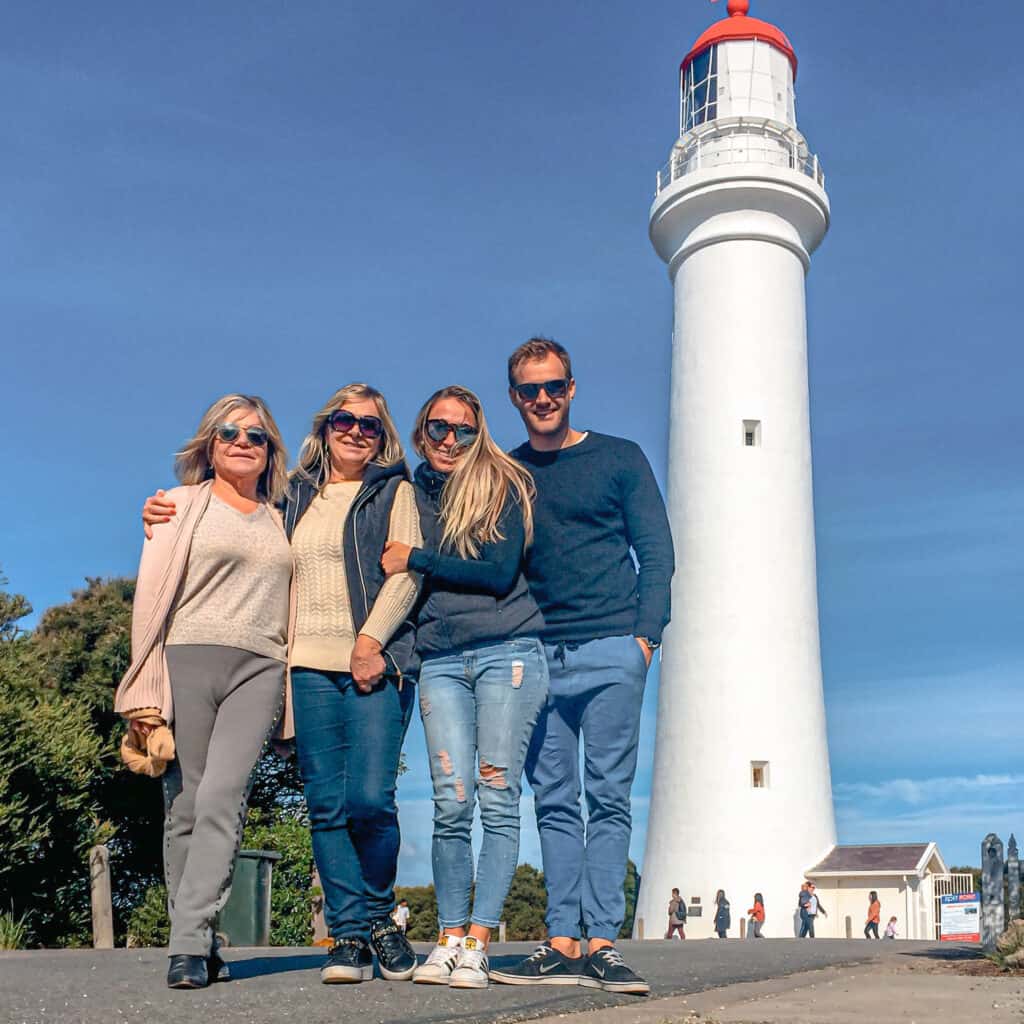 12. Lorne Visitor Centre
Are you searching for things to do in Lorne on rainy days?
While the Great Ocean Road is renowned globally for its breathtaking scenery, abundant wildlife, and fascinating natural landmarks, its history remains relatively unknown.
To learn more about the fascinating history of the road in Lorne, visit the Lorne Visitor Information Centre and explore the informative exhibition "The Great Ocean Road Story." You can visit the exhibit for free any day between 9 am and 5 pm.
13. Go for a hike in the Great Otway National Park
The Great Otway National Park surrounds Lorne, offering a beautiful area of forests and rocky headlands to discover. Lorne is an ideal location for exploring the beautiful national park that stretches from Torquay to Princetown, with the town right in the middle.
The park offers plenty of hiking trails that lead to stunning waterfalls, ancient rainforests, and breathtaking ocean views.
14. Otway Fly Treetop Adventures
Otway Fly is a great day out for the whole family, even though it is an hour-and-a-half drive from Lorne.
Otway Fly Treetop Adventures is a 600-metre elevated platform, a world-class outdoor experience that allows you to walk above the trees, through the rainforest, with the best bird's-eye views of the Otways.
You can see the treetop inhabitants from an eye-level perspective, standing 30 meters high.
15. Visit the Great Ocean Road Memorial Arch
The famous Great Ocean Road sign is located between Lorne and Aireys Inlet.
Although often confused as the official beginning of the Great Ocean Road, this memorial honours world war veterans and the returned service members who constructed the road in the 1920s.
You can take family photos or appreciate the significance of the Arch to Australian history. The area features a sign and plaque that provide information about its history.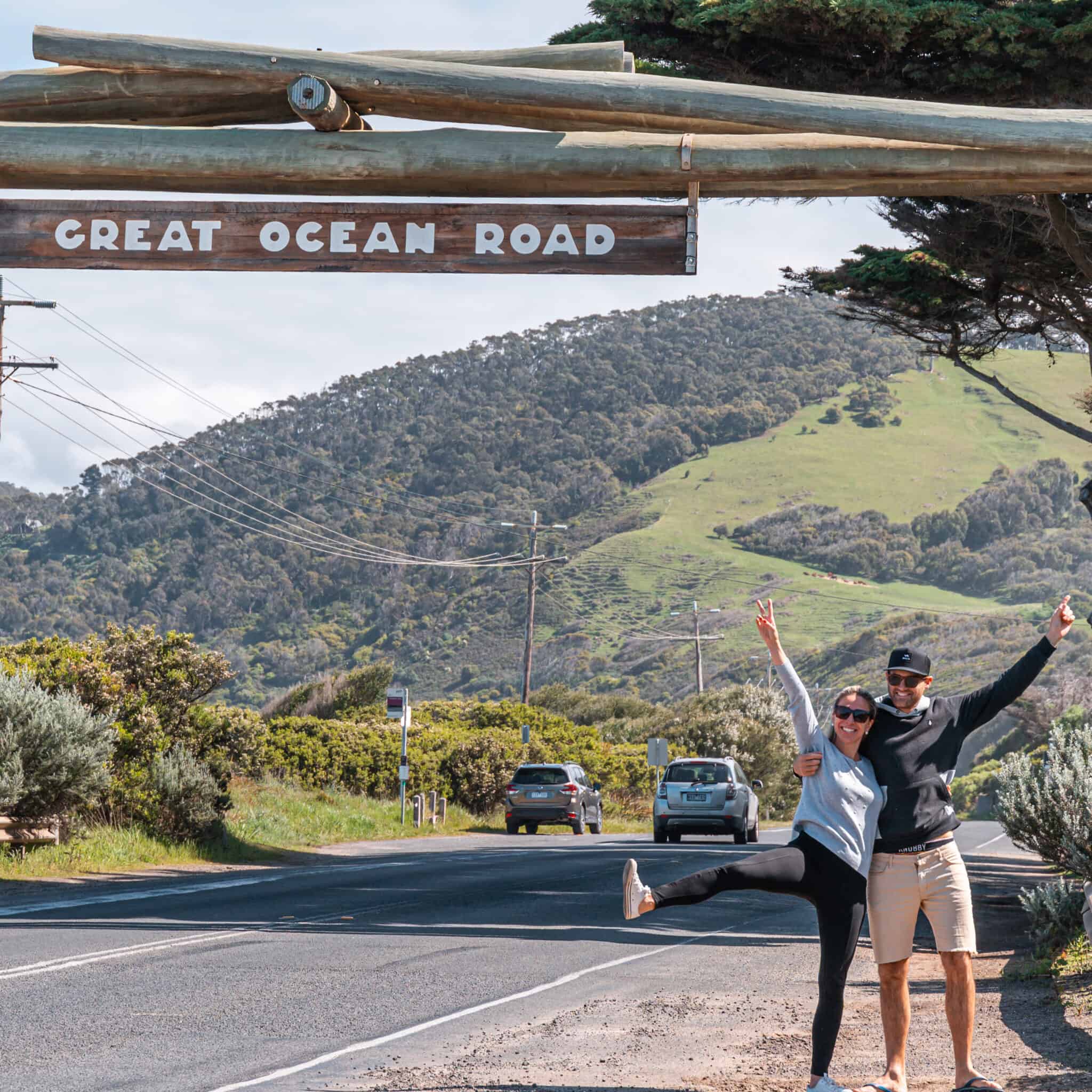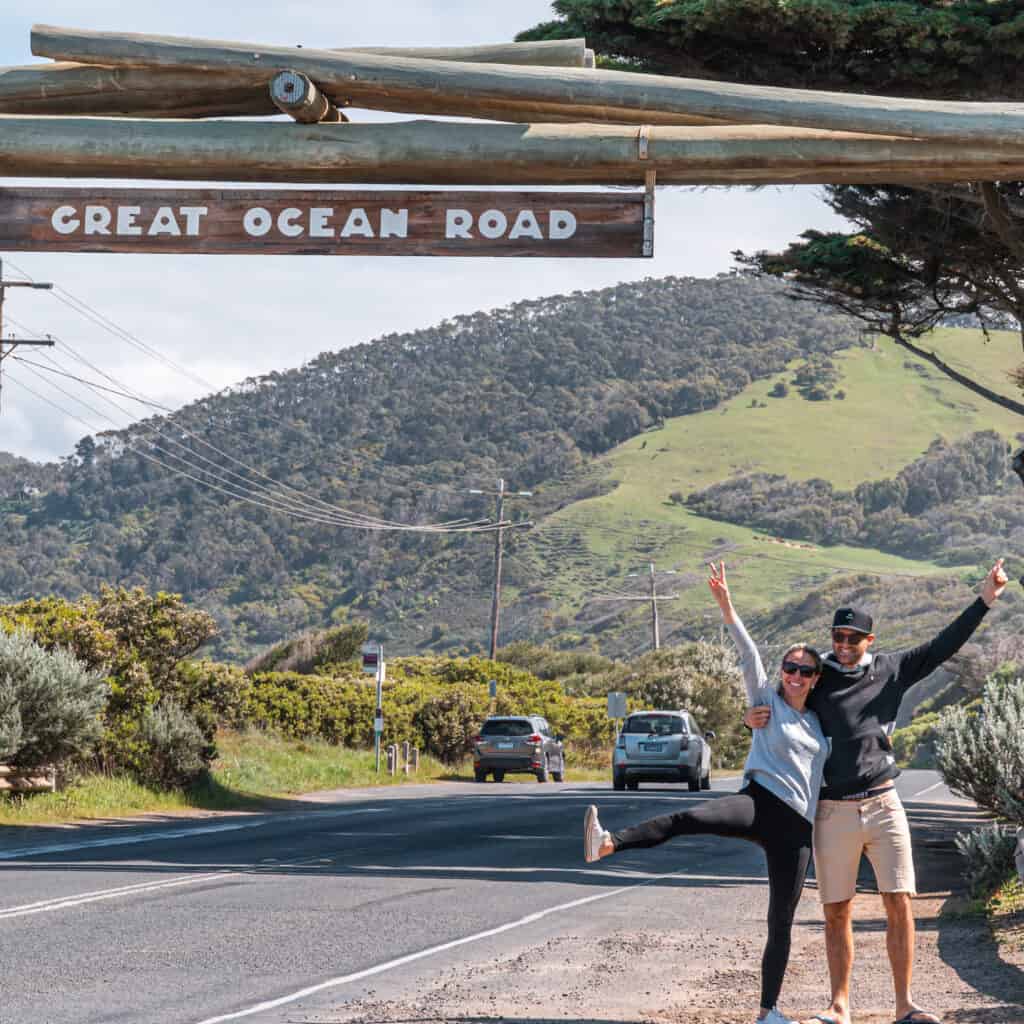 16. Experience an adventure at Live Wire Park
Let off some steam by visiting this adventure park that has tree-based activities.
Visit the park to try the Shockwave Zip Coaster, Australia's most extreme zip line. You can also challenge yourself with their epic ropes courses and treetop canopy circuit.
At Live Wire Park, different levels of fun activities are available for everyone. It is suggested that you try them all to experience the thrill and excitement, and you are guaranteed to leave the place with a smile!
17. Take the St George River Walk
Take a break from the busy environment and enjoy the rocky pools and luxurious shaded fern gullies.
The St George River track offers beautiful views of tall eucalyptus trees resembling a fairy garden as you cross two rivers. The walk is about 2.7km long and usually takes approximately one hour to complete in one direction.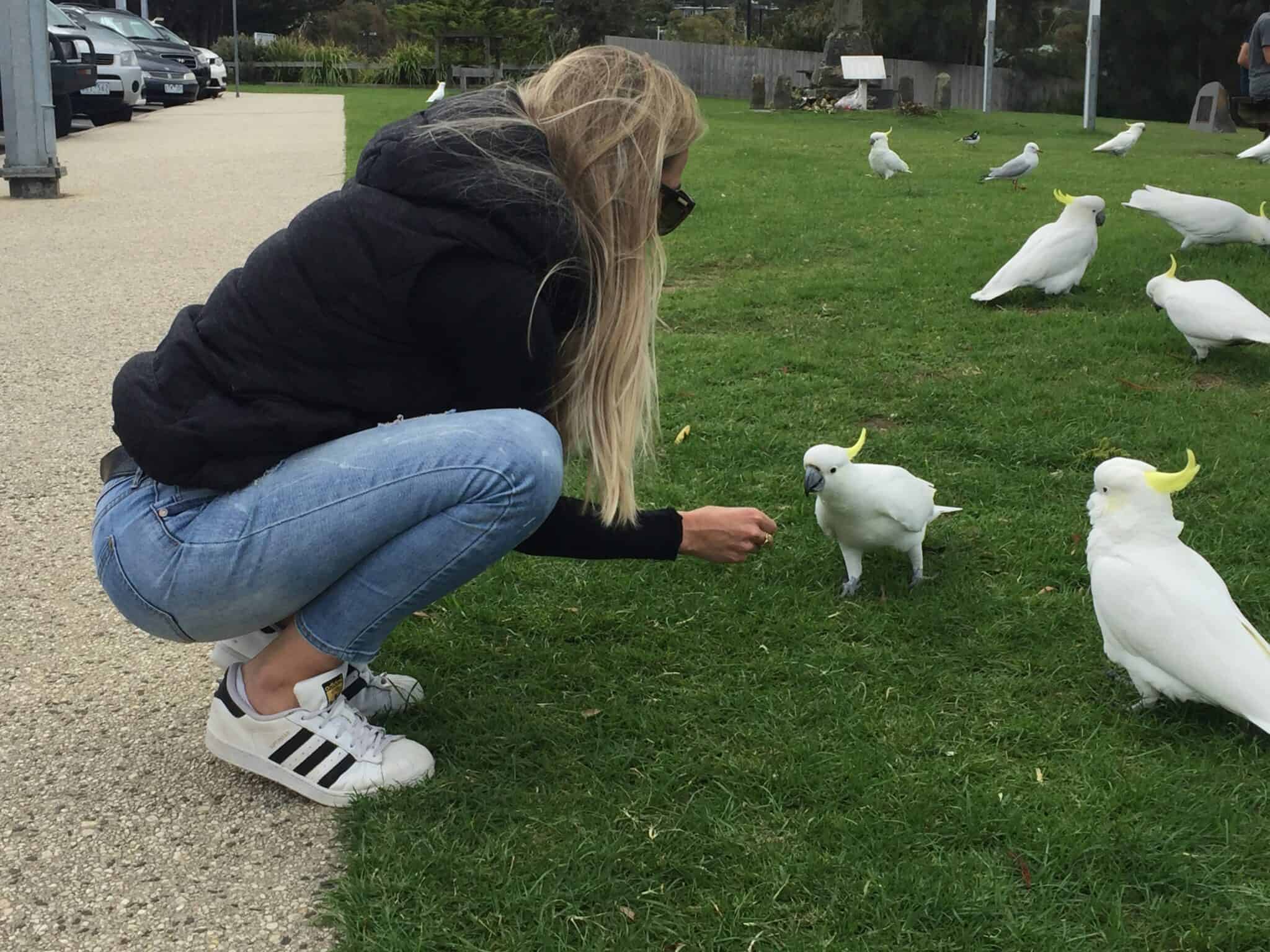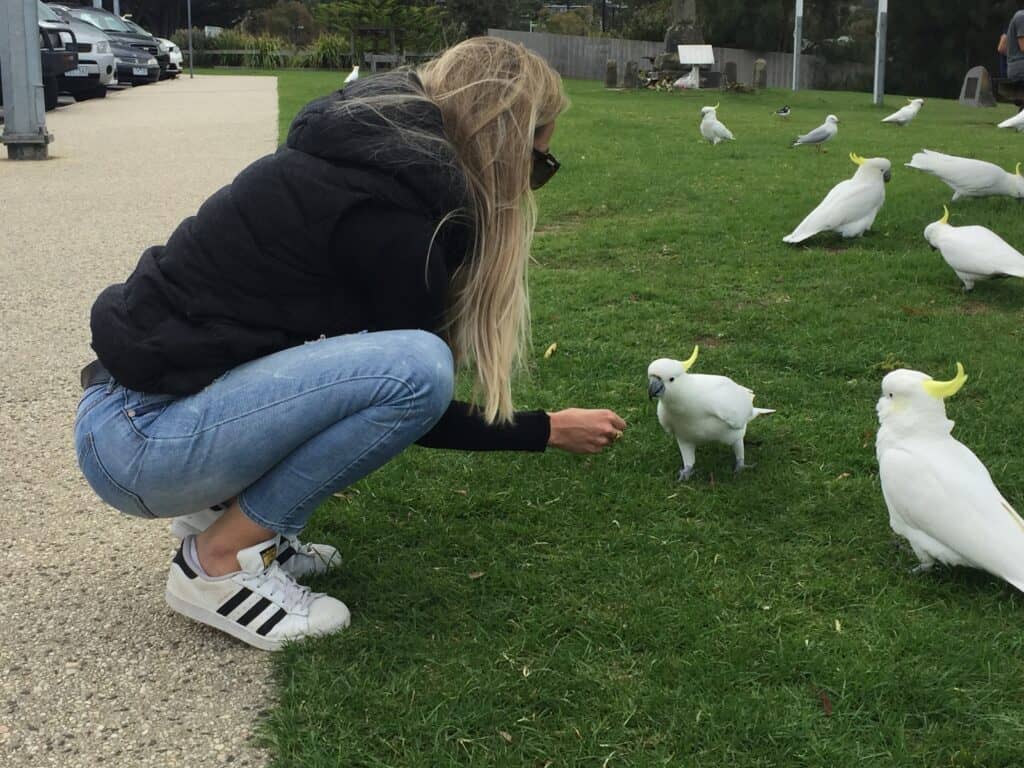 What you need to know about Lorne
Great! Now that we have identified the best things to do in Lorne and the surrounding areas let's start planning your trip.
Getting to Lorne
By car
Lorne is located just a two-hour drive away from Melbourne.
One of the most popular ways to get to Lorne is by driving. The Great Ocean Road, one of the world's most scenic coastal drives, leads you to Lorne. However, if you are travelling from Melbourne, it will take about two hours to reach the town.
The most common route is to take the West Gate Bridge and follow the Princes Highway. You can also take the scenic coastal route, which is longer but offers stunning views.
Before arriving in Lorne, the Great Ocean Road leads you through Torquay, Anglesea, Aireys Inlet, and Wye River. If you plan to take this route, ensure you have enough time to stop and enjoy the sights.
Need a rental car to explore Victoria? Book here
By public transport
Take a train from Southern Cross Station to Geelong Station from Melbourne, then take the 101 Apollo Bay bus. Vline manages the bus service, and the trip from Geelong to Lorne takes about an hour.
Another way to get to Lorne is by bus. It takes about 85 minutes from Torquay Surf Beach, while from Apollo Bay Beach, it takes about 61 minutes.
With a tour
If you're planning a trip to Lorne but want to leave the transportation logistics to someone else, consider booking a tour. Tours offer the convenience of transportation and the added benefit of experiencing Lorne's incredible scenery with an experienced guide.
Our recommendations for tours are below:
When is the best time to visit Lorne?
The optimal time to visit Lorne is during the summer, as it provides the perfect opportunity to enjoy the beaches and engage in outdoor activities.
Getting around Lorne
To navigate through Lorne, using a car is highly recommended.
If you're planning a trip along one of Australia's most famous road trip routes, it's best to have access to a car for flexibility. Whether you bring your own or rent one, having a car makes it easy to get around. You can pick up your rental car from Melbourne Airport or the Melbourne CBD.
You can find the best price for a car or van that fits your needs here.