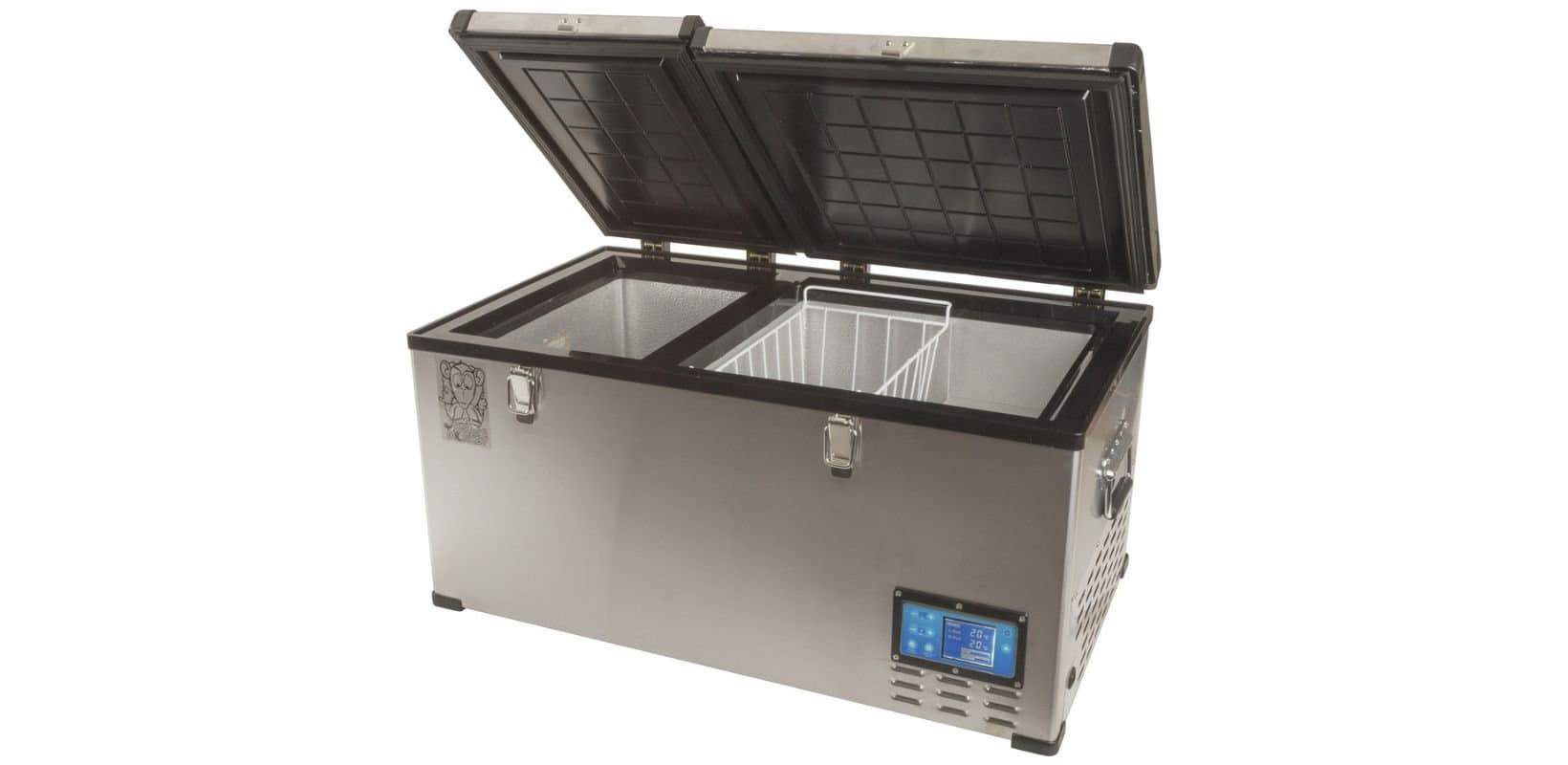 Brass Monkey Fridge Freezer Review (2023)
This post was updated on: September 1, 2023
A portable fridge freezer is essential for folks who camp or travel in a campervan since it supplies fresh food and beverages for devoted outdoor adventurers, and they come with various sizes for internal cooler space. It's more convenient and easier than carrying around coolers filled with melting ice that will drench your food. Given how expensive a portable fridge can be, it is essential to always invest in a model that will last. You will learn more about the Brass Monkey portable fridge freezer range below.
Key Points
The Brass Monkey Portable Fridge Freezer is a great option for campers who need a light and efficient appliance.
The fridge has two compartments that can be used as either a fridge or freezer, and features an LCD screen, USB port, and touch controls.
You can power the fridge with 12/24VDC or 240VAC, making it versatile for use at home or on the road.
The Brass Monkey Fridge comes with several extra features, including wheels and an extension handle for easy portability, interior lighting, and Bluetooth app configuration.
BBrass Monkey
20L Drawer Fridge/Freezer

Brass Monkey
25L Portable Fridge/Freezer

Brass Monkey
36L Dual Zone Fridge/Freezer

Brass Monkey
50L Dual Zone Fridge/Freezer

Brass Monkey
60L Dual Zone Fridge/Freezer

Small compartment 65 x 255 x 130 | Large compartment 330 x 255 x 270

Small compartment 230 x 260 x 270 Large compartment 280 x 260 x 270

Small compartment 230 x 260 x 360 Large compartment 280 x 260 x 360

Small compartment 230 x 260 x 450 Large compartment 280 x 260 x 450 / 28H cm
What Is The Brass Fridge Freezer and Its Features?
The Brass Monkey Portable Fridges is great for campers who prefer light and efficient appliances. It is a dual zone fridge freezer that has sufficient storage for foods and drinks and enough room for both solo travel as well as group camping trips. 
Despite some models being small, it still has excellent cooling power. This camping fridge freezer can chill your food down to -20C, just like any ordinary or large-sized refrigerator unit.
This innovative Brass Monkey Fridge Freezer can keep your food fresh and drinks cold for the duration of your journey, however long it may be! It also allows campers to divide the fridge into a smaller dual zone or a one compartment fridge by simply removing the retractable divider. 
You can individually regulate the fridge temp of each compartment of the dual-zone in a Brass Monkey Fridge Freezer. This fridge freezer is an excellent option for 4WD, camping, caravanning, or any other outdoor activities, they can be powered by either 12/24VDC or 240VAC.
The portable fridge has an LCD screen that displays the internal battery voltage, a USB port, and touch controls with a temperature range of -20°C to +20°C (with a 25°C ambient temperature). 
Although the brass monkey is compact to fit inside your car's back seat, it is still spacious enough to hold all of your consumables. With a variety of sizes to choose from, campers can simply pick and choose based on their preferences. Brass monkey upright fridge sizes include:
20L Drawer Style
25L
36L
50L
60L
How to Choose The Right Size?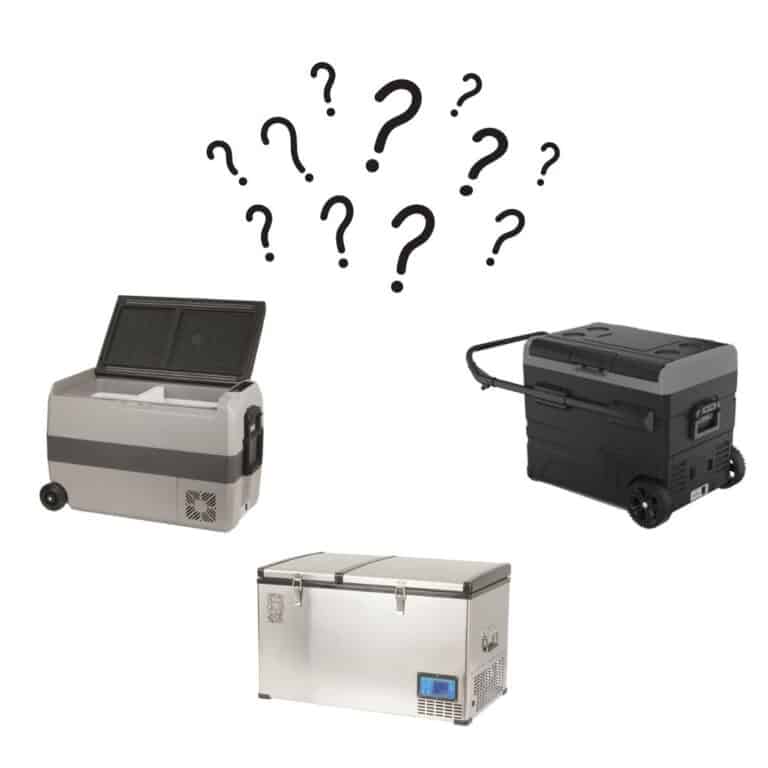 One thing is obvious, you can fit more food inside a refrigerator that is bigger in size.
When choosing the size of the fridge you'll need for your camping trip, think about how easy it would be to carry it and whether it will fit in your car. It is usually recommended that 60 litres be purchased for families of four because this amount can last up to several days on a typical family trip.
However, getting anything larger than 60 litres is highly advised if you intend on taking frequent long journeys or long periods of time away from grocery stores.
You will have more capacity to store all of your meals, including extras for unexpected situations, in a 70-80 litre fridge or freezer, or even a 115l brass monkey fridge.
How the Brass Monkey Fridge Compressor Works
The compressor is one of the most crucial components of any brass monkey fridge. In order to efficiently and evenly cool your food and beverages, it works by transforming power into heat and cold.
A BM fridge offers dependable LG compressor systems that provide simple temperature change and complete control with little power usage.
They are incredibly effective at keeping your food and beverages at the appropriate temperature while being quiet, dependable, and low energy users.
Brass Monkey Portable Fridge Power Consumption
Knowing the power specifications of any portable fridge freezer is crucial since you need to check whether or not you can use it while travelling and how adaptable it is. The Brass Monkey Fridge Freezer will never let you down in that regard.  
Their 100-240V AC adaptor allows them to be powered at home or at any other 240v powered location. The adapter modulates that power down to 12V, which is capable of powering the device while on the road.
There are several ways to power a BM fridge. When at home or at a powered location, you could connect it to the mains power supply using the 100-240V AC adaptor that is provided. The voltage/amperage will be automatically reduced to 12V by the adaptor.
As an alternative, users can power the fridge directly from the car's dual battery system or, on some newer models, the more recent Merit connector.
They also come with the 3.5m dc power lead that is essential to connect your fridge/freezer to the 12V DC supply. The smaller units uses 3.75A of current when powered by 12V DC and consume 45W of electricity when operated, while the medium-sized units draw 5A at 12V DC due to their 60W power consumption. Finally, the bigger units require 6.2A at 12V DC attributable to their 75W power consumption.
Extra Features
Several Brass Monkey fridge models come with extra features to accommodate you on your trip. 
Interior Lighting
The portable fridges include an internal light, which is useful if you need to dig through a lot of other items in your car or are looking to find something in the fridge in the middle of the night.
Wheels and an Extension Handle
The more recent models typically have wheels and extension handles, making it simple to roll it into place, wherever that may be. Your back will also be saved by not having to raise the entire unit in order to move it from place to place. 
USB Port for Charging
The BM refrigerator has a USB connector, which is particularly useful if you need to charge a device right away and you are in a remote location.
Additional Battery Space
Batteries that can fit into designated battery storage compartments on BM's more recent models are sold separately.
They are available in 7.8 Ah or 15.6 Ah versions, also known as the removable battery Brass Monkey Lithium Battery and the Lithium battery 7.8 Ah.
Bluetooth App Configuration
These refrigerators can also be managed via a smartphone app that connects to the fridge through Bluetooth.
You may use the app to monitor the fridge's temperature and battery power, turn the fridge on and off, change the temperatures, and view other helpful information.
Insulated Cover
The brass monkey freezer comes with an insulating cover that lowers the heat generated by your fridge while it is functioning, allowing you to save energy and extend the time between charges of your battery.
BM offers a huge assortment of these covers to fit their various models. The external material of these covers consists of ventilation panels so the fridge can expel the hot air it generates.
Slide Drawers
If you intend to place your fridge in the trunk, the fridge slide drawers make it simple for you to move the appliance in and out of the car and readily reach the contents without issues.
A BM fridge also contains a removable divider that sections the fridge into two compartments, converting it into a refrigerator and freezer for users to store their items accordingly. 
Brass Monkey Portable Fridge Price
These refrigerators definitely excel in pricing. Brass monkey fridges often cost one third less than that of their main competitors, Engel,Dometic and Bushman fridges, for the same size, which is a fairly good value.
A 60L Engel or Dometic fridge would cost about $1,300, whereas a comparable BM fridge costs about $500 (1).
This significant cost savings is the key factor in the increasing popularity of these refrigerators. For about a third of the cost, BM provides a high-quality refrigerator that is probably just as excellent as their expensive counterparts!
Brass Monkey Fridge Benefits
It might be intimidating to spend money on a high-tech fridge. On the other hand, the Brass Monkey Portable Fridge Freezer offers many amazing features that make it an excellent purchase.
Easily Portable
Most of the portable fridges made by Brass Monkey are easily portable. Even when filled, you won't have any trouble lifting it. You can move and position it against any corner using the two semi-recessed grips on the sides without exhausting yourself. 
Multipurpose
This Brass Monkey refrigerator's compact size offers a number of advantages. You could, for instance, bring it along on nearly every camping trip. However, you don't have to limit this unit only to camping.
It can be used to store food or simply used as a drinks fridge at functions where it would be time consuming to go all the way to the kitchen for a drink. Having a drinks fridge next to you at all times will make accessibility much faster.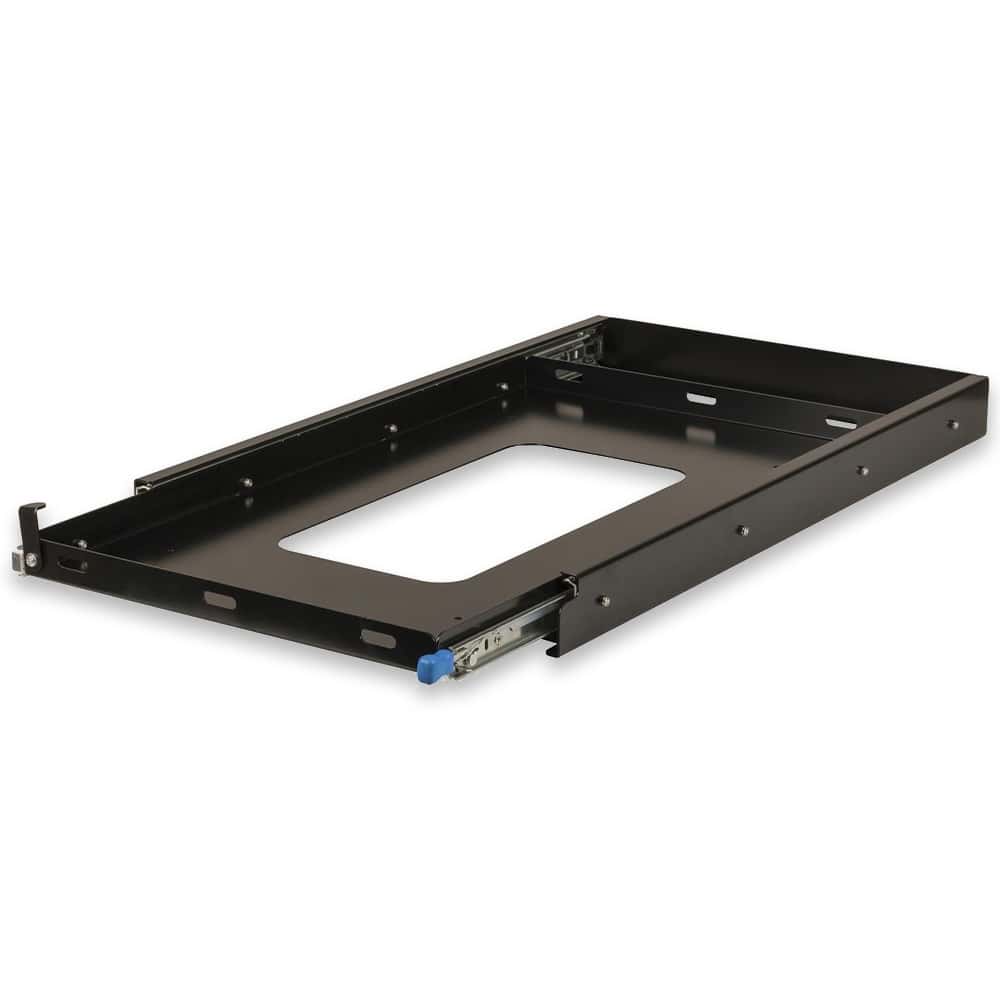 Additionally, it is useful if you need to transport cold food from the supermarket to your house. This refrigerator is also ideal for safe food delivery if you run a frozen meal business.
Affordable
Most compact fridge freezers are almost double the price of this Brass Monkey fridge unit. So, if you're a camper looking for quality fridges at lower costs, brass monkey offers a fair price for its fridges. A standard 15L fridge would cost you around $219, which is only a fraction of the price of any other brands (2).
Guaranteed Warranty 
These BM Fridges come with a solid 3 year warranty which is a bargain as it costs way less than other brands yet has a full length warranty that is greater in length compared to competitors. 
Optional Accessories Available
The Brass Monkey fridge comes with numerous features that make it highly functional, including an insulating cover to minimise consumption, a USB port for charging and a sliding drawer to transport it easily. 
Outstanding Cooling Power
Temperature accuracy is another advantage of the Brass Monkey fridge. The whole fridge cools more quickly and maintains a consistent temperature across the entire unit since there isn't much open air space in the compartment.
The LG-branded compressor that is included with the Brass Monkey unit also makes a significant contribution to its remarkable cooling power.
Nearest Store for BM Fridges
BM refrigerators are available for purchase online and have good stock availability in more than 250 locations throughout all of Australia's states, with Jaycar serving as one of their primary outlet stores (3). 
So head down to your nearest store and grab yourself one of these useful portable fridges to get started on your adventures.
Is The Brass Monkey Portable Fridge Worth It? – Final Thoughts
In this brass monkey fridge review, we covered all aspects of what sets it aside from other fridges. 
Due to its durability and affordability, Brass Monkey Fridges are steadily increasing in popularity throughout Australia. 
Their portable fridge freezers include superior components, sustainable power consumption, and cutting-edge dual-zone fridge technology so you can covert one side of the fridge into a freezer section and a fridge section. 
The dual zone fridge freezer compartments are efficient units since they have a temperature range of -20°C all the way up to the ambient temperature and operate quietly at only 38dB.
Brass monkey's newer models also have an innovative Bluetooth smartphone control that makes it simple for you to monitor how your fridge is operating. Not to mention, they offer a full time warranty on the rare chance the fridge stops functioning. 
They can be found in your nearest store across Australia, making purchasing widely convenient for campers, and they all come with a brass monkey fridge manual. Jaycar brass monkey reviews sport positive customer experiences with many outdoor travellers vouching for its quality and durability. 
So, if you're looking for a portable fridge that's both ecological and efficient, take our word for it consider purchasing the Brass Monkey Fridge.
These fridges offer exceptional value for the price they cost since they have extra features that no other brand offers, which improves the overall consumer experience.
References
Brass Monkey. (n.d.). Jaycar. Retrieved July 20, 2022, from https://www.jaycar.com.au/brass-monkey/c/brass-monkey?sort=popularity-desc&q
15L Brass Monkey Portable Fridge or Freezer. (n.d.). Brass Monkey. Retrieved July 20, 2022, from https://brassmonkey.cool/gh1623_15l_brass_monkey_portable_fridge_or_freezer
60L Brass Monkey Dual Zone Fridge / Freezer. (n.d.). Brass Monkey. Retrieved July 20, 2022, from https://brassmonkey.cool/gh1644_60l_brass_monkey_dual_zone_fridge_freezer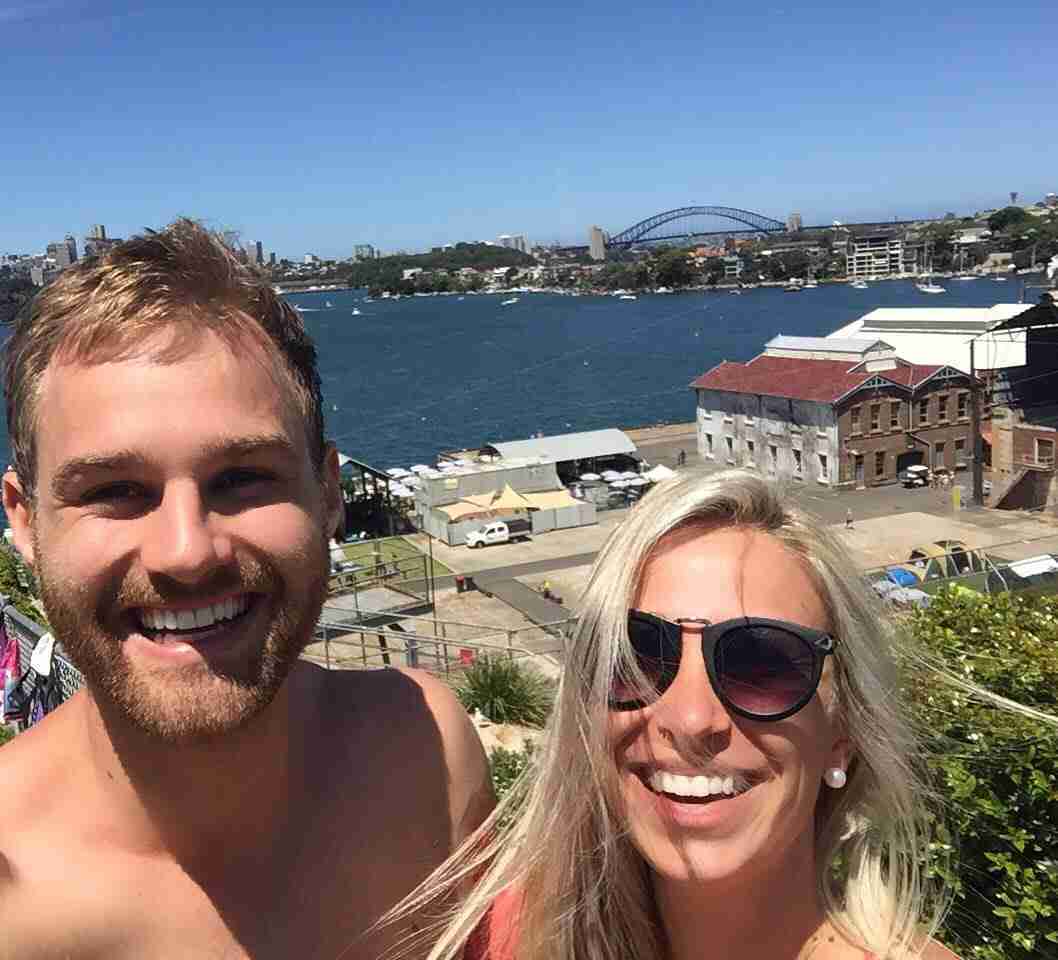 Wade & Dani
Hi! We're Wade and Dani, We're currently travelling around Australia in our 2017 Mercedes Sprinter Camper van and sharing our best experiences, stories, reviews and adventures as we go along. Make sure you follow us on Instagram @wadeanddani