MILLAA MILLAA FALLS – A Must See For Anyone Visiting Cairns
Millaa Millaa Falls is one of Far North Queensland, Australia's most beautiful and famous waterfalls.
The falls are located in the Wet Tropics World Heritage Area. They are part of the Millaa Millaa Waterfall Circuit, a 17km route on Theresa Creek Road, alongside other two waterfalls: Zillie Falls and Ellinjaa Falls. The falls are surrounded by lush rainforest and are an attractive destination to enjoy a refreshing swim in the cool water of the Tablelands region.
This blog post will give you all the information you need to visit the most photographed waterfall in Australia, including how to get there, the best time to visit and what to expect when you get there.
Where is Millaa Millaa Falls?
Millaa Millaa Falls is located in Far North Queensland, about an hour and a half drive from Cairns, in the Wet Tropics World Heritage Area.
Millaa Millaa Falls is accessible via a sealed road, and there is a large car park at the base of the falls.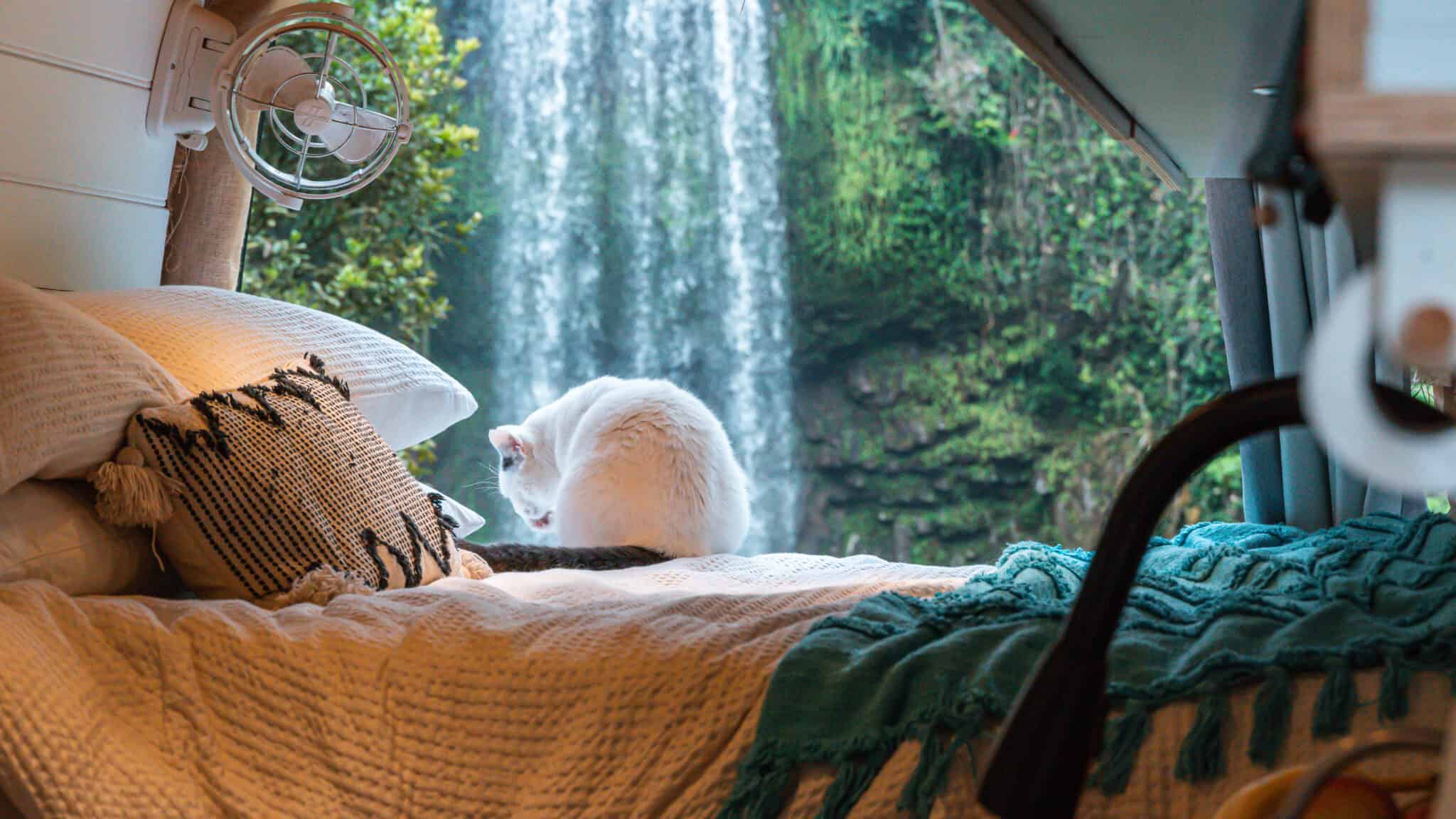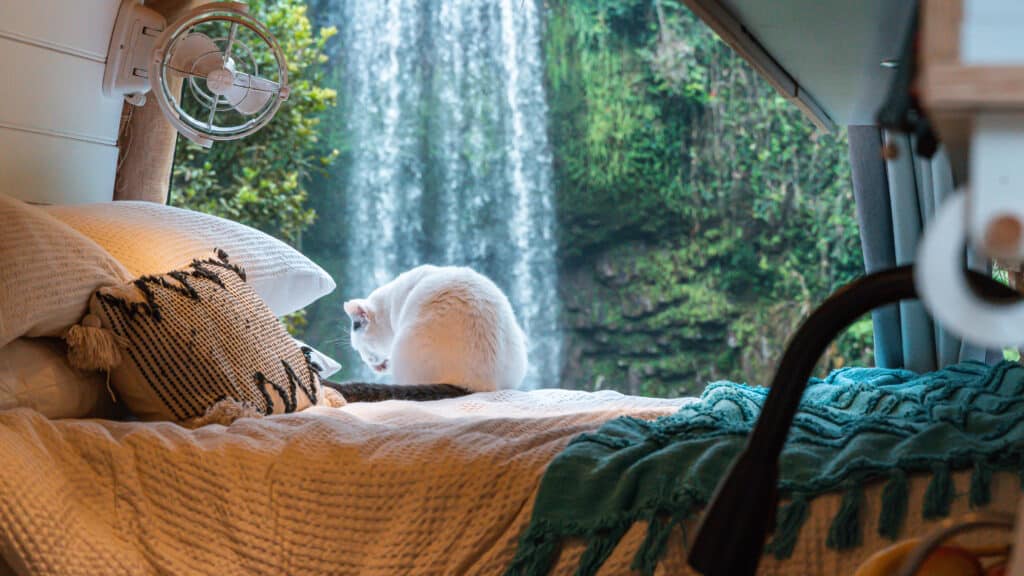 How to get to Millaa Millaa Falls?
Millaa Millaa Falls is located approximately 100 kilometres south of Cairns, making them an easy day trip from the city. There are a couple of ways to get to Millaa Millaa Falls. The easiest way is to drive; however, you can also take a tour from Cairns or public transport.
Keep in mind that public transport within the area is minimal, so it will take 3 to 4 hours to get to the waterfall if you decide on this mode of transport.
If you don't have your vehicle, we recommend renting one in Cairns to make the trip here
Getting to Millaa Millaa Falls by Car
If you are driving from Cairns, I've pinned the location of the waterfall car park below to assist you. If you prefer directions, read below:
Head south on the Bruce Highway towards Gordonvale. When you get to Malanda, you will turn off onto State Route 52 and onto Gillies Range Road. From there, follow the signs to Millaa Millaa. Theresa Creek Road (Waterfall Circuit Road) is about a minute from the town. 
After you park your car, the waterfall is a few steps away at the bottom of a few stone steps. You can't miss it.
Getting to Millaa Millaa Falls with a Tour
If you don't have your vehicle, booking a tour is your next best option to visit Millaa Millaa Falls.
We have found an option that offers the best value for a full-day tour that leaves from Cairns and stops at the main attractions in Atherton Tablelands, with lunch included.
You will spend an entire day on this tour (10 to 11 hours in total), have a tour guide that speaks English, and you will see and experience the best of tropical North Queensland, including: 
Swim at Josephine Falls;
Visit the 18-meter-high Millaa Millaa Falls;
Have lunch at Malanda Pub;
Visit Mount Hypipamee;
Spotting wildlife around Dinner Falls;
Visit the marvellous Curtain Fig Tree;
Spot and try to spot a platypus in Yungaburra;
Swim in Lake Eacham.
Best time to visit Millaa Millaa Falls
In our opinion, the best time to visit Millaa Millaa Falls is during summer, between December and February, when rainfall is at its highest, and the water flow is at its strongest.
However, the falls are beautiful all year round and even during dry periods, some water is usually still flowing over the edge. 
We also recommend visiting during the early hours of the morning or closer to sunset so you can get the most incredible lighting for stunning pictures of the falls.
Another benefit of getting there early is that you will avoid crowds. Millaa Millaa Falls is a very popular destination so if you want to experience it with fewer people around, try to go early and during the week instead of on the weekends. That's what we did, and we had the falls to ourselves for a whole hour before other tourists arrived.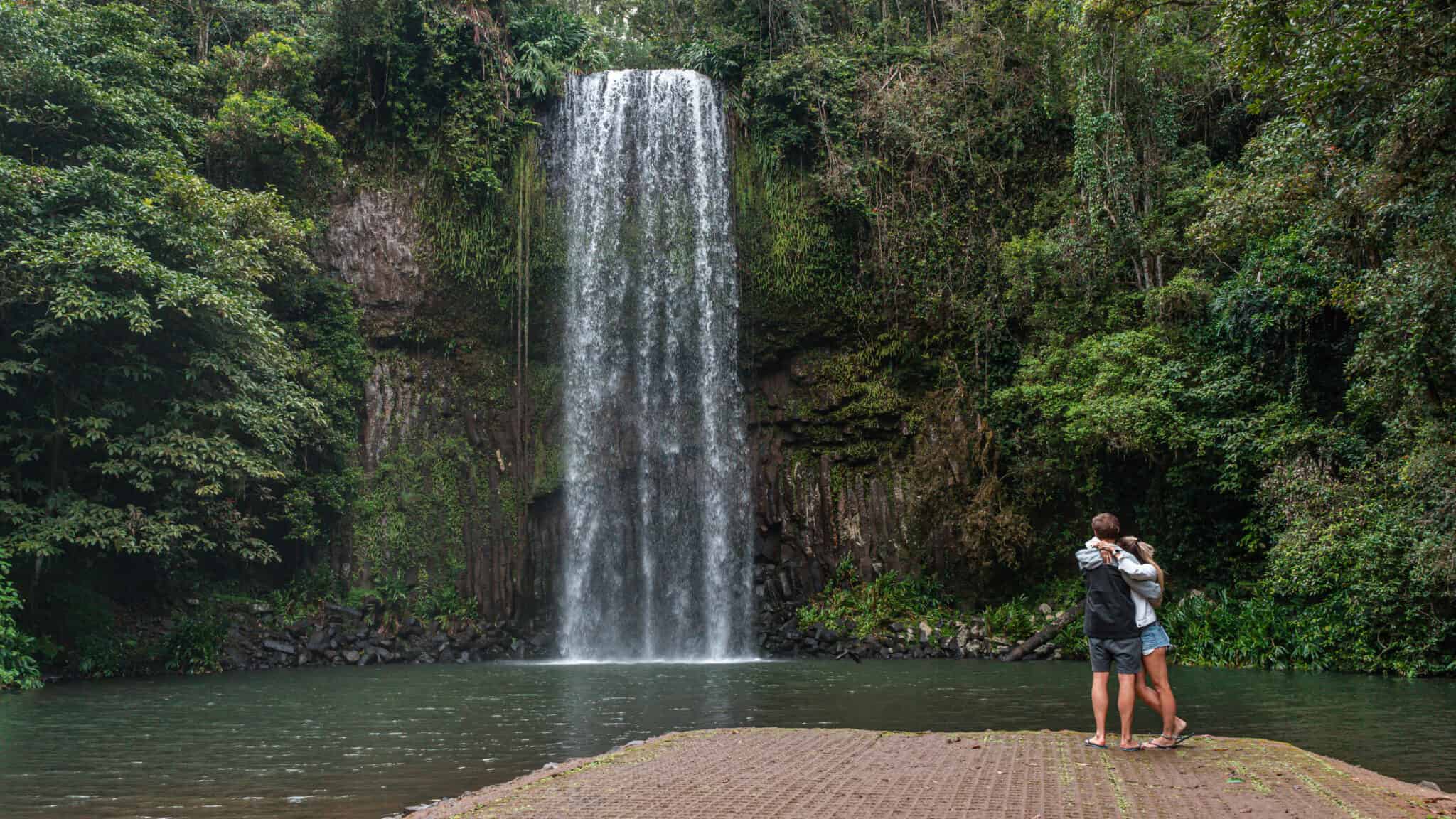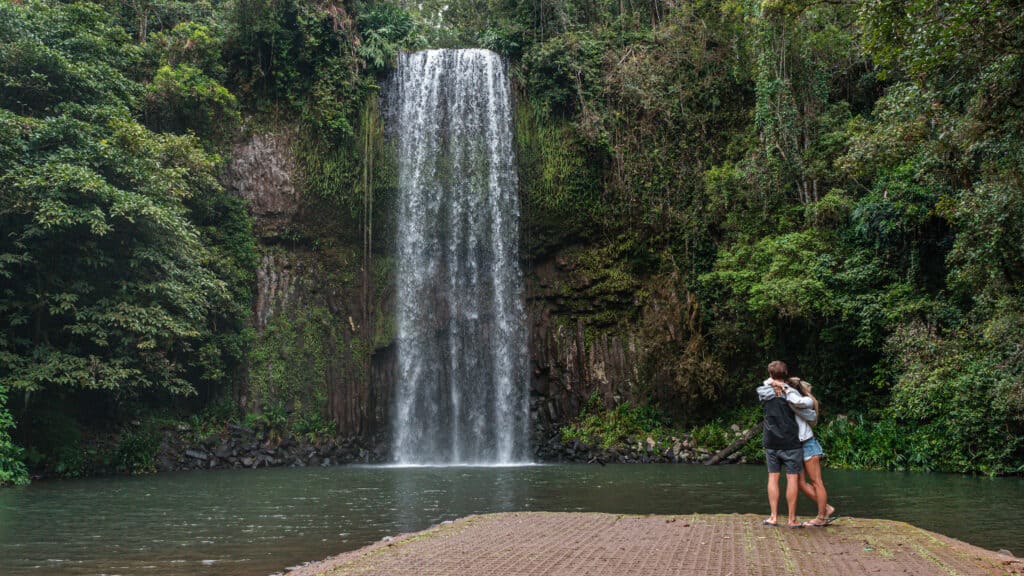 What to expect at Millaa Millaa Falls
Millaa Millaa Falls is Australia's most photographed waterfall, and it's easy to see why! The 18.3 metres high waterfall drops over a sheer rock face into a large pool below, perfect for swimming on a hot day. Picnic tables, BBQs, public toilets and other facilities are also available if you want to make a day of it. 
The surrounding rainforest is home to a variety of wildlife so keep your eyes peeled for birds, butterflies, and even platypi! There are also several walking tracks nearby if you want to explore further. 
Millaa Milla Falls was added to the Queensland Heritage Register in 2005 and is now a heritage-listed plunge waterfall.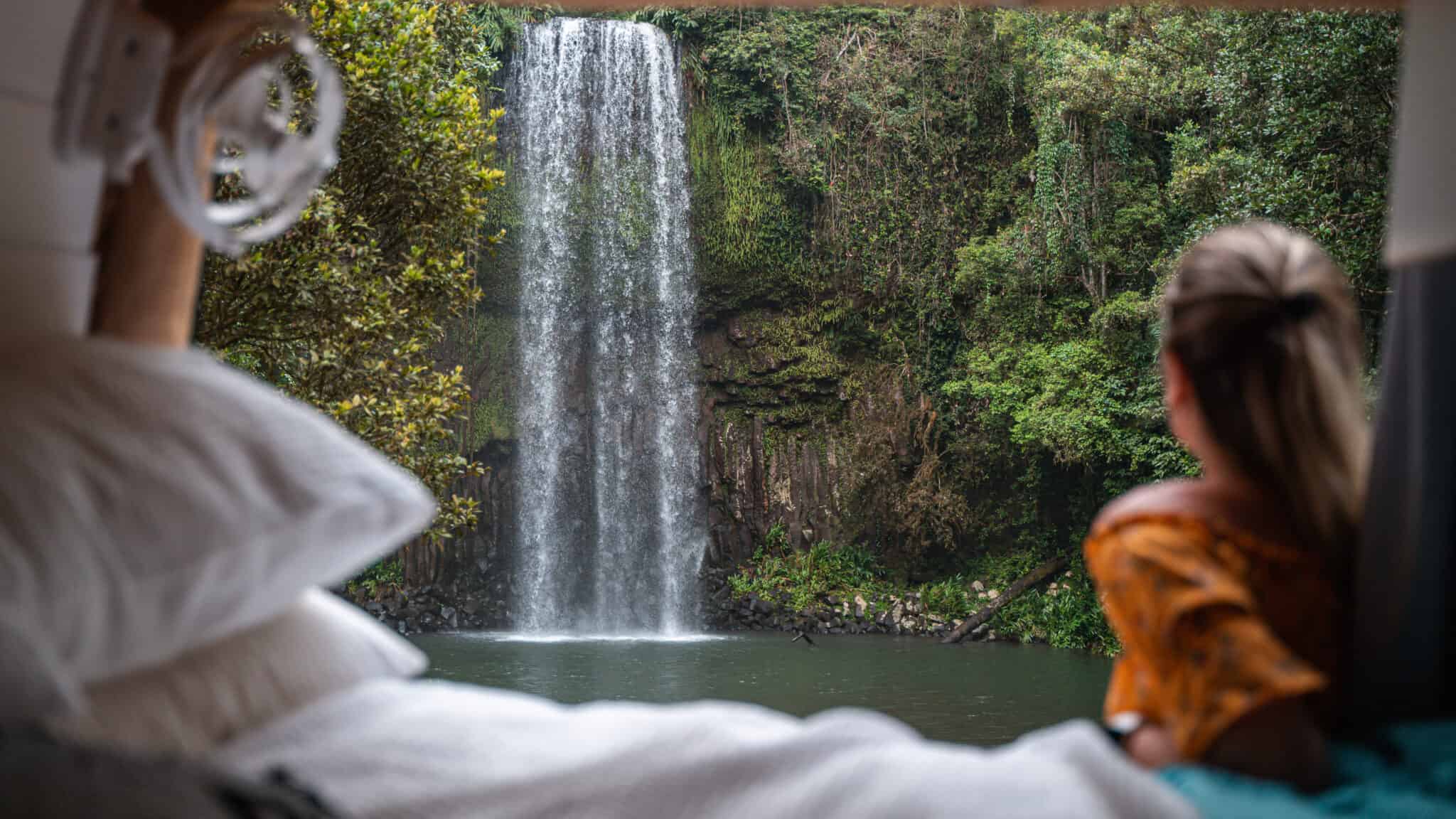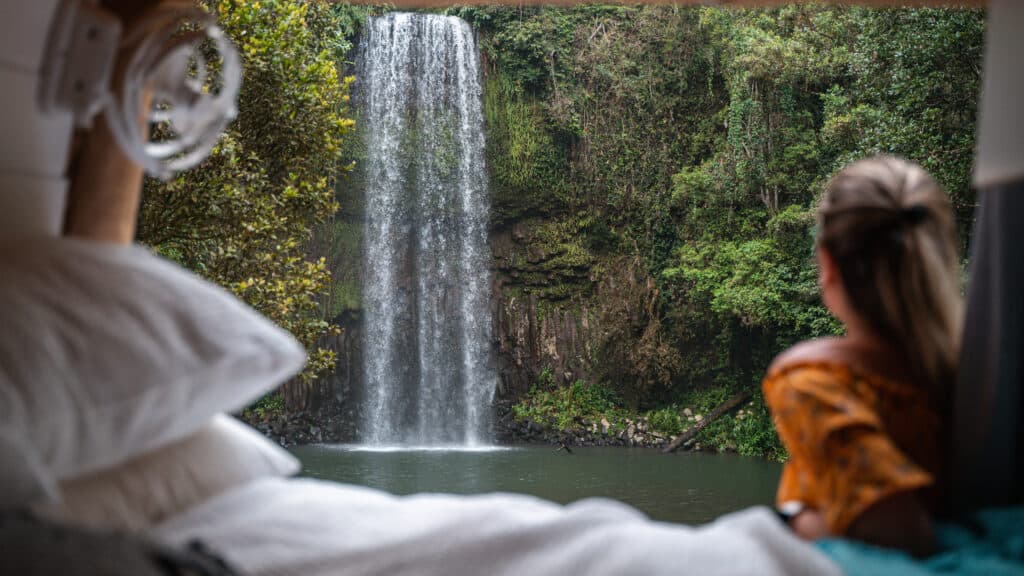 Fun Facts about Millaa Millaa Falls
Milla Milla Falls is a popular filming location featured in numerous movies, documentaries, and television commercials. Some of these include:
"Jacko's Retreat" – XXXX Gold Beer advert
"Rainforest – Waterfall" – Herbal Essence commercial for the Rainforest Deep Nourishment and Shine shampoo
The name 'Millaa Millaa' is derived from the Aboriginal word "Malay Malay". It refers to the rainforest vine Elaeagnus Triflora, which bears fruit primarily between May and February.
The Millaa Millaa Waterfall Circuit
For those who want to see more than just one waterfall, there is the option to do the Millaa Millaa Waterfall Circuit. The circuit is the most popular attraction in the Atherton Tablelands region. The circuit includes three beautiful waterfalls – Zillie Falls, Ellinjaa Falls, and finally – you guessed it – Millaa Millaa Falls!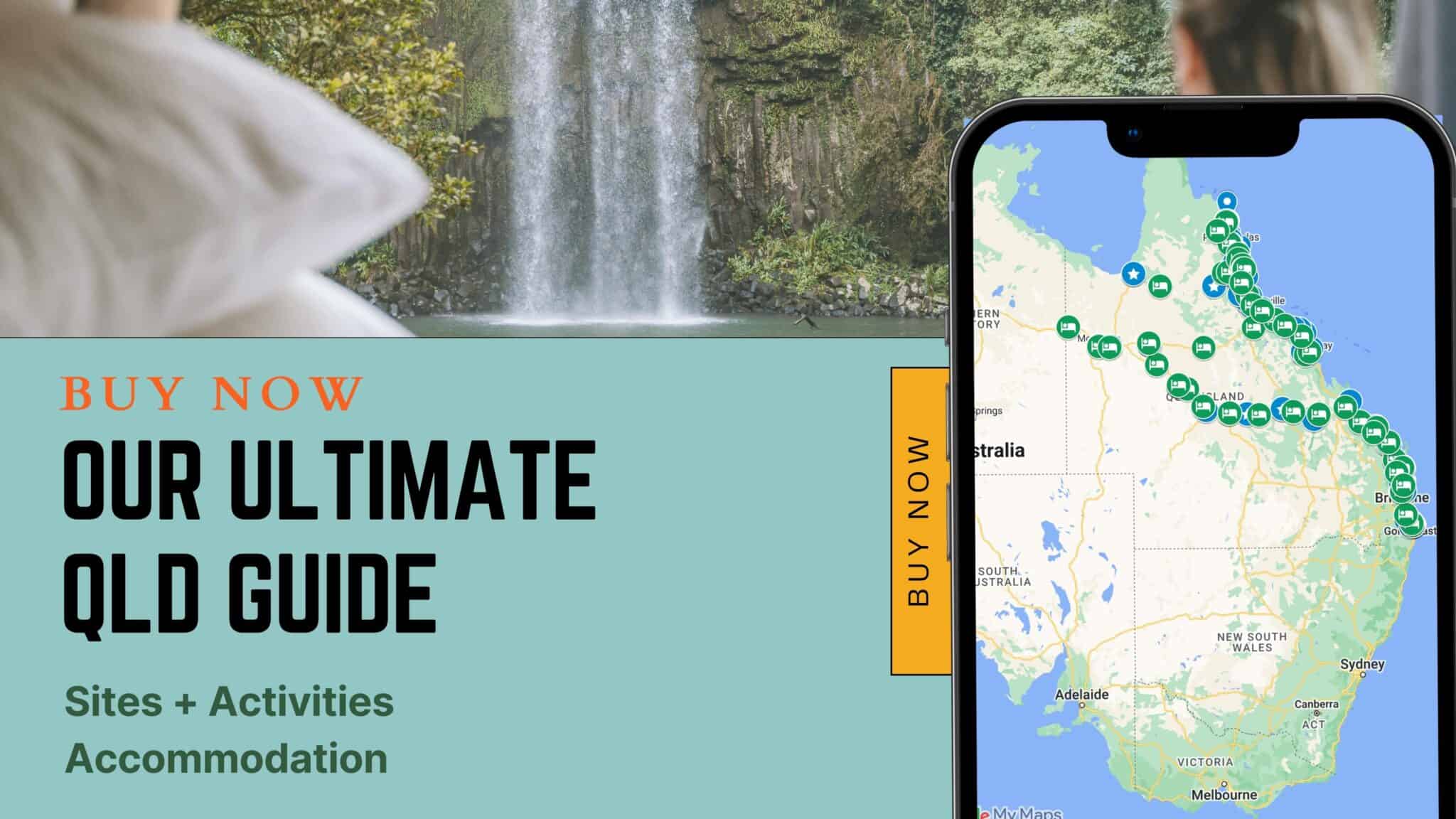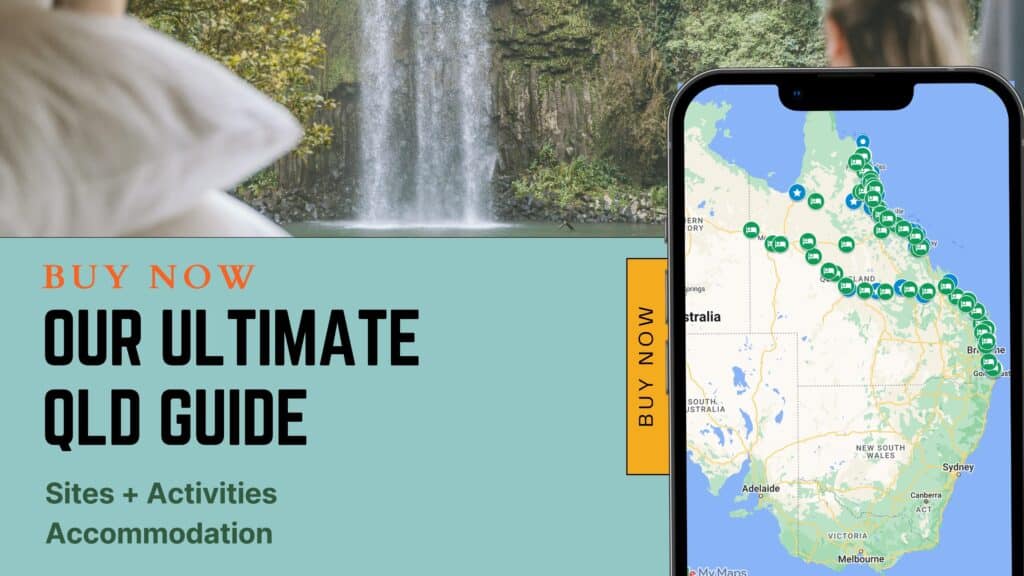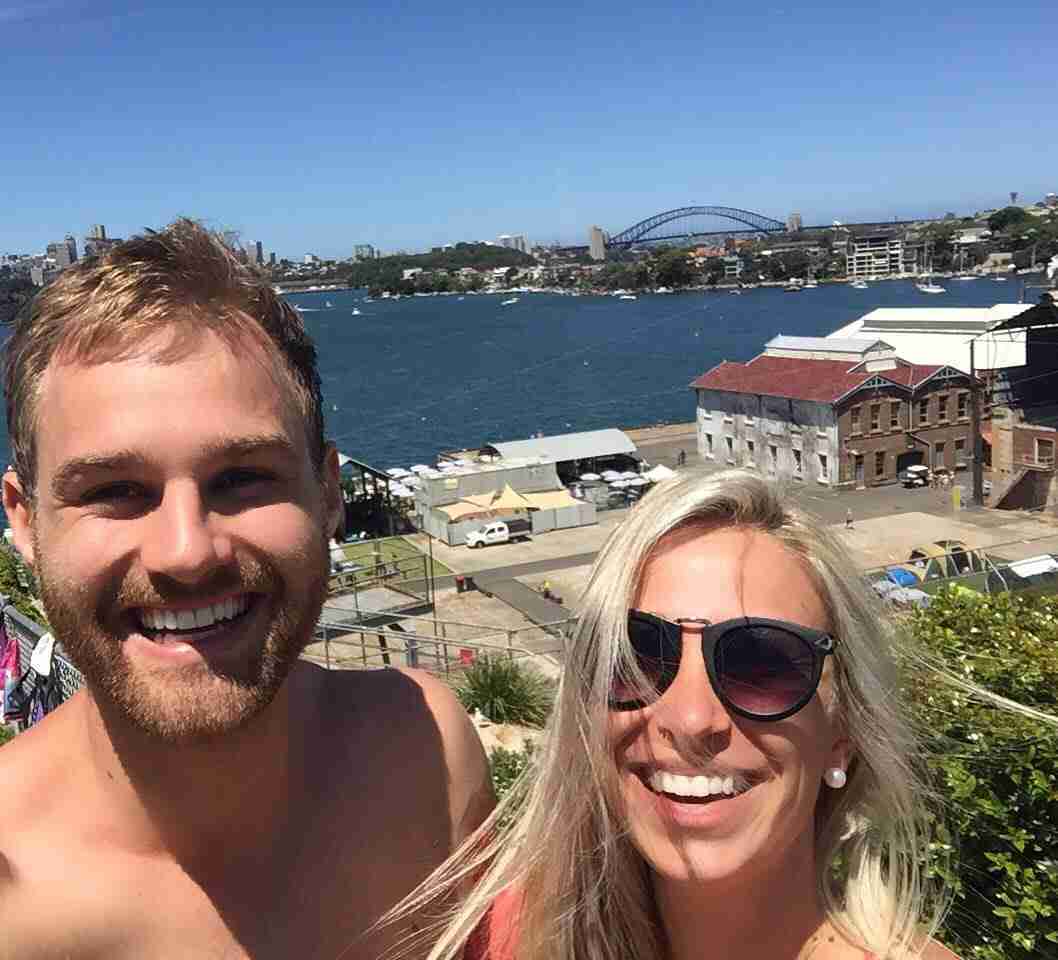 Wade & Dani
Hi! We're Wade and Dani, We're currently travelling around Australia in our 2017 Mercedes Sprinter Camper van and sharing our best experiences, stories, reviews and adventures as we go along. Make sure you follow us on Instagram @wadeanddani