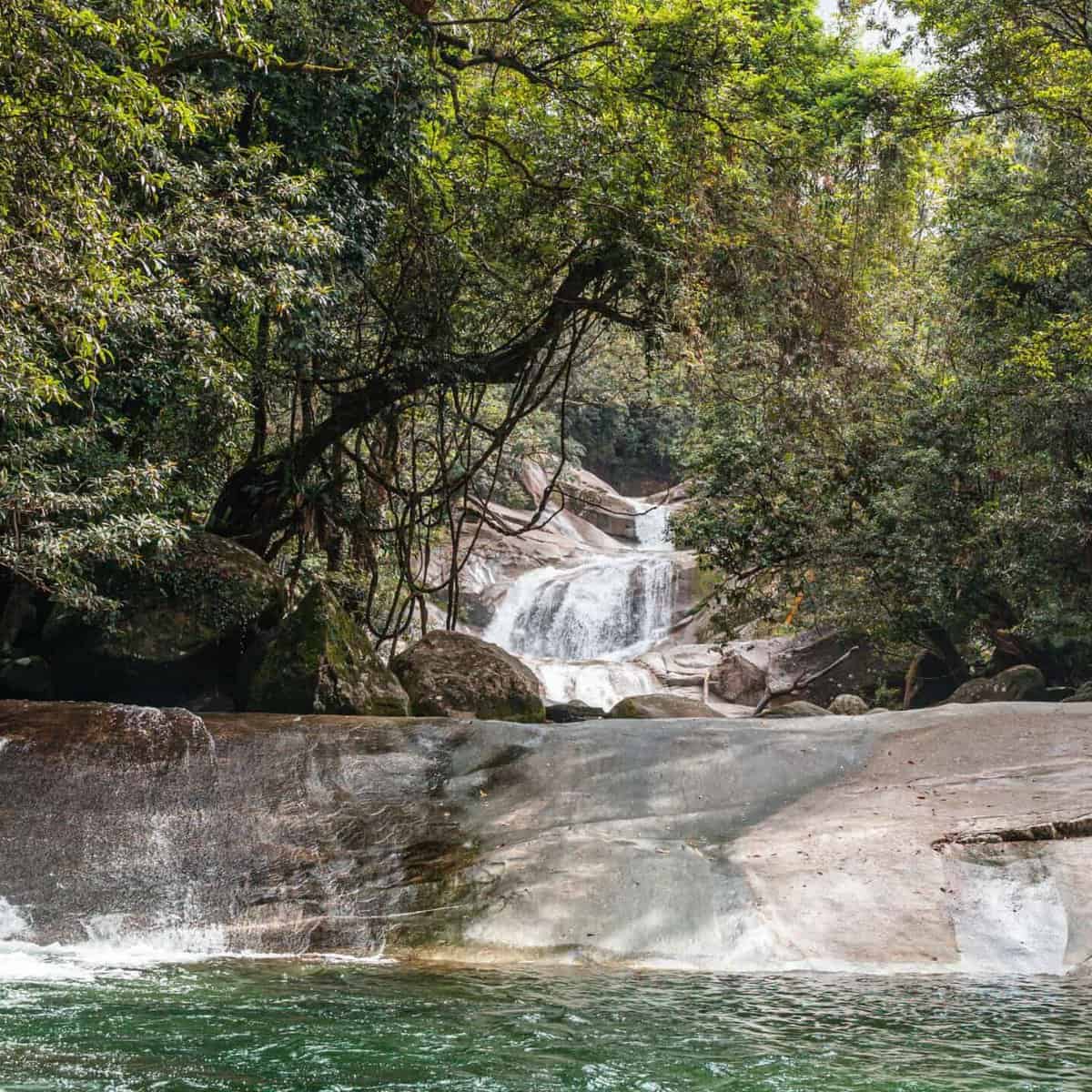 Josephine Falls in Queensland – A Complete Guide (2023)
This post was updated on: September 1, 2023
If you're looking for a hidden gem to take your Instagram followers by surprise, look no further than Josephine Falls.
Nestled in the rainforest, this waterfall is the perfect spot to relax and enjoy nature's beauty within Wooroonooran National Park in Northern Queensland.
This beautiful waterfall has three main waterfalls and is a spot to set up a picnic with a natural rock slide at one of the falls.
In this short guide, I'll include driving directions, what to expect on the walking trails and some beautiful photos that might inspire your next hike.
Arriving at Josephine Falls Cairns
If you're looking for a truly breathtaking experience, look no further than Josephine Falls. Located in far North Queensland, this natural wonder is one of the most popular tourist destinations in the region.
And it's easy to see why. The beautiful waterfalls are gorgeous, with crystal clear water tumbling over massive boulders into a deep pool below. Visitors can swim in the pool, relax on the rocks, or even walk along the beautiful walking trails.
There are also plenty of photo opportunities, so bring your camera! Josephine Falls is sure to take your breath away whether you're a local or a visitor.
When you come to Josephine Falls Cairns, you find a great parking lot with a wide range of free parking options with convenient locations near the Falls entrance. There are also toilets and a picnic area nearby the park which you can use before and afterwards.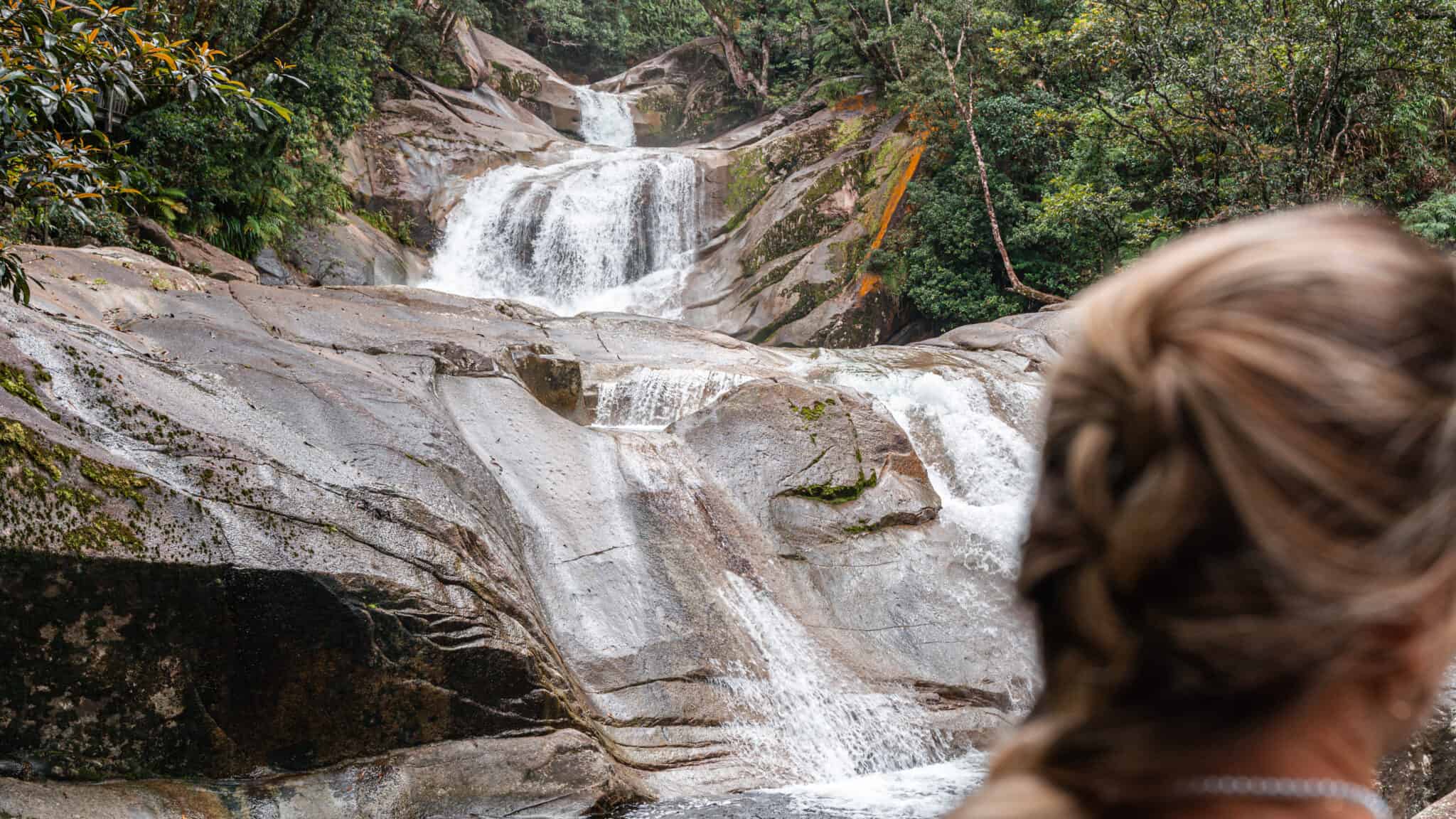 Where is Josephine Falls?
The magnificent Josephine Falls is located in the Wooroonooran National Park Josephine about 1 hour south of Cairns, in Tropical North Queensland.
To find this beautiful scenic waterfall, drive to "Bartle Frere" and turn onto Bartle Frere Road. You'll see signs on Bartle Frere Road that will point you in the right direction.
Keep going on this road until it ends. When it splits into two roads, go left.
Continue down this road; it will eventually cut through some banana and cane fields. Take a right when you see the Josephine Falls Road sign.
It will take approximately one hour from Cairns to arrive at the Josephine Falls car park.
The car park available is very spacious and can accommodate approximately 25 vehicles. Because this waterfall is so popular, it can be pretty crowded at times.
This is the car park that leads to the waterfall.
Need a rental car to explore Queenslan? Book here
What to Expect at Josephine Falls
When you arrive at Josephine Falls Cairns, you find an ample parking lot with a wide range of free parking options with convenient locations near the Falls entrance. There are also toilets and a picnic area nearby the park which you can use before and afterwards.
The nearby rainforest also has several walking tracks, lookouts, and visitor information shelters. Services such as tours and accommodation are also available nearby.
With so much on offer, Josephine Falls will surely provide an enjoyable and memorable experience for all who visit.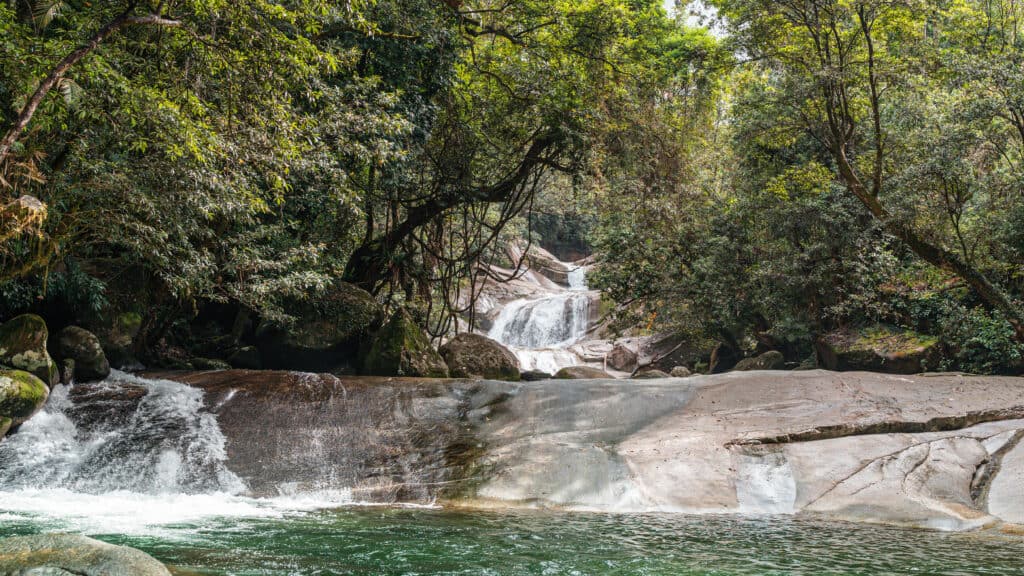 Top Pool and Waterfall
The largest waterfall at Josephine Creek is best seen from the top viewing platform, a wide wooden deck. Visitors can take in the sights and sounds of this beautiful natural wonder from this vantage point.
While not the biggest in the region, the primary waterfall is still a stunning sight. It falls 25 meters down a jagged gully after cascading over a huge, broad boulder.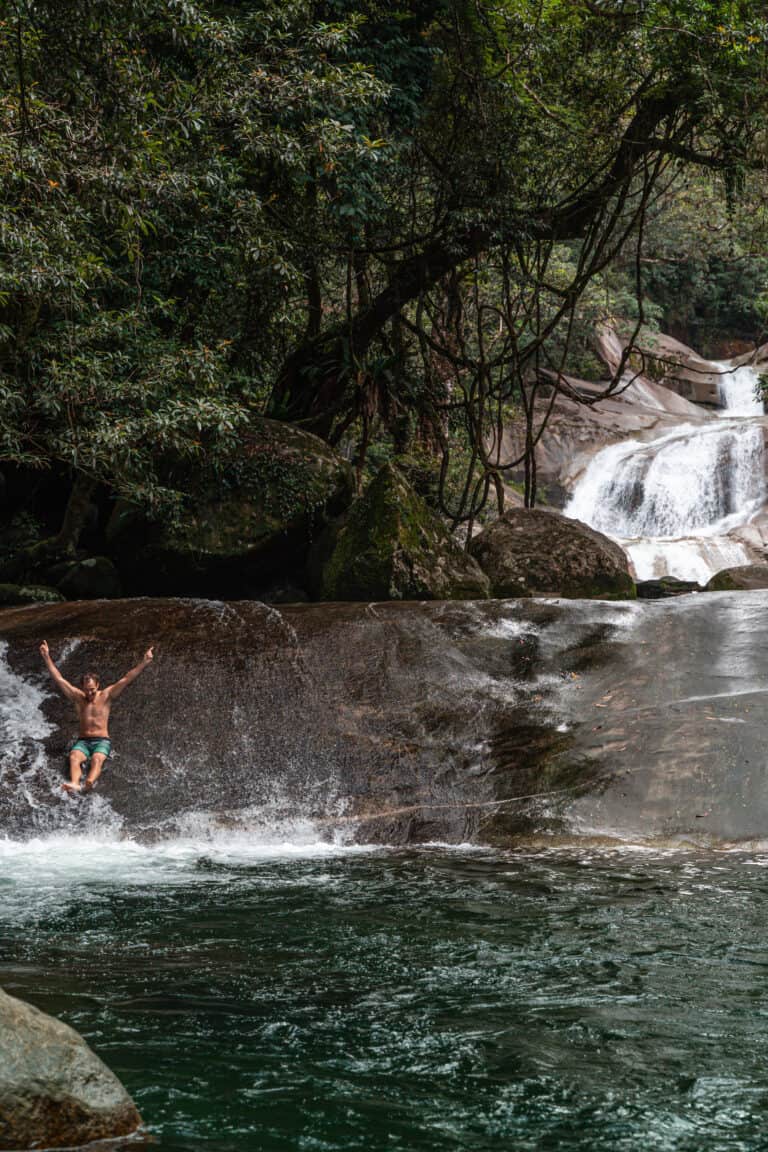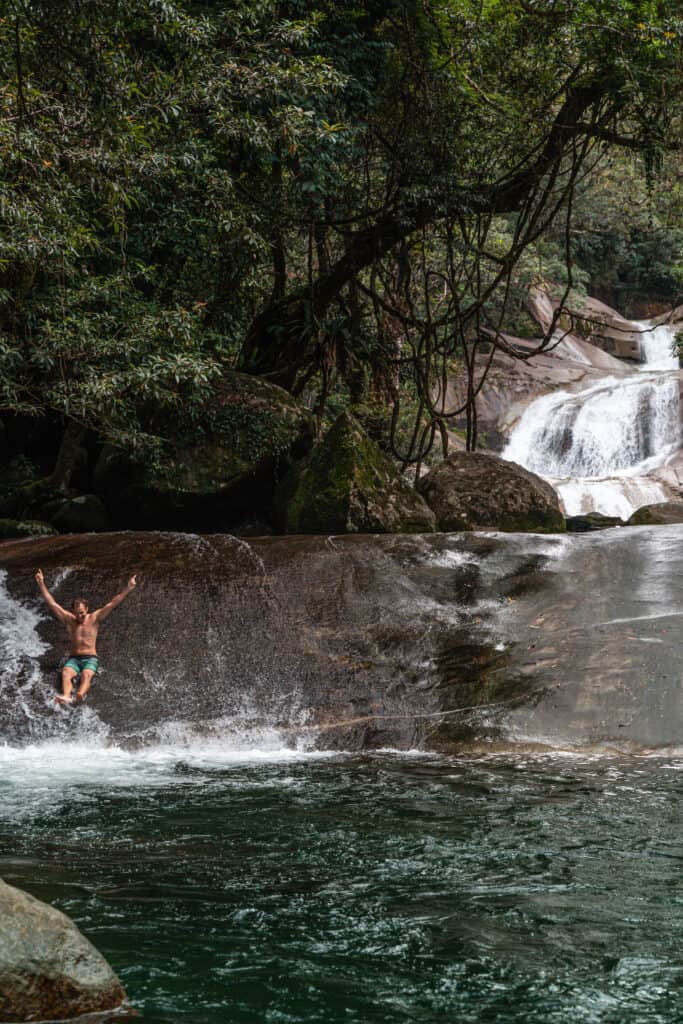 Swimming at the larger waterfall is prohibited for safety. The entire pool area is closed off. But don't worry, Josephine Falls has many other swimming spots near the parking lot.
Bottom Pool Swimming Spot and Waterfall Rock Slide
Before you reach the larger waterfall, there is a sign pointing down to the water. This area is called the Big Pool, and it's where you'll find one of the swimming spots and a natural water slide.
There is a tiny cascading waterfall on the side that flows into a large pool.
The pool is a beautiful green colour, that you can swim in, at least 1.5 meters deep. The pool here is also home to the rock slide.
Other Rock Pools and Swimming Spots
There are several other tiny swimming spots along the trail as well. So, if the main pool is too crowded for you, go a little bit further down to discover some remote and quiet rainforest swimming holes.
Things To Know Before You Go
Looking to make a splash on your next trip to Josephine Falls? Here are a few things you should know before you visit:
Visitors should be aware that there is no lifeguard on duty at the falls. Swimmers should use caution and swim at their own risk.
Pets are not allowed in the swimming area. Only service animals are permitted.
Alcohol is not permitted in the park. Anyone found with alcohol will be asked to leave.
The best time to visit Josephine Falls is during the summer months when the weather is warm, and the water is refreshing. However, the falls can be crowded during peak times. Consider visiting during shoulder season for a more relaxed experience.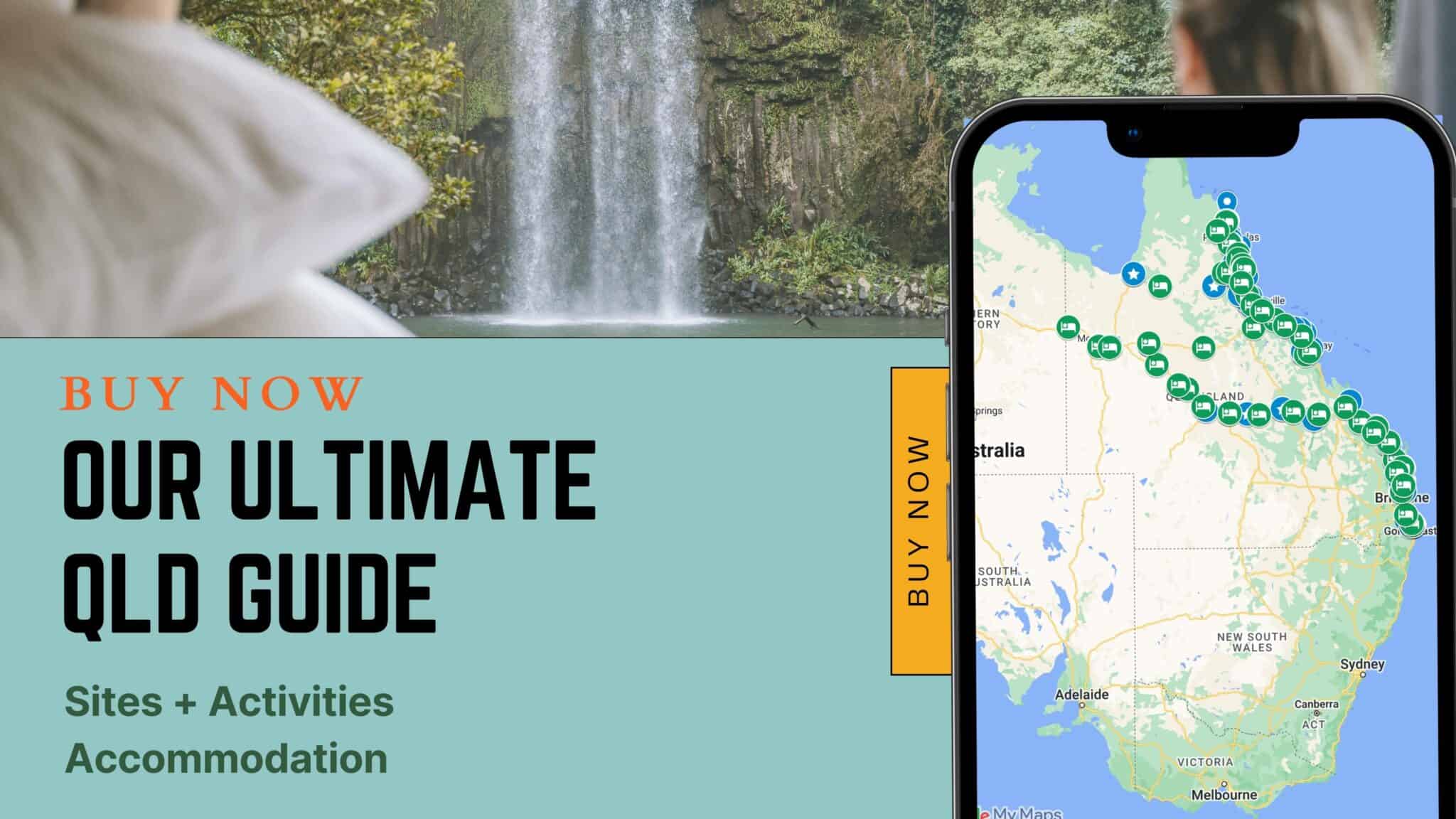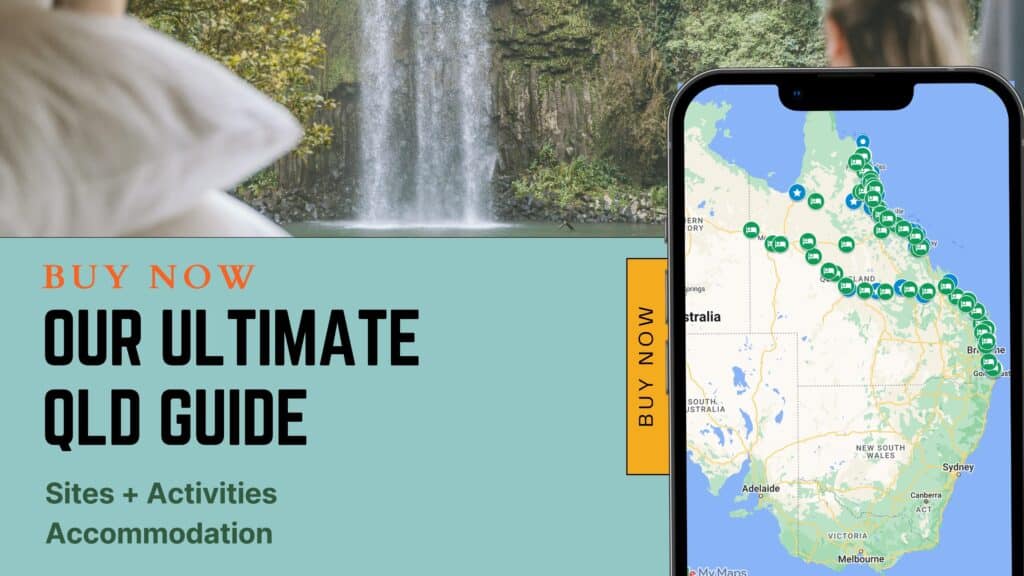 Josephine Falls Trail Walks
After arriving at the car park, it's only a short stroll of 600 meters on a sealed rainforest track that leads you to the falls. Josephine Falls is the perfect place to take in a tropical rainforest, and it's accessible for everyone, regardless of age or mobility.
The road ahead is entirely paved until you reach the main waterfall, where you can take a detour to the Middle Creek viewing platform or continue on to the bottom pool. The map below displays the Josephine Falls track, which will better understand where the swimming hole and viewing platform are located.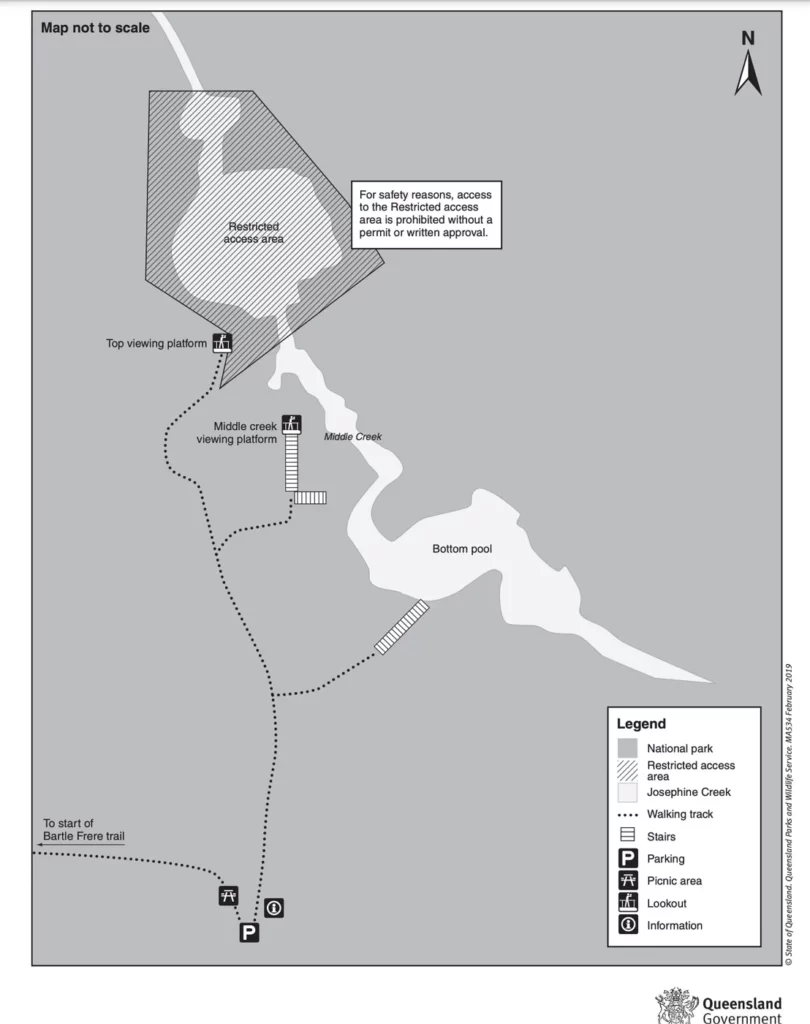 What to Pack
If you're planning a trip to Josephine Falls, there are a few things you'll need to pack to make the most of your experience. 
First and foremost, you'll need to pack your swimwear! The natural swimming pools at the base of the Falls are perfect for cooling off on a hot day. 
You'll also need to bring plenty of sunscreen, insect repellent, and hats to protect you from the sun and bugs. 
Make sure to pack comfortable walking shoes as well, as several short walks lead to different lookouts throughout the national park 
And finally, don't forget to bring your camera! The falls are absolutely stunning and you'll want to be able to capture the memory. 
FAQ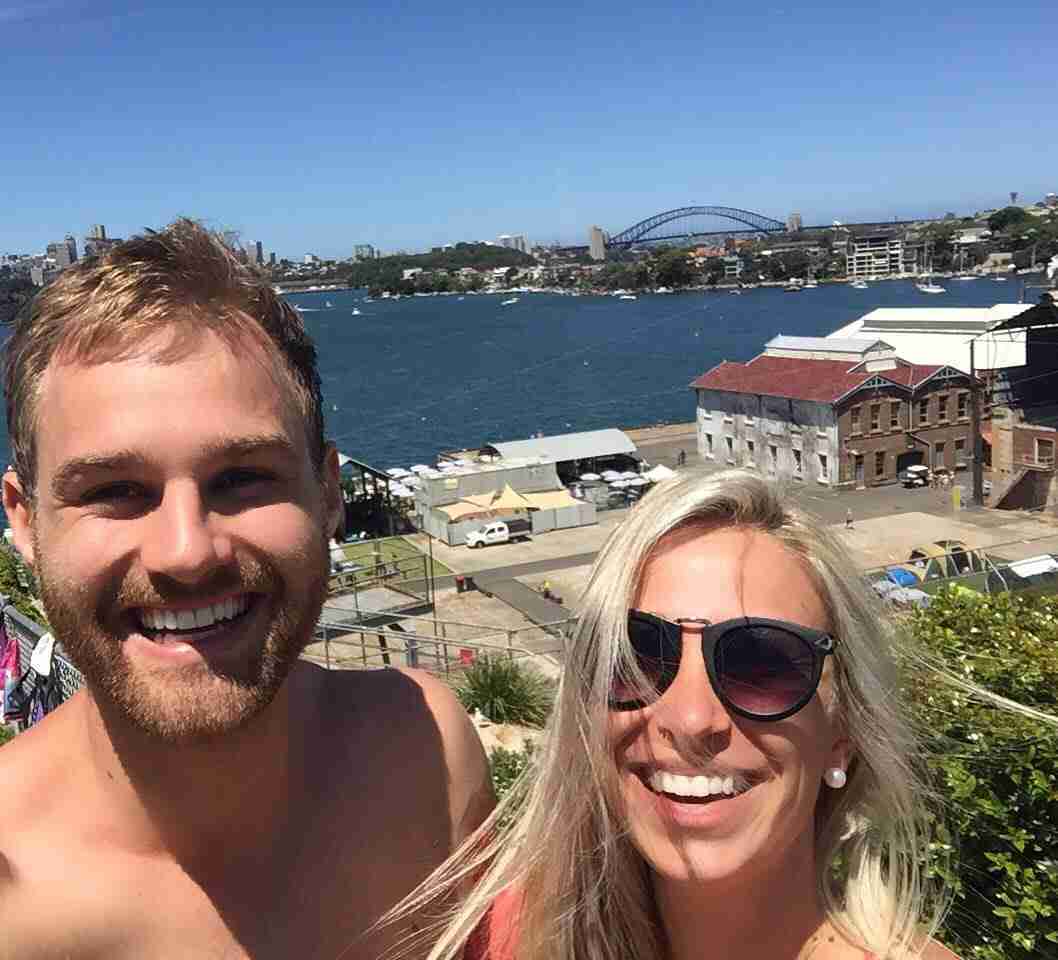 Wade & Dani
Hi! We're Wade and Dani, We're currently travelling around Australia in our 2017 Mercedes Sprinter Camper van and sharing our best experiences, stories, reviews and adventures as we go along. Make sure you follow us on Instagram @wadeanddani